New Age Islam News Bureau
31 December 2020
• Abuses against Kurdish Women in Afrin under Turkish Parliament Radar
• Women's Growing Wealth Prompts Need for Changes in the Banking Sector
• Shock after Pakistani Woman, Bano Begum, Becomes Village Head In UP
Compiled by New Age Islam News Bureau
URL: https://www.newageislam.com/islam-women-feminism/tunisian-women-lead-unescos-rating/d/123938
--------
Tunisian Women Lead UNESCO's rating of African and Arab Women in Science
December 30, 2020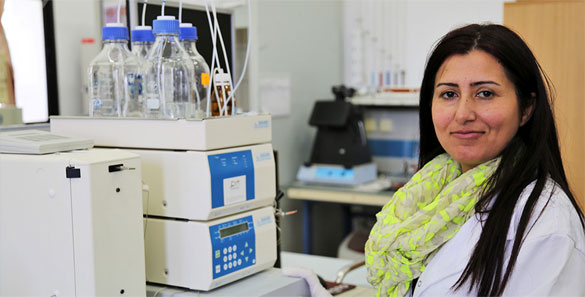 Tunisian women lead UNESCO's rating of African and Arab women
-----
Tunisian women lead UNESCO's rating of African and Arab women participation in scientific research as 55.1 per cent of Tunisian researchers are female; the largest proportion in Africa and in the Arab world.
The rating, based on UN branch's Institute for Statistics (UIS) June 2020 data, credits the North African country with the best ranking in Africa ahead of Algeria (47.1 %), Cape Verde (45.8%) Egypt (45.6%), South Africa (44.9%) as well as Morocco (33.8%).
The second best ranked Arab country is Kuwait with 53.2%.
This is the second year in a row that Tunisia tops the Arab world and Africa on the UNESCO's ranking. Last year it achieved almost similar score.
UNESCO also last year in a separate report indicated that 65 per cent of Tunisians with a bachelor degree and 69 per cent of PhD holders were female, Tunisie Numerique notes.
https://northafricapost.com/46498-tunisian-women-lead-african-arab-women-in-science.html
--------
Abuses against Kurdish Women in Afrin under Turkish Parliament Radar
December 30, 2020
JEDDAH: Tulay Hatimogullari, a lawmaker from the pro-Kurdish Peoples' Democratic Party, filed a parliamentary inquiry on Tuesday, destined to Turkish Foreign Minister Mevlut Cavusoglu, over the allegations that hundreds of Kurdish women and girls have been kidnapped in northern Syria by Turkish-backed militias and taken to Libya to be sold as sex slaves.
The shocking claims recently made headlines with the Afrin Report news network, which revealed the testimonies of survivors from the northwestern Syrian city of Afrin about hospitals full of the corpses of kidnapped women and girls who were being accused of supporting terrorism.
Hatimogullari asked Cavusoglu whether the claims that Kurdish women from Afrin were being kidnapped via Turkey were true.
"Are you investigating the claims that girls and women from Afrin were sent to Libya as slaves? Is your ministry aware of the sexual assaults in the camps and prisons in Afrin? Will you take the steps necessary to deal with these violations of rights? Will you conduct coordinated activities with international organizations in this regard?" she inquired.
Hatimogullari, who became the first lawmaker to bring the case to the Turkish domestic agenda, emphasized Turkey's judicial responsibility and complicity regarding these allegations that concern the criminal acts of Turkey-backed rebels.
While some women witnessed torture in the northern Syrian camps, other women held as prisoners were allegedly abused and raped by the mercenaries.
As the Kurdish women's cries for help mostly fall on deaf ears, their situation recalled that of the thousands of Yazidi women from Sinjar in Iraqi Kurdistan who were abducted, raped, murdered and enslaved by Daesh six years ago.
The details about the allegations are regularly documented under the Missing Afrin Women Project that is tracking the kidnappings and disappearances of Kurdish women and girls in Afrin since 2018. The project features an interactive map displaying the name of the individual, the date and location of the incident, the armed group responsible and whether the relevant individual has been reported released.
On the basis of testimonials, hundreds of Kurdish girls were kidnapped and taken to Turkey through military crossing points at the Syrian-Turkish border to be sold as sex slaves to Qatari traders and sent back to Libya.
Turkey and Qatar opened this month a hospital for women and children in Afrin.
Since last year, human rights groups have been expressing concerns over the increasing abuses against civilians in Afrin.
In total, more than 1,000 women and girls are believed to be missing only in Afrin following Turkey's two-month-long Operation Olive Branch two years ago that ousted the Kurdish People's Protection Units (YPG) from the region.
The operation was criticized by the international community as an attempt at demographic change and forced displacement.
Ankara considers the Kurdish YPG as part of the Kurdistan Workers' Party (PKK), which has been engaged in a more than three-decade-long war against the Turkish state. The PKK is considered a terrorist organization by Turkey, the US and the EU.
In February 2019, the UN's Independent International Commission of Inquiry on Syria released an assessment report about the human rights situation in Afrin.
"The commission finds there are reasonable grounds to believe that armed group members in Afrin committed the war crimes of hostage-taking, cruel treatment, torture, and pillage," the report said.
"Numerous cases involving arbitrary arrests and detentions by armed group members also included credible allegations of torture and ill-treatment, often targeting individuals of Kurdish origin, including activists openly critical of armed groups and those perceived to be so," the UN report added.
In November 2020, the US Department of State Lead Inspector General for Operation Inherent Resolve released a report covering the period between July and September 2020.
The report indicated that the US Department of State is "deeply concerned by reports that Turkish supported opposition groups engaged in 'gross violations of human rights and violations of the law of armed conflict' in northeast Syria," including murder, torture, rape and kidnapping, among others.
https://www.arabnews.com/node/1785076/middle-east
--------
Women's Growing Wealth Prompts Need for Changes in the Banking Sector
December 31, 2020
JEDDAH: As women increase their financial independence faster than ever before, adding $5 trillion dollars to the global wealth pool each year, this is leading to a change in family and banking dynamics, according to new research by Barclays Private Bank.
A substantial wealth transfer is set to happen over the next 20 years, with an estimated $15 trillion set to pass to the next generation. Research has estimated that four in five women from high-net-worth (HNW) families are getting ready to inherit substantial wealth over the next decade or two.
Rasha Badawi, director at Barclays Wealth and Investment Management in the Middle East said: "As traditional family roles change and more women hold prominent positions in international business, their growing global influence is going to be a major economic force over the next decade, redefining areas that have historically been focused on, and dominated by, men."
A HNW individual is someone with at least $1 million in cash or assets that can easily be converted into cash.
The research investigating the role of women in wealth was conducted in the second quarter of 2020, targeting 402 HNW families with at least £5 million ($6.83 million) in assets and living in France, Germany, Hong Kong, India, Italy, Qatar, Saudi Arabia, Switzerland, Singapore, the UAE and the UK.
The research focused on women's roles in succession planning, family business decision-making and how these roles contribute to shifting family and banking relationships.
Although a third of the world's wealth is under women's control today, four in ten wealthy women are currently not involved in the management of their family finances compared to only one in ten men.
Moreover, even those women who are involved in their family's finances tend not to be the main decision-maker, with 83 percent of key financial decision-makers in HNW families being men.
This bias, common in Indian (76 percent) and Middle Eastern families (46 percent), derives from the traditional roles of women in these families. And due to women's lack of involvement in the management of family finances, they tend to be significantly less interested in finance and investment. This also contributes to women being overlooked during financial conversations, research found.
"The tide across the Gulf is changing for women in ultra HNW families…We are seeing women take more leadership positions and become increasingly involved in all financial decisions," said Rahim Daya, head of Barclays Private Bank for the UAE and Middle East.
The role of women within wealthy families is certainly evolving. Social and cultural change is prompting a shift in family and banking dynamics, with women now holding similar levels of direct ownership in family businesses (54 percent compared to 57 percent for men), and more HNW women achieving postgraduate qualifications, often at international institutions (43 percent), compared to the generation of their parents (14 percent).
The younger generations also have a less traditional outlook on life. Seventy-nine percent of those surveyed said that their parents hold traditional beliefs, but only a third of parents believed the same of their children.
Among women of all ages, 35 percent said that they do not have a traditional personal outlook on life, compared to 59 percent of men who admitted they do.
However, women also lack representation and remain largely underserved by the wealth-management community. Wealthy women are currently more than twice as likely as men to not have a financial adviser.
This is a consequence of male domination within the financial-advisory industry, making women feel uncertain or unheard. Around 60 percent of participants believe that women are treated differently to men by professional financial advisors, the Barclays study found.
HNW women said they are less likely than men to feel that their adviser understands their knowledge about investing and risk tolerance.
These obstacles are owing to the fact that the industry was traditionally curated for wealthy men and by professional men, meaning women were often excluded.
In the absence of any support, wealthy women are often less confident about making family financial decisions, prompting the need for banking relationship dynamics to change.
Around 60 percent of wealthy women are confident in making financial decisions for themselves, but among those not yet involved in family wealth management, confidence drops to 43 percent. In contrast, 78 percent of all men say that they feel confident in making financial decisions for their families.
The research suggested that changes within financial services are needed to better support the growing number of HNW women as they are inheriting more and more wealth and responsibility.
Therefore, wealth managers need to empower wealthy women and embrace their increasing power and influence.
Dr. Ylva Baeckstrom, a behavioral finance and gender expert, said: "The industry needs to overcome existing biases, work to deliver services and advice that are the equal of those presented to their male relatives and provide women with the base to support their role as global business leaders of the future."
https://www.arabnews.com/node/1785366/business-economy
--------
Shock after Pakistani Woman, Bano Begum, Becomes Village Head In UP
Dec 31, 2020
AGRA: A 65-year-old Pakistani woman was found running the affairs of a village panchayat as its interim head in UP's Etah district, a revelation that shocked local police and the administration. A probe has been ordered to know how she got the Aadhaar, voter ID and other documents while staying on a long-term visa. An FIR has also been filed against her.
Bano Begum, a resident of Karachi, Pakistan came to India 35 years ago at her relative's home in Etah. Later, she got married to a local, Akhtar Ali. Since then, she had been staying in Etah on a long-term visa, and had applied for Indian citizenship several times.
During 2015 local body elections, Bano managed to get elected as a member of Guadau gram panchayat. Five years later, on January 9 this year, the pradhan, Shehnaz Begum, passed away. And after a few days, Bano took over as interim pradhan on the recommendation of the village committee.
According to sources, the matter came to the fore after a villager, Quwaidan Khan, filed a complaint saying that Bano is a Pakistani national.
Though Bano resigned from the post, the district panchayati raj officer (DPRO) Alok Priyadarshi raised the matter with Etah's district magistrate (DM) Sukhlal Bharti, who ordered an FIR and a probe.
DPRO Priyadarshi said, "Investigation on the basis of a complaint received against Bano Begum found that she is a Pakistan national. She got an Aadhaar card and voter ID made on her name by fraudulent means."
He said that the recommendation to appoint Bano as head of the village committee and designating her as interim pradhan was made by village secretary Dhyanpal Singh. He has been removed from the post.
DM Bharti said, "Orders have been issued to investigate how she managed to get an Aadhaar card and other documents for contesting election to become gram panchayat member. Strict action will be taken against those found guilty of helping her."
https://timesofindia.indiatimes.com/city/agra/pakistani-woman-becomes-interim-pradhan-in-etah-shocked-admin-orders-probe-fir/articleshow/80032288.cms
--------
URL: https://www.newageislam.com/islam-women-feminism/tunisian-women-lead-unescos-rating/d/123938
New Age Islam, Islam Online, Islamic Website, African Muslim News, Arab World News, South Asia News, Indian Muslim News, World Muslim News, Women in Islam, Islamic Feminism, Arab Women, Women In Arab, Islamophobia in America, Muslim Women in West, Islam Women and Feminism