New Age Islam News Bureau
14 Aug 2017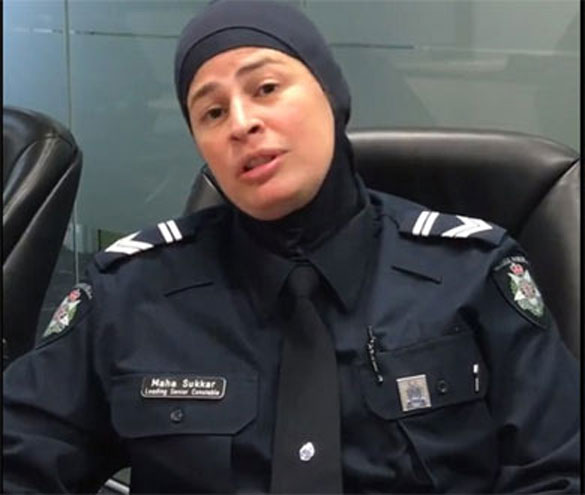 Maha Sukkar is Victoria's first police officer to wear a hijab and says it's still a challenge
-----
• Pakistan Women Festival Begins
• Victoria's First Hijab Cop Talks about Being A Muslim
• Mother-Of-Two, 36, Caught On Camera in Racist Rant against Muslim Woman Claims She Launched Her Tirade Because She Was 'Scared By Her Victim's Veil'
• An Arab Woman is a Powerful Woman: Abdulla Al Kaabi
Compiled by New Age Islam News Bureau
URL: https://www.newageislam.com/islam-women-feminism/tunisian-president-suggests-allowing-muslim/d/112203
--------
Tunisian President Suggests Allowing Muslim Women to Marry Non-Muslim Men
AUGUST 14, 2017
Tunisian President Beji Caed Essibsi called on Sunday on the prime minister and minister of justice to make changes to the publication No 73 that bans Tunisian Muslim women from marrying non-Muslims.
Essibsi's statement was made during his speech on the National Women's day as he believes that the Tunisian constitution grants the freedom of belief and conscience in its sixth chapter.
According to publication 73 that was released by the Ministry of Justice in 1973, Tunisian Muslim women cannot marry foreigners if their Islamic faith is not announced and recognized by the Mufti.
Based on the consensus of Islamic scholars, Muslim women are religiously prohibited to marry men from other religions. However, Essibsi believes that this rule hindered multiple Tunisian women from freely choosing their partners.
Should Tunisia apply the new changes to its law, it will become the first country with a vast majority of Muslim population to allow Muslim women to marry from different faiths.
While several Muslim women get married to men from different faiths, the marriage is usually civil.
Essebsi's decision sparked controversy. Multiple groups view the decision as a victory for freedom. However, other groups view it as a violation of the basic rules of the Islamic religion.
During his speech, the Tunisian president added that his country wants to establish equality between men and women in terms of inheritance. Having announced to form a committee to study the matter, Tunisia will, as well, be the first Islamic country to implement this law.
Essebsi said that Islam doesn't contradict with development and democracy, and the inheritance issue was left to the diligence of people based on the era they are living in.
https://egyptianstreets.com/2017/08/14/tunisian-president-suggests-allowing-muslim-women-to-marry-non-muslim-men/
--------
Pakistan Women Festival begins
August 14, 2017
KARACHI - A three-day festival focusing on women of Pakistan, with a determination to commemorate the achievements of women and acknowledge the special status they deserved in society was held yesterday at a local marquee in Karachi.
Divided into two sets of panel discussions, every day, the event was hosted by Shenaz Ramzi. Concurrent to the seminars people from all walks of life attended the art exhibition and appreciated the artwork of the artists.
The first day of the festival started with the powerhouse of HUM Network Sultana Siddiqui, who delivered an inspiring speech on the women empowerment in Pakistan.
Next session was 'Breaking the ceiling of Women empowerment in Pakistan'. Uzma Al Karim moderated the session and the panelists included renowned names such as RabyaJaveru, MehtabRashdi, Justice MajidaRizvi and Faiz Ali Meerza.
When asked why females are not appointed for the seat of Judge in Pakistan Justice Majida Rizvi said, "When I enrolled in Law college I was one of only six girls. My father never had problem with me to study Law but after graduation when I decided to practice he was a bit hesitant. It took six months to persuade my family and after a long discussion they finally agreed."
"I worked hard to establish the rights of women in Pakistan. I used to writing articles on women rights to highlight their basic issues in front of the public. Pakistan is only the country in South Asia that avoids electing women judges in Supreme Court. There are so many senior lawyers who deserves for this post but because of the gender dissemination they are often neglected. When Benazir Bhutto came to power it was her vision that women judges should be appointed for higher judiciary and at that time my hard work paid off and I was appointed as the first female judge," She said.
About the laws made to provide justice to women Mehtab Rashdi said "Women and men should be given proper rights not only in the sector of health and education but also in the economic sectors. Legislation had great importance for protecting the rights for women, but at the time implementation of laws is also necessary."
"We recently did a survey and found more than 1.1 million children are under the burden of child labour and mostly are unable to eat food properly. It was the Sindh government that made a law that no one could the take advantage of from these innocent children."
"Greedy people bring children under 14 from mostly rural areas for their advantages and family economic compulsion we are making efforts on this serious issue so that no one could exploit them and they should be given proper care centers," she said.
About women rights in Pakistan film industry producer Fiza Ali said "whatever medium you are working on there is always a need of improvement in it. I think moral education of a child is not the sole responsibility of an institution. Family has an equally important role to play. The best thing about the medium of film is it reaches to mass audience. It feels great to be talked as woman filmmaker. Its apart of who I'm, it effects me daily. Cinema is all about escapism. Through film we convey our message to the audience that Pakistani women do not lag behind anyone and work in every field equal to men," She said.
The seminar ended with an award ceremony in which six inspiring women's were recognised for their efforts in promoting UN SDG goals.
The first awarded was presented to Sultana Siddiqui for gender equality, Farzana Ahmad for the food project trust in the category of zero hunger, Shahnaz Kapadia for Mera Maan for no poverty, Mantaha Maqsood for Good health and well-being, Majida Rizvi for peace and Justice strong institution and Sabina Khatri of Kiran School for quality education.
After a short break, a seminar on Women health was took off. The seminar was divided into two panel discussions. Session one was on 'Skin problems and Invasive treatments'. Renowned panelists such as Naqiba Munshi, Dr Seema Hirji and Dr Uzman Tiwana gave a comprehensive insight on the subject. Azeemah Nakhoda moderated the discussion.
http://nation.com.pk/karachi/14-Aug-2017/pakistan-women-festival-begins
--------
Victoria's First Hijab Cop Talks about Being A Muslim
13 August 2017
Victoria's first policewoman to be wear a hijab on duty has revealed the challenges she faces being a Muslim on the frontline amid the heightened threat of terrorism.
Maha Sukkar made history in November 2004 as the first Victorian police officer to be allowed to wear a traditional Muslim head-covering with her uniform.
Almost 13 years after graduating from the police academy, the 42-year-old senior constable says there are still challenges being a minority in the force.
'I see challenges, in this day in age, is when we have to keep explaining to people who we are, what we do,' she said in a video for the Islamic Council of Victoria.
But the Victoria Police Force's Multicultural Liaison Officer said this was an opportunity.
'Sometimes I see it as something good because it's better to explain your side of the view, although some other people misunderstand it,' she said.
The Lebanese-born police officer, based in Melbourne, said this was especially so during an era of Australia being on a heightened terror alert.
'You should always tell people how you think about certain things, especially the challenges we face in the current climate,' she said.
The former graphic designer from Beirut moved to Australia in 2000 and has been a senior constable since November 2008 - four years after graduating from the Victoria Police Academy.
Her 80-second video begins with the policewoman saying she enjoys helping people.
The law enforcer, who grew up during the Lebanese civil war, praised Victoria for embracing her as a 'Muslim police officer and as a human being'.
'My greatest achievement is joining Victoria Police, being the first woman to wear a hijab in a police service, whether that's in Victoria or all over Australia,' she said.
http://www.dailymail.co.uk/news/article-4786736/Victoria-s-hijab-cop-talks-Muslim.html
--------
Mother-of-two, 36, caught on camera in racist rant against Muslim woman claims she launched her tirade because she was 'scared by her victim's veil'
14 August 2017
The woman caught on camera accusing a Muslim woman of being a terrorist has been sentenced after pleading guilty to intimidating a couple at a Sydney university.
The court heard Semaa Abdulwali and her husband, Ramzy Alamudi, were sitting their car in Sydney's north-west when Suong Thao Nguyen, 36, started banging on their car window at Macquarie University.
'Who are you? Why have you got a mask? Terrorist. You have gun?' Nguyen is heard saying in the January video.
Footage shows the Vietnamese mother-of-two shouting at the woman, berating her for her choice of clothing and damaging their vehicle.
Nguyen has been sentenced to a two-year good behaviour bond by Burwood Local Court, and also copped a $750 fine for the January 20 incident.
She will also attend counselling and anger management courses, and pay $817.95 in damages to the car.
It was revealed in court Ms Abdulwali was wearing a head scarf and veil which revealed only her eyes when she and her husband saw a woman staring at them.
Mr Alamudi asked Nguyen if something was wrong after which she approached the vehicle, shouted at the couple, attempted to pull off windscreen wipers and keyed the car.
Mr Alamudi said he got out of the car after about a minute, restrained Nguyen appealed to the public for help.
University security was called and Nguyen was later arrested by police.
The court heard from Nguyen's lawyer Andrew Tiedt his client was sorry for subjecting the couple to 'extraordinary unpleasant experience' and there was 'no excuse for what happened'.
Mr Tiedt went onto say she was afraid of the women's attire and therefore 'completely overreacted', according to The Daily Telegraph.
After the footage was released by seen by 1.6 million people in four days, Nguyen was been banned from the Macquarie University campus
Nguyen is now dealing with 'notoriety' from the video as well 'family troubles' and the fact she cannot attend campus to complete her studies.
It was a completely unprovoked attack by Nguyen, who reacted with 'resentment and anger', to Ms Abdulwali's niqab, Magistrate Seagrave said.
'Ms Nguyen was unable or unwilling to control her impulses on this occasion and there was no provocative behaviour whatsoever by either victim that could explain this gross over-reaction,' the magistrate said.
Magistrate Seagrave said Nguyen's behaviour was 'wrong and unacceptable' and that such prejudice had no place in a multicultural society.
On the day of the incident, Mr Alamudi wrote on Facebook: 'We were super excited to make our way out of the university to go celebrate.
'However, things took a sudden shift… for the worse.'
The married couple were sitting in their parked car and were about to drive off for celebrations after the wife finished her final exam in her medical science degree.
Nguyen was filmed banging on the passenger side of the window, before she walked around to the driver's side where she again banged on the window and attempted to pull the locked door handle.
'Call security,' Mr Alamudi could be heard saying.
His wife, who filmed the confrontation, replied: 'Just drive, just drive.'
Mr Alamudi asked the 35-year-old woman what was wrong, when she pointed aggressively at his wife and said, 'Get out.'
The Muslim woman replied: 'Who are you? Who are you?'
The 35-year-old woman said: 'F*** off.'
She again walked back to the passenger side and tried to pull the door handle and bang on the window.
Mr Alamudi's wife then called security as the woman allegedly lifted up the windscreen wipers.
As Mr Alamudi opened the driver's door of the car, the woman pointed at his wife.
'Who are you? Why have you got a mask? Terrorist. You have gun?,' she said.
Mr Alamudi told his Facebook followers he had posted the video to demonstrate racist discrimination.
Many viewers praised the couple.
'Well handled, guys,' Haj Qahtan commented.
Afterwards, the woman demanded the Muslim couple provide ID.
Witness Emily Grace Guff told her Facebook followers the woman had been ranting at the Muslim couple while her baby was sitting in her unlocked car, metres away.
'This deranged woman had the nerve to attack his wife because of the burqa she was dressed in, claiming she 'didn't feel safe' around people like her,' she said.
'It makes me sick to know we co-exist in a world where this happens so frequently, people thinking they have the right to belittle someone else because of their race or religion.'
In a follow-up video, the 35-year-old woman told Mr Alamudi she found his wife 'scary' before a security guard arrived.
In a statement, Macquarie University called the incident Islamophobic.
'The couple has been shaken by the incident and requests that their privacy be respected,' a spokesperson for the university said.
'They will not be providing any further commentary on the incident at this stage.'
In his Facebook post, Mr Alamudi said this not an isolated incident.
'Unfortunately, this type of Islamophobia isn't isolated to this one individual and incident. Rather, it is an overarching systematic issue in our society that continues to be bred by the propaganda of some media and some politicians. Dehumanizing Muslims. This is the problem.'
Nguyen was initially charged with destroying or damaging property and common assault following the January incident, NSW Police told Daily Mail Australia.
She was issued with a field court attendance notice to appear at Burwood Local Court.
http://www.dailymail.co.uk/news/article-4788216/Mother-sentenced-racist-tirade-against-Muslim-woman.html
--------
An Arab Woman is a Powerful Woman: Abdulla Al Kaabi
Maan Jalal
August 14, 2017
Emirati filmmaker Abdullah Al Kaabi talks to us about his critically acclaimed film Only Men Go To The Grave, and his hopes for the film industry in the UAE
Cinema is arguably one of the most powerful mediums of expression and experience. Through images, dialogue, music, and performances it's hard for the audience to leave a real film without having some residue of the story change how they feel about a subject.
Films don't only entertain and enlighten but they are also a stepping stone to bring taboo subjects to the table.
Given the potential for influence and change that a film can have on people it's incredibly important, now more than ever, to see real and authentic representations of Arab stories, voices and actors on the big screen. This is imperative not only to show our western neighbors that often or not their representations of us on their media platforms aren't only one dimensional (to say the least) but we need these stories to strengthen the representations that are lacking within Arab cinema made by Arab directors.
It's for this reason that we need to support our independent films, especially the good ones. One such film is Only Men Go To The Grave which is playing in cinemas now. Directed and written by Emirati filmmaker Abdulla Al Kaabi, the film is compelling, engaging, beautifully shot and stylized. It's a synthesis of important ideas about honesty, strength, resilience and ideas of the different kinds of self within us, all woven into a story whose premise is simple, whose telling is well paced and composed revealing information and ideas through arresting scenes and poignant performances.
Only Men Go To The Grave premiered at the 13th edition of the Dubai International Film Festival to a sold out audience and received rave reviews. It also won Abdulla Al Kaabi Best Director in the Muhr Emirati Feature category in the prestigious Muhr Competition.
"Today we just need content that's relatable to viewers," Abdulla Al Kaabi told us, "And if you have a point of view or a perspective of Arabs talking to other fellow Arabs, then that's a new voice. I think that's what people enjoy and what I try to achieve."
Only Men Go To The Grave is set straight after the Iraq-Iran war in 1988. The plot centers around the life of a blind mother who calls her estranged daughters to tell them a secret. Unfortunately, she dies while sharing it. While the daughters try to deal with their mother's sudden death, they must also work together to unveil her secret by looking for clues from visitors to her funeral. Here we see their own lives and their secrets start to unravel, causing them to question their own motives and how well they knew their mother.
We had the pleasure of talking to Abdulla Al Kaabi about the journey of making this film, the importance of representing Arab women and what the UAE needs to grow its film industry.
Why did you want to write this story?
Whenever I'm asked this question I always surprise myself by giving a different answer. The reason why I chose this subject is so broad. I believe it's important as human beings for us to be honest to each other and ourselves. That's why I chose this story about a family who hide themselves from each other. They all live double lives. That's really where it came from. I think that honesty is very important in today's modern society. Especially to yourself.
What kind of feedback were you anticipating when the film came out?
I've been very surprised to be honest with you. It's been hard to make this movie. When I was shooting the movie I wasn't thinking about how it was going to be received. I have been surprised that people have been very supportive and they really loved the movie because many can relate to it.
Why did you make Iraq the setting for the story?
I could have set it in Iraq, in Jordan, in Morocco, in Lebanon - anywhere. Because it's a family story all Arabs can relate to it. I also wanted to celebrate Iraqi culture which is being portrayed as a war zone and a land of conflict and I wanted to show how diverse and beautiful their culture is.
How did you change your mindset from writer to director?
I see a script as a living object. So when I go on set it's not definite that this is what I'm going to shoot, that this is the film that I'm going to make. I treat it like a living object that grows, that develops, that takes shape, that changes, that adapts to the elements that I have. I was changing everything every day. I gave my producers and crew a hard time because everyday they would be panicking about what I would shoot the next day. I really think it's important to feel what you have, from actors and stage and location so you can derive a story from it. So really, the script that I had before the shoot wasn't the script I had when we finished shooting and especially when we finished editing. I was surprised with the end result.
How do you deal with actors on set?
My process really involves going one on one with every actor. I try and get them involved in the story and direction as much as I can, because at the end it's a team project. I guess you can say I'm a liberal filmmaker. It's very important to see how each actor would like to portray their character cause we all have different interpretations of life and cinema is life or how you interpret life.
The women were portrayed very realistically in the film. How did you get into the skin of female characters?
I believe women, especially in the Middle East, are powerful, and they need to be portrayed in such a way. They've been typecast in cinema, even in Arab cinema. They are always the victims, the weak, the dependant. To me an Arab woman is not that. An Arab woman is a powerful woman. She needs to be portrayed that way. This is why I really wanted to make this movie, to portray a strong Arab woman.
Have you been surrounded by influential woman in your life?
I've been surrounded by strong Arab woman all my life. My mother was the first woman to get a driving license in Fujairah. My aunts are fantastic women, my grandmother was an over the top character. I was really surrounded by inspiring women. It's really a celebration of Arab women, this movie. Of course I don't belittle other kinds of approaches to Arab women in other movies but I think it's good to have a balance.
How do you think that films can start the discussion on some of these topics that are taboo in our society?
Movies are a completely powerful medium and a beautiful medium of art. It's not really about preaching to people about how they should be. It's all about opening your minds, opening dialogue and I think that's why cinema has been so powerful - it's because it's connected cultures from around the world. That's really the beauty of cinema in my opinion.
At what point did you know that you wanted to be a director?
When I was a kid there was a rental store, a VHS rental store, in Fujairah and my parents got me a membership there. I would rent as many movies as I could in the weekend when I was allowed to go there. As a kid I just wanted to be part of this magic that was cinema. I didn't even know what a director was. I asked my mum one day, who does these things? And she said he's called the director. Then I started telling everyone I wanted to be a director, not even knowing anything about it. Eventually, I worked in Dubai TV. I was always fascinated with this whole production thing. I always had big ideas of how this should be done, how that should be shot. Then I moved to Paris to do my masters in filmmaking.
What does the movie industry need in Dubai in order for it to grow?
We really need producers. Most of us are working as producers ourselves. It's really hard because it's not what we, as filmmakers, are trained or have the ability to do. And I think if we have a good pool of producers here then that's going to elevate the cinema scene a lot. The most important aspect of making a movie is the producer. And also, I do hope we can have a national film institute whose sole purpose is to support local Arab cinema. That's very important because right now we are just working with producers, who are only concerned with making profit. That's fantastic, if you can make profit that's great but in the end it's also art. So in order for us to make movies that can really speak about us, we need to think about making something more cultural, and in order to do that we need a lot of support and only a government can support that until we have a proper sustainable cinema industry. Most of the countries that make amazing films are really supported by national film institutes because these films are not just purely made for profit.
http://www.khaleejtimes.com/an-arab-woman-is-a-powerful-woman-abdulla-al-kaabi
--------
URL: https://www.newageislam.com/islam-women-feminism/tunisian-president-suggests-allowing-muslim/d/112203
New Age Islam, Islam Online, Islamic Website, African Muslim News, Arab World News, South Asia News, Indian Muslim News, World Muslim News, Women in Islam, Islamic Feminism, Arab Women, Women In Arab, Islamophobia in America, Muslim Women in West, Islam Women and Feminism