New Age Islam News Bureau
20 Sept 2013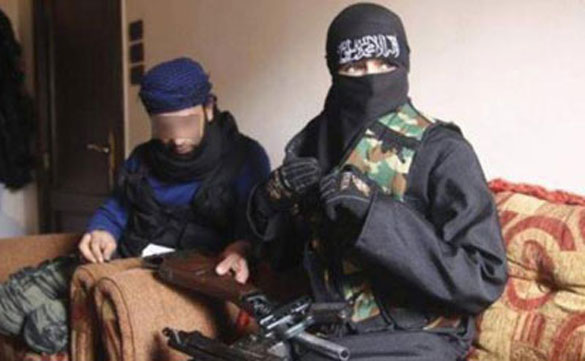 A number of Tunisian girls who had travelled to Syria for "sexual jihad" have returned home pregnant, the government says. (Photo courtesy of www.febrayer.com)
--------
• 'Man Tried To Pull Off My Niqab,' Says British Teenager
• Bikini Tensions Mar Islamic Solidarity Games In Indonesia
• Sudan engineer in court for refusing to cover her hair
• Saudi Ministry Of Education Firm On Sports In Private Girl's Schools
• HAIA Chief Says Women Driving Ban Not Part Of Shariah
• London Split over Muslim Veils in Schools
• Teachers at Derby's Muslim School 'Ordered To Wear Hijabs'
• Swiss Canton Puts Burqa Ban to a Vote
• Four Sisters Kill Themselves over Dowry in Pakistan
• Only 15% of Saudi women have IDs
Compiled by New Age Islam News Bureau
URL: https://www.newageislam.com/islam,-women-and-feminism/new-age-islam-news-bureau/tunisian-girls-return-home-pregnant-after-'sexual-jihad'-in-syria/d/13596
-----------
Tunisian Girls Return Home Pregnant After 'Sexual Jihad' In Syria
20 September 2013
Al Arabiya
A number of Tunisian girls who had travelled to Syria to perform "sexual jihad" there have returned back home pregnant, Tunisian Interior Minister Lotfi Bin Jeddo said on Thursday.
The Tunisian girls "are (sexually) swapped between 20, 30, and 100 rebels and they come back bearing the fruit of sexual contacts in the name of sexual jihad and we are silent doing nothing and standing idle," the non-partisan minister said during an address to the National Constituent Assembly.
Bin Jeddo said the interior ministry has banned 6,000 Tunisians from travelling to Syria since March 2013 and arrested 86 individuals suspected of forming "networks" that send Tunisian youth for "jihad" to Syria.
The minister hit back at human rights groups criticizing the government's decision to ban suspected "jihadists" from travel. Most of those slapped with travel bans were less than 35 years old, he said.
"Our youths are positioned in the frontlines and are taught how to steal and raid (Syrian) villages," Bin Jeddo said.
Former Mufti of Tunisia Sheikh Othman Battikh said in April that 13 Tunisian girls "were fooled" into travelling to Syria to offer their sexual services to rebels fighting to overthrow the regime of President Bashar al-Assad.
The mufti, who was dismissed from his post days afterwards, described the so-called "sexual Jihad" as a form of "prostitution."
"For Jihad in Syria, they are now pushing girls to go there. 13 young girls have been sent for sexual jihad. What is this? This is called prostitution. It is moral educational corruption," the mufti told reporters.
In August, general director of the public security service Mostafa Bin Omar said a "sexual jihad cell" was broken up in an area west of the country where al-Qaead fighters holed up.
Bin Omar told reporters that al-Qaeda affiliate Ansar Shariah was using minor girls, dressed in the full face cover to offer sexual services for jihadist male fighters.
http://english.alarabiya.net/en/variety/2013/09/20/Tunisia-says-sexual-jihadist-girls-returned-home-from-Syria-pregnant.html
-----------
'Man Tried To Pull Off My Niqab,' Says British Teenager
20 September 2013
A 14-year-old British teenager has described her horror when a man tried to pull off her face veil in the street.
She told the BBC Radio four World at One programme that it had made her nervous when out and about.
The student said it was her own choice to wear the veil and neither of her parents had encouraged her to do so.
She said it meant she avoided the pressures to keep up with the latest trends and look a certain way.
She spoke to the BBC's Sima Kotecha .
http://www.bbc.co.uk/news/uk-24165149
-----------
Bikini Tensions Mar Islamic Solidarity Games In Indonesia
AFP
20 September 2013
AFP - The Islamic Solidarity Games open in Indonesia this weekend following a chaotic run-up, with controversy over female athletes competing in sports bikinis adding to the turmoil.
Some nations demanded that all women cover up for the beach volleyball, track and field, and swimming events, but organisers have refused to axe the two-piece sporting outfits.
"If some countries do not want to use the bikini, that's fine, but if other countries want to, we will allow that," senior organising committee member Djoko Pramono told AFP.
"We agreed to apply international rules, including the dress code."
Thousands of athletes from 44 nations with Muslim populations will come together for the games, but only those ruled by Islamic governments opposed the bikini, Pramono said, adding they complained collectively.
He did not mention the countries which complained by name.
This year is the second time the games have been held, the first in Saudi Arabia, where not only were there no bikinis, but men and women competed on separate days and men were barred from watching women swim.
Some countries also asked the organisers to again run male and female events on separate days.
Pramono said he did not know which teams had decided to wear the bikinis.
Female players from Malaysia, Indonesia and Brunei have worn them at previous international competitions.
The event has faced a string of other problems, in the latest chapter of Indonesia's shambolic history of hosting of major sporting tournaments.
It is set to officially open Sunday and run until October 1 after months of delays and two changes of venue, now in Palembang city on Sumatra island.
Unpaid labourers shuttered the stadium in the original host city, Pekanbaru, with the governor embroiled in multiple corruption scandals unable to help.
It was moved to the capital, Jakarta, only to be shifted again to Palembang after Sumatran officials complained, giving organisers less than two months to move everything to the new venue.
Eyebrows have been raised over the Palembang complex, where parts of the ill-fated 2011 Southeast Asian Games took place.
Some facilities were not fully constructed as the 2011 event opened and scores of athletes suffered food poisoning there.
During that event, two football fans were crushed to death in a stampede at a venue in the capital as security guards were unable to control a massive crowd.
But Pramono was optimistic about the Islamic games, which includes archery, badminton and karate, and brings together nations from the Organisation of Islamic Cooperation.
"Everything is progressing, and I'm sure all 13 sports will be a success," he said.
The religious-based row is not the first to hit an international sporting event.
Last year, the International Judo Federation told Saudi Arabia's first woman to compete at the Olympics, Wojdan Shaherkani, that she could not compete in a Muslim headscarf.
A compromise was reached and she fought in a modified head covering at the London Games.
http://www.france24.com/en/20130920-bikini-tensions-mar-islamic-games-indonesia
-----------
Sudan engineer in court for refusing to cover her hair
20 September 2013
A Sudanese woman who refuses to cover her hair under the country's morality law has appeared in court and her case was adjourned until Nov. 4, her lawyer said.
Amira Osman Hamed, 35, has said she is prepared to be flogged to defend the right to leave her hair uncovered in defiance of what she has called a "Taleban"—like law.
"The defense asked the court that the charges against this woman be withdrawn, and the court adjourned the hearing until Oct. 4 while it considers the request," Moezz Hadhra told AFP.
Hamed's case has drawn support from civil rights activists and is the latest to highlight Sudan's series of laws governing morality that took effect after the 1989 coup by President Omar Al-Bashir.
"They want us to be like Taleban women," Hamed said in an interview with AFP this month, referring to the militant movement in Afghanistan.
She is charged under Article 152 which prohibits "indecent" clothing.
Hamed said she was visiting a government office in Jebel Aulia, just outside Khartoum, on August 27 when a policeman told her to cover her head.
"This public order law changed Sudanese women from victims to criminals," Hamed, a divorced computer engineer who runs her own company, told AFP.
"This law is targeting the dignity of Sudanese people."
http://www.arabnews.com/news/465257
-----------
Saudi Ministry Of Education Firm On Sports In Private Girl's Schools
20 September 2013
RIYADH — The Ministry of Education has refused to respond to the calls of religious men to cancel sports classes in private girl's schools, a local daily reported Thursday.
Sources told the newspaper that about 30 men volunteering to spread virtue and prevent vice, also known as Muhtasibeen, came to the ministry on Wednesday and met with a number of its officials with the aim of convincing them to cancel sports classes in the schools.
The ministry allowed the schools to introduce sport classes at the beginning of the current academic year and said it would evaluate the trial at the end of the year.
The sources told business daily Al-Eqtisadiah that the ministry's officials flatly refused to respond to the request of the Muhtasibeen and told them that the ministry would evaluate the experience by the end of the year.
The officials told the men that the former Grand Mufti of Saudi Arabia Sheikh Abdulaziz Bin Baz had issued a fatwa (religious edict) permitting sports for girls subject to certain Shariah controls.
The Muhtasibeen asked the ministry to rescind its decision on sports for girls, claiming that it was against Islam.
The officials told the men that sport activities in private schools for girls are being carried out according to strict Islamic rules and that parents have already approved the move.
The ministry has asked its female educational supervisors to ensure private girl schools are carrying out sports activities in line with strict Islamic controls.
It said schools should provide suitable facilities that are sufficiently private and ensure girls are modestly dressed.
A number of private girl schools have included the sport classes in their curricula. Intermediate and secondary schools teach sports once a week, while primary schools do so twice a week. The ministry has given the schools the freedom to decide the number of their sport classes.
Education Minister Prince Faisal Bin Abdullah directed education departments in the Kingdom to set the controls that would enable girls to practice sports in their schools in a manner that would conform with Islamic teachings while improving their physical fitness.
Last week there were reports that some private girl schools in Riyadh had suspended sports classes for unspecified reasons.
But a ministry official denied the reports reiterating that the ministry's directive is being strictly followed.
http://www.saudigazette.com.sa/index.cfm?method=home.regcon&contentid=20130920181026
-----------
Haia chief says women driving ban not part of Shariah
20 September 2013
RIYADH — Ban on women driving is not mandated by any text in Shariah, the Islamic legal code which forms the basis for most Saudi law, Sheikh Abdulatif Al Al-Sheikh, chief of the Commission for the Promotion of Virtue and the Prevention of Vice (the Haia) said on Thursday.
The Haia chief told Reuters that he has no authority to change Saudi policy on women driving. But his comment may feed into a national discussion in Saudi Arabia, where women have in the past been arrested for defying the ban.
Although Saudi Arabia has no written legal code on driving ban, its police and judiciary have long enforced a prohibition on women driving, citing the country's customs. Women who defied the prohibition have been arrested and put on trial on charges that include causing public disturbance.
"Islamic Shariah does not have a text forbidding women driving," said Al-Sheikh. He said that in his role as head of the Haia, he did not make policy but implemented the rules and laws of the Kingdom.
The Haia, he said, had not pursued or stopped any woman driver since he was made head of the organization and said he was not aware of such cases before his appointment. But he added that a report in the Arabic daily Al-Hayat on Thursday that Haia members had recently been instructed not to pursue or stop women drivers in future was untrue. "We have not given any new instructions," he said.
Al-Sheikh said he has worked to improve the body's image over the past 18 months by clamping down on members who exceed their authority. "We implement the rules strictly if the Commission people exceed their powers. We don't allow them to interpret the law themselves," he said. — Reuters
http://www.saudigazette.com.sa/index.cfm?method=home.regcon&contentid=20130920181027
-----------
London split over Muslim veils in schools
20 September 2013
Many Islamic schools in Britain make their female pupils as young as 11 wear burkas or veils, it has recently emerged. Schools say that they are "strict" on uniforms because full-face veils are the "desired dress code of a Muslim female."
Thus, the Madani Girls School in Tower Hamlets, East London, requires all its 300 pupils wear a black burka and a long black coat outside and does not allow any makeup or jewelry.
The Ayesha Siddiqa Girls School in Southall, West London, also insists pupils should wear a navy blue burka or a headscarf, which does not cover the face.
On its website, the school says its is "not willing to compromise on any issues regarding uniform."
Many other Muslim schools - including around a dozen state-funded schools - require female pupils to cover their hair.
However, activists believe it is wrong for any child to cover their face and the Home Secretary Theresa May says that all women should be able to "make a choice" about what they wear.
The cases have prompted some MPs to call for full-face veils ban.
Full-face veils are "inappropriate" in schools, Lib-Dem leader Nick Clegg has warned in his call for the ban, saying, "they make women invisible."
Home Office Minister Jeremy Browne said there needs to be a national debate about whether the state should step in to protect young women from having the veil "imposed" on them.
Browne told The Telegraph: "I think this is a good topic for national debate. People of liberal instincts will have competing notions of how to protect and promote freedom of choice."
He added: "I am instinctively uneasy about restricting the freedom of individuals to observe the religion of their choice. That would apply to Christian minorities in the Middle East just as much as religious minorities here in Britain."
"But there is genuine debate about whether girls should feel a compulsion to wear a veil when society deems children to be unable to express personal choices about other areas like buying alcohol, smoking or getting married. We should be very cautious about imposing religious conformity on a society which has always valued freedom of expression."
The chief executive of the Ramadhan Foundation, a group that works with young Muslims in the UK, said he was "disgusted" by Browne's comments.
"This is another example of the double standards that are applied to Muslims in our country by some politicians," Mohammed Shafiq said.
"Whatever one's religion they should be free to practice it according to their own choices and any attempt by the government to ban Muslim women will be strongly resisted by the Muslim community."
Browne's comments came days after one of the country's biggest education colleges, where 43 percent of the 35,000 students are from non-white ethnic groups, backed down on an eight-year ban on niqabs and burkas. A complaint by a prospective student at Birmingham Metropolitan College led to an online petition that attracted over 9,000 signatures – and the school reversed its ban to allow facial coverings with "cultural values," thus retracting its policy, which forced pupils to remove veils while on the premises so they can be identified.
A 17-year-old girl who started the protest told the Birmingham Mail the veil ban was embarrassing.
"It upsets me that we are being discriminated against. I don't think my niqab prevents me from studying or communicating with anyone – I've never had any problems in the city before," the teenager, who didn't want to be named, said.
Students at Birmingham Metropolitan College have split over the issue as to some the ban seems security-justified and appropriate, while to others it is outdated and oppressive.
Official guidance on facial coverings in schools – from the niqab, a veil in which the eyes are visible, to the burka, a full body veil in which the eyes are covered by mesh – was updated last year.
Though the Department for Education gives schools a carte blanche on the issue, it generally backs heads who ban veils "on the grounds of health, safety and the protection of the rights and freedoms of others."
Religious experts also express security concerns, claiming that some young British Muslims have lost touch with traditional Islam and came under the influence of extremist imams, who enforce the wearing of veils.
Dr Taj Hargey, director of the Muslim Educational Centre of Oxford, told VoR that the idea of the veil, or a face mask originated in Byzantium and was later incorporated into Muslim culture, having nothing to do with the Quran.
"There is no evidence in the Quran that it's a religious requirement. It's a custom, it's cultural but by no means religious," he said.
In response to the threat posed by such extremism, France became the first European country to ban the burka in public in 2011, to be followed by Belgium. Italy, Switzerland and the Netherlands plan to follow suit.
Public opinion in Britain is swinging over the ban. A recent YouGov poll of 2,205 adults found that 67 percent supported a complete sanction on wearing the burka. Some schools in multicultural areas argue that facial covering can impede learning, socializing and jeopardize an institution's security policy.
However, some schools and colleges that allow students to wear burkas and niqabs say they have had no problems. Adrian Quester, head of communications at City of Westminster College, which has a 20 per cent Muslim population, says: "We allow them to have two ID cards – one showing their face and one with the niqab. We've never had any issue with religious hate crimes."
Judges have tended to rule against students claiming their right to cover their faces. The landmark case was in 2007, when a High Court judge rejected a bid by a 12-year-old pupil in Buckinghamshire to be allowed to wear the niqab in class.
Nabila Ramdani, a journalist who specializes in Islamic affairs fears that the ban could lead to Muslims being stigmatized.
"I'm by no means the advocate of full veil, but banning it could trigger attacks on Muslims and Islam. We really have a tiny amount of women wearing a full veil, so the law could lead to stigmatizing them," she said.
The analyst believes that by allowing a debate, the UK could follow the sad example of France, where the ban sparked tensions and fierce national identity debates.
Zara Faris, a researcher in Islamic studies, shares the same view, calling the ban "a xenophobic and sadistic crusade against Muslim women." She also dismissed assumptions that Muslims women are forced to wear niqab or oppressed as wrong.
http://voiceofrussia.com/2013_09_20/London-split-over-Muslim-veils-at-schools-7992/
-----------
Teachers at Derby's Muslim school 'ordered to wear hijabs'
By Zena Hawley
Derby Telegraph
20 September 2013
WOMEN teachers at Al-Madinah School in Derby claim they are being told to cover their heads and shoulders with a hijab – an Islamic scarf – whether or not they are Muslim.
This is one of several complaints made by staff to their unions at Al-Madinah School, which is currently under investigation by the Education Funding Agency for alleged irregularities over its grants.
A member of the teaching staff told the Derby Telegraph that women were being told to sign new contracts that say they must wear hijabs and that girls are told to sit at the back of classes.
Two non-Asian women, who refused to comment, were spotted taking off their hijabs as soon as they were out of sight of the school during the lunch hour.
Despite repeated requests for a comment or interview being made to the school and its trustees by e-mail, phone and letter, there has been no response.
Nick Raine, regional NUT officer, said he was "very worried" about the school and the education of the 200 children there.
He said: "It's one thing to have a dress code which we can challenge and quite another to build it into a contract."
It is understood that the new contracts for staff also include rules about not taking non-halal food into the school and not being allowed to wear jewellery.
Sue Arguile, branch secretary of Derby National Union of Teachers, "There are worries over practices concerning the discrimination between male and female pupils in the school, with the girls being told to sit at the back of the class regardless of whether they can see the board properly."
The school, which occupies space at Norman House, Friar Gate, where primary-age children are taught, and Midland House, Nelson Street, for secondary children, was set up in September 2012.
The then head teacher, Andrew Cutts-Mckay, who has left after less than a year in post, said at the time that the school was being set up so that "the timetable will be flexible with time for Islamic teaching but pupils will be able to opt out of this and there will be a chance to learn about other faiths".
He said the school would "honour all faiths" and that he envisaged a school where 50% of pupils are Islamic and the other half were not.
Ms Arguile said: "This school was first launched as based on Muslim principles and not as a Muslim school.
"If the school is not sticking to the original reasons behind why it was set up, then it does call into question whether public money is being used properly and for its intended purpose."
Mr Raine said: "The school is publicly accountable so there needs to be greater transparency."
Initially, the free school was scheduled to admit 120 reception and year-one children, together with 180 pupils into years seven and eight. Eventually, the all-groups school will have up to 1,100 pupils.
Al-Madinah is a new type of free school, which the Government is allowing groups of parents, or interested parties, to set up.
These operate in much the same way as private schools, outside local authority control but qualifying for Government funding.
Councillor Martin Rawson, city council cabinet member for children and young people, who is opposed to free schools, said he was aware of the investigation by the EFR.
He said: "I hope that the outcome of that will be available in the near future. We are awaiting the findings before commenting further."
The school has yet to receive an inspection by the Office for Standards in Education, which could reasonably be expected to happen this academic year as it is a new school but it could be brought forward in view of representations from the teaching unions and city council.
An Ofsted spokeswoman said: "As schools are only notified the afternoon before inspections begin, we would not be able to let anyone know when the school is being inspected."
A Department for Education spokesman would not comment on what stage the investigation had reached and said: "We are investigating the allegations and will respond in due course."
HIJAB A COVERING AND 'STATE OF MIND'
The term hijab refers to a head cover, like a scarf.
It covers the head and chest, but not the face, and is particularly worn by a Muslim female beyond the age of puberty in the presence of adult males.
It not only refers to the physical body covering, but also a state of mind, where al-hijab refers to "the veil which separates man or the world from God".
Hijab can also be used to refer to the seclusion of women from men in public.
Most often, it is worn by Muslim women as a symbol of modesty, privacy and morality. If differs from a burqa, a veil that covers the entire body head and face, and the niqab which covers the entire head and face except for the eyes.
http://www.thisisderbyshire.co.uk/Teachers-Derby-s-Muslim-school-ordered-wear/story-19822232-detail/story.html#ixzz2fQg37rKL
-----------
Swiss Canton Puts Burqa Ban to a Vote
20 September 2013
LOCARNO, Switzerland—People in the southern Swiss canton of Ticino are set to decide whether to follow the lead of France and Belgium and ban the burqas worn by some Muslim women on religious grounds.
The proposal up for a vote on Sunday would outlaw clothes that "hide one's face in public," vague wording that would include burqas, niqabs and other veiled garments.
It is being spearheaded by Giorgio Ghiringhelli, a 61-year-old political activist and former journalist. Although burqas are rarely seen in Ticino, where less than 2% of the roughly 340,000 inhabitants identify as Muslim, Mr. Ghiringhelli said his ban could help curb Islamic extremism before it takes root, and would be "a strong signal for Switzerland and maybe for other countries" to follow suit.
"We don't need to tolerate this," Mr. Ghiringhelli said recently at a sun-washed cafe in Locarno, a popular tourist spot overlooking Lake Maggiore near the Swiss-Italian border.
The referendum comes as Switzerland and other European countries increasingly question how comfortable they are accommodating foreigners and their cultures, particularly those practicing Islam.
Four years ago, Switzerland approved a national ban on the construction of new minarets—the spires from which worshipers are called to prayer at mosques. The move spurred a wave of self-reflection in this relatively immigrant-friendly country, which has hundreds of mosques and about 320,000 long-term Muslim residents (as of 2011) out of a population of eight million.
The right-wing Swiss People's Party, the largest in the lower house of the federal parliament, has been vocal about perceived problems with integrating foreigners into Swiss society. In an August position paper, the party said it is "practically impossible" to integrate women wearing burqas.
"We don't want to be an Islamic country," said Pierre Rusconi, a Swiss People's Party member who represents Ticino in the federal parliament.
Switzerland also recently tightened laws governing asylum seekers, many of whom come from the Middle East and other traditionally Muslim parts of the world.
France and Belgium implemented laws in 2011 that ban the wearing of clothes concealing or covering the face—a de facto prohibition of the burqa.
Since then, about 800 women in France have been stopped and 750 fined €150 ($200), including some foreigners, primarily Middle Eastern tourists, according to the Interior Ministry. Women who are stopped can also be ordered to take a course about French republican values, but rarely are.
In most cases, the women uncover their faces without protest, a ministry spokesman said. But riots erupted in July near Versailles after police tried to have a woman remove her face-covering veil and got into a scuffle with her husband. Despite the law, veiled women can still be seen on the touristy Champs-Élysées in Paris, an area with heavy police presence.
No national statistics are yet available for Belgium. But Johan Berckmans, spokesman for a Brussels police district that includes much of the city's Muslim population, said there have been "very few" fines as it is "extremely rare" to find women wearing a full veil.
There are between 250,000 and 300,000 Muslims in the Belgian capital, around a quarter of the city's population, according to a 2011 study by sociologist Felice Dassetto.
In the U.K., the topic has been rekindled in recent days after a Home Office minister, Jeremy Browne, said that although he is uneasy about banning burqas, he believed there was a legitimate debate to be had about whether girls should be compelled to wear a veil.
Another Swiss canton tried to force a nationwide burqa ban in 2010, although parliament ultimately voted it down.
Mr. Ghiringhelli and his opponents estimate that only about 100 residents wear burqas in all of Switzerland, and none in Ticino. Still, the new proposal has angered some of Ticino's few Muslims.
"The proposal is an attack on Islam," said Slaheddine Gasmi, president of the Muslim League of Ticino.
At a news conference at a Ticino hotel on Wednesday, Nora Illi, the head of the women's department of the Islamic Central Council of Switzerland, said the ban would make her yearly vacations in Ticino uncomfortable because she wears a niqab. "A veiled woman will no longer be able to move around freely," she said.
Mr. Ghiringhelli declined to attend a Sept. 12 public debate on his proposal with Islamic leaders and academics, saying he was concerned he'd be outnumbered by critics. Most of the more than 100 people who turned out in Lugano, Ticino's largest city, seemed opposed to the ban.
No polls have been conducted to gauge support for the ban. But academics and human rights groups are reluctant to dismiss it given the influence of some right-wing political groups and rising anti-foreigner sentiment.
Eva Maria Belser, a law professor at the University of Fribourg, noted that the minaret referendum passed in 2009 despite polls at the time showing it likely wouldn't succeed.
In Ticino, "the antiforeigner climate has really worsened" recently, said Sarah Rusconi, a spokeswoman for the Ticino office of Amnesty International. "I'm kind of fearing the worst." (She isn't related to Pierre Rusconi.)
Ticino's local government has tried to water down Mr. Ghiringhelli's effort by putting an alternative on the ballot that would also ban most face-covering attire for reasons of public safety, but without requiring the canton to amend its constitution.
The president of the Federal Commission Against Racism has publicly criticized Ticino authorities for failing to explain to voters that Mr. Ghiringhelli's proposal is potentially discriminatory.
A Ticino government representative declined to comment.
http://online.wsj.com/article/SB10001424127887323527004579078993454219558.html
-----------
Four Sisters Kill Themselves over Dowry in Pakistan
September 20, 2013
MULTAN: Four sisters killed themselves after a row with their father who could not afford dowries for them to get married, officials said on Friday.
The women threw themselves into a canal after arguing with their father in Mailsi, a town in the rural southern part of Punjab province. A fifth sister was pulled alive from the water.
"A poor farmer, Bashir Ahmed Rajput, could not marry his five daughters because he had no money to offer dowry," Malik Daud Hasnain, a senior police official told AFP.
"After an argument on the issue on Thursday, his daughters became desperate and jumped together into a water canal."
The women were aged 45, 43, 38, 35 and 31.
"We have rescued the youngest sister Fatima and also discovered dead bodies of two others. The search for the remaining bodies is on," Hasnain said.
Dowry for weddings is a serious issue for poor families in the subcontinent and many women are unable to marry because their relatives cannot afford the gifts and money demanded by grooms' families.
In Pakistan, the usual age for a woman to get married is between 18 and 28 and anyone older faces difficulties finding a match.
Unmarried older women face scorn from neighbours and relatives and – with no husband to support them financially – poverty and destitution.
http://tribune.com.pk/story/606970/four-sisters-kill-themselves-over-dowry/
----------
Only 15% of Saudi women have IDs
20 September 2013
The Civil Status Department at the Ministry of Interior has so far issued 1,487,000 ID cards to Saudi women since the system was put in place in 2002.
This translates to just 15 percent of the 9,876,051 women who are eligible for ID cards as indicated in a recent survey by the Central Department of Statistics and Information.
Mohammad Al-Jasir, a spokesman for the Civil Status Department, told local media that there was an increase in the number of Saudi women who wish to be in possession of an ID card.
"This has encouraged the Civil Status Department to keep pace with the increasing demand from women for IDs by creating more female sections in its branches in the Kingdom to facilitate this service and approve the reservation system through its electronic portal," he said.
Al-Jasir said that the functioning of the Civil Status Department is not limited to issuing ID cards for women, but also to register or amend their social status and profession, in addition to obtaining copies of registered records for themselves, their husbands, siblings and descendants.
A female ID card contains fingerprint recording and photo to prevent identity theft and tampering.
There were only five offices dealing with IDs when the department began issuing ID cards to Saudi women in 2002. There are now 20 offices in various governorates and major cities.
Though the agency's branches in remote areas don't have female sections, they are served by mobile units and other modern means approved by the Civil Status Department.
"Employees at female sections in the Civil Status Agency have undergone extensive training programs in the field of civil status, information technology and administrative behavior. These programs are aimed at developing skills and abilities, as well as achieving quality services," he added.
http://www.arabnews.com/news/465264
-----------
URL: https://www.newageislam.com/islam,-women-and-feminism/new-age-islam-news-bureau/tunisian-girls-return-home-pregnant-after-'sexual-jihad'-in-syria/d/13596