New Age Islam News Bureau
21 October 2021
• Two Hindered Women Cadets To Be Inducted In Kuwait Army
• As Women Flee Afghanistan, Brain Drain Hits Economy and Girls' Hopes
• 'You Are Not Invincible': UAE Breast Cancer Survivor Urges All Women To Get Screened
• Conference to Shed Light on How Saudi Arabia Has Helped Empower Women through National Reforms
Compiled by New Age Islam News Bureau
URL: https://www.newageislam.com/islam-women-feminism/tunisian-director-leila-toubal-rights/d/125618
--------
Tunisian Director and Actress Leila Toubal Defends the Rights of Women through Theatre
20/10/2021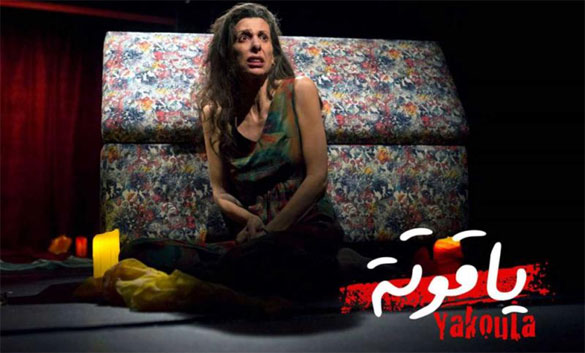 Leila Toubal in a promotional poster of "Yaqouta". (Facebook)
----
Tunisian director and actress Leila Toubal found in the theatre a space for resistance through art. In her new play "Yaqouta", she talks about women's issues and their long journey for rights and freedoms
"Yaqouta" is the last part of a theatrical trilogy that Toubal started with her plays "Silwan" (2015) and "Houriya" (2017), in partnership with "Art is Resistance" productions and musician Mehdi Trabelsi.
Each play delved into the depths of female suffering in a patriarchal society par excellence, as "Houriya" and "Silwan" rejected religious extremism and terrorism and defended women's freedom and gains at a critical period in Tunisia's history following the January 2011 revolution.
Leila Toubal chose for her new play the name "Yaqouta (Arabic for "Pearl") to suggest that women shine like pearls, no matter how society "covers" them under the veils of virtue and taboos or tries to smother their will with judgments, customs and religious notions.
Through the play, Toubal calls on women to be true to themselves, with all their contradictions, mistakes, qualities and flaws.
"Umm Yaqouta" (Laila Toubal) gives voice to women as she explores usually muted issues. From drama to black comedy, she speaks about being subjected to marital violence. She offers the audience a dialogue between the mother and her daughter "Yaqouta" (the fruit of rape). She wants to show after all the years, nothing has changed in the reality of Tunisian women.
Toubal reviews a host of laws that do not serve the rights of Tunisian women, such as adding the husband's surname to his wife's ID, making her "the wife of so-and-so", presents the issue of marital rape from a societal and legal perspective and decries the bias of police in favour of the husband in most of the cases submitted for prosecution against marital violence.
Delving into regional concerns, "Yaqouta" criticises the notion that a woman "must remain silent because she is a woman". She denounces genital mutilation and trafficking in women and enslaving them under ISIS and al-Qaeda. She criticises the many people in society who are satisfied with being active on social media or taking part in street demonstrations just to take selfies.
Toubal denounces the ten years of rule by Islamist parties and their allies, and what she sees as their relentless efforts to roll back women's achivements in Tunisia. She describes how Tunisians have endured the pain of illegal migration, acts of terrorism and infant deaths in precarious hospitals. Yaqouta screams in the face of women asking them to challenge society, its inhibitions and restrictions.
The tempo of the theatrical performance follows an ascending rhythm to simulate the pace of life itself.
Toubal, the director, uses sound effects as she makes the voices of women advocates heard. There are audio recordings of Giselle Halimi (a Tunisian-French lawyer who stood up against French colonialism), the late Raja Ben Ammar (theatrical director), and the late Zeinab Farhat (journalist, playwright and feminist activist). There are also recordings of unknown women brought together by their struggle for women's rights, each one according to her circumstances and the society in which she grew up.
Toubal's "Silwan", "Houriya" and "Yaqouta" were different women in different periods of time. They are linked by theatrical productions through which Leila Toubal tries to show that the conditions of Tunisian women, those of Arab women and to great extent those of women all over the world, have not changed much. Tragic fates have often worsened. From Toubal's perspective, Arab societies are in urgent need of a major intellectual and cultural shock, in order to bring about the desired change and grant women their right to life without limits, restrictions or prejudice.
Source: The Arab Weekly
https://thearabweekly.com/toubals-yaqouta-stands-stage-defend-rights-women
--------
Two Hindered Women Cadets to Be Inducted In Kuwait Army
KUWAIT CITY, Oct 20: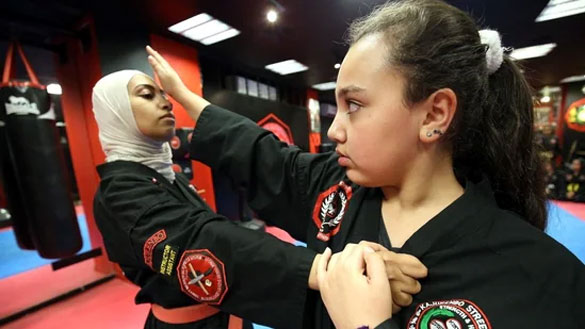 Kuwaiti women have been serving as police officers for the past two decades, which paved the way for women to join the army.(AFP / Representational)
-----
The Director of the Directorate-General of Mobilization, Colonel Tariq Al-Sabr said 200 women cadets will be inducted into the Kuwaiti army, 150 to work for the Amiri Guard and will undergo a training course for 3 months, while 50 will serve the medical services sector of the Armed Forces and will under one month's training, according to Al-Rai daily.
The sources told the daily, those wishing to apply must do so via the Ministry of Defence website, and the applications will be called for an interview after the applications are verified by the security and medical committees.
Source: Arab Times
https://www.arabtimesonline.com/news/200-women-cadets-to-be-inducted-in-army/
--------
As Women Flee Afghanistan, Brain Drain Hits Economy and Girls' Hopes
Oct 20, 2021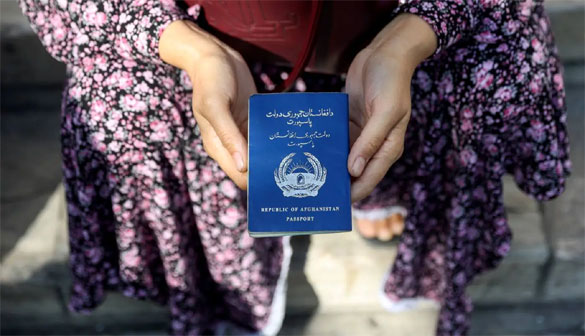 Photo courtesy/LiveWire
-----
Marzia has dedicated the past decade to treating some of Kabul's poorest women, but the midwife has now packed up her stethoscope along with a few precious photos, ahead of leaving Afghanistan with her husband and son.
The health worker is part of a major brain drain of professional women — entrepreneurs, lawyers, scientists, journalists and more — that many predict will set the country back decades.
"I am not leaving happily, but with a broken heart," she said.
"So many educated and professional women like me are leaving because of threats to our lives. But this will be devastating for the country in the long term," said Marzia, who asked not to use her full name.
Tens of thousands of people fled Afghanistan in a mass evacuation arranged by the United States and partner countries after the Taliban took control on Aug. 15.
Others have left with help from international organizations, or under their own steam, fearing danger in the new Taliban era.
Marzia, 34, said the exodus would hurt the country's economy as well as decimate the aspirations of younger generations.
When the Taliban were last in power from 1996-2001, they barred women from work and imposed harsh restrictions on their daily lives, flogging or stoning those who broke the rules.
Education for girls was also banned.
Role models
Since then, there has been a massive international effort to boost women's education, empowerment and economic opportunities.
"The brain drain is a huge concern," said Manizha Wafeq, president of the Afghanistan Women Chamber of Commerce and Industry (AWCCI).
"We all invested so much in creating a great pool of professionals to support the country — in politics, the economy, engineering, the environment — everything."
There are an estimated 57,000 women-led businesses in Afghanistan, from handicraft traders to dried fruit exporters.
They employ about 130,000 people, and provide work for thousands of women making handicrafts at home.
Wafeq said women had increasingly made inroads into traditionally male sectors such as IT and media services.
Even running a cafe is considered man's work given it is often taboo for women to interact with men outside the home.
The loss of women exemplars will hit girls especially hard.
"We had created a lot of role models for the next generation," Wafeq said.
"They were seeing so-and-so has started a travel agency, a construction company, an IT company, and saying 'I can do it too'. If these women leave, we're losing hope."
The Taliban say women will be allowed to work in accordance with Islamic law, but have not clarified exactly what this means.
Many women — including female civil servants — have already lost their jobs; others have been told to stay home.
The AWCCI has asked the Taliban to let women-led businesses resume operations, and is awaiting a meeting with officials.
"(Many women) don't want to leave. They've given all their lives to build these businesses," Wafeq said.
Zahra Rezaie, 34, who runs a carpet business providing work for 200 weavers, is among those who have fled.
Now in Albania and hoping to get to the United States, Rezaie said she had decided to leave partly because she lived alone — "a big taboo for the Taliban".
"I was so scared," said Rezaie, who still runs her business from abroad.
Health and education
The World Bank says Afghanistan's long-term outlook hinges on greater female participation in the economy and society.
Before the Taliban takeover, one in five urban women worked. Women accounted for about a quarter of civil servants and MPs, and tens of thousands were studying at universities.
Economists say broadening women's opportunities helps lift their families, communities and countries out of poverty too.
Experts fear the exodus of professionals could also cut women's future access to healthcare and education.
The Taliban say men should not teach girls or women and many men do not let male doctors treat their wives and daughters.
Afghanistan has more than halved maternal and child mortality rates in the last 20 years, but the World Bank says a collapsing health service could see this now rise by a third.
Death threats
Farzana Rahimi, a 43-year-old counselor from the city of Mazar-i-Sharif, said the brain drain would also sabotage efforts to help women access justice and tackle domestic violence.
Studies suggest 87% of Afghan women experience abuse.
Rahimi, who worked for an organization providing victims with legal support and trauma counseling, was on her way to the airport with family when the Taliban took Kabul.
"I thought I'd be killed on the spot," said Rahimi, now rebuilding her life in Canada.
Rights activists, lawyers and judges have also fled or gone into hiding, fearing reprisals from Taliban supporters.
Female judges have received death threats after the Taliban released some men they jailed. Others are at risk after ruling against men in domestic violence, divorce and custody cases.
Rahimi said women would no longer get justice in court as the Taliban did not accept a woman had the right to judge men.
"Society will go back to past centuries," she said.
"When I think about all we've done in the last 20 years to build our country — it's now a big zero."
Source: Japan Times
https://www.japantimes.co.jp/news/2021/10/20/asia-pacific/afghanistan-women-brain-drain/
--------
'You are not invincible': UAE breast cancer survivor urges all women to get screened
21 October ,2021
A breast cancer survivor who was diagnosed with an aggressive form of the disease in her mid-20's urged young women to do regular checks and screening as she spoke about her ten-year-recovery battle.
Beauty entrepreneur, Anisha Oberoi, founder of Secret Skin, said she was in the prime of her business career when she found a lump in her breast.
For all the latest headlines follow our Google News channel online or via the app.
"I had quit my fashion job with Ermenegildo Zegna to go to INSEAD - the most prestigious MBA program in the world and had booked my flights," she told Al Arabiya English.
However, that dream was put on hold after a biopsy revealed she had breast carcinoma.
"In early-2010 I was misdiagnosed twice due to two senior gynecologists who were not trained in oncology to pick up on suspicious growths (as it often was, a decade ago) and told to watch my period for the next few cycles, assuming it was a fibroid," she said. "It appeared as a soft pea-sized lump on my right breast that distended when touched."
"Within months it grew harder and by July an FNAC (fine needle aspiration cytology procedure) revealed that it was intermediate stage breast carcinoma."
Oberoi said she was stunned by the news.
"I was terrified and stunned as I had no family experience with the disease and very little support existed back then in terms of counselling for young people."
"But like anything else in my life, I treated it like a time-bound project with INSEAD being the end goal. I stubbornly worked backwards from my dream and that kept me alive."
Oberoi underwent aggressive treatment, including surgery to remove the lump, eight rounds of chemotherapy, and a few months of extensive radiation.
"I lost my lashes, brows, hair and put on weight due to steroids," she recalled. "They found that the cancer had reached my lymph nodes and my armpit had to be scooped out of its nerve endings."
"They took a flap from the muscle from my back to replace the loss of skin when the lump was removed, and this caused me to lose sensation in the right side of my body."
"My arm was like a broken wing full of scar tissue that had to be opened out with regular physiotherapy to restore movement."
Oberoi said she experienced extreme fatigue and night sweats and her period was artificially put on hold due to the pathology revealing that the cancer was hormone-driven.
The radiation came to an end in June and by August Oberoi had moved to France to continue her studies.
"It was an effort to start a new life but with a suitcase full of injections that I need to administer to my stomach at a French clinic as part of hormone therapy."
"During this period, I felt ugly, impotent, vulnerable but I also felt hopeful of a better future. My seat at school was waiting for me."
Oberoi is currently in remission but still undergoes "anxiety-ridden medical checks" every three months.
"Anything suspicious has to be poked and prodded to ensure I'm safe but I'm grateful for advancements in the medical field, and for the support I have from my partner and doctors in UAE," she said.
As Breast Cancer Awareness Month is marked during October, Oberoi said she wants to give a timely reminder for all women to get checked if they notice anything irregular in their breasts and to undergo regular screening.
"We are not invincible, and it can happen to anyone. The important part is to stay on top of your own health and prioritize your emotional and mental wellness at all costs."
COVID-19 led to screening delay
Earlier this month Al Arabiya English revealed how women in across the UAE delayed vital breast cancer screening during the COVID-19 pandemic in a "concerning phenomenon" that led to a spike in cases across the country.
October marks the start of Breast Cancer Awareness Month and experts are reminding that early detection brings a higher chance of recovery.
Breast cancer has four stages and catching it at the first stage means the chance of survival is between 95 and 100 percent.
However, doctors in the UAE said screening is well below pre-pandemic levels as women missed routine appointments and avoided health settings over the fear of COVID-19 meaning they missed vital lifesaving treatment.
Prof. Humaid al-Shamsi, a consultant in oncology and medical oncology director at VPS Healthcare, has noticed an increase in breast cancer cases across the UAE as a result.
"October, also known as Pink Month, is the month to increase awareness about breast cancer, which is one of the most common cancers worldwide," he told Al Arabiya English.
"Since the pandemic, we are noticing an increase in the number of patients presenting with breast cancer. This means they are delaying their visit to the doctor over fears about COVID-19.
"We are very concerned about this phenomenon."
The doctor said he wants to highlight the importance of being aware of any symptoms like new lumps in the breast, changes to the nipples, and pain in the breast area.
According to the World Health Organization, close to 2.3 million women were diagnosed with breast cancer and over 685,000 died worldwide in 2020.
Source: Al Arabiya
https://english.alarabiya.net/News/gulf/2021/10/21/-You-are-not-invincible-UAE-breast-cancer-survivor-urges-all-women-to-get-screened
--------
Conference to Shed Light on How Saudi Arabia Has Helped Empower Women through National Reforms
October 21, 2021
RIYADH: Imam Mohammad bin Saud Islamic University will hold a two-day conference to shed light on how Saudi Arabia has helped empower women through national reforms, government policies, and private initiatives.
The conference, which will be held on Nov. 22-23, will bring together more than 60 experts, ministers, and Saudi universities. It will explore seven themes and indicators of women empowerment in local and international organizations.
Prof. Nouf bint Abd Al-Aly Al-Ajmi, the vice-rector of Female Student Affairs, who is also the head of the organizing committee, told Arab News that many prominent female figures will participate in the conference.
"Saudi women have taken great strides towards empowerment, thanks to the legislation and laws issued to enhance women's position and protect their social and personal rights and ensure their participation as decision-makers," Al-Ajmi said.
The themes will focus on legislative reforms in the era of King Salman and how they have helped meet the demands and needs of women towards more vital social participation.
There will be an emphasis on national identity and citizenship through women's empowerment in education and training.
The rector of the Imam Mohammad bin Saud Islamic University, Prof. Ahmed Salim Al-Amiri, said the royal approval to organize this conference reflected the interest and support of the Kingdom's leadership for Saudi women.
"Saudi women have enjoyed many rights while many historic and key decisions were issued to enhance women's role in society and empower them to be an active partner in national development," Al-Amiri said.
The rector said various governmental and non-governmental sectors will participate in the event, including Saudi universities, to explore women's empowerment on different levels.
The conference will also focus on government projects and initiatives that support the empowerment of Saudi women, key indicators of women's empowerment, and new functional areas.
The successes and achievements of women in the era of the Custodian of the Two Holy Mosques will also be highlighted.
Source: Arab News
https://www.arabnews.com/node/1952111/saudi-arabia
--------
URL: https://www.newageislam.com/islam-women-feminism/tunisian-director-leila-toubal-rights/d/125618
New Age Islam, Islam Online, Islamic Website, African Muslim News, Arab World News, South Asia News, Indian Muslim News, World Muslim News, Women in Islam, Islamic Feminism, Arab Women, Women In Arab, Islamophobia in America, Muslim Women in West, Islam Women and Feminism