New Age Islam News Bureau
22 Apr 2013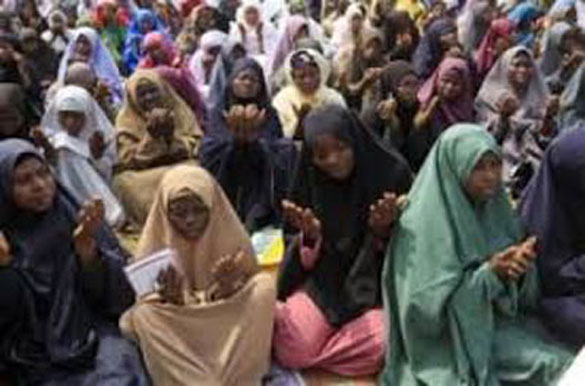 Photo: Muslim Women's Group Cry out over MEND's Threat to Bomb All Islamic Institutions
---------
• Dubai Extends Hours for Women-Only Beaches
• Indian Woman Caught In Dubai Undercover Sting Jailed For Three Years
• Saudi Arabia: Bride Demands Groom Marry Her Two Other Friends
• Pakistan: Cops Gang-Rape Women in Tharparkar
• 65-year-old 'sexually assaulted', thrown acid at
• Muzaffarnagar acid attack: Main accused arrested
• Muslim Women's Group Cry out over MEND's Threat to Bomb All Islamic Institutions
• Malaysian Opposition Hunts for Women's Votes
• FAS Founder Commends Rwandan Women on Peace Building
• Lighting a Flame of Hope to Fight Child Abuse in Saudi Arabia
• Saudi Sponsor Shocked To Find Lankan Maid Reporting For Duty Pregnant, Sent Back
• The Anti-Abortion Lobby in Ireland Is Barbaric
Compiled by New Age Islam News Bureau
URL: https://newageislam.com/islam,-women-and-feminism/new-age-islam-news-bureau/tunisia-s-topless-protester--escapes-family-after-virginity-tests-/d/11246
--------------
Tunisia's Topless Protester 'Escapes Family after Virginity Tests'
Associated Press
22 April 2013
TUNIS, Tunisia // The Tunisian woman who posted topless photos of herself as a form of feminist protest is now trying to leave the country, her former lawyer said yesterday, after a video surfaced in which the woman recounted being drugged and given virginity tests by relatives.
Amina Tyler, 19, shocked the nation when she posted Facebook photos with the words "my body belongs to me" scrawled across her naked chest. She was later spirited away by her family after religious hardliners issued death threats against her.
Bouchra Belhaj Hamida, Tyler's former lawyer who has in the past acted as her spokeswoman, said Tyler had escaped from her family in a village outside the capital and was now staying with friends as she gathered the necessary documents to get to France.
In a video interview posted Monday on the Facebook site of the Ukrainian women's group FEMEN, the young woman described her ordeal and vowed one last demonstration before leaving.
"I don't want to leave Tunisia before I do a topless protest. I will do a topless protest and then I will leave Tunisia," Tyler said in a filmed Skype conversation with a member of FEMEN, a group that often uses nude protests to display support for women's rights.
Fingering a pendant representing Tunisia's Berber ethnic minority, Tyler described how she was snatched by her cousin from a cafe, beaten and had her cell phone SIM card destroyed. She was then taken to her aunt's and then her grandmother's house, where relatives admonished her and made her read from the Muslim holy book, the Quran.
"Two old women of my family checked to see if I was virgin or not. That was horrible and against my freedom," she said in the video. "They took me to the kitchen and said take off my clothes and we will see if you are virgin."
She added that she was given large doses of medicine that made her sleep a great deal and that her family was now searching for her.
Hamida, a prominent feminist lawyer, would not reveal Tyler's location except to say she was not far from the capital. Tyler is gathering the material she needs to reach France, including an ID card, a passport and a visa, Hamida said. Unlike in some Muslim nations, in Tunisia women do not need the permission of a father or husband to leave the country.
http://www.thenational.ae/news/world/africa/tunisias-topless-protester-escapes-family-after-virginity-tests#ixzz2RBcWR6XK
--------------
Dubai extends hours for women-only beaches
Ramola Talwar Badam
Apr 22, 2013
DUBAI // Women now have exclusive access to two beach parks in the emirate that will be cleared of men for four days a week.
Before now, only Jumeirah Beach Park held a women-only day - on Mondays between 8am and 10pm. From this week, Dubai Municipality will restrict access between the same hours at Jumeirah Beach Park on Mondays and Wednesdays, and Al Mamzar Beach Park on Sundays and Tuesdays.
Only boys below the age of 4 will be allowed in the park on ladies-only days - even the lifeguards, cleaning and ticketing staff will be female.
"We had a tremendous response with 1,500 women coming to Al Mamzar already," said Ahmad Abdul Kareem, the director of the parks and horticulture department.
"We are planning to add fitness and sports facilities for women. One of the best exercises for older ladies and students is in the pool and sea. Clubs will be able to use the beaches to develop teams."
The beaches will be additionally segregated for different groups of women: Al Mamzar beaches 1, 2 and 5 will be reserved for female tourists and beaches 3 and 4 will be for local women, student school groups, elderly ladies and ladies with disabilities.
In Jumeirah Beach Park, the right section near the ladies club will be designated for locals, while the left section near the restaurants will be for tourists.
Complaints about inappropriate swimwear worn by tourists prompted the decision to demarcate areas, the municipality said.
"We decided to classify our beaches according to needs of different visitors," Mr Kareem said. "Tourists want to swim but local women come with friends, children, bring their own food and enjoy the day."
Women in the emirate were full of praise for the idea of ladies-only days.
Sonia Al Hashmi, chairman of the UAE Down syndrome Association, said she appreciated the move as it was not always safe to take special needs children to a crowded beach. "This is a chance for girls and children with special needs to enjoy life and live normally," she said.
The idea of segregation, however, was described as a tough call by others, including Mari de Villiers, marketing manager of Surf Shop Arabia. "It's understandable that some get offended but there should be respect for the law of the land," she said. "The whole of Dubai is about multiple nationalities living together. As soon as you segregate it affects both sides."
"There should not be segregation," agreed Helen Schrader, a member of an all-women dragon boat racing club, "instead the municipality should make it clear and communicate guidelines about acceptable swimwear."
rtalwar@thenational.ae
http://www.thenational.ae/news/uae-news/no-men-allowed-dubai-extends-hours-for-women-only-beaches#ixzz2RBbO11Fd
--------------
Indian Woman Caught In Dubai Undercover Sting Jailed For Three Years
Salam Al Amir
Apr 21, 2013
DUBAI // A prostitute caught half-naked in a hotel room with an undercover policeman has been sentenced to three years in prison.
SP, 36, from India, was wearing only a shirt when officers burst into her room at the Everest Hotel Apartments and found her in possession of a marked Dh500 note the undercover officer had paid her in return for sex. Police arranged the sting after receiving a tip off that she was prostituting herself.
At the Criminal Court, she denied a charge of prostitution but confessed to charges of absconding from her sponsor and overstaying her visa.
The court ordered her to be put under observation during her jail term and also fined her Dh2, 000 on the immigration charges.
She will be deported after completing her prison term.
salamir@thenational.ae
http://www.thenational.ae/news/uae-news/courts/prostitute-caught-in-dubai-undercover-sting-jailed-for-three-years#ixzz2RBbxNz1p
--------------
Saudi Arabia: Bride Demands Groom Marry Her Two Other Friends
By IBTIMES STAFF REPORTER
April 21, 2013
A Saudi Arabian woman has told her fiancé she will only marry him if he agrees to marry two of her friends. The three women work together as teachers in a local school.
Gulf News reports the groom was shocked at first but gave in to pressure from relatives and friends. And now, under the agreed conditions, the three women will live in rented apartments in the same building.
Islamic law neither encourages polygamy nor makes it mandatory. It is, however, permitted "under extraordinary circumstances". The religion's laws state a man can marry up to four women, providing he treats them all equally.
In addition, he must also do justice to all his wives with regard to sustenance, expenditure, time and all other obligations as a husband. However, if a man is afraid he will not be able to fulfil such obligations, it is forbidden for him to marry more than one woman.
Polygamy in Saudi Arabia
Last year, Al Arabiya reported on polygamy becoming an acceptable lifestyle for Saudi Arabian women. The understanding was that it was viewed as a solution for a "shortage of men" willing to marry.
"When a girl reaches 30 in Saudi Arabia, she is automatically considered a spinster and that is when she accepts marrying a man who would only give her part of his time rather than not marry at all," Ibrahim al-Anzi, a professor of sociology, explained.
Anzi also explained that polygamy not only solved the problem of spinsterhood but also reduced the problem of men engaging in sexual encounters outside marriage.
However, not all Saudi Arabian women support polygamy. The most common fear is that men will forget their first wives "to the extent that they stop supporting them financially and stop caring for their children".
Prophet of Four
In 2010, a campaign was launched by a group of young Saudi men to convince all other men in the country to marry four women, "to get rid of spinsters".
Under the slogan "Prophet of Four", the campaign was launched in response to young Saudi women uninterested in joining a polygamous marriage.
In Saudi Arabia's strict patriarchal society, a woman is not allowed to drive, inherit or divorce, and she must be represented by a related male like her husband, father or son in all spheres of life.
However, most of the new generation of educated women do not rush into getting married and refuse to accept a polygamous set-up.
"Women are more educated and have jobs, so they are not always in a rush to get married for financial support like they were before, especially if their parents give them the freedom to travel and lead their lives as they wish," Wajiha Al-Huwaidar, a Saudi women's rights activist told The Media Line.
A Man with 58 Wives
In 2005, Saleh al-Sayeri, a 64-year-old shepherd-turned-businessman from Saudi Arabia, stirred the polygamy debate after marrying 58 women and claiming to have forgotten all their names. The man was reportedly unsure of the number of children he had.
"Marriage doesn't bore me," al-Sayeri told USA Today, from his 22-horse stable in Usfan, in the desert 500 miles west of Riyadh. "I'm the happiest man in the world."
http://www.ibtimes.co.uk/articles/459626/20130421/saudi-arabia-woman-demands-groom-marry-friends.htm
--------------
Pakistan: Cops Gang-Rape Women in Tharparkar
April 22, 2013
THARPARKAR: Two policemen along with two other men allegedly gang raped a married woman after subjecting her to torture, Geo News reported Monday.
A 20-year old Hindu woman, resident of Aadhi village in Tharparkar, alleged that two policemen posted at a local check-post barged into her house and gang-raped her along with two other men after subjecting her to torture.
The women said that when she along with members of her family reached a local police station to get a case registered against the accused, they were pushed out of the station by the law enforcers.
When contacted, Senior Superintendent Police (SSP) Tharparkar said that both the policemen had been suspended while a probe was also launched into the matter.
http://www.thenews.com.pk/article-97843-Cops-gang-rape-women-in-Tharparkar-
--------------
65-year-old 'sexually assaulted', thrown acid at
April 22, 2013
WAN BACHCHRAN: Wan Bachchran police on Sunday registered a case against a man described as a quack for a sexual assault and for throwing acid at an elderly woman.
The woman's family had earlier staged a protest demonstration in front of the police station for registration of a case. The woman was taken to Wan Bachchran hospital, where she was later reported to be out of danger.
The protesting family said that the woman, 65, was taken to Abdus Sattar, who ran a pain relief clinic in Lorry Adda, on Friday after she complained of pain in her legs.
They said he took the woman inside a room, where he tied both her hands and sexually harassed her.
Full report at:
http://tribune.com.pk/story/538582/65-year-old-sexually-assaulted-thrown-acid-at/
---------
Muzaffarnagar acid attack: Main accused arrested
April 22, 2013
The main accused in the Muzaffarnagar acid attack case, in which four sisters were severely injured, has been arrested, police said on Monday.
Ayyub Kureshi, who allegedly threw acid on the sisters, was arrested in Muzaffarnagar on Sunday and the motorcycle used by him in the attack was also seized, DIG DC Mishra told reporters.
"The main accused, Ayyub Kureshi confessed his crime and accepted that he was hired for throwing acid on them by the brother-in-law of the victims. After receiving an amount of 40,000 from him, Ayyub threw acid on the four women and fled," he said.
Full report at:
http://www.hindustantimes.com/India-news/uttarpradesh/Muzaffarnagar-acid-attack-Main-accused-arrested/Article1-1048500.aspx
----------
Muslim Women's Group Cry out over MEND's Threat to Bomb All Islamic Institutions
Simon Ateba
April 19, 2013
Muslim women have cried out to Nigeria's Federal Government to put security measures in place to protect the lives of Muslims, their properties and mosques. A Muslim women's group cried on Thursday, following a threat by the Movement for the Emancipation of the Niger Delta, MEND, to launch violent attacks against them from next month.
The Criterion, an association of Muslim women in business and different professions, said in a statement that the government must do all it can to protect Muslims, Muslim clerics and various Islamic institutions in Nigeria.
"In an e-mail dated 14 April, 2013, the militant group threatened to commence 'the bombings of Mosques, hajj camps, Islamic institutions and Islamic clerics and large congregation of Islamic events 'in defence of Christianity'.
"The Criterion wonders whether MEND is acting alone in its proposed terror campaign or it is acting the script of other groups and individuals who had expressed similar anti-Islam views in the past," said Dr. Shareefah Labo-Popoola, the Criterion National President.
The group argued that most of the attacks by the dreaded Boko Haram Islamic sect were targeted at Muslims and Muslim institutions, and claimed the lives of many Muslims.
The Criterion condemned Boko Haram killings, saying that they are 'un-Islamic.
"The violent group has distorted core Islamic concepts and are only disguising as Muslims to drum up support for their misguided conducts," the statement read.
"Islam forbids a Muslim to take another person's life irrespective of creed or race. Islam is a religion of peace and preaches sanctity of all human lives irrespective of their religious affiliations.
"It is also written in the last message delivered by Prophet Muhammed (SAW) that the life of a Muslim is sacred to another Muslim, however, Boko Haram has repeatedly ignored these teachings by killing innocent citizens mostly Muslims in the northern part of the country," The Criterion said.
The group said it rejects any form of violence from either Boko Haram or MEND.
"Muslims just like Christians have equal rights to practice their religion as entrenched in the constitution. No group should be allowed under any disguise to perpetrate evil.
"We call on the Federal Government to employ all lawful means to stop the evil of the two groups in view of the fact that in any war or violent situation, women and children suffer most," the group urged.
http://pmnewsnigeria.com/2013/04/19/muslim-women-cry-out-over-mends-threat/
--------------
Malaysian Opposition Hunts for Women's Votes
By Celine Fernandez
April 22, 2013
Wan Azizah Wan Ismail, president of the People's Justice Party in Malaysia, is reaching out to women as part of the opposition's pitch to the key voting bloc in the run-up to the May 5 elections.
"I will give my full time and support to go and rally the support [to get women's] votes. Because I think there is common bond between me and the women voters," Dr. Wan Azizah recently told The Wall Street Journal, adding that she is going to rural women's homes as part of her efforts to educate them about the opposition's plans to combat domestic violence, for example, and create a financial safety net for low-income widows.
Full report at:
http://blogs.wsj.com/searealtime/2013/04/22/malaysian-opposition-hunts-for-womens-votes/
--------------
FAS Founder Commends Rwandan Women on Peace Building
21 APRIL 2013
The President and founder of Femmes Afrique Solidarite (FAS) Bineta Diop has commended Rwandan women for their role in peace and security in the country as well as the region.
She attributed the achievement to the commitment of President Kagame's leadership in promoting women participation in decision making. Diop, who was on a two - day working visit to Rwanda, made the remarks at a meeting with Oda Gasinzigwa, the Minister of Gender and Family Promotion, on Friday last week.
Full report at:
http://allafrica.com/stories/201304220031.html
--------------
Lighting a Flame of Hope to Fight Child Abuse in Saudi Arabia
22 April 2013
JEDDAH — Any kind of harmful behaviour directed toward a child is termed as child abuse and unfortunately, this problem is extremely prevalent in our country.
According to statistics issued by the Saudi Ministry of Social Affairs last year, 45 percent of children in the kingdom were reported to be victims of different forms of violence, raising concerns about lack of awareness in the society.
Sadly, what's worse is that 70 percent children face abuse from their parents.
In an effort to raise voice against this issue, students of Effat University are planning to launch an awareness program against child abuse called "Lama Campaign," which will primarily target parents and young women who will be future mothers.
Full report at:
http://www.saudigazette.com.sa/index.cfm?method=home.regcon&contentid=20130422162397
--------------
Saudi Sponsor Shocked To Find Lankan Maid Reporting For Duty Pregnant, Sent Back
22 April 2013
A Saudi sponsor, who spent SR 20,000 to recruit a servant from Sri Lanka, was shocked to find that his new maid was three months pregnant on arrival in the Kingdom.
Saroja Pushpavalli (not her real name) from Maskeliya in Sri Lanka came to Riyadh two weeks ago and her sponsor found that she was pregnant when she underwent medical tests in the capital.
The Saudi sponsor handed her to the Sri Lankan Embassy to send her back home since she would not be able to attend to household chores because of her pregnancy.
"How cans this happen, when the maid has undergone pregnancy test in Colombo?" he asked.
Saroja, 33 and married, told Arab News that she underwent the medical test at a clinic approved by the government of Sri Lanka.
Full report at:
http://www.arabnews.com/news/448990
--------------
The Anti-Abortion Lobby in Ireland Is Barbaric
Tanya Gold
22 April 2013
When access to abortion is threatened, pregnant women die. This is hardly a surprise to those with the imagination to cast their minds back to the years when knitting needles, gin and hot baths and backstreet criminals were the only remedies for an unwanted pregnancy. Childbirth itself is life threatening, but who cares to dwell on that when monomaniacal joy is the only acceptable response to the promise of a child?
Last week two cases told us what happens when abortion is either criminalised, or subject to a growing taboo. The first was that of the 31-year-old dentist Savita Halappanavar, who died after being refused an abortion in a Galway hospital as she miscarried last year, and was told that "Ireland is a Catholic country". Halappanavar died of sepsis and E coli; Dr Peter Boylan, the obstetrician giving evidence to the inquest, believes that had Halappanavar received the abortion she requested, she would not have died. Last week the coroner ruled medical misadventure – how could he do anything else?
Full report at:
http://www.guardian.co.uk/commentisfree/2013/apr/22/anti-abortion-lobby-babrbaric
--------------
URL: https://newageislam.com/islam,-women-and-feminism/new-age-islam-news-bureau/tunisia-s-topless-protester--escapes-family-after-virginity-tests-/d/11246