New Age Islam News Bureau
16 May 2012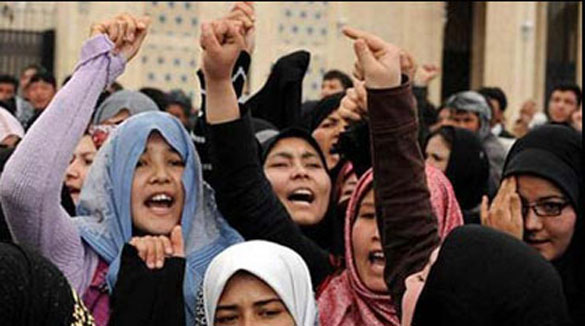 • Sisters under the scarf: Fighting on the front line
• Reports of Violence against Afghan Women are Sign of Change
• Fabricated 'farewell sex' story casts shadow on Egypt women's rights
• Anti-Sharia Legislation Passes Undercover of 'Women's Rights' Rhetoric
• Afghan woman pushes for rights from behind the wheel
• Crime Stoppers offers $200,000 reward in Iranian woman's killing
Complied by New Age Islam News Bureau
Photo: Violence Against Afghan Women are Sign of Change
URL: https://www.newageislam.com/islam,-women-and-feminism/new-age-islam-news-bureau/tunisia--khaoula-rachidi's-confrontation-with-salafists-crystallises-struggle-and-shows-women's-power/d/7339
---------
Tunisia: Khaoula Rachidi's confrontation with Salafists crystallises struggle and shows women's power
May 16, 2012
The one-man tyrannies have been toppled, writes Borzou Daragahi. But a moment in Tunisia just a few weeks ago – when a lone woman named Khaoula Rachidi dared confront an Islamic activist – crystallised the struggle that may shape the Arab world for years to come, while illustrating women's power.
The incident was captured on amateur video, posted on the internet and broadcast across Tunisia and on pan-Arab satellite news channels.
During a raucous demonstration on March 7 by ultraconservative Islamist activists at the university in Manouba, a burly, bearded Salafist climbs to the top of the Faculty of Arts and Humanities building and begins ripping down the country's red and white flag.
He tries to replace it with a black shahada banner sometimes associated with al-Qaeda.
A group of students gasps in dismay at the gesture, some of them filming it with their mobile phone cameras or chanting slogans.
Suddenly, a woman, who was later identified as Ms Rachidi, clambers up to the rooftop.
The master's degree student of French rushes over to the man and demands that he stop.
He grabs her and hurls her to the ground, but she bounces back without pause.
At this point other students, inspired by Ms Rachidi, climb the rooftop and stop the Salafist.
The incident sparked a national debate about religion and the state. And Ms Rachidi was hailed as a hero by the president, prime minister and the speaker of parliament.
Though becoming famous for confronting the forces of conservatism, she is not from the westernised quarters of Tunis or Sfax, but from the impoverished and pious Gafsa district in Tunisia's interior.
The brief confrontation has forced Tunisians, both religious and secular, to take a stand on the confrontation between the two camps, arguing with each other over the country's big ideological divide.
After an initial upsurge in publicity, Ms Rachidi has been unreachable, apparently preferring to slip back into anonymity.
http://www.ft.com/intl/cms/s/0/c52206a6-99d0-11e1-8fce-00144feabdc0.html#axzz1v1YfIv8b
---------
Sisters under the scarf: Fighting on the front line
By Abigail Fielding-Smith, Borzou Daragahi, Simeon Kerr, and Heba Saleh
May 16, 2012
Syria: Razan Zeitouneh – human rights lawyer who works from hiding
The Syrian uprising has produced few national icons, outside its martyrs, writes Abigail Fielding-Smith. Hunted by the most brutal security state in the Arab world, its heroes are the thousands of men and women working under the radar who risk arrest and worse every day, stitching wounds in underground clinics, uploading videos of protests on to YouTube, smuggling food to people affected by conflict, and counting the dead.
It is fitting that one of its most high-profile figures should be the softly-spoken human rights lawyer Razan Zeitouneh.
With an air of quiet stoicism beyond her years, Ms Zeitouneh, 35, knew before the revolution started what it was to persevere in holding the state to account.
She worked on behalf of political prisoners and, in 2002, was told she could no longer leave the country. When the uprising began, she documented evidence of demonstrations and crackdowns, playing a vital role in establishing the credibility of the protesters' narrative in the international media.
Shortly afterwards, she was forced into hiding, but continued to disseminate information, even after her husband was arrested. Many of her fellow activists have been arrested, tortured or killed.
"All those activists, some of whom we know and others that we don't, are creating a new history for their country and their region," she wrote in an open letter to Anna Politkovskaya, the murdered Russian journalist, after receiving an award in her name from the British human rights group RAW in WAR (Reach All Women In War) last October.
"They are creating a homeland and a future from the ashes of the violence carried out by one of the most notorious authoritarian regimes in the world." In December, she also received the European Parliament's Sakharov Award for Freedom of Thought.
Ms Zeitouneh is assumed to be in hiding in Syria. There are few of the first wave of prominent accountability advocates left in the open. In February, the regime arrested one of the last high-profile ones, Mazen Darwish, director of the Centre for Media and Freedom of Expression.
But according to Wissam Tarif, a researcher with the campaign group Avaaz, a new generation willing to document and disseminate information about human rights abuses has sprung up "like mushrooms".
"Prominent activists in the past who were willing to take the risk were very few – you knew them," he says. "Now there are so many. They don't necessarily have the big names or the diplomat and journalist networks, but they have access to affected communities."
The personal toll on Ms Zeitouneh was evident in a recent article she published on the Damascus Bureau website. "I am a documenter of death," she writes in the piece, in which she describes looking at up to 60 corpses an hour as she goes through YouTube videos, logging the names and details of the victims.
She gives the reactions of the families, and pays tribute to mothers "who declare their sons martyrs, while hiding their pain". Like the mothers, she says, death documentation experts "don't cry, they simply watch, open-mouthed and frowning, while occasionally hearing a howling voice inside them. They constantly wonder whether they, who document death through their computer screens, or those who do so with their own eyes and fingers, will ever become 'normal' creatures again".
http://www.ft.com/intl/cms/s/0/c52206a6-99d0-11e1-8fce-00144feabdc0.html#axzz1v1YfIv8b
---------
Reports of Violence Against Afghan Women are Sign of Change
Fariba Nawa
May 16, 2012
The extensive media coverage of Afghan women over the past few years has brought devastating stories: Gulnaz, the woman who was raped, impregnated and imprisoned for it; Sahar Gul, the young bride tortured by her husband and in-laws for refusing to become a prostitute; and the famous case of Bibi Aisha, whose husband cut off her nose.
A recent Human Rights Watch report shows that 400 Afghan women today are serving time in prison for moral crimes such as running away from a forced marriage or, as in the case of Gulnaz, becoming pregnant due to rape.
These reports, although horrifying, are a sign of mobilization; an indication that Afghan women may finally get some justice.
On May 5, three of the men who tortured 15 year-old Sahar Gul were given 10-year prison sentences. The convictions were a watershed for Afghan women who endure violence on a daily basis, violence that had thus far gone ignored by Afghan courts. Another indication that women are on the political radar came when the United States promised to prioritize women's rights as troop withdrawal from Afghanistan nears.
But it's not the Afghan or American politicians who are helping Afghan women.
The silver lining in these awful stories is that a quiet underground women's movement is in motion. Even in rural areas, women are increasingly aware that they have rights and that if they come forward, someone might help. Those who do, like Sahar Gul and Bibi Aisha, are pioneers whose actions encourage other abused women to come forward. They've also forced the hand of the Afghan government to confront and prosecute the perpetrators of violence against women – although the recent court sentences don't constitute institutional reform.
The latest politically motivated attacks against Afghan women occurred April 17, when a bomb injured seven people in a maternity hospital in Khost province, and 150 girls fell critically ill in a separate incident after drinking deliberately contaminated water at a school in Takhar, according to Afghan news reports.
Afghanistan is a society emasculated by 30 years of war. With one million war widows, a 40 percent unemployment rate and 400,000 people disabled from mines, it should come as no surprise that violence against women is high. When men in any society are stripped of their physical or economic capacities, they often turn against their women. Violence is not endemic to Afghan culture.
Yet the torture, acid attacks, stonings and assassinations of women also happened prior to the U.S.-Taliban war -- they just went unreported. Today, the presence of foreign press and an Afghan media sector that has boomed during the last 10 years is informing the world of human rights abuses. Afghan talk shows and other TV and radio programs are tackling the issue of violence against women, and raising awareness within Afghanistan's fledgling civil society. One television show features women, their faces hidden, sharing their stories of abuse.
The gender debate in Afghanistan is a complicated one, and Afghan women are resisting on multiple fronts, whether it be fighting for the right to a higher education or the right to work. Young Women for Change, a new organization spearheaded by a 20-year-old Afghan woman, fights sexual harassment on city streets. In the villages, women are fighting for safety, basic healthcare, and an end to marriage arrangements where they are bartered in exchange for property. I met a 12-year-old opium bride in a village, who was sold into marriage by her drug-smuggling father to pay off his opium debt. She wanted to escape her marriage to a man 34 years older than her, and she asked me for help. All I could do was write her story. Her willingness to share was her act of defiance, her protest in the face of injustice.
International aid efforts, especially those coming from Western nations, walk a fine line between helping Afghan women and being deemed illegitimate by the very people they seek to serve. Aid groups must provide spaces for Afghan women to fight their own battles, but they cannot fight for them. Pushing Western feminist agendas, such as unveiling or divorce, only causes a backlash that can entrap and endanger women even more. Most Afghan women see themselves as part of the family unit, their individual rights coming second to their family's well being. In extreme cases, like those documented by Human Rights Watch, women should be provided the resources to escape.
Currently, there are 14 safe houses available to women in Afghanistan, but that is not enough. More shelters, internationally monitored, must be opened. The international community must push the Afghan government to implement Afghan human rights laws already in place. If Islamic law overrides civil law, then Afghan lawyers and judges must be introduced to alternative readings of the Koran and jurisprudence that actually protects women. Sharia law is also open to interpretation by Islamic experts, although Afghan clerics and the Afghan Supreme Court currently implement a misogynistic reading of these laws.
Statistics over the last 10 years paint a picture of Afghan women that can be viewed as a glass half full, or half empty. Afghanistan may be one of the most dangerous places in the world due to ongoing war, but there are also three million girls going to school, a number unprecedented in the country's history. Average life expectancy has risen from 45 to 62 years, and more women have access to healthcare than ever before.
The foreign media needs to consider the historical context and complexity of the violence against Afghan women. These women are no longer voiceless victims, and Gulnaz, Sahar Gul and Bibi Aisha are a testament to a blooming women's movement.
Fariba Nawa is an Afghan-American journalist and author of Opium Nation: Child Brides, Drug Lords and One Woman's Journey through Afghanistan.
http://newamericamedia.org/2012/05/reports-of-violence-against-afghan-women-are-sign-of-change.php
---------
Fabricated 'farewell sex' story casts shadow on Egypt women's rights
May 16, 2012
By Alastair Beach
CAIRO: A fabricated story about controversial "farewell sex" in the Egyptian parliament this week has deflected attention from genuine issues facing Egypt's women and their conflict with religious fundamentalists in the country, according to rights campaigners.
When the story hit newsstands, it seemed too bizarre to be true.
Egypt's parliament, dominated by Islamists, had in mind a new law which would permit husbands to have sex with their wives up to six hours after they had died.
By the beginning of this week it had gone global, splashed over news websites from India to America.
There was only one problem: It was completely and utterly false.
The saga began last month when Egypt's state-run Al-Ahram newspaper ran a flowery comment piece from one of its writers, Amro Abdul-Samea.
In his piece, Abdul-Samea made a vague reference to the controversial issue of so-called "farewell sex," a topic which came to prominence last year when a Moroccan cleric gave his blessing to the act.
The same article also included a claim that the National Council for Women, an Egyptian rights group, had sent a letter to the speaker of Egypt's parliament outlining its concerns about a variety of political issues.
The Al-Ahram piece might have slipped under the radar had it not been for Jaber al-Qarmouty, a television presenter with his own show on the ONTV channel.
Following the article's publication he decided to include a segment on his show making reference to the piece. But apparently confused about what exactly Abdul-Samea had written, he concluded that the NCW had sent a letter to the parliamentary speaker about the issue of "farewell sex."
"This is very serious," said a shocked Qarmouty. "It is a catastrophe to give the husband such a right! Has the Islamic trend reached that far?"
The NCW had indeed sent a letter, but had made no mention whatsoever of the sex-after-death proposals, instead focusing on genuine parliamentary plans to reduce the age of marriage.
But it was too late. The Al-Arabiya satellite channel soon picked up the story, running a headline saying: "Egypt's women urge MPs not to pass early marriage, sex-after-death laws."
Not long afterward the "story" was featuring on news websites across the world. Britain's right-wing tabloid the Daily Mail gleefully jumped on the bandwagon, reporting the "outrage" that the proposals were causing.
In all this time it seems that nobody bothered calling up Dr. Mervat al-Talawi, the head of the NCW who was reportedly responsible for sending the letter. Speaking recently, she told The Daily Star that she had not sent any letter about "farewell sex."
"I didn't send any such letter," said Talawi, who added that she had not spoken to Al-Ahram newspaper before the story was published.
She said the group had sent a number of other letters, but they had been about various other issues.
She added: "If you know Islam well and know how Muslims treat people, you know that we have respect for the body and any dead person.
"The whole story was not feasible."
Nihad Abul Komsan, head of the Egyptian Center for Women's Rights, said the farewell sex farce had overshadowed issues affecting women and genuine attempts to roll back women's rights through new laws.
She gave the example of a parliamentary proposal to shake up the custody laws and grant fathers more rights.
Under the current legislation, if a mother and father divorce then the women can keep custody of the children until they are 15 years old. After this age the father then has the option of taking custody.
However, a new law being discussed by MPs has proposed reducing the age to 7 for boys and 9 for girls. According to Abul Komsan, this will mean that women in abusive relationships will feel compelled to stay with their husbands for the sake of seeing their children.
"Women cannot sacrifice their kids," she said. "This is controlling women by controlling her kids."
The custody legislation falls under an amendment made to Egypt's Child Law in 2008. That bill also raised the age of marriage from 16 to 18 – another bone of contention in Cairo's new parliament, where some ultraconservatives have proposed lowering the age to as young as 12.
The first modern custody laws were enshrined in the 1980s following the assassination of President Anwar Sadat.
Panned by some conservative critics – who derisively branded them the "Jehan Laws" after Jehan Sadat, the wife of the late president, who championed them – they were just one of a raft of subsequent bills directed at liberating Egyptian women.
The so-called Jehan Laws also stated that a minimum of 30 seats should be guaranteed for women in parliament – a figure which was amended to 64 in 2010.
In 2000, under an amendment to another piece of legislation, women received the right to divorce without their husband's consent, while a further bill that same year gave females the option of traveling internationally without the approval of their husbands.
For rights groups, such victories marked great strides in their battle for greater female emancipation.
But following Egypt's first post-revolutionary parliamentary elections, the opprobrium of conservative critics – many of whom tried to link the more modern reforms to the wife of Hosni Mubarak, another backer of legal change – has again reared its head.
Dr. Yusri Hamad, a leading member of the Salafist Al-Nour Party, told The Daily Star that reforms carried out since the 1980s were made at the behest of the regime.
"There was no judicial respect during the last regime," Hamad said. "The government of Hosni Mubarak changed the laws and directed them away from Islam."
However, campaigners say that some MPs are using the names of Jehan Sadat and Suzanne Mubarak to smear legitimate reforms.
Ultimately, said Nihad Abul Komsan, many radical Islamists pursuing their agenda aimed at curtailing women's rights. "They will end up taking girls out of schools," she said. "This is their ideology."
There are numerous other examples of gender inequality in Egyptian society. Inheritance laws are heavily weighted in favor of sons over daughters, while men can far more easily claim state benefits than women.
If a man wants to get a divorce, he simply has to say the word three times to the official who signed his marriage papers. For a woman, it involves a tortuous, protracted process that lasts many months.
In the new Egyptian parliament itself – following the repeal of membership quotas last year – women now constitute a meager 2 percent of members, while not a single female candidate is running for president.
Egyptian journalist Marwa Nasser told The Daily Star that she was not too concerned about the lack of women sitting in Egypt's People's Assembly. "We don't have so many expert women in politics," she said, adding that it was more important that Egypt's MPs were capable of doing their jobs.
But with the growing influence of conservative Islam, there seems little doubt that issues affecting women will become one of Egypt's most important political battlegrounds.
http://www.dailystar.com.lb/News/Middle-East/2012/May-16/173513-fabricated-farewell-sex-story-casts-shadow-on-egypt-womens-rights.ashx#ixzz1v1ahUUE3
---------
Anti-Sharia Legislation Passes Undercover of 'Women's Rights' Rhetoric
Faiz Shakir
May 16, 2012
Kansas Legislature Passes Discriminatory Anti-Muslim Bill By Calling It A 'Women's Rights' Issue
Last week, the Kansas Senate became the latest state to enact a discriminatory measure against Muslims in America by passing a so-called Sharia ban. The bill goes before Gov. Sam Brownback (R-KS), who has not indicated whethere he will sign or veto it.
Oklahoma passed a Sharia ban by ballot in 2010, but that measure has been deemed facially unconstitutional by the courts because it specifically targets Muslims for discrimination. Because of Oklahoma's experience, state legislatures are moving bills that are more oblique about their discriminatory intent. South Dakota, Louisiana, Arizona, and Tennessee have all passed laws that ban "foreign law in American courts" and don't mention Muslims or Sharia by name.
Kansas' proposed anti-Muslim law also similarly asserts it is about promoting "American law for American courts." (Note: the Constitution already establishes this in its Supremacy Clause.) Kansas Republican state Sen. Chris Steineger noted, the measure was "presented" to him as a billspecifically targeting Muslims:
But Sen. Chris Steineger, R-Kansas City, said a marketing campaign by supporters of the bill inundated him with materials that "explain why sharia law is coming and Muslims are trying to take over America."
"I thought that was quite ludicrous at the time, and I still do," Steineger said. "I pointed this out, because this was not presented as protecting the Kansas Constitution. The proponents of this measure, clearly by the literature they gave me and by the video link they directed me to, they presented this as protecting us against sharia law. Despite the fact that this doesn't mention sharia, that's how this whole issue was presented."
Full report at:
http://www.loonwatch.com/2012/05/over-the-rainbow-in-kansas-anti-sharia-legislation-passes-undercover-of-womens-rights-rhetoric/
---------
Afghan woman pushes for rights from behind the wheel
May 16, 2012
The morning after the Taliban fell Shakila Naderi shed her head-to-toe burqa, sat behind the wheel of a car for the first time and asked her husband to teach her how to drive.
Now Kabul's only female driving instructor, she teaches women a rare skill that confronts harsh opposition in ultra-conservative, Muslim Afghanistan.
"It bothers men when women drive," Naderi, 45, said from behind her desk in her four-room driving school near Kabul's city centre, decorated with traffic signs and instructions in her native Dari.
"But I wasn't scared of them then and I am not scared of them now," she said, adjusting her green headscarf.
Naderi opened the school four years ago with her husband Iqbal Khan, who as a taxi driver took pity on women he saw struggling to find transportation in a country where many will not speak to men other than relatives.
Women have regained rights such as education, voting and work since the removal of the Taliban and their austere rule a decade ago, but they enjoy far less freedom than men.
Full report at:
http://www.moneycontrol.com/news/world-news/afghan-woman-pushes-for-rightsbehindwheel_704935.html
---------
Crime Stoppers offers $200,000 reward in Iranian woman's killing
May 16, 2012
The unsolved murder of a student at the Texas Medical Center has prompted Crime Stoppers of Houston to offer a $200,000 reward, the largest cash amount ever in the organization's history.
Crime Stoppers announced last month an increased reward of $10,000 for information leading to an arrest or charges in the Jan. 16 fatal shooting of Gelareh Bagherzadeh, an outspoken critic of human rights policies in her native Iran.
On Tuesday, the organization increased that amount yet again, to $200,000. Houston Police Department Sgt. J. C. Padilla said investigators have no motive in the case.
"We are not ruling out anything at this point," Padilla said. "The more we talk to people, the more we realize we need the community's help."
Katherine Cabaniss, executive director of Crime Stoppers of Houston, said the reward doubles the previous largest reward of $100,000 offered in the 2006 Clear Lake murders of four young people. It resulted in a tip that helped solve the case, she said.
Full report at:
http://blog.chron.com/newswatch/2012/05/crime-stoppers-increases-reward-in-iranian-students-killing/
---------
URL: https://www.newageislam.com/islam,-women-and-feminism/new-age-islam-news-bureau/tunisia--khaoula-rachidi's-confrontation-with-salafists-crystallises-struggle-and-shows-women's-power/d/7339