New Age Islam News Bureau
19 May 2019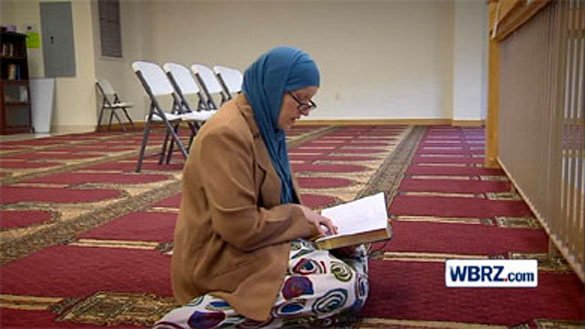 Now there are two females on our board At The Baton Rouge Mosque
-----
• A New Era for Muslim Women at the Baton Rouge Mosque
• Women's Bicycling Banned as Illegal by Isfahan's Prosecutor
• Uber Launches New Feature For Saudi Women Drivers To Choose Passengers
• Youngest Female Minister: Saudi Arabia's Vision 2030 Harnessing Youth's Potential
• Midland GP Who Asked Muslim Woman to Remove Veil So He Could Hear Faces the Sack
• Social Barriers Hindrance to Women's Participation: Study
• Women Of Tunisia's Sejnane Keep Pottery Tradition Alive
Compiled by New Age Islam News Bureau
URL: https://www.newageislam.com/islam-women-feminism/tunisia-celebrates-sufi-female-music/d/118641
--------
Tunisia Celebrates Sufi Female Music in Ramadan Festival
19/05/2019
TUNIS - Tunisian maestro Amina Srarfi and her musical ensemble El'Azifat opened the 37th Medina Festival in Tunis with "Lella."
More than 20 musicians, singers and dancers participated in the first all-female Sufi programme in the Arab world, which celebrated Tunisia's female saints from north to south.
"Lella" ("My Lady") was directed by Hafedh Khalifa and choreographed by Khira Oubeidallah. Srarfi arranged and supervised the score. The performers, including 70-year-old hymn singer Mamiya Karoui, were chosen from Tunis, Djerba, Bizerte and Sousse.
"'Lella' was a show by women for women, that is to say, from today's Tunisian women to yesterday's Tunisian female Sufi saints," Srarfi said. "It's a celebration of the virtues of Lella Saida Manoubia, Lella Arbia, Oum Ezzine al-Jammalia and other venerated female Sufi saints whose legacies have been preserved in the popular poetic tradition in Tunisia."
Srarfi said the idea of the show came when she "found in the archives of my late father a prayer in the praise of the Prophet Mohammad that included 43 names of the Prophet and which was put to music by my late husband, Faisal Karoui (a saxophone player). "I immediately got the idea of having the praise piece recited by an all-female choir accompanied by an all-female orchestra. Hence, the 'Lella' show in the praise of Tunisia's Sufi female saints from north to south," she said.
Lella Saida Manoubia is perhaps the most famous female Sufi saint in Tunisia. She died seven centuries ago but her generosity and strength are still celebrated in popular songs. She was sanctified after her death and a mausoleum was built around her tomb in northern Tunis.
Between choreographed dances and scenes, actress Leila Chebbi read highly stylised texts detailing the history and stories of Saida Manoubia and other female saints.
Tunisian singer Nabiha Karaouli performed an original rendition of "Hadhrat al-Shdala," a hymn dedicated to Saint Sidi Abdelkader al-Shadly and usually performed by male singers.
Karaouli's performance was far removed from the typical male style in hymns to male saints. She imbued her rendition with a deep feminine spirit that was met with a standing ovation and sustained ululations of approval from women in the audience.
"Lella" included a savvy mixture of Sufi music and a variety of other Tunisian celebratory styles, such as popular bagpipe music, the African stambali and the Andalusian Malouf. There were performances by the El'Azifat choir as well as individual singing performances by Chahnaz Dhaoui, Nisreen al-Frei and Soumaya Mersni.
Srarfi said she hoped "Lella" becomes the nucleus for more ambitious and more comprehensive projects celebrating Tunisia's Sufi saints, including male ones, by female artists that help preserve Tunisian heritage.
https://thearabweekly.com/tunisia-celebrates-sufi-female-music-ramadan-festival
--------
A New Era for Muslim Women at the Baton Rouge Mosque
May 18, 2019
BATON ROUGE- The number of Muslim women in leadership is slowly increasing across the world and those changes have made their way to Baton Rouge's Mosque.
More than 25 years as Muslim and Jane Aslam never saw herself pioneering change in the Islamic community.
"It's amazing journey dude, an amazing journey," Jane said.
Now that journey hasn't been easy. In Baton Rouge, there has always been nine men on the mosque's board and no women. It's like that at most mosques in the United States and it also hasn't changed much in the Middle East.
Every year in Baton Rouge there are board nominations but every year it's all men but 2019 marks history.
"After 20 years of me being in the community I've never seen a woman's name on the ballot and to see four I automatically knew there was change in the air this is a season for change," Jane said.
Change is sweeping through the Muslim world for millions of women. They are now allowed to drive in Saudi Arabia. Across the world, nearly 40 million have joined the labor force and two were elected to Congress. In the United States, women did not serve on the board of mosques until the last two decades and it wasn't until this year, the Baton Rouge mosque embraced that change.
Jane said being on the board was something she never wanted, her only goal was to fulfill Allah's will and when she realized this was it she says it brought her to her knees and tears to her eyes.
"I found myself on the floor, upstairs in the women's area with my face on the floor weeping before our creator thanking him for the opportunity and praying for good guidance and strength that his will be done both on earth as it is in heaven," Jane said. She is now taking up the role with humility and gratitude. Jane's determined to represent the women that feel like they were never heard.
"In having two females on our board it allows an opportunity for the voice of our women, our women's population in our community to be able to have connectivity that they did not have before," Jane said.
Though it wasn't in her original five-year plan, she's prepping board members for the shake-up to come
"I've already made public apologies to our board telling them that I really do feel sorry for you and for what is to come because I expect that I will be a pain in your neck for the next two years.
Now Jane has simple advice for any woman that feels like she can't be the change.
"if you learn to communicate, collaborate, cooperate and coordinate together in society then you are able to accomplish great things that you never thought were imaginable," Jane said.
https://www.wbrz.com/news/a-new-era-for-muslim-women-at-the-baton-rouge-mosque/
--------
Women's Bicycling Banned as Illegal by Isfahan's Prosecutor
May 18, 2019
The Prosecutor of Isfahan announced that women's bicycling is banned and against the law.
The website of the municipality of Isfahan posted an announcement on May 15, 2019, saying: "We are unable to hand over bicycles to the honorable ladies and youths under 15."
The website of the municipality of Isfahan published a document according to which the Prosecutor of Isfahan had addressed the police, instructing them, "Stop women bicyclists and confiscate their identification papers. If they do not have ID papers, impound their bicycles and take them to the parking lot."
The news on the ban was published by the website of the municipality of Isfahan, after the Friday Prayer leader of Isfahan, Abol-Hassan Mahdavi, slammed the municipality, by saying, "A group of people have made people sinful by promoting happiness. People are encouraging women to ride bicycles in Isfahan's Charbagh."
Charbagh is one of the top tourist sites in Isfahan.
Earlier, Ahmad Abdollahi, secretary of the Anti-Vice Staff in the Province of Isfahan, had said in September 2018, "Women's bicycling in public without providing the necessary infrastructures is against the Sharia."
In 2016, the state-run Fars news agency published a news on remarks by the mullahs' supreme leader, Ali Khamenei. It wrote, "Some time ago, a government official attributed a fatwa on his social (media) page to the great leader of the Revolution. He claimed that he did not have any problem with women's bicycling in public if the religious issues are observed. This is while according to Khamenei, women's bicycling is only allowed if it is not in the public's eye." (The state-run Fars news agency – September 10, 2016)
There is no law in Iran which bans women's bicycling, but judiciary and police deprive Iranian women from their natural right to suppress, harass and pressure them in the streets.
https://women.ncr-iran.org/2019/05/18/womens-bicycling-banned-as-illegal-by-isfahans-prosecutor/
--------
Uber Launches New Feature For Saudi Women Drivers To Choose Passengers
18 May 2019
Uber has launched a new feature allowing female drivers in Saudi Arabia to block male passengers from hailing a ride with them.
The "Women Preferred View" feature was launched in April, after a 2018 Uber survey in Saudi Arabia found 74 percent of female drivers would not take male passengers.
After the driving ban on women in Saudi Arabia was lifted, Uber launched 'Masaruky' – an initiative aimed at increasing women's participation in the workforce through access to affordable transportation through Uber technology.
"Many women have already recognized that Uber is the right choice for anyone who wants to make an extra earning from the flexible economic opportunities the technology provides on their own schedules, and we hope the new registration portal will help address any queries they may have as they gear up to start driving on the Uber app," Ohoud al-Arifi, Uber's marketing manager in Saudi Arabia, had said in 2018.
In 2018, an Uber survey carried out in collaboration with international research house Ipsos, found that 78 percent of Saudi women surveyed were likely to get a driving license post ban, with almost a third (31 percent) of those surveyed indicating that they were interested in driving as a job.
The feature has only been introduced in Saudi Arabia.
https://english.alarabiya.net/en/business/technology/2019/05/18/Uber-launches-new-feature-for-Saudi-women-drivers-to-choose-passengers.html
--------
Youngest Female Minister: Saudi Arabia's Vision 2030 Harnessing Youth's Potential
May 18, 2019
ABU DHABI — At 25 years of age she is the youngest female minister in the world.
Shamma Al-Mazrui was appointed as UAE's Minister of State for Youth Affairs in Feb. 2016 at age 22, making her the youngest member of the UAE Cabinet and the youngest government minister in the world.
In an interview with Okaz/Saudi Gazette, she described the Kingdom's Vision 2030 as very ambitious and based on harnessing the youth's potential.
"This comprehensive developmental initiative is the result of ideas by youthful leaders who believe in the capability of the youth and are keen to enhance their participation in supporting the march of the Kingdom's advancement and prosperity in all fields," she said.
Al-Mazrui stressed the need to create a joint regional initiative to infuse hope among the youth, empower them and improve their status.
She said Misk Foundation is one of the most prominent foundations that strive to empower the youth.
"We are extremely happy to cooperate with the Foundation in the exchange of experience and expertise, and working on many joint initiatives and projects to build a creative generation, successful business leaders and entrepreneurs by providing incubators for the youths' innovations and their creative ideas."
Al-Mazrui said, "We have a media initiative for the Arab youth that aims to build a system to enable the Arab youth to become pioneers in the various media fields and specializations.
"The objective is to prepare a generation of qualified young men and women in the media field in line with the highest standards that include transparency and professionalism."
http://saudigazette.com.sa/article/566662/World/Mena/Youngest-female-minister-Saudi-Arabias-Vision-2030-harnessing-youths-potential
--------
Midland GP Who Asked Muslim Woman to Remove Veil So He Could Hear Faces the Sack
18 May 2019
A family GP's career could be 'ruined' after asking a Muslim patient to remove her veil during an appointment. Dr Keith Wolverson, 52, said he couldn't hear the mother properly while she was explaining her child's ailments and asked her to remove her niqab – which covers the face from the eyes down. He claims she agreed to take it off and there was no issue during the appointment at the Royal Stoke University Hospital, in Stoke-on-Trent, Staffordshire. But the mother's husband showed up half an hour later and complained to Dr Wolverson's supervisors over the incident, reported The Sun, who raised his complaints with the General Medical Council. The body is now set to investigate the GP over the alleged discrimination, after the family claimed the mother was left crying, having felt 'victimised and racially discriminated against'.
They claim the doctor gave her a 'dirty look' and said he wouldn't continue the consultation if she didn't remove it, after she protested saying she didn't want to due to her religious beliefs. Dr Wolverson could now be struck off over the incident and said it'll 'ruin me'. The doctor, who has been in the medical industry for 23 years, said it was 'outrageous' and insisted he was 'just trying to do my job properly'. Dr Wolverson told The Sun: 'I found it difficult to understand what the woman was saying behind her veil, so politely asked her to remove it. 'I needed to hear what was wrong with her daughter, so I could offer the safest possible care. 'I'm not racist. This is nothing to do with race, religion or skin colour – it's about clarity of communication.'
The GP added he's asked other Muslim patients the same request and said he's never had an issue before. He said that 'many do it as a courtesy' when they enter the consulting room. The GMC says medical professionals who wear a veil must remove it if a patient finds it an 'obstacle' to communication but no advice is offered to doctors who find themselves in the reverse situation with a patient. The Doctors' Association UK has been calling on the GMC for clarity on this matter, as they say it's something which has concerned the medical profession. A spokesperson told Metro.co.uk: 'It is of utmost importance that the religious wishes of our patients are respected. However, evidently there are some circumstances where removal of a niqab or burka is necessary for medical assessment and treatment.
'Regardless of whether this complaint is upheld, the General Medical Council should consider issuing clear guidelines to protect both doctors, and our patients.' Mohammed Shafiq, of the Ramadhan Foundation, pointed out that the GP could've asked a female member of staff to assist him, in a bid to make the patient feel more comfortable. The activist told the news site the GP should be sent on a diversity awareness course and although his request was 'offensive', any 'stronger' action would be a 'shame'. Joyce Robins, from Patient Concern, told The Sun losing a doctor over the issue would be 'criminal'.
https://metro.co.uk/2019/05/18/gp-asked-muslim-woman-remove-veil-hear-faces-sack-9595744/
--------
Social Barriers Hindrance to Women's Participation: Study
May 19, 2019
Discriminatory attitude towards female workers and social barrier are the major reasons behind lack of women's participation in trade union activities in the country, a study has found.
Bangladesh Labour Institute (Bashi), a non-government labour welfare organisation, conducted the study through interviewing labourers [both male and female] and trade union leaders in Dhaka's Mirpur, Kalyanpur and Savar areas earlier this year.
Analysing data of 20 labour associations, the study finds that only 15 percent members of the associations are women, although the country has a big female workforce, particularly in the readymade garment sector.
As active trade unions help ensure labour rights, the low participation may put the female workers at a risk of self-security, sextual harassment and violence, it says.
The findings were unveiled at a discussion organised by Bangladesh Labour Institute at Moni Singh-Farhad Memorial Trust Bhaban in the capital yesterday.
During interviews, most female workers said they face various barriers from their family and society to participate in trade union activities, like meetings, rallies and processions -- which mostly takes place far away from their homes.
Those who somehow manage to remain active, face discrimination at their own associations, according to the study report.
In most cases, their male counterparts claim the top posts of the associations and do not accept opinions of female members.
Some women even alleged that they were sexually harassed by male members of the associations, said the report.
To overcome the situation, the study suggested to bring a change to the social system.
It also urged men to change their mindset towards female workers.
Speaking at the discussion, Bangladesh Labour Institute Trustee Board Chairman Shah Atiul Islam said, "The patriarchal mindset exists everywhere in our society, which is the reason behind the current situation."
A decent environment -- booth at workplace and in the associations -- have to be ensured to increase women's participation in the trade union activities, he added.
Jahangirnagar University (JU) Associate Professor Mahmudul H Sumon and Bangladesh Trade Union Centre President Shahidullah Chowdhury, among others, also spoke at the programme.
https://www.thedailystar.net/city/news/social-barriers-hindrance-womens-participation-study-1745620
--------
Women Of Tunisia's Sejnane Keep Pottery Tradition Alive
18/05/2019
SEJNANE - With bucket and spade in hand, Sabiha Ayari from Sejnane in northern Tunisia is among the women keeping alive an ancient tradition of creating pottery with natural materials.
Using skills handed down from generation to generation, she extracts red and white clay from local wadis to craft terracotta artefacts, such as dolls and animal figurines as well as cooking utensils.
The pottery, mostly cream-coloured with black and red motifs, was added in 2018 to the "Representative List of the Intangible Cultural Heritage of Humanity" of UNESCO.
"These are Berber motifs, the same as those found on traditional outfits and tattoos," said Ayari, a respected potter in her 50s committed to preserving the ancestral tradition.
The women of Sejnane make and decorate their artisan pottery with natural elements from the agricultural region.
Seated in her lean-to overlooking the family lands, Ayari scoops up clay and spends most of her time fashioning utensils and stylised tortoises and horses. She mixes the clay with crushed brick, prepared by her sister-in-law, to strengthen the raw material.
The bricks are a rare nod to modern methods. In the past, shattered pot shards were used.
After a days-long drying process, the pots are varnished with a thin coat of white clay. Some are decorated with red-ochre earth.
Ayari's mother, with her well-worn hands, joins in by polishing the plates. They must be smoothed several times to achieve a glazed look.
No sophisticated tools are used, no modern ovens, just the sole of a shoe for the burnishing process and a stick for decorating the pieces with the juice of leaves from mastic trees.
The items are heated on an open hearth fired with dried dung, turning the juice from green to black.
"This is how all kitchen utensils were made when I was little," Ayari said. "They didn't realise the value of these objects."
She shows off a large earthenware jar modelled by her grandmother. Other ancient objects have been shattered to make new items.
Her pottery handicraft, dating to 3,500BC, has remained intact "without great technical or aesthetic changes," explained Naceur Baklouti, a researcher into Tunisian heritage.
Changing lifestyles and the availability of low-price kitchen and household items over the past 50 years, however, led artisans "to switch production from utensils to the decorative," Baklouti said.
Potters sell their wares from roadside shacks. The best of them are invited to display at exhibitions in Tunis -- a two-and-a-half-hour drive away -- and in Europe.
As for Ayari, she may not know how to read or write, apart from signing her work, but her pots are in demand and her flow of orders keeps her household going.
"I'm an ambassador for Tunisia," said the proud potter, who wears a traditional red costume and flowery scarf at her sales.
Her status is fairly unique among the hundreds of potters in the green valleys surrounding Sejnane. For most, it's only a secondary source of income.
Young Tunisians do not have the patience to learn and perfect the art, Ayari said. They prefer to use black ink and chemicals, rather than take the time to collect and extract natural materials.
The challenge remains to hand down the skills. Sejnane plans to build a museum and training centre to preserve its local know-how.
Ayari has trained her sister-in-law Khadija and given courses to several other local women. Also, to keep it in the family, the plan is to pass her skills to her nephew's future wife after she quits her factory job.
The future is not assured, however. "You have to be passionate about the work. You can't force it, you have to want it," Khadija said.
https://thearabweekly.com/women-tunisias-sejnane-keep-pottery-tradition-alive
--------
URL: https://www.newageislam.com/islam-women-feminism/tunisia-celebrates-sufi-female-music/d/118641
New Age Islam, Islam Online, Islamic Website, African Muslim News, Arab World News, South Asia News, Indian Muslim News, World Muslim News, Women in Islam, Islamic Feminism, Arab Women, Women In Arab, Islamophobia in America, Muslim Women in West, Islam Women and Feminism