New Age Islam News Bureau
24 March 2017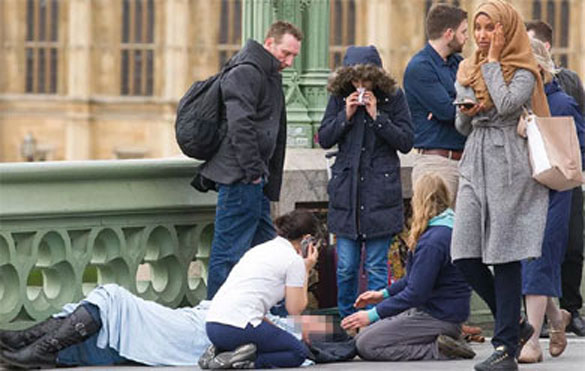 A visibly distressed woman has been attacked online (Picture Jamie Lorriman)
---------
• Trolls Shamed For Calling Terrified Muslim Woman a 'Monster'
• Islamic Cleric's Antipathy to Marriage Law Reform Irks Women
• Legality of Muslim Marriage A Religious, Human Rights Issue - Divorcee
• The First Muslim Woman to Play Wearing a Hijab in the NCAA Speaks At MU
• Private-Sector Jobs for Saudi Women up by 145%
Compiled by New Age Islam News Bureau
URL: https://www.newageislam.com/islam-women-feminism/trolls-shamed-calling-terrified-muslim/d/110519
-------
Trolls Shamed For Calling Terrified Muslim Woman a 'Monster'
Charles White
Thursday 23 Mar 2017
Racists have been sharing a photo of a woman caught up in the Westminster terror attacks on Twitter.
Showing a woman in a brown headscarf, some Twitter users called her a 'monster' for being on her phone.
How London Terror attack survivors got away from attacker Khalid Masood
Yet Londoners pointed out white people were doing the same and she showed signs of being distressed.
The as-of-yet unidentified woman was snapped walking past a woman lying on the ground of Westminster Bridge.
A woman is on the phone, another is blowing her nose presumably from crying, and a man is standing with his hands in his pockets.
Trolls shamed for calling terrified Muslim woman a 'monster'
Flags were flown at half-mast today (Picture: REUTERS/Stefan Wermuth)
But xenophobic Twitter users thought they would share their own interpretation of the photo.
Yet it didn't take long for Londoners and other users to hit back.
Some pointed out that emergency services might have told people not to stop, she might have been telling family or friends she was safe, she could have been hiding her face from the scenes or she could have been too distressed to stay in the area.
The image started going viral when 'proud American' Texas Lone Star shared it on Twitter saying: 'Muslim woman pays no mind to the terror attack, casually walks by a dying man while checking phone.'
http://metro.co.uk/2017/03/23/trolls-shamed-for-calling-terrified-muslim-woman-a-monster-6529654/
------
Islamic Cleric's Antipathy to Marriage Law Reform Irks Women
24th March 2017
COLOMBO: Women's Action Network (WAN), an amalgam of eight women's organization working in the Tamil-speaking North and East of Sri Lanka, has said that it is "appalled and deeply disappointed" by the statement of Rizwe Mufthi, President of the All Ceylon Jamiyathul Ulama (ACJU), that the Muslim Marriage and Divorce Act (MMDA) is "perfect in the present state" and does not require changes.
"With religious leaders invoking tradition to block fundamental rights, WAN calls on the State to step in and ensure that Muslim women and children are not second-class rights holders in Sri Lanka," WAN
said in a statement on Wednesday.
WAN noted that Rizwe Mufthi is a member of the Committee on Muslim Personal Law Reforms headed by Justice Saleem Marsoof.
The committee was appointed by the Rajapaksa government in 2009 to reform the Muslim Marriage and Divorce. But till date it has not submitted its report.
"Mufthi's recent statements raise concerns about the role of the ACJU. The ACJU has misled the Marsoof Committee and the Muslim community into believing that substantive legal reforms to the MMDA are being deliberated," WAN said.
"Rizwe Mufthi's statement also does disservice to the expectations of Muslim women and girls who have faced and continue to face injustice due to the MMDA."
"WAN is of the firm belief that it is the MMDA and its implementation which allow unequal and unjust treatment of Muslim women and girls, such as allowing child marriage; treating adult women as minors to strip them of their autonomy; restricting women from state-salaried positions such as Quazis; setting forth unequal divorce provisions for men and women; and allowing unconditional polygamy."
"Contrary to the ACJU's statements, the problem is not merely one of implementation, but problems with the law itself," WAN said.
"WAN has met with ACJU on multiple occasions to share these concerns, alongside Muslim women's groups and directly affected women, including survivors of child marriage. At each of these meetings, ACJU representatives expressed concern and vocalized their commitment for reforms of the MMDA. Rizwe Mufthi's recent statement runs counter to previous commitments, raising a doubt as to whether ACJU's commitment to reforms is genuine. Mufthi's comments do not reflect the views of affected Muslim women."
"The recent statement coupled with ACJU's inaction towards reforms are a clear indicator that ACJU cannot claim to represent the interests of the entire Muslim community, which is diverse in ethnicity and
religious ideologies."
http://www.newindianexpress.com/world/2017/mar/24/islamic-clerics-antipathy-to-marriage-law-reform-irks-women-1585160--1.html
------
Legality of Muslim Marriage A Religious, Human Rights Issue - Divorcee
2017-03-24
Cape Town - For 20 years, Nasrin Hoosain* was a supportive wife and mother. She left her studies and job opportunities to build her family, raise their children and support her husband as he climbed the career ladder.
When, after years of abuse and infidelity, he asked for a divorce, she was the one who faced an uncertain future, without financial stability and the risk of homelessness.
Muslim marriage - known as a nikah - is not legally recognised in South Africa, meaning Hoosain, like other muslim women, is not entitled by law to the assets accrued with her husband in the two decades of their union.
She joined dozens of women who lined up outside the Western Cape High Court this week, calling for nikahs to be declared legally valid. This would allow recourse for wives who can be left penniless when the marriage dissolves.
The class action is expected to be heard on August 28, three years after the Women's Legal Centre first brought its case.
It argues that once customary marriages were given full legal recognition, the historical basis for not recognising polygynous marriages fell away.
Legislation is therefore needed to recognise Muslim marriages, the WLC says.
Muslim marriages allow for up to four wives, but come with the responsibility of providing equally to each spouse. It is not commonly practiced because of the difficulty in maintaining this, research has found.
The non-profit legal centre contends that legal protection has been denied to Muslim women 16 years after the Constitution came into force. This had resulted in widespread oppression and gender discrimination in areas such as divorce, the duties of support, parental rights and responsibilities, and inheritance.
For Hoosain, the end of her marriage meant starting over after years of living a financially comfortable life.
'Soul destroying'
She had been a student when she tied the knot, and dropped out of university to see to their home after having their first born.
"I was a full time mom – a cook, a doctor, a nurse and a taxi driver, all in one," she said.
Hoosain put her own prospects on hold to "build a successful family", despite facing ill-treatment from her husband at home.
When he asked her for a Talaq - which in Islamic terms is a divorce prompted by the man as a formal repudiation of his wife – she didn't put up a fight.
For three months, her husband was forced to maintain her, but once the process was finalised, she was without an income.
"As a wife, I gave such a lot of myself to him over the years. All I got in return was a 'thank you, ma'am, for your services rendered; off you go," Hoosain recalls.
As they did not have a civil union, her husband was not recognised as such in the eyes of the law.
He therefore did not legally have to split their assets accrued over the 20 years, or give her spousal support. She however refused to do the "normal thing" and move out of the house she helped him build.
"I had done my research, so I knew he couldn't force me to leave. Both of us had worked ourselves up, both of us had made sacrifices for what we had. I put my foot down and told my children that we couldn't be put out, showing them what our country's laws state and referring to passages in the Quran. Eventually he left, but not without a fight."
Hoosain has an English version of the religious text of Islam, marked with pink sticky notes, as well as South African law documents which she refers to, to substantiate her arguments.
Life has been difficult since her marriage dissolved, Hoosain admits, as she relies on her ex-husband for money to support their minor children.
She doesn't want to approach the courts for child maintenance, describing the process as "soul destroying".
Legal proceedings
"So I am at his mercy. Whatever he decides to give is what I just have to take," she explains, resigned.
Her career prospects are limited as she does not have work experience, and her age, 40, also puts her at a disadvantage.
But unlike some of her Muslim friends who were forced to "take what their husbands offered to placate them, which is usually next to nothing", Hoosain has instituted legal proceedings to force him to cough up.
She declined to disclose the details of her case as it is still before the courts.
Fair religion
Had her marriage been legally recognised, the traumatising reality of divorce would have been somewhat easier, Hoosain insists. The non-recognition of the union is against her human rights.
"It is unfair, discriminatory and prejudicial. We live in a secular country in which we are legally protected from any form of discrimination. Why are Muslim marriages excluded from that?"
The devout Muslim says her issue is not with the teachings of Islam, but with the cultural interpretation which is "not in line" with the Quran.
"Islam is a fair religion, which promotes equality. It even says in the Quran that in case of divorce, separate on equitable terms. This means it must be fair, just and equal.
"Why should a woman have to give up her lifestyle in the event of a divorce? Building what you have takes two people; why does only one get everything?"
Had she known what awaited her later, she would have insisted on a civil union, Hoosain admits.
'This is our fight'
"You, as a woman, are not protected otherwise. This is both a religious and human rights issue. Islam teaches you to stand firm in what you believe is the truth; to fight oppression, injustice and tyranny. We can't just sit and take it.
"Women need to be respected. When men refuse to give you your fair share, it's a sign of disrespect. You give the best years of your life to your marriage and building a family [but have no recourse if the marriage dissolves]. It's unfair."
The recognition of customary marriages, which allows for more than one wife, should also extend to Muslims, she argues.
Polygamy is not common in Islam, Hoosain says, as the Quran teaches that you have to treat both equally, from physical assets to emotional support.
"It's allowed, but virtually impossible to maintain multiple wives equally," she says.
The class action is an important step toward protecting the rights of Muslim women, Hoosain believes.
"Our voices need to be heard; we are part of South African society. This is our fight so that our daughters can have a better life and not be left destitute in the event of divorce," she says.
Judges Siraj Desai, Gayaat Salie-Hlophe and Nolwazi Boqwana are expected to preside over the matter.
*Not her real name
http://www.news24.com/SouthAfrica/News/legality-of-muslim-marriage-a-religious-human-rights-issue-divorcee-20170324
------
The First Muslim Woman to Play Wearing a Hijab in the NCAA Speaks At MU
By Clare Roth
March 23, 2017
Basketball star Bilqis Abdul-Qaadir, the first woman to play covered in NCAA history, gave a speech to about 50 people at Ellis Auditorium on Tuesday night.
Abdul-Qaadir is currently unable to play basketball internationally due to an International Basketball Federation ban on headgear. She travels the country giving speeches to raise awareness of the ban and for Muslim women in sports.
Abdul-Qaadir's speech was coordinated by the Muslim Student Organization and Student Life.
"It's significant because it offered a perspective to show what it's like for a Muslim woman in sports and the importance to allow them to pursue their dreams," said Zakaria El-Tayash, president of the Muslim Student Organization.
Abdul-Qaadir attributes much of her success to the Hijab she wears, explaining that her Hijab marked her as an icon in sports for Muslim women.
"Hijab got me so far," Abdul-Qaadir said. "It got me a full ride [to the University of Memphis]. It got me to the White House. You get caught up in it."
To Muslim women, she said, wearing the Hijab is a symbol of faith. Women typically choose to start wearing Hijab when they begin puberty. She recalled feeling uncomfortable when she first started wearing Hijab as a freshman, but she never felt uncomfortable with playing basketball.
Abdul-Qaadir said basketball helped "balance the faith part." She said that when she was on the court, there wasn't time to think, just to play.
"A woman may wear the Hijab for a particular personal reason, but the way that others read her wearing the Hijab will change as she moves through different social spaces: home, the mosque, the street, a basketball game, etc.," Nathan Hofer, an assistant professor of religious studies with an emphasis on Islam and Judaism, said in an email. "So when a Muslim woman chooses to wear the Hijab there are a host of factors that go into that decision."
Hofer said that in the United States and Europe, Muslim women typically wear Hijab as a "symbol of modesty," contrary to classical Islamic tradition, which views the Hijab as a "tool of achieving modesty."
Abdul-Qaadir planned to sign with an international team when she finished her senior season at Memphis. She still remembers the day she got a call from her agent, who told her that she couldn't wear the Hijab if she wanted to play internationally, because of the FIBA ban.
Abdul-Qaadir said she told her agent to tell FIBA that it was a part of her religion. She had to wear it. At first, FIBA told Abdul-Qaadir that it didn't allow representation of religion on the court. She questioned this statement, arguing that many athletes had cross and Bible tattoos on their arms.
They replied that it was actually due to a safety standard.
"I do believe FIBA's failure to act was discrimination … but if you're international you have to be inclusive to everyone," Abdul-Qaadir said. "How could Hijab hurt anyone in the first place?"
Abdul-Qaadir attributes FIBA's ban to a wariness of Islam and ignorance of the religion.
"Sport is universal," she said. "I could bring a ball to Spain and there would be a language gap, but the ball would speak."
Abdul-Qaadir has been a representative of Muslim women in sports throughout her career as an NCAA player. Her story has been featured on USA Today, Motto and a Pixela Pictura documentary called "FIBA Allow Hijab."
The prominence of the Hijab has been making national news lately due to Nike's announcement of a "Pro-Hijab" line of athletic Hijab.
Abdul-Qaadir said the Nike Hijab is not the first athletic Hijab to be made.
"Sixteen years ago, companies were creating athletic Hijab … it's not a new thing," she said.
She said the social media attention Nike was getting was nice, though, and that diversifying the company is ultimately a good thing. However, the Nike Hijab announcement has received some backlash on social media, with some users threatening to "boycott Nike," according to an article in The Independent.
"This is not about the Hijab, per se, but rather the normalization of Muslims as Americans," Hofer said. "Any attempt to present or represent Muslims as regular Americans with the same rights as every other citizen will be met with resistance in those small pockets of Euro-American society that cling to antiquated notions of a 'pure' western civilization, at best, and a pure Aryan civilization, at worst."
Abdul-Qaadir is currently working in Memphis as an athletic director in an Islamic school, along with traveling and speaking. At one point during the speech, she said that while she liked speaking in front of people, if there was a pickup game going on outside, that's ultimately where she would want to be.
"Ball is still life," she said.
The headgear ban is still in place and will be renegotiated by FIBA in May.
http://www.themaneater.com/stories/2017/3/23/first-muslim-woman-play-wearing-Hijab-ncaa-speaks-/
------
Private-Sector Jobs for Saudi Women up by 145%
NAIF MANSOUR
Friday 24 March 2017
JEDDAH: The number of private-sector Saudi female employees registered at the General Organization for Social Insurance (GOSI) reached 496,800 by the end of the third quarter of 2016.
This marks a 144.62 percent increase from the 203,088 jobs that were occupied by the end of 2012.
The number of private-sector jobs available to Saudi women represented 12 percent of private-sector jobs for Saudis, rising to 30 percent by the end of 2016, according to GOSI's statistics.
Female employment grew 4.1 percent during the third quarter of 2016, compared to the same period in the previous year, GOSI reports showed.
About 40 percent of the jobs are based in Riyadh, where 203,600 jobs are available, followed by Makkah province with 21.5 percent, or 106,800 jobs. The Eastern Province is third with 11.4 percent, or 56,400 jobs.
Jazan has shown the most growth, as the number of such jobs rose by 19 percent.
However, prominent businesswoman Lama Al-Sulaiman told Arab News that women seeking employment still face serious obstacles, including transportation and a lack of day-care centers.
"The rate of employing women… is concentrated in small jobs," she said, adding that the annual percentage increase of employed women should be raised.
The number of unemployed women in Saudi Arabia reached 439,600 by the end of the third quarter of 2016, representing 34.5 percent of the total percentage of unemployed people in the country. Total employment stands at 12.1 percent.
Saudi Arabia plans to increase the number of women in the workforce from 23 percent to 28 percent, and decrease the unemployment rate to 9 percent by 2020.
http://www.arabnews.com/node/1073161/saudi-arabia
------
URL: https://www.newageislam.com/islam-women-feminism/trolls-shamed-calling-terrified-muslim/d/110519
New Age Islam, Islam Online, Islamic Website, African Muslim News, Arab World News, South Asia News, Indian Muslim News, World Muslim News, Women in Islam, Islamic Feminism, Arab Women, Women In Arab, Islamophobia in America, Muslim Women in West, Islam Women and Feminism