New Age Islam News Bureau
30 Dec 2019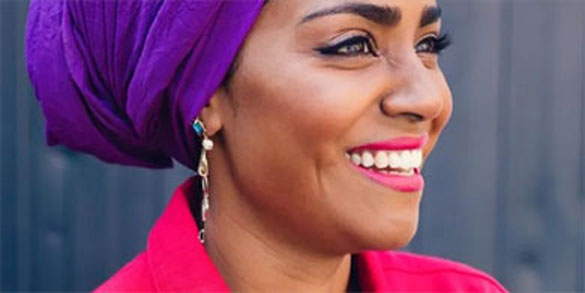 Queen Elizabeth II 2020 New Year Honours list has been revealed, and one of our beloved TV chef's has been awarded Most Excellent Order of the British Empire (MBE).
------
• Triple Talaq Victims to Get an Annual Aid Of ₹6,000 In Uttar Pradesh
• TV Chef Nadiya Hussain Recognised in the Queen's 2020 New Year Honours List
• Making History with Disposable Hijab
• Left Behind by Migrant Husbands, Senegal Women Break the Rules and Go to Work
• Female Internet Users Contribute To Rapid Adoption of E-Money in Indonesia
• Why Very Few Women Go Into Politics in Mauritius
• Largest Muslim Body of Scholars In Kerala To Muslim Women: Don't Cross Limits during Protests
• Mumbai: Armed With Law, Muslim Women Still In Search Of Justice
• Muslim Women Protest against CAA In Front Of Town-Hall in Bengaluru
Compiled By New Age Islam News Bureau
URL: https://www.newageislam.com/islam-women-feminism/triple-talaq-victims-get-annual/d/120661
------
Triple talaq victims to get an annual aid of ₹6,000 in Uttar Pradesh
29 Dec 2019
LUCKNOW : The Yogi Adityanath government in Uttar Pradesh will give an annual pension of ₹6,000 per year to women who have been given triple talaq by their husbands.
Shia religious leader Maulana Saif Abbas said that while he welcomed the decision, the government should look more into the education of children and their problem of housing which will be better than giving ₹500 as pension to triple talaq victims.
Sunni cleric Maulana Sufiana said, "Politics has been done on this issue. It is to be seen what justice the government wants to do by giving ₹500 per month as pension."
Shahista Ambar, president of the All India Muslim Women's Personal Law Board, said, "The government's initiative is good but the amount is very low. It will be difficult to meet the basic needs with ₹6,000 annual pension."
https://www.livemint.com/
------
TV chef Nadiya Hussain recognised in the Queen's 2020 New Year Honours list
Awarded MBE
Queen Elizabeth II 2020 New Year Honours list has been revealed, and one of our beloved TV chef's has been awarded Most Excellent Order of the British Empire (MBE).
Winner of The Great British Bakeoff and a celebrated TV personality Nadiya Hussain has received MBE for her services to broadcasting and the culinary arts. A leading figure for the Muslim community in the UK, Hussain took to Instagram to share the happy news, writing:
"I have had an exhilarating and exciting few years and I have done weird, wonderful and scary things. Long may it continue. Thanks to all the people who have supported me and believed in me and just made it all just a little bit easier."
As well as her broadcasting work, Hussain has written eight cookery books, children's books and a modern British Muslim take on Little Women, The Secret Lives Of The Amir Sisters. Not only that, but Hussain was commissioned to bake a cake for the Queen's 90th birthday celebrations.
She has also highlighted the importance of discussing mental health and shot a documentary Nadiya: Anxiety and Me, and spoken out about the importance of representation as a hijab-wearing Muslim woman of colour.
The Queen's list celebrates achievements of a wide range of people across the UK, including celebrities and inspirational people who have made an exceptional contribution to UK society.
Directors Sam Mendes and Steve McQueen become knights, while Sir Elton John received Order of the Companions of Honour, which is the highest accolade there is.
https://emirateswoman.com/tv-chef-nadiya-hussain-recognised-queens-2020-new-year-honours-list/
------
Making History with Disposable Hijab
By Zaharah Othman
December 29, 2019
LONDON: Christmas was a normal working day at the Accident and Emergency Department of Pilgrim Hospital Boston in Lincolnshire, the United Kingdom, where Farah Shaheera Roslan was on duty.
It was a normal workload, with some staff wearing the festive colour to bring some Christmas cheer in the usually not-very-cheerful atmosphere.
For Farah, who hails from Seremban, the last few days had been less than normal when out of the obscurity of the hospital wards, she was suddenly catapulted to public attention after pictures of her in hospital scrubs made international news headlines.
She had been contacted by the media and people from all over the world, and did not even get the chance to celebrate her 26th birthday. It was a lot to take in for the young junior doctor.
The headline-grabbing element in the stories that was inevitably viralled, was the disposable Hijab she was wearing, one that she had invented and introduced to the Derby Hospital Trust, believed to be the first to do so for its Muslim female staff.
"Alhamdulillah, a lot of good things happened this year," said Farah, reflecting on the hectic year that promised to be even more hectic in the coming year.
Having just tied the knot to another doctor, Luqman Safwan bin Cik Mohd Fauzi, Farah, who had done research on dress codes allowed in wards and theatres of hospitals before finding the right solution, is now thinking of ways to move forward.
Farah came to study medicine in the UK in January 2016 and did the first half of her medical school at International Medical University (IMU) in Kuala Lumpur and the other half at University of Nottingham.
It was during her final year as a medical student that Farah had an experience that was to bring about the change that is making waves in the operating theatres in the UK.
"Being a medical student, the theatre itself can be an intimidating place to be in due to the strict infection policy control," Farah wrote in an article to be published soon.
"Imagine the anxiety I had as the one with a headscarf. There was a point that I was even pulled out of the theatre for wearing
my headscarf and was asked to replace it with an orthopedic hood.
"I did not blame the theatre staff as they were only doing what the trust policy suggested, and they were kind enough to help me search for the hood in the orthopedic theatre and a pair of scissors to make an adjustment to the hood for me to put one on.
"Nevertheless, when I returned to the theatre after missing the first half of the surgery, my focus was no longer on the operation, which I was initially excited to observe and secretly hoped to scrub in... it was the inevitable humiliation I experienced for being singled out as if I did something wrong just because the policy was not able to accommodate the different dress code I have due to my faith."
Dr Farah Shaheera Roslan (front row, third from left) with colleagues at the Accident and Emergency Department of Pilgrim Hospital Boston in Lincolnshire, the United Kingdom, on Christmas day.
THE TURNING POINT
The experience was the turning point for Farah and now for other hijab-wearing medical staff working in operating theatres as well.
The dress code for working in the theatres varies from trust to trust. It is an issue that has not been formally addressed, until now.
Other doctors working in hospitals in the UK are in agreement to this.
"This has been a contentious one for a while. Of course, the purpose is to keep our hair out in the operating theatre and any hijab should be okay.
"But, of course, the cleanliness of the hijab cannot be ensured if it is individually-sourced so there is a gap in the market for the supply.
"My friends who wear hijab mostly wear the inner of the hijab and apply the hat," said another doctor.
"Most do not even mention the use of headscarf in operating theatres," said Farah.
But necessity is indeed the mother of invention.
From then on, Farah did a lot of research and found that "more than half of women experienced problems trying to wear headscarves in operating theatres; feeling embarrassed, anxious and even bullied".
Some hijab-wearing doctors felt they're being denied the chance of pursuing their dream of a career in surgery as they are torn between their religious beliefs and the National Health Service dress code.
Farah is not one to be deterred by this, not by the humiliation that she experienced.
When she was a Foundation Year One doctor at Nottingham University Hospital, Farah was acknowledged by senior clinicians mainly due to her proactive role as the foundation doctor representative, bridging between her colleagues, administration and senior clinicians in the Junior Doctor Forum.
She was named one "leading by example", one with "infectious enthusiasm" and one who has "great leadership qualities".
These are the qualities that made the young doctor resilient in the face of humiliation, which she accepted as a challenge — the lemon that was thrown at her that she turned into the proverbial lemonade.
Farah is now a Foundation Year Two doctor, equivalent to a houseman, during which time she has to decide on her career path.
"In October, I met Gillian Tierney, a consultant general and colorectal surgeon at the University Hospitals of Derby and Burton (UHDB), to seek career tips. She is a supportive mentor whom I have admired since medical school and inspired me to become a surgeon.
"She is also the training programme director in the School of Surgery for the East Midlands region. We spoke about some of the challenges women face in this field and this was when the topic of headscarf came up."
She realised that this was a problem that she could no longer brush off because it does not only affect her, but also a community of hijab-wearing students and staff.
"If this issue continues to be unaddressed, it can lead to a reduction in workforce diversity, staff dissatisfaction and loss of valuable learning opportunities for students."
It was Tierney who suggested that Farah look for possible solutions with the promise that she would help to implement the initiative and get her connected
to the right people to support the project. And the rest is, of course, history.
Dr Farah Shaheera Roslan (right) with Dr Fadzlien Zahari, who assisted the search for disposable hijab.
THE MAKING OF DISPOSABLE HIJAB
Farah started with Emma Wiley, consultant microbiologist with a special interest in dresscode policy and infection control, and spoke to representatives of the British Islamic Medical Association to find out how much work they have done to address the issue.
She also contacted her friends in Malaysia and asked them how they dealt with the issue back at home.
"My friends told me about the washable and disposable headscarves provided in operating theatres and shared the photos, details of the supplier and cost as stated on the website."
A friend, who is a colleague at the same hospital, Fadzlien Zahari, also helped to point her to the right direction and the Malaysian company, Medicos, which supplied tudung protective cap.
Farah then found a UK supplier, Medline — one of the biggest theatre supply chains — which positively responded to her email and sent her fabrics of different sizes and materials to test.
She then gathered a group of female Muslim medical students and doctors in a WhatsApp group and asked them to take a vote on the most suitable headscarf — the majority voted for a disposable triangular cloth supplied by Medline, which is easy to style and comfortable to wear.
Last month, Farah showed a picture of herself donning the disposable headscarf to Tierney, who happily approved it.
"The next day, Nigel Roberts, the deputy general manager theatre lead of UHDB, sent me an email to let me know that he had already ordered the first batch of disposable scarves to be supplied to all theatres in the trust."
She believes that the disposable hijab will soon be in the Medline catalogue because there is now a demand for it.
Things have certainly moved very fast.
Farah had found the middle ground between "dress code due to faith" and the "passion" of being in the operating theatre.
"I was truly over the moon hearing this news as I know that this would be a crucial step to accommodate headwear requirements to positively influence inclusivity and opportunities in the workplace.
"I am hoping to follow this up by doing a survey to assess the use of disposable headscarf and its impact on staff and students.
"Now that the spotlight is on me, I hope to use it for a good cause, especially in increasing awareness of the struggle of hijab-wearing Muslim women in operating theatres, and helping them to make similar changes in the areas they study and work in."
"I hope that my story and initiative will inspire individuals not to be apologetic for being different as each of us matter. Diversity is our strength," said Farah, who aims to be a surgeon.
https://www.nst.com.my/news/exclusive/2019/12/551695/postcard-zaharah-making-history-disposable-hijab
------
Left Behind by Migrant Husbands, Senegal Women Break the Rules and Go to Work
Dec. 30, 2019
By Dionne Searcey
KOUTIA, Senegal — Years had passed since her husband had crossed the sea to look for work in Europe. Left behind, Khadijah Diagouraga trudged to the couple's peanut fields alone every day, struggling to earn enough to provide for an extended family of 13. When the town's water pump broke and her faucet went dry, she tied a donkey to a cart to haul water from a nearby well, cursing her absent husband the whole way. Her action shocked this small, conservative village in rural Senegal. Guiding animals was men's work, village leaders said.
"It's not a sight I ever wanted to see," said Baba Diallo, 70, sitting in the shade of a dried cornstalk canopy, shaking his head as if to rid himself of the memory.
Across West Africa, villages have been emptied of husbands and sons in their prime who set out for Europe to look for work and never returned. Women, realizing they might never see the money their men promised to send home, have gradually taken on what are seen as men's roles, earning money and running large households of in-laws and other extended family members.
"There are a couple men who look down on me," Ms. Diagouraga said. "I ignore them. What matters to me is hard work."
Senegal is among the countries most affected by the phenomenon of missing men. Senegalese were among the top 10 nationalities to land in Italy during a spike in migration in the middle of the decade. Although migration to Europe has dropped sharply as nationalism has led some European countries to impose tighter controls, West African communities are still reeling, with many of their men gone now for years.
Some will never return, perishing while crossing the desert or drowning at sea. In Koutia and the few surrounding villages, at least 130 people have died in recent years on the journey, local officials said.
Many of Senegal's migrants come from sun-bleached flatlands near Koutia in the east that rely almost entirely on peanuts and a handful of other crops for income, even as a yearslong drought shows no sign of letting up.
Many working-age men here have given up. The village chief of Koutia estimates that in little more than one generation, 200 men from the 95 households have migrated to Europe. Many were the family's chief earners.
The lure of Europe is on display in Senegal's villages. Amid the clusters of shabby mud-brick homes are houses made of cement, some two stories tall, painted and surrounded by cement walls. All were paid for with money sent home by migrants.
Ms. Diagouraga and her husband used to pass those homes as they walked to their peanut fields. They saw the satellite dishes on rooftops and neighbors clutching iPhones. Then there was the shiny, tiled mosque with towering minaret, which the village chief bragged had been built with money pooled from local migrants. A few villagers could even afford cars.
Ms. Diagouraga's husband, Mohamed Diawara, had bought a small automated mill to grind millet and corn to sell. But fuel for the device was expensive, and it was constantly breaking down. Farming was tough, too. Each harvest seemed smaller than the one before. Mr. Diawara had only one donkey to help him till the soil, while his neighbors had sophisticated plows.
Mr. Diawara had been saving to buy a new part for his mill, but told his wife he wanted to use the money instead to pay smugglers to take him to Italy.
She knew it was dangerous; three men from Koutia had died trying that same year. Stay and we'll make it work, Ms. Diagouraga pleaded.
But we've been living hand-to-mouth all these years, he told her.
"He has a man's heart," Ms. Diagouraga said. "It was hard telling him not to go."
Mr. Diawara left one morning five years ago, just as the call to prayer sounded. She pressed into his arms a blue-and-white blanket she had embroidered for him and spent the whole day crying.
Five months passed with no word.
"I wasn't sure if he was alive," Ms. Diagouraga said. "Maybe he lost his phone? I had heard stories of migrants being robbed. Maybe he died in prison? Or at sea?"
She was busy cooking the day he finally called. He was in Italy, he said, and had been through hell to get there. He didn't give her details; the important thing was that he had made it.
Communication between the couple became brief and infrequent. Finally, he sent money — the equivalent of $20. An entire year passed before he sent cash again.
Work in Europe is far from guaranteed for many migrants. Mr. Diawara said in a telephone interview that he was sharing a room with four other men and sometimes went days without eating. His salary working day jobs on a cleaning crew was too little. He couldn't afford to go home.
Ms. Diagouraga knew life was hard for him. But she was now supporting not only her own two children, but his family too: several nieces and nephews and Mr. Diawara's ailing mother.
Left to her thoughts, Ms. Diagouraga sometimes got angry at her husband. What if he was cheating on her in Italy? She put the thought out of her mind. Sleeping alone in their double bed with its yellow bedspread and wooden headboard, she missed intimacy.
She had thought about leaving her husband. But she loved him. And how could she leave a man who was only trying to do better for his family?
Women in nearby villages in similar situations had divorced migrant husbands to find companions closer to home. In Magali, Ida Traoré, 32, became pregnant with twins while her husband was living in France.
Her father-in-law called France to tell his son, Abdoulaye Diarsso, that his wife was having an affair. Mr. Diarsso immediately phoned her, to apologize. He had been away 13 years, after all.
"She has sexual urges," Mr. Diarsso said during his first visit with his wife since he'd left. "It's difficult to accept, but if I ignore this, I'm not being honest."
Some women are still subject to the rules of older men who step in while their sons are abroad. In the village of Niaouli Tanoun, where six men have left for Europe, their wives complained that one aging father-in-law had barred them from walking around freely, let alone earning money.
But elsewhere, women have united and prevailed. In Magali, wives of migrants garden together, sharing harvests and lending one another money. They are led by Safy Diakhaby, 28, whose husband left for Europe when she became pregnant 11 years ago.
She had urged him to go. He has sent home enough cash to build a concrete home, but not enough to support the 21 people in her compound.
She hired a crew of men to work the fields, and knowing that they might be reluctant to listen to a woman, she cooks lunch as an incentive. She stores peanuts to sell when the crop is out of season and scarce. She shares her bounty with other struggling women.
"If we don't help each other, we all suffer," Ms. Diakhaby said.
But many migrants' wives have resorted to handouts, which is just what many male elders say they prefer. Habsatou Diallo lives down a winding dirt path in Koutia not far from Ms. Diagouraga. Her husband left for Europe six years ago without saying goodbye. She hasn't heard from him since.
The clay oven Ms. Diallo had used to bake bread to sell at the market fell apart without him to maintain it. She has no money anyway to buy flour. She depends on her father-in-law for handouts.
Ms. Diagouraga considered begging herself one day when she went to wash her clothes and realized she was out of laundry soap. She couldn't afford more — let alone school fees for her children.
"Who could I even ask for help?" she said. "I was angry at everything. I thought it was best I just do things for myself."
She decided to work harder. She hooked up the donkey to plow, and to haul water from the well. She started to earn a bit of cash from her harvest and set up a shop selling tea and sandwiches.
She heard hushed comments from onlookers. She saw them staring. Women should rely on charity, some of the men said. Others said she wasn't strong enough. Some said they felt sorry for her.
Ms. Diagouraga recently fell ill and had to buy medicine with the money intended for tea-shop supplies. One afternoon when her 5-year-old daughter bounded in from school with a tuition bill, Ms. Diagouraga just stared at it. The bill was for less than a dollar, but still more than she could afford.
"I'll go talk to your teacher and tell him to be patient," she said.
And then she got to work, soaking beans for dinner and sweating as she ran behind a donkey, urging it to hoist pails of water from a deep well.
Some of the village's few remaining young men were sprawled nearby in the shade. They lifted their heads to watch her on that baking afternoon.
"I pray God will help her see the fruits of her labor," said Hamidou Diawara, 19.
They had been there for hours doing nothing, Mr. Diawara said, daydreaming about sailing to Europe.
https://www.nytimes.com/2019/12/30/world/africa/left-behind-by-migrant-husbands-women-break-the-rules-and-go-to-work.html
------
Female internet users contribute to rapid adoption of e-money in Indonesia
Thu, November 28, 2019
The internet economy is rapidly growing in Indonesia amid an increase in the use of digital payments across Southeast Asia's largest economy.
According to Google Indonesia's "2019 Year in Search Indonesia: Insights for Brands" report, the rapid growth in the country's e-money adoption has been greatly affected by five major country trends, which include e-money adaptation, non-metros growth, TV viewing going online, sophisticated consumers and sustainability.
The report was released on Nov. 20 during the fourth Google4ID exhibition, which was held in Jakarta on Nov. 20.
Across Indonesia, there has been a surge of interest in digital wallets on Google Search, with the keywords "digital wallets" and "best digital wallets" being searched 2.7 times more than the previous year.
Furthermore, Indonesian women are rapidly adapting to e-money, with 86 percent of all internet-connected women using digital payment services, which is much higher than just 32 percent in 2017, according to the report.
In addition, the report also finds that the city with the highest frequency of searches relating to digital wallets this year is Yogyakarta.
The report also include non-metros growth, concluding that the growth of online users outside the Greater Jakarta area (Jabodetabek) will be twice as high as the growth of users inside the capital and its surrounding satellite cities.
The Gross Market Value (GMV) per capita of the metros (people living in Greater Jakarta) is US$555 while for non-metros it is $103 on average. However, the GMV of non-metros is expected to grow four times by 2025, according to the report. In comparison, the GMV of metros is predicted to grow only 2 times.
Furthermore, the keywords "Beauty", "Auto" and "Travel" were the most frequent searches in non-metro areas. According to the report, there has been an 82 percent rise in Google searches related to "Auto", an 80 percent rise in searches on beauty and personal care, and a 90 percent jump in "flights to" queries by non-metros. The report concludes that metros seek greater convenience and higher value for their digital and offline experience, while non-metros seek products and services that were previously unavailable to them.
In terms of sustainability, Google discovered that Indonesians are becoming more aware or their impact on the environment. Furthermore, Google Search recorded a 3.9 times growth in searches for "air quality", with the most searches per capita coming from West Kalimantan , Riau and Jakarta.
In addition, there was a threefold increase in "stainless straws" searches, a 6.3 times increase in searches for "recyclable bags" and a 2.7 times increase in "electric cars" searches, particularly in Jakarta and North Sumatra.
The report also touched upon the internet economy in Southeast Asia, saying Indonesia was the "rocket that is taking off faster, pulling away from the rest of the pack and bolting ahead."
According to Google, Temasek, Bain & Company e-Conomy SEA 2019 Report, Indonesia's internet economy is currently valued at around $40 billion this year, and it is expects to grow over three times to $130 billion by 2025. Furthermore, with almost all online sectors rapidly growing, the report also predicted the growth of four important pacesetters of the internet economy.
The report predicts that the value of the e-commerce industry will grow from $20.9 billion in 2019 to $82 billion by 2025 and the value of the ride-hailing industry to spike from $5.7 billion in 2019 to $18 billion by 2025.
On the other hand, the value of the online media industry is estimated to increase from $3.5 billion this year to $9 billion by 2025 and the online travel industry is expected to grow from $10.2 billion to $25 billion in 2025. (bry)
https://www.thejakartapost.com/news/2019/11/28/female-internet-users-contribute-to-rapid-adoption-of-e-money-in-indonesia.html
------
Why very few women go into politics in Mauritius
December 30, 2019
Mauritius is an island that is famed for its beautiful beaches and for its reputation as an "African success story". Since its independence from the UK in 1968, it has had tremendous economic progress, consolidated its democracy and maintained political stability.
Mauritius has held 11 general elections since independence. But the recent general elections highlighted one serious political failure that the country continues to grapple with: poor female representation.
While Mauritius has excelled in most democratic indicators, it has been slow to improve gender equality in politics. Women's representation in the Mauritian parliament was 5.7% in 1983 and 1987, 17% in 2005 and 11.6% in 2014. In the latest elections, the figure rose to 20%.
The Mauritian political system is a parliamentary democracy based on the Westminster model. It has a legislature consisting of 62 elected members, a prime minister, who is the head of government, and a ceremonial president. There is no quota for gendered representation in parliament. Mauritius had a woman president between 2015 and 2018, and a woman vice-president between 2010 and 2016.
All prime ministers of the country have so far been men.
Mauritius' constitution guarantees the equality of all citizens and ensures that women have the same legal rights as men. But as I argue in my paper, which examines the participation and presence of women in politics, cultural and societal barriers still prevent women from fully exercising their rights. The country's political parties and electoral system are not gender sensitive. Little space is made for women in the political field.
Symbolically, it is important to have equal representation of women in parliament since women represent slightly over 50% of the population of the country. Moreover, women form a distinct political group with specific interests that concern them. Women parliamentarians can also serve as role models to encourage more women to get involved in politics.
Low representation
Over the past 50 years women's lives have improved on a number of fronts. In education, both girls and boys have access to free education from primary level to university and pass rates are higher for girls. Women have better access to employment opportunities, especially in the manufacturing and services sectors. And they are more financially independent.
But political representation has consistently remained low despite Mauritius having ratified several international treaties. These cover women's rights and gender equality. They include the Convention on the Elimination of All Forms of Discrimination against Women, Beijing Declaration and Platform for Action, Optional Protocol on Violence against Women, and the Protocol to the African Charter on Human and Peoples' Rights on the Rights of Women in Africa.
But unlike many other African countries, Mauritius has not adopted any policy of affirmative action to increase women's presence in Parliament. In the last elections 12 women candidates out of a total of 60 were fielded by each of the three of the main political groups that were competing to win.
Of the 24 ministers appointed, only three were women. There were three women ministers in the previous government as well.
Patriarchal society
For my research, I interviewed women politicians and leaders of women's organisations to examine the factors that affected women's political participation.
A major impediment to women's political participation is that Mauritius is a conservative, patriarchal society. These values govern notions of respectable femininity where women are discouraged from adopting what is considered to be masculine behaviour and roles. This becomes problematic in the political sphere where aspiring politicians are required to be in the field a lot and to lead public meetings where the crowds are mainly men. As such, politics is viewed as inappropriate for women, and therefore, bad for the reputation of a family.
Mauritian society is also highly family orientated and women are expected to shoulder the bulk of domestic responsibilities. This leaves them with less time than men for political activities. Those that do end up in politics usually have strong family support and financial security.
The prevailing patriarchal culture also leads to discrimination against women politicians both overtly and covertly. A recent example was when Joanna Bérenger, a new politician, was described in a headline of one of the country's most read newspapers as coming to parliament with "ek zak dan tant". This Creole expression literally means "jackfruit in the basket". Bérenger is pregnant.
Many Mauritians, especially women, found the headline offensive and it led to a wave of protest on social media and elsewhere on the internet. The main issue highlighted was the fact that Mauritian society still makes reference to women's reproductive roles despite their success as political leaders.
Going forward
Many of the women candidates in the most recent election were young, indicating an emerging interest of young women in political careers. This is encouraging.
One way to challenge male dominance is through coordinated action among women's movements. Unfortunately women's organisations have not been able to forge a national consensus on the significance of women's representation in the Mauritian parliament. As such, the women's lobby has remained weak.
On top of this, Mauritius has failed to set up and implement mechanisms to increase the participation of women in politics. It needs a new electoral system to ensure a more equitable representation across the board. The country also needs a gender quota.
https://theconversation.com/why-very-few-women-go-into-politics-in-mauritius-128579
------
Largest Muslim Body of Scholars in Kerala to Muslim Women: Don't Cross Limits during Protests
Dec 30, 2019
Malappuram: In a directive to the Muslim women and girls who are on the street against Citizenship Amendment Act (CAA), the Samastha Kerala Jamiyyathul Ulama, the largest Muslim body of scholars in Kerala, has urged the women protesters "not to cross the limits" during protests.
A joint statement of scholars which was issued on Saturday night said participation of Muslim women in public protests and 'crossing limits' which may lead to arrests is against Islam. The organization also urged Muslim women to step back from such protests and demanded the organizations concerned not to deviate from their declared policies regarding this.
The statement, which hails the anti-CAA and anti-NRC protests across the nation, said Muslim people can adopt Islamic ways of protests during their strikes.
The joint statement was issued by scholars and officer-bearers of Samastha Kerala Jamiyyathul Ulama Bahaudheen Muhammed Nadvi, A V Abdul Rahman Musaliyar, Abdul Hameed Faizi Ambalakkadavu, Pinangod Aboobacker, Abdu Samad Pookkottur, Musthafa Mundupara, Nazar Faizi Koodathayi, Onambilli Muhammed Faizi and Sathar Panthalloor.
Meanwhile, there is a strong outrage in social media against the statement issued by Samastha. tnn
https://timesofindia.indiatimes.com/city/kozhikode/samastha-to-muslim-women-dont-cross-limits/articleshow/73022534.cms
------
Mumbai: Armed with law, Muslim women still in search of justice
Written by Tabassum Barnagarwala
December 30, 2019
At 24, Shabnam Shaikh has decided never to marry again. With a one-and-half-year-old son, no job, and a long-drawn legal battle ahead, she knows she cannot afford "to make another mistake by trusting a man". "Also I can't keep making rounds of the police station," she says as she cuddles her infant in her lap. Last year, her husband uttered talaq thrice over the phone; months later, he came to meet her and repeated, "Talaq talaq talaq". This year, soon after the Muslim Women (Protection of Rights on Marriage) Act, 2019 was enacted, she visited two police stations in Mumbai to register a complaint, but was turned away without registering a first information report (FIR).
Delays in FIR, no arrests
Take Shabnam's case: Her's was a love marriage in November 2017, despite her father's strong opposition. Her husband Ateeq Ahmed runs a paan shop in Nagpada. In dowry, she took a cupboard and bed. A month after marriage she was pregnant. Three months after marriage, she claims, Ateeq allegedly started beating her. "He would beat me without thinking of my pregnancy."
During her entire pregnancy, she claims she was subjected to domestic violence. Finally, she returned to her parents' house, a tiny room in Govandi's Shivaji Nagar slum to deliver her son Ibrahim in 2018. Her memories of her marriage are far from rosy. "Last year on Eid, he slapped me and dropped me home. On September 5, he called me on mobile and said 'talaq talaq talaq'," she says.
Her father Shah Mohammed took her to Shivaji Nagar police station, where a non-cognisable report on domestic violence was taken. Nothing happened for days. Her husband visited Shabnam in October and repeated talaq thrice again.
Over the next few months she made rounds of Shivaji Nagar police. "They referred me to Nagpada police, and Nagpada police would suggest I approach the women's commission," Shabnam says.
This year, finally in June, Bharatiya Muslim Mahila Andolan (BMMA), an organisation that supports Muslim women, intervened. An FIR of triple talaq, domestic violence and dowry was registered at Shivaji Nagar police station. The case is before a magistrate court in Kurla now.
The Muslim Women (Protection of Rights on Marriage) Act, 2019 makes triple talaq a criminal offence with imprisonment extending up to three years. The law states, "No person accused of an offence punishable under this Act shall be released on bail unless the magistrate, on an application filed by the accused and after hearing the married Muslim woman upon whom talaq is pronounced, is satisfied that there are reasonable grounds for granting bail to such person."
But Ahmed is yet to face arrest.
"He gives me no maintenance," Shabnam, a Class VIII drop-out, says. Her elder brother and father support her. "But for how long will my brother keep me?" she says.
While the law has been enacted, implementation remains poor. "Normally police's first reaction is that this is a family matter. Many Muslim women are not literate enough to know their rights. On several occasions police asked the women to show them the Act or tell them the sections under which case will be registered," said advocate Ruksar Memon, who is handling the triple talaq case of Jannat Patel, first case that was registered after the Muslim Women Act came into existence.
Lack of counselling support
Jannat Patel (32) was seven months pregnant when her husband called her up and said 'talaq' thrice over a nasty fight. He later dropped her a text message, it read: 'talaq talaq talaq'. It was November 2018. An ordinance banning triple talaq was promulgated just a month ago. Patel went to Mumbra police station where officials refused to register an FIR. "They asked me to get the copy of the ordinance. I made multiple trips to the station everyday," she said.
She sank into depression. Until then she claims her pregnancy was risk-free. But the stress took its toll, and within a month she had to be rushed to hospital for premature delivery. "This was not how I imagined my firstborn to be delivered. He remained in the intensive care unit for a week. My marriage had broken. And I had no one, no counsellor or police to support me," Patel said.
With a newborn, no job and dependent on her maternal family, she says she retreated into a shell and would only offer namaaz. It took her months to recover.
"Not just in triple talaq, but women facing any kind of violence need counselling. NGOs are working towards it but there are so many cases. Patel lives in Mumbra which makes access to counsel her difficult," said activist Noor Jahan Safia. She adds, "Counselling component is available in family courts during pre-litigation stage. Since this is a criminal case, the police or magistrate court is not mandated to counsel."
Patel had married in 2015, her husband lived in Abu Dhabi for two years before returning to India. "He started having an affair with a woman in Vikhroli. I tried to stop him but he decided to divorce me," she claims. The Mumbra resident's first visit to police station in pregnancy went in vain. She later wrote to the DCP, who instructed the local police to register a case. Eight months after she first visited Mumbra police station, an FIR was registered. It was the first case to be registered across India hours after the Act was enacted.
Patel now has a nine-month-old baby. She is pursuing a teacher's training course to get employed. She claims she "counsels herself" to remain confident and bring up a baby on her own.
"My parents support me as much as they can. But the community laughs at me, they say I am mad that I am approaching court. It can take years to get justice."
Memon says her husband's bail application was rejected by the magistrate court, after which he has approached the High Court. His mother and sister were granted bail by the magistrate. All three have been booked for domestic violence, dowry and the husband faces additional charge of triple talaq. But he has still not been arrested. Jannat claims he lives with another woman.
"In this case we decided to fight for Jannat's case pro-bono. But several Muslim women who cannot afford legal fees are given government aid. Since the government does not pay them well, legal aid counsels eventually lose interest in such cases," Memon said.
Policing matters
Manjunath Singe, DCP (Zone VIII), said soon after the Act was enacted the Mumbai Police commissioner called a meeting of senior officers and discussed the need to register FIR in each case of triple talaq.
The procedure, another police officer said, is to first record a statement of the woman and send a notice to the husband. Police stations have been instructed to always file an FIR. They then investigate and look for evidences. Arrest, one officer said, is only made if there are strong charges against the accused husband. "Say if there is also dowry and domestic violence case combined with triple talaq," an officer said.
Social activists, however, said the procedure remains on paper. When contacted, Mumbai police spokesperson Pranay Ashok said, "I am not sure how many cases of triple talaq have been registered in Mumbai. I know one in Thane. I will have to look into what procedure police follows. But we have received no complaint of refusal to file FIR," he said.
Singe said, "Our officers don't send women back without registering a case. They counsel and register FIR after thorough investigation." However, two police stations that come under his jurisdiction, Vakola and BKC, have two separate cases where women faced delays in FIR. Singe claimed he was unaware of both the cases.
One such case is of Kamrunnissa Ansari (55) who married a man 20 years older than her in 2012. "It was my second marriage, but it was hardly a marriage," she says. Her husband lived with her for one and half months before leaving for Kuwait as a labourer. He only gave her Rs 3,000 before leaving. She remained in contact with him over limited calls that he made to India over next six years.
In September 2018, he texted 'talaq' thrice from Kuwait.
"We were having multiple fights over the phone. I was made to do all the house chores. I was kept like a domestic help by my in-laws and one day he decided he didn't want me as his wife," she said.
She claims her case was registered by Vakola police after "exerting pressure" on cops. "But the investigating officer has stopped answering my phone call. There is no progress in the case," she claims.
While implementation of the Act is an issue, several activists also question the intent of the law. "The law somehow also makes domestic disputes a criminal offence. It does not look at protecting Muslim women, but targets Muslim men. If there was uniformity, the law would have been acceptable. With present government, the intentions don't seem right," said Sabah Khan, from NGO Parcham.
https://indianexpress.com/article/cities/mumbai/triple-talaq-law-domestic-violence-women-empowerment-armed-with-law-muslim-women-still-in-search-of-justice-6190701/
------
Muslim Women Protest against CAA In Front Of Town-Hall in Bengaluru
December 29, 2019
Muslim women in Karnataka's Bengaluru gathered in front of a town hall and protested against the contentious Citizenship Amendment Act (CAA). Raising posters which read "CAA against the Constitution", "We oppose CAA & NRC" and others, the protestors demanded an immediate withdrawal of the law.
https://www.republicworld.com/india-news/general-news/bengaluru-muslim-women-protest-against-caa-in-front-of-town-hall.html
------
URL: https://www.newageislam.com/islam-women-feminism/triple-talaq-victims-get-annual/d/120661
New Age Islam, Islam Online, Islamic Website, African Muslim News, Arab World News, South Asia News, Indian Muslim News, World Muslim News, Women in Islam, Islamic Feminism, Arab Women, Women In Arab, Islamophobia in America, Muslim Women in West, Islam Women and Feminism