New Age Islam News Bureau
8 Dec 2016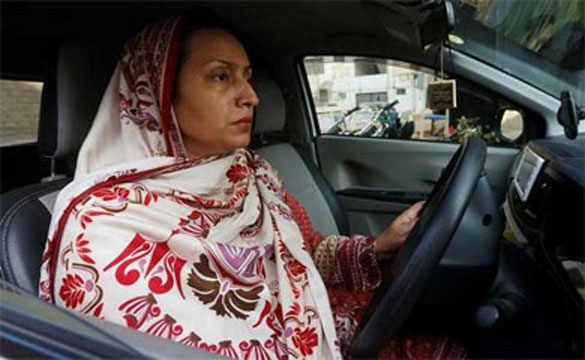 Seven women drivers had qualified to join the fleet but applications are still open (Reuters)
----------
• Cab-Hailing Company Careem Launches Women Drivers in Conservative Pakistan
• Husbands, Suitors Spurn Middle Eastern Women Disfigured By War
• Two Muslim Women Create Eco-Friendly Building Bricks from Gaza's War Remains
• I Spoke Up To Make Pakistani Women Strong and To Defend My Husband, Says Faryal Makhdoom
• Egyptian Women's Rights Advocate Azza Detained
• Woman in Eastern Aleppo Dies in Wheelchair As Husband Looks For Doctor
• Washington Cab Driver Threatens First Somali-US Lawmaker Ilhan Omar, Calls Her 'Isis'
• Facing the Age of Trump Together: Jewish and Muslim Women Build 'Sisterhood'
• More than 420 abused women get protection in Dubai
Compiled by New Age Islam News Bureau
URL: https://newageislam.com/islam-women-feminism/triple-talaq-unconstitutional,-violates-muslim/d/109323
-------
Triple Talaq Unconstitutional, Violates Muslim Women's Rights: Allahabad HC
December 8, 2016
Lucknow: The Allahabad High Court on Thursday called the practice of triple talaq among Muslims as 'unconstitutional'.
Saying that no personal law board is above the Constitution, the court held that triple talaq violates the fundamental rights of Muslim WOMEN.
"The instant divorce (Triple Talaq) though has been deprecated and not followed by all sects of muslim community in the country, however, is a cruel and the most demeaning form of divorce practised by the Muslim community at large. Women cannot remain at the mercy of the patriarchal setup held under the clutches of sundry clerics having their own interpretation of the holy Quoran," the court said in its observation.
"The question which disturbs the court is should Muslim wives suffer this tyranny for all times? Should their personal law remain so cruel towards these unfortunate wives?," the court asked.
Reacting to this, Kamal Farooqui of All India Muslim Personal Law Board told CNN News18," This is not a judgment, just an observation."
Agreeing with him, Rashid Alvi of the Congress said, "This VIEW of the Allahabad HC won't stand in the Supreme Court. I don't agree with what the Allahabad HC has to say."
"No one is above the constitution and nobody should interfere in the practises of any community," he told CNN-News18
Reacting to the news, the All India Muslim Personal Law Board has slammed the ORDER stating that it is against Shariyat.
"The Board also plans to challenge the order in the Supreme Court," claimed Islamic scholar Rashid Firangi Mahali.
Hailing the order, Union minister Venkaiah Naidu said, "Constitution is Supreme and above religion. Allahabad Court's decision should be hailed. There should be justice."
<iframe src='http://www.news18.com/embed/MTJfMjAxNi8wOC0xMi0yMDE2L3RyaXBsZV90YWxhcV9yZXhlc18xMnBtLm1wNA==/' width='100%' height='378' scrolling='no' frameborder='0'></iframe>
The petition has been dismissed by the Allahabad High Court because a similar petition was heard by the Supreme Court.
The High Court made the observation while hearing the petitions filed by Bulandshahr's Hina (24) and Umarbi.
The petition has been dismissed by the Allahabad High Court because a similar petition was heard by the Supreme Court.
http://www.news18.com/news/india/indian-equities-surge-on-positive-global-cues-1320735.html
-------
Cab-Hailing Company Careem Launches Women Drivers in Conservative Pakistan
December 7, 2016
KARACHI/LAHORE: Taxi-hailing service Careem introduced women drivers in Pakistan on Wednesday, a rare initiative in a deeply conservative Muslim country where women account for only 22 per cent of the workforce.
Careem has a larger market share than rival Uber in most of the 32 cities in the Middle East, North Africa and Pakistan region in which it operates.
Now it has a new idea for Pakistan: taxis driven by women, who will pick up both male and female customers.
The start-up operates in the Pakistani cities of Lahore, Islamabad and Karachi.
"We want to give women the same opportunities and the same chance that men have of leveraging our platform to GENERATE healthy income," said Careem's Pakistan general manager Ahmed Usman.
Usman said seven women drivers had qualified to join the fleet but applications were open and the company hoped more would apply.
Zahra Ali, 30, heard about Careem from a friend and thought it would be an "honourable" way to support her two children, who she is raising alone since the death of her husband two years ago.
She had just enough money to BUY A CAR and got her driving licence this year.
When Ali applied to be a Careem driver a few months ago, she was told there was no provision for women drivers.
Then Careem called back with good news.
"The only skill I know is driving," Ali told Reuters at her home in the city of Lahore. "Now I can raise my children honourably, I can give my children a good education."
Launched in Dubai in 2012, Careem has a global force of 90,000-plus drivers and more than four million users registered through its mobile app.
In the sweltering southern city of Karachi, among Careem's largest markets, demand for secure taxis is particularly strong among WOMEN, Usman said.
"If an organisation is offering security for WOMEN ... naturally that is very IMPORTANT," said driver Aasia Abdul Aziz, 46, when asked why she chose to work for Careen.
"Especially in a city like Karachi where no work can be done in the absence of proper security." Aziz said she had worked long hours at a beauty salon for most of her life and now that her two daughters were settled in jobs, she wanted work that allowed her flexibility.
When asked about the challenges of being a woman driver in Pakistan, Aziz said: "When people start accepting something, when our public realise that women can do a certain job and are doing it in a commendable manner, then I think it will not be so difficult."
Domestic abuse, other violence and economic discrimination make Pakistan the world's third-most-dangerous country for women, a 2011 Thomson Reuters Foundation expert poll showed.
About 500 women are killed in Pakistan every year at the hands of relatives over perceived damage to family "honour" that can involve eloping, fraternising with men or any other infraction against conservative values.
"One must face problems bravely," Ali said in Lahore. "Women are not weak; it is our society which portrays them as weak. One cannot move forward with fear."
http://gulfnews.com/news/asia/pakistan/cab-hailing-company-careem-launches-women-drivers-in-pakistan-1.1941943
-------
Husbands, suitors spurn Middle Eastern women disfigured by war
December 08, 2016
Lin Taylor
Ahzan was shopping in a market in the Iraqi capital of Baghdad when an explosion ripped through the street, lifting her off her feet and shattering her lower body.
As the dust settled, Ahzan saw parts of her body strewn across the ground. The 33-year-old's left leg was so badly injured, the doctors had no choice but to amputate. It was the start of more pain and misery, she said.
Ruptures in her abdomen and leg never healed, and offers of marriage quickly dried up. "I had suicidal thoughts, I wanted to die. I just wanted to stay at home all day doing nothing," Ahzan said through a translator at a Medecins Sans Frontieres (MSF) hospital in Jordan's capital Amman.
As an amputee requiring ongoing medical assistance, which has brought her to the MSF hospital, Ahzan is seen as a burden on her community.
For women young and old, being disfigured or maimed by conflicts in Middle East is a stain that stigmatises them for life, health workers say. Many are shunned by society, divorced by their husbands or deemed unfit for marriage and motherhood.
"People make me feel disabled, like I'm not a whole person who can be depended on," said Ahzan, who asked that her full name be withheld for privacy.
Ten years after the bombing, Ahzan, now 43, remains single and childless. A mark of shame for women in her culture, her status is also a source of depression, she said.
"THEY LOSE THEIR LIVES"
MSF staff at the only hospital in the Middle East to perform complex reconstructive surgery on victims who have been blown apart and disfigured by conflicts, say the stigma female patients endure when they return home is far worse than for men.
Some young women will drop out of school or university out of embarrassment, others are ostracised by family and friends. This isolation, compounded by their physical ailments, can seriously affect their mental health, MSF says.
Since it opened in 2006, the hospital has transported and treated almost 4,400 patients from Iraq, Yemen, Syria and Gaza, free of charge.
Around 60 people, mainly young men, undergo complex orthopaedic, facial and burn reconstructive surgery at the hospital each month, according to MSF. They also receive psychological care and counselling during their stay.
Clinical psychologist Yafa Jaffal, who is treating Ahzan for depression as she recovers from surgery to treat the wound on her leg, said patients who have undergone amputations can at least hide their missing limbs with clothing.
They can learn to use prosthetic arms or legs to gain autonomy again. But convincing women with severely disfigured faces to move on with their lives is near impossible, she said.
"Many of them have trouble dealing with their children after the injury ... because sometimes the children don't recognise them," Jaffal told the Thomson Reuters Foundation. "This is so difficult for a mother - to say 'hello' to your child and they reply, 'No you're not my mother'."
It is also common for husbands to divorce their wives, taking their children with him, or to marry a second wife, said MSF mental health worker Muntaha Mashayekh.
"I can count on my fingers the females who stay with their husbands after she is injured, especially those who have been burnt. They lose their lives," said Mashayekh, who counsels females patients at the hospital.
RECOVERY
As part of their recovery, women at the hospital are offered classes in applying make-up to help cover their facial scars and burns, as well as dance therapy to boost their self-esteem and confidence.
Mashayekh takes the women to local markets so they can start integrating into society again.
"You have to be confident in yourself, you are a human being and you should be respected," she said. "It will take time for society to accept them, but we are trying."
It will be a few more weeks until Ahzan is physically well enough to return to Baghdad from the hospital in Amman. But as the primary carer of two older brothers with mental disabilities, she said she will not have time to rest and recover from the operation.
It is a strange blessing in disguise, she said, as their condition has helped her feel useful again and accepted by her family. "I forced myself to walk again, to do things on my own and be independent to look after my brothers," she said.
"I feel like I've gone from being a disabled person to someone who functions wholly."–Reuters
http://nation.com.pk/international/08-Dec-2016/husbands-suitors-spurn-middle-eastern-women-disfigured-by-war
-------
Two Muslim Women Create Eco-Friendly Building Bricks From Gaza's War Remains
December 7, 2016
Israelis and Arabs have been fighting along the Gaza strip, on and off, for decades now. The remains of war from the wider Arab-Israeli conflict that started after World War II and the Holocaust have been the subject of countless journalistic articles, some stating the strife is fueled by the US government which helps to undermine peace in the region. Despite numerous odds, and giving no heed to who caused or is fueling the ongoing turmoil, just two of WOMEN have created an inexpensive, environmentally friendly building material from the rubble of war, and they are about to go into mass production to help to rebuild the area.birck
These innovative WOMEN with engineering degrees are being called the Gaza Girls. Thousands of buildings in the area have been reduced to rubble, but by using the remains of war – the rubble itself – Majd Mashharawi and Rawan Abddllaht have created building blocks which will allow residents to rebuild their homes.brickkk
To this day, trying to rebuild Gaza is difficult since Israeli blockades make IMPORTING construction materials expensive, and time-consuming. In March 2015, UNRWA reported that "…9,061 Palestine refugee houses have been considered totally destroyed and 5,066 have suffered severe, 4,085 major and 120,333 minor damages. Also, to date, the Agency has only received funding to reconstruct 200 of the 9,061 houses totally destroyed." The blockade has made timely reconstruction inordinately difficult.
The demand for construction materials in Gaza is now booming, with more than 40,000 bricks needed per day. The WOMEN had envisioned rebuilding the area in their University days but were not content using materials that had already been developed noting the weakness of those blocks for proper, long-standing construction.
The women named their bricks "Green Cake". They use recycles ashes, a material Gaza lacks. The weight of the new brick is half of the current one commonly used in Gaza and its cost is 30% less, which gives the project a great potential for success. They are hoping their project will boom and expect that more than 18,000 houses are in need or rebuilding.
Liala Kloob, her unemployed husband, and their six children sleep on cots in the Abu Assi School in a Gaza Strip refugee camp. She is not an atypical story. An additional hundred families sleep within the school's walls.
If the women are successful, they will help to give hope and an abode to hundreds of thousands of homeless in the area, literally using the ruins of war to rebuild what has been destroyed.
http://countercurrentnews.com/2016/12/two-muslim-women-create-eco-friendly-building-bricks-gazas-war-remains/
-------
I spoke up to make Pakistani women strong and to defend my husband, says Faryal Makhdoom
December 08, 2016
British-Pakistani boxing champ Amir Khan and his wife Faryal Makhdoom appear to have a picture-perfect marriage, but a shocking Snapchat story Faryal published earlier this week alleged that the couple has long been suffering harassment at the hands of Amir's family.
On Snapchat, Faryal, who is also building her own beauty brand, claimed that her in-laws attempted to hit her and also tried to engineer a divorce when she was nine months pregnant with the couple's first child. She claimed that her husband was also a victim of their bullying tactics.
As Faryal's Snapchat story began circulating on social media and in the press, some in Pakistan lauded her for speaking out against domestic violence and harassment while others criticised her and questioned her motives. Many also wondered whether Amir was standing by Faryal through these disclosures.
Faryal spoke to Images about the fallout from her revelation, and explained that she and Amir are very much on the same team.
"I did it [spoke out on Snapchat] because there are so many Pakistani daughters-in-law who go through this and never speak up," says Faryal. "I was one of them, who stayed quiet for my husband's respect, for my family's sake. I spoke up to make these women strong... I spoke up to defend my husband who's done so much for his family but still gets grief, why? I wanted people to see this is unacceptable."
When asked about how Amir figured into this situation, Faryal explains that he gradually came to see her grievances were not unfounded. "At first it was the cultural thing of mom, dad, listen to everything they say. But in time Amir saw I was getting mistreated and it wasn't fair to see your wife and child be put through this. Amir supports me in everything I do, we are one."
According to Faryal, her domestic situation was unbearable for the three years she's been with Amir. She said she'd "done her best" to assimilate into Amir's family life, but she couldn't "win over" his mother and sisters.
But now that she's spoken out, she feels a sense of relief.
"Because I spoke out, so many other women have spoken out," says Faryal. "I feel they've become stronger seeing a Pakistani woman speak out. The amount of love and support and following I got was insane and I want them to know they have that support too." Faryal says the situation as it stands is that Amir has bought his family a house, and she hopes that "his family stays happy in their house and that we stay happy in our house."
"They are his parents," concludes Faryal. "I want him to speak to his mom and dad forever, but I want to stay in my private life without them hovering around giving me abuse."
Faryal's allegations hit home in Pakistan, where domestic abuse is rife and women are expected to endure bad marriages or even violence to respect their family's honour. in 2015, prominent couple Imran Khan and Reham Khan's divorce was also plagued by allegations of mistreatment and ill will between their two families.
On social media, a petition titled 'Team Faryal Makhdoom' is being circulated, among other hashtags and shows of support.
Though Amir's family has yet to issue a statement, for now Faryal is secure in her decision to go public.
"Yes his mom and dad have an impact on his early life. But to treat your son differently as soon as he gets married is not fair," she concludes.
http://images.dawn.com/news/1176711/i-spoke-up-to-make-pakistani-women-strong-and-to-defend-my-husband-says-faryal-makhdoom
-------
Egyptian women's rights advocate Azza detained
December 08, 2016
CAIRO - Egyptian police arrested prominent women's rights advocate Azza Soliman on Wednesday, her foundation and a security source said, weeks after she was banned from travel and had her assets frozen.
Soliman, founder of the Center for Egyptian Women's Legal Assistance (CEWLA), was one of a number of activists, lawyers and journalists prevented from leaving Egypt in the last month.
The rights lawyer told Reuters last week that she was turned back on Nov. 19 at Cairo airport. Soon after, Soliman discovered that her personal assets and those of her group had been frozen.
"The investigative judge has issued an arrest warrant against Azza Soliman," CEWLA said in a tweet, adding that security forces had gone to Soliman's house and taken her away to a Cairo police station. There was no immediate comment from the interior ministry. CEWLA did not give any more details. It was not immediately clear what charges, if any, Soliman was facing.
Soliman's arrest comes as Egyptian human rights activists say they are being subjected to the worst government clampdown ever, targeting organisations accused of fomenting unrest during the 2011 uprising that ended Hosni Mubarak's 30-year rule.
Several non-governmental organisations (NGOs), most involved in rights work, are embroiled in a long-running investigation, accused of receiving foreign funds to sow chaos. Am Egyptian rights lawyer said Soliman's arrest warrant had been issued by the judge who is presiding over that case.
In September, a court froze the assets of five prominent human rights activists and three NGOs, paving the way to criminal proceedings that could lead to life sentences.
NGOs say they have felt exposed since late 2011, when authorities raided 17 pro-democracy and rights groups.
In 2013, a court ordered the closure of several foreign groups, including US-based Freedom House, and gave jail sentences to 43 NGO staff including 15 Americans who fled.
A case against dozens of Egyptian NGOs and lawyers was never closed but remained largely dormant until this year. It was not clear if Soliman had been detained in connection with this case.
In November, parliament passed a law to regulate NGOs, which human rights groups say effectively bans their work and makes it harder for development groups and charities to operate.
The bill bans domestic and foreign groups from engaging in political activities or anything that harms national security, public order, public morals or public health - a means, critics say, to stifle dissent.
http://nation.com.pk/international/08-Dec-2016/egyptian-women-s-rights-advocate-azza-detained
-------
Woman in Eastern Aleppo dies in wheelchair as husband looks for doctor
7 December 2016
An elderly woman in Eastern Aleppo died in her wheel chair this week as her husband sought medical aid in a part of the city where all hospitals have been bombed by Russian and Syrian forces.
The woman, who was identified as Sabah Mohammed on social media, died in the deserted Alsha'ar neighborhood in besieged Aleppo, before it was captured by Syrian government forces.
Yahya Alrio, the photographer who captured the images, said the elderly woman died in her wheelchair.
The husband, who is photographed crying and kneeling at the feet of his wife, spoke to the photographer shortly before her death about the destruction of his house and the disappearance of his seven children, Anatolia news agency reported.
Sabah's husband said she stood by him through thick and thin as they raised their seven children.
https://english.alarabiya.net/en/variety/2016/12/07/Pictures-Woman-in-Eastern-Aleppo-dies-in-wheelchair-as-husband-looks-for-doctor-.html
-------
Washington cab driver threatens first Somali-US lawmaker Ilhan Omar, calls her 'Isis'
December 8, 2016
Ilhan Omar, the first Somali-American Muslim woman lawmaker, on Wednesday (7 December) said that she was verbally attacked for being a Muslim by a cab drive in Washington DC on Tuesday.
The state representative-elect from Minneapolis, who was in the capital for attending policy training at the White House, said she took the taxi to return to her hotel, when the cabbie called her Isis.
She wrote in a post on her FACEBOOK account, "On my way to our hotel, I got in a cab and became subjected to the most hateful, derogatory, Islamophobic, sexist taunts and threats I have ever experienced."
"The cabdriver called me ISIS and threatened to remove my hijab, I really wasn't sure how this encounter would end as I attempted to rush out of his cab and retrieve my belongings.
"I am still shaken by this incident and can't wrap my head around how bold being (sic) are becoming in displaying their hate toward Muslims.
"I pray for his humanity and for all those who harbor hate in their hearts," the 34-year-old wrote her social media post.
She added that she plans to file a complaint with the police once she goes back to Minneapolis, and said she does not feel safe enough after this incident.
Omar, who came to the United States from a refugee camp in Kenya as a child, made history in November when she became the first elected Somali-American Muslim woman lawmaker, defeating a Republican.
Omar is also the director of policy at WOMEN Organizing Women Network, an organisation that empowers East African women and encourages them to participate in civic leadership.
http://www.ibtimes.co.uk/washington-cab-driver-threatens-first-somali-us-lawmaker-ilhan-omar-calls-her-isis-1595436
-------
Facing the Age of Trump Together: Jewish and Muslim Women Build 'Sisterhood'
Dec 08, 2016
During the Sisterhood of Salaam-Shalom's national conference on Sunday, I posted on FACEBOOK that several speakers referenced November 8th, the day Trump was elected, in the same sad tone that for 15 years we've spoken about September 11th. A Facebook friend responded, "Are any of the Islamic [sic] participants formally disavowing anti-Zionism?"
The Sisterhood approach — that it all starts with relationships — is one that more Jewish organizations would be wise to adopt as well, rather than applying litmus tests for MEMBERSHIP.
The Sisterhood's approach doesn't ask people to commit to any particular position, aside from agreeing to treat all members respectfully. That there is a shared interest in getting to know one another and standing together on issues of common concern is enough.
It is about getting to know WOMEN we would not likely meet in the course of our daily lives. Members of both religious groups have deeply rooted assumptions about each other, but too often little personal knowledge. Meeting monthly in nearly 50 chapters around the country, our goal is to get to understand one another — our cultures, personal and religious lives, and perspectives.
Members are advised to not even attempt to discuss the Israeli-Palestinian conflict until they've been meeting regularly for at least 18 months, and strong bonds between members have formed.
Margaret Johnson, conference participant from Maryland: "I understood the Israel-Palestine conflict in a way I never had before."Debra Nussbaum Cohen
The wisdom of the approach seems evident: nothing — no attitude, no position — can change if there isn't a deep understanding of and investment in each other. There is equal partnership in the chapters: Each has one Jewish and one Muslim co-leader, and each strives for equal numbers of WOMEN from each religious group.
At a time when women and anyone perceived as a minority feel targeted by the imminent Trump presidency, with its stated intentions to deport illegal immigrants and register Muslims, and after an election campaign that unleashed ongoing expressions of hatred and disrespect empowering those who feel permission has been granted to express bigotry, the SoSS mission feels more urgent than ever.
Surging interest in membership suggests many agree. Though the organization is just three years old, about 500 WOMEN are on a waiting list to be connected to others in their local communities, said Sheryl Olitzky, the group's co-founder, after the conference. A front-page article in The New York Times two days later only bolstered widespread interest.
U.S. Senator Cory Booker, who was among the several inspiring speakers at the daylong conference December 5th, urged attendees "to be the thermostat, not the thermometer," meaning we should aim to change the temperature of the political climate rather than just reflect it. Also at the conference at Drew University in Madison, N.J. was actress Milana Vayntrub (not Melania, she emphasized to laughter), an actress in AT&T commercials and the current show "This is Us." Vayntrub, who is Jewish, immigrated to the U.S. from the former Soviet Union as a young child, and now works to aid Syrian refugees.
Jews and Muslims getting to know one another, even for those who live in major metropolitan areas, can be challenging and eye opening. That was the experience of Margaret Johnson, a translator who lives with her family in the Washington D.C. suburb of Germantown, Maryland. Johnson, who wears a hijab, CONVERTED to Islam several years after marrying a Muslim Turkish immigrant.
She was in a playground at a local interfaith picnic with her two young children in September 2014 when she noticed an Orthodox Jewish woman nearby, WATCHING her own children play. Because of the Gaza war that summer, with rockets launched by Palestinians from Gaza and the Israeli army deploying intensive military force to root out terrorists, but with what seemed to many like disproportionate force with tragic consequences, "I felt like I couldn't talk to her," Johnson said to me at the SoSS conference, even to strike up a casual chat. Her feelings about the Israel-Palestine conflict, "which seems very unjust to me," got in the way.
She didn't know many Jews, but felt that "Jews have higher socio-economic status" than Muslims. "The Jewish lobby is very powerful and we give a lot of aid to Israel," Johnson told me.
The Washington, D.C. SoSS chapter was forming at the time, and Johnson thought joining might be a way to connect with Jewish WOMEN. As a child growing up in Beaumont, Texas, she knew of just a single Jewish family. And though there are many Jews in the county where she now lives, they cluster at the other end of the area.
"I just wanted to work on myself and understand better the Jewish perspective," Johnson says. She had a real "aha" moment when a Jewish member of the D.C. chapter said, "Jews always expect another Holocaust to happen."
In that moment, Johnson said, she became aware that Jews feel more vulnerable than she had ever realized. "I understood the Israel-Palestine conflict in a way I never had before," Johnson told me.
That, my FACEBOOK friend, is what SoSS is really about. Not statements and positions, but getting to know one another so we can understand each other and be there for one another.
At a time when so many of us feel vulnerable — personally and sometimes as a community as well— that feels very precious indeed.
Debra Nussbaum Cohen, a regular contributor to Haaretz, first wrote about the Sisterhood last year and has recently started a SoSS chapter in Brooklyn.
http://www.haaretz.com/opinion/.premium-1.757576
-------
More than 420 abused women get protection in Dubai
December 7, 2016
Dubai The Dubai Foundation for WOMEN and Children (DFWAC) helped 423 women who were victims of abuse in the past year, according to a top official.
Speaking to XPRESS ahead of the Orange Campaign to be held on Kite Beach between December 8 and 10, Afra Al Basti, director-general of the foundation, said, "In the first half of the year, we provided shelter to over 324 victims of domestic abuse, and according to our in-house research emotional and verbal abuse were the most common."
She said statistics for 2014-2016 show that there were 391 cases of emotional and verbal abuse, 251 neglect and deprivation, 220 physical abuse, 161 financial abuse and 31 cases of sexual abuse.
"We have noticed an increase in numbers in the last two years, which made us increase our collective investments to raise more awareness and prevent violent crimes against women and girls," she added.
Global initiative
Asked what the Orange campaign is about, she said, "In the development of a global campaign to end violence against women worldwide, the United Nations Secretary-General's campaign UNiTE designated November 25 as the International Day for the Elimination of Violence against Women. With a 16-day campaign globally, people unite and express their solidarity and raise awareness via the Orange event. DFWAC was the first institution to launch the initiative in the Middle East."
She said, "The campaign is running on various platforms and we are encouraging people to spark a conversation by using the hashtag #SpeakUPae online. We are encouraging UAE residents to come and visit us at the Kite Beach between December 8 to 10."
Afra said, WOMEN should not accept abuse and should not keep silent. Any victim of abuse can reach DFWAC 24/7 on our help line 800111, SMS: 5111, Fax: 04 2870088 or email us at help@dfwac.ae."
Maryam Bin Thaneya, Commun-ications Director at DFWAC, said, "The remedy to preventing gender-based violence lies in the level of awareness and education the society has on the issue. Our campaigns aim to induce positive change by encouraging and empowering victims not to remain silent, and educate people around them on how to pick up signs of abuse and how to intervene."
Harmeek Singh, chairman of Plan b Group and campaign partner of DFWAC, said, "We all have an equal stake in sharing the responsibility and making sure that we can progress to a healthier living environment for women and girls worldwide."
http://gulfnews.com/xpress/news/more-than-420-abused-women-get-protection-in-dubai-1.1941857
-------
URL: https://newageislam.com/islam-women-feminism/triple-talaq-unconstitutional,-violates-muslim/d/109323
New Age Islam, Islam Online, Islamic Website, African Muslim News, Arab World News, South Asia News, Indian Muslim News, World Muslim News, Womens in Islam, Islamic Feminism, Arab Women, Womens In Arab, Islamphobia in America, Muslim Women in West, Islam Women and Feminism, Moderate Islam, Moderate Muslims, Progressive Islam, Progressive Muslims, Liberal Islam