New Age Islam News Bureau
22 Nov 2016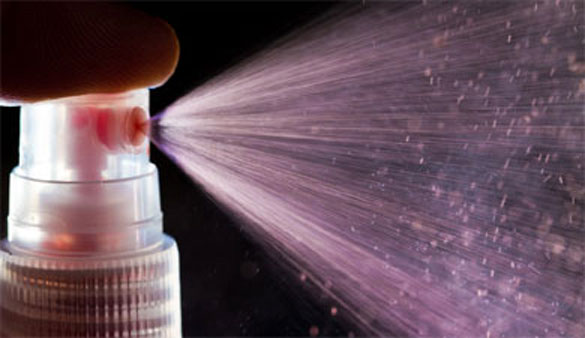 Sign of the times: A new beauty subscription service is sending subscribers self-defense tools. Photograph by Alex Turton—Getty Images
--------
• Why the 'Birchbox for Muslim Women' Is Sending Customers Pepper Spray
• Canada's 1st Hijabi Anchor Hopes to Change Stereotype
• Women Leaders in an Arab World Still Plagued By Inequality
• Indian-Origin Muslim Woman Wins Local Election in US
• Who Are the Women Running in Kuwait's Election?
• Empowering Muslim Women Means Empowering Muslim Youth
Compiled by New Age Islam News Bureau
URL: https://newageislam.com/islam-women-feminism/triple-talaq-be-deliberated-with/d/109168
-------
Triple talaq should be deliberated with open mind: All India Muslim Women Personal Law Board
Nov 21, 2016
LUCKNOW: All India Muslim Women Personal Law Board (AIMWPLB) on Monday welcomed the AIMPLB's decision to set up a women-wing for deliberating on the raging issues like triple talaq and hoped that these problems will be looked into with an open mind.
"I welcome the move of the AIMPLB to set up a women-wing to look into the problems related to triple talaq, education and other such matters and hope that they will look into them with an open mind without any prejudice," chairperson of the AIMWPLB Shaista Amber told PTI.
"Only a woman can understand the problems related to their gender. I hope that they will consider the real plight of Muslim women in the face of triple talaq, inheritance, Khula and Halala ..if this does not happen there will be no relevance of this wing," she said.
Regretting that there is a dearth of women 'qazis, muftis and alims' in Darul-Qaza (shariat courts) because of which women are deprived of justice in cases of talaq, Amber demanded that women qazis, muftis and alims should be present in these courts to ensure justice to women.
Amber said that she had been working on triple talaq and other related issues and had sought time to meet the office bearers of the AIMPLB but was denied audience. However, the latest move indicated that the board has started to realise the poor condition of women.
In a first, the All India Muslim Personal Law Board (ALMPLB) on Sunday decided to form a women's wing to look into burning issues such as talaq, even as it passed a resolution in favour of triple talaq.
The women's wing would also deal with other issues like family disputes and education.
http://timesofindia.indiatimes.com/india/Triple-talaq-should-be-deliberated-with-open-mind-All-India-Muslim-Women-Personal-Law-Board/articleshow/55544285.cms
-------
Why the 'Birchbox for Muslim Women' Is Sending Customers Pepper Spray
By Valentina Zarya
NOVEMBER 21, 2016
It's not your typical beauty product.
Sign of the times: A new beauty subscription service is sending subscribers self-defense tools.
In the days following the stunning election of Donald Trump, some Americans are celebrating, some are mourning—and some are fearing for their safety. Over the past two weeks, attacks on minorities and immigrants have spiked. Among the targeted groups: Muslim women, some of whom now say they are afraid to wear their Hijabs in public.
Muslim women's content site MuslimGirl is offering a "post-election care package," which, in addition to products you'd find in typical care package, includes Crisis Safety Manual for Muslim Women, a guide published by the site, and a pepper spray keychain for safety.
The Crisis Safety Manual is filled with practical advice like: "If you wear a Hijab, try the hood or beanie-on-top option to attract less attention." The guide doesn't shy away from subjects like stereotyping and racial profiling, and warns readers to be cautious particularly if they are "black or dark-skinned."
Amani Al-Khatahtbeh, founder and editor-in-chief of MuslimGirl, says the manual was originally written in response to Trump's comments nearly a year ago, in which the now president-elect called for a Muslim immigration ban. Hate crimes against Muslims spiked then, just as they are now, she notes.
"It's really sad that we have to talk about [safety], but it's really the level of insecurity that Muslim woman are feeling right now," says Al-Khatahtbeh. "A lot of social interactions are: 'Are you staying safe?' 'Are you feeling okay?' That's where we are right now and it sucks."
The care package is the first in MuslimGirl's #MuslimGirlArmy Care Package, a monthly subscription box service that caters specifically to Muslim women. Each $20 box will include a scarf—for use as a Hijab or as an accessory—as well as an assortment of Halal cosmetics and other beauty products.
"We're marketing this as a care package because we believe that Muslim women need extra care right now," Al-Khatahtbeh says.
http://fortune.com/2016/11/21/post-election-care-package-muslim/
-------
Canada's 1st hijabi anchor hopes to change stereotype
21 November 2016
Ginella Massa, who on Friday became the first Canadian woman donning the Islamic veil covering the hair known as hijab, told Al Arabiya English that she hopes this will change "misconceptions" about Muslim women.
"I hope being on air in the hijab can help change perceptions about what Muslim women can do and be, especially in today's climate when there are so many misconceptions about us," Massa, who works for CityNews, said.
While the hardline militant group known as ISIS has killed so many Muslims, especially in areas it occupies in both Syria and Iraq, there are stereotypes in the West about Muslims, leading to what experts dub as Islamophobia.
Another typical stereotype is that Muslim women have no rights and are generally confined to do household and kitchen chores.
"I hope people will realize that having a piece of cloth on my head does nothing to influence whether I can be a good journalist or not," the Toronto-based Massa continued.
"It feels pretty amazing to be the first," she said, "but it's also disappointing that it has taken this long."
Canada, which touts its multiculturalism policy and made immigrants a major part of its population of approximately 35 million, "has been a hugely diverse country for decades. There are more than a million Muslims across this nation," she said, adding: "However, our news outlets largely don't reflect our diverse make-up."
The Panama-born Massa described herself as "lucky" that she had "people in the industry who were able to see past appearances, recognize my work ethic and skills, and take the risk to put me on air."
She emphasized that it was a "risk" because "because it's never been done before."
"I hope more people in positions of power will see the value in having more diverse voices in the newsroom, whether it's diversity in age, gender, physical ability, sexual orientation, race, religion," she said. "It's vital if we truly want to tell the stories of our communities."
In early 2015, Massa scored another first, becoming the first hijab-wearing television news reporter.
CityNews is the news and current affairs division of City, which is a Canadian network that includes six metropolitan TV stations and a cable service.
Massa becoming the first hijabi news anchor in a major channel also represents changing Canada under its Liberal Prime Minister Justine Trudeau's administration since he assumed office in November 2015.
Since Trudeau's coming in office, Canada witnessed its first Sikh Minister of Defense Harjit Sajjan and its first Muslim woman Minister of Democratic Institutions Maryam Monsef.
https://english.alarabiya.net/en/media/television-and-radio/2016/11/21/Canada-s-1st-hijabi-anchor-hopes-to-change-stereotypes-.html
-------
Women leaders in an Arab world still plagued by inequality
Nov 22, 2016
The hopes that the Arab Spring five years ago would lead to more opportunities for women have largely not panned out. However, there are women in all areas of life who have become leaders in their own way and are fighting for more freedom. Here are the stories of five women.
Who: Maryam Mutlaq, plumber
Where: Jordan
Ambition: To start her own plumbing business, called Challenge, in a community where many women don't work outside the home.
Maryam's story: Maryam was a stay-at-home mom in Jordan who got involved two years ago in a project to train women plumbers by a U.S. government aid agency. Under Jordan's strict rules of gender separation, it's easier for female plumbers to conduct home visits, because male plumbers cannot enter homes where housewives are alone. Now Maryam carries tools around in her gray purse, in case a neighbor or relative needs plumbing "first aid." She has had to fight for her dream — even her own children at first fiercely opposed the idea of their mother working as a plumber.
In her own words: "We will break down the barriers that have been put up, that say we aren't capable of doing things as women."
___
Who: Reema Shamasneh, divorce lawyer
Where: West Bank
Ambition: To help women in a legal system where a man's testimony is worth twice a woman's.
Reema's story: Reema fights for Arab women in the most intimate arena of their lives: marriage and divorce. As a girl in a farming village, she would see women get the leftovers at wedding feasts. She also observed the bitterness of her sister's divorce and the lack of empathy of her male lawyer. She says the struggle for more rights for women gives her life meaning, but it is an uphill battle. The idea that a woman should obey her husband is supported by large majorities in Arab countries, including 87 percent in the Palestinian territories. Reema says she does not want a traditional Islamic marriage and can take care of herself.
In her own words: "There is discrimination, even with simple things," she says. "This makes me angry."
___
Who: Souad al-Shammary, activist
Where: Saudi Arabia
Ambition: To fight for women's rights through an interpretation of Islam that gives them equality with men
Souad's story: When Souad posted a series of tweets about how the thick beards worn by Saudi clerics did not make them more holy, she never imagined she would land in jail for three months. The frank comment was typical of this twice-divorced mother of six and graduate in Islamic law. Raised a devout girl in a large tribe where she tended sheep, al-Shammary is now a liberal feminist who roots her arguments in Islam. Her journey to activism began when her oldest daughter was taken from her at age seven: Souad had remarried and the Islamic court ruled that Yara could not live in a house with another man. Souad refused to accept that this was what God wanted.
In her own words: "I have rights that I don't view as against my religion ... I want to ask for these rights, and I want those who make decisions to hear me and act."
___
Who: Nabila Mounib
Where: Morocco
Ambition: To shatter the glass ceiling for women in politics
Nabila's story: Nabila, a 56-year-old endocrinology professor, is a rarity in the Arab world — a female politician in a leadership position. She is the daughter of a diplomat who encouraged her interest in politics, and she thinks learning karate helped her with concentration and public performance. She campaigned across the country in a cramped mini-bus to try and get the party she leads into parliament, with mixed results. Women in the Arab region still hold only 17.6 percent of seats in parliament, the second lowest score in the world.
In her own words: "Women have to struggle extra hard in every aspect of what they do ... I want to create an example, a historic example, a successful example."
___
Who: Haela Kalawi
Where: Lebanon
Ambition: To provide for her four children after her husband went missing in Syria's civil war
Haela's story: Back home in Syria, Haela was a housewife who wasn't even allowed to shop for her own clothes or choose what to watch on TV. Now in Lebanon, she works at a garbage recycling plant and is the breadwinner of the family. Along the way, she has discovered a fortitude she didn't know she had and changed her views of what a woman should be. Haela misses her old life, but prizes her newfound independence and says she would not want to remarry. About one-third of Syrian refugee households in Lebanon are headed by women whose husbands — traditionally the providers and protectors — are dead, missing, or chose to stay behind.
In her own words: "I married when I was 15 and I was suppressed ... I had no personality, no point of view, I had to say 'yes, yes, yes'... I used to feel shy about everything. Now I talk freely. I participate. The ones who knew me in my old days would be surprised if they see me today."
http://sports.yahoo.com/news/women-leaders-arab-world-still-065148512.html
-------
Indian-Origin Muslim Woman Wins Local Election In US
November 22, 2016
A Muslim-American woman, whose parents are from India and Pakistan, has won a key local election in the US state of Maryland which was dominated by anti-immigrant and anti-Muslim rhetoric. Raheela Ahmed, 23, won the school board race in Prince George's county of Maryland by defeating a long-time system administrator by an impressive 15 per cent vote difference.
She had unsuccessfully run for this position four years ago in 2012. Her father is from India and mother from Pakistan. Her victory gains significance as her district has 80 per cent of African-American population. She was endorsed by the former Republican National Committee Chairman Michael Steel.
"It's interesting that on the same day Donald Trump was elected as president of the US, I as a hijabi Muslim young woman was also elected to serve in a public office. I think that speaks volumes about the diversity of American opinion, and that American dream is still well and alive," Ahmed said.
"I'd like to act as a form of inspiration for other minorities that they can achieve what they will, given prayer, circumstance and hard work. This win would not have been possible without the support and belief that other people had in me," she said.
"For my young minority women, please know that at the end of the day, you are worthy of your highest inspirations. You have to believe that you are able to achieve them, even if societal structures do not yet allow for that. Because one day, those glass ceilings WILL break. And who knows?" Ahmed said.
http://indianexpress.com/article/world/world-news/indian-origin-muslim-woman-wins-local-election-in-us-4389003/
-------
Who are the women running in Kuwait's election?
Nov 22, 2016
Kuwait City — Kuwait's Interior Ministry said on Saturday that there are 14 women out of 287 candidates running in the parliamentary elections scheduled on Nov. 26.
The number of women is the second lowest figure since they were allowed to vote as well as run in parliamentary elections.
While women had the right to vote when polling was first introduced in Kuwait in 1985, this right was later scrapped. But in 2005, Kuwaiti women were re-granted the right to vote.
In 2009, women won four seats for the first time since they obtained the right to vote.
Initially, 455 people registered their names in Kuwait's five electoral districts. The number was down to 287 as candidates later withdrew from the race, while 40 were barred by the committee tasked to verify eligibility.
While the ministry said 14 women are participating, the Kuwait assembly's official website shows 15 women are running. — Al Arabiya News
http://saudigazette.com.sa/world/mena/women-running-kuwaits-election/
-------
Empowering Muslim women means empowering Muslim youth
She also says that in the Quran, gender is not a criterion upon which Allah valorizes human beings. According to Surah 16 verse 97, "Whoever does righteous deeds, whether male or female, while he is a believer - We will surely cause him to live a good life, and we will surely give them their reward [in the Hereafter], according to the best of what they used to do."
One of the top projects of Woman in Islam is to enhance relations between women and mosques. Ayaz said that many women do not feel like they belong in mosques. Her concerns take into account the relations of Muslim children with the mosques and Islam especially in Western countries where they are considered migrants.
"They are not allowed in some mosques, and if they are allowed, they are given inadequate and poor facilities. Particularly in the West, if women are not welcome in the mosque, they will not be able to attain Islamic literacy. If women are not learning about Islam, their children will lose their religion. It is a matter of faith and our mosques need to improve their relationships with women. If not, we will lose the next generation," she said.
Ayaz told us that violence in all of its forms is a huge problem for women all around the world. She says women are the bearers of the pain, trauma as well as the horrors of war, domestic violence, and crime. So, 'Women in Islam' launches special projects, especially for women of war. The founder and chairwoman of Women in Islam, Inc., Aisha al-Adawiya, is a trustee of the Forum for Promoting Peace in Muslim Societies.
"We have been promoting the Marrakesh Declaration to help bring peace and security to more of our world," al-Adawiya said.
Muslims have a lot of work to do
Ayaz points out the difference between the perspectives of Islam and feminism toward women's rights. She says that Islam promotes feminist ideals and Muslims would not like for outsiders to impose their own ideals on Muslim women.
"There are overlaps between the feminist ideal and Islamic principles. For example, feminism seeks economic and educational equality for men and women. Islam has already addressed and solved this issue. Muslim women have the right to complete economic independence and equal pay for equal work. Additionally, there is no doctrinal impediment for Muslim to attain an education. In practice, Muslim societies do have a lot of work to do," she said.
Need for better maternity leave policies
Equality between men and women is promoted by many women's rights' activists. However, if the difference between women and men is accentuated, sometimes that would be better for a working mother to consecrate more time on her children and balance between their family life and professional life.
"When we forget about the difference, the capitalist system ignores the characteristics of femininity; notably, maternal characteristics, and women are left grappling for ways to properly raise their children. Actually, women around the world need better maternity leave policies. No mother should have to choose between spending the first years of life with her baby and having a job," she said.
Ayaz noted that policies should aim to ease the burden for women who try to spend more time with their children during the first two-to-three years of their child's life, while also providing job security.
Islam treats women with great respect
As she had the chance to visit many countries, Ayaz had the opportunity to observe women and how women's rights are applied in Western and Eastern cultures, as well as in other religions. Preferring to thrust the urgent needs for improvement to the fore, Ayaz believes that Islamic culture treats women with great respect, despite the negative examples of this propagated by the media.
"Every country has good examples and bad examples [of what it means to be a woman in Islamic and non-Islamic societies]. I believe that Islamic literacy and general education, economic stability and healthy family relationships all contribute to the development and sustainment of ethos that respect women," she said.
After visiting Turkey, Ayaz got a good impression of Turkish women that she wanted to share with Daily Sabah. "I see Turkish women as strong, pious women who are faithful to Allah, warm and professional," Ayaz said.
She also asserts that Muslim women should look to solid female figures as role models, such as women who lived before and after the Prophet Mohammad. "Be strong in your faith, have taqwa (piety), connect with the Quran and the prophet, work hard and stay humble. Study and learn from great Muslim women like Aisha bint Abu Bakr, Lady Khadija, Fatima al-Fihri, and many others. These are your role models," she said.
Noera Ayaz will talk about Women in Islam during a session titled, "Ways of Fighting against Discrimination and Violence against Women" on the second day of the 2nd International Women and Justice Summit. The gathering, held by the Women and Democracy Association (KADEM), will take place from Nov. 25-26 at WOW Istanbul Hotels & Convention Center in Yeşilköy. On Nov. 25, the U.N. will also mark the International Day for the Elimination of Violence Against Women.
http://www.dailysabah.com/feature/2016/11/22/empowering-muslim-women-means-empowering-muslim-youth
-------
URL: https://newageislam.com/islam-women-feminism/triple-talaq-be-deliberated-with/d/109168
New Age Islam, Islam Online, Islamic Website, African Muslim News, Arab World News, South Asia News, Indian Muslim News, World Muslim News, Womens in Islam, Islamic Feminism, Arab Women, Womens In Arab, Islamphobia in America, Muslim Women in West, Islam Women and Feminism, Moderate Islam, Moderate Muslims, Progressive Islam, Progressive Muslims, Liberal Islam