New Age Islam News Bureau
1 Jun 2016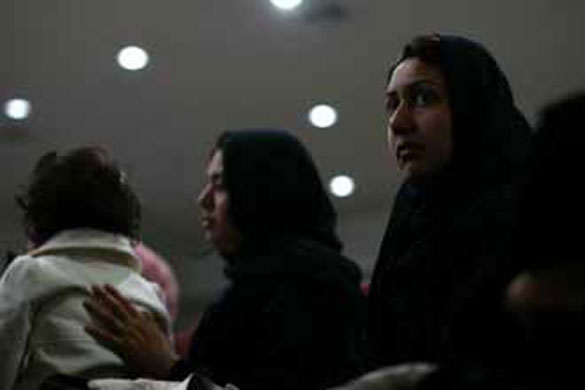 Photo: As per a recent study by BMMA, 92 per cent of Muslim women are against the practice.
----------
• Veiling Is a Choice, Not a Sign of Oppression: Woman Muslim Scholar
• Death of Refugee Girl Frames Pope's Heartbreaking Talk with Youth
• Muslims Write To Women's Panel, Want End to Triple Talaq, Nikah Halala
• Egyptian Girl Dies during Female Circumcision
• Another Inquiry into Sexual Harassment Case at Karachi University Begins
Compiled by New Age Islam News Bureau
URL: https://www.newageislam.com/islam-women-feminism/triple-talaq-50000-muslims-sign-up-divorce-practice/d/107493
---
Triple talaq: Over 50,000 Muslims sign up against the divorce practice
June 1, 2016
New Delhi, Jun 1: Discouraging the practice of triple talaq, over 50,000 Muslim men and women signed a petition seeking a ban on the practice. The petition headed by Bharatiya Muslim Mahila Andolan (BMMA) has sought the National Commission for Women to intervene in the matter to end the practice which ends a marriage. Such a practice in which a person can be divorced by just a word is not mentioned in Muslims holy book of Quran, there are procedures which have to be followed.
Zakia Soman, BMMA co-founder said that the national signature campaign is underway in various states in the country including Gujarat, Maharashtra, Rajasthan, MP, Karnataka, Tamil Nadu, Telangana, Odisha, West Bengal, Bihar, Jharkhand, Kerala and UP.
imes of India quoted Soman saying, "So far, 50,000 signatures have been collected where women and men have endorsed abolition of triple talaq, many more signatures will be collected in the coming days. We have written to NCW chairperson Dr Lalitha Kumaramangalam to enlist its support to this long-pending demand of Muslim women."
As per a recent study by BMMA, 92 per cent of Muslim women are against the practice. Divorces given over phone via text or WhatsApp message, email are on increase which leaves women with little opinion in the matter. Oral divorce along with the practice of 'nikah halala' is also bane for Muslim women as they do not receive alimony and are left with nothing in the end for themselves and their children. TOI quoted Sadiya Vaquas saying, "Men are getting away by using Facebook, SMS to give talaq to women. They have no legal rights and the qazis support them and not us."
Noorjehan Safia Niaz from BMMA added, "In many cases, the qazis offer themselves as temporary husbands." Such practice is unIslamic.
Recently, the Supreme Court looked into a peition by Dehradum-based Shayaro Bano demanding abolition of the practice. The Peition read, Muslim women are citizens of India and all constitutional safeguards are applicable to her (sic). The Muslim personal law must be reformed in such a manner that all discriminatory practices are struck down as illegal and Muslim women's constitutional and Quranic rights are safeguarded."
india.com/news/india/triple-talaq-over-50000-muslims-sign-up-against-the-divorce-practice-1228021/
--
Veiling Is a Choice, Not a Sign of Oppression: Woman Muslim Scholar
01 Jun 2016
SINGAPORE: While studying in Bryn Mawr College in the United States in the 1980s, Sahar Amer was the only veiled Muslim girl in the entire university. She often received probing questions about her "Hijab", a form of the Muslim headscarf.
"Everybody wanted to know why I was wearing it, what that meant. So the only questions I ever received were about why I covered my hair. And it became too much. I became like a representative of the entire Muslim community. It's a big responsibility," she recalled.
"So I decided to take it off," she added.
Now a professor and Chair of the Department of Arabic and Islamic Studies at the University of Sydney, Prof Amer believes that three decades later, there is still a lot of misunderstanding in the world about most Muslim women's choice to veil their faces. "There's this assumption that Muslim women are not free agents, and they are not individuals with free will who are able to choose their own religious traditions or their faith or how to express that way," said the Egyptian-born author of the book What Is Veiling?.
With the exception of four territories – Saudi Arabia, Iran, Sudan and the Aceh province in Indonesia – where veiling is mandatory, the majority of Muslim women in the world are free to choose what they wear, she pointed out in an interview with Channel NewsAsia's Conversation With.
The new season of the interview programme debuts on Thursday (Jun 2) at 8.30pm SG/HK time.
"We have to give Muslim women agency and we have to respect when they tell us that they are choosing to wear the veil," said Prof Amer, who grew up in France after her family moved there from Egypt in the 1970s.
Her comments came after the French Minister for Women's Rights Laurence Rossignol provoked fury by comparing Muslim women who choose to wear the headscarf to "American negroes who accepted slavery" in March.
Veiling has long been a contentious issue in fiercely secular France.
The country has banned both teachers and pupils from wearing the headscarf in state schools, and public servants are also prohibited from wearing religious symbols.
It has also banned the full-face veil, known as the niqab, under legislation that says nobody in a public space can wear clothing intended to conceal the face.
"Ridiculous Association between Women's Dress And Terrorism"
The ascent of terror groups like ISIS and the terror attacks in France last year have also contributed to a significant rise of Islamophobia in the country.
A recent Institut francais d'opinion publique (IFOP) survey shows that 47 per cent of French citizens see Islam as a threat to the French identity.
Because of the visibility of their headscarves, "the first victims of Islamophobia in France are Muslim women, and they are veiled Muslim women", Prof Amer said.
She slammed the "ridiculous association between women's dress and terrorism", asserting that the headscarf issue often becomes politicised shortly after terror attacks since it is "one easy problem that you might be able to do something about – which is Muslim women and their head cover".
"It gives politicians and the society at large a sense of power, a sense of being able to address problems that they are clearly not able to address," she contended. Terrorism by comparison "is a very vague, complicated, and difficult problem to deal with".
"As if legislating Muslim women dress is going to resolve the question of terrorism," Prof Amer said dryly.
channelnewsasia.com/news/singapore/veiling-is-a-choice-not-a/2835358.html
--
Death of refugee girl frames Pope's heartbreaking talk with youth
May 28, 2016 -
The story of a young migrant girl who drowned at sea was at the heart of Pope Francis' address to some 400 children who on Saturday had traveled to the Vatican from the southern Italian region of Calabria.
Speaking off the cuff to the children who had arrived by the "Treno per Bambini" – "Children's Train" – and who represented various religions, cultures, and ethnicities, the Pope asked them to come up with a name for the unknown girl.
"Let us think of this little girl: what was her name? I do not know: a little girl with no name," the pontiff said, according to Vatican Radio's translation. "Each of you give her the name you would like, each in his heart. She is in heaven, she is looking on us."
Pope Francis told the story of the little girl as it was recounted to him by a rescue worker who had attempted to save the child, only to succeed in saving her lifejacket.
"He brought me this jacket," the pontiff said, showing the life jacket to the children, "and with tears in his eyes he said to me, 'Father, I couldn't do it – there was a little girl on the waves, and I did all I could, but I couldn't save her: only her life vest was left.'"
"I do not (tell you this because I) want you to be sad, but (because) you are brave and you (should) know the truth: they are in danger – many boys and girls, small children, men, women – they are in danger," he said.
The annual "Treno per Bambini," which brings a group of young boys and girls, is an initiative of the Pontifical Council of Culture. The theme of this year's event is "Carried by waves," which is meant to evoke the image of both danger and hope experienced by migrants, reports Vatican Radio.
Among the initiatives involved in the event are the John XXIII Association, and the "Quattrocanti" Children's Orchestra of Palermo, which brings together boys and girls of eight different ethnicities.
The principal of a school in Vibo Marina, Mary Salvia, brought with her to the At the May 28 event Vatican money which had been collected by the school for the children of Lesbos, along with a letter signed by her students.
"We children promise that we will welcome anyone who arrives in our country," said the letter, which was read to Pope Francis by Cardinal Gianfranco Ravasi, president of the Pontifical Council for Culture: "we shall never consider anyone who has a different skin color, or who speaks a different language, or who professes a different religion from ours, a dangerous enemy."
During the Saturday afternoon encounter with the pontiff, one of the children asked what it means "to be Pope." He responded: ( do) the good that I can do."
"I feel that Jesus called me to this: Jesus wanted me to be a Christian, and a Christian must do (the good he can)," he said; "and Jesus also wanted me to be a priest, and a bishop – and a priest and a bishop must do (the good they can); I feel that Jesus is calling me to do this – that's what I feel."
catholicnewsagency.com/news/death-of-refugee-girl-frames-popes-heartbreaking-talk-with-youth-64583/?utm_source=newsletter&utm_medium=email&utm_campaign=email
--
Muslims Write To Women's Panel, Want End To Triple Talaq, Nikah Halala
June 01, 2016
Members of a women's rights group have sought the support of the National Commission for Women (NCW) to abolish the practice of 'triple talaq', terming it as an "un-Quranic" practice.
The Bharatiya Muslim Mahila Andolan (BMMA) in its letter to NCW chairperson Lalitha Kumaramangalam stated that they have collected 50,000 signatures in support of their campaign and are writing to Women's Commissions in different states for their support.
"We have found that women want a legal ban on the practice of oral/unilateral divorce. Our national study 'Seeking Justice Within Family' found that 92 per cent of Muslim women want an end to this practice which destroys their life and the lives of their children. Coupled with oral divorce is the heinous practice of nikah halala which also must be abolished.
"The instant method of divorce has no mention in the Quran. In fact the Quranic method requires a 90-day process of dialogue, reconciliation and mediation before divorce takes place."
"The Muslim personal law must be reformed in such a manner that all discriminatory practices are struck down as illegal and Muslim women's Constitutional and Quranic rights are safeguarded," the letter stated.
The group said that on a mere pronouncement of 'talaq' thrice, the woman gets instantly and irrevocably divorced and becomes a "destitute" overnight.
"This practice is being supported by the clerics of the community who encourage such misogynistic and patriarchal practice," the letter said.
The women's body also sought equal citizenship rights for Muslims as enshrined in the Constitution as well as justice and equality for Muslim women based on the "Quranic tenets".
ndtv.com/india-news/muslims-write-to-womens-panel-want-end-to-triple-talaq-nikah-halala-1414263
--
Egyptian girl dies during female circumcision
Tuesday, May 31, 2016
A 17-year-old girl has died while undergoing female circumcision in Egypt, prompting health authorities to shut down the hospital and refer doctors for prosecution, a senior health official said Tuesday.
The centuries-old practice, believed to control women's sexuality, was criminalized in Egypt in 2008. But it remains widespread in the country, where an estimated 90 percent of women have undergone some form of the procedure.
Lotfi Abdel-Sameeia, a senior Health Ministry official, said Manar Moussa and her twin sister underwent the surgery in the city of Suez on Saturday. The other girl survived, but Manar died of a suspected stroke while under anesthesia.
The Suez city health inspector in charge of issuing the burial permits reported his suspicions to health and security authorities after examining the body. A forensic report has yet to be released to determine the cause of death, Abdel-Sameeia said.
Authorities ordered the hospital closed on Monday and referred two doctors and the head of the hospital for prosecution. Abdel-Sameeia said they face allegations of conducting a banned procedure and causing Manar's death. He said the hospital has received several warnings before over its poor health record, including its lack of an intensive care unit.
Vivian Fouad, the head of a Health Ministry program to combat female genital mutilation, called the incident a "crime committed by criminals known as doctors. " She said such operations are usually carried out on younger girls.
The first case in which a doctor was charged, convicted, and sentenced for carrying out female circumcision was in 2015, after a girl's death two years earlier. The doctor was sentenced to two years in prison, which Fouad said had served as "deterrence."
Rights groups have criticized the law because it considers the practice a misdemeanor punishable by up to two years in prison. The Egyptian Initiative for Personal Rights, along with Fouad, has called for the crime to be reclassified as a felony.
In 2012, The U.N. General Assembly unanimously approved a resolution calling for a global ban on female genital mutilation.
beaumontenterprise.com/news/medical/article/Egyptian-girl-dies-during-female-circumcision-7954327.php
--
Another Inquiry into Sexual Harassment Case at Karachi University Begins
May 01, 2016
KARACHI: Two students and three teachers on Tuesday recorded their statements in a sexual harassment case, which was reported on the Karachi University campus more than a year ago.
Sources told Dawn that it was the first hearing of the case held by a non-KU staff member.
"Sindh education department official Aziz Fatima Mangi was appointed the inquiry officer in the case by the KU syndicate after a teacher was found guilty in the inquiry conducted by university teachers," said KU registrar Dr Moazzam Ali Khan.
Ms Mangi is a member of the KU syndicate.
The registrar added that no time frame had been given for completing the investigation.
Answering a question, Dr Khan said that formal proceedings took time. "First an internal inquiry by university staff is held followed by an inquiry by an official outside the university. Reports are presented in the university syndicate which takes a decision."
According to sources, the Tuesday hearing was attended by Prof Shakeel Khan, who led the KU inquiry committee, Dr Nadeemullah and Prof Nasreen Aslam Shah, both from the social work department where the case was reported.
The sources said that two students attended the hearing that continued for more than two hours.
Teachers and students in attendance forcefully repeated their previous stance and expressed concern that the case continued to linger on, though the teacher had been found guilty.
The accused teacher, an ad hoc assistant professor who was taking classes of his first semester at the social work department, had been suspended from service for over a year, though he was getting his salary and other perks, the source said.
The case came to light in January 2015 and it took the university three months to complete the inquiry, though initially it was announced that the inquiry report would be submitted to the vice chancellor in 10 days.
The inquiry was initiated on the complaint of several students and teachers.
dawn.com/news/1261942/another-inquiry-into-sexual-harassment-case-at-ku-begins
URL: https://www.newageislam.com/islam-women-feminism/triple-talaq-50000-muslims-sign-up-divorce-practice/d/107493
New Age Islam, Islam Online, Islamic Website, African Muslim News, Arab World News, South Asia News, Indian Muslim News, World Muslim News, Womens in Islam, Islamic Feminism, Arab Women, Womens In Arab, Islamphobia in America, Muslim Women in West, Islam Women and Feminism