Age Islam News Bureau
22 May 2017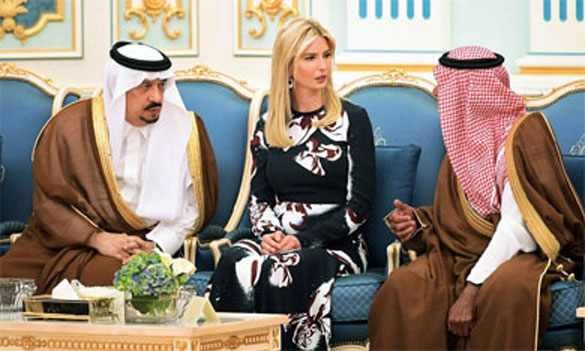 Ivanka Trump is seen at a ceremony in Saudi Arabia
------
• Ivanka Says Saudi Progress on Women 'Encouraging'
• West African Girls Show the Way in Senegal Tech Battle
• More Muslim Women In Bhopal Seek 'Khula' To Annul Marriage
• Princess Reema Sees 'Transformation' In Saudi Women's Role In Labour Market
• Triple Talaq Inhumane, Violates Basic Rights of Muslim Women, Says Shabana Azmi
• Pasban Appeals to Saudi King to Grant Aafia Nationality
Compiled by New Age Islam News Bureau
URL: https://www.newageislam.com/islam-women-feminism/triple-talaq-muslim-women-organizations/d/111239
-------
Triple Talaq: Muslim Women Organizations, Petitioners Reject AIMPLB's Decision to Issue Circular to Qazis
May 22, 2017
Harish V Nair
Muslim women organisations and aggrieved petitioners before the Supreme Court have rejected the All India Muslim Personal Law Board's move to issue a circular to Qazis countrywide to discourage the practice of triple Talaq - terming it as an "eyewash" and "useless exercise".
They are unanimous that no statute gives the Qazis a supervisory power over marriages nor do they have a legal status.
Under fire from the Supreme Court, the Muslim board had told the apex court on May 18 that it has decided to issue a circular to all Qazis across the country that while finalising a Nikahnama (marriage contract), they must take an undertaking from the husband that he will not give triple Talaq to his wife.
There will also be a provision in the Nikahnama enabling the wife to say no to the triple Talaq practice.
The announcement to this effect was made by Kapil Sibal, the lawyer representing the board before a five-judge constitution bench which is hearing petitions challenging the validity of triple Talaq.
'The Whole Thing Is an Eyewash'
Senior lawyer and former additional solicitor general Indira Jaising, who appeared for Bebak collective - a Muslim organisation - said, "I do not think that it will be effective for the simple reason they do not have any supervisory and controlling power, no legal status and women are also unlikely to rake up the issue at the time of marriage, fearing the prospective groom will not marry her if such conditions are placed."
Balaji Srinivasan, the lawyer for Shayara Bano, one of the woman petitioner who had suffered who had suffered a triple Talaq said AIMPLB's circular to the Qazis was itself an admission of defeat and their acceptance of the fact that the practice is undesirable and has to be stopped.
"Their proposed circular talks about what qazis should do when preparing a Nikahnama (marriage contract). What about those which have already been signed? What is the fate of those women?" said Srinivasan.
Advocate VK Biju, the lawyer for Ishrat Jahan, another petitioner who also echoed Srinivasan's view, said, "The whole thing is an eyewash."
'WORST FORM OF DIVORCE'
Advocate Farha Faiz who had challenged the practice of triple Talaq on behalf of Rashtrawadi Muslim Mahila Sangh, said the circular will hardly have any effect as "most qazis are not governed by the AIMPLB and only those who secured their diploma from Darul Uloom come under it".
"The Muslim board had no right to tell those who graduated from other places what they can do and what they cannot and what is the guarantee that the qazis will obey the Muslim board also," asked Faiz.
"One more thing very few know is that there is no need for a qazi in a marriage and anybody can do the job," she added.
Sibal's statement came after the apex court wondered how the Muslim community could claim it was fundamental to the religion when they themselves admitted it was "sinful" and "worst form of divorce".
The Supreme Court also asked why India cannot do away with triple Talaq when it is banned in 20 out of 22 Muslim countries, including Pakistan, Bangladesh and Afghanistan.
http://indiatoday.intoday.in/story/all-india-muslim-personal-law-board-qazis-triple-Talaq-supreme-court/1/959638.html
-------
Ivanka Says Saudi Progress on Women 'Encouraging'
May 22, 2017
RIYADH - US President Donald Trump's daughter Ivanka said Sunday that ultra-conservative Saudi Arabia has made "encouraging" progress in empowering women but more freedom is needed. "Saudi Arabia's progress, especially in recent years, is very encouraging," Trump's eldest daughter told a group of Saudi women she met in Riyadh while accompanying her father on a visit to the Muslim kingdom. "But there's still a lot of work to be done and freedoms and opportunities to continue to fight for," added Ivanka, who serves as an advisor to her father.
"Around the world women continue to achieve unprecedented levels of rights and freedoms. Today you all stand on the frontlines of the fight for gender equality," she told a roundtable of women led by Princess Reema bint Bandar, deputy president of the Women's Sports Authority.
Saudi Arabia, which applies a strict form of Sunni Islam, imposes many restrictions on women. It is the only country where they are not allowed to drive. When in public, women in Saudi Arabia are expected to cover from head to toe.
Riyadh has pledged a programme of social and economic reforms as part of the ambitious "Vision 2030" strategy launched last year. A royal decree earlier this month reportedly stipulated that women are no longer required to obtain a male guardian's consent to carry out certain activities. In February, a Saudi woman was appointed to head the Saudi stock exchange, Tadawul, while another was appointed as head of the major bank Samba. "The stories of Saudi women, such as yourselves, catalysing change, inspire me to believe in the possibility of global women's empowerment," said Ivanka.
http://nation.com.pk/international/22-May-2017/ivanka-says-saudi-progress-on-women-encouraging
-------
West African Girls Show the Way in Senegal Tech Battle
21 May 2017
West African schoolgirls, some not yet teenagers, have taken a starring role at an engineering competition in Senegal, busting stereotypes with robotics expertise and innovative projects for their communities.
The Pan-African Robotics competition (PARC) in the Senegalese capital Dakar on Saturday reflects the growing consciousness of science education as a top priority for a government growing the economy and getting development off the ground.
Rows of young women from Senegal, The Gambia and Mali distinct in their various uniforms -- blue headscarves, black pinafores and white polo shirts -- screamed for their teams as robots picked up plastic cones and dropped them onto markers, all adamant they would win.
"Our generation is definitely the one," said Umu Tarawally, a 14-year-old Gambian who aspires to be a doctor and patiently explained to an assembled audience of dignitaries how groundnut shells could be converted into fuel.
Her friends, she added, were telling her they want to become engineers following a week of robot and tech workshops.
'Construct our future'
Resembling a cross between the TV show Robot Wars and a TEDx ideas conference, Saturday's competition is the brainchild of Sidy Ndao, an engineering professor at the University of Nebraska-Lincoln who left Senegal for the United States as a teenager.
"(It) inspires the kids to like science, inspires them to be future engineers and scientists," the founder said, but the World Bank-funded event now in its second year places a special importance on girls.
Saturday's event organised by Ndao's SENEcole project attracted 250 children, boys and girls, aged between 11 and 19.
"There's not a lot of them, but when there are they are typically top of the class," he said of girls studying Science, Technology, Engineering and Mathematics (STEM) subjects.
"In order for any country to be sustainably developed, you have to really work on science and engineering," he added, but Senegal's brightest minds tend to undertake studies abroad lured by hopes of higher salaries and better lifestyles.
Senegal is trying to open the sector by backing girls' coding clubs and maths teaching in schools, while a technology hub is being constructed near the capital for research and training as part of broader efforts to fill domestic skills shortages.
"As Senegal wants to become an emerging nation, we have to master the sciences, technology, engineering sciences and maths so we have the expertise to manage our own natural resources and also to create the innovations to construct our future," said Mary Teuw Niane, Senegal's minister of higher education and research.
Africa's 'cycle of problems'
A flood of new engineers would be timely, with Senegal on the cusp of a potential oil and gas boom from important deposits being found regularly off its coast.
Ndao emphasised the need to keep the costs of science and technology resources for schools down in a country where electricity and water, let along computers, are often lacking in rural areas.
A shortage of qualified science teachers is also a huge problem, the government has admitted.
Just over half of Senegal's children complete school, and traditional expectations remain entrenched that girls should be content taking care of domestic duties, especially in poor families.
A focus on science, said Ndao, would "solve the cycle of problems in Africa," where natural resources are still largely controlled by foreign firms, shipped abroad for processing and therefore stripped of a large amount of their value for the population living where the oil, gold or diamonds are taken.
For Aminata Ndiaye, 15, battling machines in a Senegalese stadium was a foundation of something much larger as she scooped the prize with her school in the northern city of Saint-Louis.
"It has changed my future. It is not just a robotics competition," she said.
http://www.worldbulletin.net/africa/189829/angolan-apartheid-troops-battle-to-survive-in-safrica
-------
More Muslim Women in Bhopal Seek 'Khula' To Annul Marriage
May 22, 2017
Bhopal: At a time when controversy over 'triple Talaq' is on-going, more Muslim women in Bhopal are exercising their right to say 'Khula-Khula-Khula'! Divorce when sought by women is termed as 'Khula', a procedure through which a woman can divorce her husband in under Islamic laws.
The number of Muslim women seeking divorce has been double than men in 2017. Women in the city ruled by Begum Nawabs for over a four generations are still standing up for their rights as guaranteed under Islamic Shariah law. In the last two years, 60% of cases for divorce were filled by Muslim women.
The difference between pronouncement of 'Talaq' by men and 'Khula' by women is that the married woman seeking divorce forgoes her right to dower (or Mehr) that she receives from her husband. Mehr, an amount paid by man to the woman he intends to marry, is fixed as per demands of the bride.
The proceeding take place at more than a century old Bhopal Qaziyat (Islamic Court) which cater to cases from Bhopal, Sehore and Raisen - all three were part of erstwhile Bhopal State. The state flourished under rule by women that lasted over four generations.
As per data provided by Bhopal Qaziyat during year and a half, number of women seeking Khula is substantially higher than men looking to divorce during. In all there were 1,056 applications for divorce. Office of the Masajid Committee in state capital indicates that 459 women sought Khula while 386 men sought Talaq in 2016. The number of women seeking Khula till March 31 this year was 131, as compared to 80 men.
Bhopal Shehar Qazi, Syed Mushtaq Ali Nadwi said, "The rights of both women and men are equal in Islam. Marriage dissolution is permitted in Islam, but is considered among worst possible options to exercise. We provide time and counselling for both parties to reconcile before a final decision is taken by them."
Interestingly, after counselling and reconciliation time provided by the court 38 of the couples agreed not to divorce and live as a married couple.
***
Incorrect age by hubby on FB, Muslim woman gets divorce
A Muslim woman's application for divorce was accepted by an Islamic court in Bhopal after she alleged that her husband misled her by providing incorrect age on his Facebook account. Her 'Khula', was admitted by Bhopal Qaziyat. Seeking anonymity, a relative of the husband said that the couple were married for about two months. The woman's case was heard by the court. She alleged the groom was older than his posted date of birth on Facebook. She claimed the fact came to light when she saw his school leaving certificate.
http://timesofindia.indiatimes.com/city/bhopal/more-muslim-women-in-bhopal-seek-khula-to-annul-marriage/articleshow/58780180.cms
Boy Spits on 16-year-old Muslim Girl in US, Tries to Rip Off her Hijab
May 21, 2017
New York: A 16-year-old Muslim girl was spat upon and abused by her classmate who even tried to pull her Hijab off in a city school in the US.
The 15-year-old boy was on an elevator with the victim inside the High School for Law Enforcement and Public Safety in Jamaica in the New York City when he called her a "Muslim b---h!" and spit on her, police said.
He then tugged on her Hijab in an attempt to rip it off her head, they said.
The girl then told school officials, who reported the incident to police.
Police questioned the teen and charged him with aggravated harassment and disorderly conduct, New York Daily reported.
He will be charged as a juvenile and so his name was not released. The victim was rattled but not physically harmed, police said.
"This incident is troubling, and this type of behaviour has no place in our schools," Department of Education spokeswoman Toya Holness said.
"We are providing the school with additional support to ensure appropriate follow-up action is taken," Holness added. The incident comes amid growing incidents of hate and assaults on hijab-wearing girls and women across the US.
http://www.news18.com/news/world/boys-spits-on-16-year-old-muslim-girl-in-us-tries-to-rip-off-her-hijab-1407807.html
-------
Princess Reema Sees 'Transformation' In Saudi Women's Role in Labour Market
HANI HAZAIMEH
22 May 2017
RIYADH: Saudi women have proved capable to enter the labour market alongside men and the country is keen to take all measures to empower them, said Princess Reema bint Bandar.
The deputy president of Saudi Arabia's Women's Sports Authority was speaking at a news conference on the role of Saudi women under the Vision 2030 reform plans.
"There has been a transformation regarding the role Saudi women can play in the labour force," said Princess Reema, who is also vice president of the Saudi General Authority for Sports Planning and Development.
"It is important to understand that the slogan of sports for all, envisioned by Vision 2030, ensures opportunities for all in a manner that achieves balance and impartiality between the sexes, especially in the field of sports," the princess added.
Referring to the Kingdom's Vision 2030 plan, the princess said it does not only focus on progress in doing business.
It also envisages a national roadmap for Saudi Arabia showing where it wants to be in the future in regard to cultural, social, economic and political aspects, among others.
"We do not change our laws and regulation to appease the outside world. We take necessary steps as per our own interests," she said.
She added that change is not an option, but a "commitment to our future generations. It is a matter of where we want to be in the future. And we want to be in a better (place) than the one we are standing in right now."
Ivanka Trump, the daughter of US President Donald Trump, on Sunday praised Saudi women's leadership and achievements.
She is part of the US delegation that accompanied the US president on his visit to Saudi Arabia.
"I met with Saudi Arabian women leaders and learned directly of their accomplishments, challenges & vision for the future," Ivanka Trump tweeted on Sunday.
http://www.arabnews.com/node/1103106/saudi-arabia
-------
Triple Talaq Inhumane, Violates Basic Rights Of Muslim Women, Says Shabana Azmi
21/05/2017
LUDHIANA -- Actor-activist Shabana Azmi today said that triple Talaq is inhumane and violates the basic rights of every Muslim woman.
She said it is the duty of the government to protect the rights of Muslim women and there should be no two opinions on the issue of abolishing triple Talaq system.
"Triple Talaq is inhumane and violates the basic rights of every Muslim woman," she told reporters here.
"This triple Talaq system is totally inhumane and deprives the Muslim women of their right to empowerment or equality," she said.
In reply to a question, she said that "even the holy Quran does not permit triple Talaq anywhere".
There is a raging debate in the country on the issue of triple Talaq. The Supreme Court has reserved its verdict on a batch of petitions challenging the constitutional validity of triple Talaq.
Earlier, addressing a function here, she said the only true way to measure a society's progress is by seeing how empowered its women are.
"The women who get empowered must make efforts to empower other women. They must create support groups," she said.
http://www.huffingtonpost.in/2017/05/21/triple-Talaq-inhumane-violates-basic-rights-of-muslim-women-sa_a_22101669/
-------
Pasban Appeals to Saudi King To Grant Aafia Nationality
May 22, 2017
KARACHI - Pasban-e-Pakistan President Altaf Shakoor on Sunday appealed to King of Saudi Arabia Salman bin Abdul Aziz Al Saud to grant Saudi nationality to noted woman scientist Dr Aafia Siddiqui, and thus provide a face saving to the governments of Pakistan and the USA.
In a statement issued here, he said that the Saudi king had recently granted citizenship to world renowned Islamic preacher and inter-faith scholar of Indian origin Zakir Abdul Karim Naik, and demanded that such a generosity should also be extended to Aafia; an innocent mother, bearing the brunt of so-called war on terror.
Quoting the legal experts, he said they believed that Aafia was the most wronged woman on the planet today and justice must be done to her.
Altaf said that in view of the fact that the governments of Pakistan and the USA had failed to provide justice to Aafia, it was hoped that King Salman who is also the custodian of the two holy mosques would play his due role in ending victimisation and ordeals of this Muslim mother.
He said that even the US legal experts believed that there was miscarriage of justice in the case of Dr Aafia.
Pasban president recalled that none other, but Ramsey Clark, the former US attorney general, had said that Aafia was innocent and had fallen victim to the international politics.
Clark had said, "Dr Aafia Siddiqui was victimised by the international politics being played for power. I haven't witnessed such bare injustice in my entire career. Neither did Dr Aafia kill anyone, nor did she attempt it. In fact she was shot thrice and should be released immediately."
He also quoted noted UK lawyer Barrister Naseem Ahmed Bajwa, who had said, "I as a lawyer have seen many cases of injustice, but absolutely nothing on this scale. She should never, along with her three children, have been lifted from the streets of Karachi in a joint Pakistan/US operation. While most of the 800 men from Guantanamo have been released there has been no such end to the nightmare for Dr Aafia."
Altaf requested that King Salman should grant the Saudi citizenship to Aafia so that she could spend the rest of her life along with her children in Saudi Arabia, adding this would also give some face saving to the administrations of the USA and Pakistan. He opined that the repatriation of Aafia would also bring people of both the countries closer to each other.
http://nation.com.pk/karachi/22-May-2017/pasban-appeals-to-saudi-king-to-grant-aafia-nationality
-------
URL: https://www.newageislam.com/islam-women-feminism/triple-talaq-muslim-women-organizations/d/111239
New Age Islam, Islam Online, Islamic Website, African Muslim News, Arab World News, South Asia News, Indian Muslim News, World Muslim News, Women in Islam, Islamic Feminism, Arab Women, Women In Arab, Islamophobia in America, Muslim Women in West, Islam Women and Feminism