New Age Islam News Bureau
13 Oct 2018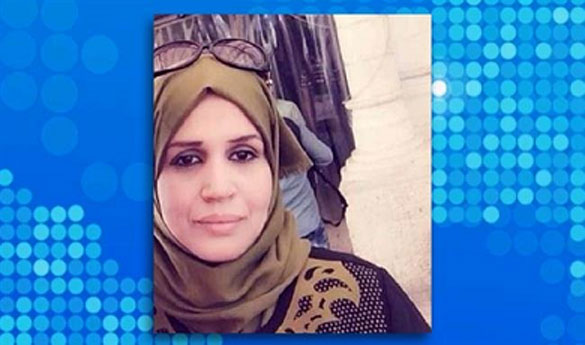 Photo: This file photo shows Palestinian woman Aisha Mohammed Aravi. (Photo by IMEMC)
-------
• Israeli settlers stone to death Palestinian woman in West Bank
• Nigerian clerics urge Boko Haram to free Christian girl
• Why Saudi women need a national screening program
• The Necessity of Including Women In Solving the Boko Haram Crisis, By Jacob Zenn
• The role of women in West Africa's violent extremist groups
• No ban on women entering mosques, but can't pray with men: Kerala Jam-Iyyathul Gen Sec
• Islamic Research Center holds 51k awareness sessions on harassment dangers
• UN experts urge Saudi Arabia to swiftly release women's rights activists
• Pakistan authorities detain women's rights campaigner Gulalai Ismail for nine hours, spark outcry
• Three political prisoners address UNSR on Iran from Evin's women ward
• Judo practitioner eliminated from Olympic Games due to hijab rules
• 83 women held in Egypt prisons, says human rights activist
Compiled by New Age Islam News Bureau
URL: https://www.newageislam.com/islam-women-feminism/triple-talaq-law-part-govt/d/116622
--------
Triple talaq law part of Govt's efforts to protect Muslim women, says PM
13 October 2018
Hoping that Parliament will pass the Bill banning inistant Triple Talaq, Prime Minister Narendra Modi on Friday said the legislation to protect the Muslim women was part of Government's efforts to provide justice. He was addressing an event to mark the 25th anniversary of National Human Rights Commission (NHRC) here and also said that the Commission has an important role to play in Government's efforts to achieve sustainable development goals.
Modi said that the Government is committed to improve the lives of people by ensuring their rights. He cited various steps taken by Government in this regard and said the triple talaq legislation is a part of the effort to provide justice to the oppressed. "I am confident that this key legislation will be accorded approval by Parliament soon," he said. The bill is pending before Rajya Sabha with Lok Sabha having already passed it.
"For us, human rights & their protection are not merely phrases. They are articles of faith, which we are continuously upholding. Whenever basic human rights have been denied, like during Emergency, the people of India fought tirelessly and ensured democracy and human rights prevail," said Modi, congratulating the Commission in their service to the nation.
Besides, the Prime Minister, Home Minister Rajnath Singh and Union Minister of State (Independent Charge) for Communications Manoj Sinha also attended the function, chaired by NHRC Chairperson Justice HL Dattu.
The Commission, which was established on October 12, 1993 under the Protection of the Human Rights (PHR) Act, 1993, has lined up a host of activities till Sunday to mark the anniversary. Disposal of more than 17 lakh cases, payment of more than one billion rupees to the victims of human rights violations by various state agencies on the recommendations of the Commission and more than 750 on-spot inquiries cap the 25 years of NHRC's work for the cause, said NHRC officials.
The rights panel has five members, including the chairperson, who deliberate upon cases put before them. Currently, two posts of members are vacant, he said. The NHRC, in the run up to the jubilee, has already hosted a number of programmes, including an international conclave on human rights, panel discussion on role of media in context of human rights, painting competition and slogan and logo making contest.
https://www.dailypioneer.com/2018/india/triple-talaq-law-part-of-govt-s-efforts-to-protect-muslim-women--says-pm.html
--------
Israeli settlers stone to death Palestinian woman in West Bank
Oct 13, 2018
A middle-aged Palestinian woman has been stoned to death by Israeli settlers in the northern part of the occupied West Bank, reports say.
Aisha Mohammed Aravi, 47, was driving in her vehicle along her husband near a West Bank checkpoint south of Nablus late on Friday when they came under attack by Israeli settlers who came onto the road and began throwing large stones at the couple's car.
According to local sources, the attackers broke the windshield of the car, hitting the couple multiple times in the head and upper body with a barrage of stones. Aisha, from Bidya town, lost her life on the scene due to blunt force trauma to the head caused.
The reports said that Aisha's husband also sustained moderate to severe injuries in the attack.
The tragic incident came two days after a group of Israeli settlers from the Yitzhar settlement broke into a high school in Urif village, located in southern Nablus, and began throwing stones at horrified students inside their classrooms.
Dozens of students were injured during the invasion, which also led to disruption of classes and material damage.
Minutes after the incident, Israeli forces also entered the high school and provided protection for the settlers while escorting them out of the area. The troopers also fired rubber-coated steel bullets and tear-gas canisters at students, causing a number of them to suffer from tear-gas inhalation.
About 600,000 Israelis live in over 230 illegal settlements built since the 1967 Israeli occupation of the Palestinian territories of the West Bank and East Jerusalem al-Quds.
Palestinians want the West Bank as part of a future independent Palestinian state with East Jerusalem al-Quds as its capital.
Israel's continued settlement expansion on Palestinian territories has been a major sticking point in Israeli-Palestinian talks, which have stalled since 2014.
https://www.presstv.com/Detail/2018/10/13/576838/Palestine-West-Bank-Aisha-Mohammed-Aravi-stone-Israeli-settlers
--------
Nigerian clerics urge Boko Haram to free Christian girl
12.10.2018
Nigeria's top clerics on Friday appealed to Boko Haram militants to free all the children in their captivity, especially a teenage Christian girl who was abducted alongside 112 other schoolgirls in February this year.
The militants have freed all of the schoolgirls except Leah Sharibu, who local media reported, was still being held because she refused to quit her Christian faith. They are holding several other children captive.
Boko Haram recently said the teenager would be executed by mid-October if the government fails to fulfil certain conditions.
"We appeal to (Boko Haram) to please, for the sake of God, release these innocent girls. They are very innocent and I believe that by doing this Nigeria will appreciate," Reverend Yakubu Pam, a head of the Christian Association of Nigeria, told a joint news briefing he addressed with another prominent Muslim scholar Sheikh Mohmamed Khalid.
"We heard they said next week is their deadline [to execute Sharibu] and that is why in this meeting as we are discussing about the peace of this country. We felt that it is very important and very paramount to talk about this matter. The mother is in agony, the family is in agony and we are appealing to their conscience. Whatever it is, let them be lenient and also allow God to speak to their heart."
Khalid said the militants were acting contrary to Islamic values and called on the government to exert pressure on them to free the girl and other captives.
"We want the world to understand that these people that are holding our children and other people in captivity are not representing anything, they are on their own," Khalid, imam of the Apo Legislative Quarters, said.
"Islam is not asking them to abduct anybody and we the Muslims are going to join hands with anybody to do anything possible to secure Nigerians from their agony. We are appealing to them to rethink and revisit their minds so that they will release their captives, especially somebody like Leah Sharibu."
Thousands of Nigerians are suspected to remain in the captivity of the militant group, including dozens of schoolgirls abducted in Chibok town in 2014. Over 100 of the girls have since been freed.
https://www.aa.com.tr/en/africa/nigerian-clerics-urge-boko-haram-to-free-christian-girl/1280128
--------
Why Saudi women need a national screening program
October 12, 2018
DUBAI: Doctors are calling for a national breast cancer screening program targeting all women in Saudi Arabia over the age of 40 to give women a greater chance of survival.
While cancer is one of the biggest killers of women in the Middle East — and breast cancer is the most commonly diagnosed form of the disease — experts say, at present, just ad-hoc "opportunistic" screening exists in the Kingdom.
"There is no organized screening program in Saudi Arabia," said Professor Fatma Al-Mulhim, consultant radiologist and head of the breast unit at King Fahd Hospital of the University (KFHU) in Khobar and founder of the Breast Cancer Early Diagnosis Committee. "At present screening is opportunistic, which means ladies are not invited to come to regular organized screenings; they come upon their own will. So the uptake of screening and regular checkups is far below international numbers."
She believes fewer than 20 per cent of women who should be screened are attending routine health checks for breast cancer.
"This reflects a very low number," she said. "For us, in the Eastern Province of Saudi Arabia, this is our 10th year to host educational campaigns across the city in addition to offering screening through mobile units belonging to charity organizations, government hospitals and the Ministry of Health, among others.
"I do believe if there are no official programs then the uptake of screening will still be low, because you cannot continue to leave this as an option for ladies.
"We still need to do a lot of work to educate women, as well as encouraging doctors, mainly in the primary care sector, to educate their patients and to send them to send them for screening after the age of 40."
According to Susan G. Komen for the Cure, the largest breast cancer organization in the US, while breast cancer is the most common cancer and the leading cause of cancer death among women in Saudi Arabia, many of those affected do not seek medical care immediately. As a result, women across the region are often diagnosed with breast cancer at a late stage, when there are fewer treatment options and outcomes are worse.
Rola Shaheen, medical director and chief of radiology at Peterborough Regional Health Center in Ontario, Canada, is working alongside Professor Al-Mulhim and fellow experts across the Kingdom to examine breast cancer awareness and protocols for screening across the country as part of an ongoing study titled "Comparative Baseline Needs Assessment for Breast Cancer Awareness and Management in the Middle East and North Africa."
She too believes an organized population-based screening program is better than the current "opportunistic" approach both in Saudi Arabia and the wider Middle East.
"Population-based screening is offered systematically to all individuals in a defined target group with a framework of agreed policy, protocols, quality management, monitoring and evaluation while opportunistic breast screening is offered to an individual without symptoms when she presents with healthcare provider for reason unrelated to that disease," she said. "So almost all the breast screening taking place in the Middle East is falling under the opportunistic part, including Saudi Arabia.
"While I agree that opportunistic screening is an important step towards fighting breast cancer and helps with early detection and down-staging of the disease, I think it should be offered hand-in-hand within a framework of quality programs to protect women and ensure appropriate high-quality care.
"The population-based/organized screening would be ideal if the resources are available, and in a country like Saudi Arabia, I would think they are probably ready to step into this big commitment.
"Basically, the advantages are low-lying fruits at this point."
Shaheen said an organized national screening programme would "bridge the gaps between the "fragmented efforts" currently in place.
"I would also recommend involving behavioral experts in the population-organized programs to understand within the local settings and cultural norms how to communicate with patients and disseminate invitations and results to women and their doctors."
The call comes during Breast Cancer Awareness Month, 31 days of charity and campaigning for global breast cancer charities and organizations. <br/>
The number of people around the world who have cancer is "rapidly growing," with 18.1 million new cases and 9.6 million deaths in 2018 alone, according to a report released last month by the World's Health Organization's International Agency for Research on Cancer.
By the end of the century, cancer will be the No. 1 killer globally and the single biggest barrier to increasing our life expectancy. Breast cancer is one of the top three most common cancers worldwide.
So far in 2018, it is estimated that 627,000 women have died from breast cancer across the globe, which is about 15 percent of all cancer-related deaths among women.
Dr. Aref Hammam, a consultant in general surgery at UAE's Bareen International Hospital, said breast cancer is a growing condition with women in the region.
"However, many women identify the condition only at an advanced stage," he said.
Dr. Nazura Siddiqi, a specialist in obstetrics and gynaecology at the hospital, said breast cancer has four stages, defined by the prevalence and size of the tumor. The chances of survival are between 95 to 100 percent if the breast cancer is detected at Stage 1. But if the condition is detected at Stage 2, the survival chance decreases to 86 percent. If breast cancer is detected at Stage 3, the survival rate goes down to 57 percent.
These figures, she said, underline the importance of screening and early detection in order to improve the chances of survival. Aside from age, gender, and family history, prolonged exposure to estrogen, in various forms, can also increase the risk of breast cancer in women.
Those who began menstruating at an early age (below 13 years), those who have not given birth, those who have not breastfed, those who had their first child after age 30, those who have used oral contraceptives, those who had late menopause (after age 50), and those who have used hormone replacement therapy also have higher chance of developing breast cancer.
"Unhealthy lifestyle choices — drinking alcohol, smoking, physical inactivity, obesity and unhealthy food preferences such as fast food and processed food — also significantly contribute in increasing the risk of having breast cancer. It is strongly recommended that women who belong to any of these categories to be proactive about regular screenings," added Dr. Siddiqi.
"Early detection is the key."
http://www.arabnews.com/node/1386766/saudi-arabia
--------
The Necessity of Including Women In Solving the Boko Haram Crisis, By Jacob Zenn
October 12, 2018
This week Nadia Murad, a Yezidi woman, and Denis Mukwege, a Congolese medical doctor, won the Nobel Peace Prize for their efforts to end sexual violence. In Nigeria, Boko Haram has also targeted women — even young girls — specifically because of their gender. Boko Haram's leader, Abubakar Shekau, claimed the Chibok schoolgirls were his "slaves" and even bragged that the Islamic State in Iraq and Syria (ISIS) copied him when it sexually enslaved Yezidi women in Iraq several months later.
Not only have women been targeted for genocide by Boko Haram (yes, rape is an 'act of genocide'), but their voices have often been marginalised when it comes to finding solutions to the insurgency — or at least put behind men's voices. From November 13 to 15, 2018, Bayero University Kano is hosting an "International Conference on Boko Haram", but the conference is marginalising women's voices. According to the agenda, there is one "keynote presenter" and seven "lead presenters." Their genders are as follows:
1. Male
2. Male
3. Male
4. Male
5. Male
6. Male
7. Male
8. Male
Couldn't a woman be the "keynote presenter", or a "lead presenter"? Have the organisers not tuned into the inspirational humanitarian work that women have carried out in Borno State, including those who sacrificed their lives? Have the organisers not noticed the women who have been reporting on counter-insurgency operations at the frontlines from Gudumbali to the Mandara Mountains? Have the organisers not read books, academic publications and reports about the insurgency written by women or solicited theological interpretations from women's perspectives? Would women's voices not also uniquely explain why some women voluntarily join Boko Haram, even committing 'suicide' bombings in greater numbers than men?
So long as women's voices are relegated to the backseat behind men's voices, the conference will suffer from a lack of diverse perspectives about a conflict that needs more — not less — respect for women's solutions. This is a "manference" — not a conference.
The agenda description does get some things right. It notes, for example, that Boko Haram has become a "global terrorist network". The group was, after all, designated a "province" of ISIS in 2015, after the group previously received funding, arms, and training from al-Qaeda's North African affiliate. The agenda is also correct that Boko Haram has caused "intra-Muslim discord, interfaith mistrust, [and] social insecurity". Moreover, the agenda is correct that "writings on Boko Haram" have been "surrounded by speculations, assumptions, [and] disjointed facts."
Yet, one of the conference's "lead presenters" claimed in a 2015 book that "some Christian elements" have been carrying out attacks "in the name of Boko Haram." He, however, cited anti-Christian diatribes on online chat forums to justify the claim. That type of irresponsible speculation and accusatory language towards Christians, unfortunately, has contributed to conspiracy theories about Boko Haram. It has also led other academics to falsely claim Christians are "being paid by" Boko Haram to launch attacks. In the interest of inter-faith harmony and respect towards other religions, the "lead presenter" should be expected to perform at a higher, evidence-based standard, especially considering the conference's stated objectives (and to retract the previous claim).
The agenda also states that Boko Haram began in 2002 as a "not-very-serious movement of zealous young men." Yet the original "Yobe Taliban" in 2002, which is now known as Boko Haram, had its roots in Islamist and Salafist currents in Nigeria dating to the 1980s (and there were also young women among the Yobe Taliban). The Yobe Taliban's two leaders were Muhammed Yusuf and Muhammed Ali of Yobe and Borno, respectively. Muhammed Yusuf was a disciple of one of the most prominent Salafi clerics in Nigeria, Shaykh Jaafar Mahmoud Adam (R.A). Muhammed Ali was radicalised by Salafi literature in Saudi Arabia and traveled to Sudan to meet with al-Qaeda leaders, including Osama bin Laden, in the mid-1990s. In sum, the Yobe Taliban was a very serious movement of men (and women) built on Salafism, jihadism and the takfiri (excommunication) ideology that spread in Nigeria prior to 2002.
Another of the conference's American "lead presenters" asserted in a 2017 book that Muhammed Yusuf "smuggled jihadist thought into a Salafi community that had originally been oriented toward non-jihadist Salafism." However, newer research from the University of Cape Town-based Centre for Contemporary Islam in 2018 arrives at a contrary conclusion. According to a report by the Centre, three of the "lead presenters", including the one mentioned above (Alexander Thurston), are part of a group that "minimizes the global roots of the [Boko Haram] phenomenon." Their analysis "exonerates" religious "elites" in the Salafi community who introduced jihadist thought into Nigeria well before Muhammed Yusuf preached about Salafism in 2002. The Centre for Contemporary Islam also has skin in the game — situated in South Africa, it assesses Boko Haram in the "African Muslim context" and states it is "concerned about the effects of the tumour of takfiri theologies in undermining the body of the Global South."
The International Institute of Islamic Thought, whose main office is in Virginia in the United States, is a collaborator with Bayero University Kano in organising the upcoming conference. It has a checkered history when it comes to extremism in its own ranks. But it is hoped that the organisers will still respect diversity, not only in gender representation but also academic viewpoints. The conference presenters should, for example, be sure to engage and even challenge aspects of the theology of the Islamist and Salafist predecessors to the Yobe Taliban, such as Shaykh Jaafar Mahmoud Adam (R.A) and Abubakar Gumi (R.A.), the latter of whom argued that men should "allow" women to vote in elections, so that Muslim men can come to power. Some of the latest scholarship from academic institutions around the world has critically re-evaluated the scholarship of Gumi and his progeny, including their counter-productive revival of takfir in Nigeria, and how their ideology may have contributed to jihadism in Nigeria today. The conference must not shy away from these critiques either.
Any organisation or individual — whether from Nigeria, South Africa, or the United States — working to combat Boko Haram and extremism deserves the benefit of the doubt. Academic research demonstrates that even Islamist intellectuals and organisations, like International Institute of Islamic Thought, which are rooted in Muslim Brotherhood philosophy, have a role a play in countering extremist challengers (although they should not be "misunderstood as liberals" themselves). But as a first step, I suggest we should not wait until after this "manference" to raise the aforementioned issues about lack of diversity and representation to the organisers. Let's do it beforehand.
Do you think the "International Conference on Boko Haram" should include women in the roles of "keynote presenter" and "lead presenters"? If your answer is yes, then I say me too.
https://opinion.premiumtimesng.com/2018/10/12/the-necessity-of-including-women-in-solving-the-boko-haram-crisis-by-jacob-zenn/
--------
The role of women in West Africa's violent extremist groups
12 October 2018
Women's involvement in Boko Haram attacks in the Lake Chad Basin is well known. However their role in the activities of the Group for the Support of Islam and Muslims (JNIM), operating across the Sahel, appears to be less direct. What makes these groups include or exclude women from their ranks and operations?
Since it was formed in March 2017, the JNIM, a merger of four terror groups in Mali – Ansar Dine, Katiba Macina, al-Mourabitoun and al-Qaeda in the Islamic Maghreb (AQIM) – has carried out numerous suicide attacks in Mali, Burkina Faso and Niger.
The group claimed responsibility for the 14 April 2018 attack on the United Nations Multidimensional Integrated Stabilisation Mission in Mali and the French operation Barkhane in the Timbuktu region. Following the attack, then Barkhane commander General Bruno Guibert mentioned the involvement of a woman suicide attacker in the operation.
Two weeks later JNIM published a communiqué to deny the allegation, stating that in its doctrinal approach, women do not participate in operations or in combat. The statement said Muslim nations still had enough men willing to take on combat roles.
Unlike JNIM, in the neighbouring Lake Chad region (Cameroon, Nigeria, Niger and Chad), Boko Haram continues to make headlines for enlisting women, often forcefully, into its ranks and its suicide bombing operations. Between April 2011 and June 2017, the group carried out at least 434 suicide attacks – of which 244 were undertaken by women.
The involvement of women in Boko Haram dates back to the early 2000s. For the group's founder, Mohammed Yusuf, urging women to join the group served two main purposes: it broadened the group's membership, and enabled women to become wives for male combatants and mothers for the next generation of fighters. This strategy was also designed to encourage men to join the group.
Under the leadership of Abubakar Shekau, who took over after Yusuf's death in 2009, Boko Haram began abducting women and girls. While some women voluntarily joined the group, others were forcibly enlisted. More than 2,000 women and girls were allegedly abducted between 2014 and 2015.
This initially appeared to be in retaliation to the Nigerian government's arrest of Boko Haram insurgents' family members, including Shekau's wives in 2012. Abducted girls and women, especially the Chibok girls, have been used as propaganda and publicity tools to attract international attention and demand ransom and prisoner exchanges from the Nigerian government.
Despite government denial, there is speculation that ransoms were paid to free the Chibok girls. The same goes for those of Dapchi who were kidnapped on 19 February 2018 by the Boko Haram separatist faction the Islamic State-West Africa (ISIS-WA), led by Abu Musab al-Barnawi.
Abducted women and girls have also been used to attract male recruits by marrying them off to fighters. Boko Haram has also used girls and women as suicide bombers because their supposed "non-violent nature" presumably makes them harder to detect.
Since the split of the group in August 2016, ISIS-WA has so far deployed only male suicide bombers. However given the evolution of the roles assigned to women by the group from which it splintered, there could be a shift in women's involvement in future.
Unlike Shekau's Boko Haram faction, which has been criticised for indiscriminately targeting civilians, JNIM has not openly used women in suicide attacks. This could be because the group wants to retain the support of local populations by aligning itself with norms and expectations of the role generally attributed to women.
Although JNIM has denied using female suicide bombers, an Institute for Security Studies report found that women played various active supporting roles such as being informants, laundresses and cooks for violent extremist groups in Mali. In July, a woman accused of supplying fertiliser to make explosives for Katiba Macina, an ally group within JNIM, was arrested by Mali's intelligence services.
There are other practical reasons for women's involvement. AQIM has reportedly encouraged its fighters to marry into the local population of northern Mali to establish itself among these communities and gain their support.
Mokhtar Belmokhtar, an AQIM leader, married four women from different well-known Tuareg and Arab Berabiche families to expand his network of influence. This not only allowed the group to embed itself within certain communities but ensured protection and support from local populations during the occupation of northern Mali in 2012 and beyond.
The role of girls and women in violent extremism has important strategic and operational benefits for the groups involved. The functions attributed to women and the reasons they are included or excluded must be understood. Only then can appropriate, context-specific strategies to prevent and counter the involvement of women in those groups be developed. DM
https://www.dailymaverick.co.za/article/2018-10-12-the-role-of-women-in-west-africas-violent-extremist-groups/
--------
No ban on women entering mosques, but can't pray with men: Kerala Jam-Iyyathul Gen Sec
October 13, 2018
After the Kerala-based Nisa, a progressive forum for Muslim women, demanded entry of women into mosques, Samastha Kerala Jam-Iyyathul General Secretary, K Alikutty Musliyar, stated that there was no blanket ban on women entering mosques, he said, while addressing the media on Thursday in Kozhikode.
Social activist and president of Kozhikode-based Nisa, VP Zuhra, is gearing up to petition the Supreme Court, calling for Sunni mosques to allow for women to enter, after the recent landmark verdict that lifted the ban against women ages 10 to 50 entering the Sabarimala temple in Kerala.
Alikutty stated that while there was no ban per se on women entering mosques, it is more ideal for women to pray at home according to teachings of the Prophet Muhammed. "Women can come to mosques for any other purpose but offering prayers along with men in the mosque is not allowed. There are separate mosques for women," he said.
Following the Supreme Court's ruling on Sabarimala temple, a group of activists from Nisa sought to remove the ban against women entering mosques. However, this has not been received well.
"I am doing this for equality. Women are never allowed inside Sunni mosques to pray and they, too, have the right. Women were allowed to enter mosques even during the time of the Prophet," Zuhra had stated to the media. Further, the activists have alleged that the Prophet himself had allowed his wife to pray in a mosque and that there were records of the same.
Musliyar has stated that a Sharia conference would be held on Saturday in Kozhikode to discuss the earlier ruling on triple talaq by the central government.
Earlier last week, following the Sabarimala verdict, CPI(M) leader Kodiyeri Balakrishnan came out and questioned the restriction of women being allowed to enter Sunni mosques, "There should be no discrimination against women in any place, is the stance that [the party] are taking," he said.
https://www.thenewsminute.com/article/no-ban-women-entering-mosques-can-t-pray-men-kerala-jam-iyyathul-gen-sec-89902
--------
Islamic Research Center holds 51k awareness sessions on harassment dangers
Oct. 12, 2018
CAIRO – 12 October 2018: The Islamic Research Center held 51,000 awareness sessions across Egypt on the dangers of harassment and violence against women, according to a statement issued by the center.
Secretary-General of the Islamic Research Center Mohieddin Afifi said that these sessions, organized by Al-Azhar sheikhs, spread widely in a short period, the statement reported.
Afifi added that the sessions aim to raise the awareness of Egyptians and urge them to shoulder the responsibility of building a better country for future generations, warning them against the dangers of indulging in rumors and misconceptions.
In the same context, the world and Egypt's top Sunni Muslim authority, Al-Azhar, issued in August a statement expressing full rejection to sexual harassment and denouncing all attempts to blame women for the dreadful phenomenon.
The statement followed a series of sexual harassment incidents that took place in Egypt where some claimed that women's attire was the reason behind sexual assault.
"Criminalizing sexual harassment should be absolute with no condition that justifies it. Sexual harassment is an attack on women's privacy, freedom, and dignity," the leading institution asserted.
Al-Azhar used verses from the Holy Quran and Prophet Mohamed's teachings to stress that women should feel safe in their country and during travelling.
Al-Azhar also called on media "to stop broadcasting any material that promotes harassment or encourage people to imitate harassers."
Al-Azhar demanded the implementation of all laws that punish sexual abuse and called for efforts to raise social awareness and warn against the phenomenon.
Some 60 percent of women in Egypt said they had been victims of some form of sexual harassment during their lifetime, according to a 2017 report from UN Women and Promundo.
http://www.egypttoday.com/Article/1/58813/Islamic-Research-Center-holds-51k-awareness-sessions-on-harassment-dangers
--------
UN experts urge Saudi Arabia to swiftly release women's rights activists
Oct 12, 2018
Saudi Arabia must "immediately and unconditionally" release all women it has arrested and imprisoned on charges relating to their peaceful defense of human rights, officials mandated by the United Nations say.
In a statement on Friday, UN human rights experts, who report to the UN Human Rights Council, called for the release of six women still kept in Saudi jails.
"We condemn in the strongest possible terms the actions of the Saudi authorities against these women human rights defenders and we call on them, as a matter of urgency, to immediately release and drop the charges against all of them," the experts said.
One of the detainees is Israa al-Ghomgham who is facing possible execution for the first time after she was arrested some three years ago on charges of supporting anti-government protests and inciting people to disobey the regime.
Ghomgham from the Qatif region in the kingdom's oil-rich Eastern Province has been behind bars for 32 months.
The UN experts expressed acute concern for Ghomgham and called her execution threat "reprehensible."
"It is reprehensible that Ms. Ghomgham is facing the death penalty for asserting her fundamental human right to peaceful assembly. No one should ever be punished for exercising their most fundamental human rights, much less face the death penalty," they said.
"We wish to remind the Saudi Government of its obligation to protect and promote the rights of all human rights defenders as they peacefully carry out their legitimate work. In the context of widespread and systemic gender discrimination, women human rights defenders face particular risks, especially when their work challenges stereotypical ideas about women's place in society, as in this case."
The UN experts' statement also said the five other detainees are Samar Badawi, Nassima Al-Sadah, Nouf Abdulaziz, Mayya Al-Zahrani, and Hatoon Al-Fassi, who had been particularly active in campaigning for women's rights, including the right to vote and to drive.
According to the statement, they have been in pre-trial detention and being held incommunicado for the past four months.
"We urge the Saudi authorities to immediately make the whereabouts of these five human rights defenders known and to grant them access to their families and lawyers," it added.
In recent years, the Al Saud regime has come under intense pressure by rights groups for mistreating women. Since May, Saudi authorities have detained more than a dozen prominent women's rights activists, most campaigned for the right to drive which was granted in June.
Saudi women had been also banned from voting until 2015, when they were allowed to vote in local elections.
Saudi authorities have so far labeled the detainees "traitors", infuriating the country's rights activists who fear additional arrests amid much-hyped reports of reforms led by Saudi Crown Prince Mohammed bin Salman.
Reforms have been accompanied by a heavy-handed crackdown on dissent, which has targeted clerics as well as some of the very female activists who campaigned for years to end the driving ban.
https://www.presstv.com/Detail/2018/10/12/576799/Saudi-women-human-rights-activists-experts-Badawi-Ghomgham
--------
Pakistan authorities detain women's rights campaigner Gulalai Ismail for nine hours, spark outcry
Oct 12, 2018
Islamabad: A leading Pakistani women's rights campaigner was detained for nearly nine hours after landing in Islamabad on Friday, activists said, sparking an outcry amid fears the space for dissent is shrinking.
The Federal Investigation Agency (FIA) detained Gulalai Ismail on her return from the United Kingdom, Ismat Shahjahan, another activist who went to pick her up at Islamabad's airport, told AFP.
The brief detention caused a swift furore from other rights activists, including Amnesty International, which put out a statement demanding the release of Ismail, whose work on women's rights has been recognised internationally.
She was released later Friday, Shahjahan said - but officials kept her travel documents.
"I kept on waiting just to make sure that she is not disappeared," Shahjahan added.
Earlier, Ismail had released an audio message on her detention which was verified by AFP.
She said she had been detained for speaking at a rally in August for the Pashtun Protection Movement (PTM), a group calling for rights for the Pashtun tribal population of Pakistan's restive northwest.
Nine other people detained under the same orders were still being held at a police station in Swabi, a district of northwestern Khyber Pakhtunkhwa (KP) province where the rally took place, Shahjahan told AFP.
The PTM emerged at the start of this year with marches demanding the end of extra-judicial executions and enforced disappearances committed by security forces against Pashtuns living in KP and tribal areas along the border with Afghanistan.
The movement has become less audible since June as campaigning geared up for a general election in July which brought former cricketer Imran Khan, also a Pashtun, to power in the country.
"Support for @Gulalai_Ismail by activists and general public proved fruitful," the group tweeted after Ismail's release.
A photo of the activist smiling and raising her first while surrounded by six other women, including Shahjahan, swiftly did the rounds on social media. The image was sent to AFP by a PTM activist.
Ismail's detention comes as Pakistan's media and civil society have complained of ever-increasing pressure from the powerful army.
"This is not an attack on Gulalai Ismail or PTM," the activist said in her audio message. "This is an attack on our freedom of speech." Ismail was still a teenager in 2002 when she co-founded Aware Girls, an NGO that promotes gender equality in deeply conservative KP.
Among other accolades, she was awarded the Chirac Foundation Conflict Prevention Prize in 2016 and the Anna Politkovskaya Award in 2017.
"Instead of trying to silence human rights defenders, the new government must create a secure framework for those who raise their voices in the name of justice," said Rabia Mehmood, a researcher for Amnesty, during Ismail's detention.
https://www.firstpost.com/world/pakistan-authorities-detain-womens-rights-campaigner-gulalai-ismail-for-nine-hours-spark-outcry-5369801.html
--------
Three political prisoners address UNSR on Iran from Evin's women ward
12 October 2018
Three political prisoners detained in the Women's Ward of Evin Prison – Maryam Akbari Monfared, Atena Daemi and Golrokh Iraee -- sent out an open letter addressed to the UN Special Rapporteur on the situation of human rights in Iran, Mr. Javaid Rehman.
In their letter to Mr. Rahman, the three political prisoners enumerated various instances of the violations of human rights in Iran under the mullahs' rule, and added, "It has been some time now, that the media cite officials as saying that the death penalty has been abolished for drug trafficking related convicts. However, the truth is that these convicts are hanged out of the media spotlight. The executions of those convicted of possessing, purchasing or selling narcotic drugs, in addition to those convicted of murder comprise the largest number of executions in Iran. As you do certainly receive the existing data, every year a large number men and women are sentenced to death for committing (intentional or unintentional) murder and the verdicts are rapidly carried out.
"In addition to the ordinary prisoners, many political activists and dissidents have been hanged or executed for dissent and thinking differently from the ruling regime. According to credible documents, the largest number of executions took place in the first ten years of the rule of this regime (1978-1988). These executions were mostly carried out without fair trials, and yet after carrying out the verdicts, the bodies of execution victims were buried somewhere in the outskirts of the city without any marks. This is while activists who oppose the death penalty are not allowed to have any campaigns, and many of them have been imprisoned merely for their opposition to the death penalty.)
Another part of the three political prisoners' letter reads, "As long as the death penalty remains in forces in the laws of a country, those convicted of ordinary crimes many of whom are victims of class difference, as well as cultural and economic poverty, also the political activists and dissidents who oppose the regime's wrong and corrupt policies, will become victims of these state-backed murders. As we have seen, the largest number of executions have been carried out under the present government which took office in 2013 with the moto of offering a key to open all locks and freedom of all political prisoners and prisoners of conscience…. In summer 2016, just like the 1980s, they executed a group of prisoners of conscience (Sunni Kurds), vacating a whole ward in Gohardasht (Rajai Shahr) Prison of Karaj overnight."
The three political prisoners "strongly condemned all the executions carried out since the beginning of the mullahs' rule" and urged Javaid Rehman to visit Iran to see the truth for himself, first hand. "Your presence in Iran and compelling the regime to account, will clarify many of the ambiguities. The regime's failure to admit you to the country indicates the continued trend of physical elimination of people in the regime's slaughter machine. It proves that the executions are crimes. Although we believe that there is no hope for any improvement in the situation, and the ruling regime is incapable of any reform, we call for an immediate halt to the death penalty in Iran and transformation of the oppressive laws of punishment."
https://women.ncr-iran.org/iran-women-news/5517-three-political-prisoners-address-unsr-on-iran-from-evin-s-women-ward
--------
Judo practitioner eliminated from Olympic Games due to hijab rules
12 October 2018
A female judo practitioner was banned from participating in judo competitions at the 2018 Summer Youth Olympic Games in Argentina, due to the mullahs' compulsory hijab rules.
Maral Mardani, Iranian judo practitioner of the 78 weight team, was eliminated from the main Olympic games in Argentina because she could not wear the original judo uniform and go without covering her hair which is part of the compulsory hijab rule of the mullahs' regime.
Government officials did not allow the female judo practitioner to attend tournament with the official Judo uniform, which all the athletes in the world use, and the judo practitioner Maral Mardani was required to be present with a full covering at the judo matches. (The state-run ILNA news agency - October 9, 2018)
Earlier, rock climber Elnaz Rekabi, who won the gold medal of women's Asian Bold Ring Cup, said in a brief interview about the restrictions imposed on her due to the compulsory hijab. "It is very hard with the veil especially when the weather is hot. I tried to find some proper outfit for this sport to observe the dress code, as well, but I had to do it on my own." (Interview with Euronews – Aparat.com– April 25, 2016)
In an insulting comment about Iranian women athletes participating in national and international competitions, Alam Al-Hoda said in 2015, "When a woman with an inappropriate appearance goes to the platform to receive her medal, then an Indian referee will put the medal around her neck and they will hold up the flag of Iran, it is a shame for the Islamic world."
Female athletes have no government or private support. Those women who wish to participate in international tournaments, have to pay for their own travel, practice, equipment, etc. But Iranian women are so motivated that they continue to be active in sports and win medals. They show their talent and competence in various sport fields at every opportunity.
https://women.ncr-iran.org/iran-women-news/5518-judo-practitioner-eliminated-from-olympic-games-due-to-hijab-rules
--------
83 women held in Egypt prisons, says human rights activist
October 13, 2018
The number of women detained in Egyptian prisons has reached 83, according to human rights activist and researcher into female political prisoners in Egypt, Aliyah Mahmoud.
Mahmoud explained in a telephone interview with Mekameleen TV on Thursday, which coincided with International Day of the Girl, that 2665 female detainees have been released from Egyptian prisons in the past five years. She pointed out that the real numbers are much larger, but could not be accurately measured.
She added however that the number of female detainees in Egyptian prisons is increasing.
Last month, the Egyptian Commission for Rights and Freedoms revealed that dozens of female detainees were subjected to physical and sexual abuse. They were also tried in military courts on trumped-up charges.
In its report, the Commission monitored a number of violations against female detainees in the prisons of Egyptian President Abdel Fattah Al-Sisi's regime. These violations included causing the deterioration of the detainees' physical and mental health by depriving them of access to their children, subjecting them to torture and placing them in prisons with difficult living conditions. Moreover, female prisoners are subjected to various types of psychological, verbal and even physical abuse.
Since the military coup of 2013, in which Al-Sisi overthrew the elected president Mohamed Morsi, the Egyptian regime has expanded its prison system. The number of prisoners in Egypt's some 62 prisons (not including its illegal detention centres) has risen to 60,000, according to human rights reports.
Human Rights Watch said in a previous report that political prisoners in Egypt describe being left in isolation, being subject to beatings and deprived of food and medicine. The report added that such violations may have contributed to the deaths of dozens of female prisoners.
https://www.middleeastmonitor.com/20181013-83-women-held-in-egypt-prisons-says-human-rights-activist/
--------
URL: https://www.newageislam.com/islam-women-feminism/triple-talaq-law-part-govt/d/116622
New Age Islam, Islam Online, Islamic Website, African Muslim News, Arab World News, South Asia News, Indian Muslim News, World Muslim News, Women in Islam, Islamic Feminism, Arab Women, Women In Arab, Islamophobia in America, Muslim Women in West, Islam Women and Feminism