New Age Islam News Bureau
9 Apr 2017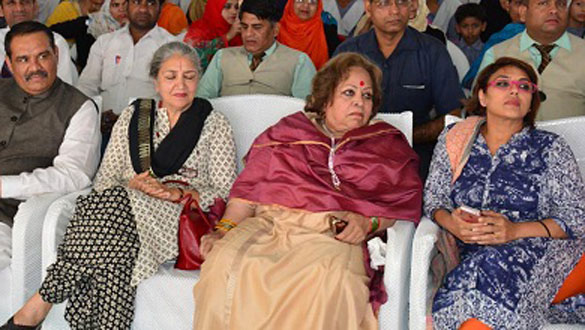 Photo: Vice President Hamid Ansari's wife Salma Ansari (third from left) at an event in Aligarh on Sunday. (Mahipal Singh / HT)
--------
• Citing Security Threats, Egyptian Parliament Close To Banning Niqab
• Muslims Have Less Divorces In Comparison With Other Communities, Says AIMPLB
• How This Mentoring Program Is Empowering Young Arab Women
• Actress & Filmmaker Ahd: The "Exceptional Arab Women in Film" Series
• Iran's Female Taekwondo Team Win Four Medals in Africa President Cup
Compiled by New Age Islam News Bureau
URL: https://www.newageislam.com/islam-women-feminism/triple-talaq-indian-vice-presidents/d/110700
-------
Triple Talaq: Indian Vice President's Wife Urges Muslim Women to Read Quran
Apr 09, 2017
Salma Ansari's views on triple talaq come at a time when there is a nationwide debate on the practice and the validity of triple talaq, 'nikah halala' and polygamy practices among Muslims challenged in the Supreme Court.
"Triple talaq is not an issue. There can be no 'talaq' (divorce) just because someone utters talaq, talaq, talaq," she told reporters on the sidelines of a function here on Saturday.
Salma said women can find an answer to their questions in the Quran itself.
"If you've read the Quran then you can find the solution there itself. There is no such rule in Quran. They have just made it up. There is no such thing. You read the Quran in Arabic and don't read the translation. You accept whatever the Maulana (clerics) or the Mulla says. You must read the Quran, read Hadis. Just see what Rasool had said," she said.
After triple talaq over phone, Uttar Pradesh woman meets Yogi Adityanath for justice
Women must have the courage to read the Quran by themselves and introspect what's written in it and gain knowledge about it, she said.
Emphasising women should not blindly follow anyone, she said: "They (women) can be easily misguided if they don't read the Quran."
In December 2016, the Allahabad high court had called the practice of triple talaq 'unconstitutional,' triggering a debate on continuation of the practice.
The Union government has said it wants to replace it with a new uniform civil code applicable to all religious groups.
But that proposal has met stiff opposition from Muslim groups, who argue that it would discriminate against them.
The All India Muslim Personal Law Board has asserted that triple talaq is a religious issue in which the court should not intervene.
The board recently told the apex court that the pleas challenging such practices among Muslims were not maintainable as the issues fell outside the realm of judiciary.
The board had also said that the validity of Mohammedan Law, founded on the Quran and sources based on it, cannot be tested on the particular provisions of the country's constitution.
Spiritual head of the Ajmer Sharif dargah Zainul Abedin Khan last week said triple talaq is against Sharia.
"As it is inhuman, anti-Islamic and against the gender equality, it should be shunned without any further delay", he suggested.
(With agency inputs)
hindustantimes.com/india-news/uttering-the-word-talaq-thrice-does-not-amount-to-divorce-says-salma-ansari/story-3A8Ds00XICcFO9kjGgS4FL.html
-------
Citing security threats, Egyptian Parliament close to banning niqab
Arab News | Published — Saturday 8 April 2017
CAIRO: A number of Egyptian lawmakers announced on Friday that they would soon refer to the parliament a draft-law that prevents women from wearing the niqab in state institutions, Asharq Al-Awsat reported.
The lawmakers asserted that "such a law was necessary for security reasons and as a preventive measure to confront terrorism and extremism."
The Board of State Commissioners recommended the Supreme Administrative Court to issue a final decision in support of banning academic staff from wearing the niqab in all of Cairo's state universities.
The number of women wearing the full niqab veil in Egypt has increased dramatically in the past years particularly with the rise of the political Islam movements.
Cairo University has in the past two years been placing a number of restrictions on wearing the niqab, banning women wearing the full-face veil inside its affiliated hospitals.
Earlier, an official decision was issued to ban the niqab inside classrooms, a move supported by the Supreme Administrative Court.
In 2009, Egypt's Al-Azhar University banned the niqab during exams. The decision is not applicable anymore.
Observers expect that lawmakers from the political Islam movements and the Nour party would strongly object the draft-law.
However, parliamentary sources said: "The full-face veil represents a threat to state security and personal freedom. Women wearing the niqab are capable to hide their faces and make it impossible for anti-terrorism state institutions to uncover their identities."
The sources added: "Several crimes and terrorist bombings were committed by men wearing this outfit. Those were capable to hide behind the niqab to escape security measures."
The sources said Islam does not demand that women wear a niqab. "Covering the face is a not a Muslim tradition."
The niqab, commonly worn in Egypt, consists of covering a woman's head and her face, but only leaves the eyes visible.
arabnews.com/node/1081331/middle-east
-------
Muslims Have Less Divorces In Comparison With Other Communities, Says AIMPLB
By Ravi Kaushal | Updated: April 9, 2017 8:43 AM IST Email
Jaipur, April 9: In a surprising revelation, the All India Muslim Personal Law Board on Saturday said that the rate of divorce among Muslims has been found to be very low in a comparison with other religious communities. Citing the data collected after rigorous research of one year, board's chief organiser Asma Zohra said that the number of cases of divorce for Muslims stood at 1,307 against Hindu at 16,505. The cases of divorce for Christians in these districts stood at 4,827 and 8 for Sikhs.
She said the exercise to collect data from family courts was started in May last year under which statistics were sought through RTI from family courts in Muslim-concentrated districts for five years from 2011-2015. Sixteen family courts gave detailed consolidated reports.
Addressing a press conference here, she said, "We have compiled the report which shows that the divorce rate is minimal in the Muslim community. Similarly, we collected details from various Darul Qaza which also indicate that only 2-3 per cent cases are related to divorce out of which most were initiated by women only." It must be reminded that Darul Qaza is an Islamic Shariyat court.
The conclusion could be reached after analysing figures collected from the eight districts of Kannur (Kerala), Nasik (Maharashtra), Karimnagar (Telangana), Guntur (Andhra Pradesh), Secunderabad (Hyderabad), Malappuram (Kerala), Ernakulam (Kerala) and Palakkad (Kerala).
She said that the issue of triple talaq along with other issues concerning Muslim women needs to understood in right perspective. She said, "The issue of triple talaq cropped up in recent years and was politicised. The issue needs to be understood in the right manner and perspective. Islam has given certain liberties to women and they are well protected in the community."
In recent times, the issue of triple talaq has dominated the political discourse in India. The Supreme Court has also referred the issue to a constitutional bench for which the hearing is scheduled on May 11. The Chief Justice of the Supreme Court J S Khehar said that resolution of the issue like triple talaq needs cooperation from all concerning parties. However, the plea challenging triple talaq was opposed by All India Muslim Personal Law Board. The Muslim body said that the practices of triple talaq, 'nikah halala' and polygamy among Muslims were not maintainable as the issues fell outside the realm of the secular judiciary.
(With inputs from PTI)
india.com/news/india/muslims-have-less-divorces-in-comparison-with-other-communities-says-all-india-muslim-personal-law-board-2009232/
-------
How this mentoring program is empowering young Arab women
GAZA CITY, Gaza Strip — As part of the Big Sister/Little Sister program, girls 18-25 years old in the Gaza Strip and Beirut can choose a successful Arab businesswoman who lives either in an Arab or other foreign country as a big sister. They can consult with their big sisters by videoconference about the most important problems facing them in their educational or societal lives or even sensitive problems.
Summary⎙ Print The Big Sister/Little Sister guidance program launched in the Gaza Strip and Beirut helps young girls talk about social issues and empowers them to overcome harsh societal challenges in their lives.
Author Amjad YaghiPosted April 4, 2017
The Big Sister/Little Sister guidance program, which is the first of its kind in the Gaza Strip, was launched in Gaza in December 2016 and in Beirut in March this year. The program aims to guide Palestinian girls in Gaza, Palestinian refugees in Lebanon and Lebanese girls through key societal issues and empower them to confront the social challenges they encounter by connecting them with successful Arab women. These women play the role of Big Sister in video lectures specifically dedicated to them.
The program is part of the Challenge to Change platform, founded by Dina Bseisu, a Palestinian born in Bahrain. Bseisu is the platform's CEO and the person behind the idea of the program. She spent 25 years in Switzerland, and she currently lives in the United Arab Emirates. The program aims to help women in the Middle East gain mental well-being and motivate them to be active members of society.
The girls targeted by the program live in marginalized areas and are the most vulnerable to psychological crises. In this context, the program looks to fight taboos that portray mental illness as a stigma. It also seeks to support and empower women to meet social and emotional challenges and instill the idea that they are not alone. The program consists of an interactive network of little and big sisters. The big sister is an Arab woman with 10 years or more of experience in her field of work and who has been through a lot of challenges. This sister must be capable of giving some of her time to her little sister and agree on a schedule with her while remaining committed to privacy and confidentiality.
Within the framework of the program, the big sister dedicates four hours per week to communicate with her little sister via video and talk about the problems and challenges in the Gazan community. Currently, 22 girls from the Gaza Strip and nine from Beirut are interacting with their big sisters through individual sessions.
In addition to the weekly talks, an event between little and big sisters is held every two months both in Beirut and Gaza via videoconference. Other girls are allowed to attend and benefit from these events, which brings the total number of girls attending to about 50 in Gaza and 50 in Beirut.
In this context, Bseisu told Al-Monitor, "We started working in Gaza and then in Beirut, which are considered to be conflict zones, be it at the political level or the social one given the prevailing customs and traditions. When the girls first joined the program, they were reluctant to openly express themselves."
Over time, Bseisu noted the mutual trust and respect among the big and little sisters. This encouraged the young girls to express themselves and become involved in all issues, especially after they saw the reports issued by the big sisters that included their observations on the different cases of girls targeted in Gaza and Beirut. These reports described the progress made by the little sisters and the positive impact on their lives.
Bseisu said that the main motive behind the launch of the program was that the girls in Gaza and Beirut lack the keys that allow them to refine their personality at the personal or professional levels. When these girls meet successful Arab women who have been through difficult experiences in life and they start engaging in discussions that enrich their knowledge, develop their skills, and enhance their confidence and self-esteem, they are able to move forward in their field of work, study or personal life. Bseisu hopes that the number of little sisters will increase in the coming months.
Sondos al-Qutati, the coordinator of the program in the Gaza Strip, told Al-Monitor that the little sisters in the Gaza Strip and Beirut should be between 18 and 25 years of age. These girls should be starting university or embarking on a professional career and should be in need of guidance, empowerment, and psychological and social support to overcome the psychological problems facing them. Their cases are subsequently studied in order for little sisters to be linked with big sisters in accordance with their specialties, tendencies and interests. She said the program is still accepting applications.
Through the panel discussions, Qutati noted that most of the girls are too shy to openly talk about girl-related issues or other issues related to dealing with people, communication, time investment, time management, and their desire to acquire personal and life skills that can help them face future challenges and build a professional life that goes in line with their passions.
Palestinian Deya' Leonard Dresner is a big sister. Dresner founded the Leonard Education Organization, an institution dedicated to providing scholarships to Palestinians from Palestine and Lebanon to study in the United States.
Other big sisters include Rola Nassar, a Syrian based in Switzerland who specializes in mentoring and guidance, and Hanane Benkhallouk, a Moroccan businesswoman in the United Arab Emirates who is the co-founder of the Big Sister/Little Sister program and the executive director of Sustain Leadership, an institution that offers programs in sustainable leadership and investment in human resources.
There is Shirin Farouni, an Egyptian based in Switzerland who runs an exhibition of fine art, and Fatima Ashour, a Palestinian lawyer and human rights activist based in the Gaza Strip.
Dana Akkad, 20, an education student at the English section of the Islamic University and one of the program's little sisters, told Al-Monitor, "At the beginning of the program, I was full of despair and frustration as I was not fully convinced of my field. I was worried about not succeeding. I was indecisive and not so confident. But thanks to the program and the closed discussions I had with my big sister, I gradually managed to regain my self-confidence, overcome everyday challenges and strengthen my personality."
Bseisu is seeking to reach out to the largest number possible of girls who are in need of assistance and help and are based in different Arab countries. She also wants the program to include several Arab countries in order to involve the largest number of leading Arab women who can support and empower these young girls.
al-monitor.com/pulse/originals/2017/04/women-guidance-program-gaza-palestine-lebanon.html#ixzz4dlCsqzz2
-------
Actress & Filmmaker Ahd: The "Exceptional Arab Women in Film" Series
04/08/2017
I first became fully aware of Ahd when she played Ms. Hussa in Haifaa Al Mansour's groundbreaking film 'Wadjda'. I had, of course laid eyes upon her talent before, in Zeina Durra's 'The Imperialists Are Still Alive' but the beautiful Saudi actress with the intense eyes and sultry deep voice really made an impression on me in the role of the uptight school headmistress who seems to sabotage her female students more than educate them. I was convinced that the actress behind it had to be eerily similar to that strangely captivating yet unsympathetic role.
Boy was I wrong! Ahd, it turns out, is an even better actress than one could ever imagine. In person, the Saudi Arabian native is kind, illuminated, spiritually aware and an undeniably modern woman. In fact, she is the perfect example of a "woman's woman", the kind every one of us would want to be friends with, or claim as a sister — the complete opposite of her character Ms. Hussa!
But simply calling Ahd an actor would be an understatement, a gross minimization of this multi-talented, ultra-hyphenated Saudi woman. She is also a filmmaker, and has several projects already to her name including 'Al gondorji' ('The Shoemaker') in which she also stars, along with Egyptian superstar Amr Waked, and the Berlinale-premiered 2013 short 'La sainteté' ('Sanctity'), a haunting, perfectly made film described on IMDb as "a bold story about going against social customs, and trying to establish a friendship between men and women in a community that insists on gender segregation." Ahd always swims against the currents and in the process, singlehandedly changes the world around her. See what I mean when I hinted at how impossible it is to fit her into a single box?!
Last year, Ahd took part in one of the most promising projects to come out of the Middle East, a Tarantino-esque gory thriller titled 'Zinzana' ('Rattle the Cage') directed by Emirati filmmaker Majid Al Ansari. Groundbreaking because 'Zinzana' is the first in a genre of films that hold to the key to true crossover appeal, while also managing to enthrall Arab audiences. It is no mistake that Ahd would be a part of 'Zinzana', because it is exactly her bridge-building ability that I find most attractive and consider her greatest asset, even among her many talents and plentiful qualities. She embodies at once a modern Arab woman, while possessing a deep understanding of Western culture and values. Feminine, yet tom-boyish if she wants to be, she is as easily at home in Jeddah making films, as she is in NYC, teaching Yoga or attending a William Esper acting class.
Ahd is a gypsy citizen of the world, and we should all learn to be a bit like her in our own lives.
Among a few other projects, Ahd is currently shooting a BBC mini series titled 'Collateral' written by Sir David Hare, directed by S.J. Clarkson and co-starring Carey Mulligan. She opened up about being matched up with 'The Great Gatsby' and 'Shame' actress by saying, "not in my wildest dreams did I think I would share a screen with her and now it's happening!" She is also writing a comic book series part of the SGR comic universe, where those initials stand for "Saudi girl revolution" and she is in post-production with her feature directorial debut 'My Driver and I' — about a girl in Jeddah and her unusual bond with her family chauffeur from Africa.
But as busy as she is, Ahd found a few precious moments to answer five quick-fire-round questions that give insight into her wonderful spirit.
When you are not making films, what are you doing?
Ahd: Dancing, singing, mixing and listening to music. Yoga. Reading, writing or traveling.
What defines elegance to you?
Ahd: A trinity of fierceness, grace and simplicity. Nature is the greatest example, from the trees to the stars.
If you could sit to dinner with five people, alive or dead, who would they be?
Ahd: Mary Magdalene, Osho, Rainer Maria Rilke, Nina Simone and Shams of Tabriz.
If you hadn't become a filmmaker, what would you be doing?
Ahd: I'd be a Meta/Astrophysicist.
What is the first film you remember watching?
Ahd: 'The Dark Crystal'.
huffingtonpost.com/entry/actress-filmmaker-ahd-the-exceptional-arab-women_us_58e75487e4b06f8c18beeaa9
-------
Iran's Female Taekwondo Team Win Four Medals in Africa President Cup
TEHRAN (FNA)- Iran's female taekwondo squad collected four medals including two golds during the 1st Africa WTF President Cup G2 in Agadir, Morocco.
The event, introduced and promoted by Africa Taekwondo Union (AFTU), was underway from 07-09 April 2017 in the city of Agadir, Morocco, where 239 athletes are competing to win medals.
On Saturday's bouts, the female contenders contested in -46, -53, -62 and +73 weight divisions and Iran's Fatemeh Maddahi and Kiana Akhavan (-46kg), Fatemoeh Omouri (-53kg), Hananeh Hemmati and Parisa Javadi (-62kg) as well as Nafiseh Mokhlesi and Fatemeh Mostafaei (-73kg) managed to grab four medals, incllluding two golds, one silver and a bronze.
At -46-kilogram category, Maddahi took the first place while Akhavan finished as runner-up. Mostafaei clinched the gold in -73kg group though Mokhlesi stood on the third podium.
On Sunday, the taekwondo practitioners will face rivals in the remaining categories, -49, -57, -67 ad +67kg with Sudabeh Poursadeghi and Nahid Kiani (-49kg), Mahsa Jeddi and Tayebeh Parsa (-57kg), Hanieh Akhlaghi (-67kg) in addition to Akram Khodabandeh (+73kg) will be facing their opponents.
The Iranian team is led by Mahrou Kamrani as the head coach as well as Sarah Khoshjamal and Reihaneh Fouladi as her aides.
en.farsnews.com/newstext.aspx?nn=13960120001429
URL: https://www.newageislam.com/islam-women-feminism/triple-talaq-indian-vice-presidents/d/110700
New Age Islam, Islam Online, Islamic Website, African Muslim News, Arab World News, South Asia News, Indian Muslim News, World Muslim News, Womens in Islam, Islamic Feminism, Arab Women, Womens In Arab, Islamphobia in America, Muslim Women in West, Islam Women and Feminism