New Age Islam News Bureau
22 Feb 2017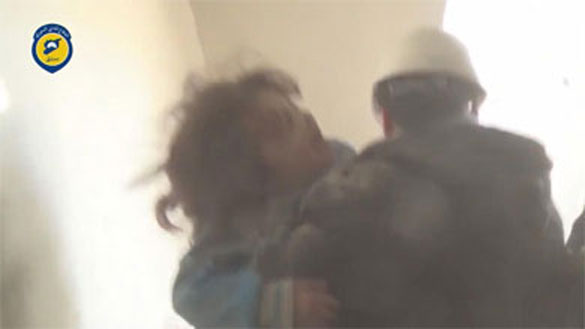 Syrian girl rescued by civil defence members. (Supplied)
----
• Triple Talaq: India's Battle against Three Words That Grant Instant Divorce
• Bavaria Pushes Ahead With Burqa Ban as Elections Loom
• Syrian Girl Rescued From Under the Ashes
• 70% Callers to Helpline for Muslim Women Are Men Seeking Info on Triple Talaq
• Manipur's First Muslim Woman Candidate to Work for Upliftment of Muslim Women
• Dubai Woman Abused Her Parents As She Wanted To Be Independent
• Meet Three Determined Dubai Women Who Run Their House
Compiled by New Age Islam News Bureau
URL: https://www.newageislam.com/islam,-women-and-feminism/new-age-islam-news-bureau/triple-talaq--india-s-battle-against-three-words-that-grant-instant-divorce/d/110168
----
Triple Talaq: India's Battle against Three Words That Grant Instant Divorce
By Huizhong Wu CNN
JAIPUR, India (CNN) -- With just three words, Farha, a 30-year old woman from the northern Indian city of Jaipur, became a single mother of three young children.
Farha's husband instantly divorced her last year by saying "Talaq, Talaq, Talaq" in a fit of anger after their 10-year-old daughter had asked him for five rupees (seven cents) to buy some firecrackers for a holiday celebration.
Triple Talaq, as it is commonly called, is an ancient and controversial Islamic practice where a man divorces a woman by saying the word Talaq, the Arabic word for divorce, three times. Sometimes, it's even delivered by phone or text message.
In theory, it should take three months to take effect. In practice, it is often instantaneous -- the woman forced out of the house with barely a moment's notice.
India, home to the second largest Muslim population in the world, is among the few that do not ban the practice. Other countries with majority Muslim populations like Pakistan and Indonesia have outlawed the practice for years.
Will it be banned?
Yet this could soon change -- a move that would be a victory for Farha and others like her.
The nation's highest legal advisory body, the Law Commission of India, put out a survey to Indian citizens in October 2016, asking about various ways to reform family laws and specifically whether or not to ban Talaq.
India's Supreme Court plans to constitute a 5-judge bench to rule on the issue of whether Talaq and other practices are un constitutional. It has asked all of the involved parties to submit their evidence in support of their petitions by March 30.
"In a Muslim society which practices Talaq, women have no existence," says Farha, who adheres to the local custom of only using one name. "A man can leave a woman at any time because of any issue."
Bhartiya Muslim Mahila Andolan (BMMA) -- a network of Muslim women activists and organizations that operate in 15 states in the country -- is leading a nationwide campaign against Talaq.
Its headquarters in Jaipur -- known to tourists as India's Pink City -- is located in a dilapidated building in one of the city's back alleys, which stand in sharp contrast to the decorated rose sandstone for which the city is a famed. It's a one room office, barely six feet wide. Plastic chairs line both sides of the room. It is here that Farha came to seek help.
They have long worked with women like Farha who have been abandoned by their husbands, by helping them file cases with the police or by providing basic necessities.
They aren't advocating the complete erasure of the practice from Islam, but argue that because of the way Talaq has been practiced, women need some form of legal recourse when they currently have none.
'Monstrosity'
In the last few years, the campaign has picked up momentum.
In 2016, a judge in a state-level court called the practice a "monstrosity," going on to say that triple talaq "is a cruel and most demeaning form of divorce."
India's Prime Minister Narendra Modi also spoke out against the practice saying India cannot allow the lives of Muslim women to be ruined by three words said on the phone.
Now, the BMMA is awaiting the decision of India's Supreme Court on its petition.
The group's co-founders, Zakia Soman and Noorjehan, who uses only one name, are hopeful of a ban against the practice which they call "un-Quranic."
According to the Quran, a man must consider the decision for a period of four months after he initially declares talaq, Soman explains. It is only at the end of this period can the divorce be finalized. Islamic law also provides for the presence of an arbitrator if there are problems during the process.
But Soman herself knows that reality often is quite different from theory. Her husband left her immediately after saying the words one day almost 15 years ago.
Pushback
Not everyone, however, is in favor of banning triple talaq.
India's diverse communities of multiple faiths each have their own laws for marriage, divorce and inheritance --- matters deemed "personal law." Various politicians have proposed an overarching secular law called the Uniform Civil Code which would replace religious laws.
For some Muslim religious leaders, the fact that India's current government --- led by a Hindu nationalist party --- is in favor of a Uniform Civil Code is a source of concern.
"It is our fundamental given in the constitution, right to abide by our personal laws, you cannot snatch our right from us," said Mohammad Jafar, a life member of the All India Muslim Personal Law Board, the legal organization opposing BMMA's petition filed in the Supreme Court.
Jafar recognizes that it is a problem when some men give divorce instantaneously. The solution, he says, is education for these men, as they have done something not permissible in Islam.
"As a Muslim, one has to follow the rules of marriage and separation according to the Quran and Sunnah, the teachings of Mohammad, so we have to abide by it, and this right has been given in the Constitution, so why do they want to change it?" he said.
Still fighting
Soman and the BMMA, however, see the fight at hand as one for gender equality.
Farha, the single mother of three from Jaipur, now relies on the help of her parents to feed and support her children.
She stays in the upper floor of the same house that she lived in when she was married. Her husband lives below. A housewife for years, Farha, does not have a job.
All she wants, she says, is for her children to be provided for.
For women like Farha, there are few legal resources that she can rely on after a man abandons her.
"The problem here is not religion, it's patriarchy masquerading as religion," Soman said.
TM & © 2017 Cable News Network, Inc., a Time Warner Company. All rights reserved.
http://www.ktvq.com/story/34564039/triple-talaq-indias-battle-against-three-words-that-grant-instant-divorce
------
Bavaria Pushes Ahead With Burqa Ban as Elections Loom
Bavaria will ban the full-face veil in schools, universities, government workplaces and polling stations, the southern German state said on Tuesday.
The move comes seven months before a federal election where immigration will be a prominent issue and the Bavarian conservatives that govern the region, the sister party to Chancellor Angela Merkel's, are worried about losing votes to the anti-immigrant Alternative for Germany (AfD).
"Communication happens not only via language but also via looks, facial expressions and gestures," Bavarian Interior Minister Joachim Herrmann said after the regional government agreed a draft law to ban the full-face veil for civil servants and in public places where there are concerns for public safety.
"It's the foundation of our interactions with each other and it's the basis of our free and democratic order," he said. "Concealing your face is at odds with this culture of communication."
In December, Chancellor Angela Merkel called for a ban on full-face Muslim veils "wherever legally possible".
The moves come after more than a million, mainly Muslim, migrants arrived in Germany over the last two years and amid widespread security fears after several Islamist attacks last year.
France and Belgium have banned the burqa and the region of Lombardy in northern Italy has banned it in hospitals and public offices belonging to the regional government.
Herrmann said he expected Bavaria's regional parliament, in which the CSU has an absolute majority, to approve the law by the summer break.
http://nation.com.pk/international/22-Feb-2017/bavaria-pushes-ahead-with-burqa-ban-as-elections-loom
------
Syrian Girl Rescued From Under the Ashes
21 February 2017 Text size A A A
A dramatic video has emerged from Syria, in which a little girl is rescued from under the ashes amid the fighting in the Damascus suburb of Tishreen.
In the video, the girl's mother is desperately seeking help from members of the civil defence, who eventually allocate the girl's whereabouts.
Defence members managed had to dig her out in order to rescue the girl who defied death, after she had her head buried under the debris of her destructed home.
https://english.alarabiya.net/en/variety/2017/02/21/WATCH-Syrian-girl-rescued-from-under-the-ashes-.html
------
70% Callers to Helpline for Muslim Women Are Men Seeking Info on Triple Talaq
Feb 22, 2017
An overwhelming number of callers at an all-India helpline for Muslim women are men, who seek clarification on divorce and property rights for women, counsellors have said.
The toll-free helpline was set up by All India Muslim Personal Law Board (AIMPLB) last year to clarify, guide and help distressed Muslim women on various aspects of the Sharia law, especially on the issue of triple Talaq, where men can divorce by simply stating their intention thrice.
Experienced regional counsellor's counsel and guide Muslim women in Urdu, English and eight regional languages.
"Out of every 10 calls I receive, 7 or 8 are from Muslim men. Two or three are from women. The frequently asked questions range from the proper process of talaq, property rights of women and others," Uzma Alam, joint secretary of All Bengal Muslim Women's Association, said.
"Since it is a helpline for women, we generally pass on our email id and ask them to mail their queries," she added.
Apart from different parts of West Bengal, calls from Bengali-speaking Muslims have also been pouring in from Delhi, Maharashtra, Uttar Pradesh, Hyderabad and other states too. Alam is the only person who takes calls by Bengali-speaking callers and counsels them.
Hindi and Urdu speaking Muslims from Uttar Pradesh, Karnataka, Delhi and other states have also been calling to seek guidance, Alam said.
Counsellors located in other parts of the country, who handle calls in Urdu and Hindi, too said that the majority of the callers are male.
"Sometimes there are a dozen calls in a day, sometimes fewer. But 70% plus calls come from men. Some want to know the procedure of second marriage, some want to talk about their sons and daughters. We try our best and help out," Yasmeen Farooqi told Hindustan Times from Jaipur.
Farooqi, a former government counsellor in a Jaipur family court for 12 years, is also the convener of AIMPLB's wing in Rajasthan.
"I think a large number of men who call lack proper understanding of religious laws. For instance, one of the men said that he has given talaq to his wife in a fit of anger and now wants to get her back. We even got calls from men saying that his wife is harassing him and he wants to know what is the way out," Alam, who is also the convener of Calcutta Muslim Orphanage, said.
Alam added that triple talaq is not the issue raised by women who call them.
"Women callers generally ask not only about talaq but a variety of issues including employment and education. There is also the issue of hijab as women wearing it are looked down upon in society in general," Alam said.
Farooqi also insisted that unemployment and education are bigger issues concerning women in Muslim society than talaq.
Syed Tanveer Nasreen, the head of the department of women's studies at Burdwan University, said if the majority of the calls are from men it points to the fact that Muslim women do not have the freedom to take decisions.
"If 70 % of the calls are from men, it shows that a large section of Muslim women can't even dare to make a telephone call and speak for themselves. Either they are queries from men and sometimes their brothers or father call up and do the talking," Nasreen said.
The Centre opposed the practice of triple talaq, 'nikah halala' and polygamy among Muslims in the Supreme Court last year and sought a relook on grounds like gender equality and secularism.
However, it was opposed by several Muslim organisations, including the AIMPLB, which stressed that "Sharia law cannot be changed". The board has been fighting tooth and nail against the Centre's bid to introduce uniform civil code and the matter is being heard in the Supreme Court.
"The divorce rate or talaq among Muslims is lower than that in Hindus. These are religious laws and the central government has nothing to do with it," Yasmeen said echoing the board's stand.
AIMPLB has been regularly holding workshops and seminars in different parts of the country, including West Bengal, to clarify Sharia law and 'triple talaq' issues among women.
http://www.hindustantimes.com/india-news/70-callers-to-helpline-for-muslim-women-are-men-seeking-info-on-triple-talaq/story-Val2NTxCJm3LD0uDj8lQdM.html
------
Manipur's First Muslim Woman Candidate to Work for Upliftment of Muslim Women
Feb 22, 2017
IMPHAL: Despite fatwa issued against her for contesting election, Manipur's first Muslim woman candidate Najima Bibi said she wants to continue her fight against domestic violence and work for uplift of Muslim women.
"I am not bothered about my life, but as long as I live I will continue my fight against domestic violence and in favour of social uplift of the Muslim women in the society. My life has been a struggle since childhood, I am not afraid of any threats," Najima Bibi told PTI.
Najima is a candidate of PRJA party of Irom Sharmila, and is contesting from Wabgai constituency.
Najima said she was attracted by Irom Sharmila's 16 year old fast against AFSPA and when she formed a political outfit, she decided to join her.
"Irom's fight has always fascinated and inspired me. Her relentless fight against all odds is an example of how strong a Manipuri woman can be. So when she decided to join politics I decided to stand shoulder to shoulder with her.
"If I become an MLA, I have policies and vision for education, women's issues, against AFSPA, for small scale employment generation and so many other things, which I want to use to help the society we live in," Najima said.
But her decision to join politics and contest elections has kicked off a storm as she's facing fatwa in her home constituency of Wabagai and religious leaders in Santhel Mamang Leikai, have publicly announced that Najima Bibi will be given no "kabar" or burial ground after her death. The people of the village are even discouraged to talk to her because of her political involvement.
"What is do in my lifetime is important, If I am able to work for the uplift of woman in my society, it would give me more peace. What will I do by knowing what is being done to me after my death," she said.
Najima said there are certain section of people with orthodox mentality who have always come in her way of work.
"When I used to travel on cycle to the meetings, people used to make fun of me. So when they made fun of me, I instead got encouraged. There is something special in what I am doing, which they can't handle, that is why they are making fun of me", she added.
Najima's journey has been relentless. She fought odds at every step and today she is the first ever Muslim woman to contest the Assembly elections in Manipur. From being the only girl in her class and the first girl in the family to complete her 10th standard amidst the taunts and harassment in the school, she has come a long way.
Najima was forced to get married as soon as she completed her class X. But she ran away from home and married a man she had only met twice and that turned out to be a disaster. Her husband was abusive and she walked out of the marriage in six months.
After her divorce, she realised the importance of self-reliance and economic independence for women. She initiated a programme for the local women, called 'cheng marup', a rice thrift fund.
"Everyday the women in the group would take out one handful of rice from the quantity to be cooked in their homes. These were collected and kept in my house, and twice a month, whoever's turn came, she would get the entire rice and she would sell it to earn some money. It was looked with suspicion by the Leikai people, as I was divorced and our saving was considered as theft, but we were determined to keep it running," she said.
Najima, who is in her forties, has been actively involved in helping women and advocating about women's' rights but it was an workshop on gender equality in 2001 that proved to be a turning point in her life.
"I decided to help everyone and anyone possible and she wanted to ensure that women don't face harassment, abandonment and violence," she said.
Najima currently runs a shelter home for destitute women.
"But in 2006, religious leaders issued fatwa against me and I was socially abandoned in the village, I was not allowed to take water from the community pond, not allowed to buy anything from village shops. So I am not used to it. It really don't make a difference. My only aim in life is work for the social empowerment of woman so that they don't face abuse," she said.
Najima is pitted against five other candidates in his constituency including Congress and BJP.
Najima is riding on her cycle everyday to meet people and campaign in her constituency.
"Whether I win or lose, I will continue my work and no one can stop me from doing that," she said.
http://timesofindia.indiatimes.com/elections/assembly-elections/manipur/news/manipurs-first-muslim-woman-candidate-to-work-for-uplift-of-muslim-women/articleshow/57289030.cms
------
Dubai Woman Abused Her Parents As She Wanted To Be Independent
February 22, 2017
Dubai: A woman in her 20s called up Al Ameen service claiming that she was being abused by her father but officials discovered that, in fact, it was she who had been subjecting her father to abuse.
Dubai Police said the woman, from a Gulf country, claimed that her father used to abuse her and her two sisters and had refused to hand over her passport so she could find a job, but during the inquiry, the father told the police that it was the daughter who had been abusing him and his wife, because they disapproved of her friends who had a bad influence on her. His daughter, the father added, was also in the habit of dating strangers.
Brigadier Dr Mohammad Al Murr, Director-General of the General Directorate of Human Rights at Dubai Police, said the woman had made false claims to Al Ameen service.
"She has had many problems and fights with her parents because they didn't like her behaviour as they are from a conservative family," said Brig Al Murr. "She abused her parents and insulted them; she even tried to beat her father," Brig Al Murr said.
The woman had even incited her two sisters against her parents, urging them to go out with strangers and live their own lives.
Colonel Abu Bakr Al Jasmi, Director of the Women and Child Protection section in Dubai Police, said they asked the father, a retired man, to resolve the issue and the father, after being told about her complaint, was shocked at her lies.
Colonel Al Jasmi said: "The father came to our department and said he was sad that his daughter had abused and insulted him. He said he had taken away her passport and as a result, she had called the police and resorted to lies."
The girl later confessed to the police that she did indeed want to leave her family and find a job. "She said she wants to be independent. She [also] said that she was dating strangers just to punish her family. She also admitted that she had goaded her two sisters, who are students, to leave the house and date strangers too to punish her parents," Colonel Al Jasmi added.
However, after intensive sessions with a social specialist, the girl apologised for her behaviour and the police managed to bring about reconciliation in the family.
"We told her that what she was doing is against our religion as children shouldn't be shouting at or insulting their parents. She promised to stop her aggressive behaviour and is going through counselling sessions."
Police are making regular visits to the family to make sure the issue does not recur.
http://gulfnews.com/news/uae/emergencies/dubai-woman-abused-her-parents-as-she-wanted-to-be-independent-1.1982692
------
Meet Three Determined Dubai Women Who Run Their House
Sana Altaf/Dubai
February 22, 2017
With their husbands fighting joblessness, these women have stood up to support their family
In the UAE, most expats come in search of better opportunities for themselves and their families.
And while in most expat households, either the husband or both husband and wife work, there are some cases where, owing to circumstances, the woman is left to fend for the family.
Khaleej Times brings you the story of three such brave and resolute Dubai women who are running their households with pride in the face of adversity.
When Saira got married 20 years ago, she could have never imagined her husband would abandon her, leaving her to fend for herself and their six daughters in a foreign country.
Life was simple but smooth for Saira until her husband lost his job in a real estate company a few years ago. Since then, the family has suffered tremendously due to financial constraints that followed the job-loss.
As time passed, things became more difficult in the absence of any stable income. Saira decided to support the family in whatever way possible. She tried starting a catering business from home.
"I don't get too many orders for catering. So I also started with henna services to add to my income," Saira told Khaleej Times.
Her earnings, however, do not meet the demands of the family of eight. Her husband's joblessness and unending financial issues gave way to conflict between the couple.
"We had an argument recently after which my husband left home without saying anything. I have no one to take care of my daughters and me. I don't know where my husband has gone."
She and her husband are from Pakistan but have been living in the UAE for decades now.
Saira hasn't heard from her husband for over a month now. She has tried calling him and tracing him, but in vain.
Now, she is left alone to support her six teenage daughters in Dubai.
"My children have had to take breaks from school time and again. I was able to get discounts for the education of two of my daughters," Saira says.
But despite all the difficulties, Saira is determined to let her daughters continue education.
"I will do anything to support their education. I won't let them suffer in life further."
Similar is the story of Ishrat's struggle, which began when her husband lost his job a year back. Hailing from India, she has been living with her husband in the UAE for 12 years.
"My husband had been working in Dubai for 15 years before he lost his job," Ishrat told Khaleej Times.
The couple has three school-going children. They have been facing tough time paying the bills and rent besides the fee of their children.
While her husband tries hard to find himself a job, Ishrat boldly took the family responsibility on herself.
"I began home delivery of rice and flour. Besides, I sell jewellery, which I get from my friends. They pay me commission as per sale."
"But paying rent and school fees get really difficult. Our landlord increased the rent by Dh10,000 annually this year," she says.
Ishrat, however, says she's determined to support her family as long as she can.
Then there's Amira, whose husband survived a fatal road accident in 2016. After three months of recovery, Amira's husband was terminated from the job. Over the past year, the family has struggled to meet their daily expenses.
"My husband had a miraculous survival. It took him months to get out of the bed. But just few days after he joined, he was terminated," Amira told Khaleej Times.
The family has been taking loans to pay the school fee of their son and clear the bills.
"I am trying to support the family. I sell clothes to my friends to get some money and do some tailoring. But it only helps us to feed ourselves." Even as Amira is a Pakistani national, she has been born and brought up in the UAE.
"We cannot even go back to our country because we had taken some loans here which we need to clear."
Amira says she is considering withdrawing her son from the current school as they are unable to pay the fee.
"I have been taking loans from people to pay his fee. But now I think we will have to send him to another school with less fee."
Whatever it may take, she says, she will ensure that her son's education continues.
There are many such brave women in Dubai who have been doing more than their fair share of work to ensure a better future for their families.
Their stories may be different, their circumstances may differ, but what connects them is their unwavering determination and resolve to achieve the best possible life for their children and families.
(Names have been changed on request)
http://www.khaleejtimes.com/nation/dubai/meet-three-determined-dubai-women-who-run-their-house
------
URL: https://www.newageislam.com/islam,-women-and-feminism/new-age-islam-news-bureau/triple-talaq--india-s-battle-against-three-words-that-grant-instant-divorce/d/110168
New Age Islam, Islam Online, Islamic Website, African Muslim News, Arab World News, South Asia News, Indian Muslim News, World Muslim News, Women in Islam, Islamic Feminism, Arab Women, Women In Arab, Islamophobia in America, Muslim Women in West, Islam Women and Feminism