New Age Islam News Bureau
1 Nov 2017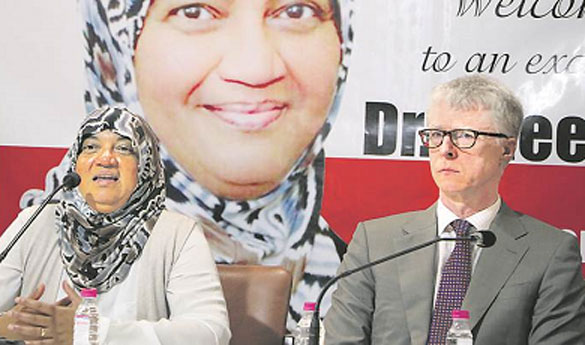 Photo: Dr Sheema Khan with Christopher Gibbins, Consul general, Canadian High Commission, Chandigarh during interaction at Chandigarh Press club in Sector 27 of Chandigarh on Tuesday. (Express Photo by Kamleshwar Singh)
-------
• Pakistan: Woman stripped, paraded in village for brother's affair; 7 held
• Three women held for 'links with banned outfits' in Chaman
• Missing girl,8, found murdered
• Yemeni woman resolves long bloody conflict between two tribes
• Female Saudi Shoura member asks big football clubs for women-only teams
• Safe haven turned into nightmare for Somali woman
• Women honoured for helping lost schoolgirls
• Iran: Women and men arrested for activities on social networks
Compiled by New Age Islam News Bureau
URL: https://www.newageislam.com/islam-women-feminism/triple-talaq-horrible-practice-leaves/d/113092
--------
Triple talaq horrible practice, leaves women helpless: Canadian activist
November 1, 2017
CONSULATE GENERAL of Canada, in association with the Chandigarh Press Club, organised a press conference at Sector 27 here on Tuesday. It was addressed by Dr Sheema Khan on Women's Rights in a Contested Age. Excerpts from an interview with her.
What are you views on triple talaq?
I feel an exellent decision has been taken by Indian women in this context. People have started challenging old rituals and customs. First challenge for any problem is to raise one's voice. They have accepted it. They are raising their voice, fighting against injustice. Triple talaq is such a horrible practice that leaves women helpless and with no options.
You have written Hockey and Hijab. What is it about?
It is a compilation of many columns, covering a wide range of topics from passion for hockey to a woman's right to wear hijab while playing soccer. Canada is a multicultural land which welcomes all ethinicities from all over the world. You will find Muslims, Sikhs, Christians here. I have written in these columns about security, civil issues, terrorism, discrimination, multiculturalism and Islamic culture. It speaks of individuality, independence, integrity.
What are your views on hijab and naqab?
While studying at Harvard, I embarked on a spiritual quest which strenghthened my devotion to Islam. I began to wear the hijab (headscarf) after much research and reflection. In my opinion, wearing and not wearing of hijab is a personal choice that should be respected.
Crimes against women like domestic violence, honour killing, molestation, rape are not Indian but a global issue. What is your opinion?
Yes, this is an issue prevailing among all communities, all religions everywhere. Hatred is hatred, be it anywhere. Killing a girl child is wrong. People are changing, a big change takes time. I am optimistic regarding this change. Women are fighting against violence today.
What are Muslim-specific issues and your views on Islamophobia?
People are sometimes afraid to speak about issues in public. They hesitate to express on Muslim-related issues, may be due to the fear of their opinions being rejected. I feel all forms of systematic racism and religious discrimination lead to Islamophobia.
In Chandigarh, a woman was recently molested by two men while driving alone at night. Do you think women should walk alone at night?
This is one of the biggest problems of our society – shifting all responsibilty to her. It is not the responsibility of women to pay the price for men's deeds. I take here the reference of the Delhi girl, who was brutally raped on a bus five years ago. I feel focus should be shifted from women to men as well. Man is not right in attacking a woman. He should not harass her on seeing her alone or helpless. Women should be respected.
http://indianexpress.com/article/chandigarh/triple-talaq-horrible-practice-leaves-women-helpless-canadian-activist-4916456/
--------
Pakistan: Woman stripped, paraded in village for brother's affair; 7 held
Nov 1, 2017
Khyber-Pakhtunkhwa: Police in Pakistan have arrested seven men for parading a young woman through a village naked in connection with a dispute over family honour.
Police officer Mohammad Basharat Khan said Tuesday that the woman's brother had an affair with a young woman from the suspects' family.
He says they forced the young woman from the rival family to strip down before parading her through the village in northwestern Pakistan last week.
He says the two main suspects are still at large.
Family honour is a sensitive issue in Muslim-majority Pakistan, where nearly 1,000 women are killed by their relatives each year for violating conservative norms on love and marriage.
http://www.asianage.com/world/south-asia/011117/pakistan-woman-stripped-paraded-in-village-for-brothers-affair-7-held.html
--------
Three women held for 'links with banned outfits' in Chaman
November 01, 2017
QUETTA: Law enforcement agencies have taken three women into custody for allegedly having links with banned Baloch militant organisations.
A spokesman for the Balochistan government said in a statement, issued here on Tuesday, that the three women had been arrested in Chaman. He claimed that they had illegally crossed into Pakistan from Afghanistan.
The spokesman said the women had been arrested by Frontier Corps personnel as they entered Pakistan on Monday. He said initial investigation disclosed that the women had links with banned militant organisations.
He did not disclose the identity of the three women, saying that their identity would be announced after the investigation.
Meanwhile, the Baloch Human Rights Organisation (BHRO) has alleged that security forces have arrested the wife and children of Dr Allah Nazar, chief of the banned Balochistan Liberation Front and relatives of another militant leader Aslam Baloch.
Activists of the BHRO staged a protest rally outside the Quetta Press Club on Tuesday in which women also participated. They demanded immediate release of the women.
They said the women should be produced before a court of law if there was any case registered against them. They appealed to national and international human rights organisations to take notice of the incident and play their due role for immediate release of the women.
https://www.dawn.com/news/1367582/three-women-held-for-links-with-banned-outfits-in-chaman
--------
Missing girl,8, found murdered
November 01, 2017
LAHORE - A missing girl was found dead from alongside a road near Jinnah Hospital on Tuesday, police said.
The victim was identified as eight-year-old Phool, daughter of rickshaw driver Rahmat Ali from Syedpur.
Rahmat told the police that his daughter was playing in the street when she went missing a couple of days ago. Some passersby spotted her body alongside a busy road in the Garden Town police precincts Tuesday morning. Police reached the spot and shifted the body to morgue for autopsy.
The police filed a case last night on the complaint of aggrieved father against unidentified persons but no arrest was made till filing of this report. They say they are investigation the matter
According to the complainant, unidentified men abducted his daughter from the street and fled after throwing her body on the road. The police were treating the death as homicide.
Also in Harbanspura police precincts, an unidentified body was founded and the cops called the dead a 'drug addict'. The body was spotted on a footpath near Laal Pull. The police say they were investigating the death.
http://nation.com.pk/01-Nov-2017/missing-girl-8-found-murdered
--------
Yemeni woman resolves long bloody conflict between two tribes
31 October 2017
A Yemeni activist succeeded in resolving a blood feud between two tribes that lasted 11 years that left more than 60 people dead and 130 injured, including women and children.
The feud was ongoing despite the interference of the government, the locals, tribal and social contacts.
"This ongoing bloodbath forced me to act even though I am a woman and in a conservative society," says Sumaya Ahmed al-Hussam, who ended a long conflict between the tribes of Bani Badr and Beit al-Qaidi in her province of Hajjah, north-west of Yemen.
Sumaya al-Hussam interfered to resolve the conflict over a plot of land that resulted in a series of revenge killings of 60 tribesmen and more than 130 wounded, including children, women and youth in 2012.
The failure of all previous mediation efforts is attributed to not resolving the roots of the problem.
Sumaya al-Hussam began implementing her plan of action following field investigations in the conflict area to find out about the causes and perspectives of the conflicting tribes to reach a resolution.
She was able to involve all concerned parties to reach a peace agreement that stopped the conflict and brought life back to normal in the region.
Sumaya, who participated in The National Dialogue Conference (NDC) in 2013, has taken the initiative "A step towards lasting peace as seen by a woman" and as a result has been nominated to compete in the "Queen of Social Responsibility Program" for 2017.
The program brings together participants from across the Arab world in order to find women's initiatives aimed at serving civil society.
Through this initiative, Sumaya says she seeks to make "the dream a reality even on a small scale in my great country."
https://english.alarabiya.net/en/features/2017/10/31/Yemeni-woman-resolves-long-bloody-conflict-between-two-tribes-.html
--------
Female Saudi Shoura member asks big football clubs for women-only teams
31 October 2017
RIYADH: Big football clubs such as Al-Hilal, Al-Nassr, Al-Ittihad and Al-Ahli have been urged to set up women-only football teams by a human rights activist who is requesting the establishment of professional sports clubs for women, Al Hayat Newspaper reported.
Iqbal Dandari, a member of the Committee for Human Rights at the Shoura Council, also requested allocating days for women to exercise at major sports clubs after establishing appropriate standards that enforce a modest dress code and take women's privacy into account.
Dandari hailed the landmark decision allowing women to enter sports stadiums and said it would encourage Saudi women to practice professional sports like their peers around the world.
Sami Zaidan, another member of the Shoura Council, described the decision as a good and timely move. "As for women's dress code at football games, I trust Saudi women are modest wherever they go," he added.
http://www.arabnews.com/node/1186451/saudi-arabia
--------
Safe haven turned into nightmare for Somali woman
31.10.2017
The memory comes back to her with certain smells. The smell of fire. The smell of sweat. Fardowso begins to tremble because she cannot forget what those men have done to her.
Fardowso means heaven - it's not her real name. It is the name she has chosen to stay anonymous.
"They took everything away from me. My husband. My body. My dignity. My home", she whispers with tears in his eyes.
When memories overwhelm her she feels like screaming, but she presses her hands over her mouth instead, because she does not want to frighten her four children. The oldest is ten years old, the youngest eight months. Fardowso is raising her two boys and two girls alone.
'They shot my husband'
"At home there were many fights over land and pasture because of the drought. There was a gunfight between my clan and another clan. They shot my husband and burned down our village," she says. The flames devoured everything. The new widow had no choice but to flee with her children.
Violence between rival clans in Somalia is part of everyday life and has been ongoing for decades. Many men carry weapons. In times of drought when animals die and resources are scarce, armed conflicts increase.
Fardowso comes from an area controlled by al-Shabab extremists. The radical Islamists have banned aid agencies from helping people. There are currently over six million people in need of humanitarian assistance in Somalia - about half of the population. Asked whether she will ever return home, Fardowso, fully veiled, answers the question with a loud and adamant "no, impossible!"
After the attack on her village she ran for her life and took her children to Mogadishu. They walked for days under the cover darkness and eventually reached one of the overcrowded refugee camps on the outskirts of the capital.
After nearly three decades of conflict and recurring droughts, Mogadishu is home to many thousands of internally displaced people. Countrywide there are more than one million Somalis who have become refugees within the borders of their own country. Many might never return home like Fardowso.
Raped where she was supposed to feel safe
Haltingly, she recalls the night of her attack. Fardowso had managed to build a small round hut with branches, plastic sheeting, metal scraps and old fabric as is common in most of the camps. The huts are tightly squeezed next to each other, there is no privacy.
Fardowso was half asleep and bundled next to her children as night was falling. Suddenly at least two men pulled her halfway out of her hut, she says. They took turns raping her.
"As they did this to me, I screamed for help. The men then threatened me with knives and cut me. I resisted, but no one came to help me," she says. "They just carried on."
Fardowso bares her back and shows the scars of the injuries her rapists inflicted on her with their knives. She says she does not know whether the perpetrators were militiamen or police or maybe refugees like herself.
'Everybody is afraid'
After the men left her, bleeding, Fardowso crawled back into her hut to calm her terrified children. Why did nobody help her?
"At night everybody just hides in their huts, because everybody is afraid. Nobody wants to get into any more trouble," she concludes.
The next morning she took her children to a different camp where she happened to come across female social workers from the Somali Red Crescent Society. Still in visible pain, they took her to a nearby clinic of the International Committee of the Red Cross where her wounds were treated. Fardowso was then able to wash herself.
After confiding in a female doctor, she was given a pill to prevent pregnancy and antiretroviral drugs to protect her from HIV/AIDS. She was also offered psychosocial support to talk "about what had happened" - Fardowso never uses the word rape.
At first she refused because talking about sex and sexual violence is a taboo in Muslim majority Somali society. Now she has become a regular visitor of the little clinic and enjoys the comfort of other women.
"I want to continue to live alone with my children. I don't want to be with a man anymore. I will cook for other people and do their laundry to earn money. My eldest son now visits a traditional Quranic school. They reduced the costs from five dollars to three because I am a widow," she says.
Culture of impunity
No police. No law enforcement. No justice. Fardowso cannot expect any help from shattered Somali state institutions. Somalia has plunged into deep misery and hasn't had a stable government since long time dictator Siad Barre was ousted from power in 1991. There is now a substantial international effort under way to rebuild federal state structures, but most resources go into fighting the resilient Islamist insurgency led by al-Shabab which controls significant swathes of territory.
There is a severe lack of institutions that protect women and children. Corruption is endemic. There are no reliable statistics on sexual violence against women and children, either.
The United Nations Children's Fund (UNICEF) has recorded more than 900 cases in the areas where the organization is free to work for the month of June 2017 alone. The figures are most likely much higher as only very few women dare to speak up.
Many of the areas where fighters use sexual violence against women as a weapon of war are not accessible for humanitarian workers. A study by the human rights organization Human Rights Watch (HRW) from 2014 notes that most Somali men do not regard rape as a crime but as "something normal between men and women."
Somali society is dominated by men; female genital mutilation is widespread.
There is a rampant culture of impunity. HRW has documented the case of a woman who sought help at a police station in Mogadishu where she was raped again. Somali soldiers and troops of the African Union who are in the country to protect the population have also repeatedly been accused of sexual violence and rape.
The United Nations in 2012 documented at least 1700 rape cases in the refugee camps in Mogadishu. In 70 per cent of these cases the rapist wore a uniform.
http://www.dw.com/en/safe-haven-turned-into-nightmare-for-somali-woman/a-41169715
--------
Women honoured for helping lost schoolgirls
October 31, 2017
Emirati women saw the two young children crossing a busy public road
The Ras Al Khaimah Police have honoured an Emirati mother and her daughter for helping two Pakistani girls who lost their way back home from school.
Brigadier Hassan Ibrahim, deputy director of the central operations, RAK Police, said the Emirati women - who found the two little girls, six and four years old, crossing a busy public road exposing themselves to danger - rushed to help them.
He added: "The two girls, students of an Asian school, were residents of Dafan Muairidh area in the emirate. Their father used to pick them up from school every day. That day the father could not reach the school on time and the children thought it would be easy for them to walk home."
Asma Al Mansuri, 31-year-old Emirati woman from Al Rams area, said she was heading to a car servicing centre along with her mother when they noticed the two girls in school uniform. "We were so worried about them walking alone on the road under the sweltering temperatures at the noon time, and stopped to help them."
The panicked father was searching for his little girls everywhere and filed a missing report with the police. The police consoled the worried man and said his two girls had been found safe.
Later, he received his 'lost kids' from police custody.
https://www.khaleejtimes.com/nation/women-honoured-for-helping-lost-schoolgirls-rak
--------
Iran: Women and men arrested for activities on social networks
31 October 2017
A number of social network activists working on the Telegram were arrested in the Iranian capital, after being surveilled by Tehran's Cyber Police.
"The main people accused of having activities on several social networks, mostly on Telegram, were identified and arrested upon a judicial order. They had attempted to recruit people for insulting the sanctities and included several women and men administrating Telegram channels," said Heidar Fattahi, the Prosecutor of Pardis. (The state-run Mizan website – October 28, 2017)
http://www.women.ncr-iran.org/iran-women-news/4451-iran-women-and-men-arrested-for-activities-on-social-networks
--------
URL: https://www.newageislam.com/islam-women-feminism/triple-talaq-horrible-practice-leaves/d/113092
New Age Islam, Islam Online, Islamic Website, African Muslim News, Arab World News, South Asia News, Indian Muslim News, World Muslim News, Women in Islam, Islamic Feminism, Arab Women, Women In Arab, Islamophobia in America, Muslim Women in West, Islam Women and Feminism