New Age Islam News Bureau
21 January 2023
• Saudi Women's National Football Team Wins Its First-Ever International Tournament
• At Least 50 Women Abducted In Burkina Faso Are Found: Media
• India Open: Head Covered or Not, Indonesian Women United In Their Passion and Craze for Badminton
• Tehran Hosts First International Congress for Women of Influence
• Deputy Speaker of Shura Council Highlights Pioneering Role of Qatari Women in Development Fields
• UNESCO Dedicates International Day of Education 2023 to Afghan Girls, Women
Compiled by New Age Islam News Bureau
URL: https://newageislam.com/islam-women-feminism/transgenders-flydubai-gender-zehrish/d/128936
--------
Transgenders Shahzadi Rai and Zehrish Stopped From Boarding Flydubai Due to 'X' Gender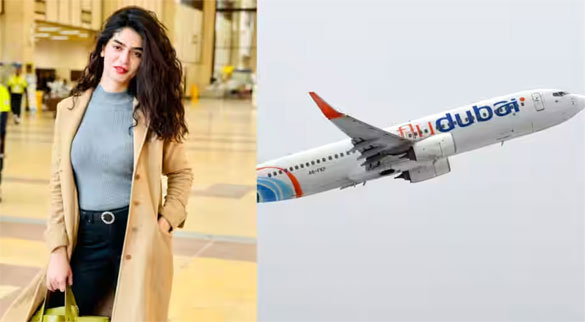 Photograph :( Twitter)
----
Shazia Hasan
January 21, 2023
KARACHI: Two transgender rights activists were denied flying by a foreign airline due to their 'x' gender on Friday.
Shahzadi Rai and Zehrish, the two transgender rights activists at the Gender Interactive Alliance, got their air tickets cancelled by Flydubai when they were about to take the flight to Kathmandu via the United Arab Emirates for their annual meeting there.
Soon after, Shahzadi Rai took to social media to highlight the issue, which took place at Karachi Airport.
"Transgender persons are part of the mainstream in other countries but Flydubai don't allow x-gender cards for travelling, which is transphobic behaviour by the airline. If they don't allow travel on their planes then why even issue us tickets," Shahzadi questioned while sharing her ticket issued by the airline.
"Shame on Flydubai for not letting khwaja siras fly on their airlines," said another transgender who goes by the Twitter handle of @sanakhusri.
Yet another transgender activist, Hina Baloch who goes by the handle of @surkhina on Twitter said: "Today ShahzadiRai was barred from boarding flydubai flight KHI-DXB-KTM. This is hijraphobia and we urge the Pakistan Foreign Office to look into this matter ASAP."
It was only an hour before the incident where the transgender activists' tickets were cancelled that Shahzadi Rai had posted a happy photo of herself at the airport with the caption: 'The goal is to die with memories, not dreams.' Sadly this dream of travelling by air turned into a bad memory.
The airline in question, Flydubai, did not make any statement to the media regarding the incident until going to print.
Source: Dawn
https://www.dawn.com/news/1732733/two-transgenders-stopped-from-boarding-flight-due-to-x-gender
--------
Saudi Women's National Football Team Wins Its First-Ever International Tournament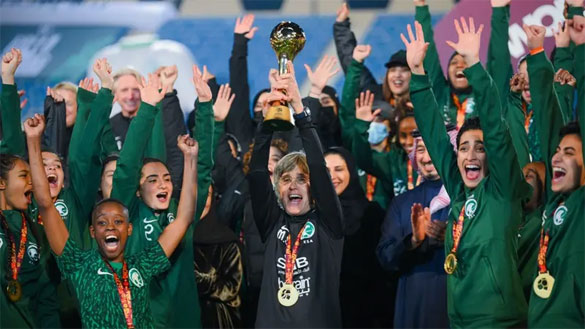 Saudi Arabia recorded a 1-1 draw in its final match of the tournament against Pakistan on Thursday night to top the Women's International Friendly Tournament table with 7 points. (Supplied)
-----
20 January, 2023
Saudi Arabia women's national football team has won its first-ever trophy after claiming victory in a four-team tournament held in the Kingdom featuring the hosts, Pakistan, Mauritius, and Comoros.
Saudi Arabia recorded a 1-1 draw in its final match of the tournament against Pakistan on Thursday night to top the Women's International Friendly Tournament table with 7 points.
Saudi Arabia opened the scoreline through Al Bandary Mubarak's first half strike. The result came after wins against Mauritius 1-0, through Mariam Al Tamimi's goal from the penalty spot, and Comoros 2-0, following goals from Noura Ibrahim and Dalia Adel. Pakistan finished second in the table with 4 points, with Comoros and Mauritius following with 3 points respectively.
Individually it was a success for Saudi Arabia too, with Sarah Khalid winning best goalkeeper of the tournament having conceded just one goal. Meanwhile, Pakistan's Maria Jamila Khan claimed the best player award, with Comoros' Onalaya Ali receiving the top scorer award.
In addition to the success of the national team players, the tournament was also a cause for celebration with Anoud al-Asmari officiating her first match as an official FIFA referee.
Al-Asmari, appointed to the FIFA list at the beginning of 2023, is the first Saudi woman referee to be awarded a prestigious FIFA badge.
Thursday's milestone moment marks another chapter in the transformation of the women's game in Saudi Arabia.
It was the first time a women's 11-a-side international tournament had been hosted in the country, with all matches held at the Prince Saud bin Jalawi Stadium in the Eastern Province.
Lamia Bahaian, supervisor of the Women's Football Department and board member at the Saudi Arabian Football Federation, said: "This is a momentous day in Saudi Arabian football, and we congratulate the talented players in the women's national team, as well as all the management, coaching and staff members, on this wonderful achievement. We are all very proud."
"Winning this tournament will inspire many young girls across the Kingdom to become involved in football and experience all the joys that the beautiful game offers."
"We thank each of Comoros, Pakistan, and Mauritius for coming to Saudi Arabia to participate in the tournament, wish them the best of luck in their own women's football development initiatives, and look forward to facing them on the field again in the future."
Monika Staab, the Saudi Arabia Head Coach, said: "Winning this tournament is an important milestone in Saudi Arabian football and will give the players huge confidence as they progress their national team careers. I am delighted with the players and how they performed over the past three games triumph – it provides a huge springboard for future success."
"It is a success that very much constitutes inspiration for young girls across every corner of Saudi Arabia as well as the other talented, young players in the Premier League who aspire to play international football."
Significant advancements have been made since the establishment of a dedicated women's football department at the Saudi Arabian Football Federation four years ago in 2019.
There are now 520 registered players, over 1,000 D, C and B-licensed coaches, 25 clubs and almost 50,000 girls in the inaugural schools' league.
This progress comes from a long-term strategy launched last year by the federation to grow interest and participation at all levels of the women's game, with investments in grassroots, player development, coaching, facilities, competitions and governance.
Saudi Arabia has been making a name for itself on the international footballing stage. As the number one sport in Saudi Arabia, football has continued to gain prominence and momentum in recent years especially following the recent victory for the national team over Argentina in the FIFA World Cup Qatar 2022, with the entire squad based in Saudi Arabia.
This month also saw Portuguese footballer and five-time Ballon D'or winner Cristiano Ronaldo arrive in Saudi Arabia after his historic signing with the al-Nassr Football Club.
Source: Al Arabiya
https://english.alarabiya.net/News/saudi-arabia/2023/01/20/Saudi-women-s-national-football-team-wins-its-first-ever-international-tournament
--------
At least 50 women abducted in Burkina Faso are found: Media
Aurore Bonny
21.01.2023
DOUALA, Cameroon
About 50 women recently abducted in northern Burkina Faso by suspected terrorists have been found, local sources reported Friday.
"The women abducted on the night of 12-13 January 2023 in Arbinda by terrorists have been found," the National News Agency said, citing "reliable sources" without disclosing further details.
Armed terrorist groups took women and girls who were in search of wild fruit, according to Governor of the Sahel region Rodolphe Sorgho.
In the aftermath of the abduction, the prosecutor of the northern region of Djibo, Issouf Ouedraogo, reported that girls and newborn babies were among those taken.
The Burkinabe Movement for Human and People's Rights and others reported at least 61 women were abducted, including at least 26 under the age of 18.
Burkinabe authorities have announced the opening of an investigation.
Burkina Faso residents have suffered insecurity due to terror attacks since 2015. Thousands of schools have been closed, thousands killed and millions more have fled the violence.
The country is in transition after two coups, caused by the pretext of growing and uncontrolled insecurity.
Source: Anadolu Agency
https://www.aa.com.tr/en/africa/at-least-50-women-abducted-in-burkina-faso-are-found-media/2793356
--------
India Open: Head covered or not, Indonesian women united in their passion and craze for badminton
by Shivani Naik
January 20, 2023
When Ismalinda Eriza walked into the KD Jadhav Hall for the match featuring Kevin Sanjaya Sukamuljo and Marcus Gideon – known around the world by their nickname, Minions – she expected at best 20 fellow Indonesian women to screech their hearts out in support. She couldn't believe her ears when a stadium full of Indians, starting with a group of young outstation fans in Delhi for the badminton, adopted the Minions for the next 50-odd minutes, lending raucous support against a Chinese pairing, willing them onto a win almost from the jaws of defeat.
"I got goosebumps looking around and seeing all Indians get behind our boys, because they are loved so much. This was a special match," Ismalinda said, almost tearing up and grateful for making the Indira Gandhi Sports Complex feel almost like Indonesia's iconic Istora Senayan stadium of her teens.
"Maybe it's because of Susi Susanti, who won gold for Indonesia at the 1992 Barcelona Olympics, and led in so many Uber Cups. But even as a child, I remember going to stadiums and women in head-scarves coming and cheering in large numbers," she says of a legend and a sport that Indonesians adore more than anything else.
"I like it. It's our sport. We are really free in Indonesia, there's gender equality and no one ever stopped us from watching or playing badminton. Everyone plays, like in the park or anywhere, you don't need a field," she says, adding that watching football can get forbidding at times, with a skewed male ratio in stands, "like anywhere else." But badminton stadiums are where everyone joins in the revelry, the women in equal or bigger numbers.
This whole week, Indonesian women in Delhi – partners of diplomats and business executives, students at Delhi University and Jawaharlal Nehru University and the Indian Institute of Technology, and from Chandigarh – have come wielding the inflatable clappers, tiny flags and just letting loose their famous cold-piercing vocal chords, whenever the Indonesians are in action.
Headscarves in sports arenas has been an emotive issue, especially after Iranian chess players refused to don them, signalling their protest for more individual rights. "In Indonesia, it's a matter of individual choice," says Nova, who says the religion of athletes and fans, and dress codes never interfered with sport. "Some athletes compete with headscarves, like a world champion in wall-climbing, archery and equestrian. Some play without, and same for supporters too. No problem," she says.
But where there's badminton, what's certain is a large group of women – toddlers in tow – parking themselves in seats behind their favourites, to create one right din. For a few years now, the quiet and courteous Jonatan Christie 'Jojo' has been a particular favourite.
They reel off reasons.
"Jojo's now World No. 4,"
"Jojo keeps a low profile, and handles fame calmly."
"Jojo's handsome!"
"Name's Jojo, Jonatan Christie," Wiwi, 27, says, like he's next in line to Daniel Craig.
Pride and identity
Nova grew up in Jakarta and said nothing gave Indonesia the sort of global acclaim and respect that badminton consistently does. "Any part of the world, we feel proud to be Indonesians," she says, adding that they almost feel as if they are walking two feet above ground in a badminton stadium. "It's one of our best sports and that's why it has fanatical support from men and women." She remembers Taufik Hidayat's 2004 Olympic title as the zenith of her teen-following of the sport.
"This Indian crowd reminded me of then. But it was the first time I was hearing neutrals support our players – Jojo, Anthony Ginting and Minions with the same noise like we are used to back home. We didn't expect them to clap together with us, and yell out names of our players. It felt very emotional," she says.
Indian chants tend to be simple – and very loud and persistent – repetitions of players' names. With Indian names drying up by Friday, and given the rare opportunity to watch global stars they only see on TV and internet streams right in front of them, Indian crowds have built up a vibe that every foreign name acknowledges in their media interactions.
Entirely non-partisan, every good stroke gets equal applause. And if a player happens to be trailing wretchedly on court, the universally star-struck Indian crowd takes it upon themselves to prop up the lagging player's confidence. Should the score line change, they'll get behind the opponent. But no player complains. It's during one of these tight games against the Chinese when the Minions found support in the Indian crowd that Nova and her friend Indri from the embassy made friends with Indians.
Waiting for their women's singles player Mariska Tunjung, and Ginting to take the court, the group of Indonesian ladies would hope their players gave them a reason to keep coming to the stadium till Sunday. "Wherever we are posted, if there's a badminton tournament, we circulate printouts of schedules, mark our players, get tickets and then the week revolves around our matches," Ismalinda says of a ritual followed by spouses of diplomats across the world.
She reckons badminton and sport gives Indonesians an identity, threads of which they can pick up anywhere in the world. "When people hear Indonesia, they say – 'Oh! Badminton!' That's our favourite way of being recognised. I'm a Muslim, but I don't have my head covered, but Wiwi here covers it. Those are individual choices. Badminton though is in the blood of every Indonesian," Ismalinda adds.
Source: Indian Express
https://indianexpress.com/article/sports/badminton/jojo-ginting-minions-their-biggest-loudest-support-is-the-female-fans-indonesia-8394668/
--------
Tehran hosts First International Congress for Women of Influence
January 20, 2023
'Women of influence' showcase achievements
An exhibition showcasing the achievements of successful Iranian women was held on Friday on the sidelines of the First International Congress for Women of Influence.
In this exhibition, the achievements of Iranian women entrepreneurs in various fields such as electricity and electronics, medical equipment, technology, innovation centers, and home businesses were on display.
In this regard, 900 female CEOs of knowledge-based companies have been identified, 100 of them were selected as the best in the field of science and technology, and finally, the top 50 participated in this exhibition, ISNA reported.
Guests from 28 countries, including Sri Lanka, Australia, Japan, China, Thailand, Pakistan, Cameroon, Serbia, Bosnia and Herzegovina, Sweden, Austria, Kazakhstan, and Canada visited the exhibition.
It should be noted that the congress for women of influence was held for the first time this year at both national and international levels. Its national level was held on Tuesday, January 17, and its international level was held on Friday, January 20.
The event aimed to appreciate women of influence, support and help them grow, and promote their creativity and ideas.
Women in various sectors, including science, research, innovation, economy, healthcare, art, photography, painting, society and environment, law, and media participated in the congress.
Valuable experiences
Addressing the congress on Thursday, President Ebrahim Raisi said: "I hope that the women present in this meeting will be able to use the valuable experiences that the Islamic Republic of Iran gained after the Islamic Revolution in the field of women's rights and attention to women in society."
Fortunately, more than 30 percent of university professors, more than 34 percent of experts in the field of medicine and healthcare, almost 60 percent of the capacity of scientific and academic centers, as well as 30 percent of managerial positions belong to women in the country, Raisi added.
Also, the number of Iranian women who gain championships in various domestic and international sports fields is more than ever, he noted.
The president also pointed to the influential role of Iranian women in the economy and entrepreneurship, saying: "We believe that women can be effective in various scientific, economic, political, cultural, social and sports fields alongside men."
Referring to the fact that despite claims, women's rights are violated in many cases in Western countries, Raisi said that according to the statistics, many women are killed by the police in these countries every year just for the crime of demanding their rights.
"The reason why today the Islamic Republic of Iran is angered by these countries is because it has presented a new way of life by preserving the principles and values of the women of the society who have been able to reach high cultural, political, social and sports peaks."
In the Islamic Republic of Iran, we have always emphasized in the laws and regulations related to women that the protection of women's rights and the issue of family formation should be given special attention, he stressed.
Decadent Western culture
The Leader of the Islamic Revolution, Ayatollah Seyed Ali Khamenei, met with a group of prominent Iranian women on January 4, castigating the "decadent Western culture" and its crimes against women.
"On the issue of women, our stance towards the hypocritical Western claimants is a position of demand, not the defense. There was a time many years ago, when a number of students at a university asked me, 'What do you have to say for yourself in defense of such and such a case?' I told them, 'I don't have a defense. I have an attack.' That is how it is with the issue of women. The world is to blame. When I say 'the world' I mean the Western world, Western philosophy, and the existing Western culture. Of course, [what I am talking about] is the modernized West. I am not concerned about the historical West."
Ayatollah Khamenei then pointed to Islam's view toward women. He said, "Unlike the deeply patriarchal Western capitalist system, in Islam, both men and women are prominent and have legal, intellectual, theoretical, and practical privileges. But the Westerners untruthfully attribute their inherent patriarchy to Islam."
Plans to empower women
The National Headquarters for Women and Family Affairs has approved six plans to support families and empower women and improve their status in society.
The formation of a loan guarantee fund for women heads of households was one of the plans of the National Headquarters for Women and Family Affairs.
Due to the fact that many female breadwinners could not use business loans due to the lack of a guarantor, the fund was established to help them.
According to official statistics, there are 3.5 million female heads of households, but according to unofficial statistics, the figure reaches more than 6 million.
A plan is entitled 'Upgrading the structure of the vice president and advisors related to the vice presidency for women and families.'
The national budget bill for the next Iranian calendar year 1402, which starts on March 21, has increased the budget for women's affairs by over 50 percent compared to the current year's budget.
Some 580 billion rials (about $1.5 million) have been proposed by the budget bill for the next year compared with 320 billion rials (about $800,000) for the current year.
Source: Tehran Times
https://www.tehrantimes.com/news/481040/Tehran-hosts-First-International-Congress-for-Women-of-Influence
--------
Deputy Speaker of Shura Council highlights pioneering role of Qatari women in development fields
JANUARY 21, 2023
HE Deputy Speaker of the Shura Council Dr. Hamda bint Hassan Al Sulaiti affirmed the pioneering role of Qatari women in the fields of development and their pioneering contribution to the country's achievements at various levels.
In a speech during her participation in the "First International Congress on Influential Women", which was held in the Iranian capital of Tehran, Her Excellency said that Qatari women have assumed pioneering roles and important positions during which they made great achievements for the country.
In the context of her speech, Her Excellency noted the pioneering role of Her Highness Sheikha Moza bint Nasser locally, regionally and globally, and her many initiatives in humanitarian work in the fields of education and health.
Her Excellency recalled the struggle of Palestinian women for nearly a century and their prominent role in the steadfastness of their children in the face of the occupation, noting the work presented by the journalist, Shireen Abu Akleh, in order to convey the truth to the entire world.
HE Deputy Speaker of the Shura Council touched on the skills, capabilities and qualities that distinguish influential women, indicating that among these qualities are possessing leadership capabilities, insightful vision, the wide culture and the ability to stimulate, and the constant focus on goals.
Her Excellency emphasised that Islam preceded all civilizations in honouring women and granting them a great position in society, as they are the foundation on which the entire society is built, reviewing the biography of some pioneer women in Islamic history who had clear imprints in many fields.
It is noteworthy that the conference sought to create an opportunity for communication between influential women in the world to provide a common ground for exchanging experiences and opinions, and to provide the necessary support for efforts for promoting women's role in their societies.
Source: Gulf Times
https://www.gulf-times.com/article/653760/qatar/deputy-speaker-of-shura-council-highlights-pioneering-role-of-qatari-women-in-development-fields
--------
UNESCO dedicates International Day of Education 2023 to Afghan girls, women
21 January, 2023
Kabul [Afghanistan], January 21 (ANI): The United Nations Educational, Scientific and Cultural Organization (UNESCO) has decided to dedicate the International Day of Education 2023 to Afghan girls and women, TOLOnews quoted director-general of UNESCO, Audrey Azoulay as saying on Friday.
On the occasion of an event at the UN headquarters, UNESCO will restate its plea to quickly restore the fundamental rights of Afghan women to education.
TOLOnews quoted Raihana, a nursing student, as saying that UNSECO and other international organizations must take concrete steps to address the issue of women and girls in Afghanistan under the Taliban regime.
"Only one day is not enough. UNESCO needs to try to talk with Islamic Emirate and lift all the restrictions," she said.
However, refuting the claims by Afghan women and girls of deprivation from education, Taliban spokesperson, Zabihullah Mujahid said "Some issues are temporary and efforts are underway to solve them. The cooperation of the UN is important for the Afghan people and for the situation in Afghanistan."
According to UNESCO, currently, around 80 per cent of school-aged Afghan girls and young women are out of school under the Taliban rule, as they denied them access to secondary schools and universities, TOLOnews reported.
After the Taliban ordered an indefinite ban on university education for Afghan girls, several humanitarian organizations, including Education Cannot Wait (ECW), a United Nations global, billion-dollar fund for education in emergencies and protracted crises called the Taliban authorities in Kabul to revoke their decision to suspend the university education of Afghan women.
According to Khaama Press, the ECW called on the interim Taliban government to allow all girls to return to education, saying that the UN-led humanitarian body stands in solidarity with women in Afghanistan and added that each one has an inherent human right to education.
"Education Cannot Wait stands in solidarity with every girl and woman in Afghanistan. Each one has an inherent human right to education. We also stand in solidarity with every Afghan father, brother, husband and son, suffering the pain of seeing their daughter, sister, wife and mother brutally denied their right to an education," Khaama Press reported citing the statement of ECW.
According to a UNICEF report released in August, the fact that girls in Afghanistan are deprived of secondary education has cost the country's economy at least USD 500 million over the past 12 months, which amounts to 2.5 per cent of GDP.
Since 15 August 2021, the de facto authorities have barred girls from attending secondary school, restricted women and girls' freedom of movement, excluded women from most areas of the workforce and banned women from using parks, gyms and public bath houses. These restrictions culminate with the confinement of Afghan women and girls to the four walls of their homes. (ANI)
Source: The Print
https://theprint.in/world/unesco-dedicates-international-day-of-education-2023-to-afghan-girls-women/1327134/
--------
URL: https://newageislam.com/islam-women-feminism/transgenders-flydubai-gender-zehrish/d/128936
New Age Islam, Islam Online, Islamic Website, African Muslim News, Arab World News, South Asia News, Indian Muslim News, World Muslim News, Women in Islam, Islamic Feminism, Arab Women, Women In Arab, Islamophobia in America, Muslim Women in West, Islam Women and Feminism