New Age Islam News Bureau
31 Dec 2014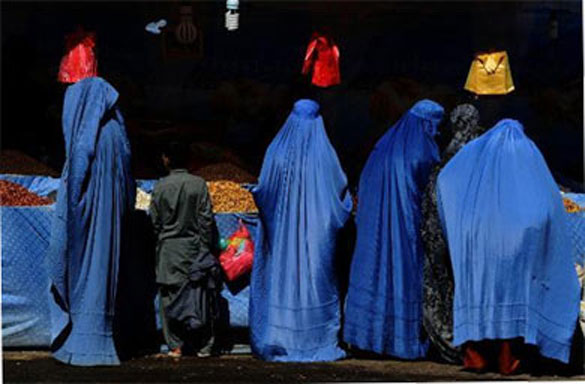 Afghan policewomen march during a graduation ceremony. More than 190 Afghan policewomen are training in Sivas, Turkey. [AFP/Aref Karimi]
---------
• At Least 20% of Spaniards Fighting for IS Are Women: Reports
• Abaya Call For Saudi TV Presenters Withdrawn
• Brisbane Girl Flown From Home to Africa for FGM by Father
• Saudi Wife Divorced Over Public Romantic Act
• As U.S.-Led Combat Mission Ends, Afghan Women Fear Oppression
• Afghan Policewomen Train in Turkey
• Rwanda 'Maranyundo Girls School': A Model for Empowerment
• Room for Improvement: Muslim Men And Marriage
• Malawi Muslims Give Disabled Children New Hope
Compiled by New Age Islam News Bureau
URL: https://newageislam.com/islam-women-feminism/top-clerics-pakistan-endorse-concept/d/100780
----------
Top Clerics of Pakistan Endorse Concept of Birth Spacing
31 Dec, 2014
ISLAMABAD: Top clerics of Pakistan representing all major schools of Islamic jurisprudence, on Tuesday, endorsed the concept of birth spacing and recommended introducing changes in the educational curriculum that should be focused to prepare the youth to enter into harmonious marital relations and enable them to raise their families in accordance with Islamic precepts.
They unanimously supported the concept of birth spacing as a means to save the lives of mothers and children. The clerics expressed their views at a high-level consultative meeting, organised by the Population Council in collaboration with the United Nations Population Fund (UNFPA).
Around 40 prominent clerics unanimously underscored the need for improving the health and well-being of families in order to lay down the foundation of a strong Islamic welfare society. They said that birth spacing should be considered as a basic right of mothers and an important intervention for improving maternal and child health outcomes, adding that for this purpose the use of all reversible contraceptive methods as prescribed by medical practitioners was allowed in Islam.
"This message needs to be clearly enunciated from the pulpit so that it permeates to the grass roots level, especially among rural communities," a cleric said. The clerics also urged the policy makers to ensure that access to services and information was improved. They also recommended introducing changes in the educational curriculum that should be focused to prepare the youth to enter into harmonious marital relations and enable them to raise their families in accordance with Islamic precepts.
Responding to a presentation made by Dr Ali Mir of the Population Council on the state of mother and child health in Pakistan, Interfaith Harmony Chairman and Badshahi Masjid cleric Maulana Abdul Khabir Azad said, "It is most unfortunate that despite the high status accorded by Islam to women, especially mothers, they were relegated to an inferior position in society. This is totally contrary to Islamic teachings."
He said it was a grave tragedy that mothers and infants were dying because of repeated and closely spaced pregnancies. "The Holy Quran enjoins mothers to breastfeed their children for two years so as to allow them to space pregnancies and to recoup their energy expanded during the birth of their last child. According to Islamic teachings, one life saved is the same as saving the entire humanity. We cannot condone the loss of 13,000 mothers who die every year due to pregnancy-related complications at any cost," he added.
During the course of this consultative meeting, the Ulema expressed their willingness to participate in all possible ways to improve the health of families across Pakistan. They unanimously offered to support all initiatives that were in conformity with the teachings of Islam. "The government must ensure the support of the religious leaders and Islamic scholars to spread the true Islamic message on family well-being as a means to counter and overcome misinterpretation of Islamic teachings and harmful socio-cultural beliefs and practices that were responsible for the poor health status of our people," a cleric said.
Council of Islamic Ideology Director General Muhammad Ilyas Khan was the chief guest at the occasion. Badshahi Masjid Imam Maulana Abdul Khabir Azad was the guest of honor, while Masale and Muqadar Shah represented UNFPA. Other speakers at the occasion included: Senator (r) Javed Jabbar, Dr Farid Piracha, religious scholar Ibtisaam Elahi Zaheer, Mufti Muhammad Ibrahim, Dr Dildar Alvi, Molana Hamidul Haq Haqani, Dr Nasira Tasneem and Dr Muhammad Naqvi.
Former federal minister Senator (r) Javed Jabbar spoke on the enduring importance of religion and religious scholars in rapidly changing conditions. He cited the examples of various Muslim countries who achieved remarkable success in improving their health indicators by involving religious leaders in health promotion activities.
Population Council Deputy Director Programmes Seemin Ashfaq thanked all the participants for their presence and said that the consensus reached at the meeting would go a long way in improving the well-being of families in Pakistan.
Maulana Abdul Khabir Azad offered Fateha for the children and teachers who died in the Peshawar massacre on December 16. All participants strongly condemned terrorism and declared that the killing of innocent human beings was a direct violation of the tenets of Islam.
http://www.dailytimes.com.pk/national/31-Dec-2014/top-clerics-endorse-concept-of-birth-spacing
----------
At Least 20% of Spaniards Fighting for IS Are Women: Reports
31 Dec, 2014
MOSCOW, December 31 (Sputnik) – According to the newspaper, citing Spanish security and information services, at least eight out of the 40 Spanish nationals who are fighting on the side of the IS are women.
The Spanish women are recruited through social media, ABC adds. According to the news outlet, in recent months the jihadists had opened Facebook accounts in Spain specifically to recruit women. One such account was shut down by Spanish law enforcement.
According to ABC, recruit websites promise women who join the IS "pleasures that they will never find." The news outlet states that instead they will find "almost certain death or [a] life dedicated to sexual slavery."
IS, a jihadist group, has been fighting the Syrian government since 2012. In June 2014, the group extended its attacks to northern parts of Iraq, declaring a caliphate on the territories under its control.
In a bid to stop the militants, the United States set up an international coalition with some 60 nations directly or indirectly participating in airstrikes against IS positions in both Iraq and Syria.
http://sputniknews.com/middleeast/20141230/1016399236.html
-----------
Abaya call for Saudi TV presenters withdrawn
31 Dec, 2014
Manama: A proposal by a member of the Saudi Shura (Advisory) Council to impose a uniform for all Saudi women working in private television stations funded by Saudi Arabia has been withdrawn following sharp criticism from fellow members.
Noora Al Adwan had seen her proposal to make the traditional coverall abaya and head dress compulsory for the Saudi presenters endorsed by the Council's culture and information committee.
However, Council Member Saud Al Shimmari at the first reading of the draft said that the committee was wrong in endorsing the proposal, saying that it did not include a specific definition of the "national dress."
"The proposal highlighted that the non-compliance with the national dress could mean fines of up to SR10 million, yet it failed to give a specific definition of this dress," he said. "You cannot force women to put on a national dress that is not well defined through a text," he said, quoted by local daily Al Watan on Wednesday.
The committee withdrew the proposal, but said that it would work on it and submit it later for debate.
Al Shimmari said that the proposal was focusing on marginal issues and ignored the main objective of the media.
"Any medium seeks to influence and to convey specific messages to its users," he said. "We have unfortunately lost our focus and instead of working on that aspect, we have directed our efforts towards minor things. We are losing the main focus of our media, and this means that the Saudi public opinion is being shaped elsewhere," he said.
Al Adwan's proposal for a uniform was expected to face a formidable challenge from those who oppose it.
The Shura member had earlier this year come under fire after she accused Saudi women working for national television channels of not complying with the traditional Saudi attire and exaggerating their makeup, local daily Al Watan reported on Monday.
Al Adwan charged the looks of the Saudi presenters gave the wrong image about Saudi women and affected the kingdom's international reputation.
Her remarks sparked a wave of condemnation from the Saudi TV presenters who rejected them as untrue, and saw them an unacceptable intrusion in their personal lives.
Al Adwan, seemingly mindful of similar reactions, did not include the female TV presenters on public stations in her proposal and confined it to the private sector.
http://gulfnews.com/news/gulf/saudi-arabia/abaya-call-for-saudi-tv-presenters-withdrawn-1.1434253
------------
Brisbane Girl Flown From Home to Africa for FGM by Father
31 Dec, 2014
The Australian Federal Police is investigating reports of a Brisbane girl being taken from her home to undergo genital mutilation in Africa.
It is believed the girl is between the ages of four and seven and is travelling with her father, The Guardian Australia reported.
The child was born in Sierra Leone but was taken to Gambia to have the procedure before Christmas.
An AFP spokeswoman confirmed to Daily Mail Australia they were investigating the allegations.
'AFP has received a referral in relation to FGM and as we are currently conducting enquiries, no more comment can be offered at this point in time,' she said.
But there are fears police intervention is too late, with west African community members in Brisbane telling The Guardian Australia the girl may have already had the procedure.
Female genital mutilation is illegal in Australia, as is removing children to undergo the procedure.
Three girls a day are at risk of female genital mutilation (FGM) in Australia.
There are four types of FGM including clitoridectomy, excision, infibulation and other.
No FGM director Paula Ferrari told Daily Mail Australia more needed to be done to educate people about the dangers of the procedure.
She said the girls who were most at risk of FGM were those who came from a community where the practice is accepted, or had a mother or sibling who had experienced it.
In the case of the Brisbane girl, Ms Ferrari said the child had this history.
'The question could be asked if this could have been prevented because she had ticked two of these boxes,' she said.
Foreign Affairs Minister Julie Bishop has urged relatives or friends to blow the whistle on anyone taking children abroad to undergo female genital mutilation.
But it is virtually impossible for authorities to step in without evidence of somebody's intentions, Ms Bishop told Fairfax Radio on Tuesday.
'If somebody just presents with a passport and they're heading off overseas and we have no evidence to provide us with any cause to prevent the person leaving, then of course that happens,' she said.
'People are free to travel on an Australian passport if they have a valid passport.'
Ms Bishop said it was vital family members or friends who were in the know about such plans let authorities know.
'This equally applies to foreign terrorist fighters,' she said.
'It's the families that we need to hear from if there are such matters occurring.'
Relatives were the ones most likely to notice changes in behaviour or the beginning of radicalisation, Ms Bishop said.
'[Whether it's] a girl leaving for overseas for this brutal, barbaric practice, or whether it's people leaving for overseas to take up with terrorist organisations.'
http://www.dailymail.co.uk/news/article-2890955/Girl-reportedly-taken-home-flown-Africa-genital-mutilation-father.html#ixzz3NWDtwgKI
----------
Saudi Wife Divorced Over Public Romantic Act
31 Dec, 2014
Manama: A Saudi woman's idealised notion of romantic love has cost her marriage after her husband divorced her in a fit of anger.
The couple were together at King Khalid Airport in the capital Riyadh when the wife sought to highlight her version of romantic love, either by holding his hand or telling him romantic words.
However, the husband was not receptive to her endeavours and kept telling her to leave him alone, local news site Mouwaten reported, quoting Abdul Aziz Al Zair, a religious scholar familiar with the incident.
"He repeated his words to leave him alone before he became exasperated and decided to divorce her," Al Zair said as he was talking about marital problems on a television programme.
"The divorced wife went back to her family outside Riyadh and the former husband is now suffering under the painful feeling of guilt and remorse for his destructive attitudes," he said.
Online users promptly expressed their anger with the man and condemned his behaviour.
"This is an individual without the minimum of common sense," Waheeba, a blogger posted. "We simply cannot understand you men. If the woman is romantic you divorce her, and if she is not, you are not happy with her and take a second wife."
Mona, another blogger, said that even if the woman made a mistake in the eyes of her husband, the divorce was not an option to be contemplated.
"Unfortunately, many men misunderstand the concept of romantic love," she said.
For Al Taweel, a blogger, the husband has no appreciation whatsoever of the value and significance of life.
"Unfortunately, we Saudi men have turned our rapports with our wives in public into an unforgivable crime," Ahmad said.
Another blogger under the moniker of "I Want a Solution", described the husband as a "lacking in senses and in logical behaviour" and said that the Saudi society needed to accept the public display of affection.
http://gulfnews.com/news/gulf/saudi-arabia/wife-divorced-over-public-romantic-act-1.1433029
------------
As U.S.-led combat mission ends, Afghan women fear oppression
31 Dec, 2014
KABUL (Reuters) - No one ever claimed responsibility after a suicide bomber rammed into the vehicle of celebrated female parliamentarian Shukria Barakzai. She walked away from the wreckage after the Nov. 16 blast that killed three civilians and wounded 20.
The Taliban often takes responsibility for suicide bombings - it did so for one against the British embassy that killed six people days later. Barakzai, 42, said Afghanistan's spy agency had warned her before about threats to her life from the insurgent group. But an investigation into the attack on the outspoken women's rights activist has led nowhere.
Barakzai, a tireless campaigner for women's rights, has no shortage of potential enemies, including powerful warlords, as Afghanistan's regional chieftains are known. "Our Parliament is a collection of lords," Barakzai once famously said. "Warlords, drug lords, crime lords." Barakzai was only a few hundred meters from the Parliament building, her destination, when the suicide bomber rammed into her armored car.
A strong supporter of new President Ashraf Ghani, Barakzai had been widely talked about as a candidate to join his government, perhaps as education minister or the next women's affairs minister. Ghani has promised he will appoint four women in his cabinet.
Barakzai, who rose to prominence when she ran underground schools for girls when the Taliban ruled the country, says both the previous Afghan government and its Western benefactors have failed to defend the hard-won rights of women.
"For me, what they do to support women's rights is just lip service, nothing more than that," says Barakzai, interviewed in hospital where she is recovering from burns to the left side of her face and her left hand from the attack.
QUOTAS FOR WOMEN
The U.S.-led coalition invaded Afghanistan in 2001 to oust the Taliban and stayed on, in part, to build a western-style democracy, including legal safeguards for women. A quota was mandated for women in public offices, such as parliament and provincial councils. Earlier this year, however, conservative lawmakers rolled back the quota reserved for women in provincial councils to 20 per cent from 25 per cent.
Last Sunday marked the formal end to the international combat mission in Afghanistan. And while huge progress has been made getting millions of girls in school and putting women in positions of formal authority, it has had "frustratingly little impact on these power dynamics," the U.N.-backed Afghanistan Research and Evaluation Unit said in a recent report.
"Today, women's rights are ... one of the feared losses shared by Afghans and the world as international troops prepare to withdraw completely."
World Bank data shows Afghanistan still lags far behind even its impoverished neighbors in South Asia. Only 16 percent of Afghan females above the age of 15 were active in the labor force compared with 57 percent in Bangladesh and 27 percent in India. The fertility rate in Afghanistan is 7.2 births per woman versus 3.1 for all of South Asia. Only 14 percent of births in Afghanistan are attended by a skilled health worker compared with 36 percent in South Asia. The literacy rate for 15-24 year-old women was 32 percent compared with 63 percent in neighboring Pakistan.
UNIVERSITY FOR GIRLS
Barakzai, a parliamentarian the past decade, has campaigned against the practice of Afghan men marrying multiple wives - her husband, who runs an oil company, took a second wife without consulting her. She stresses the need for long-term investment in education to compete seriously for jobs instead of aid programs for "workshops or seminars".
"We need a university for girls," she says, explaining many families won't send girls to mixed institutions. Barakzai was scornful about aid programs that teach women about rights or try to give them job skills.
"If you see their projects, they are always the same. Empowering women by a seminar or workshop. Or embroidery, tailoring," she laughs. "I am tired of these things.
Women's activists have been lukewarm about a new $216 million United States Agency for International Development (USAID) program to support women's advancement. The five-year program aims to help thousands of women "gain business and management skills, supporting women's rights groups and increasing the number of women in decision-making positions," according to a U.S. embassy statement.
Noor Safi Gululai, one of the few women in Afghanistan's High Peace Council, which is in charge of the so-far fruitless effort to convince the Taliban to join peace talks, was critical of such capacity-building efforts.
"I am afraid this money will also go in the pockets of a few people," Gululai told Reuters. "Rights will never be taught at conferences. I hope the President will talk to USAID and have them use the money to establish good schools and universities."
The U.S. Embassy in Kabul declined to comment.
http://news.yahoo.com/u-led-combat-mission-ends-afghan-women-fear-210821321.html
-----------
Afghan policewomen train in Turkey
31 Dec, 2014
SIVAS, Turkey – Training in Turkey will put 190 Afghan policewomen on a path toward promotion and give them credibility with the Afghan public, analysts say.
The policewomen went to Turkey in November for four months of training at a police academy in Sivas.
The Turkish programme represents a crucial contribution to the integration of Afghan women into society, analysts say. Women with legal problems in that conservative society often feel inhibited about approaching men when seeking justice – a significant obstacle since only 1% of Afghan police were female as of 2013.
The recent training sessions stems from a protocol Afghanistan and Turkey signed in 2011. After completing their four-month education, the officers will be deployed throughout Afghanistan.
Turkish training of Afghan policewomen should be considered part of long-term Turkish support for the Afghan state, said Dilek Karal, a specialist at the USAK think tank in Ankara.
"Afghan women suffered greatly during the Taliban regime [1996-2001] in terms of interruptions of every aspect of their lives," Karal said. "Their training in Turkey is ... a contribution to women's active role in policy-making in their country."
More opportunities and more skills
The training in Turkey will give the policewomen vital skills they can use in protecting the public. They'll learn to drive, investigate crimes and operate communication systems. They'll also have greater opportunities for promotions and pay raises when they return home.
Moreover, analysts say, they'll gain credibility with the public, given Turkey's long-standing role as a source of training, funding and other aid to Islamic countries.
"Afghan female officers trained in Turkey will be highly respected because they've been trained in a Muslim country that shares similar religious and cultural values," Timor Sharan, a lecturer at Kateb University in Kabul, said.
"The training is part of the [Afghan] Ministry of Interior's efforts to address the problem of the lack of women in the police and military," Gen. Hikmat Shahi, director of human rights and gender at the ministry, said.
Once they complete their training, they'll use their newly acquired skills in their native provinces, he added.
Turkey also stands to benefit from the programme, since it increases the Turkish National Police's experience in international training, specialists say.
Meanwhile, in Afghanistan, authorities are working to increase the number of policewomen. In October, the country had 2,200. It's set a goal of 10,000 by the end of 2015.
A long history of close ties
Turkey and Afghanistan have enjoyed good relations, including close co-operation in security, for decades.
Turkish generals were training the Afghan army as long ago as the 1920s, Sharan said.
Once the policewomen go home, they'll join a growing network of alumni of the police academy in Sivas. Since Turkey began training Afghan officers in 2011, about 2,000 of them – men and women – have graduated from that academy.
http://centralasiaonline.com/en_GB/articles/caii/features/pakistan/main/2014/12/30/feature-01
-----------
Rwanda 'Maranyundo Girls School': A Model for Empowerment
31 Dec, 2014
In Rwanda, a quiet revolution is emerging at the Maranyundo Girls School – a model program for empowering economically vulnerable girls and educating them as future community leaders. The country of 11 million has long been synonymous with the Genocide that defined it 20 years ago. Today that image is changing. Citizens are turning their eyes towards the future.
The new Rwanda focuses on a Vision 2020 Strategic Plan for Growth, developed in 2000. The plan outlines short-, medium-, and long-term goals of macroeconomic stability, reducing dependency on aid, transforming to a knowledge-based economy, and creating a productive middle class. One of the primary issues of the plan is gender equality.
Gender equality can be observed in the country's leadership, as it undergoes a power shift. The country is first among 20 sub-Saharan nations which have quotas on the number of women in government positions of power. In 2012, 56 percent of seats in Parliament in Rwanda were held by women. In the U.S. and other industrialized nations, the number is below 19 percent.
Prof. Joyce K. Fletcher was one of the founding members of Maranyundo Girls School, which has become a model in Rwanda for its Vision 2020 goals of nationwide empowerment. Prof. Fletcher is Distinguished Research Scholar and Professor of Management at the Center for Gender in Organizations, Simmons School of Management. She relied on her knowledge of leadership development when she joined a group of visionary women from both countries, who together in 2006 built the girls' school.
The school, which opened in 2008 as a middle school of excellence in the rural areas of Nyamata, serves grades 7-9. The girls learn shared responsibility, and personal and professional empowerment. The motto, "If you educate a girl, this serves to benefit an entire community" is one of the guiding principles.
Parents, teachers, community leaders, and the students themselves are all focused on the goal of encouraging the girls towards a brighter future. The students themselves recognize education as a gift and are very motivated to learn.
Exceeding all expectations, Maranyundo quickly became one of the top schools in the country. Three years after it opened, the administration of the school, while maintained as an independent school open to students of all faiths, was turned over to the Benebikira Congregation.
The Benebikira sisters are a Rwandan order of Roman Catholic nuns highly respected for their commitment to the poor, their dedication to academic excellence and their compassion and heroism during the Genocide. According to a statement by First Lady Madame Jeannette Kagame, "If you gift the school to the Benebikira sisters, in 20 years you will still have a school of excellence."
This has already occurred in just three short years. In January, their plan is to open a secondary school of science and technology, with the land purchased by funds raised by the girls' parents.
In 2015 Maranyundo Girls School will add grade 10. Each year they plan to add an additional grade, so that in 2017, it will become a complete secondary school, including a science center, a new library and a teacher training facility and resource center.
This is in accordance with the country's Vision 2020 goals for education, which include class size, degree-qualified teachers, and access to technology. Sister Marie Juvenal, head of school at Maranyundo, said that, as Rwanda is trying to "rebuild its soul," it requires education as key in creating a good, moral citizen of the country and the world. The school's goals include professional development, where best practices can be adapted to the cultural context, so that all instructors could learn from this model school and the teachings can spread.
Although founding member Prof. Joyce Fletcher is no longer Chair of the Board of the Maranyundo Initiative, she is still an active board member and strong supporter of the school. Through her regular visits to the country, she has witnessed firsthand the influence of girls' education and the leadership of women in this country which is reinventing itself beneficially for its future.
Since English became the official language of Rwanda in 2008 (from French, which had been the colonial language since the 1920s), the task of information sharing has become easier. For Maranyundo Girls School and other schools in rural Africa which are serving to empower their young people, the model includes educational supplies. The school's current needs and 5-10 years into the future include textbooks and technology. In this increasingly mobile world, their needs are more for cell phone batteries and android tablets than desktop computers. In the words of Prof. Fletcher, the leadership developing at the school is aiding the country to rebuild itself.
http://guardianlv.com/2014/12/rwanda-maranyundo-girls-school-a-model-for-empowerment/#GIiw2vkZr4eqFXBq.99
--------
Room For Improvement: Muslim Men And Marriage
By telegraph.co.uk
31 Dec, 2014
A new bride in Saudi Arabia faced the most unexpected turn of events on her wedding day. When her veil was lifted and the groom saw her for the first time (who had never met her before), declared: "You are not the girl I want to marry. You are not the one I had imagined." He then demanded an 'instant divorce'.
It goes without saying that this groom is a cruel buffoon and the story has only captured international attention because of his outrageous idiocy.
Criticism of his actions for not having met his bride prior to the ceremony and not taking the decision to marry more seriously are well-founded. In Islamic teachings, men and women are encouraged to meet before they wed; ensuring that there is physical attraction is naturally recognised as an important criterion. Islamic teachings emphasise the importance of getting to know a potential partner, their life goals, and establishing mutual interests. In waiving this part of the process, the groom was acting outside of those teachings. Social conventions may once have dictated the 'meet on the wedding night' tradition, but there is no founding for this in my religion's teachings.
There is also speculation about whether this story is true, after all it plays too conveniently into our stereotypes of powerless Muslim women, and crazy Muslim men. But truth or fiction, the fact is that social structures are still stacked in favour of Muslim men when it comes to marriage – despite Islamic teachings laying the foundations of mutuality in relationships. And this unfairly rigged social reality needs to change fast.
In my own experience, growing up in this country in a sub continental Muslim culture, I vividly recall the focus and guidance given to me and my female friends from a young age about seeking a partner, marriage being 'my fulfilment' and how I had to learn the techniques to be a good successful wife. Of course it's great for everyone to be taught how to build a strong relationship. The problem is that in my culture, this guidance is still given overwhelmingly to women and men receive very little if any emphasis on their role in the marriage. No wonder that a groom can then declare in front of an audience that he finds his bride unattractive. He's probably never been taught basic relationship etiquette. For that I demand to know what the family, the community and the clerics conducting the marriage were busy offering him by way of guidance.
Relationships are always hard, and wives are encouraged by Muslim scholars to be patient. If he's not fulfilling his responsibilities, be patient. If he's never at home, be patient. If he doesn't treat you with respect, be patient. I've been married 10 years and I agree that patience is important. It gets you through the tough times. But what Muslim women try to communicate over and over again to religious influencers is that this advice is rarely (if ever) given to men with the same force, and yet it needs to be.
Another Islamic teaching taught more to women than men is that divorce, while allowed in Islam, is something disliked by the faith. Of course it's an important attitude that a relationship should be given every chance to succeed. But it's often used to pressure Muslim women into staying in marriages they are unhappy with.
Moreover, Muslim men are rarely reminded by the male religious establishment that the Prophet Muhammad once said: "The best of men are those who are good to their wives," or that he used to cook, clean and even sew in the home.
Putting the power of 'instant divorce' into men's hands acts is a form of oppression. According to certain Islamic scholars, a man simply has to say 'I divorce you', and the deed is done. Yet the Qur'an is explicit that in matters of divorce, there should be a lengthy process of mediation involving family and third parties to support the couple in achieving the best outcome, whether that be staying together or ultimately separating. So while women are advised to 'be patient', men are given free rein to decide major life decisions on the spur of the moment.
Thankfully, things are changing, but they need to do so faster. Marriage contracts are a growing phenomenon. In fact, in Iran, they are stipulated by law, and enshrine the right of divorce for women. In India, one Muslim woman fed up of male religious panels pronouncing on the reality of women's lives without even letting the aggrieved wife put forward her case, set up a women's mosque and is campaigning for women's tribunals.
And it's worth noting that the unique cultural norms of a country like Saudi Arabia (where this original story allegedly took place and where women are still not permitted to drive) do not exist in many Muslim countries. In places like Malaysia and Indonesia, it's quite commonplace especially in cities, for young Muslim men and women to find their own marriage partners. Even the outrage on social media to this Saudi groom's response show that attitudes are shifting.
My final thoughts are for the bride. Whilst this might appear to be one of the most terrible and traumatic moments of her life, it was the best possible outcome from a wedding to a man who cannot take relationships seriously. However painful, he's done her a massive favour. So to this woman I say: Congratulations on your divorce!
Source: The Telegraph
-------------
Malawi Muslims Give Disabled Children New Hope
31 Dec, 2014
LILONGWE – After years of neglect, the Malawian Muslim community has strengthened its resolve to champion education for children with disabilities in the southern African nation, with one of the highest illiteracy rates on the continent.
"In most of the rural communities in Malawi, some families don't value education for children with disabilities. These children are locked up in houses. They are kept away from the public glare," Sheikh Dinala Chabulika, National Coordinator of Islamic Information Bureau (IIB) told OnIslam.net.
"The situation is quite pathetic, because these children are deprived of opportunities to access education.
"It is quite unfortunate, to note that some societies have even regarded children with disabilities as a curse. Therefore, parents of these children feel ostracized to be identified with a disabled child. This has worsened the situation," said Chabulika.
Chabulika said through the involvement of Muslim Teachers Association (MUTA), an IIB initiative, both Muslim and Christian communities were being sensitized on the need to educate disabled children.
"We are telling the communities, both Muslims and Christians that disability shouldn't be an excuse to exclude children from accessing education. Education is a human right therefore, every person should have that right without being discriminated against on the basis of a disability."
Senior Chief Kadewere from the dominated Muslim region of the south admitted that both Muslim and Christian communities have not done much to educate children with disabilities.
"For so long, we should admit that we have failed as a nation to provide education opportunities to children with disabilities. Numbers of disabled children accessing education have been on the decline. The effects of this neglect are there for all to see," Senior Chief Kadewere told OnIslam.net.
"I have personally championed education in my area. What am doing is to fully sensitize my subjects to send their disabled children to school. Through the support of my junior chiefs, we are inspecting people's homes to make sure that no family is holding a disabled child in solitary confinement.
"We are reaching out to the communities with a message that disability is not a curse. These messages have helped to change people's mindset in this regard," Kadewere, a renowned champion for girls education said.
Respect
The government of Malawi alongside education activists has highly commended this intervention.
"Islam being the second largest religion in the country commands some respect and a larger following, therefore, through this intervention, we are assured that as government that children with disabilities stand to benefit from various education opportunities in the country without any form of discrimination on the basis of a disability," Dr. Emmanuel Fabiano, Malawi's Minister of Education, told OnIslam.net.
"Fabiano, one of the country's highly respected educationists pledged that government will provide the necessary support towards the success of the interventions.
"These interventions from the faith community need our support and guidance. As government, we will stand in solidarity with the Muslim community and any other faith group in efforts to rescue children with disabilities and provide them with education.
"We believe it is only education that can guarantee them a productive future."
A well known education activist, Benedicto Kondowe, observed that families were not willing to send children with disabilities to school, "because they have not been sensitized enough to value education for these children."
"These interventions are quite encouraging. If these initiatives could have started a long time ago, the situation could not have been different by now. Beliefs and misconceptions have held back families. We need to reach out as many communities as possible, in this way; we are going to change things for the better. This situation calls for a multi-sect oral approach," Kondowe told OnsIslam.net.
"Education helps to break barriers of poverty therefore, if these children aren't able to access education now, we are creating a generation of poverty-stricken citizenry," he added.
The education activist said Malawi has all along been working to meet Education for All (EFA) goals, therefore, he noted that by excluding another group of people from accessing education, the country will not be able to meet the goals.
"The EFA goals dictate us to devise deliberate policies to provide education to all people without any form of discrimination," Kondowe added.
First Step Forward
An-Noor School for the Blind, the country's only Madrassah for the Blind, is widely regarded as a practical intervention towards educating children with visual impairment.
"These children are from poorest of the poor communities. They were being hidden from the public by their respective families for fear of being ostracized. But through this school, we have managed to provide hope to the families and changed the mindset of the communities," Riaz Bhana, founder of the Madrassah told OnIslam.net.
"Without our interventions, the future of these children was doomed. We would like therefore to appeal to well-wishers across the world to support our initiatives so that we should have as many children as possible rescued and provided with education. Without much support in this direction, our interventions would be of no value," said Bhana.
"Needs for children with visual impairments are quite overwhelming. It is a huge challenge to educate children with special needs."
Every year, scores of Muslim students access scholarships from the Islamic Zakaat Fund (IZF) to education in both secondary and tertiary institutions in the country and abroad, but according to its National Director, Mohammad Osman, children with disabilities have not been forthcoming as beneficiaries.
"We have not had children with disabilities coming forward to access scholarships as it is the case with able-bodied children.
"This is a clear manifestation that there is something terribly wrong in our communities. This is a sign of a problem which needs fixing. I don't remember in recent years to have seen a student with a disability applying for an IZF scholarship," Osman told OnIslam.net.
"It is sad to note that we have neglected this group of children for so long. As a religious people, we should admit that we haven't conducted ourselves in a manner that has offered hope to the society in this regard. We could have taken up a lead way back to provide equal opportunities to children regardless of their statuses, physically or otherwise," Osman noted.
Concurring with Osman, Muntaz Omar, Principal of a professional college, International College of Business and Management (ICBM) run by an Islamic charity, Bilal Trust observed that there are "absolutely" no children with disabilities enrolling for various courses offered by the college.
"Most of our students are beneficiaries of IZF scholarships, but always, the number of able-bodied is increasing every year. We have absolutely no disabled children enrolling for any course at this institution," Omar said.
"This could be a clear indication that society hasn't attached much emphasis on education for children with disabilities which is very unfortunate. We need to join hands to invest massively in education for disabled children."
Omar then appealed to Muslim charities to mobilize resources to help families with disabled children to access quality education for their children.
"We all need to rise up to this challenge and bring change."
Malawi's illiteracy level is one of the highest in Africa. It is currently hovering at 65%.
In 1994, the post –democratic government of the country's first Muslim president Bakili Muluzi introduced free primary education in its attempt to provide equal opportunities to all Malawians to access basic education despite their economic statuses.
Officially, Malawi is a secular state, but with diverse religions. Islam is the second largest religion after Christianity. Muslims account for 36% of the country's 16 million population.
In recent years, the Muslim community has invested considerably in education.
"The Muslim community is attaching education and indeed education for children with disabilities at the core of its service to humanity. We would be incomplete, therefore in serving humanity if we leave out these children," said Chabulika.
"We are building a new society where education opportunities would be made available to all without any barriers."
http://www.onislam.net/english/news/africa/481297-malawi-muslims-give-disabled-children-new-hope.html
------------
URL: https://newageislam.com/islam-women-feminism/top-clerics-pakistan-endorse-concept/d/100780