New Age Islam News Bureau
15 Jul 2013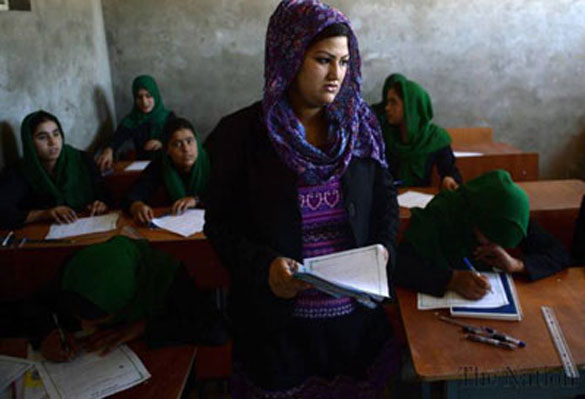 Afghan schoolgirls are taught during a lesson in the village of Dah Yaya, Dih Sabz District of Kabul province, on July 8, 2013. The school, established in 2008, currently has 400 girls. Funded by private donors, it offers a free education to its pupils. (AFP/File)
-------------
• In Pakistan Education Spending To Be Focused On Girls' Schools
• European Woman Held in Oman for Desecrating Quran
• Improving Women's Health through Technology in Indonesia
• School That Teaches Afghan Girls to Say No To the Dictats of Their Elders
• Nicole Kidman Awarded For Women's Rights
• 70% of Nigerian Women Are Living Below Poverty Line
• Jordanian Father Reportedly Tortures Five Daughters At Home in UAE
Compiled by New Age Islam News Bureau
URL: https://newageislam.com/islam-women-feminism/'to-educate-girl-child,-educate/d/12597
------------
'To Educate the Girl Child, Educate the Community': UNICEF Officer
July 15, 2013
LAHORE: As many as 3.2 million children between the ages of five and nine years are out of school in the Punjab, United Nations Children's Fund Education Officer (gender) Sehr Raza Qizilbash said at a UNICEF Punjab session, organised in collaboration with the School Education Department (SED) on Saturday.
The session aimed to highlight the work of the Provincial Parliamentarians Caucus formed in 2010 under the United Nations Girls' Education Initiative (UNGEI) Punjab, as a collaborative effort by the SED and the UNICEF.
Punjab has a literacy rate of 73 per cent and primary schools net enrolment rate of 70 per cent, said Qizilbash. As many as 25 million children between the ages of six and 16 years are out of school in Pakistan, she said. It is unfortunate that 30 per cent of the children in schools stay enrolled for two years or less and only 20 per cent receive seven years of education, she said. The primary net enrolment rate is 73 per cent for boys and 67 per cent for girls.
"When we talk about education and equity, we need to consider those who have been excluded from mainstream educational institutions and opportunities," said Qizilbash. Only 2 per cent of the GDP is allocated for education. "Parliamentarians need to be sensitised on issues of gender disparity especially in education," said Qizilbash.
School Education Department's efforts
SED Planning and Budget Deputy Secretary Qaiser Rasheed said retention was a bigger challenge than enrolment. Allocation for education, he said, was 1.86 per cent. "This must be increased to 4 per cent," he said.
Key policy objectives of the department for the year 2013-2014 included achieving 100 per cent enrolment and retention, providing missing facilities at schools, up-grading girls' schools, information technology initiatives and the construction of schools in new housing societies, said Rasheed said.
He said most elementary schools did not have IT labs. There was a budgetary allocation of Rs250 million for that purpose.
Rasheed said that the department hoped to provide all missing facilities in girls' schools, except for classrooms. "The cost of additional classrooms is far more than what we can bear at the moment," he said. Missing facilities that would be provided include toilets, drinking water, electricity and furniture.
"Our objectives cannot be achieved till all segments of the society are actively engaged," said SED Planning and Budget Additional Secretary Rana Hassan Akhtar. Public schools accommodated a larger number of children and were a lot cheaper than private schools. "Their [public schools] role cannot be taken up by private schools, which lack both the resources and cost-effectiveness to cater to the large number of out-of-school children," he said.
Parliamentarian's deliberations
More than 30 members of the provincial assembly participated in the session. MPA Sunila Ruth said there was a need to create awareness regarding education. "If we want to educate the girl child, we need to sensitise and educate the entire community," she said.
Sardar Waqas Hassan Moakkal of Kasur said education needed to be prioritised. "The women in my district begged me to keep vaccination teams away from their children," he said, "They thought that they or their children would get sick." He said those women were unaware of the harm their actions could cause.
MPA Syed Abdul Aleem of Dera Ghazi Khan stressed the need for technical education and skills training. "Women form a major part of the workforce in our area," he said, "They need to be imparted marketable skills at an early age, along with general education."
MPA Mohammad Rafique from Toba Tek Singh said economic disparity led to a lack of educational opportunities for children, especially girls.
Parliamentarian's Caucus
MPA Ayesha Javed, a former member of the Parliamentarians Caucus, said that the platform was very effective, especially for enhancing budgetary allocations for education. She said the budgetary allocation for education had increased from Rs9 billion to Rs14.5 billion during 2010-2011, the year the caucus was formed. The Punjab Parliamentarians Caucus began in 2010 under the UNGEI and the National Parliamentarians Caucus was formed in August 2011. They aim to sensitise and involve parliamentarians in working for education and equity, by addressing policy and implementation requirements.
http://tribune.com.pk/story/577013/prioritise-education-to-educate-the-girl-child-educate-the-community/
----------
In Pakistan Education Spending To Be Focused On Girls' Schools
July 15, 2013
LAHORE: The Schools Education Department is to provide drinking water, electricity, toilets and boundary walls at 2,500 government primary and elementary girls' schools all over the province and boys' schools in southern Punjab as part of its development programme for 2013-14.
The missing facilities project takes up Rs7.5 billion of the Rs15.5 billion allocation for the development plan.
Qaiser Rasheed, the deputy secretary for planning and budget at the department, said that providing missing facilities and upgrading girls' schools were amongst the department's top policy objectives. Missing facilities are the biggest challenge to raising the retention rate for schoolchildren, he added.
The missing facilities project does not include additional classrooms. "The cost of constructing these additional classrooms would be an expense which we cannot manage at the moment," he said. Building an additional classroom would cost Rs700,000 each, he added.
The 2013-14 budget does include a Rs400 million allocation for building additional classrooms in the schools with the highest enrolment rate. Also, Rs500 million has been allocated for the provision of furniture in high schools. The development programme includes Rs719 million for ongoing schemes and Rs2.5 billion for seven new initiatives.
IT labs
Improved information and communication technology and science education is also listed as a policy objective for the Schools Education Department for 2013-14. The government plans to spend Rs1 billion on building new IT labs in schools across the province. Of this, Rs250 million is to build the first IT labs in government elementary schools.
The rest is for IT labs in high and higher secondary schools. According to the department, these schools were left out last year as they had recently been upgraded. The department has identified 1,500 high schools which do not have IT labs. The budget also includes an allocation of Rs200 million under on-going schemes for the replacement of 515 computer labs in secondary schools.
Other projects
Also among the new schemes – and also listed as a priority policy objective is a Rs350 million project to upgrade government girls' elementary schools to high schools. The Schools Education Department has identified more than 1,000 union councils where there are no high schools for girls.
Two hundred million rupees has been allocated for the purchase of land and construction of primary schools in housing societies in the province. This is amongst the lowest allocations for a new scheme in the development budget, but is also listed as a top priority.
The government has built seven Danish schools in the last four years at a cost of Rs5 billion in Rahim Yar Khan, Bahawalnagar, Bahawalpur, Attock, Mianwali, Rajanpur and Dera Ghazi Khan. Almost 2,600 students are enrolled in these schools, all of them from low-income households and inducted on merit, Rasheed said. This year, Rs3 billion has been allocated for Danish Schools.
Release of funds
While the development budget for school education has increased from 2009 to 2013, it was largest in the fiscal year 2008-2009 at Rs16.5 billion, Rs1 billion more than for 2013-14. It was allocated Rs13.6 billion in 2009-10 and Rs14 billion the following year.
Rasheed says the biggest challenge is not allocation, but the timely release of funds. "When allocations are released at the end of the year, utilisation is not going to be effective," he said.
While Rs16.5 billion was allocated in 2008-2009, only Rs9.6 billion was released. In 2009-10, in contrast, a total of Rs14.03 billion was released, some Rs400 million more than the allocation.
The low utilisation returned in 2010-2011, when Rs14 billion was allocated but only Rs9 billion was released. In 2012-2013, just Rs6.5 billion was released while Rs15 billion was allocated.
In a recent meeting with Punjab Assembly members last week, the Schools Education Department proposed that parliamentarians ensure that allocated funds are released to the department at the commencement of the fiscal year.
http://tribune.com.pk/story/576971/missing-facilities-education-spending-to-be-focused-on-girls-schools/
----------
European Woman Held in Oman for Desecrating Quran
July 15, 2013
Muscat: A European woman was arrested on Sunday in Sohar for desecrating the Quran, according to sources at the Royal Oman Police (ROP).
The accused tore pages from the holy book, the sources said. "She then rubbed these torn pages on her feet," a witness said.
A resident near Al Hamadah Mosque in Sohar, about 231km north of Muscat, saw her desecrating the Quran. "The resident alerted police and officers from the Sohar police station who went to the spot and arrested the accused," a source at the ROP confirmed.
The woman is detained pending further investigations.
A source said that this was the first time an expatriate had indulged in such a despicable act and to make it worse her act had come during Ramadan.
Neither her identity nor her nationality was made public.
http://gulfnews.com/news/gulf/oman/european-woman-held-in-oman-for-desecrating-quran-1.1208984
------------
Improving Women's Health through Technology in Indonesia
July 15, 2013
As a technology enthusiast, Ivan Rizal Sini has always held on to his faith that its proper use can help improve women's health in Indonesia.
"I've always loved technology, I even dreamt of having an automated house, and that's what drove me into the technological aspects of medicine. So, when I learned about IVF, I instantly got hooked on it," he said, referring to in-vitro fertilization, also known as test-tube babies.
One of the country's best infertility specialists said his area of expertise required the use of a lot of technology in its application and that he always tried to keep up with the latest technology in order to provide his patients with the best medical services.
Throughout his medical journey, Ivan said women's health was still regarded as relatively inferior compared to general health, which received greater attention.
The maternal mortality rate years ago was 350 deaths in 100,000 deliveries, "and that figure has not decreased significantly even today".
"That shows the large room for improvement in women's health and obstetrics, and gynecology is my way to get there," he said.
But when Ivan, 41, looks back at his life, he never thought that medicine, let alone being an infertility specialist, would be his main interest.
Ivan said his life was full of coincidences that had made him what he is today.
Raised in a medical family, he never had any pressure from his father to follow his medical career. After graduating high school, he thought of becoming an architect and he enrolled in an architecture school. But then he realized he did not belong there.
"I was the kind of person who wanted a lot of things, and that time I was still in search of something that would suit me. And then I saw my parents, and I thought I might want to be like them. I dropped out of architecture school and enrolled in the medical school at UI [University of Indonesia]," Ivan said.
The first year at college bored him and he started to get involved in more after-class activities like running his graphic design business and playing music in a band.
But that only lasted for a while because when he entered the clinical phase at college, he immediately dived into the medical world in which he was determined to stay to improve the country's health issues.
During that time, he was sent to a hospital in Tangerang, Banten, where he witnessed inappropriate treatment for pregnant women due to the lack of specialists and limited medical equipment.
"I came to a ward full of pregnant women and the situation there was shocking. One was having a breech delivery, another one was bleeding, but they didn't get the proper treatment they deserved," Ivan said.
He tried to handle the bleeding one, giving her blood transfusions and even donating his own blood, but to no avail. It was all too late as she had been bleeding for too long.
"That moment lingered, and that was the reason why I wanted to become a doctor — my passion to treat people, not because my father was a doctor or because it is an attractive job or whatever," Ivan said.
"And that experience also triggered in me the desire to become an obstetrician and gynecologist because I wanted to help women to be able to deliver their babies safely."
After graduating from UI in 1996, he chose to get broader medical experience and knowledge in Australia by applying to Adelaide Women's and Children Hospital. His limited English and cultural differences did not deter him from giving his best in his work.
His hard work paid off as it only took him one year instead of the usual three years to get into the hospital's obstetrics and gynecology residency program. During his time in Australia, he also decided to take a subspecialty in infertility management and completed his graduate diploma in reproductive medicine with the University of Western
Sydney.
"When I got into reproductive medicine, it was amazing. We could see how a human being develops from egg and sperm and become an embryo and turn into a fetus. How the mother can adapt to the baby and the other way around, for me that was such an unbelievable phenomenon," Ivan said.
His interest in reproductive health grew stronger as he started to learn about IVF. He became a flying doctor and that required him to travel to many cities in Australia in a trailer to do his IVF practice.
After spending 10 years Down Under, the recipient of an Australian Young Gynecologist Award returned home in 2005 to give back what he had received abroad.
"Many questioned my return here because I had already built a career there. But this is where I come from and my intention has always been to improve women's health in my own country," Ivan said.
After completing his adaptation program at the Cipto Mangunkusumo Hospital (RSCM) for a year, he joined his father in Bunda Jakarta Hospital and has developed the hospital's IVF program since 2007.
From handling only 50 IVF patients in 2007, the clinic now treats around 90 patients per month.
"I'm really focused on what I'm doing, and knowing that my patients are comfortable with my work makes me happy," he said.
Besides being beneficial for infertility treatment, Ivan said technology could also improve the quality of women's reproductive health in general.
For instance, he said during a cyst surgery, the possibility of tissue damage to the ovary could be reduced if a doctor used the minimal invasive surgery system, either through a laparoscopy or robotic surgery.
"And that also reduces the risk of women experiencing early menopause," Indonesia's first robotic surgeon said.
Currently, besides trying to spend more time with his own three children, Ivan is also busy conducting training for junior doctors and in robotic surgery. Moreover, he is also preparing a system that will allow technology to reach poor people to improve their health.
"I don't see the technology as being developed to benefit only the rich, although unfortunately it's expensive. But we have to find a way to overcome this," the fan of Steve Jobs said.
http://www.thejakartapost.com/news/2013/07/15/ivan-r-sini-improving-women-s-health-through-technology.html
------------
School That Teaches Afghan Girls to Say No To the Dictats of Their Elders
July 15, 2013
EDOUARD GUIHAIRE
Dah Yaya is an Afghan village set in stony hills and steeped in traditions that limit women to second-class status in this desperately poor country ravaged by Taliban insurgency.
But in a school set up by an Afghan-American woman named a 2012 top 10 hero by TV network CNN, girls are learning to dream of a different future, of saying "no" to the dictats of their elders.
Just a 40-minute drive from Kabul, the village feels as if it's in the middle of nowhere. The road winds through the arid, dusty hills that encircle the Afghan capital, past mud-brick homes.
Women and girls wear Burqas. Only once they are safely behind the gates of the Zabuli Education Center, do school girls take them off and leave them hanging on a banister. Founded by Razia Jan as part of her battle to educate girls in rural Afghanistan, the school wants to exact change in a country notorious for dreadful women's rights. "I have 400 girls," says Jan, who founded the school in 2008. Funded by private donors, it offers a free education to pupils. "We made these girls speak for themselves, so that if something terrible happens in their life and they don't want it, they fight it, they have the force to say no, no, no," she added.
"The more education there is, the more doors open for them."
A massive increase in the number of girls going to school since the fall of the repressive Taliban regime in 2001 is touted as one of the biggest achievements of Western intervention in the country.
From 1996 to 2001, the Taliban banned girls from going out to school. According to the Afghan education ministry, 42 percent of children in school are girls.
But poor attendance and absenteeism are major problems. Regular, high-profile cases of abuse, intimidation and violence underscore that for many women in parts of the country, little has changed.
But the Zabuli Education Center provides girls with better than average teaching. Girls learn English as young as four, and they also have access to computers and to the Internet. Some profess to being fans of US superstar Jennifer Lopez and Canadian heart throb Justin Bieber -- pop singers far beyond the traditional horizons of Afghan culture. Zuhal Ansaari, 15, is passionate about art and is convinced that one day she can realise her dreams of becoming a teacher.
"Women and men have the same rights," she told AFP. "If a woman is educated, her role in the family becomes more important, she can teach her children and have a better life, because she knows at least the same thing as her husband."
Nazaneen Jahd, 14, even believes that one day a woman could lead the country if she is properly educated and gets the chance. "I hope that very soon there will be one," she said.
According to the UN Girls' Education Initiative, the literacy rate for Afghan women aged 15-24 is 18 percent, compared to 50 percent for boys, and only 13 percent of girls complete primary school.
It quotes statistics estimating the mean age of marriage at 17 years while child marriages (where at least one participant is under 18) account for 43 percent of all marriages, which plays a part in the gender gap in education. "When a girl becomes an adult or a teenager, their parents, especially their father, can force a girl to marry, even with a 65-year-old man," says Nahid Alawi, a teacher at the school.
The school may not be able to interfere in family matters, but its mission is to support those girls who put their foot down.
"I can give her advice: it's not time for her to get married, but unfortunately some families force them to get married," Alawi said. Rahila Rohullah, in ninth grade, fought with her family for six months when her father tried to beat and threaten her into marrying the father of a woman he wanted to marry himself.
She resisted, finding at school the comfort that allowed her to hold out until her father finally gave up.
"It's my own decision who I will marry, and I wont allow my parents to force me. It's every girl's right," she said.
Mer Ruhullah, the village chief who sends four of his daughters to the school, said attitudes were starting to change and praised the school for changing the lives of girls in the village. "There is no doubt there are people who don't want such a girls' school in our village. There are also people who don't send their girls to school, but times have changed. People are more open-minded now," he said.
But Jan still fears that one day her efforts could be destroyed if the Taliban return to government in any peace deal after US-led NATO combat troops withdraw next year. "You cannot trust them, they're murderers," she said. "When a snake bites you once, you don't go to the den again to get bitten," she said.–AFP
http://www.nation.com.pk/pakistan-news-newspaper-daily-english-online/international/15-Jul-2013/school-that-teaches-afghan-girls-to-say-no
------------
Nicole Kidman awarded for women's rights
14 July 2013
Berlin: Nicole Kidman is more than just a pretty face — the celebrated actress is being lauded for her work preserving women's rights around the world.
The UN Women Goodwill Ambassador was honored with a humanitarian award from the Cinema for Peace Foundation for her work as a "global champion for women and girls," according to the United Nations Entity for Gender Equality and the Empowerment of Women.
"Women represent half of humanity, and of its potential. Yet around the world women are still deprived of a life free from discrimination and violence. We applaud the establishment of UN Women as a global champion for women and girls," said the Board of the Cinema for Peace Foundation of its decision to honor the actress, in a press release. "Nicole Kidman has helped give a voice to countless women who are survivors of gender-based violence. She is a role model for others."
In Kidman's role as an ambassador she promotes women's rights worldwide with a focus on ending violence against women by serving as the spokesperson for the Say NO — UNiTE to End Violence against Women initiative.
The star has traveled around the globe to meet with sexual violence survivors and bring attention to this important issue.
http://www.arabnews.com/news/457930
------------
70% of Nigerian women are living below poverty line
July 15, 2013
The Minister of Women Affairs and Social Development, Hajiya Zainab Maina, said 70% of Nigerian women are living below poverty line.
She disclosed this during her Advocacy meeting with Women, Children and other Vulnerable Groups in Jos, Pllateau state.
According to her, "Several inter-related socio-economic factors have led to poor economic status of a large segment of Nigerian women, such that 70% of people living below the poverty line are women.
"I encourage you all to work more to improve economic empowerment for women and persons with disabilities because this is the only sure way for the advancement of vulnerable groups.
Speaking on women's increased participation and decision-making in politics, the Minister said, "Politics is said to be a game of number. Yet women's numerical strength has not impacted positively on the political life and decision making structures of the nation, due to unfavourable political environment characterized by violence.
She maintained that, "The imbalance in political representation is so grave. Progressive agitation for 35% Affirmative Action in favour of women to bridge gender gaps in both elective and selective posts at all levels by 2015 is worthwhile experience so far, especially at the federal level where we now have 13 women as cabinet Ministers, representing 33% of the Federal Executive Council.
Zainab decried that, many Nigerian women die prematurely, especially from preventable circumstances, because of inadequate "health incentives for health personnel, ignorance and cultural taboos".
Further lamenting, she said, "To us, it is a sad thing that, women have to die while giving birth. Nigeria has one of the highest maternal mortality rates with about 545 per 100, 000 births. It contributes 10% of the world's maternal deaths.
"By implication, every 10 minutes, a woman dies from pregnancy related complications in Nigeria with high prevalence in rural areas.
On infant mortality rate, the Minister said, "Infant mortality is also high at 105 per 1, 000 live births with under 5 mortality rate at 178 per 1, 000".
She called on the women to be involved, so they can begin to demand accountability for women's health rights and expose harmful traditional practices that prevent women from accessing healthcare.
Zainab urged government at all levels to provide free maternal and child healthcare services.
http://dailypost.com.ng/2013/07/13/70-of-nigerian-women-are-living-below-poverty-line-minister/
------------
Jordanian Father Reportedly Tortures Five Daughters At Home in UAE
July 15, 2013
Ajman: Five girls aged 10 to 16 had their bodies burnt with cigarette butts, noses broken and heads hit against the wall and floor during a horrific campaign of alleged abuse by their father and his two sisters, according to police reports.
Police told Gulf News that the 35-year-old Jordanian father and other members of his family, including his two sisters, were arrested on orders from the Ajman public prosecutor in connection with the torture of his five daughters.
Police said that according to police reports the girls were forced to kneel naked on the floor while the father and his sisters burnt them with cigarette butts, beat them with ropes and sticks and pierced their skin with needles.
The girls told public prosecution how they were bound and silenced, and forced into physically exhausting positions for extended periods of time.
The underfed sisters' unbelievable ordeal came to light late last month when their divorced mother came to the UAE from Jordan to see her daughters after they sent her text messages via mobile phone about their father and his sisters who were torturing them day and night.
The police forensic laboratory report shows scars, bruises and burns on different parts of the bodies of the five sisters.
The girls' father, identified as M.Sh, who has been working as a jail warden at Sharjah Police for more than 12 years, was arrested 20 days ago following the discovery of the girls' torture.
Police said the two sisters of the man, identified as H.Sh., who is a divorcee, and L.Sh., who is married, who aided him in torturing the girls were also arrested.
The victims' mother, identified as I.M., told Gulf News that she lived with her ex-husband for 18 years before she got a divorced from Ajman court four months ago.
"I married M.Sh. when I was only 16 and I'm 33 now. He used to beat me up day and night and he used to treat us as if we were prisoners under his control," she said.
"After we got married we came to live here and all my daughters were born here," she said.
"My youngest daughter is 10 and my other daughters are 11,14,15 and 16."
I.M. said that her husband used to beat her till she bled and he used to force her to stand for hours on one leg. He also used to force her and her daughters to hold suitcases on their back and to kneel and stand up several times for hours.
"He never allowed us to visit a doctor till I lost all my teeth," she said.
She said her ex-husband hates her and his daughters.
"My ex-husband blamed me for not having a son," she said.
She said that a few days before she got her divorce he beat her and her daughters severely and then locked the main door of the house and left.
"I managed to reach the window and I saw Indian man on the street. I asked him to call the police," she said.
She said the man came back with policewomen and policemen who released her and her daughters and called the husband.
"Police forced him to stay away till I got a divorce and I left for Jordan with my daughters," she said.
I.M. said that she came from a poor family and her father passed away a long time ago and there was no one back home to support her and her daughters.
"For two months the father never sent any money for his daughters and I could barely survive so I decided to send them back to their father in the UAE so he could support them financially," he said.
I.M. said that her daughters used to SMS her, asking her to come back to take them away because their father and his sisters were torturing them.
"I came back here to help my daughters and I obtained a tourist visa after borrowing money from family members back home," she said.
I.M. said that when she arrived here she was arrested at the airport because her ex-husband had filed a case against her accusing her of attempting to commit adultery with his friend when they were married.
"I was taken to Al Nuamiya police station where I was recognised and they were aware of my ordeal," she said.
The case was transferred to the public prosecution who closed the case due to insufficient evidence.
"I slept on Ajman beach for two days waiting to see my daughters," she said.
She said when her ex-husband went to work she went to see her daughters.
"I saw my daughters burnt with cigarette butts, and there were bruises and scars on their body. So I went back to the public prosecutor who sent them for a medical check and ordered the arrest of their father and his sisters," she said
The girls are not going to school and they said that they are scared from their father and his sisters.
"We do not want to see our father again. He beat us severely. He and his sisters used to force us to stay naked and they used to search our bodies including our private parts to find if we had a SIM card which we were using to communicate with our mother," one of the terrified girls said.
"We used to stay without water and food," said the girl.
I.M, has no place to go and no money to survive. The case is still with the Ajman public prosecution.
http://www.albawaba.com/news/jordanian-father-reportedly-tortures-five-daughters-home-uae-506445
------------
URL: https://newageislam.com/islam-women-feminism/'to-educate-girl-child,-educate/d/12597