New Age Islam News Bureau
4 Jan 2019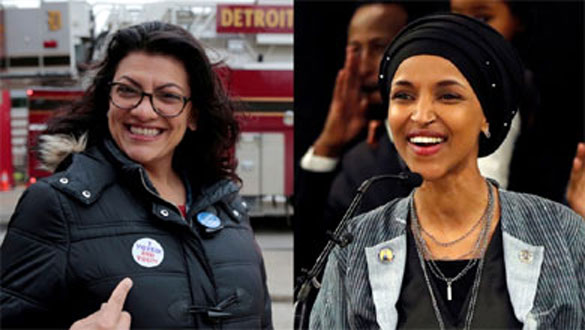 Congressional Representatives-elect Rashida Tlaib, left, and Ilhan Omar, right, will both use Qurans during their ceremonial swearings-in on Jan. 3, 2019. Credit: Rebecca Cook and Eric Miller/Reuters
-------
• Indian Muslim Women Pleased Over Permission to Go To Haj without Male Company
• In Step to Ensure "Rights", Saudi Women to Get Divorce Notices Over Text
• I'm Thankful to Feel Safe but I Still Miss Pakistan: Malala Yousafzai
• Festival Puts Saudi Women's Work in the Spotlight
• Dear Nancy Pelosi and the Democrats: A Hijab Is Not a Hat
• Status Of Women At Italian Game In Saudi Arabia Criticized
• Know What Muslim Women of Deoband Have to Say about Triple Talaq Bill
• At Wall Of Honour, Saudi Martyr's Mother Soaks His Picture In Tears
• Shirina, A Role Model For Female Farmers
Compiled by New Age Islam News Bureau
URL: https://www.newageislam.com/islam-women-feminism/tlaib-omar-make-history-first/d/117364
--------
Tlaib and Omar Make History as First Muslim Women Sworn Into US Congress
4 January 2019
WASHINGTON - Rashida Tlaib and Ilhan Omar have been sworn into the US House of Representatives, becoming the first Muslim women to ever serve in Congress.
In the first session of the now Democratic-controlled House of Representatives on Thursday, the representatives elected Nancy Pelosi as speaker.
Pelosi, a former speaker, is seen by some critics as representing the Democratic Party's centrist, old guard, yet has been praised by others as being both tough and pragmatic.
Tlaib and Omar voted for Pelosi to become the new House speaker in their first official appearance in Congress.
After each of the two major parties put forward its favoured candidate for the speakership on Thursday, each House member was called by name to publicly nominate a speaker.
Pelosi received 219 votes, followed by Republican Congressman Kevin McCarthy with 192 votes.
Standing in a red Palestinian thobe and flanked by her two children, Tlaib said: "For the future of our children: Nancy Pelosi," when her name was called.
Challenging Trump
The new configuration of Congress - Democrats control the House of Representatives and Republicans remain a majority in the Senate - is set to present a challenge for President Donald Trump and his administration's agenda.
House Democrats have vowed to investigate Trump's dealings with Saudi Arabia, for example.
In an interview with Middle East Eye after her electoral victory in November, Tlaib said she is prepared to take on the "biggest bully", referring to Trump.
"This is about electing the jury that's going to impeach him, and I make a heck of a juror," she told MEE in early 2018, after launching her campaign for Congress.
The incoming class of Democrats, which includes many women of colour, is also expected to bring with it a surge of left-wing policies and unconventional ideas.
Tlaib, the daughter of Palestinian immigrants from Detroit, promised earlier this year to ditch a customary visit to Israel for new members of Congress organised by pro-Israel lobby group AIPAC, announcing instead that she intends to lead a delegation to the occupied West Bank.
She has also expressed support for solving the conflict by creating one state in Israel and the Palestinian territories with equal rights for all of its citizens, straying away from the traditional support for the two-state solution among US politicians.
For her part, Omar has expressed support for the Boycott, Divestment and Sanctions (BDS) movement, which seeks to put pressure on Israel for its human rights violations against Palestinians.
A former Minnesota state representative who came to the US as a refugee, she is also the first Somali-American elected to Congress.
She tweeted ahead of her swearing in that "it's a new day in America".
https://www.middleeasteye.net/news/Omar-Tlaib-Muslim-women-make-history-US-congress-764435106
--------
Indian Muslim Women Pleased Over Permission to Go To Haj without Male Company
Siraj Qureshi
January 3, 2019
Haj is considered to be one of the five basic tenets of Islam. It is believed that Haj is a Sunnat' for Muslims when they complete their family duties.
Till date, it used to be very difficult for the Muslim women to go to Haj as it was a rule they had to be accompanied by a male from their immediate family (Mehram) at all times.
Since this restriction is being lifted from this year following discussions between India and Saudi Arabia, Indian women will now be able to go to Haj without a male accompanying them. The move has brought cheer among the Muslim women of the country.
According to the information available with India Today TV, about 100 women have applied this year for Haj from Uttar Pradesh and the maximum number of them are from Agra division. Sources claim that compared to previous years, the number of women applying for Haj may rise as much as five times the previous numbers.
Former member of UP Haj Committee SU Qureshi said that in the changed rules for Haj last year, women above the age of 45 years were allowed to travel to Saudi Arabia for Haj in small groups without a legal Mehram with them. That year, 20 women had applied for Haj in groups of 4 women.
Bhartiya Muslim Vikas Parishad Chairman Sami Aghai said that the Modi government was trying its best to appear as a well-wisher of the Muslim women. The chairman said that in the Haj-without-Mehram issue, too, the Modi government was attempting to take the credit of a decision that was taken by the Kingdom of Saudi Arabia.
He said that according to the Sharia law, Haj for a woman cannot be called complete unless she is accompanied by a Mehram. Probably that is why the government is sending the women in groups of four, he said.
Although a lot of women have filed applications to travel with a Mehram this year, but the number of women applying to travel without Mehram is also high. Such women are praising the Modi government's progressive step.
Mufti Mudasar Ali Khan Qadri said that although Haj is a duty that can be said complete even if the woman conducts her Haj without a Mehram, the Modi government should refrain from interfering too much in the Islamic Law.
If the government wants to appear progressive and wants to do some welfare of Muslims, it should discuss each and every Muslim-centric laws with a group of Muslim Ulemas.
https://www.indiatoday.in/india/story/muslim-women-pleased-over-permission-to-go-to-hajj-without-male-company-1422961-2019-01-03
--------
In Step to Ensure "Rights", Saudi Women to Get Divorce Notices Over Text
January 04, 2019
Saudi women will no longer be the last to know they've been divorced.
A new Justice Ministry regulation taking effect Sunday will make it mandatory for women to be notified by text message when a court issues divorce decrees , Saudi lawyer Nisreen al-Ghamdi said.
Currently, some men register divorce deeds at the courts without even telling their wives, al-Ghamdi said by phone from Jeddah.
"The new measure ensures women get their rights when they're divorced," she said, referring to alimony. "It also ensures that any powers of attorney issued before the divorce are not misused."
A copy of a Justice Ministry circular al-Ghamdi shared said the new service meshes with ministry efforts to keep in step with Crown Prince Mohammed bin Salman's Vision 2030 blueprint for economic and social reforms.
Women have gained more rights since the crown prince consolidated his power a couple of years ago. Saudi Arabia has lifted the ban on driving -- the only one of its kind in the world -- and has loosened many restrictions related to gender mixing and social life.
But women are still shackled by a male guardianship system that requires them, according to Human Rights Watch, to receive approval to apply for a passport, travel outside the country, study abroad on a government scholarship, get married or even exit prison.
https://www.ndtv.com/world-news/saudi-women-to-start-receiving-divorce-notice-by-text-message-1972291
--------
I'm Thankful to Feel Safe but I Still Miss Pakistan: Malala Yousafzai
January 4, 2019
For Malala Yousafzai, shining the spotlight on the millions of displaced people around the world is a vital mission. The 21-year-old Nobel Peace Prize winner drew inspiration for her book We Are Displaced: My Journey and Stories from Refugee Girls from her life, as well as her experience of visiting refugee camps.
Yousafzai writes about her own displacement, first as an internally displaced person when she was a child in Pakistan, and then as an international activist who could travel anywhere in the world except to the home she loved. She also recounts the journeys of so many other refugees who have faced similar challenges.
Activist shines an important light on ongoing refugee crisis in We Are Displaced to the home she loved. She also recounts the journeys of so many other refugees who have faced similar challenges.
The civil rights advocate spoke about the tens of millions of individuals who are currently displaced, what she wants the world to know and how she learned to forgive in an in-depth interview with Parade magazine.
"Like me, the young women who share their stories in the book — from Colombia, Syria, the Democratic Republic of Congo and around the world — know what it means to leave home because it's too dangerous to stay," Yousafzai began. "My book is titled We Are Displaced because together, we want to help others understand the ongoing refugee crisis and how they can help."
Asked what is the most important thing she wants the world to know about being a refugee, Yousafzai had a bunch of statistics to offer. "Currently, more than 68.5 million people around the world are living as refugees or internally displaced people due to conflict, persecution or natural disasters. And the majority of these are children, mostly girls," responded the activist.
"People leave jobs they love. Most students never see a classroom again. They have no choice. Whether you cross your country's border or not, fleeing home and not knowing if you'll ever return is a harrowing experience."
We Are Displaced profiles two individuals by the name of Zaynab and Muzoon, both of whom are refugees. What does Yousafzai hope readers will learn from their stories? "I hope they remind everyone that refugees are so much more than staggering statistics or tragic headlines," she said.
"They've had tough journeys. Zaynab had fled three wars by the time she turned 17 and remains separated from her sister. And when I met Muzoon, she was living in a small tent in a camp in Jordan with nine other people! Yet, these girls thrive when given support and education. They get top marks at university. They are leaders in the communities they've been granted asylum in. And they never shy away from an opportunity to challenge the social norms and global policies currently keeping girls out of school and refugees without aid," she added.
Yousafzai also spoke about coming to terms with her own displacement and the violence she suffered at the hands of the Taliban. Has she forgiven those who changed her life? "I often say that forgiveness is the best revenge," she replied. "Plus, I think my time and energy is best spent on school, family and advocating for girls' education with the Malala Fund."
She continued, "When I arrived in the UK, it wasn't by choice. I was surrounded by people I didn't know and forced to adjust to a new culture. I eventually did and was thankful to feel safe but I still missed home. Girls I meet who have experienced displacement often tell me the sounds and smells of home they miss. But mostly, I hear them say they want to get an education so that one day, they can return to rebuild what has been destroyed."
But Yousafzai realises that the problem is complex and not so easy to fix. "The policies and priorities need to change. And individuals, businesses and governments need to follow through on commitments made to support out-of-school girls and refugees," she concluded.
https://tribune.com.pk/story/1881398/4-im-thankful-feel-safe-still-miss-pakistan-malala-yousafzai/
--------
Festival Puts Saudi Women's Work in the Spotlight
January 03, 2019
JEDDAH: Saudi officials visiting the 33rd Janadriyah Festival near Riyadh have been given an insight into jobs and social programs introduced by the Kingdom as part of its Vision 2030 reforms.
Mohammed bin Ahmed Al-Sudairy, director-general of the Human Resources Development Fund (Hadaf), toured the fund's pavilion at the festival where he discussed women's empowerment programs, including the Wusool scheme, which aims to help Saudi female workers in the private sector increase their participation in the labor market.
The three-week Janadriyah Festival began on Dec. 20 and will offer more than a million Saudis a glimpse into the country's cultural heritage.
http://www.arabnews.com/node/1430106/saudi-arabia
--------
Dear Nancy Pelosi and the Democrats: A Hijab Is Not a Hat
January 3, 2019
After Democrats take control of the U.S. House of Representatives today, one of their first agenda items is to change an 1837 rule banning hats on the House floor, in deference to a new Muslim congresswoman who wears religious headwear known as hijab.
You might think that as a scholar who has studied Muslim women's sartorial choices for more than a decade I'd be excited by this news. But I find myself disappointed and uneasy.
Disappointed because Democrats think they need to change a 182-year-old rule in order to accommodate Minnesota Rep. Ilhan Omar's headscarf, a bit of attire that should be automatically protected by the First Amendment.
Uneasy because the premise for their proposal is that a hijab might be reasonably equated with a hat. We have conflated religious expression and fashion too often in the United States, and it must stop. A Muslim woman's headscarf has literally nothing in common with a hat other than it is on top of her head.
For the faithful who believe their hijab is a religious obligation, to remove a headscarf is not like removing a hat. It is more like getting pantsed. And all the representatives in 1837, I assure you, wore pants.
There is a great diversity of opinions within the Muslim community about whether or not Muslim women should cover their heads. According to a 2017 poll by the Pew Research Center, nearly as many American Muslim women always wear the hijab (38 percent) as never wear it (42 percent).
But women who do choose to cover understand it to be a religious duty, grounded in the sacred sources of Islam. It is not a fashion statement, or a mere statement of Muslim identity, although it can be these things as well. A Muslim woman's headscarf is not only a symbol of piety. Wearing it is what allows her to cultivate the virtue of modesty in the first place. If you think she can just take it off like a hat, you are missing the point.
The House hat ban, adopted to end what was seen as a stuffy holdover from the British Parliament, states: "During the session of the House, a Member, Delegate, or Resident Commissioner may not wear a hat."
Earlier attempts to ban this custom might have been problematic for Omar — in 1822, for instance, Virginia Rep. Charles F. Mercer proposed that no member shall "remain in the Hall covered during the session of the House." None was ever adopted, however, only the hat ban. And, once again, for those in the back, a hijab is not a hat.
To be fair, Democrats are trying to inoculate against future discrimination against religious minorities. They are worried that the old hat ban could also be used against Sikh men in turbans, Orthodox Jewish men in kippahs and even orthodox Jewish women who wear wigs. While I understand why the amendment is being proposed, I am disappointed it had to happen.
As an educator, I find even worse the rather anemic discussion this hat ban has sparked. News outlets, including Bustle, have reported that hijabs have been banned on the House floor since 1837. That is just inaccurate. No one in 1837 could have imagined a Muslim woman in Congress (a different problem), but the 1837 law was never intended to discriminate against religious minorities.
Equating a hijab to a hat has dangerous implications beyond Congress. The New York Police Department has been forcing Muslim women to remove their hijabs for mug shots. When this is done in front of male officers and inmates, it violates the NYPD's own internal policies, but even when the photographs are taken in private, the images circulate publicly. Associating hijab with hats in turn enables other forms of state-sponsored discrimination.
The truth is, many non-Muslims still think a headscarf is forced on women by Muslim men or that it's an expression of an overzealous form of piety. Studies have shown that a woman wearing a hijab is more than twice as likely to be discriminated against.
On the House floor, a hijab will be seen by some as the sign of a worrisome creep of political Islam. But Omar can change all that — if people pay attention to her words and actions instead of her clothing. This hat ban is a distraction from that more important work.
https://religionnews.com/2019/01/03/dear-nancy-pelosi-and-the-democrats-a-hijab-is-not-a-hat/
--------
Status Of Women At Italian Game In Saudi Arabia Criticized
January 04, 2019
ROME – Facing increasing criticism by government members over the decision to play the Italian Super Cup in Saudi Arabia, Serie A's president is hailing the match as a "historic" opportunity for Saudi women to attend an international soccer game.
After tickets for the Jan. 16 game between Juventus and AC Milan went on sale with specified sectors for "singles" and "families" to separate men and women, Interior Minister Matteo Salvini said it was "a shame" for the game to be played in a country where women can't go to the stadium unless they are accompanied by men.
"I won't watch that match," added Salvini, an outspoken Milan fan who recently criticized the choices of coach Gennaro Gattuso. "Soccer is a slave to business and television."
Numerous other Italian politicians also expressed outrage.
Serie A president Gaetano Micciche responded by pointing out that women can go to the match unaccompanied by men.
"Our Super Cup will go down in history as the first official international competition that Saudi women can attend," Micciche said Thursday in a long statement.
Women were allowed into Saudi sports stadiums a year ago for the first time to watch soccer matches, although they were segregated in the stands, sticking to the "family section" away from all-male crowds elsewhere.
Tickets for the game at the King Abdullah Sports City Stadium in Jeddah sold out in less than two days — with the first 50,000 tickets sold in a span of four hours.
There had already been calls for the match to be moved after the killing of Washington Post columnist Jamal Khashoggi.
While the game is slated to be broadcast domestically by RAI, the Italian state TV's journalists' union said recently that it was "absurd" and "unacceptable" for the game to be played in Saudi Arabia little more than three months after Khashoggi's killing.
U.S. intelligence assessments and experts have said that Saudi Crown Prince Mohammed bin Salman, who controls all levers of power in Saudi Arabia, likely ordered or at least knew about the killing.
Saudi authorities say those who killed Khashoggi exceeded their authority, and prosecutors announced on Thursday they will seek the death penalty against five suspects in the slaying.
Human rights group Amnesty International has also voiced opposition to the match being played in Saudi Arabia.
Micciche said the Khashoggi killing prompted Serie A to question "what was the right thing to do" but that it decided it could not differ from Italy's ongoing relations with Saudi Arabia.
"Soccer is part of Italy's cultural and economic system and it can't have different rationales, especially for international relations, from the country it belongs to," Micciche said. "Saudi Arabia is Italy's biggest commercial partner in the mideast.
"The match promotes 'Made in Italy' and its values."
In June, the Italian league announced that it had agreed to a deal with Saudi Arabia's General Sports Authority for three of the next five Super Cups to be played in the country. The deal will provide more than 20 million euros ($23 million) to Serie A and nearly 3.5 million euros to participating clubs.
The Italian Super Cup has been contested 11 times abroad before, most recently in Qatar in 2016, when Milan beat Juventus in a penalty shootout.
"This trophy, since its first edition abroad in 1993, has been a promotional opportunity for exporting and promoting Italian soccer around the world," Micciche said.
Juventus qualified for the game by winning a seventh consecutive Serie A title while Milan qualified as the Italian Cup finalist.
https://www.foxnews.com/world/status-of-women-at-italian-game-in-saudi-arabia-criticized
--------
Know What Muslim Women of Deoband Have to Say about Triple Talaq Bill
by Rasia Hashmi
Jan 03, 2019
Deoband: Protest of Muslim women of Deoband against triple talaq bill, passed by the Lok Sabha on Thursday, is continued unabated. In a meeting of ladies wing of Al-Qureshi Educational Academy, the bill was blatantly rejected and women pledged that they will follow shariah.
According to sources, a programme was held at the office of the academy during which Academy chief Mahtab Begum said 99 per cent of the Muslim women are with the Muslim Personal Law Board. She claimed that the women who are favouring the bill before media are not the representatives of Muslim women. They neither have knowledge of shariah nor do they know the ill effects of the bill.
Mahtab Begum said the movement is run against shariah on the pretext of favouring the bill. This is interference in religious affairs of Muslims. The contents of the bill will affect the rights of Muslims. It will land women into trouble and will affect their marital life. The bill will distance the couple from each other and will have negative effects on children.
https://www.siasat.com/news/know-what-muslim-women-deoband-have-say-about-triple-talaq-bill-1452555/
--------
At Wall Of Honour, Saudi Martyr's Mother Soaks His Picture In Tears
4 January 2019
The mother of Badr al-Rasheedi could not control herself when she saw his photo among other Saudi martyrs on a wall of honor erected in Hail to commemorate their sacrifice during a recent motor rally.
The bereaved mother let her tears lose in a scene that touched the hearts of everyone present. Al-Rasheedi was killed on Feb. 16, 2016, by two of his close relatives who were ISIS members.
The wall of honor was part of the exhibits showcased by the Presidency of State Security on the occasion of Hail International Rally. Titled "We Will Never Forget You", the collage contained the names and pictures of soldiers who were martyred serving their country.
Al-Rasheedi's three sons, Faris, 12, Firas, 4, and 2-year-old Badr, who has never seen his father, were also present at the ceremony. Al-Rasheedi was a sergeant in the emergency forces in Qassim, where he worked for 12 years.
Proud of him
"I am proud of him because he sacrificed his life for his country. I always pray that Almighty Allah will compensate him with paradise," Al-Rasheedi's mother said, tears welling her eyes.
The mother said her son was a pious man who never missed his religious duties and he regularly recited the Qur'an. Al-Rasheedi was 32 years old and had served in the military for 12 years at the time of his death. He was born in Rodh Bani Hadi district, south of Hail.
He was murdered in cold blood by two cousins who lured him near a gas station along Buraidah-Onaizah Road. They pulled him out of his car and started firing at him. He pleaded with them to spare his life and to calm down but they would not listen.
One of the men fired six bullets at Al-Rasheedi, killing him instantly.
https://english.alarabiya.net/en/News/gulf/2019/01/04/At-wall-of-hour-Saudi-martyr-s-mother-soaks-his-picture-in-tears.html
--------
Shirina, A Role Model For Female Farmers
January 04, 2019
Housewife Shirina Begum, who set an example of producing bumper crops, especially vegetables, on a small land, has now become a role model for many female growers at her native Maynakuti village in Rangpur Sadar upazila.
Seeing her success, around 120 women of the village are now engaged in crop farming and are getting regular suggestions from Shirina on farming of various crops.
Although thirty-five-year-old Shirina, who married Rashedul Islam about 18 years ago, used to help her husband in crop farming after their marriage, she could not engage fully due to other household works.
After her husband Rashedul had a brain stroke and lost his physical and mental balance in 2014, she fully engaged herself with crop farming to maintain her four-member family.
Besides her ailing husband, she has to bear the responsibility of her college going daughter Towfika Akhter Prity and son Towhidul Islam, a Class VI student.
In a bid to support her family, she first started crop farming on only 50 decimals of land belonging to her husband and then took lease of another 100 decimals from two neighbours Sirajul Islam and Rezaul Karim for Tk 45,000 per year and started to produce vegetables and vegetable seeds there.
In 2015, she enlisted with Geodata Based Information Services (GEOBIS), a project of Lal Teer Seed Ltd, for advisory services.
After the enlistment, she started receiving advice through her mobile phone on proper cultivation such as right sowing techniques, how to treat the soil, transplanting, preventing pest attack and harvesting the produce.
She subscribed to the SMS service of GEOBIS so that she could receive weather forecast report. It also connected her with the Call Centre Service to listen the expert's advice.
"Prior to enlisting as a beneficiary of GEOBIS I had a little profit, but now I am getting a good profit every season," Shirina said.
"I cultivated paddy on 75 decimals of land, brinjal on 15 decimals, bitter gourd on 50 decimals and bottle gourd on 10 decimals. I am getting Tk 15,000 profit every month," she said, adding that she is now able to support her sick husband and two children.
Under her leadership, many women growers of her village are now receiving advice on cultivation of different crops and getting weather alert.
Shamima Begum, 38, of the village, said she started crop farming after seeing Shirina's success.
"Shirina first showed us the way of earning through crop farming, especially vegetables, and we are self reliant now," another woman Morsheda Begum, 42, said.
"I am getting a good profit from selling vegetable seeds to Lal Teer Seed Ltd. I hope our children will bring a bright future for the family," Shirina said.
https://www.thedailystar.net/country/news/shirina-role-model-female-farmers-1682683
--------
URL: https://www.newageislam.com/islam-women-feminism/tlaib-omar-make-history-first/d/117364
New Age Islam, Islam Online, Islamic Website, African Muslim News, Arab World News, South Asia News, Indian Muslim News, World Muslim News, Women in Islam, Islamic Feminism, Arab Women, Women In Arab, Islamophobia in America, Muslim Women in West, Islam Women and Feminism