New Age Islam News Bureau
30 Jan 2018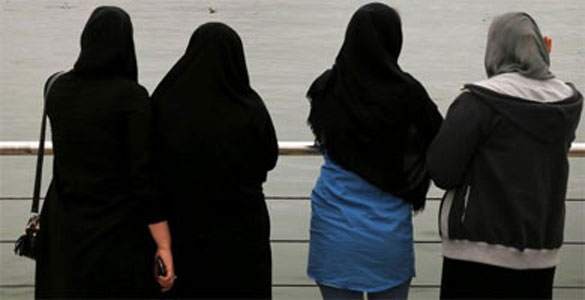 Tired of Their Veils, Some Iranian Women Stage Rare Protests
-----
• Indonesian Police in Aceh Province Cut Hair of Transgender Women
• Sex Slave For IS: NIA to Probe 'Converted' Kerala Woman's Claim
• Divorce Parties Are Now A Trend In Saudi Arabia
• Indian Muslim Cleric Says Women Watching Football Un-Islamic
• No Men Allowed: A Women-Only Village in Egypt
• How Social Media Helps Female Pilgrims Document Their Spiritual Journey In Saudi Arabia
• FCT Administration Pledges Support for Muslim Women Association
• Why SAMA prevents women to open accounts for children?
Compiled by New Age Islam News Bureau
URL: https://www.newageislam.com/islam-women-feminism/tired-their-veils-some-iranian/d/114106
--------
Tired of Their Veils, Some Iranian Women Stage Rare Protests
By THOMAS ERDBRINK
JAN. 29, 2018
TEHRAN — Climbing atop a five-foot-tall utility box in one of Tehran's busiest squares on Monday, an Iranian woman removed her head scarf, tied it to a stick and waved it for all to see.
It was no small feat in Iran, where women can be arrested for publicly flouting the Islamic requirement that they cover their hair.
But there she stood, her curly hair blowing in the breeze. No one protested. In fact, she was applauded by many people. Taxi drivers and older women took her picture. The police, who maintain a booth in the square, either did not see her or decided not to intervene.
She was not alone. On Monday several other women, a total of six, according to social media accounts, made the same symbolic gesture: taking off their head scarves in public and waving them on a stick, emulating a young woman who climbed on the same sort of utility box on Dec. 27 and was subsequently arrested. Activists say she has since been released, but she still has not resurfaced in public.
At least one of the women protesting on Monday was arrested by the police, a shopkeeper who witnessed the arrest said.
The protests, still small in number, are nevertheless significant as a rare public sign that dissatisfaction with certain Islamic laws governing personal conduct may have reached a boiling point. As the 28-year-old woman said, "I took my scarf off because I'm tired of our government telling me what to do with my body."
And some said this might just be the beginning. "My guess is that more of these protests will follow," said Nasrin Sotoudeh, a lawyer and human rights activist. "It's obvious that some women want to decide for themselves what to wear."
That remains to be seen, but the protests have already gained enough attention to provoke angry reactions in some quarters.
"These protests are done by instigators, saboteurs and vandalists and anarchists," said one critic, Kazem Anbarlooie, the editor in chief of the hard-line newspaper Resalat. "Recently our enemies were communists and liberals, now Americans are provoking masochists against us."
The first protest in December took place on a Wednesday and seemed connected to the White Wednesday campaign, an initiative by Masih Alinejad, an exiled Iranian journalist and activist living in the United States. Ms. Alinejad has reached out to Iranian women on Persian-language satellite television and through social media, and via a website she runs called My Stealthy Freedom. On the website, women post images of themselves without head scarves, demanding an end to the compulsory head scarf law.
During Monday's protests some women waved white scarves, the symbol of Mrs. Alinejad's campaign.
Hard-liners say that foreign intelligence agencies, including the Central Intelligence Agency, have been nurturing protests in Iran, like those that broke out in 80 cities at the end of last year. Nearly 4,000 people were arrested and 25 died, according to official statistics. The hard-liners have not provided proof to back up their claims.
The Islamic head scarf, or hijab, is seen by Iranian ideologues as a pillar of the Islamic Republic of Iran. The law regarding the scarf has been enforced since the 1979 Islamic Revolution, and a head scarf is obligatory for every woman in the country, even tourists and visiting foreign dignitaries.
While discriminatory Islamic divorce and inheritance laws pose problems for individual women, the head scarf is a highly public symbol of a set of personal rules imposed by Iran's clerical leaders, who decide what people can wear, what music they can listen to and what television programs and movies they get to see. Men are also the subject of clothing laws: They are forbidden to wear shorts in public.
During the past decade, influenced by the rise of the internet, satellite television and cheap foreign travel, many Iranians have grown deeply resentful of rules that they can see for themselves are out of step with most of the rest of the world. Many have become relatively secular and feel increasingly unwelcome in the fixed-in-stone state version of Shiite Islam, and many have taken to flouting the rules whenever and wherever they feel free enough to do so.
In past years, the morality police zealously enforced the rules, arresting women and men who violated them. But under the current president, Hassan Rouhani, a moderate, those officers have largely been taken off the streets.
Their removal was a gesture to a radically changed society, but it was also a recognition that there were not enough enforcers available to control a society that resents and rejects the rules. Women without head scarves can be seen everywhere in Tehran, in their cars, in shopping centers and even on the street, but always with the scarves draped over their shoulders, as if they have only just slipped off.
But the public protests are different because they are a symbolic rejection of authority and a statement that some young women are apparently ready to emulate. "I was working when I saw the image of another woman protesting on social media," the 28-year-old said in a telephone interview. She said she informed some friends and co-workers about her intentions.
"If a lot of people do this, it will have more influence, I thought, so I went," she said. At Ferdowsi Square, one of the busiest places in Tehran, she used a tree branch to clamber on top of the utility box next to a traffic light.
" 'Good going,' " she said many people shouted. "After five or six minutes people urged me to step down." They did not have a problem with her protest, she said, but they had what they wanted. "They had taken enough pictures to put on social media," she said.
https://www.nytimes.com/2018/01/29/world/middleeast/head-scarf-protests-iran-women.html?mtrref=www.google.co.in&gwh=F5244293865815374765D982C1D26207&gwt=pay
--------
Indonesian police in Aceh province cut hair of transgender women
29 Jan 2018
Indonesian police forcibly cut the hair of a group of transgender women and made them wear "male" clothing, authorities have said, amid a crackdown on the LGBT community in the world's biggest Muslim-majority nation.
The incident happened after police raided several beauty salons in conservative Aceh province on Sunday and rounded up a dozen trans employees over claims they had teased a group of boys.
Police accused the employees of violating the province's religious laws.
Dozens of locals tried to attack the group of beauticians as they were taken to the police station, but they were pushed back by authorities, they said.
Police then cut some of their long hair with scissors, as well as forcing them to wear "male" clothing and speak in "masculine" voices.
"We have reports from mothers that their sons were teased by the transgender women," local police chief Ahmad Untung Surianata said.
"Their numbers are growing here – I don't want that," he added.
Surianata said the trans women would be held for "three days to give them counselling and coaching. It's going well and now they are all acting like real men".
Amnesty International's Indonesia director, Usman Hamid, said: "The police's so-called 're-education' of transgender people is not only humiliating and inhumane, it is also unlawful and a clear breach of their human rights. Such incidents must be promptly and effectively investigated."
Aceh on Sumatra island has been ruled by Islamic law since it was granted special autonomy in 2001 – an attempt by the central government to quell a long-running separatist insurgency.
This month a Christian was publicly flogged for selling alcohol in the conservative region, making him the third non-Muslim in Indonesia to suffer a public whipping.
Flogging is a common punishment under Aceh's religious law and local police are also known to shave the heads of those accused of anti-social behaviour.
The trans women would be detained for several days, followed by a five-day "training" programme including efforts to make them walk and speak in a more "manly" way, as well as "morals teaching" by local clerics, police said.
"We want to change their mentality so they can be better people," Surianata said.
Homosexuality and gay sex are legal everywhere in Indonesia except in Aceh. Prejudice against trans people, while widespread across the country, is particularly acute in the province.
Police have often used the country's tough anti-pornography legislation to criminalise members of the LGBT community, and there has been a recent string of arrests.
"It's very strange that officers [in Sunday's incident] would arrest innocent people and cut off their hair," said gay rights activist Hartoyo, who like many Indonesians goes by one name.
"It's barbaric."
https://www.theguardian.com/world/2018/jan/29/indonesian-police-in-aceh-province-cut-hair-of-transgender-women
--------
Sex slave for IS: NIA to probe 'converted' Kerala woman's claim
January 29, 2018
The National Investigation Agency registered a case on Sunday after a woman from Kerala alleged that her husband tried to sell her to Islamic State terrorists as a sex slave after converting her to Islam.
The central government made the submission in an affidavit filed before the Kerala High Court on Monday. It said given the seriousness of the alleged offence, the government suo motu entrusted the investigation into the case with the NIA.
The 25-year-old woman, hailing from Pathanamthitta district of Kerala and settled in Gujarat, had earlier approached the High Court seeking an NIA probe against her husband Mohammad Riyaz, who allegedly tried to take her to Syria from Saudi Arabia. Police have already arrested two people who are suspected to have facilitated their marriage.
The woman claimed that she had met Riyaz, from Thalassery in Kannur district of Kerala, while studying in Bengaluru in 2014 and alleged that her marriage was registered using forged documents. She also said she was blackmailed by him later.
The case, which was being probed by the police, will now be handled by the NIA. The agency has filed FIR against nine people under the Unlawful Activities Prevention Act. The accused have been charged under various IPC sections for offences including rape, forgery and forced religious conversion.
The development assumes significance as it comes in the backdrop of sensational Hadiya case which is being heard by the Supreme Court.
The apex court had made it clear that the NIA cannot probe the marital status of Hadiya, alleged to be a victim of 'love jihad', saying it was concerned about the choice of an adult to marry someone.
The Kerala police had handed over to NIA a list of 89 suspected 'love jihad' cases, where the victims alleged that they were forced to convert to Islam.
http://www.theweek.in/news/india/sex-slave-for-is-nia-to-probe-converted-kerala-woman-claim.html
--------
Divorce parties are now a trend in Saudi Arabia
30 January 2018
JEDDAH: Parties to celebrate divorces have become a trend in the Kingdom as divorced women have become accepted by society.
The stigma following women in Saudi Arabia whose marriages have ended has been, for the most part, eradicated, and the divorce rate rose marginally in 2017.
In the past, divorced women were marginalized, assumed to be barren or unfit for remarriage if divorced. Nowadays, divorced women can walk with their heads held high without having to worry about how society perceives them, and they can easily remarry if they please.
In recent years, celebrations have become frequent enough to instigate a trend. Some shunned the idea because they believed no joy could come of the separation of a married couple and their children. Others dismissed the notion as a cry for attention, while many believed it has stemmed from the injustice endured for the duration of the marriage.
Amani Al-Ghoraibi, a master's student at King Abdulaziz University, told Arab News about a divorce celebration she attended. "It was actually my aunt's. She felt relieved after the legal procedures were concluded and her papers got settled, not to mention relieved at being rid of him. She rented a cabin at a resort and invited the entire family to stay for a couple of days. There was a feast of goat roast (thabeeha) and the family brought her a cake."
Doaa Abdullah was 13 when her mother and father separated. "I remember feeling confused at the time… my mom threw a big party with a DJ and all, and she invited all her friends and relatives. When it was time to cut the cake, I was happy to help her with it. She'd been trying to get a divorce for several years and felt the need to celebrate when it finally happened."
Mohammed Adel told Arab News about how his uncles celebrated with his mother, Fatima, when the court allowed her legally to leave her husband through khula. Khula is a second solution for women whose divorce papers are not approved by a judge; women can separate from their husbands by returning the sum of the dowry to the husband.
"My uncles and relatives picked her up from court and told her they were taking her out to celebrate her khula. They did it to show her she wasn't alone and that she had people around her who care for her deeply.
"She had suffered a lot at the hands of my father and was treated poorly. He even wanted to keep her from seeing us. When we got to the restaurant and she realized what was happening, she was speechless with joy, and seeing her happy made me happy, too."
http://www.arabnews.com/node/1235681/saudi-arabia
--------
Indian Muslim cleric says women watching football un-Islamic
30 January 2018
LUCKNOW, India: A senior cleric at an influential Islamic seminary in northern India has issued a religious decree saying that Muslim women should not watch men playing soccer.
Mufti Athar Kasmi said that watching men "playing with bare knees" violated the tenets of Islam and was forbidden for women. Kasmi is cleric at Darul Uloom, Asia's largest Sunni Muslim seminary in the northern town of Deoband.
The cleric also lashed out at the men who allow their wives to watch football even on television.
"Do you have no shame? Do you not fear God? You let her watch these kinds of things," he said in his sermon Friday.
Kasmi's decree comes even as the Sunni Muslim kingdom of Saudi Arabia allowed women in to watch matches in soccer stadiums earlier this month.
"Why do women need to watch these football matches? What they will gain by looking at footballer's thighs. Their attention will be on that only and they will even miss the scores," Kasmi said.
Darul Uloom, located in Uttar Pradesh state, is a more than 150-year-old seminary that teaches Sunni Hanafi jurisprudence. The Islamic seminary's rigid interpretation of Islam is the ideological foundation for many hardline religious groups including the Taliban movement in Afghanistan.
About 13 percent of India's 1.3 billion people are Muslim and the majority of them are Sunni but the country's secular constitution ensures that decrees such as Kasmi's have no legal force.
On Tuesday a Muslim women's rights activist in the northern city of Lucknow decried the decree.
"It implies that Muslim women should not watch any athletic event, tennis matches or swimming championships. How it can be immoral for a woman to watch men playing sport?" Sahira Nasih said.
Recently the seminary issued a fatwa asking Muslim women not to visit beauty salons or wear tight clothing
http://www.arabnews.com/node/1235901/offbeat
--------
No men allowed: A women-only village in Egypt
January 30, 2018
Cairo — Al-Samaha is an all-women village in Egypt. It is currently home to around 303 single women, and men are strictly prohibited. Any woman who gets married is immediately asked to leave. It is located in the city of Edfu, around 120 kilometers from the southern city of Aswan.
The village was dedicated by the government to widows and divorcees, and includes plots of agricultural land to allow them to raise poultry and livestock as a source of income.
"The village project began in 1998 when the Ministry of Agriculture decided to allocate two new villages to divorced women and widows only'', says Hamdi Al-Kashef, the village's general supervisor to Al Arabiya.
He reaffirmed that the women only live with their children, without any men. Each family is granted a house and a six-acre plot of land in addition to further assistance by the project founders and international organizations.
The women are provided with furniture and agricultural essentials and are granted several short-term loans. The single-story houses in the village have been financially subsidized by the government, allowing the woman to repay them in installments. When the women get married, the land and house are withdrawn, says Al- Khashef. All crops can be grown with the exception of sugar cane, and in case of violation, the lady will no longer be given fertilizer.
The project aims to preserve the future for those who lost members of their families, and to help support the women who have now become the sole breadwinners for their children. — Al Arabiya English
http://www.saudigazette.com.sa/article/527187/World/Mena/No-men-allowed-A-women-only-village-in-Egypt
--------
How social media helps female pilgrims document their spiritual journey in Saudi Arabia
29 January 2018
Pilgrims in Madinah on Monday were documenting the spiritual atmosphere and experience using their cellphones in the square of the Prophet's Mosque and the historical monuments surrounding it after completing their Umrah, SPA reported.
One of the Egyptian pilgrims, Samira Hanoumah, said "I always make sure that I involve my family and friends in Egypt on my trip in the Holy land, where I document everything since arriving at the Great Mosque until reaching Madinah through videos and photographs showing the spirituality of the place and its sanctity."
Ogan Sat, an Indonesian pilgrim, said that social media has played a huge role in her being able to reach family and friends anywhere in the world, adding that this helps people from different cultural backgrounds to connect and understand each other. She said that for her personally, it helped her show Mecca and the Great Mosque to her family in Indonesia who really wished to see them.
And from Morocco, Mona Hamoudi said that social media made people closer to each other as her friends were still able to be with her every step of her spiritual journey through these platforms, even though they were not physically there. She added that doing Umrah involves going to a lot of breathtaking locations which deserve to be documented with pictures or even a tweet.
Kuwaiti pilgrim, Sara al-Baluchi, said that she appreciates the value of social media when she thinks back to ten years ago at a time where there were no communication platforms except SMS and phonecalls.
Lobna Kathem from Iraq expressed her happiness from sharing her spiritual moments during Umrah with her parents and siblings, saying that it is as if they were with her physically. She said she communicates with them several times a day showing them the monuments she visits, the services around the Holy area and the areas around the Great Mosque.
https://english.alarabiya.net/en/features/2018/01/29/How-social-media-helps-female-pilgrims-document-their-spiritual-journey-in-Saudi-Arabia.html
--------
FCT Administration Pledges Support For Muslim Women Association
January 30, 2018
The Federal Capital Territory Administration (FCTA) has pledged to support activities of the Federation of Muslim Women's Association in Nigeria (FOMWAN).
The FCT Permanent Secretary, Mr Chinyeaka Ohaa made the pledge when a delegation of FOMWAN led by its President Hajia Halima Jibrin visited him on Monday in Abuja.
Ohaa praised FOMWAN for taking the bold step of building peace, empowering women and youths, saying their initiative would have positive impact on Nigerians, especially women and children.
According to him, I admire your thoughtfulness in evolving projects and programmes that will build the economic capacity of the beneficiaries.
"As wives, mothers and sisters you are in a better position to understand the plight of the vulnerable segments of our society.
"We will partner with you in any area you feel we can be of help to make sure you are able to realise your mandate,'' he said.
Earlier, FOMWAN President, Jibrin commended the Administration for giving them audience and hosting the commissioning of their Majid (Mosque) in Utako District on January 26.
READ: Niger Govt. commended on technical, vocational education
FOMWAN was established in 1985 as an umbrella organisation for Muslim Women Associations in the country with the vision to empower women to be role models and to make positive impact on society.
"FOMWAN, from a small beginning at its inauguration in Minna, Niger State, is now a household name in Nigeria with branches in the 36 states and the FCT.
"The establishment of FOMWAN in Nigeria inspired other countries around the world like the UK, Sierra Leone and Ghana to set up similar organisations,'' she added.
She noted that the programmes of FOMWAN include education, health, capacity building, advocacy, community development and humanitarian services, human rights, elections and good governance.
"State chapters have been involved in diverse projects and have more than 200 hundred schools including nursery, primary, secondary and adult education.
"Others are Quranic, Arabic, vocational and the most recent in the family of schools being the school of nursing in Oyo State.
"The programmes also include agriculture, hospitals, clinics, pharmacies, orphanages, interface, peace building and income generation projects.
"Major funding source is internally generated funds through membership dues, levies on states, sales of publications, donations and project grants from donour agencies,'' he added.
Jibrin said dependence on internal had greatly limited the organisation's ability to meet the growing demand on its services among the Muslim Ummah, particularly women, youths and children.
https://www.pmnewsnigeria.com/2018/01/29/fct-administration-pledges-support-muslim-women-association/
--------
Why SAMA prevents women to open accounts for children?
Hala Al-Qahtani
January 30, 2018
WE know very well that most public sectors and ministries now work diligently on development programs and initiatives aimed at upgrading their business activities and services to meet requirements of Vision 2030. During that process, some errors are expected to occur and they must be corrected immediately. By 2020, there will be a review of all those who have made promises to achieve projects and programs based on certain standards.
There is nothing wrong in making criticisms. In fact, it would benefit those who receive the service in the end. The worst thing is that individuals still promote a sector or ministry that continues to provide poor services and does not have any ambition to satisfy someone with whom he has vested interests or he refuses to give up a traditional and stereotypical idea, for example.
So I think substantive criticisms are recommendable as it would give a greater chance to review plans and recalculate them once again to achieve better results. Nobody would be interested to waste more time and money. We expect from government sectors to keep a close watch on the performance of their employees in order to improve them by executing new systems to enhance progress and prosperity of citizens and support them to earn a living with dignity.
This objective cannot be achieved as long as the ministries' branch offices outside the three main cities of Riyadh, Jeddah and Dammam do not cope with the government's new systems. Many of them justify their adherence to the old system by saying they have not received the new circular.
What we could not understand is that when the working mother's salary was considered as part of the total family income and indirectly imposed on her the responsibility of spending on the house, following modern systems, she is not allowed by the Saudi Arabian Monetary Agency (SAMA), the Kingdom's central bank, to open a bank account for her children.
If a married mother decides to open a bank account for her children, she must bring her husband or the court's consent, being her guardian, as if her existence as a mother has no value! Many mothers had to face this bad experience when they wanted to save part of their monthly salaries for the benefit of their children. They were not allowed to open accounts even after they produced letters from their employers indicating their salary amount and annual income as well as other documents such as ID cards, family ID and birth certificates of children.
SAMA rejected such applications by saying mothers are not guardians of their children as per the law. It also demands from applicants to produce either the documents of custody or evidences to prove that the mother supports the children, or the consent of their father.
Before writing this article, I myself realized that the instructions of SAMA do not allow the mother to open accounts for her minor children under normal circumstances, unless she had a social problem and obtained a mandate or guardianship certificate. By doing so the agency is making a statement that normal mothers are not entitled to get involved in affairs of their children, unless she is divorced or widowed, or has received an authority from the court to act in place of her husband.
According to the law, a person who has custody or jurisdiction over a minor has the right to open a bank account in the name of the minor, whether it's father, mother or others, because originally the father has the right to custody, unless he is incapacitated or does not have the trust. There is no dispute on that. But in modern days mothers take up many responsibilities along with their husbands. As a result, the government has allowed women to complete their procedures without any guardian.
The Ministry of Interior has granted mothers the right to apply for family ID cards bearing names of their children while the Ministry of Labor and Social Development has calculated women's salary in their husbands' accounts and considers spending on the family as the duty of husbands.
SAMA also knows that the Ministry of Justice compels husbands to pay alimony even if the separated wives are gainfully employed. We would like to know why SAMA still prevents women from opening accounts for their children and why it's not changing its regulations to cope with new government systems?
Therefore, we call upon SAMA to change its regulations related to mother in order to allow all mothers to open bank accounts for their children. The accounts can be controlled by the mother if she finances them or by the father even if parents remain married or divorced.
SAMA can give protection to such accounts until the children reach legal age. The present contradictory systems and regulations followed by different government agencies and ministries look strange and must be corrected as quickly as possible.
http://www.saudigazette.com.sa/article/527209/Opinion/Local-Viewpoint/Why-SAMA-prevents-women-to-open-accounts-for-children
--------
URL: https://www.newageislam.com/islam-women-feminism/tired-their-veils-some-iranian/d/114106
New Age Islam, Islam Online, Islamic Website, African Muslim News, Arab World News, South Asia News, Indian Muslim News, World Muslim News, Women in Islam, Islamic Feminism, Arab Women, Women In Arab, Islamophobia in America, Muslim Women in West, Islam Women and Feminism