New Age Islam News Bureau
8 March 2018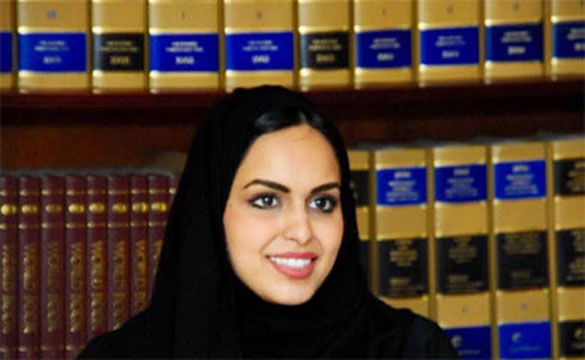 Dima Talal Al-Sharif, a Saudi lawyer at the Law Firm of Majed Garoub.
-----
• Indonesian Islamic University Bans Burqas on Campus
• Iranian Woman Who Removed Headscarf Jailed For Two Years
• Women's Day – Malala and Artist Shahzia Sikander Featured on Netflix
• Saudi Women Take the Wheel, Test-Driving a New Freedom
• Saudi Women Seek Nationality For Their Children From Foreign Fathers
• Working Women across the Muslim World Now At 155 Million, Says Economist
• Arab Women Forum to Be Held In KSA in Partnership with Arab News
• Female Unemployment Soars in the Arab World
• British MP Praises Saudi Crown Prince for 'Ideological Commitment' To Women's Rights
• Sky Is the Limit for Jordanian Mountaineer Who Is Helping Arab Women Reach New Heights
• First Ever Female Steel Workers in Turkey Start Jobs
• On Women's Day, struggle for gender equality continues in Iran
Compiled by New Age Islam News Bureau
URL: https://www.newageislam.com/islam-women-feminism/time-saudi-women-be-more/d/114525
--------
Time for Saudi women to be more vocal about their rights
AISHA FAREED
8 March 2018
JEDDAH: Often classified as oppressed, persecuted and crushed by the ultra-conservative, male-dominant society, Saudi women must take a stand against the misconceptions and false stereotypes many have of them.
Times have changed in the Kingdom, and Saudi women are gaining more and more rights — something much of the world is still ignorant about.
Many people around the world have been fed wrong ideas about Saudi Arabia's 32 million population, of which nearly half are women, according to a Step Feed report citing the Saudi General Authority for Statistics.
Women in the Kingdom can and do open their own bank accounts without the need for a male guardian's permission, contrary to several false reports by renowned media outlets.
Women do have the authority over their own bodies and health as elective surgeries or medical treatments can be freely sought without permission from a male guardian.
"The Law of Practicing Healthcare Professions in Saudi Arabia states in article 19 that the competent patient has the right to decide on the surgery, it means that it applies for both genders," Dima Talal Al-Sharif, a lawyer at the Law Firm of Majed Garoub in Jeddah, told Arab News.
Since the historical royal decree on September 26 last year allowing women to drive, obtaining a driver's license does not require a guardian's consent. "Saudi women are allowed to get a driver's license without permission from a legal guardian," said Al-Sharif.
Since 2006, Saudi women have been able to apply for their own personal identification cards too, she added.
"As per the King's instructions, Saudi women will be allowed to issue and renew their own passports without the guardian's permission very soon, in addition to studying abroad and traveling without their guardian's permission," according to Al-Sharif.
"Some Saudi families allow their daughters to travel abroad without a male companion, be it for tourism or treatment," said Riham Al-Saadi, 27, a Saudi national who has traveled to several countries without her male guardians. Al-Sharif agreed, saying that some Saudi families allow their daughters to travel alone through the electronic travel permission.
Saudi female lawyers can also plead in Saudi courtrooms, a change that came about after 2013 when the first female trainee advocate was registered, achieving a significant victory for women who were subsequently allowed to practice as lawyers.
Jeddah-based attorney Bayan Zahran became the first Saudi woman to open a law firm in January 2014.
Al-Sharif also pointed out that women have the right to issue a power of attorney by themselves.
Women are also allowed to start their own businesses without the need for a male guardian's permission, be it a husband, father, brother or even son, explained the lawyer citing the Ministry of Commerce and Investment.
As for renting apartments and cars, Al-Sharif said, "King Salman ordered all women's procedures to be facilitated since having their own national ID. So she has the right to rent an apartment or even a car. However, most rental offices ignore this and never apply it and require a male guardian's [permission]."
Applying for a job is another basic right that Saudi women enjoy without the interference of a male guardian.
Claiming that women cannot mix with the opposite gender is not entirely true. While it applies in some workplaces, men and women do interact in public place like malls, restaurants and universities, where female students in Saudi universities have male instructors in classes.
Saudi courts sometimes also grant mothers custody of their children in cases where the father is found ineligible, Al-Sharif added.
Wearing a full-length black abaya is not mandatory in the country either. Women still can wear colorful robes without headscarves in some big cities like Jeddah and Riyadh. Medicine students and nurses publicly move around the hospital grounds wearing a white lab coat.
Al-Saadi said one of the biggest misconceptions she has heard about Saudi women is that they are not allowed to leave the house and they only "cook and obey men".
"This is very wrong. Thankfully, we are living our lives to the fullest, and all these wrong ideas about us do not exist on the ground."
A documentary about women in Saudi Arabia would be a good way to educate people, she suggested. "A documentary that shows our lives, how we are happily living. I think this is the fastest way to correct the misconceptions about us."
Al-Sharif, the lawyer, believes that some of the misconceptions come from women's own lack of awareness of their rights.
In July 2016, an app called "Know Your Rights" was launched by Saudi lawyer Nasreen Alissa, to help spread awareness among her peers.The media plays a major role in marketing inaccurate information and claims too, said Al-Sharif.
"The solution to raise women's awareness of their rights can be the media itself, through the proper coverage of women's empowerment and the correction of the inaccurate information."
Her advice to Saudi women is to be more vocal about their rights.
"As a Saudi woman, it's your turn now to look for rights and to make sure that such rights are known and applied."
http://www.arabnews.com/node/1261616/saudi-arabia
--------
Indonesian Islamic university bans burqas on campus
07 Mar 2018
JAKARTA: An Indonesian state Islamic university faced criticism from Muslim groups and activists on Wednesday after it banned female students from wearing full-face veils citing fears over the spread of radical ideology on the campus.
Indonesia is home to the world's largest Muslim population, the majority of whom practice a moderate form of Islam.
But the country has seen a recent rise in more conservative interpretations of the religion, which many see as a threat to its long-standing reputation for religious tolerance and diversity.
The State Islamic University (UIN) in Yogyakarta city, on Java island, said it had 41 students using the full veil, or burqa, who would be offered counselling sessions and ultimately be asked to take off the veil if they wanted to graduate.
The Islamic Defenders Front, a conservative group that campaigns against activities it deems un-Islamic, said in a statement the policy "did not make sense" and was in conflict with the country's efforts to preserve diversity.
A women's rights activist decried what she described as a limitation on the freedom of women to wear what they want.
"Using full-face veils is a choice and we cannot interfere in their choice and their freedom," said the activist, Lathiefah Widuri Retyaningtyas.
University rector Yudian Wahyudi said radicalisation, as exemplified by the burqas, undermined learning.
"Female students wearing the burqa, and radical groups, they are disturbing the teaching process," Wahyudhi said.
"We are putting moderate Islam forward," he said, adding that the policy was a "preventive action to save the students".
Students would be allowed to continue using regular headscarves that do not cover the face, he said.
A recent survey showed that nearly a fifth of high school and university students support the establishment of a caliphate over the current secular government.
The data has alarmed authorities already struggling to contain the growing influence of both peaceful and militant Islamist groups in the world's third-largest democracy.
https://www.channelnewsasia.com/news/asiapacific/indonesian-islamic-university-bans-burqas-on-campus-10022746
--------
Iranian woman who removed headscarf jailed for two years
7 Mar 2018
An Iranian woman who publicly removed her veil in protest against Iran's compulsory headscarf law has been sentenced to two years in prison, the judiciary said on Wednesday.
Tehran's chief prosecutor, Abbas Jafari Dolatabadi, who announced the sentence, did not give the woman's identity but said she intended to appeal against the verdict, the judiciary's Mizan Online news agency reported.
Dolatabadi said the unidentified woman took off her headscarf in Tehran's Enghelab Street to "encourage corruption through the removal of the hijab in public".
The woman will be eligible for parole after three months, but Dolatabadi criticised what he said was a "light" sentence and said he would push for the full two-year penalty.
More than 30 Iranian women have been arrested since the end of December for publically removing their veils in defiance of the law.
Most have been released, but many are being prosecuted.
Women showing their hair in public in Iran are usually sentenced to far shorter terms of two months or less, and fined $25.
Iranian law, in place since the Islamic Revolution of 1979, stipulates that all women, Iranian or foreign, Muslim or non-Muslim, must be fully veiled in public at all times.
But the zeal of the country's morality police has declined in the past two decades, and a growing number of Iranian women in Tehran and other large cities often wear loose veils that reveal their hair.
In some areas of the capital, women are regularly seen driving cars with veils draped over their shoulders.
Dolatabadi said he would no longer accept such behaviour, and had ordered the impound of vehicles driven by socially rebellious women.
The prosecutor said some "tolerance" was possible when it came to women who wear the veil loosely, "but we must act with force against people who deliberately question the rules on the Islamic veil", according to Mizan Online.
https://www.theguardian.com/world/2018/mar/07/iranian-woman-who-removed-headscarf-sentenced-to-two-years
--------
Women's Day – Malala and artist Shahzia Sikander featured on Netflix
MARCH 8, 2018
New York: Netflix talk show, My next guest needs no introduction with David Letterman, will feature a special surprise for Pakistanis this women's day – none other than Malala Yousafzai. However, Pakistan isn't being brought into the spotlight just because of Malala. Lahore born, NCA educated Pakistani-American artist Shahzia Sikander has made portraits of both Malala and Lettermen for this show. The artwork is currently being used on the show's social media promotions. Letterman's portrait is his display picture on Instagram. Hence it isn't just Malala bringing Pakistani women to the fore this women's day, but also Shahzia Sikander.
Malala's portrait portrays her staring into the distance with an intense purpose and a vision. She appears strong and resilient. Sikander has painted angels in the background which represent flight – of imagination, endeavor and dissemination of hope. But more importantly, they symbolise the struggles of the children of Swat and beyond and represent a life lived in the pursuit of knowledge, as well as a life of perseverance and action. The angels are orbiting Malala. They are also Malala's guardian angels – while Malala herself is portrayed as a beacon of light.
Sikander is a Pakistani-American artist who has created a new vocabulary in her practice. Her unique expression brings in her training as a miniature artist, a modernist as well as globalist. Her many accolades include awards and global recognition. And overtime, her art practice has broken the studio boundaries and entered public domain in the United States and beyond. Last year, her animations were displayed at New York City's landmark Times Square. Her work is now permanently displayed at Princeton University and her installations have dealt with a host of universal themes. Increasingly, her work is informing the popular culture and Netflix by itself is global in nature. Not only has Shahzia put Pakistan on the world map but has also enriched world art by bringing together tradition and twenty first century sensibilities in her work.
The second image by Shahzia is that of Letterman. The red, white and blue hands in the background portray the United States. The portrait reflects Letterman's tenacity, which he has in spades, considering the length of his career and how many times he has reinvented himself, given how long lasting his career has been.
March 8 episode of David Letterman's show will be the third in the series. The earlier episodes featured former US President Barack Obama and George Clooney as guests. The future guest list includes names like Tina Fey, Howard Stern and Jay-Z. Malala is no novice when it comes to television either. She has also appeared on The Late Show with Stephen Colbert, The Ellen Degeneres Show and twice on The Daily Show with Jon Stewart. While My next guest needs no introduction with David Letterman isn't a serious, politically charged show, it does delve into complex issues. In the Barack Obama episode, Letterman visited the Edmund Pettus Bridge, site of the American civil rights movement's Bloody Sunday in 1965 with Obama. In the George Clooney episode, the guest and the host visited the home of Nick Clooney – George's father, and met with Hazim Avdal, an Iraqi refugee who the Clooney family is sponsoring.
https://dailytimes.com.pk/211901/womens-day-malala-and-artist-shahzia-sikander-featured-on-netflix/
--------
Saudi women take the wheel, test-driving a new freedom
7 March 2018
Fatima Salem giggles with hesitation when it's her turn to drive through a small parking lot lined with bright orange cones and arrows. Like millions of Saudi women, she plans on applying for a driver's license when the kingdom lifts its ban on women driving in June. But first, she has to learn how to drive.
"I'm a little nervous," the 30-year-old master's student said.
Francesca Pardini, an Italian former racecar driver, helps calm her nerves, reminding Salem to check the mirrors and buckle up. Once on the road, Pardini reached over to help straighten out the wheel after a left turn, and they both lurched forward when Salem stepped on the brakes before a stop sign.
A stunning royal decree was issued last year by King Salman announcing that women would be allowed to drive in 2018.
More room for women
The king's 32-year-old son and heir, Crown Prince Mohammed bin Salman, has pushed through a number of other reforms including allowing women into stadiums to watch sports, bringing back musical concerts and promising a return of movie theaters this month after a more than three-decade ban.
The reforms are aimed at improving Saudi Arabia's image abroad, attracting foreign investors, increasing women's participation in the workforce and boosting local household spending as lower oil prices force the kingdom to undertake sensitive austerity measures.
At the female-only campus of Effat University in Jeddah, dozens of young Saudi students dressed in long, loose black robes braved the afternoon heat for a chance to learn how to drive on their own.
The university organized training this week for students to learn the basics of how to operate a car. For most of the young women, the hour-long training, sponsored by Ford Motor, is the first time they've ever sat in the driver's seat. Female-only universities across Saudi Arabia are expected to offer women full driving courses once the rules and guidelines from the government are announced.
"I felt out of place. I've never sat on that side of the car. Usually I always sit in the back or on the right side, but it felt good. You feel, like, in control," said Sara Ghouth, an 18-year-old freshman. "I want to drive a car. I want to be independent."
Car companies see the lifting of the ban as an opportunity to promote their brands and rev up sales in Saudi Arabia, a country of around 20 million citizens where around half are women.
Ford's Driving Skills for Life program, a one-time session that focuses on safety, has been taught around the world, including to male drivers in Saudi Arabia, but this is the first time the company has taught women-only groups, which are mostly made up of first-time drivers.
"With these girls, they're like an empty book," said Pardini, the Italian trainer with Ford. "They really want to learn."
New car market for Saudi women
Before the training began this week, Ford conducted surveys with women across Saudi Arabia to better understand what they are looking for in a car and how to market their brand to the new drivers.
"The first thing we don't want to do is be patronizing. This isn't about lip gloss and nail polish and things like that. These are educated women," said Crystal Worthem, a marketing manager with Ford.
Worthem said the American automaker "absolutely" expects a lift in sales as Saudi women start driving this summer. She says some women are already purchasing cars for when the ban is lifted, while others own the cars they are ferried around in.
"Women have always been in our showrooms, but now women are actively shopping for themselves, which is exciting," she said. "It's a car that they can drive and not a car that they'll be riding in."
Amal al-Jihani, a 23-year-old architecture student, said her biggest supporter encouraging her to drive is her father, who's promised to give her one of the family's used cars when she's ready for the road. Her 16-year-old brother already drives.
"My mom is refusing the idea of us driving. She says it's dangerous and she'll let us drive when we're married," al-Jihani said, laughing. "My dad tells her you'll relax when you see everyone else driving."
Joanna al-Fattani, a 19-year-old freshman, relies on ride-hailing services like Uber to go most places. To get to and from college, she has two different drivers. She said a lot of women are nervous about the idea of driving alongside men on the roads, but she's looking forward to the freedom.
"It's such an important announcement. Everybody needed this. Now is the right time to do it," she said.
https://english.alarabiya.net/en/News/gulf/2018/03/07/Saudi-women-take-the-wheel-test-driving-a-new-freedom.html
--------
Saudi women seek nationality for their children from foreign fathers
Fatima Muhammad
MARCH 8, 2018
UPTO 63 Shoura Council members agreed to study a proposal to grant nationality to children of Saudi women and foreign fathers. During the past two years two official Shoura proposals and massive call from hundreds of opinion writers for the review of the Saudi Nationality System has resulted in a plea to consider giving nationality to non-Saudi children of Saudi women. In a report published by Okaz on Nov. 8, 2016, official figures show that some 700,000 Saudi women were documented as being married to non-Saudis in 2013.
The justification for such calls is attributed to seeking equality between men and women in the Kingdom. It is also a way to ease the the burden of exit re-entry visa fees, which also hinders children's education abroad, on the mixed families. In addition, those pro the move say many countries, including Arab countries, do provide children with their mothers' nationalities. They also note that the children of Saudi women are qualified individuals who have been living in the Kingdom and by not providing them with nationality the society will lose active members of the society. In addition by giving children of Saudi mothers nationality it would prevent any form of blackmailing in case of divorce.
The two Shoura proposals include providing the nationality to children of Saudi mothers once they reach 18 years old and they prove they have stayed at least 10 years in the Kingdom during this period. Children must also provide a clear criminal record and know Arabic language before they apply for nationality. Other suggestions oblige the children to give away their father's nationality if they want the Saudi nationality. Some suggestions include giving a Saudi passport at birth and the nationality within six month after adolescence (18 years old).
Current and previous women Shoura members have lobbied along with their male colleagues to push for this file to be discussed in the Shoura Council. Well known women who called for this move are Latifa Al-Shaalan, Haya Al-Manie, Thuraya Obaid and Wafa Taibah.
Al-Shalan, one of those pushing for the file in the Shoura Council, wrote on her Twitter account, "My colleagues and I feel relieved, the file has gone through in the council". She described the opposing the view on the basis of tracing ancestry of children as "pathetic rather than surprising," adding that they have not asked for naming children after their mothers instead of fathers.
Moudi Al-Khalaf, another Shoura member, congratulated Saudi women for their concerns and the struggle of their children is being negotiated at the council and hoped that the better is yet to come.
Saudi mothers and their children are hoping these calls and negotiations at the council will turn into a law that gives children of Saudi women the right for Saudi nationality. Hissa Al-Ruwaili, a Saudi mother of expatriate children, called on higher authorities to consider granting nationality to children of Saudi mothers. "My children deserve the nationality, they are the children of this country, they have Saudi blood."
Similarly Omar, a son of a Saudi mother, said he is a doctor and serves his country Saudi Arabia through working in a hospital. "The struggle of Saudi mothers will be put to an end soon by Crown Prince," he hoped.
Samiah, a daughter of a Saudi women, wrote "It is not believable that children of Saudi women are threatened to leave their mother's homeland if she passes away. It is not believable that 10% of their money is being taken from them. It is not believable that they will be deprived of their mothers' pensions, and it is not believable that they will be obliged to look for a sponsor. Supporting women should include all aspects of life." She elaborated that they hope that higher authorities would reconsider the nationality system.
Wafa Al-Rashid, an opinion writer at Okaz newspaper, wrote a piece entitled "Strangers in their homeland". She noted that this is the case of children of Saudi mothers who are forced to leave the country after their mothers, who sponsor them, passes away. She added, "Law protects the citizen either a male or a female. Why are we discriminating." She questioned that Saudi men who get married to non-Saudi women get all the rights for their wives without even questioning their behaviors.
Faiz Aziz, another opinion writer at Makkah newspaper, said, "Good news make us happy even if they come late." He added that what is not impressive, however, is the opposing views and the claims that giving nationality to children of Saudi mothers will raise such issues like tracing ancestry or lack of water.
Mohammad Al-Mukhtar Al-Fal said in his opinion piece in Al-Hayat daily that these children turn into doctors, engineers teachers managing specialists and consultants, and entrepreneurs who feel insecure, and the country needs to provide to them and their mothers with basic needs for decent life. "We should not give away our cadres and look for them outside our borders," he said, adding that Saudi women are more capable of raising children on love to the country and loyalty to it. "It would be insulting to Saudi women to accuse them of showing less love to the country and assuming that their children are keen to stay in this country only to live in it and benefit from its fortune."
The point system that now allows children to get nationality
If the mother is living permanently in the Kingdom the son gets one point when he reaches adolescence. If the son has no less than a high-school certificate he gets one point. If the father and grandfather of the mother are Saudi the child gets six points, but if only the father is Saudi the child gets two points only. If the son has siblings he gets two points, The son must have at least seven points. Daughters, however, are not included in the current point system.
http://www.saudigazette.com.sa/article/529990/SAUDI-ARABIA/Saudi-women-seek-nationality-for-their-children-from-foreign-fathers
--------
Working women across the Muslim world now at 155 million, says economist
8 March 2018
DUBAI: An incredible increase in female employment in the Muslim world during the past 15 years means that there are now more women working in the region than in the US or EU.
"Just after the turn of the millennium, across the largest emerging markets of the Muslim world 100 million women were working," said economist Saadia Zahidi, head of education, gender and work, and a member of the executive committee at the World Economic Forum. "Today, that number is 155 million, more than a 50 percent increase in just a decade and a half."
Speaking exclusively to Arab News ahead of International Women's Day, Zahidi told how her book, "Fifty Million Rising," published in January 2018, sheds light on this change in employment patterns through the stories of some of the Muslim women playing crucial roles in their economies.
However, the Western world might continue to view and stereotype Muslim women. She points out that their combined income now ranks them as a major economic force.
"My book is about this remarkable rising of an additional 50 million working women across the Muslim world, focused in particular on 30 economies including many in the Arab world as well as Pakistan, Iran, Turkey, Kazakhstan, Indonesia and Malaysia," said Zahidi.
"The combined income of the 155 million working women across the Muslim world is nearly $1 trillion, making them the 16th largest economy in the world. As consumers, employees, employers, entrepreneurs and taxpayers, they are a newfound economic power and this in turn is changing both the economy and society in their countries."
The quality and availability of education for women in Saudi Arabia is much better than many other countries, Zahidi pointed out.
"Half of all university-age women in Saudi Arabia attend university," she said. "This proportion is more than in Brazil, India and China and is a unique education success story. The potential of this talent
is unparalleled and, if unleashed, it can contribute to the goals of Vision 2030 and the diversification of the economy.
"The changes in regulations around driving and being able to register a business are a good start. More must be done to ensure that women can fully integrate their skills into the economy through employment and entrepreneurship."
A lack of role models remains a hurdle for many young Arab women but change is happening regardless.
"For many young women who are joining the workforce today there are no working women in their mothers' and grandmothers' generations, said Zahidi. "A lack of positive role models is often a drawback.
"However, the positive is that young women in the Muslim world today believe nothing can hold them back. They are trailblazers themselves and therefore extremely skillful negotiators in carving new roles for themselves, setting a new standard in the society around them and inspiring a new generation."
http://www.arabnews.com/node/1261606/world
--------
Arab Women Forum to be held in KSA in partnership with Arab News
8 March 2018
LONDON: Top female executives and business leaders are set to discuss the changing role of Arab women in the Middle East at a new event being launched in Saudi Arabia next month.
The Arab Women Forum is to take place on April 10 and will form part of the annual "Top CEO" awards event organized by the Dubai-based publisher Mediaquest.
Arab News is partnering with the inaugural women-focused forum, which is held at a time of significant social change in the Kingdom, including the move to allow women to drive.
"Given the raft of reforms underway in Saudi Arabia, there could not be a more appropriate and meaningful time to host such an event," said Faisal J. Abbas, editor in chief of Arab News.
"Arab News has been taking a leading role in both reporting on the changes underway in the Kingdom and pointing out the clear need for women to play key roles in Saudi society, and the many challenges ahead.
"This conference aims to take this conversation forward — for the benefit of both Saudi Arabia's female workforce and the wider society as a whole."
Julien Hawari, co-CEO of Mediaquest, welcomed the partnership with Arab News in hosting the inaugural Arab Women Forum.
"At a crossroad, the GCC and Saudi Arabia are going through a paradigm shift. The consequences of this fundamental transformation are many and are accelerating, resulting in profound economic change and the empowerment of women," he said.
"This is transforming businesses and society. It was a natural fit for Mediaquest to host the women empowerment conference in Saudi Arabia, as such a topic will impact the entire Gulf.
"Arab News stands at the forefront of dynamic change in Saudi Arabia, so we are, naturally, very pleased to have Arab News as a partner in the Arab Women Forum."
The launch of the event reflects the reforms seen in Saudi Arabia over the last year that have granted greater freedoms to Saudi women. Last September, women were given the right to drive, with the decree coming into force this June.
In January, women were allowed for the first time to attend football matches in Saudi Arabia.
The changes form part of a wider reform program spearheaded by Crown Prince Mohammed bin Salman to diversify the economy and drive growth in the country.
Topics set to be discussed at the event include how to empower women entrepreneurs, such as improving access to credit needed to start businesses. The representation of Arab women in regional politics and in corporate boardrooms will also be debated.
Some of the confirmed speakers so far include Ambareen Musa, CEO and founder of the UAE-based price comparison website, Souqalmal; Dr. Maliha Hashmi, executive director of the Red Sea Foundation, a non-profit organization that supports the development of the Red Sea as a driver of economic growth, and Dr. Lama Al-Sulaiman, vice chair and board member of Jeddah Chamber of Commerce and Industry.
http://www.arabnews.com/node/1261596/saudi-arabia
--------
Female unemployment soars in the Arab world
8 March 2018
BEIRUT: Unemployment among women in the Middle East is twice that of men, the United Nations said on Wednesday, pointing to low wages, a lack of skills and a belief among some that a woman's place is in the home.
About 16 percent of women in Arab states are unemployed, compared to a global average of 6 percent, the UN's International Labour Organization (ILO) said.
"The incentive for women to work in the Middle East is not there," said Emanuela Pozzan, a gender specialist with the ILO, pointing to poor maternity provisions and costly childcare.
"The jobs are not attractive because the salaries are not attractive," she told the Thomson Reuters Foundation by phone.
Getting more women into work globally was essential to achieve a global goal of gender equality by 2030, the ILO said, calling for policymakers to recognize the "unequal demands" on women at home and in caring for others.
Farah Nawayseh, 29, said she had been looking for work in her home country of Jordan for nearly nine months. Traditional male views of women were a significant roadblock, she said.
"Because I am female it is harder for me to find jobs," she said by phone from Amman, the capital. "It has to do with a conservative mindset that men don't want women to work — they are for marriage and to be in the home."
She said the monthly wage for the sales jobs she sought was about 200 Jordanian dinar ($282).
"A lot of the time when I go for jobs they are asking for males and the salaries are so low," she said.
Middle Eastern countries are among the worst in the world for unequal pay between men and women, according to the World Economic Forum, a Swiss charity.
The five lowest ranking countries for women's economic participation and opportunity are Syria, Pakistan, Saudi Arabia, Yemen and Iran, with a gap of at least 65 percent, it said. ($1 = 0.7080 Jordanian dinars)
http://www.arabnews.com/node/1261541/middle-east
--------
British MP praises Saudi crown prince for 'ideological commitment' to women's rights
8 March 2018
LONDON: Crown Prince Mohammed bin Salman has made important steps toward improving the rights of women in the Kingdom, a prominent British female MP said this week.
Writing for the UK's news website on Tuesday, Naz Shah, vice chair of the all-party parliamentary group on British Muslims, praised Crown Prince Mohammed for promoting a moderate interpretation of Islam.
She said that he had acted out of both "ideological commitment and practical necessity" by diluting the powers of Saudi Arabia's religious police, granting women the right to drive and tackling corruption.
Shah, an MP for the opposition Labour Party, urged Britain to be a "candid friend" to Crown Prince Mohammed during and after his visit to the country.
"Like many British Muslim girls, I was taught to look to Saudi Arabia as an example in religious matters. Many Muslim Brits won't even start their Ramadan fast until the Saudi clergy have confirmed the moon sighting, and I have family and friends whose lives have been changed through a pilgrimage there," she wrote.
"This makes it all the more painful when the example that is set is one of the default marginalization and subjugation of women and girls. This has been the case for too long. But in the past few months things have started to change," she wrote.
Meanwhile, another Labour MP, Graham Jones, called on his party's leadership to rethink its critical stance toward Saudi military involvement in Yemen.
Writing on the PoliticsHome website on Tuesday, the chair of the committee on arms export controls said: "No government in the world would accept a rebel force in a neighboring country attacking its citizens and its territory. Why should we expect Saudi, and its allies, to be any different?"
http://www.arabnews.com/node/1261641/saudi-arabia
--------
Sky is the limit for Jordanian mountaineer who is helping Arab women reach new heights
8 March 2018
DUBAI: When most people take on a challenge, they usually start small before moving on to tougher and more demanding feats.
But from the start, Dolores El-Shelleh set her sights as high as possible, literally, by deciding to climb the world's tallest mountain, Everest.
"As an Arab woman I always wanted to do something challenging and new from my perspective that will distinguish me among my community," said the 27-year-old Jordanian. "Then I found my ambition. Mountaineering is a new trend in Arab culture. Not many women get the chance to do this activity and a lot of people are amazed that I come from the Middle East and I am in my 20s.
"I really wanted to step in and try something totally different, something out of my comfort zone and my family's and community's beliefs."
However, not everyone was supportive of her passion as she set out to achieve her dream.
"I faced two different-sided opinions in my family: Those who encouraged and those who were against it, especially at the beginning," said El-Shelleh. "Relatives have approached my father saying, 'What are you doing, letting your daughter go to the Himalayas — it's dangerous.'"
Women from traditionally conservative countries in the Arab world often feel pressure to conform to the cultural norms of their families and societies, such as marrying young or keeping their personal or career aspirations in fields deemed more "suitable for women."
El-Shelleh is determined to break the mold and hopes to inspire others to follow suit.
"I want to be an inspiration and have the honor of raising the flags of both my beloved home country Jordan and the country of opportunities, the UAE, on the world's highest mountain," she said. "I want to make every person in my country proud, and empower other women in my society to have the courage to speak with loud voices and overcome the fear of resistance, no matter what their ambitions in life."
El-Shelleh has already scaled smaller peaks in the Himalayas, and Mount Kilimanjaro in Tanzania, one of the so-called seven summits, the highest mountains on each continent. She has also completed a technical winter mountaineering course in the Alps.
Her dream of conquering Everest has attracted support from, and helped to inspire, women in her native Jordan and across the region.
"A lot of women come back to me and say, 'Dolores, we never thought we would do something that challenging and now we want to go full force and try it'," said El-Shelleh.
She also revealed that her dream is about much more than just the climb.
"It is not only about reaching the mountain's summit," she said. "It is the adventure itself and learning about the different cultures in this world, which will bring us closer to humanity."
As she continues her training to prepare for Everest, the next summit she will tackle is Elbrus, the highest mountain in Europe. She will climb it with a team as part of an initiative for Jordan's King Hussein Cancer Foundation, titled "From the Lowest point to the Highest point against Cancer."
El-Shelleh's Everest climb is scheduled for 2019, which means her training schedule is rigorous and involves some personal hardship.
"It takes compromise and sacrifice," she said. "People don't see the frustration in it — finding true believers to be part of this journey is time-consuming and a lot of people won't understand that."
El-Shelleh fits her strict training regime and schedule around her full-time job in advertising.
"I felt like I was going to quit a couple of times — and I still feel a lot of frustration — but I just keep remembering that I've come so far on this path and I also have a lot of supporters who are true leaders so why should I stop now?" she said. "I keep thinking why should I stop now if I truly believe that nothing is impossible?"
Perseverance is key to her successes so far and is, she believes, "something everyone should have to conquer any type of goal in life."
http://www.arabnews.com/node/1261576/offbeat
--------
First ever female steel workers in Turkey start jobs
March 08 2018
Turkey's first ever female steel workers started working at the Borçelik factory in the western province of Bursa's district of Gemlik on March 7.
"Generally, when male applicants are enrolled in crane trainings for 15 days, the instructor selects one or two of them to be recruited, but none of the 26 female applicants could be eliminated," said Emre Bülbül, the unit manager of management systems at Borçelik, a Turkish flat steel producer.
They were selected among 2,350 women workers for the project, which commenced on April 1, 2017 with the motto "There is no tall order for women," just after the recruiting team removed the limitation on sex from the required qualifications section of the job adverts.
Following a shortlisting period, 26 of them joined the trainings on Jan. 4. In the beginning, there were only 19 positions available, but because the average training score was 99.5 over 100, they were all employed.
Not 'factory roses'
The women, most of them university graduates who had to quit their jobs after having a baby or for some other reasons, are now operating cranes and weighbridges just like their male colleagues during the same day and night shifts.
They are not "factory roses," they perform the same tasks as men.
"The posters and the mottos were attractive. I was sure that I would be capable of doing this job. I'm very determined, I knew I would learn how to do this definitely," said Ayşegül Acar, 29 years old and married with two children. Having worked as a cashier and helper in a pharmacy before, she is now a field operator.
Sinem Sevim Önal, 29, joined the elimination sessions with her son because she could not afford a babysitter. She is now a crane operator dealing with 20 tons of steel rolls.
"I said 'Why not' and thought that we shouldn't act in a prejudiced way," she said.
Albeit surprised, male workers praise their new fellow workers.
"We don't see them as others. Since they have chosen this specific walk of life we will walk it together," said Hayati Alkan, a steel worker for 15 years.
http://www.hurriyetdailynews.com/first-ever-female-steel-workers-in-turkey-start-jobs-128397
--------
On Women's Day, struggle for gender equality continues in Iran
8 March 2018
March 8th, marks the International Women's Day. Women all over the world have always been denied of their full equal rights with men. But in the 21st century there are countries in the world that have taken big steps toward gender equality.
Shamefully however there are a few that insist on outright misogyny which is enshrined in their laws. Iran is one such example. Protests in Iran early this year displayed many social and economic rifts in the country one of which was systematic suppression of women.
No place on the planet has women been more suppressed than Iran. Despite the fact that Iranians are the kind of people who move heaven and earth for their children, parents are constantly worried about their female children's future.
They have learned that the theocratic regime hardly leaves any room for women in Iran. It is fair to say that Iranian women have been treated as second class citizens under the regime.
Statistics reveal that in Iran there are more educated women than men. Numbers do not lie. Most of Iran's college graduates are still female students. Although that is true but it does not mean that the women in Iran have more success in getting jobs.
On the contrary they have very little luck in landing a job. Human Rights Watch tends to agree. Its 2017 report said: "Women are severely underrepresented in senior public positions and as private sector managers. This significant participation gap in the Iranian labor market has occurred in a context in which Iranian authorities have extensively violated women's economic and social rights".
"Specifically, the government has created and enforced numerous discriminatory laws and regulations limiting women's participation in the job market while also failing to stop – and sometimes actively participating in – widespread discriminatory employment practices against women in the private and public sectors."
Desire for change
Women in Iran showed their desire for change by participating in the latest campaign against compulsory veil. They now are called "Daughters of Revolution Street." They put their headscarves on sticks as a sign of defense.
Obviously women were at the front lines of recent demonstrations which rocked Iran for days. Many have been arrested and one was kicked down by an IRGC agent and was taken into custody despite a badly injured knee.
But a famous footage that went viral social media earlier this year draws the line in the sand as to where Iranian women stand with respect to the regime. It shows a courageous woman shouting "Death to Khamenei" in the face of IRGC agents surrounding her. It was a daring at which cost her greatly.
Even as FIFA President Gianni Infantino attended a football match in Iran last week, 35 women were arrested for trying to snake into the stadium to watch the match. FIFA president said later that he had met "Rouhani about the government's plans to lift the long-standing ban on women attending male sports fixtures."
In early days of 1979 revolution, Rouhani happily volunteered to enforce mandatory hijab in government offices for women employees. That set the precedence for later suppression of women not only in work places but throughout the country.
It is obvious that women around the world despite making good progress have a long and hard battle ahead to achieve full parity. In Iran, especially after 1979 revolution, for women it has been an uphill struggle. Despite having more than a fair share of serving unjust prison sentences or executions, they were still in shades.
Opposition leads the way
Having discovered the flaw, the People's Mojhaden Organization of Iran (PMOI/MEK) as the opposition organization took the lead. The organization was completely transformed in fall of 1989 and women gradually filled all leadership positions formerly belonged to men.
It is hard to picture an underground organization on the run from the most savage security force in Iran: The Islamic Revolutionary Guard Corps (IRGC) and risk such major organizational changes. The PMOI did not give up and went forward full throttle after its new plan; and changed it did.
The architect of this new and galvanized organization was none other than a humble woman, Maryam Rajavi, president of the National Council of Resistance of Iran (NCRI). She had maintained all along that it could not have happened had it not been for men and women who believed in themselves and their final goal which has been a democratic and free country for all Iranians.
Many seasoned politicians from five continents meeting her, have noticed her positive approach to the most complicated problems such as making the final decision to move all Liberty Camp residents to Albania in September of 2016.
They have found her to be encouraging and bring out the best in people. Although she had graduated from the most prestigious engineering school, Sharif University of Iran, she took the helm of the Iranian opposition movement at the most turbulent times of the country.
A few weeks ago there was an international conference in Paris marking the International Women's Day. It was titled: "Women Force for Change: Iran Uprising and the Role of Women."
Speaking about the claims by the Iranian regime that women should be deprived of the freedom to choose their own clothing through the compulsory veil, Maryam Rajavi said that this is based on nothing because the Quran states that there is "no compulsion in religion", therefore imposing anything on women is contradictory to Islam.
The Iranian women have been deprived of their rights twice as much as men. It makes perfect sense for them to take the lead in bringing down the regime.
_____________________________
Reza Shafiee is a member of the Foreign Affairs Committee of the National Council of Resistance of Iran (NCRI). He tweets @shafiee_shafiee.
https://english.alarabiya.net/en/features/2018/03/08/On-Women-s-Day-struggle-for-equal-rights-continues-in-Iran.html
--------
URL: https://www.newageislam.com/islam-women-feminism/time-saudi-women-be-more/d/114525
New Age Islam, Islam Online, Islamic Website, African Muslim News, Arab World News, South Asia News, Indian Muslim News, World Muslim News, Women in Islam, Islamic Feminism, Arab Women, Women In Arab, Islamophobia in America, Muslim Women in West, Islam Women and Feminism