New Age Islam News Bureau
21 Jun 2012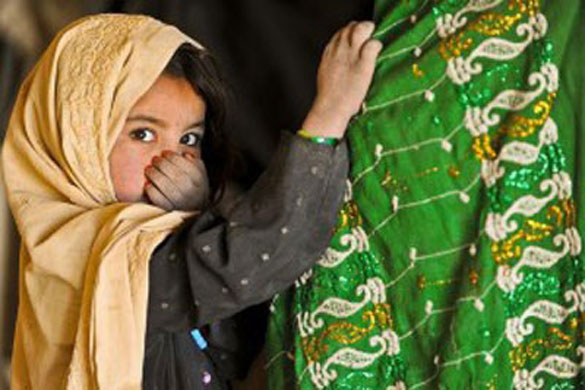 • Eight Year Old Afghan Girl Raped In Nimroz Province
• EU Denounces Afghan Minister's Prostitution Comments
• Recognise Safe Abortions as a Human Right: Mother of a Victim of Unsafe Abortion
• Women Participation Highlights Riyadh Chamber Elections
• Graduation Ceremony of PAF Finishing School: No Society Can Afford To Ignore Women
• Pandelela to Be First Malaysian Woman Flag Bearer For Olympic Games
• Fauzia Wahab: A trailblazer for Pakistani women
• Kohistan girls' case disposed of
Complied by New Age Islam News Bureau
Photo: Eight Year Old Afghan Girl Raped In Nimroz Province
URL: https://newageislam.com/islam-women-feminism/timbuktu-couple-gets-100-lashes/d/7686
---------
Timbuktu Couple Gets 100 Lashes for Child Out Of Wedlock
June 20, 2012
BAMAKO: The conservatists occupying northern Mali on Wednesday gave a couple 100 lashes of a whip for having a child out of wedlock as they continue enforcing Sharia law, witnesses told AFP.
"At Sankore Square in Timbuktu, a man and a woman got 100 lashes for having had a child outside of marriage," said local official Mohamed Ould Baby.
"People were watching it was like a show. I was there, I saw the youths arriving at the square, I saw them being whipped, it is the first time I have seen something like that."
The official said Islamic group Ansar Dine carried out the punishment.
Ansar Dine, which seized control of the north of Mali flanked by other rebel groups, has been implementing Islamic law, sharia, since late March, but this is the first time a couple has been punished in this fashion.
They have asked women to wear veils, whipped smokers and destroyed cartons of cigarettes while banning the sale of alcohol.
A hospital source in Timbuktu said the couple had sought treatment at the hospital after the beating.
The woman's family said she is 18 years old and already has a baby, and is also three months pregnant.
An Islamic police official in the town said six other women who had had children outside of marriage would soon be "punished by Islamic law."
While majority Muslim, Mali has long had a secular and moderate culture, with the ancient city of Timbuktu a meeting point for various tribes and religions.
The vast north of Mali, larger than France, was seized by conservatists and Tuareg rebels in a lightning advance which took advantage of a coup in the capital Bamako in the south on March 22.
However Ansar Dine took the upper hand and began implementing sharia in northern towns such as Gao and Timbuktu.
The two groups have different objectives: the secular Tuareg want independence for their traditional homeland while the conservatists want a strict implementation of Islamic law.
Brief plans between the two rebel groups to merge and create a breakaway Islamic state fell apart in recent weeks over the issue of sharia.
"All we want is the implementation of sharia" in Mali, said a source from Ansar Dine on Wednesday. "We are against independence."
While the north remains occupied, the south is now led by a transition government after the junta stepped aside, but has made little progress in plans to win back the lost territory.
Ansar Dine has sent a delegation to Ouagadougou to meet with Burkina Faso President Blaise Compaore, the mediator appointed by the Economic Community of West African States.
On Monday the conservatists said they were ready to negotiate a peaceful solution to the crisis in Mali, which has left the landlocked country effectively partitioned.
The northern desert has long been plagued by drug trafficking and other criminal activities and in recent years has become the base of al Qaeda in the Islamic Maghreb (AQIM), which has kidnapped many westerners in the Sahel.
Ansar Dine has openly allied with AQIM, sparking fears a breakaway state could become a hive of terrorist activity.
http://tribune.com.pk/story/396683/timbuktu-couple-gets-100-lashes-for-child-out-of-wedlock/
---------
Eight year old Afghan girl raped in Nimroz province
By SAJAD
Wed Jun 20
According to local authorities in western Nimroz province, an eight year old Afghan girl was raped at Kang district in this province. The health condition of the victim is reported critical.
This comes as rights advocates expressed concerns regarding growing violence against women and children in Afghanistan.
Provincial women's affairs chief Amina Hakimi said a 40 year old Afghan man raped an Afghan child in this province two days back.
Hakimi said the girl was raped by the Afghan man while she was playing and she is reported in critical health condition.
She also said the man who raped the 8 eight old Afghan girl managed to escape the area after committing the crime and has not been arrested yet.
According to Amina Hakimi a 6 months old Afghan child was tortured along with her mother by an Afghan man. She said parts of the ears of the Afghan child was cut and signs of torture was noted in the body of her mother as well.
She also said Afghan security forces have detained the man for torturing his family and is being questioned by Afghan police.
This comes as another 7 year old Afghan girl was kidnapped while she was on her way from school and was raped in Zaranj city earlier in this province.
Follow Khaama Press (KP) | Afghan Online Newspaper on Twitter, become a fan on Facebook. Stay updated
http://www.khaama.com/eight-year-old-afghan-girl-raped-in-nimroz-province-924
---------
EU Denounces Afghan Minister's Prostitution Comments
21/06/2012
The FINANCIAL -- EU foreign policy chief Catherine Ashton said Wednesday she was "deeply troubled" by the Afghan justice minister's suggestion that women's shelters were home to "immorality and prostitution".
"His comments set back efforts to fight violence against women in Afghanistan, including the need to provide victims with safe places to take shelter," she said in a statement, reacting to comments by Justice Minister Habibullah Ghalib.
"Too many Afghan women have experienced violence, gender-based and sexual, often on a repeated basis," she said. "Women forced to resort to shelters are amongst the bravest Afghans we know.
"They deserve the support of the international community and from the Afghan government."
According to EUbusiness, she said the European Union looked forward to a new Afghan law to crack down on violence against women "which, if implemented properly, has the potential to protect women against violence and ensure the safety of victims."
Ghalib outraged rights activists Sunday by telling a conference organised by the women's affairs committee of the upper house of parliament that foreign-funded rights groups were encouraging young women to defy their parents and seek shelter in safe houses.
"What safe houses? What sort of immorality and prostitution was not happening at those places?" he said.
http://finchannel.com/Main_News/Politics/111471_EU_denounces_Afghan_minister's_prostitution_comments_/
---------
Recognise Safe Abortions as a Human Right: Mother Of A Victim Of Unsafe Abortion
Nele Obermueller
18 June 2012
Jino still struggles to accept that an unsafe abortion killed her daughter, Shamin, last year. "My daughter didn't have to die," the 62-year-old mother of ten from Pakistan says quietly. "I don't know if I can forgive Shamin for her sins, but I also wish she'd given me the chance to help her survive."
Under Pakistan's law, abortion is only legal to preserve a mother's health. It is a highly taboo subject in the 97% Muslim country, where sex outside of wedlock has been punished by stoning. Shamin was not married when she got pregnant. Rather than face the shame of being a single mother in Pakistan, she secretly sought out an untrained birth attendant who gave Shamin anti-malaria pills to induce an abortion. "But part of the baby stayed inside – and my Shimi got an infection," says Jino, who works as a maid in the province Punjab. "That's when she came to me and told me everything. I took her to a clinic but it was too late. She died that same day."
Shamin's story is common in Pakistan, where, according to estimates by the Guttmacher Institute, 890,000 women have unsafe abortions annually. Eight hundred of these women will die and a further 197,000 will be hospitalised due to complications. "However even these figures are a gross underestimation, as so many cases go unreported," says Nighat Khan from the Guttmacher's research team in Pakistan.
"The problem is that there is no legal cover for these procedures," Fauzia Viqar, Head of Advocacy at the Shirkat Gah women's resource centre, condemns the current legal situation. "Women are told upfront: this is your risk, so if you don't make it, that's your problem." Women may take on this risk alone, but the physical price they pay has significant consequences for developing countries as a whole – where the majority of unsafe abortions are carried out. "If a woman is in poor health after having an unsafe abortion, she can no longer effectively contribute to a household, and her family has to bear that extra financial burden," Khan explains. "This lack of active participation is a barrier to achieving national development goals and creates an economic burden for the family and, ultimately, the state."
These profound consequences are why Millennium Development Goal 5 calls for a 75% reduction in maternal mortality and universal access to reproductive health by 2015. Yet this goal is proving hard to achieve. A study published in the Lancet in January 2012 showed that while abortion rates were stable, the proportion of total abortions carried out without trained clinical help rose from 44% to 49% between 1995 and 2008. This paradoxical link between illegalisation and an increase in pregnancy terminations is explained by the fact that countries with restrictive abortion laws tend to invest little in family planning and reproductive health measures – resulting in higher unwanted pregnancy rates and therefore more surreptitious abortions.
Such is the story of Shahnaz. Shahnaz got pregnant after having an affair with a married man. When her mother found out, she beat Shahnaz violently, but agreed to take her then 17-year-old daughter to a birth attendant. Shahnaz recounts the painful experience: "She inserted a wooden stick into me and told me to keep pushing it back in over the next two days should it come back out." The procedure left Shahnaz with permanent uterine scarring, unable to ever have children. To repair the damage to her reputation, Shahnaz was forced to marry a mentally unstable man.
"This is why we feel it is absolutely necessary that safe abortions become recognised as a human right," says, Dr Tabinda Sorush, Manager of Reproductive Health and Rights at Shirkat Gah. "Too often young girls' lives are ruined because of the stigma attached to abortion and premarital sex." In 2010, Sorush's team conducted a study to monitor MDG 5 themes in Pakistan. "Our research showed that even doctors frequently turn away women seeking abortions, because they see these procedures as sinful," Sorush says. "But it is not a question of morality. It is a question of health –and everyone has a right to health."
Special Rappporteur to the United Nations, Anand Grover, released a statement in 2011 calling for the worldwide legalisation of abortion. He argued that the continued criminalisation of this medical practice has led to a systematic abuse of women's human rights – including the rights to life, health and equality.
Gulalai Ismail, Founder of the Pakistani women's group Aware Girls, thinks this is a step in the right direction, but one that does not go far enough. Together with the Dutch NGO, Women on Waves, Ismail's group launched an abortion hotline in June 2010. The anonymous service was met with violent opposition. "We received a lot of threats," Ismail says. "Religious extremism is at its peak in this country and abortion is a very sensitive issue. Now we are very careful not to use mainstream media to advertise the hotline, and only use social media instead." Every week around 200 women phone the hotline for information about safer abortion methods.
Shamin and Shahnaz had also sought a way to help themselves. Yet their efforts to escape stigmatising pregnancies ended up costing Shamin her life and left Shahnaz with irreparable health damage. Theirs are stories that epitomise the dead-end options facing so many women when their only choices are unsafe abortions. "But realistically speaking it would be a security threat for us to have an open campaign about abortions now," Sorush says. Two of her field agents were recently killed researching abortion and family planning in Baluchistan. "International bodies do not have to worry about their staff's safety like we do," Gulalai Ismail agrees. "But they can put pressure on our government by finally recognising the right to abortion as a human right. Only when that pressure comes from above, by bodies like the UN, as well as from below, by groups like us, can change really happen."
http://www.guardian.co.uk/journalismcompetition/when-choosing-kills?newsfeed=true
---------
Women participation highlights Riyadh chamber elections
WALAA HAWARI
19 June 2012
The 16th session of the board of directors of Riyadh Chamber of Commerce and Industry will have a different outline than the previous ones, as women will be participating in the elections for the first time.
In the current elections, held from June 13 to 27, complete equality between businesswomen and businessmen has been assured, and any businesswoman who finds herself capable and skillful has the right to run for membership on the board of directors.
A subcommittee, made up of members from the elections' supervising team, has been designated to review the technical specialties of the candidates and supervise all the women election processes on the day of their voting.
The 16th session is witnessing modifications in a number of technical conditions that control the voting and election process. Previous competitions were based on coalitions or alliances of parties formed within block votes reflecting consistency of goals and programs. This block voting has been canceled in the present session, as voters will vote for one candidate.
In the last few years, Riyadh chamber saw a vertical expansion in the number of participants — which exceeded 80,000 — and a horizontal expansion represented in the number of branches and offices as well as the additional women's department.
Full report at:
http://www.arabnews.com/women-participation-highlights-riyadh-chamber-elections
---------
Graduation Ceremony of PAF Finishing School: No Society Can Afford To Ignore Women
Afshan S. Khan
June 21, 2012
Women have a vital role to play for the betterment of society. The saying 'Hands that rock the cradle rule the world' is an apt description of women's contribution in shaping the destiny of a nation, said Vice Chief of the Air Staff Air Marshal Farhat Hussain Khan.
He stated this while speaking as the chief guest at the graduation ceremony of the 32nd batch of students of the PAF Finishing School Islamabad held at the Officers Mess, Air Headquarters, here on Tuesday.
Addressing the graduation ceremony, the vice chief of the air staff said that in fact no society can afford to ignore women that account for half of its population. "I am sure that the knowledge gained here will have a positive impact on you and on others around you. The complexities of life are numerous, but such institutions can groom the students to face the challenges of life with dignity and strength. You will be the worthy ambassadors of this institution," he added.
Full report at:
http://www.thenews.com.pk/Todays-News-6-115719-Graduation-ceremony-of-PAF-Finishing-School-held
---------
Pandelela tipped to be first Malaysian woman flag bearer for Olympic Games
By LIM TEIK HUAT
June 21, 2012
PETALING JAYA: It will be another feather in the cap for diver Pandelela Rinong if she is picked as the Malaysian flag bearer for the opening ceremony of the London Olympics on July 27.
Pandelela is tipped to become the first Malaysian woman athlete to have the honour of leading the contingent out at the Olympics.
It has always been the men in previous Games since the nation's first participation in Melbourne 1956 and world No. 1 shuttler Chong Wei could, perhaps, have carried on the tradition had he not injured his ankle last month.
Chong Wei could go into action the day after the opening ceremony depending on the fixtures and that may be a reason for not considering him.
She schedule permits Pandelela to do the honours as the 19-year-old is only scheduled to compete with Cheong Jun Hoong in the women's 3m springboard synchro on July 29.
The Olympic Council of Malaysia (OCM) and chef de-mission Tun Ahmad Sarji Abdul Hamid will jointly decide on the choice of the flag bearer but Pandelela, the Sportswoman of the Year, is certainly in the driving seat as she has achieved many milestones in her sport.
Diver Bryan Nickson Lomas was only 14 when he bore the flag in Athens 2004, the youngest athlete at the Games.
Full report at:
http://thestar.com.my/sports/story.asp?file=/2012/6/21/sports/11518233&sec=sports
---------
Fauzia Wahab: A trailblazer for Pakistani women
June 21, 2012
Pakistan has lost a very special person. A woman who stood up for what she wanted, who spoke out in spite of criticism, who spread smiles with her wit and played a major part in empowering Pakistani women. The demise of Fauzia Wahab is an irrecoverable loss. She was an absolutely admirable woman and the mother of the nation. May Allah bless her soul and give our bereaved nation the courage to cope with this tragedy.
Wahab fought for democracy, human rights and women's empowerment. Through sheer hard work, dauntlessness and sincerity, she became the face of the country's largest political party, PPP, and by virtue of her own personal background and dedication, she became the voice of the middle class.
In countries like Pakistan, it is very difficult for a woman to participate in politics and earn the kind of respect Wahab was destined to get. She was a natural and effortlessly set an example for women all over Pakistan. Through her visible and indirect role as PPP MNA and office bearer, she accomplished milestone after milestone for women's empowerment. She played a key role in a number of bills related to women empowerment, changing the face of how women are treated in Pakistan.
Full report at:
http://blogs.tribune.com.pk/story/12250/fauzia-wahab-a-trailblazer-for-pakistani-women/
---------
Kohistan girls' case disposed of
June 21, 2012
ISLAMABAD: The Supreme Court on Wednesday disposed of the case regarding the alleged killing of five girls in Kohistan.
The court had taken a suo motu notice after reports appeared in the media that five girls, who had clapped while two boys danced in a wedding party in Kohistan, had been killed.
A delegation comprising Munira Abbasi, MNA Bushra Gohar, women rights activist Dr Farzana Bari, and federal and Khyber Pakhtunkhwa administration officials, which had visited the village where the incident had allegedly taken place, submitted its report before the court.
Dr Fazana Bari, who wrote a separate note regarding the identity of two of the visited girls, told the court that the girls the delegation had visited resembled those shown in the video, adding that she wanted further probe into the matter.
A three-member bench of the apex court, headed by Chief Justice Iftikhar Muhammad Chaudhry, said the delegation, which included a judicial officer, had carried out an investigation, adding that if Bari found further evidence about the incident, she could send it to the court.
http://www.dailytimes.com.pk/default.asp?page=2012\06\21\story_21-6-2012_pg7_9
---------
URL: https://newageislam.com/islam-women-feminism/timbuktu-couple-gets-100-lashes/d/7686