New Age Islam News Bureau
3 Aug 2019
• FIR Registered Against Man for Giving Instant Talaq in Uttarakhand
• Criminalization of Triple Talaq Challenged In Supreme Court and Delhi High Court
• Cost of Doing Politics Endless Harassment for Leftist Women in Turkey
• Iran, Pakistan to Enhance Co-Op on Women's Empowerment
• Saudi Women Hail Axing Travel Restrictions, Welcome Steps Toward Equality
• Double Delight for Saudi Women as Labour Ministry Scraps Retirement Age Rule
• We Record: 2,761 Women Tortured and Degraded Since Egypt Coup
Compiled by New Age Islam News Bureau
URL: https://www.newageislam.com/islam-women-feminism/three-women-sentenced-55-years/d/119380
--------
Three Women Sentenced To 55 Years for Defying Compulsory Hijab in Iran
August 02, 2019
Radio Farda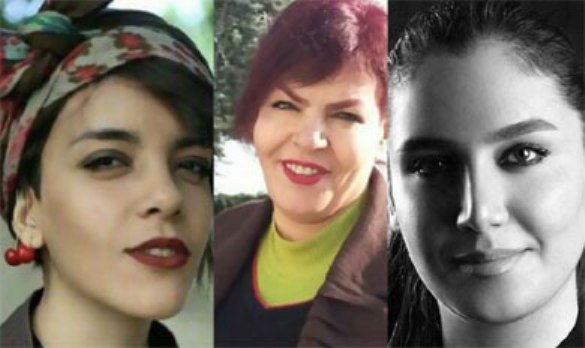 The Revolutionary Court of Tehran sentenced civil rights activists and Mozhgan Keshavarz, Yasaman Ariani, and her mother Monireh Arabshahi, to 55 years in prison combined
Three women held in custody for "disrespecting compulsory hijab," or the so-called Islamic dress code, have been sentenced to a total of 55 years and six months.
A "Revolutionary Court" in the capital city of Tehran delivered the verdict to Monireh Arabshahi, Yasamin Ariany, and Mojgan Keshavarz who are behind bars in the notorious Qarchak prison.
Arabshahi and Ariany's legal counsel, Amir Raeesian, told Ensaf News website August 1 that if the verdict is upheld, his clients would be sentenced to ten years to serve, each.
In Iran if a prison term is unusually long, a shorter sentence is set to be served. Usually, the shorter sentence to be served is a little more than half of the original long prison term.
In an interview with Radio Farda, Mojgan Keshavarz's attorney, Mohammad Moqimi, also verified the news but said that her client would appeal.
The verdict was delivered to the prisoners in the absence of their lawyers, Human Rights Activists News Agency, HRANA, reported.
The three had been charged with "assembly and collusion to act against national security," "propaganda against the regime," as well as "encouraging and preparing the grounds for corruption and prostitution."
However, Moqimi told Radio Farda that his client, Mojgan Keshavarz, had merely protested compulsory hijab and had nothing to do with other charges claimed by the prosecutor.
Ironically, none of the attorneys were allowed to represent their clients during different stages of issuing the indictment, interrogation, and trial.
Amnesty International (AI) had earlier also protested depriving the accused of the right of having access to legal counsels.
According to AI, "In April 2019, Yasaman Aryani, her mother, Monireh Arabshahi, and Mojgan Keshavarz were all arrested after posting a video that went viral on International Women's Day. In it, they are seen walking without headscarves through a Tehran metro train, handing flowers to female passengers. "The day will come when women are not forced to struggle," Monireh Arabshahi is heard saying while Yasaman Aryani hands a flower to a woman wearing a hijab, saying she hopes to walk side by side in the street one day, "me without the hijab and you with the hijab".
Sources say that because of this video, Yasaman Aryani and Monireh Arabshahi are facing charges that include "spreading propaganda against the system" and "inciting corruption and prostitution."
Furthermore, AI reported that the detained women were under heavy pressure to make self-incriminating testimony in front of TV cameras.
Branch 28 of Tehran's Revolutionary Court that condemned the three is presided by a notorious judge, Mohammad Moqisseh, who is well known for issuing harsh verdicts totally based on the reports compiled by intelligence agents.
Reportedly, while delivering the verdict, Moqisseh told the three, "I will make you suffer!"
Moqisseh is the same judge who on March 11 sentenced the prominent Iranian lawyer and defender of women's rights Nasrin Sotoudeh to nearly forty years.
A day later, Sotoudeh's husband, Reza Khandan, announced that only the longest sentence of the verdicts would be served, which is ten years imprisonment (for "encouraging corruption and debauchery and providing the means").
https://en.radiofarda.com/a/three-women-sentenced-to-55-years-for-defying-compulsory-hijab-in-iran/30088712.html
--------
FIR Registered Against Man for Giving Instant Talaq in Uttarakhand
Aug 03, 2019
In a first-ever case registered in Uttarakhand after the enactment of the law criminalising "triple talaq", the police registered an FIR against a man for allegedly giving instant talaq to her wife.
"We had received a complaint by a woman contending that her husband, after beating her on July 31, gave her triple talaq. We have registered an FIR against her husband. The investigation is underway," Nivedita Kukreti, Senior Superintendent of Police, told ANI.
On August 1, President Ram Nath Kovind gave his assent to the Muslim Women (Protection of Rights on Marriage), Bill, 2019, which criminalises instant 'triple talaq' among Muslims and attracts a jail term of three years for the husband.
https://www.hindustantimes.com/india-news/fir-registered-against-man-for-giving-instant-talaq-in-uttarakhand/story-TVfmjCeey3Eu21CxPpUXvI.html
--------
Criminalization of Triple Talaq Challenged In Supreme Court and Delhi High Court
03 Aug 2019
New Delhi: The newly-minted law which criminalises the practice of instant 'triple talaq', making it a punishable offence, has been challenged in the Supreme Court and the Delhi High Court.
On Friday, a day after President Ram Nath Kovind signed on the The Muslim Women (Protection of Rights on Marriage) Bill 2019, making it into law, a Muslim relegious organisation —Samastha Kerela Jamiathul Ulema—moved the apex court against the legislation, claiming it violates the fundamental rights as enshrined in the constitution.
On the same day, advocate Shahid Ali challenged the law in Delhi High Court, calling it unconstitutional.
The Bill replaced the triple talaq ordinance formulated in 2018, and makes the declaration of triple talaq a cognizable offence, attracting up to three years imprisonment with a fine. An accused can be arrested without a warrant.
The relegious organisation has contended that the Act allows for penal actions against a specific class of persons based on their religion.
The petition also said that following the Shayara Bano case, the utterance of the word has been rendered useless, and questioned the logic behind the penal action against husband for the utterance of a meaningless word.
This Act action may lead to polarization and disharmony in society, the plea said, seeking direction to strike down the law while asking for a stay on its enforcement.
The petitioner also said the bill violates fundamental rights under Article 14, 15 and 21 of the constitution of India.
The plea filed in the Delhi High Court said the Act was not only against the fundamental rights enshrined in the constitution but also against the principle of natural justice and directive principles of state policy.
The petition filed in the high court questioned the absence of mechanism in place to test the veracity of complaints for pronouncing the word 'talaq' thrice.
The cases are most likely to be mentioned next week in the both the courts.
When the Bill was tabled in Parliament, leaders of the Congress, Samajwadi Party, the Dravida Munnetra Kazhagam (DMK) and the Rashtriya Janata Dal (RJD) had said the it was partisan, unconstitutional and arbitrary, while accusing the government of getting it passed through a "managed majority."
https://www.livemint.com/news/india/criminalization-of-triple-talaq-challenged-in-supreme-court-and-delhi-high-court-1564811764793.html
--------
Cost of Doing Politics Endless Harassment for Leftist Women in Turkey
Pinar Tremblay
August 2, 2019
Do you have a social media account? Do you remember what you posted six or seven years ago? Now imagine a court case where prosecutors are asking for up to 17 years in prison for your tweets from almost a decade ago. Legal and online harassment are expected for any leftist female politician. Offending Turkish President Recep Tayyip Erdogan has become the quintessential charge against everyone who dares to express a critical opinion.
This is the story of a young brave female opposition politician, Dr. Canan Kaftancioglu, provincial chair of the Republican People's Party (CHP) for Istanbul. The court case that was brought against her is an act of revenge by the patriarchy in Turkey against a strong-willed, independent and successful female politician. When I interviewed Kaftancioglu for the first time in May, she was busy reorganizing the opposition because the CHP's first Istanbul mayoral victory was annulled. She was focused and hopeful. Kaftancioglu is one of the most important figures behind the CHP's phenomenal success.
Erdogan, being the savvy politician he is, must have seen how dangerous Kaftancioglu can be to his 25-year reign in Istanbul before most Turks knew her name.
"Just 48 hours after I was elected chair," said Kaftancioglu in our second interview, "an investigation was launched against me." Kaftancioglu was elected on Jan. 13, 2018. The prosecutors started the investigation on Jan. 15 and Erdogan gave a disparaging speech about her at the parliamentary gathering of his Justice and Development Party (AKP) on Jan. 16. Erdogan did not utter Kaftancioglu's name but posted her alleged tweets on a screen, accused her of offending the values of the nation and disrespecting the state and called her election a "total disaster." In a boastful display of masculinity, Erdogan exclusively addressed CHP chairman Kemal Kilicdaroglu and said, "Tell me who your friends are and I will tell you who you are." Erdogan spent over 10 minutes reading out each Kaftancioglu tweet and comment as his fellow AKP members booed and chanted slogans.
Watching the video after reading the case files, one sees Erdogan took Kaftancioglu's political presence as a personal challenge from day one. Erdogan's strongman policies must have seen tenacity in Kaftancioglu, who is frequently described among AKP elites as a "tough woman." Erdogan also must have thought Kaftancioglu's strong stand on controversial issues such as the Kurdistan Workers Party (PKK), the Armenian Genocide and the Gezi Park protests could prove to be the Achilles' heel of the opposition. The two back-to-back Istanbul elections have shown that what was assumed to be the weakest link for the opposition was indeed the backbone of its victory against the AKP's well-oiled electoral machinery in Istanbul. Kaftancioglu is the woman who kicked the hornet's nest in Istanbul, and now the judiciary wants to stop her.
After Erdogan's speech the pro-AKP media jumped on the bandwagon as expected and routinely discussed the "Kaftancioglu crisis," hinting that it would be better for the CHP if she were not an active player. Kaftancioglu said, "The day the prosecutors started the investigation, Erdogan put in a complaint as well. That was immediately added to the case. I was the target of a brutal witch hunt that was built around hollow allegations and lies since the day I was elected." Tech-savvy activists turned to social media to explain how several tweets and images that seem to taint Kaftancioglu's reputation had been photoshopped.
Al-Monitor spoke with a senior member of Kaftancioglu's legal team, Yaman Akdeniz, a professor of law at Istanbul Bilgi University. He said, "Kaftancioglu is facing five separate charges with regard to 35 tweets going back to 2012 and her prosecution can only be described as a political trial. It is then not a surprise that the criminal investigation was initiated on the day Kaftancıoglu become the Istanbul provincial head and since then, this has become a political persecution with the purpose of restricting or preventing her ability to take part in politics in Turkey."
As a legal expert, Akdeniz explained the confusing allegations against Kaftancioglu. He said, "So far as her tweets are concerned, they all include political criticism of the president of Turkey as well as critical speech with regards to certain political developments at the time, including with regards to Gezi. Whether you like them or not, they all are within the limits of freedom of expression and amount to political speech."
And here is the main problem with this court case: Political speech, especially coming from a young female politician, is not protected in Turkey. To the contrary, she is labeled extreme and every possible course of action is taken to block her political participation. Kaftancioglu presents a scary image for Erdogan and his conservative alliance because she is an intellectual who is not an elitist. Coming from humble beginnings, Kaftancioglu completed a successful education and is a medical doctor by training. In a system that purges intellectuals as enemies of the state, Kaftancioglu speaks the simple language of the people and understands their day-to-day concerns. She doesn't mince words and is respected for it by the public. It was the crux of her successful Istanbul campaign and her ability to mobilize a diverse grassroots movement to work as volunteers for election monitoring.
Let's take a look at some of the themes of Kaftancioglu's tweets that Erdogan labeled as offensive. They are critical of police brutality during the Gezi protests. She openly mourned for Berkin Elvan, a 14-year-old shot to death during the crackdown. The value of human life: Kaftancioglu argued that the assassination of three women in Paris (one of them PKK founder Sakine Cansiz) was wrong. She spoke about April 24, the day the Armenian Genocide started. In a political system where only praise for the government is expected, Kaftancioglu's statements are not acceptable. Erdogan and the pro-AKP media relentlessly ask why the CHP leadership does not silence her.
Kaftancioglu calmly explained, "This is not a legal but a punitive case. This is not a case against me as an individual. It is a case that aims to prosecute those who support human rights, democracy, separation of powers, supremacy of law, freedom of expression and secularism. It is one part of the operation to silence opposition by those who got Turkey into an economic, social and political crisis. Therefore, this is a case where justice is on trial."
Not just Kaftancioglu but also here immediate family members have been subjected to media lynching. It is hard to comprehend the pressure Kaftancioglu and her family are under, but at one point Kaftancioglu went in front of the camera to explain the reasoning behind a pork chop photo from her husband's social media account. This is only one example of the hardships of seeking political power while female in Turkey. Female participation in politics is traditionally low and is not progressing under Erdogan's new presidential system. For instance, in the last municipal elections, only 2% of AKP candidates were female. Although Erdogan has nominated a handful of women to ministerial cabinet posts, their political legacy has been modest. In a patriarchal system, a conflation of "manly" and "competent" can be expected, and Erdogan has several times repeated his yearning and appreciation for stay-at-home-mom figures, highlighting that men and women could never be considered equal.
In February, when asked why the CHP does not have more female figures, Kilicdaroglu confessed there is a pattern of reluctance by women to be in positions of power, saying, "Our female colleagues suggest male names for candidacy." The boorish reception Kaftancioglu received after her election gives us clues as to why hard-working women might shy away from politics. How many women have been lost to the Turkish political scene even before they dared set foot in it, watching Kaftancioglu's case? Machismo and misogyny help patriarchal politics continue unchallenged.
https://www.al-monitor.com/pulse/originals/2019/07/turkey-left-wing-female-politician-faces-harassment.html
--------
Iran, Pakistan to Enhance Co-Op on Women's Empowerment
August 2, 2019
The two officials agreed to expand cooperation and exchange knowledge during a meeting held on Wednesday, according to the portal of vice-presidency for women's and family affairs.
"In November 2018, we proposed and submitted a memorandum of understanding (MOU) to Pakistan's Ministry of Human Rights, while awaiting an answer concerning the beginning of cooperation in the mentioned areas," Ebtekar said.
Measures have been taken in recent years upholding women's rights in Iran including, supporting female heads of households, women's employment and entrepreneurship, and providing safe shelters for breadwinner women, and prohibiting child marriage, as well as holding courses on promoting women's rights, Ebtekar explained.
"We are trying to form a national family and intergenerational dialogue center. We are taking steps toward reducing the generation gap."
Under the Sixth Five-Year National Development Plan (2021-2025), gender equality is emphasized to provide equal opportunities in all areas, including health, education, as well as women's political and economic participation, she highlighted.
Although, there is no gender parity in the parliament or elections in Iran, according to the president's declaration issued in 2016, 30 percent of managerial positions in all provinces and government agencies should be allocated to women, she added.
She went on to say that appointment of women has increased by 65 percent in provincial state-run organizations and by 17 percent in government bodies.
Furthermore, many foreign nationals are being supported and receiving education in the country, Ebtekar noted, and added that a number of NGOs are also active in the field of supporting foreign nationals.
Masood, for her part, expressed satisfaction over expanded cooperation between the two countries and said that Iran and Pakistan can cooperate in different areas including science, technology and the environment.
Referring to the National Commission on the Status of Women (NCSW) in Pakistan focusing on women and girls, she lamented that "we have limitations in women's political and economic participation, especially in the parliament or city councils."
The Pakistani official further proposed a joint meeting in the field of women and entrepreneurship and the exchange of experiences, concluding that using the experiences of a country such as Iran in the field of female education would be greatly beneficial and effective.
https://www.tehrantimes.com/news/438827/Iran-Pakistan-to-enhance-co-op-on-women-s-empowerment
--------
Saudi Women Hail Axing Travel Restrictions, Welcome Steps Toward Equality
August 03, 2019
Many Saudi women have hailed the recent changes and expressed their joy at the series of amendments that empower them.
Soon after it was announced that Saudi women would no longer require permission from a male guardian to travel or obtain a passport, Princess Reema bint Bandar, the Saudi ambassador to the US, posted a message on Twitter in which she said the amendments were "designed to elevate the status of Saudi women within our society, including granting them the right to apply for passports and travel independently."
"These developments have been a long time coming. From the inclusion of women in the consultative council to issuing driving licenses to women, our leadership has proved its unequivocal commitment to gender equality," she said.
"These new regulations are history in the making. They call for the equal engagement of women and men in our society. It is a holistic approach to gender equality that will unquestionably create real change for Saudi women.
"Women have always played an integral role in our country's development, and they will continue to do so moving forward, on equal footing with their male counterparts," Princess Reema added.
The changes, which were announced in royal decrees, include amendments to labor, social-insurance and civil-status laws. Under the legal reforms, women have also been given the right to register births, marriage or divorce.
The amendments reflect the Kingdom's efforts to establish gender equality, campaigners say.
Following the reforms, women over the age of 21 will be able to apply for a passport without authorization, putting them on an equal footing to men.
Dr. Majed Garoub, lawyer and chairman of the Garoub law firm, explained the amendment in the travel document law to Arab News.
"The issuance of the latest royal decrees means that any Saudi above the age of 21 is allowed to request a passport without a guardian's consent. This is specifically with regard to women, as the law does not state that a male guardian should be present at the passport control center or receive the passport on her behalf; the law never enforced a male guardian's presence, but it was a common occurrence accepted by society."
Other changes to labor law and social insurance law have unified the retirement age and employment opportunities for both sexes, and given both parents "head of family" status.
Previously the retirement age was 60 for men and 55 for women, with establishments and employees signing an agreement to allow workers to continue working after the age of retirement.
The newly amended law dismisses the age limit, allowing employees to work past the age of retirement, while also smoothing the transition from the government sector to the private sector.
"This amendment highlights the important and necessary role played by employees with decades of experience," Garoub said. "It also provides stability for workers close to retirement age who can continue to be supported in the private sector after leaving a government one since their expertise will be valued.
"This also means that government entities will no longer need to issue end-of-service bonuses and the employee can simply continue working."
Under an amendment to civil status law, mothers will be able to report births and deaths in their family to the Civil Registry, a role that previously was possible only for the father or a male guardian.
Similarly, wives can now report the status of marriage and divorce as well as request a copy of the family register, while the responsibility lies on the husband to do so within 60 days after marriage registration.
Changes to labor law are also more inclusive of women, dismissing all forms of discrimination based on sex, disability and age, and reflecting the view that all citizens are equal in their right to work.
Amendments have also made it illegal to fire a woman during pregnancy or while on maternity leave. The law stipulates that an employer may not terminate a female's contract or warn her of termination during pregnancy or while on maternity leave.
The law also covers illnesses caused by pregnancy or resulting from childbirth, as long as that does not exceed 180 days of leave per year.
Nora Al-Rifai, 27, an HR assistant at a Jeddah car dealership, praised the legal amendments, saying that any society's prosperity depends on both men and women having equal rights.
"I feel very content this morning knowing that a basic human right has been restored to us. This is a glimpse of hope for a brighter future for women," she told Arab News.
Al-Rifai said that women have suffered the limitations of the guardianship law in pursuing educational and occupational ambitions, and she commends the Kingdom's efforts in giving Saudi women greater choice.
"Women will do wonders in all fields now that they have more access," she said.
Al-Rifai's sister, Sara, who teaches at a university in Jeddah, said: "The scope of the reforms is not only about allowing women to travel freely without constraint, but also to help those disadvantaged by male guardianship to live decently in a humane society."
Sara believes that other aspects of the royal decree will empower separated and divorced women.
"They will be able to issue family documents for themselves and their children. This will ease and expedite the process of registering a marriage, divorce and birth without waiting for a male guardian to do it."
The new amendments will take effect by the end of August, following the series of reforms and initiatives led by the government to empower women, and modify and develop existing laws to suit society's needs.
http://www.arabnews.com/node/1534671/saudi-arabia
--------
Double Delight for Saudi Women as Labour Ministry Scraps Retirement Age Rule
August 2, 2019
RIYADH — Saudi Arabia's decision to allow women to travel independently was hailed in the Kingdom on Friday as a historic leap for gender equality.
The Kingdom announced it was effectively allowing women over the age of 21 to obtain passports and travel abroad without securing the permission of their "guardians" — husband, father or other male relatives.
"The new regulations are history in the making," Princess Reema Bint Bandar, named earlier this year as Saudi Arabia's first woman ambassador to Washington, said on Twitter. "They call for the equal engagement of women and men in our society. It is a holistic approach to gender equality that will unquestionably create real change for Saudi women."
The decision triggered a wave of jubilation on social media, with the hashtag "No guardianship over women travel" and "This is our time" gaining traction.
As Saudi women celebrate the historic move, another good news is in store for them.
Okaz/Saudi Gazette have learned that the authorities concerned have decided to treat males and females equally with regard to the Ministry of Labor and Social Development regulations.
The ministry now considers a worker as every natural person "male or female" working for an employer and under his or her management and supervision in return for a wage, even if he is not within sight.
The amendments in the labor regulation have stressed that "it is not allowed to discriminate between workers on the basis of gender, disability, age or any other forms of discrimination whether in work, employment or advertising on the vacancy."
The authorities concerned have abrogated the rule about the retirement age — 60 years for a male worker and 55 years for a female. They say that the retirement ought to be in line with the requirements of the social insurance regulation.
While, the regulation earlier used to forbid the employer from sacking a female worker or issue her a dismissal notice while she is on a maternity leave, the new amendments have also approved the condition that a female worker cannot be fired or issued a notice of dismissal from her job while she is on a maternity leave.
The new amendments also approve that a female worker cannot be sacked or issued a warning that she will be fired if she falls sick due to pregnancy or delivery. This is on a condition that this should be proved by an attested authentic medical report, and her absence should not exceed 180 days per year, whether continuous or intermittent.
The regulation nullified the possibility for a woman to be paid her pension if she has a subscription of at least 120 months when she has reached the age of 55 years and above.
http://saudigazette.com.sa/article/573828
--------
We Record: 2,761 Women Tortured and Degraded Since Egypt Coup
August 2, 2019
An international rights platform has documented thousands of violations against women in Egypt since 3 July 2013, a turning point in the regime's treatment of females, which was considered a red line by previous governments.
We Record has documented enforced disappearances, physical and psychological torture, threats of rape and exposure to sexual harassment by members of the national security and police personnel, over the six years since the coup.
The regime has carried out 312 extrajudicial killings against women, according to their research, forcibly disappeared 396 women and 16 girls and referred 115 to terrorism courts.
The Arab Organisation for Human Rights has said that as many as 3,185 civilians have been extrajudicially killed by Egyptian security forces since 3 July 2013.
Rights groups have accused the Egyptian authorities of carrying out punitive measures against the opposition to silence dissenting voices.
They are also putting pressure on relatives of opposing figures, most blatantly against the wife and daughters of Khairat Al-Shater, a top figure within the Muslim Brotherhood who has been detained for six years and who was tried alongside former President Mohamed Morsi in the Hamas espionage case.
The case of Ola Al-Qaradawi has received significant attention since she was sent back to solitary confinement in July after a court ordered she be released, in what appears to be revenge against the Islamic scholar Yusuf Al-Qaradawi, her father, who was once outspoken against the regime.
Several women have been arrested as part of the Hope Alliance case, including Mawadda Osama Al-Aqbawi, a student who was detained by security forces after they could not find her father, the opposition politician Osama Al-Aqbawi.
Following their release or whilst on parole, 2,629 women have been arbitrarily arrested and detained; 127 women are still in prison, according to the report.
Amnesty International has condemned the Egyptian "revolving door" practice through which detainees are re-imprisoned after judges order their release.
According to We Record, 2,761 women have been tortured and degraded in various detention centres, including Hend Mohamed Talaat Khalil, 43, who has been electrocuted and threatened with rape.
Female students and staff members have been dismissed from universities and women have had their assets seized and banned from travelling outside the country.
This abuse has left "psychological and physical marks that would never disappear or be forgotten throughout their lives," says We Record, which is calling on the Egyptian authorities to stop all forms of violation and demanding an open, transparent investigation into these violations.
https://www.middleeastmonitor.com/20190802-we-record-2761-women-tortured-and-degraded-since-egypt-coup/
--------
URL: https://www.newageislam.com/islam-women-feminism/three-women-sentenced-55-years/d/119380
New Age Islam, Islam Online, Islamic Website, African Muslim News, Arab World News, South Asia News, Indian Muslim News, World Muslim News, Women in Islam, Islamic Feminism, Arab Women, Women In Arab, Islamophobia in America, Muslim Women in West, Islam Women and Feminism