New Age Islam News Bureau
6 Jul 2020
• 'Break This Taboo': Religious Singer Koveitipour's Duet with Young Girl Shocks Iran
• Egypt: Women's Clothing 'Delusional Excuse' For Sexual Harassment, Say Religious Authorities
• Al AzharReligious Body Encourages Victims of Assault to Speak Up, Report
• Aurat Foundation:Increase Seen in Incidents of Violence Against Women in Pakistan
• Sudan's Bid to Ban Female Genital Mutilation Sparks Hope, Caution
• Uyghur Muslim Women: Living in A Parallel World with Contrast Reality
• Pakistan's Ruling Party Expels Senior Lawmaker UzmaKardarAfter Audio Tape Controversy
Compiled by New Age Islam News Bureau
URL: https://www.newageislam.com/islam-women-feminism/thousands-protest-belgiums-college-headscarf/d/122300
--------
Thousands Protest Against Belgium's College Headscarf Ban Ruling
JUL 05, 2020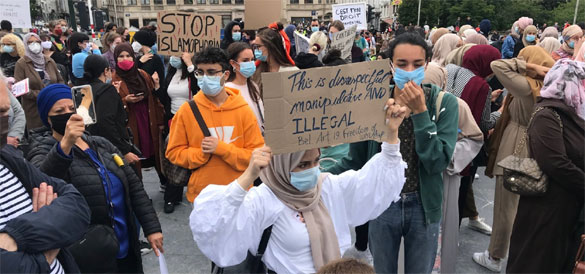 Demonstrators protest against a ruling by the Constitutional Court upholding a ban on headscarves in higher education, Brussels, Belgium, July 5, 2020. (AA Photo
-----
About 4,000 people gathered in Brussels on Sunday to protest against a ruling by Belgium's Constitutional Court that a ban on headscarves in higher education is permissible.
Responding to the call of non-governmental agencies, demonstrators gathered in Mont des Arts square in the center of the capital.
The protesters carried signs bearing slogans such as "Take your hands off my headscarf," "My right" and "Enough."
The group read a statement drawing attention to the religiously motivated discrimination faced by Muslim women in Belgium and requesting that Muslim women's rights be taken into consideration in the making of Belgian laws.
A group of demonstrators wore graduation caps.
The Constitutional Court ruled in early June that a ban on headscarves expressing religious or political opinions would not be contrary to the constitution or the European Convention on Human Rights (ECHR).
The case was referred to the Constitutional Court by a Brussels court after Muslim students sued the Francisco Ferrer Brussels University College about a ban on all religious symbols.
The ruling sparked a backlash on social media among young people and students, with rights organizations also decrying the move as a violation of a basic human right.
Since the decision, 12 Belgian universities and colleges have assured students they will not impose such a ban, stressing that religious freedom is protected in their classrooms, according to The Brussels Times.
https://www.dailysabah.com/world/europe/thousands-protest-against-belgiums-college-headscarf-ban-ruling?gallery_image=undefined#big
--------
'Break This Taboo': Religious Singer Koveitipour's Duet with Young Girl Shocks Iran
By RohollahFaghihi
5 July 2020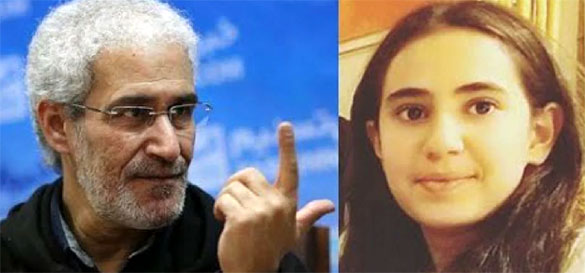 Gholam Koveitipour has caused controversy by releasing a recording of a duet with a 13-year-old girl known as Parichehr (YouTube)
-----
A well-known religious singer has caused controversy in Iran by releasing a recording of a duet with a 13-year-old girl, which has gone viral on social media.
The song, which was first released by GholamKoveitipour during the Iran-Iraq war, was reprised by Koveitipour and a girl, known as Parichehr, recording their lines separately.
Women singing on their own or with, or in front of, men, was banned in Iran after the 1979 Islamic revolution.
But a number of cases in recent times have brought the issue to the fore once again.
Known by almost all Iranians, Koveitipour is a eulogist - a speaker who delivers a funeral oration - and singer who embarked on his career by singing epic songs during the eight-year war with Saddam Hussein's Iraq in the 1980s.
"MamadNaboodiBebini", translated as "M0hammad, you weren't [alive] to see", is among the most celebrated songs in Iran's contemporary history, released on the occasion of the liberation of the southwestern city of Khorramshahr in 1982.
Koveitipour sang the song a year after the port city was recaptured. In it, he also eulogised the "martyrdom" of Mohammad Jahanara, the commander of Iranian forces in Khuzestan, who was killed in 1981.
Shockwaves
Koveitipour's decision to sing with the young Parichehr, the recording of which was released on 23 June, has sent shockwaves through Iran.
MaysamMotiee, a hardline eulogist, on 24 June attacked Koveitipour for performing with a girl, tweeting that he was "delivering serious blows to our religious traditions and spiritual legacy".
Tebyan, a conservative cultural institute whose head is appointed by the country's supreme leader, on 28 June lamented Koveitipour's actions, claiming that he had been taken advantage of by a company specialising in introducing new singers.
What may have angered hardliners more, however, were the lyrics: "We can't go back, this is the result of our own actions, and the result is not good at all."
On 24 June, the Fars news agency took a swipe at Koveitipour, saying it was not clear whether he was denouncing the country's current economic problems, or his past beliefs about the Islamic revolution.
Economic statement
In reaction to the criticism, Koveitipour spoke to a cultural journalist on 25 June on Instagram.
He did not say why he had chosen to do a duet with a young girl, but said that he was proud of singing the song and that his purpose had been to raise people's spirits amid the country's economic troubles.
Koveitipour asserted that 40 years ago, when the revolution occurred, "I told [myself] 'Thank God that we won't have any poor people in the country anymore.'
"We have a wealthy country, why should such a rich country reach this point?" he asked.
Speaking to Middle East Eye, HosseinKanani-Moghaddam, a conservative activist, expressed his regret over Koveitipour's song.
"We should find out who is behind the project of tarnishing the image of such a eulogist, whose voice is reminiscent of our martyred soldiers in the 1980s war," he said.
'No problem from a religious perspective'
Before 1979, Iran had numerous successful female singers, most of whom decided to leave the country following the revolution to pursue their careers abroad.
In recent years, the country has slightly softened its approach, with some female vocalists permitted to perform in concert halls solely for women.
However, allowing women to sing to an audience of both men and women, live or on TV, has not been allowed since 1979, with some clerics saying that women singing may tempt and induce men to commit "sin".
Former Supreme Leader Ayatollah Ruhollah Khomeini, the founder of the Islamic Republic, was reportedly not opposed to women singing.
However, during his leadership in the 1980s, no women were allowed to perform.
Mohammad Khatami, a former Iranian president and the leader of the country's reformists, once quoted Khomeini as saying that women singing solo, and men listening to the music, was not a problem from a religious perspective.
'Officials should show courage'
The present religious leadership in the country also seems to hold similar views.
"The current Supreme Leader Ayatollah Ali Khamenei has been asked once about his view regarding women singing solo," a former concert organiser, who wished to remain anonymous, told MEE. "In response, he didn't reply negatively.
"Therefore, there is no religious obstacle issue standing in the middle of our path. But we have been told that they believe society wouldn't accept this."
The organiser hypothesised that the influence of hardliners in Iranian politics may have kept the issue from being re-examined.
"If the priority is Islamic law and the supreme leader, they all have no issue with women singing solo," he said. "Officials should show courage and break this taboo, but I think they are terrified of radicals' possibly harsh reactions."
Iranian female singers angered
Koveitipour is not the only Iranian musical artist to have flouted the rules.
Popular folk singer HomayounShajarian, the son of legendary singer Mohammad Reza Shajarian, released a video on 19 June with Lebanese singer AbeerNehme, with a cover of the old song "MorgheSahar".
But the backlash against Shajarian has not only just come from conservatives.
Iranian female vocalists have slammed him for preferring to choose a foreign woman to accompany him on the song.
"Even Iranian male singers ignore [Iranian] female vocalists," acclaimed Iranian vocalist Sahar, who based in London, told BBC Persian last month.
Referring to the ban on women singing solo in Iran, Madmazel, another singer, addressed her fans on Instagram, saying: "Have you seen the video clip of HomayounShajarian? Only the voice of Iranian women provokes [men]?"
Anger from Iranian women vocalists also followed the release of a comedic movie, Motreb, which was screened in Iran in November.
In the movie, Iranian actor ParvizParastui sings a song with female Turkish singer AysegulCoskun.
While this could have led to the movie being barred from theatres, neither the government nor hardliners objected to it.
"Some are resorting to the strategy of the normalisation of breaking taboos," Kanani-Moghaddam, the conservative activist, said, before claiming that certain individuals "want to pave the way for feminist thought to dominate our art arena".
Risky resistance
In spite of Kanani-Moghaddam's assertions, violating the rules remains a risky endeavour.
On 2 February 2019, pop star Hamid Askari held a concert in Tehran during which he suddenly handed over the microphone to the female guitarist, who began to sing solo.
As news of the incident went viral, the Iranian Ministry of Culture announced that Askari was banned from staging any more concerts.
He has not been back onstage in the country since.
A similar situation occurred in 2015 when Mohammad Motamedi, a traditional vocalist, performed a song with a female singer from Spain, leading the Ministry of Culture to refuse to issue him a permit to release his new album for a period of time.
Social networks effect
But social networks are helping to break these red lines, paving the way on Instagram and Twitter for societal changes.
AmanullahQaraiMoqaddam, a professor of sociology at the University of ShahidBeheshti, argued that technology was changing lives, manners and habits.
"Social networks will bring down all the walls and limitations," he told MEE.
"Some think that they are able to prevent such happenings, but they are wrong, especially regarding women singing solo.
"I'm sure decision-makers and the government will eventually retreat and will allow women to sing.
"In fact, society will impose this on officials, and they have no choice but to accept it."
https://www.middleeasteye.net/news/iran-koveitipour-religious-singer-parichehr-duet-women-young-girl
--------
Egypt: Women's Clothing 'Delusional Excuse' For Sexual Harassment, Say Religious Authorities
Hamza Hendawi
July 5, 2020
Al Azhar Mosque and the Mufti, or chief theologian, have rejected the notion that how a woman dressed could be blamed for sexual harassment and rape.
-----
Egypt's two highest religious authorities have condemned sexual harassment after alleged sexual assaults on more than 50 women by a university student.
Al Azhar Mosque and the Mufti, or chief theologian, have rejected the notion that how a woman dressed could be blamed for sexual harassment and rape.
In statements at the weekend they said women should never be blamed for such crimes.
The case of the student, who was detained on Saturday for questioning, has dominated the national conversation for close to a week.
Women have used social media to recount their own experiences of harassment at the hands of men.
Egypt is notorious for sexual harassment of women in public, with rights groups often calling the country of about 100 million people among the worst places to live for women.
The government has in recent years increased penalties for convicted harassers or rapists, but the problem persists.
That has led to calls for societal changes that would encourage women to go public about crimes committed against them and press legal proceedings against offenders.
The debate about the student and his alleged victims, many of whom he is also accused of blackmailing, has laid bare the dark side of a patriarchal and conservative society.
Women have been required to silently endure sexual harassment rather than risk what many families see as the shame of going public with details of assaults or rape.
In the last few days, activists have vigorously reacted to the student's alleged crimes, including through an online petition calling on authorities to bring him to justice.
Almost 35,000 people had signed the petition by Sunday afternoon.
Victims have been called on to come forward and share details of their experiences and press charges against perpetrators.
There have also been calls for women to learn martial arts or organise workshops to train women and girls on how to deal with harassment.
Some of the accounts posted online by victims of the student made for harrowing reading.
They exposed a worrisome tendency by families and educational institutions, such as the Cairo university in which the student was enrolled before he went to study in Spain, for denial or trying to sweep cases under the rug.
Al Azhar, the world's top seat of learning for Sunni Muslims, devoted this week's issue of its magazine, Sawt Al Azhar, to the need to increase the fight against the sexual harassment of women.
"Being silent or looking the other way when it comes to those crimes poses a threat to the security of society and encourages the violation of virtues and sanctity," said the magazine, which reflects Al Azhar's views and policies.
"Women's attire, regardless of what it is, is not an excuse for assaulting their privacy, freedom or dignity."
A separate statement by Al Azhar called for support for women seeking legal retribution against offenders and urged members of the public to be proactive if they witnessed sexual harassment or assault.
"Being passive toward a harasser is unacceptable," Al Azhar said. "He must be made to desist and handed over to police."
It called on authorities to diligently enforce laws against sexual harassment and on society at large not to take lightly the suffering of victims.
The office of the Mufti, the country's chief theologian, called harassment a "cardinal sin" and called on authorities to deal "firmly and decisively" with perpetrators.
It also rejected the popular notion that at the root of sexual harassment lies in the way women choose to dress.
"It's a delusional excuse that only sick people with malicious caprices entertain," the office said.
There has been no word in public from the student on the allegations he faces, but a popular talk show host, AmrAdeeb of MBC television, quoted his father on Saturday as professing his son's innocence.
The father said the allegations prompted his Barcelona university to suspend and later expel him.
https://www.thenational.ae/world/mena/egypt-women-s-clothing-delusional-excuse-for-sexual-harassment-say-religious-authorities-1.1044488
--------
Al Azhar Religious Body Encourages Victims of Assault to Speak Up, Report
JULY 5, 2020
With the escalation of Ahmed BassamZaki's streak of assault and rape, a renewed wave of support has manifested itself within various institutes and bodies in Egypt. Indeed, only mere days after claims of the perpetrator's crimes were highlighted on social media, Egypt's top Islamic clerical body has encouraged speaking out on sexual harassment and assault in a statement on Saturday
The religious body, echoing the sentiments and narratives of activists and the National Council of Women, has stated that it highlights all support to victims of sexual assaults, particularly encouraging them to report the crimes.
"Silence or turning a blind eye to these crimes threatens the security of society and encourages violations," read the statement. It also rejected victim blaming, which is a common narrative in Egypt where women are most criticized for their attire or for leading a 'permissive' lifestyle.
"Women's clothing – whatever it may be – is not an excuse for attacking her privacy, freedom and dignity," also read the statement which stressed that harassment was an illegal act for which perpetrators had to be accountable regardless of the situation.
Finally, the institution advised a series of surprising action steps such as protecting victims from defamation, raising awareness among young women regarding their rights as well as possible legal support, promoting 'correct' social and religious cultures – with a focus on encouraging dialogue within families- and properly portraying harassers and harassment in media.
Indeed, the statement comes mere hours after Ahmed BassamZaki, a young Egyptian man who was accused of harassing and raping over 100 women, was detained.
As the investigation continues, all testimonials are welcomed against Zaki, and victims willing to come forward can contact the National Council of Women at 15115 or message Khodir on her Instagram account to be connected with lawyers.
The shocking case, which saw the involvement of young activist and writer Sabah Khodir, the National Council of Women, an Instagram account gathering testimonials against Ahmed BassamZaki, the American University in Cairo, as well the Egyptian Prosecution office, sparked fierce social media support towards victims of harassment and rape in the country.
However, despite the clear stance against harassment and rape, victim blaming culture is pervasive in Egypt, with many women bearing the brunt of the crimes.
Victims of rape, particularly, are encouraged to not report to the police due to fears of public shaming and reputation tarnishing.
In a joint report on Sexual Violence in Egypt, prepared by Nazra Feminist Studies, Fidh, New Women Foundation and the Uprising of Women in the Arab world, the struggle of holding perpetrators accountable depended largely on feelings of guilt and shame from the victims; these feelings and views were bolstered by societal pressures, the media, and families.
The report cited a study conducted by UN women which revealed that 34.6 percent of interviewed women revealed that they did not report harassment to the police because they feared for their reputation or that they may be asked how they incited the harassment and rape to begin with thus invalidating their claims of sexual violence altogether.
In the past two years, accounts of women shared on social media have gone viral in Egypt: from 2018's video of a man harassing a woman in Cairo's Fifth Settlement to the controversy with Egyptian footballer AmrWarda.
https://egyptianstreets.com/2020/07/05/al-azhar-encourages-victims-of-assault-to-speak-up-report/
--------
Aurat Foundation: Increase Seen in Incidents of Violence Against Women in Pakistan
July 06, 2020
QUETTA: The Aurat Foundation, a non-governmental organisation working for women's rights in Pakistan, has said that the new coronavirus has severely affected women in the country.
"Incidents of violence against women have risen," Yasmeen Mughal, project officer of Jazba programme, said while speaking at the closing ceremony of a two-day training workshop on women's participation in the political process and local government system in Quetta.
The workshop was jointly organised by the Aurat Foundation and the South Asia Partnership.
She said coronavirus had severely affected women involved in economic activities in the country and significant steps were needed to be taken to facilitate them at the governmental and non-governmental levels.
She said that if practical steps were not taken, millions of middle-class families in the country would be forced to live below poverty line and the monster of poverty would further increase in the country.
She said that Aurat Foundation and the South Asia Partnership would take joint steps for effective participation of women in economic and political processes at the district level under the Jazba project and attention would be paid for making laws for women's individual and constitutional rights.
Speaking on the occasion, AllauddinKhilji, regional director of Aurat Foundation, Quetta, said that a society free from violence was the only guarantee of sustainable development.
https://www.dawn.com/news/1567274/increase-seen-in-incidents-of-violence-against-women
--------
Sudan's Bid to Ban Female Genital Mutilation Sparks Hope, Caution
JULY 2, 2020
It's been more than 60 years. But the scene is seared still into Kawthar Ali's mind. The women pinned her down on a bed. She was maybe 5½ or six years old. Holding her knees, they spread her legs open, her genitals exposed.
At the time, she didn't fully understand what followed. But that day, Kawthar joined the many Sudanese girls who had undergone female genital mutilation, a practice that involves partial or total removal of the external female genitalia for non-medical reasons.
"It's the one incident that has affected my life the most," Ms. Ali said. "It feels shameful for people to expose your body and do this to you, like a rape."
The anguish unleashed that day led to an unwavering conviction: No daughter of hers should ever endure that pain. That decision pitted Ms. Ali against her own mother and a society in which nearly 87 per cent of women between 15 and 49 years old are estimated to have undergone a form of FGM, according to a UN-backed 2014 survey.
Soon, Ms. Ali and others like her might have the law on their side. Sudan's transitional authorities are expected to outlaw the procedure and set punishments of up to three years in prison and fines for those who carry out FGM, according to a draft bill obtained by the Associated Press. The Cabinet has approved a set of amendments that includes criminalizing FGM. Procedures to pass the law are expected to be completed, by the sovereign council and council of ministers, in the coming few days, Minister of Justice NasredeenAbdulbari said in a statement sent in response to AP questions.
"I'm very excited, very proud," said Nimco Ali, co-founder of The Five Foundation, which works to end FGM. "Those are the kind of things that we need to be celebrating because that was a part of democracy coming to Sudan."
Although she lauds the move, Kawthar Ali is not celebrating yet. "This thing will die very slowly," she said of FGM. "It's an issue related to our traditions and the Sudanese culture."
Like many in Sudan, Ms. Ali was subjected to an extreme form of FGM known as infibulation, which involves the cutting and repositioning of the labia, sometimes through stitching, to narrow the vaginal opening.
The World Health Organization says FGM constitutes an "extreme form of discrimination" against women. Nearly always carried out on minors, it can result in excessive bleeding and death or cause problems including infections, complications in childbirth and depression.
Millions of girls and women have been cut in countries in Africa, the Middle East and Asia. Reasons differ. Many believe it keeps women clean and protects their chastity by controlling sexual desire. The opinions of religious leaders run the spectrum. Some condone the practice, others work to eliminate it and others consider it irrelevant to religion.
STORY CONTINUES BELOW ADVERTISEMENT
Mohammed Hashim al-Hakim, a Sudanese Muslim cleric who opposes FGM, said religious leaders must confront attempts to put a veneer of religion on a custom largely rooted in culture.
The practice, he said, predates Islam and crosses religious lines. "No one in their right mind can say that a harmful practice … belongs to religion."
Under the rule of long-time autocrat Omar al-Bashir, who was ousted in April last year, some Sudanese clerics said forms of FGM were religiously allowed, arguing that the only debate was over whether it was required or not.
It was fear of what people would say, rather than religious beliefs, that led Ms. Ali's mother to fight her decision not to subject her own daughter to FGM. Ms. Ali even feared her mother would have someone commit it on her daughter while she was at work. She armed her child with a plan: Run to a nearby police station.
Now 35, the daughter wonders if the police would have helped. She said she is grateful for her mother's battle. Among high-school classmates, she was "the abnormal one" for not getting cut. A rights defender, she spoke on condition she not be identified by name because of the sensitivity of her work.
The practice of FGM, she argued, is interwoven with a patriarchal mentality that connects a man's sexual pleasure to a woman's pain and exerts control over women.
"Customs, traditions and culture are much stronger than written laws," she said, adding that anti-FGM campaigners need to engage men more.
Neighbouring Egypt shows how difficult it is to end the practice. Egypt banned FGM in 2008 and elevated it to a felony in 2016, allowing tougher penalties. Some of Egypt's top Islamic authorities have said FGM is forbidden.
Still, a 2015 government survey found that 87 per cent of Egyptian women between the ages of 15 and 49 had undergone FGM, though the rate among teens did fall 11 percentage points from a 2008 survey.
Reda el-Danbouki, executive director of the Women's Centre for Guidance and Legal Awareness, said there have been cases in which judges handed down minimum sentences on doctors who broke the law, giving the impression doctors can keep doing so with impunity.
As Sudan's law is implemented, there is the risk that FGM will go underground, said Othman Sheiba, secretary-general of Sudan's National Council for Child Welfare. But criminalization sends a strong message, he said: "The government of the revolution will not accept this harm to girls."
Women were at the forefront of the protests against Mr. al-Bashir. Transitional authorities have since taken steps to roll back his legacy, which activists say disenfranchised women in particular.
For FGM truly to end, women must be empowered, Nimco Ali said. "You bring in the legislation and then you start having the conversation and then real change happens." A more "awoken" generation of young Sudanese rejects the practice and wants equality, she said.
A British activist of Somali origin, 37-year-old Ms. Ali underwent FGM in Djibouti at age 7. She remembers feeling angry. A severe kidney infection – a complication from the procedure – almost killed her at 11, she said.
"I lost the concept of innocence," she said. "I felt so broken and so alone."
For her own procedure, Kawthar Ali was dolled up "like a bride." Her body was rubbed with oil and she wore a new dress and gold bracelets.
Although she had anesthesia, she remembers the cries of a relative who did not.
Physical pain lasted about a month, but the psychological pain has endured a lifetime, she said.
"It's like something getting ripped from inside of me," she said. "Something was forcefully taken from me."
https://www.theglobeandmail.com/world/article-sudans-bid-to-ban-female-genital-mutilation-sparks-hope-caution/
--------
Uyghur Muslim Women: Living in A Parallel World with Contrast Reality
July 6, 2020
Right to freedom of religion, right to life and freedom of expression are some of the fundamental principles ingrained in the Indian Constitution. Any person born in India enjoys these rights right from the start. However, they never realise the value of these rights as they are unable to contrast it with a different reality. The case of Uyghur Muslim women is a classic case which can throw light on the importance of these principles.
Freedom for living, eating, speaking and dressing are some of the desires of human beings but the Uighur Muslim women have been deprived of these basic rights for more than a decade by the Chinese government. Although Chinese Authorities have banned all the available social media channels and many witnesses have been killed, some Uyghur women were able to give their interview secretly to some global media channels and upload their story on social media. This helped the outside world to get a glimpse of the atrocities they are facing every day. Indian Muslim women are free to live and express themselves as they wish. There is no restriction on adopting their life-style, dress and education. Couple of months ago, some Chinese companies have prohibited Muslim women to come to offices wearing face veil and this decree was strictly enforced to the point that many lost their jobs. In contrast, Indian Muslim women are free to wear any type of Burqa/Hijab in any place including offices, malls, restaurants, cinema halls etc. They can express their opinion without any restrictions, unless it is related to the national security.
Uyghur Muslim women are imprisoned in the detention camps and have to undergo tests. If these women are found positive in pregnancy, they are forced to abort their foetuses. Intrauterine devices are fitted in some women to prevent their pregnancy which has resulted in birth rates getting down by 60% in the Uyghur Muslim community. This has been termed as 'Demographic genocide' by some human right organizations. On the contrary, Indian Muslim women are free to give births as per their wishes.
They can even adopt children as per their wishes. Indian Muslim women can look towards the Indian judiciary for protection of their rights which is not available for the Uyghurs Muslim women. They enjoy equality in comparison to their counterparts and can raise their voices against the Indian Government whenever they feel they are not getting justice. This is unimaginable for the Uyghur Muslim women who can never raise their voices against the Communist Party of China.
Indian Muslim women have easy access to education and job opportunities. A lot of Indian Muslim women have achieved outstanding government as well as private jobs which has helped them to live a dignified life. They are not only free to celebrate their own festivals but are also invited by the non-Muslim friends to celebrate festivals like Diwali and Holi which shows the level of brotherhood and communal harmony as well as the level of tolerance practiced by the Indian Government. All these are only a distant dream for the Uyghur Muslim women. They are forced to endure unbearable abuses that are considered as brutal crime, and are infact permitted by the Chinese Government to suppress the dissenting voices.
It cannot be said that the Indian society is perfect, it has its own flaws but that does not mean that it is unjust towards the women of a particular community. Crimes against women are religion neutral in India which are constantly being addressed at various levels in the government.
The plight of the Uyghur Muslim women shows the real face of the Chinese Government and deflates their so-called development model. Some pseudo intellectuals questioning the Indian Government's stance on Muslim women must first address the atrocities imparted by the Chinese Government on the Uyghur Muslim women.
https://www.newdelhitimes.com/uyghur-muslim-women-living-in-a-parallel-world-with-contrast-reality/
--------
Pakistan's Ruling Party Expels Senior Lawmaker UzmaKardarAfter Audio Tape Controversy
06th July 2020
LAHORE: The ruling Pakistan Tehreek-i-Insaf on Sunday expelled a senior lawmaker, days after a controversial audio clip was leaked on social media in which she was purportedly heard speaking on the increasing role of the military establishment in the government and commenting on the private lives of Prime Minister Imran Khan and his third wife.
The PTI in a statement said it has expelled Punjab Assembly member UzmaKardar from the party for "violation of discipline". However, it offered no further explanation.
Kardar, who won a reserved seat for women as a PTI candidate in the 2018 general elections, was one of the most active leaders in the Punjab province. A few weeks ago, Kardar was removed from the Punjab government's media strategy committee following the leak of the audio clip.
"The establishment, the government and Prime Minister Imran Khan are going hand-in-hand. No government in Pakistan can be run without the support of the military establishment," she was heard saying in the tape.
Kardar was also heard discussing the private lives of Prime Minister Khan and his third wife BushraBibi in a negative way. She allegedly commented on how "BushraBibi is influential in deciding important matters such as postings of senior officials sitting in the Prime Minister House".
She also spoke about how BushraBibi favours friends and prevent others from approaching Khan. The prime minister's former wife Reham Khan in her controversial memoir had mentioned the name of Kardar, alleging that she had relations with Imran Khan.
https://www.newindianexpress.com/world/2020/jul/06/pakistans-ruling-party-expels-senior-lawmaker-uzma-kardar-after-audio-tape-controversy-2165833.html
--------
URL: https://www.newageislam.com/islam-women-feminism/thousands-protest-belgiums-college-headscarf/d/122300
New Age Islam, Islam Online, Islamic Website, African Muslim News, Arab World News, South Asia News, Indian Muslim News, World Muslim News, Women in Islam, Islamic Feminism, Arab Women, Women In Arab, Islamophobia in America, Muslim Women in West, Islam Women and Feminism