New Age Islam News Bureau
06 September 2020
• At Special Police Recruitment Drive In Jammu and Kashmir's Kathua, Women Turn Up In Large Numbers
• Meet Kanwal Ahmed, Pakistani Woman Who Has Given A 'Safe Space' To Women To Talk About Taboos
• Thousands of Women in Belarus Protest Against President Lukashenko
• Tough World for Single Mums in India: MasabaMasaba Brings Focus on Single Motherhood
• Abused Women in The Democratic Republic of The Congo Reconstruct Their Lives, With Compassion
• Ex-US Prez Richard Nixon Termed Indian Women 'most Unattractive' Say Declassified Papers
Compiled by New Age Islam News Bureau
URL : https://www.newageislam.com/islam-women-feminism/at-special-police-recruitment-drive/d/122802
------
At Special Police Recruitment Drive In Jammu and Kashmir's Kathua, Women Turn Up In Large Numbers
06 September, 2020
by ANI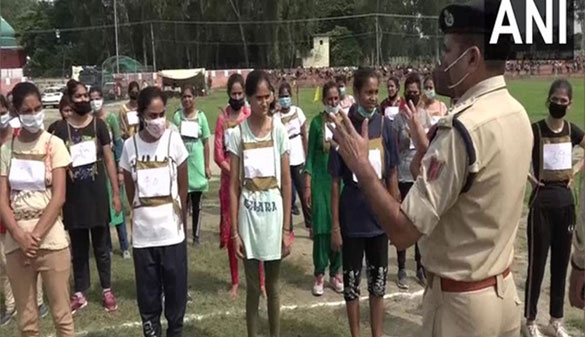 Visual from a stadium in J-K's Kathua during a police recritment drive. (Photo/ANI). Image Credit: ANI
-----
Kathua (Jammu and Kashmir) [India], September 6 (ANI): A recruitment drive organised in the border district of Kathua for the posts of Special Police Officers saw a large number of women participants.
An estimated around 25,000 candidates showed up for the drive on Saturday.
Participants thanked the administration and Jammu and Kashmir Police for the opportunity.
"There are 100 vacancies and 2,500 candidates. The government has given a good chance for us to secure a job. I want to serve the country. My focus is on giving my best," said Diksha, one of the candidates appearing in the test.
Another candidate, Preeti said, "I want to serve the nation and make my parents proud. I will give my best. I would like to thank Jammu and Kashmir police for holding this test."
Dimple, a candidate who appeared for test said, "It is a good opportunity. I am giving such a test for the first time. I am excited and I am confident that I will clear this test. I want to serve the people of the nation."
http://www.businessworld.in/article/At-special-police-recruitment-drive-in-J-K-s-Kathua-women-turn-up-in-large-numbers/06-09-2020-317213/
-------
Meet Kanwal Ahmed, Pakistani woman who has given a 'safe space' to women to talk about taboos
BISMEE TASKIN
6 September, 2020
New Delhi: Sex, divorce, abortion, domestic violence — these are some of the 'taboo' topics that are discussed on 'Soul Sisters Pakistan', a women-only online space created by a 31-year-old Pakistani woman, Kanwal Ahmed.
The community page on Facebook has over 2,64,000 members, and women from across South Asia share their experiences, grievances, fears and ambitions in this "safe space", according to Kanwal, a former makeup artist. She noted that most members of the group are from India and Pakistan.
"It is known how oppressed women of South Asian countries are. No matter what the background is, women are just not able to break the shackles of patriarchy. I created this community so that women can talk about things which they otherwise aren't supposed to speak about or discuss — sex, divorce, physical and mental abuse, abortion and miscarriage," Ahmed told ThePrint.
"Pakistani and Indian women are extremely strong, we just don't have the right spaces, avenues to voice ourselves. It's unsafe for women to confide in strangers or to take a break from the cumbersome daily lives. I wanted the group to be a place where women really opened up without the fear of being attacked or harassed or judged," she added.
Born in Pakistan's Karachi, Ahmed, who now lives in Canada, got married at the age of 22 and is a mother of a 4-year-old child. She said the need to create a free and safe space for women struck her while she was working as a makeup artist.
"I came across women who really needed someone to confide in. As I was growing up, I could see the agony and plight of women, there were live examples around me of those being ill-treated, subjected to different forms of domestic violence. This urged me to create this free space for women so that they can finally speak their heart out," Ahmed said.
Soul Sisters Pakistan is a closed group on Facebook, with admittance regulated by Ahmed and the members, to ensure that it continues to be a female-only, safe space. It was established in 2013 and over the years has gained a lot of popularity.
In 2018, Ahmed was chosen as one of Facebook's 115 'community leaders', and received a grant from the social media giant to cultivate her project.
According to Ahmed, her page's sole purpose is to provide a "safe space" for women to discuss "personal problems" which otherwise go unheard or are deemed "inappropriate and shameful".
"I don't counsel anyone, I and other women in the group only listen. Listening to someone's agony soothes them and offers them mental strength," Kanwal said.
One thread on the page discusses — 'How many of you changed yourself after marriage? Do you miss what you were before?'. It has over 6,000 comments from members sharing their experiences on marriage and marital relationships.
In another thread, a community member posted about her troubled married life, talking about how she and her husband started having issues within two months of their marriage. The comments section was filled with words of encouragement and support.
One of the most discussed topics on the page is domestic abuse — both emotional and physical. Narrating an instance, Ahmed told ThePrint how one of the community members informed the group about her helper's sister who was being regularly beaten up by her husband.
"The husband had a gun and would shoot in the air if the villagers tried to stop him. The woman was constantly abused. When the topic came up on our platform, another member who had good contacts with the police of another village called them up and reported the incident. The woman was rescued and brought to Karachi," Ahmed said.
"Once a member had told us how she had left her partner and was on her way to become a single parent. She was anxious, worried and paranoid as she didn't have a job. I remember how the network was filled with messages full of love, so many single mothers came down to share their experiences. Two women even offered her a job."
Besides the community page, Ahmed has also hosted offline events where women come and meet each other, make friends and talk about their issues.
"We arrange a sitting for about 500 women in one event. Here, they can confide in one another without having the fear of being judged or being laughed at. Nobody is belittled," she said. These events were held in Karachi, where she previously lived.
Ahmed also hosts a talk show 'Conversations with Kanwal' on YouTube, where she interacts with women and men on various issues ranging from single parenthood, childbirth, pregnancy, emotional abuse, family pressures, female foeticide among many others.
"God bless you aunty… Be happy always. Lots of love from India," one viewer, Koyela Chakrabarti from India, commented on her YouTube channel, which has over 78,000 subscribers.
"Waiting for a new video. It's so inspiring, I got goosebumps watching the videos. Love from India," another user, Shristi Chettri, commented.
https://theprint.in/features/meet-kanwal-ahmed-pakistani-woman-who-has-given-a-safe-space-to-women-to-talk-about-taboos/496857/
-------
Thousands of Women in Belarus Protest Against President Lukashenko
Kyiv (Ukraine)
September 6, 2020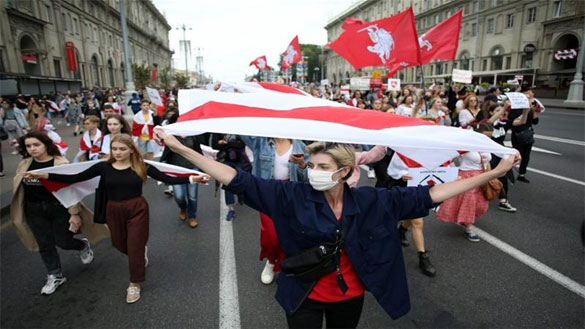 Supporters of LGBTQ rights appeared in the women's march in Minsk, an indication that opponents of Lukashenko are becoming bolder [Reuters]
----
Thousands of women marched through the capital of Belarus on Saturday, calling for the resignation of the authoritarian president, and university students demonstrated against the detention of classmates during the wave of protests gripping the country for four weeks.
For the first time in the demonstrations, supporters of LGBT rights appeared with rainbow flags in the women's march in Minsk, an indication that opponents of President Alexander Lukashenko are becoming bolder.
"LGBT people are calling for freedom. We are tired of living in a dictatorship where we simply didn't exist," Anna Bredova, one of the rainbow flag bearers, told The Associated Press by phone.
Although homosexuality was decriminalized in Belarus in 1994, stigmatization of it is strong. Authorities haven't allowed any LGBT organization legal registry; same-sex marriage is prohibited.
About 5,000 women took part in the march, according to the human rights organization Viasna. Police followed the march, but no detentions were reported.
Marches and demonstrations by women have become a frequent feature of the protests, which broke out Aug. 9 after the election in which Lukashenko, who has been in power since 1994, was officially tallied with an 80% landslide victory.
Protests took place after some previous elections that Lukashenko won with lopsided margins, but this year's have been by far the largest and longest-lasting. Sunday protests have been especially large, bringing crowds estimated at well over 100,000 people.
Earlier in the day, hundreds of students formed human chains to demonstrate against the detention of students at the State Linguistics University. Viasna said about 20 of the students were detained Saturday.
On Saturday, one of its most prominent members, Olga Kovalkova, surfaced in Poland after being jailed in Belarus for organizing protests. She told reporters that police came to her in jail during the night and said she could either leave the country or face a long term in prison. Masked police then drove her to the border, she said.
On Friday, she addressed the UN Security Council via video link, asking it to "stop blatant human rights violations and cynical disregard for human dignity right in the middle of Europe."
She accused Lukashenko of stealing the election and asked the UN to condemn the crackdown on protesters, send a monitoring mission to Belarus and call a special session of its Human Rights Council to discuss the situation in the country.
Authorities also have revoked the accreditation of many Belarusian journalists and deported some foreign journalists, including two Moscow-based Associated Press journalists. AP's Belarusian journalists were among those told their press credentials had been revoked.
https://www.indiatoday.in/world/story/thousands-of-women-in-belarus-protest-against-lukashenko-1719034-2020-09-06
--------
Tough World For Single Mums In India: Masaba Masaba Brings Focus On Single Motherhood
Priyanka Chandani
Sep 5, 2020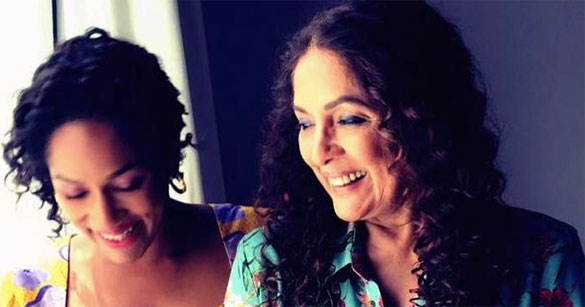 Actress Neena Gupta, a source of inspiration for many single women, has, however, been quite vocal about choosing the less trodden path in her life
------
Raising a child is a stimulating experience, and an equally challenging one for a single mother. In India especially, it's hard to fathom the degree of challenges that single mothers — whether widows, divorcees, separated or single by choice — face every day.
The recently released web show MasabaMasaba dives into the subject of how two good women — Neena Gupta being a single mother and Masaba Gupta, a child raised by a single mother — struggle with the challenges of difficult, creative careers and ultimately navigate friendship in their own relationships.
Through Neena's side of the story, the show again brings focus on single motherhood and how it is still considered a stigma in society for mothers and her children.
Actress Neena Gupta, a source of inspiration for many single women, has, however, been quite vocal about choosing the less trodden path in her life. While insisting that there will come a time in every woman's life when she must stay strong and step up, she admits that bringing a child up alone isn't easy and that single mothers suffer a lot.
"Personally, I wouldn't recommend women to choose the same route as I did, of being a single mother," Neena tells us. "I went against the norms laid out by society, and it was extremely complicated for me to be in it and raise Masaba. Sadly, nothing seems to have changed even today. Society is the same and it's as if everything has got crystallised in time."
In India, despite open conversation around women empowerment and single mothers, patriarchy still seems quite prevalent. A single mother is treated differently from one with a husband — she is still considered a stigma and often judged at length.
In most cases, a woman ends up as a single mother only to escape abuse, adultery or abandonment by the husband. However, instead of breaking down, most of these women take on the role of the single mum, doing the job of two people and still thriving against many odds.
Senior media professional Nupur, a single mother for the last 20 years, considers that surviving as a single mum today is as tough as it was 20 years ago. "I never used to tell anyone I am a single mother. Subconsciously, I had some milestones to achieve for my son and the only confidence I had was to move out of the situation and raise my child alone. I knew there would be challenges but I dealt with them," says Nupur, who nevertheless believes that women today are much stronger.
Talking about how society even judges a single mother's ambitions, Nupur reveals how she used to be out most of the time for work and everyone around her wondered what she was up to. Nupur also points out how back then, even getting a house was not easy for her.
"For years, I used my husband's name on my house lease. But when I was getting my own house, though I qualified for the loan, I had to fight with the bank authorities, for they wanted a man's name on the papers," she recalls.
Despite Nupur's experience, some women in India, who chose to stay single, are yet celebrating motherhood. Actress Sushmita Sen is one such, who is a proud single mum, despite braving the social storms.
Twenty years ago, she had decided to adopt her first daughter, Renee. "Being a single mother is indeed challenging. And while the position of women has changed in the country, there's still much that needs to be changed. So when I look around me and see many more single mums, I wonder if I am just given way too much credit," shares the actress.
Apart from social challenges where single mothers are alienated and looked down upon, their professional ambitions too are met with challenges.
Ritu Tripathi, single mother and an assistant manager in a well-known corporate firm, still struggles to prove herself at work.
"I had no job when I separated from my spouse and I was desperate to bring food on the table for my nine-month-old son," says Ritu. "However, during my interviews with company HRs, they'd tell me to focus on my child because they believed I couldn't manage two things. And I could never understand why they'd ask me about how I'd raise my child."
It's been eight years for Ritu since then, and while she has proved herself at work, she still claims to struggle to be with her child and prove that she's capable of handling both work and domestic responsibilities. And sadly for Ritu, she believes she sacrificed her son's childhood to prove herself to the company she works for.
"There's too much pressure to prove myself at work and I ensure my personal life has no impact on my work. It is an everyday struggle. And sometimes, I feel being a single mother fills you with regret and stress," adds Ritu.
Era Tak, an author and a painter, who has singly raised her 12-year-old son, feels that society needs to become more accepting of the women and their conditions.
"No woman intends to raise the child alone, for it is a double responsibility on her. But there are circumstances that aren't good for the child while growing up and I think it is the mother who has to take the decision," says Era, adding that she learnt to ignore what people have to say. "I had to raise my child in the right environment and at the same time I had to be at peace with myself. I refrained from sharing things with people and instead channelized those thoughts into my work and raising my son."
While raising a child as a single mother may be mentally and emotionally exhausting and may lead to loneliness in their life, what could help them to sail through their challenges is their strong willpower and confidence to do better.
And not surprisingly given the situations they've lived through, most single mums raise stronger and gender-sensitive youngsters.
"I've never had any fears about Masaba. and I'm extremely proud of what she has achieved, and that she's so hard-working," says Neena.
Nupur and Era also second that kids raised by single mothers are mentally and emotionally stronger. "I believe a mother is responsible for inculcating values in her child, and that's how children grow stronger and more mature," says Nupur in conclusion.
https://www.deccanchronicle.com/lifestyle/culture-and-society/050920/tough-world-for-mums-masaba-masaba-brings-focus-on-single-motherhood.html
--------
Abused Women In The Democratic Republic Of The Congo Reconstruct Their Lives, With Compassion
by MalaickaAdihe
06 September 2020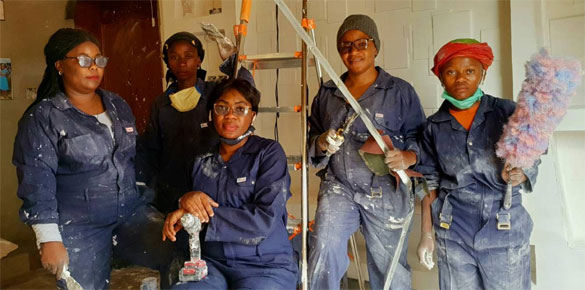 Women and girls in war-torn DRC are being trained as builders as part of a scheme to help them find work
-----
Goma — Teenager Aline, in the Democratic Republic of the Congo (DRC), was left destitute at only 15 after she was raped, left pregnant, then accused of bringing dishonour to her family and made to leave her home.
But just two years later, her life is back on track, thanks to a groundbreaking scheme to teach building skills to survivors of sexual violence in a region ravaged by years of ethnic conflict that have hit women particularly hard.
The scheme is the brainchild of Lauren MuntuKintadi, who wanted to help single mothers and other women in need to find paid work, and realised there was a demand for building.
Aline joined the programme after finding help from an organisation on the outskirts of Goma, the capital of the DRC's restive North Kivu region, that supports rape victims and young mothers.
"This training is going to help me in the future, especially in looking after my baby," said Aline, whose real name is being withheld.
"My aim is to find a job after the training. I know this can help me and my baby," she said as she worked on a project to decorate a private home in Goma, her young daughter playing a few metres away.
The work is usually done by men, but demand for the women's services is strong in the city, thanks in part to a social media push that MuntuKintadi said had sparked people's curiosity.
Many of the women are victims of sexual and domestic violence; others simply desperate for work in a country where employers often discriminate against women in general — and mothers in particular.
Cases of domestic violence rose dramatically following the lockdown imposed at the start of the coronavirus pandemic in March, according to women's rights activists.
"What they see in this initiative is the chance to re-integrate into society after being humiliated and rejected by their the community," said MuntuKintadi, who set up the Union of Compassionate Hearts charity in 2018.
Sexual violence against women and girls in the DRC is widespread, according to the UN, which says more than half have suffered from domestic violence or marital rape.
Rape has also been widely documented as a weapon of war in the eastern DRC, which has been largely controlled by militia groups since the end of a 1998-2003 war in which foreign armies and rebels vied for control over mineral resources.
The Central African nation was ranked among the 10 most dangerous countries to be a woman by a Thomson Reuters Foundation poll in 2018.
Survivors are often put off reporting crimes because it is a complex process and because of the stigma attached, and human rights activists say justice is rare. In some cases hospitals refuse admittance without a police order, or demand money to carry out a rape examination, said Christelle Vuanga, president of the national human rights commission.
"The way victims [of sexual violence] are treated is confusing. There are no policies that support [them]," she said. "Women endure gender-based violence (GBV) on a daily basis. Social rules and norms make them a little weaker every day," said MuntuKintadi, who wants to develop more training for vulnerable girls and women.
MuntuKintadi has agreed to work with the DRC's National Institute for Professional Preparation, which provides technical and vocational training for adults, and is getting more and more offers of work.
"I've always had a weakness for the jobs that society considers to be only for men, but it was mainly a question of capitalising on an opportunity," she said. "This gives us easy access to the jobs market and, above all, it helps us fight stereotypes and all kinds of discrimination against women, the kind that sees women as weak."
https://www.businesslive.co.za/bd/world/africa/2020-09-06-abused-women-in-the-drc-reconstruct-their-lives-with-compassion/
--------
Ex-US Prez Richard Nixon Termed Indian Women 'most Unattractive' Say Declassified Papers
By Suchitra Karthikeyan
5th September, 2020
In a shocking display of racism, Former US President Richard Nixon had called Indian women 'the most unattractive women in the world' in a conversation with his National Security Advisor Henry Kissinger, according to a New York Times (NYT) article. The article based on newly declassified White House tapes from 1971, allegedly revealed the utter disregard Nixon held not only for Indians but also the Pakistanis - who were backed by the USA in the 1971 Indo-Pak war which led to the formation of Bangladesh. The article reveals Nixon calling Indians as 'most sexless, nothing, these people and pathetic' while referring to Pakistanis as 'fine people, but primitive in their mental structure', in a private conversation with Kissinger.
Moreover, during a conversation with then-Prime Minister Indira Gandhi, Nixon reportedly told Kissinger, "They turn me off. They are repulsive and it's just easy to be tough with them," in a White House summit with Gandhi amid the 1971 war. The article claims that Kissinger held himself above Nixon's bigotry, but the tapes do not show him opposing Nixon's views. But Kissinger, who opposed India sheltering to refugees who had fled from then-East Pakistan, had reportedly told Nixon that Indians were 'masters at flattery' and had allegedly 'survived 600 years with their great skill to suck up to people in key positions'.
EAM S Jaishankar addresses LAC faceoff, says 'China has not gained from incursions'
The article has evoked outrage among Indian and Pakistani Twitterati:
1971 Indo-Pak war
The 1971 war was fought between India and Pakistan leading to Pakistan losing its Eastern part - forming Independent Bangladesh. The war started when Pakistan launched airstrikes on 11 Indian airbases, which led to all three Indian Armed Forces wing - Army, Navy, and Airforce attack and capture around 15,010 kilometers of Pakistan territory. The war which lasted for a mere 13 days was due to Bangladesh seeking freedom from (West) Pakistan as the Pakistan Army began to commit genocide on East Pakistan's Bengali population - particularly the minorities.
Probe on after families allege 5 men kidnapped by China's PLA from Arunachal
To put an end to Pakistan's atrocities, then-Indian PM Indira Gandhi decided to offer refuge to East Pakistani civilians while ordering Army Chief General Sam Manekshaw to launch an offensive against Pakistan, while led to a full-blown war. While the Indian Army took 93,000 Pakistani prisoners and liberated 75 million Bangladeshis, over 3,800 soldiers of India and Pakistan laid down their lives. Estimates claim that civilian casualties are between 300,000 and 3,000,000 in Bangladesh.
COVID pandemic likely to continue in next year, second wave in some regions: AIIMS Chief
While Gandhi did not wish to escalate the attack into war, she appealed to world leaders to pressurise Pakistan to stop its atrocities. But the then-US President Nixon had secretly the USS Enterprise and the Task Force-74 of the United States Seventh Fleet into the Indian Ocean to allegedly warn India against escalation, while publically threatening to cut-off aid to Pakistan. He also termed India as a 'Soviet stooge' as India had signed an agreement with the Soviet Union in 1971 as a guarantee against possible Chinese attacks on its Western front during the Indo-Pak war. On August 2, 1972, India and Pakistan signed the Shimla Agreement under which the former agreed to release all the 93,000 Pakistani prisoners of war.
https://www.republicworld.com/world-news/us-news/ex-us-prez-richard-nixon-termed-indian-women-most-unattractive.html
--------
URL: https://www.newageislam.com/islam-women-feminism/at-special-police-recruitment-drive/d/122802
New Age Islam, Islam Online, Islamic Website, African Muslim News, Arab World News, South Asia News, Indian Muslim News, World Muslim News, Women in Islam, Islamic Feminism, Arab Women, Women In Arab, Islamophobia in America, Muslim Women in West, Islam Women and Feminism