New Age Islam News Bureau
20 Oct 2018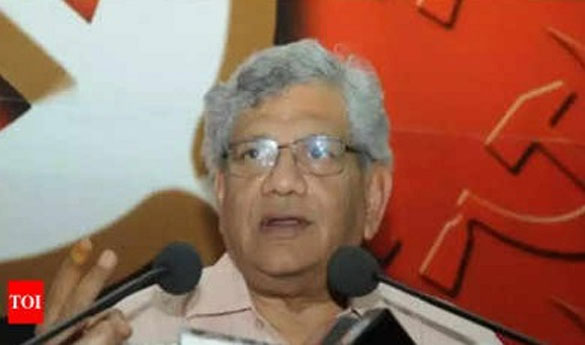 Photo: CPM general secretary Sitaram Yechury
---------
• Abducted girls in South Sudan lined up to be picked as 'wives' for rebels: UN
• Woman killed in cross-firing during terror attack on Army camp in J&K
• Peace, Blood, and Hope: Women in Afghanistan's Election
• Tehran lets women in stadium prompting reformists' praise and conservatives' wrath
• Woman asked to shun hijab at workplace or resign in Pakistan
• Iran's chief prosecutor: Women watching half-naked men play soccer is sinful
• Algeria bans wearing of full-face veils at work
• 10 Saudi women hold internationally recognized diving licenses
Compiled by New Age Islam News Bureau
URL: https://www.newageislam.com/islam-women-feminism/those-fought-equality-muslim-women/d/116676
--------
Those who fought for equality of Muslim women now silent on the rights of Hindu women: Sitaram Yechury
Oct 19, 2018
NEW DELHI: CPM general secretary Sitaram Yechury on Friday drew parallels between the demolition of the Babri Masjid and the Sabarimala shrine, alleging that similar looking "saffron-clad men" who had brought down the 16th century mosque in Ayodhya in 1992 were now unleashing terror in Kerala to consolidate the Hindutva vote and to gain politically and electorally.
Yechury said the LDF government in Kerala was doing everything in its power to implement the Supreme Court order linfting the ban on women's entery into Sabarimala, but that the BJP-RSS combine was deliberately fuelling communal passions.
Yechury said, "The pattern is very similar. At the time of the Babri masjid demolition, volunteers wore saffron bands. Now, people clad in a similar dress are spread out in Sabarimala. It is an organised thing that the RSS is doing."
The CPM chief also sought to corner the BJP leadership for its silence over "Hindu women" being denied their rights -- endorsed by the Supreme Court -- to enter into the embattled Sabarimala shrine. "BJP, in the name of equality for Muslim women, brought in the Triple Talaq law through an ordinance without even waiting for Parliament to discuss it properly. Now it is silent when the rights of Hindu women are in question," Yechury said.
Fielding questions over its poor handling of the violent protests at Sabarimala, the LDF government maintained on Friday that it would not file a review petition against the SC order because it had already accepted the verdict. However, causing some embarrassment to the government, the Devaswom Board announced it would move the SC against its verdit.
Backing the state government's position, Yechury said, "There are already six review petitions before the Supreme Court.
Whatever the SC reviews is going to be the same. What is the point of state government moving another one. Wait for them.
The bigger question is that the BJP should either implement, or stick to its position of giving equality to women like they claimed to have done in the case of Triple Talaq."
The CPM leader, however, evaded questions the about the Devaswom minister's statement that Sabarimala was not for activists. "Only the state government can answer these questions," he said.
While focussing his attack on BJP, Yechury also questioned the intent of the local Congress unit in inciting passions. "What is being done is most unfortunate. Passions are being roused for political and electoral gains primarily by the RSS-BJP.
Unfortunately, the Congress in the local unit has joined these protests. If the BJP is against the SC verdict, the only way to circumvent that verdict is through a legislative process in Parliament. Between the BJP and the Congress, they have two-thirds majority in the Lok Sabha. So, why are they not adopting that route," he asked.
https://timesofindia.indiatimes.com/india/those-who-fought-for-equality-of-muslim-women-now-silent-on-the-rights-of-hindu-women-sitaram-yechury/articleshow/66286902.cms
--------
Abducted girls in South Sudan lined up to be picked as 'wives' for rebels: UN
Oct 19, 2018
A new UN report says armed men from opposition forces in South Sudan abducted women and girls, as young as 12 years, for commanders to take them as "wives".
The report said those who were chosen – most of them still being held captive – were repeatedly being raped and abused by other military figures.
The report, the latest by the UN and others that have described civilians being raped, shot, hung, tortured and burned, estimated that 900 people were kidnapped and 24,000 displaced between April and August.
South Sudan, the youngest country in Africa, has been gripped by a bloody civil war since December 2013, when President Salva Kiir accused his former deputy Riek Machar and current rebel leader of plotting a coup.
The latest report, which is conducted based on victim and witness accounts, provides new details on abduction of women and girls by opposition forces.
It explains that women and girls were paraded and lined up for commanders to choose as "wives."
The report has documented attacks on at least 28 villages, a settlement of internally displaced people and a refugee camp, during which the militants carried out serious abuses of international human rights and humanitarian law.
The head of the UN High Commissioner for Human Rights said most of the abducted civilians are still being held captive. Michelle Bachelet called on the armed opposition Sudan People's Liberation Army in-Opposition (SPLA-IO) to "immediately release them, first and foremost the children."
"As part of the revitalized peace process, it is also essential that the Government of South Sudan acts to hold the perpetrators of the abuses and violations detailed in this report to account," she added.
They also abducted young men and boys, forcing them to be fighters, according to the report.
The surge in violence and abuses, according to the report, occurred despite the latest UN peace deal that returned Machar once again to his post as deputy to the president.
The human rights division of the UN peacekeeping mission in the country has identified three opposition commanders "who allegedly had effective command and control of the forces committing these abuses, which may amount to war crimes," it said.
South Sudan is also the world's most dangerous country for aid workers. A researcher in the Africa division of Human Rights Watch, Nyagoah Pur, described the abuses to the Associated Press as "horrendous."
Pur said that the abuses reported by the UN "stress the devastating impact that the continued impunity by forces has had on civilians, especially women and girls."
She also called for the speedy establishment of a long-promised hybrid court in the country to prosecute abuses.
South Sudan plunged into civil war two years after it gained independence from Sudan in July 2011. The brutal conflict has left nearly 400,000 people dead and millions of others displaced, a report said last month.
https://www.presstv.com/Detail/2018/10/19/577429/South-Sudan-conflict-abduction-girls
--------
Peace, Blood, and Hope: Women in Afghanistan's Election
By Michelle Tolson
October 19, 2018
Afghanistan is holding its parliamentary elections on October 20, 2018 after a three-and-half-year delay due to voter fraud and security concerns. To date, a total of 10 candidates have been killed during the ramp up to elections, with the last killed the last night of the official campaigning period, October 17.
"What makes this election different, is it is bloodier and more violent than the previous ones," said Horia Mosadiq, an Afghan expert in safety and security trainings. "This violence is coming from the Taliban and political opponents."
The elections were supposed to run in 2015, also a bloody year. On a hot summer day in 2015, Homera Kohzad, then working as an adviser to the governor of Baghlan, was leading an event to break the fast for Ramadan at a mosque. During the iftar a suicide bomber attacked, injuring 41 people, including Kohzad, who was critically injured.
"If a woman is not safe in a mosque, where can she be safe?" said Kohzad from her home in Kabul, just one week before the kick off of her parliamentary campaign in Baghlan. Kohzad shared photos with The Diplomat of her recovery in the hospital, showing numerous shrapnel scars on her legs. "It took me 21 days to recover, to be able to walk. My complete healing time was three months."
With an electronic voter registration system in place since the spring, about 2,500 candidates went through the nomination process for the lower Wolesi Jirga. Of those, 418 are women, representing just 17 percent of the candidates – despite a quota set at 27 percent out of 249 total seats for women, or 68 seats.
While this system is designed to encourage a democratic vote, it has been used by Afghanistan's patronage system, which has powerful backers, such as warlords, drug lords, and Afghanistan's mafia, according to research by AREU.
"The electoral law creates enormous obstacles in the way of candidates, starting from requiring a financial deposit all the way to furnishing the stamped tazkiras [national identification numbers] of at least 1,000 unique supporters," says Ahmad Shuja, an independent Afghan researcher. "These hurdles affect female candidates disproportionately because it is often harder for them to mobilize financial assets and to work clan or tribal networks to raise the requisite number of tazkiras."
Shuja observes that deteriorating security especially impacts women. "Women's public participation is more noticeable and therefore attracts more unwanted attention."
A Snapshot of Two Women Candidates
In Baghlan province, Kohzad is registered as an independent, candidate number 40, competing against 88 candidates for eight seats. Baghlan province has just about 800,000 people, with 80 percent of the population living in rural areas and 20 percent living in urban locales. Kohzad campaigned in the villages, where phone and electricity coverage is poor. She says there is a lack of access to sanitary facilities for women, which made her campaign work difficult. And it's a traditional province, which has been becoming increasingly insecure.
Kohzad said she was the first female adviser from her district to work with the governor of Baghlan and believes she was targeted in 2015 because of this. "The National Directorate of Security (NDS) said it happened because I was a woman and because of the position I was carrying. The attackers knew I was running for the upcoming election."
In contrast, Kabul province is less remote with better amenities. The province has a population of about 4 million, with 83.5 percent living in urban areas and 16.5 percent in rural areas, according to the World Bank. In Kabul, there are 800 candidates running for 33 seats, with nine reserved for women through the quota system.
One such candidate, Dr. Mary Wida Safar, is a general surgeon running for Kabul province. Like Kohzad, Wida is a pioneer in her profession. She said she was one of the first general female surgeon in Kabul, as most female doctors focus on women's health (gynecology), to avoid the stigma and safety concerns connected with sexual harassment.
Wida seems undeterred by this. After working 12 years in a government hospital by day and in her own private clinic by night, she now focused on running her own clinic. She also drives her own car. As a Kabul-based independent candidate, she is candidate number 420, a number that Afghans believe signals "clever."
While she has a host of volunteer supporters who distribute her campaign materials, she said that she has been approached by people asking to be paid to vote for her.
"Sometimes people come to the campaign office and ask for money to support me as they say other candidates offer this. But I will say that I am representing people by choice," said Wida. Her main campaign materials are billboards, signboards, brochures, flyers, social media, and signs on cars. "I have also been on radio and TV shows."
Their Platforms
Wida says she is running for parliament to tackle health and human rights policy concerns that other parliament members do not have the capacity to address. Wida, like Kohzad, believes that many parliament members come to their post through powerful backers and are not professionally equipped to support important sectors, such as the health sector.
"We have an association of doctors, but it is useless, and no one works for this. We have problems of kidnapping doctors and violence against doctors," Wida said. "There was a cardiologist from Ibn -i -Sina hospital who was abducted by gunmen in March of this year." Hospitals have been bombed and international organizations have pulled out due to their staff being killed. According to World Health Organization statistics, there are 0.3 doctors to every 1,000 persons in Afghanistan.
In Afghanistan, patients die from otherwise treatable illnesses. For instance, Wida says that patients with hepatitis and who are HIV positive will be turned away, in some cases to die. She recently operated on a patient with hepatitis who had appendicitis. While other hospitals turn away such patients, Wida says these patients can be treated with protective, disposable gowns and equipment.
General surgeon Ahmad Naweed Hamkar, who works at a government hospital in Kabul, says only two hospitals in Kabul will operate on patients with hepatitis and who are HIV positive due to a lack of facilities. While disposable protective material is available, the vast majority of government hospitals don't have access.
In addition, Afghanistan's limited pharmaceutical regulatory system must contend with counterfeit medicines.
"We have pharmaceutical companies in Afghanistan that need regulating, while the imports we get from Pakistan are the lowest quality. We should fight the companies engaged in illegal imports and help the local pharmaceuticals that are Afghan-founded," said Wida.
Afghans use opiates to treat pain, which often leads to addiction. With a lack of public health education, husbands give opiates to wives, who in turn give it to their children, key issues Wida would like to address as a lawmaker.
Meanwhile, Kohzad said that she would like to advocate on behalf of her province for Afghanistan's youth. The opportunities for education in Baghlan are very limited compared to the urban hubs like Kabul. Top universities, such as the American University of Afghanistan, are not in Baghlan – and many youth migrate due to the lack of opportunities.
Kohzad would like to develop Baghlan's private sector to bring more work more options to her constituency. After surviving the suicide attack, she moved to Kabul and helped establish the popular Bost restaurant in 2016, which is a women-led restaurant, designed as a safe space for women and families. She is also an advisory board member of the Afghan Women's Chamber of Commerce and Industry (AWCCI). Kohzad believes that the current parliament, pressured by powerful warlord interests, lacks the capacity to bring change to her province and that experience and skills are needed to bring reform.
Zia Wahaj, an Afghan researcher who conducted research on market safety across 10 provinces, including Baghlan and Kabul, said that for women working in the private sector, "it is daunting to operate a business in a context largely dominated by sociocultural conservativeness, [with] poor access to affordable credit and skilled workers."
Peace is also a key issue for Kohzad, who wants to honor her father's legacy. In 2017, her father, Assadullah Kohzad, a well-known activist, civil society, and political party leader, was assassinated by unknown gunmen in front of his home.
"[Our opponents] want to put a lock on this – we belonged to influential family – serving people was always our priority," said Kohzad.
"My father was raising the concern – why is security not being addressed by the government? From both sides, our children are getting killed – the Taliban and our side [the government], both sides have mothers. We are losing from both sides."
The Security Question
Personal security is an issue for both male and female candidates and political activists, according to security training expert Horia Mosadiq. However, "[women] are not able to get the same level of protection, such as body guards, armored vehicles, and escorts to rural areas. Also, culturally men are able to get favors and support that women cannot get."
But safety is something that women can train for. "In Afghanistan, not many women are digitally aware. It is easy for intruders to hack into their accounts – to use their information, photos, and private details."
In rural areas, where education is more limited, it's easier manipulate public opinion by posting false or private information. Photos of women not wearing a headscarf, or drinking, shaking hands, hugging men – "it automatically compromises their safety and chances to win," said Mosadiq.
"Fake Facebook accounts are being made and hackers will have the fake account insult Afghan religion, which puts the women's lives at risk."
Mosadiq notes attackers can be insurgents or even opponents who don't want to lose the vote to a more popular candidate.
After Kohzad's father's death, the family, in their search for answers, asked the Taliban. Their spokesperson said the father was not a target "because peace is not something we don't want," Kohzad said. Instead, the Taliban blamed foreigners "who don't see the benefits of peace."
For Kohzad, this time around, the risk seems to be worth it. In one video clip posted to social media during her campaign, a market seller in a remote village told Kohzad that he will vote for her because women work for the people, unlike men who work for themselves. "We are very happy when women win the election," the seller said.
https://thediplomat.com/2018/10/peace-blood-and-hope-women-in-afghanistans-election/
--------
Tehran lets women in stadium prompting reformists' praise and conservatives' wrath
10/20/2018
Tehran (AsiaNews) – Iranian authorities' decision to allow a small selected group of women to watch a friendly football (soccer) match between Iran and Bolivia at Tehran's Azadi Stadium on Tuesday has sparked mixed reactions.
Reformists and moderates, including several newspapers close to the government, have expressed support, describing it as a "step forward" and a victory for the country's women. By contrast, right-wing hard-liners and conservatives slammed the decision calling it a "sin".
For decades, Iran's clerical regime has imposed a total ban on women at men's sporting events. However, the anti-conformist decision to open one of Tehran's stadium was welcomed by many, especially those who have been fighting for a long time to lift such a ban.
Iranian state news agency ILNA said about a hundred women watched Tuesday's friendly match between the Iranian and Bolivian national teams from a women's-only section in the upper stands of Azadi Stadium. Iran won the match 2-1.
The group of female spectators included female employees of Iran's football federation and members of the Iranian women's national football team, along with female journalists and other women allowed in the stadium at the last minute.
Iranian newspapers and websites relayed pictures and videos of female spectators singing the national anthem, cheering from the stands and celebrating the two goals that gave Iran the victory over the Bolivian team.
"One Step Forward" read the headline on the front page of the reformist Etemad daily, which featured the picture of a woman standing in the stadium holding Iranian flags. The headline on the front page of the pro-reform Sharq daily read, "Freedom Greets Iranian Women." The sports dailies Iran-Varzeshi and Khabar-Varzeshi also featured images of the women on their front pages with headlines that read, "Women Reached Freedom" or "Women in Freedom."
However, other Iranians are none too happy about this small revolution, and were not shy about saying so. One of them is Iran's hard-line chief prosecutor, Mohammad Javad Montazeri, who warned that action will be taken "if such moves continue."
"The presence of women in stadiums is harmful and there's no religious justification for it," Montazeri was quoted as saying by the semi-official Mehr news agency.
"When a woman goes to the stadium and sees half-naked men, it's a sin," Montazeri said. "We will first give advice, then we will act," he added, noting that there will be action against officials who want to allow women in stadiums.
Conservatives have claimed that the ban on women attending major men's sporting events protects them from hearing crude language and seeing male athletes wearing revealing uniforms.
Women's rights activists have blasted the ban as an example of gender discrimination in the Islamic republic, where Islamic laws deny women equal rights in divorce, child custody, and work.
Brussels-based women's rights campaigner Darya Safai dismissed the admission of female spectators into Azadi Stadium as a "trick" by Iranian authorities.
"As long as women cannot buy tickets, the stadium ban is not lifted," she said. There were no reports of Iranian women being able to buy tickets for the match.
http://www.asianews.it/news-en/Tehran-lets-women-in-stadium-prompting-reformists%E2%80%99-praise-and-conservatives%E2%80%99-wrath-45259.html
--------
Woman asked to shun hijab at workplace or resign in Pakistan
Oct 20, 2018
KARACHI: A woman worker of a software firm in Pakistan was told to either stop wearing hijab at workplace or resign, in perhaps the first incident of its kind in the Muslim-majority country.
The incident caused an uproar on social media, leading to the resignation of Chief Executive Officer Jawwad Kadir of the Creative Choas company.
She was told that she could keep her job only if she took off her hijab by her line manager who said that wearing hijab would spoil the company's image as an "all-embracing" workplace.
The woman said that she was offered alternative jobs in two Islamic banks if she left.
Kadir initially tried to downplay the incident by issuing an apology.
"Yesterday, a senior member of our staff asked a colleague to resign on unprofessional and unethical grounds. She was told that her obligations may come in the way of her performance," Kadir said.
"Not only is this action disgraceful but shows extremely poor moral judgement by her hiring manager. I take full responsibility for this failure and am deeply ashamed that a colleague was put through distress and trauma," he said.
Kadir said the victim has been asked to withdraw her resignation and resume her job.
A Facebook post detailing the trauma faced by the hijab-wearing woman caused a hue and cry with majority of people terming it as discrimination against the woman.
The software firm in a Facebook post later said Kadir had been asked to step down "for workplace discrimination".
In an email sent to the board members and associates, titled "My apology is not enough", Kadir said he was resigning as the CEO of the software house.
"I have crossed a line which I deeply regret," he wrote in the email, a copy of which was available on social media.
https://timesofindia.indiatimes.com/world/pakistan/woman-asked-to-shun-hijab-at-workplace-or-resign-in-pakistan/articleshow/66290773.cms
--------
Iran's chief prosecutor: Women watching half-naked men play soccer is sinful
19 October 2018
Iran's Chief Prosecutor Mohammad Jafar Montazeri threatening officials who allow women to enter football stadiums has caused an uproar among Iranian activists.
Montazeri, the powerful head of the country's judiciary, claimed that women should be banned from going to stadiums because it is "sinful" for them to watch "half-naked men play soccer." He added that action will be taken if they continue to go.
Soccer stadiums have been off-limits for women for the past four decades in Iran, a ban that has divided Iran's political establishment.
Iranian Revolutionary Guards leader, Abdullah Hajj Sadeqi, also shocked the public when he called on guards to prevent women from entering stadiums, and said that "women's presence in stadiums is dangerous."
"We first let women watch the World Cup on television, then we let them enter the stadiums to watch football claims. Next, women will want to mix with men and watch the games together. We must not lose our religious faith, and we need to be wary of our social behavior," Sadeqi said.
Officials from the Azadi Stadium in Tehran had selected about 150 women to attend the football match between the Iranian and Bolivian teams on Tuesday, which ended with a victorious win for Iran.
Women were first allowed to attend football stadiums when FIFA demanded that the Iranian Football Federation allow women to watch the football games.
The Federation's Cultural Advisor, Gholam Hussein Zanam Abadi, said: "FIFA requested that women be allowed in the stadiums. We could not risk being barred from the competition because of the ban."
During the last football match, officials allowed some women entry into the stadium and banned others. They also prohibited photographers from taking any photos of female fans so as to prevent backlash from fundamentalists. However, pictures and videos of female fans were widely circulated on social media with captions encouraging more freedom for Iranian women.
https://english.alarabiya.net/en/News/middle-east/2018/10/19/Iranian-Revolutionary-Guard-Leader-Women-s-presence-in-stadiums-is-dangerous.html
--------
Algeria bans wearing of full-face veils at work
19 October 2018
Algerian authorities on Thursday banned women from wearing full-face veils, or niqabs, at work, citing reasons of identification for the decision.
The country has been split between moderate and more radical forms of Islam since it was plunged into years of civil war in 1992, when a military-backed government cancelled elections that an Islamist party was poised to win.
Most Algerian women do not wear the niqab, but the decision is likely to criticized by Algeria's Salafists minority.
In a statement released by the government titled, 'The duties of employees and public servants in dress codes'. They said that women "are obliged to respect the rules and requirements of security and communication which is at the level of their interests, and requires the recognition of their identity in an automatic and permanent manner, especially in the workplace."
They also listed instructions to be strictly abided by, and that any clothing that prohibits them from carrying out their public service is strictly prohibited.
This cause a lot of controversy, with many questioning why a niqab would obstruct women from doing their jobs.
Earlier, the government had said that female students were not allowed to wear headscarves during examinations claiming that it could be used as a way of cheating.
https://english.alarabiya.net/en/News/north-africa/2018/10/19/Algeria-bans-wearing-of-full-face-veils-at-work.html
--------
10 Saudi women hold internationally recognized diving licenses
2018-10-13
DAMMAM — There are now 10 Saudi women divers who hold internationally recognized diving licenses.
Female Saudi diving guide and first aid trainer Maryam Al-Muallim told Okaz/Saudi Gazette Saturday that women can practice diving like any other sport.
Al-Muallim, who faced many obstacles due to society's reservations about women practicing such a sport, said Saudi women are receiving support and encouragement now with the change in perception.
As to how the female members of the diving team can get training, she said they can join specialist training courses provided by trainers licensed by internationally recognized organizations.
Speaking about the areas they prefer for diving, Al-Muallim said a diver is always attracted by beautiful marine topography, fish and other marine life.
She said the Red Sea has a great diversity of beautiful marine life. As to the most important requirements for diving in the Kingdom, she said: "At present, there are no complications. Women divers can obtain their licenses after completing the required training and then practice the sport."
Al-Muallim said diving gives peace of mind and tranquility.
She said Saudi women are capable of joining any field of life. With determination and hard work, they can achieve great success.
She stressed that women must abide by customs and traditions and comply with safety rules.
http://saudigazette.com.sa/article/545525
--------
URL:https://www.newageislam.com/islam-women-feminism/those-fought-equality-muslim-women/d/116676
New Age Islam, Islam Online, Islamic Website, African Muslim News, Arab World News, South Asia News, Indian Muslim News, World Muslim News, Women in Islam, Islamic Feminism, Arab Women, Women In Arab, Islamophobia in America, Muslim Women in West, Islam Women and Feminism