New Age Islam News Bureau
7 May 2019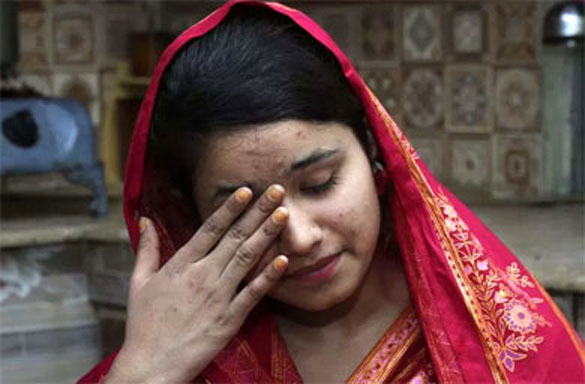 Mahek Liaqat weeps while she recounts her ordeal in an arranged marriage to a Chinese national, in Gujranwala, Pakistan (AP)
-----
• Pakistani Christian Girls Targeted By Chinese as Brides
• Muslims in Agra Angry over Mayor's Call to Ban Burqa, Demand Apology
• 91 Percent Saudi Women Do Not Practice Sport: Gastat Survey
• Saudi National Guard Recruiting Women Cadets
• Malaysia's First Female Chief Justice Unfazed By New Post
• Women Are Powering Sudan's Drive for Change
• Uber and Takamol Partner to Empower Working Saudi Women
Compiled by New Age Islam News Bureau
URL: https://www.newageislam.com/islam-women-feminism/this-ramzan-mosques-across-kashmir/d/118527
--------
This Ramzan Mosques across the Kashmir Valley, Sermons on Women's Rights, And Wrongs
By Basharat Masood
May 7, 2019
Over the loudspeakers at mosques across the Kashmir valley this Ramzan starting Tuesday, sermons will focus on a topic that has never been highlighted this way before: women's rights, including space for them in mosques and domestic violence.
This time, the Muttahida Majlis-e-Ulema (MMU), a conglomerate of religious bodies, has decided across the Shia-Sunni and Sufi-Salafi divide to dedicate their Ramzan sermons to women. "We would mostly be talking about women's issues," Mirwaiz Umar Farooq, MMU patron, told The Indian Express. "We will focus on domestic violence, dowry, education. We will also talk about the need to open mosques for women."
The decision was taken after a meeting of over 40 religious scholars and clerics from different schools of thought. "What better way is there than to start from Ramzan," said Mirwaiz, who chaired the MMU meeting Sunday where the decision was taken. "It is the month when religious scholars deliver sermons every day and people are ready to listen. We need to use this occasion for something positive."
Mirwaiz said the spotlight would be on encouraging "women to come out and speak". "There is a lack of awareness among women, and they are not privy to their rights," he said.
The move, he said, was prompted by the alleged rape of a woman in her 20s by her father in Bandipore last month, which came to light after she committed suicide.
"The Bandipore incident was the threshold," said Mirwaiz. "There are things happening around us and we aren't talking. It was saddening that after that incident, no religious scholar spoke about it. We can't be ignorant of these realities and behave like ostriches. We have to confront them."
The religious scholars took a pledge to provide space for women to speak about their issues. "I told them that we have only two options — either to shut our eyes and behave as if nothing has happened or is happening, or stand up to confront the challenges. Everyone was unanimous that we need to talk about it," said Mirwaiz.
The meeting also decided that there is a need to open mosques for women, and to raise the issue of inheritance for them. "We have our old mosques where we have a separate space for women. But the new mosques that we have built don't have such a provision," said Mirwaiz. "Also, women are not given their due inheritance after marriage. This is a serious issue and needs to be taken up."
After Ramzan, Mirwaiz said, the next step for religious scholars is to ensure minimum use of mosque loudspeakers. "The scholars were unanimous that it should be limited to calls for prayers and Friday sermons," he said.
https://indianexpress.com/article/india/ramzan-jammu-kashmir-women-rights-mosques-domestic-violence-5713954/
--------
Pakistani Christian Girls Targeted By Chinese as Brides
May 7, 2019
GUJRANWALA, Pakistan – Muqadas Ashraf was just 16 when her parents married her off to a Chinese man who had come to Pakistan looking for a bride. Less than five months later, Muqadas is back in her home country, pregnant and seeking a divorce from a husband she says was abusive.
She is one of hundreds of poor Christian girls who have been trafficked to China in a market for brides that has swiftly grown in Pakistan since late last year, activists say. Brokers are aggressively seeking out girls for Chinese men, sometimes even cruising outside churches to ask for potential brides. They are being helped by Christian clerics paid to target impoverished parents in their congregation with promises of wealth in exchange for their daughters.
Parents receive several thousand dollars and are told that their new sons-in-law are wealthy Christian converts. The grooms turn out to be neither, according to several brides, their parents, an activist, pastors and government officials, all of whom spoke to The Associated Press. Once in China, the girls — most often married against their will — can find themselves isolated in remote rural regions, vulnerable to abuse, unable to communicate and reliant on a translation app even for a glass of water.
"This is human smuggling," said Aslam Augustine, the human rights and minorities minister in Pakistan's Punjab province, in an interview with the AP. "Greed is really responsible for these marriages ... I have met with some of these girls and they are very poor."
Augustine accused the Chinese government and its embassy in Pakistan of turning a blind eye to the practice by unquestioningly issuing visas and documents. The Chinese Ministry of Foreign Affairs denied that, saying China has zero tolerance for illegal transnational marriage agencies.
Human Rights Watch called on China and Pakistan to take action to end bride trafficking, warning in an April 26 statement of "increasing evidence that Pakistani women and girls are at risk of sexual slavery in China."
On Monday, Pakistan's Federal Investigation Agency arrested eight Chinese nationals and four Pakistanis in raids in Punjab province in connection with trafficking, Geo TV reported. It said the raids followed an undercover operation that included attending an arranged marriage.
The Chinese embassy said last month that China is cooperating with Pakistan to crack down on unlawful matchmaking centers, saying "both Chinese and Pakistani youths are victims of these illegal agents."
The Associated Press interviewed more than a dozen Christian Pakistani brides and would-be brides who fled before exchanging vows. All had similar accounts of a process involving brokers and members of the clergy, including describing houses where they were taken to see potential husbands and spend their wedding nights in Islamabad, the country's capital, and Lahore, the capital of Punjab province.
"It is all fraud and cheating. All the promises they make are fake," said Muqadas.
___
SUPPLY AND DEMAND
In China, demand for foreign brides has mounted, a legacy of the one-child policy that skewed the country's gender balance toward males. Brides initially came largely from Vietnam, Laos and North Korea. Now men are looking further afield, said Mimi Vu, director of advocacy at Pacific Links, which helps trafficked Vietnamese women.
"It's purely supply and demand," she said. "It used to be, 'Is she light-skinned?' Now it's like, 'Is she female?'"
Pakistan seems to have come onto marriage brokers' radar late last year.
Saleem Iqbal, a Christian activist, said he first began to see significant numbers of marriage to Chinese men in October. Since then, an estimated 750 to 1,000 girls have been married off, he said.
Pakistan's small Christian community, centered in Punjab province, makes a vulnerable target. Numbering some 2.5 million in the country's overwhelmingly Muslim population of 200 million, Christians are among Pakistan's most deeply impoverished. They also have little political or social support.
Among all faiths in Pakistan, parents often decide a daughter's marriage partner. The deeply patriarchal society sees girls as less desirable than boys and as a burden because the bride's family must pay a dowry and the cost of the wedding when they marry. A new bride is often mistreated by her husband and in-laws if her dowry is considered inadequate.
By contrast, potential Chinese grooms offer parents money and pay all wedding expenses.
Some of the grooms are from among the tens of thousands of Chinese in Pakistan working on infrastructure projects under Beijing's Belt and Road Initiative, a project that has further boosted ties between the two countries in recent years. Other grooms search directly from China through networks. They present themselves as Christian converts, but pastors complicit in the deals don't ask for any documentation.
They pay on average $3,500 to $5,000, including payments to parents, pastors and a broker, said Iqbal, who is also a journalist with a small Christian station, Isaak TV. Iqbal has gone to court to stop marriages and sheltered runaway brides, some as young as 13.
Muqadas' mother Nasreen said she was promised about $5,000, which included the cost of the wedding and her daughter's wedding dress. "But I have not seen anything yet," she said.
"I really believed I was giving her a chance at a better life and also a better life for us," Nasreen said.
___
PRIESTS AND BROKERS
Dozens of priests are paid by brokers to find brides for Chinese men, said Augustine, the provincial minorities minister, who is Christian. Many are from the small evangelical churches that have proliferated in Pakistan.
Gujranwala, a city north of Lahore, has been a particular target of brokers, with more than 100 local Christian women and girls married off to Chinese in recent months, according to Iqbal.
The city has several mainly Christian neighborhoods, largely dirt poor with open sewers running along narrow slum streets. Tucked away in the alleys are numerous evangelical churches, small cement structures unrecognizable except for small crosses outside.
Pastor Munch Morris said he knows a group of pastors in his neighborhood who work with a private Chinese marriage broker. Among them, he said, is a fellow pastor at his church who tells his flock, "God is happy because these Chinese boys convert to Christianity. They are helping the poor Christian girls."
Morris opposes such marriages, calling them an insult. "We know these marriages are all for the sake of money."
Rizwan Rashid, a parishioner at the city's Roman Catholic St. John's Church, said that two weeks earlier, a car pulled up to him outside the church gates. Two Pakistani men and a Chinese woman inside asked him if he knew of any girls who want to marry a Chinese man.
"They told me her life would be great," he said. "Everything would be paid for by them."
They were willing to pay him to help, but he said the church's priest often warns his flock against such marriages, so he refused.
Brokers also troll brick kilns, where the poorest work essentially as slaves to pay off debts, and offer to pay off their workers' debts in exchange for daughters as brides.
Pakistani and Chinese brokers work together in the trade. One prominent broker in Gujranwala is a Pakistani known only as Robinson. He refused to talk to the AP, but his wife Razia told the AP that they make arrangements through a Chinese marriage bureau in Islamabad.
Moqadas and another young woman from the same neighborhood, Mahek Liaqat, said Robinson arranged their marriages, providing photos of potential grooms. Afterward, they each described being taken to the same, multi-story house in Islamabad, a sort of boarding house with bedrooms. There, each met her husband for the first time face-to-face and spent her wedding night.
Mahek, 19, said she stayed there with her husband for a month, during which she saw several other girls brought in. She attended several weddings performed in the basement.
Other brides told of meeting their husbands at a similar house in a posh neighborhood of Lahore.
Simbal Akmal, 18, was taken there by her parents. Two other Christian girls were already there in a large sitting room, picking grooms. Three Chinese men were presented to Simbal, and her father demanded she choose one. She told him she didn't want to marry, but he insisted, claiming "it was a matter of our honor," she said.
"He had already promised I would marry one," she said. "They just wanted money."
She married, but immediately fled. She was joined by her sister, who refused her parents' demands to marry a Chinese man. Both escaped to a refuge run by the activist, Iqbal.
___
IN CHINA
Muqadas said her husband had claimed to be a man of money, but when she arrived in China in early December, she found herself living "in a small house, just one room and a bedroom."
She said he rarely let her out of the house on her own. He forced her to undergo a battery of medical tests that later she found were attempts to determine why she was not yet pregnant. On Christmas Eve, when she pressed him to take her to church, he slapped her and broke her phone, she said.
"I don't have the words to tell you how difficult the last month there was," said Muqadas. "He threatened me."
Finally, he agreed to send her home after her family said they would go to the police.
Mahek said she hadn't wanted to get married, but her parents insisted. Her Chinese husband was possessive and refused to let her leave the house. "He was just terrible," she said.
In China, her husband, Li Tao, denied abusing Mahek. He said he was a Christian convert and worked for a state-owned Chinese company building roads and bridges when he met Mahek through a Pakistani matchmaker introduced by a Chinese friend.
He was taken by her at first sight, he said. "If you look at her and you see she's right for you, that's it, right?"
Li returned with Mahek last winter to his hometown of Chenlou, a village surrounded by wheat fields in coastal Jiangsu province. They moved into his mother's home, a one-story courtyard house.
After Malek's family reached out to their government for help to bring her back, the police showed up at Li's home and said they were told he was illegally confining a woman in his home.
He said it was Mahek who refused to go outside.
"I wouldn't force her into doing anything," Li said. "She just had to learn to adapt to a new environment. I wasn't asking her to change right away." Still, he bought plane tickets to take her back to Pakistan.
Others, however, are unable to come back.
Mahek's grandfather Idriis Masih said he contacted the parents of several other Pakistani girls whom Mahek had befriended through a phone app in China and who were desperate to return home. All the parents were poor and shrugged off his attempts to convince them to retrieve their daughters.
Each told him, "She is married now. It is her life," he said.
___
Kang reported from Linyi, China. Associated Press researcher Shanshan Wang in Beijing contributed to this report
https://www.foxnews.com/world/pakistani-christian-girls-targeted-by-chinese-as-brides
--------
Muslims in Agra Angry over Mayor's Call to Ban Burqa, Demand Apology
Siraj Qureshi
May 6, 2019
Comments by Naveen Jain, Agra mayor, have riled the Muslim community in the city of the Taj Mahal.
Naveen Jain had called for a ban on the Burqa a few days back, saying it was a threat to national security.
Agra's Muslim community have taken affront to the mayor's comments and have demanded an apology.
Naveen Jain had said that the Muslim community should ban the Burqa among Muslim women as India is in the 21st century and old religious practices should be discarded in favour of new ones.
He said that the Burqa has been extensively used by terrorists to hide their identities; the latest example being the Easter Sunday blasts in Sri Lanka.
Jain went on to say that Muslims should voluntarily give it up in India as well.
Expressing his surprise on the mayor's insensitive comment, Bhartiya Muslim Vikas Parishad chairman Sami Aghai said that several other right-wing political leaders were saying the same thing, but to hear something like this from the Mayor of Agra was beyond belief.
Aghai said that Agra is a city that has seen over 500 years of Hindu-Muslim mixed heritage. He wanted to know if terrorism will end if Muslim women remove their Burqas.
Sami Aghai said that if Burqa is to be banned, then so should the Purdah, common among a section of Hindu women. He said that a lot of Hindu women have been caught misusing Purdah to commit crimes. He demanded an apology from the mayor.
Saba Khan, the principal of a local college, said that Islam dictates that women cover their entire body with a Burqa and also cover their feelings so that they remain pure.
She said that the mayor did not have the right to comment on the practice of Burqa, which was in any case, slowly getting phased out among the more westernized Muslims.
Social activist Samiuddin said that the mayor is from the Bharatiya Janata Party (BJP) and the BJP is anti-Muslim, so he was only following his party's ideology by making such laughable comments on Muslims and Burqa.
https://www.indiatoday.in/india/story/agra-muslims-take-affront-to-mayors-Burqa-comment-1518646-2019-05-06
--------
91 Percent Saudi Women Do Not Practice Sport: Gastat Survey
2019-05-06
RIYADH — About 91 percent of the Saudi women do not practice any form of sport regularly, the Arabic daily Makkah reported on Monday quoting the results of a survey conducted by the General Authority for Statistics (GaStat).
The survey said the number of adult women (15 years or above) who practice sport for 150 minutes every week was not more than 8.9 percent.
The survey, conducted for the year 2018, covered 26,000 Saudi families in the Kingdom's 13 administrative regions.
According to GaStat, Saudis, including both men and women, who do physical exercise for about 150 minutes a week are not more than 18.9 percent.
It said about 81 percent of Saudi men did not have anything to do with sports, except watch football matches.
http://saudigazette.com.sa/article/565695/SAUDI-ARABIA/91-percent-Saudi-women-do-not-practice-sport-GaStat-survey
--------
Saudi National Guard Recruiting Women Cadets
2019-05-06
RIYADH — The Ministry of National Guard has announced several vacancies for Saudi women who are residents of Madinah or Taif.
Saudi women holding university degrees or high school diplomas can apply for the jobs of corporal, sergeant and private in the force through the ministry's website.
A statement issued by the ministry said the applicant should be a Saudi national between 17 and 35 years old, medically fit, and should have clean police record. They should have a height of at least 160 cm and not more than 195 cm. Only women who are residents of Madinah or Taif need to apply.
The applicant should not be a government employee or married to a non-Saudi man, the ministry said.
All applicants should pass admission tests and personal interviews, it said, adding that any application that fails to meet the conditions will be rejected.
Preference will be given to Saudi women with past experience in the security field, the ministry said.
Accepted candidates will be informed by text messages to their registered mobile phone numbers.
http://saudigazette.com.sa/article/565703/SAUDI-ARABIA/Saudi-National-Guard-recruiting-women-cadets
--------
Malaysia's First Female Chief Justice Unfazed By New Post
6 May 2019
PUTRAJAYA: Malaysia's first female Chief Justice appears to be unfazed by her new title and post.
Datuk Tengku Maimun Tuan Mat (pic) said she did not feel the pressure of holding the judiciary's top post after assuming the position officially on Monday morning (April 6).
"Honestly, I don't feel the pressure just because I'm a woman. Gender is not a factor at all.
"It (pressure) is due to the position, as it carries a huge responsibility. Whether you are a woman or man, it is the same to me.
"You must carry out the responsibility as best as you can," she said at a press conference at her office in the Palace of Justice here.
When asked if she had a message for young lawyers in the field, Tengku Maimun said her message to the young ones would be to work hard.
"Be honest and work hard," she said.
This was Tengku Maimun's first official press conference as the new Chief Justice, taking over from former Chief Justice Tan Sri Richard Malanjum who retired on April 12.
Earlier on Monday morning, she took her oath of office before the Yang di-Pertuan Agong Al-Sultan Abdullah Ri'ayatuddin Al-Mustafa Billah Shah at Istana Negara.
Tengku Maimun, who is considered junior compared to her fellow judges, dismissed speculations that there was "uneasiness" among the judges due to her "bypassing" more senior colleagues.
"This is not a job that I applied for. This is rezeki (good fortune) from Allah," she said.
Tengku Maimun said she believed even though she was relatively junior, the seniors that she bypassed were not upset over the matter.
"As a Muslim, (I think) this is Allah's will. If it is meant for us, it will be for us," she added.
https://www.thestar.com.my/news/nation/2019/05/06/malaysias-first-female-chief-justice-unfazed-by-new-post/
--------
Women Are Powering Sudan's Drive for Change
May 6, 2019
Since protests began late last year, women have been a driving force behind the movement that toppled Sudan's longtime president Omar Al Bashir. This is no coincidence. For nearly 26 years, Mr Bashir's conservative regime restricted women's freedom of movement, controlled what they could wear and discriminated against them at every turn. In recent weeks, Alaa Saleh, who has become widely known as "Kandaka" or Nubian queen, has emerged as the face of a vibrant national drive for change. But she is just one of many. Whether activists, protest organisers or tea sellers, Sudanese women of all ages have taken to the streets. Many have been harrassed, arrested and jailed, often detained in cold, cramped, windowless cells known as "refrigerators".
During his rule, Mr Al Bashir allied himself with hardliners and trampled all over women's rights. "For years, women went to court to be punished by judges for just being out alone at night or wearing pants," Elaf Nasreldeen Suleiman told The National. These restrictions aimed to erase women from public spaces. They also placed them in danger behind closed doors, with young girls often forced into marriage and denied education.
Faced with such oppression, it is not surprising that thousands of women have now taken matters into their own hands. "The revolution was our answer," said Ms Suleiman. Following the fall of Mr Al Bashir, an interim military council took over, causing further public anger. It now appears that the 15-member body will welcome eight civilians. And yet, demonstrators remain on the streets, dancing, singing and hoping for a better future. Amid this carnival atmosphere, women are enjoying new freedoms – to be seen, to dress how they wish and to have a say in the direction their own lives and their country will take. While many people around the world take similar liberties for granted, in this case they have been hard-won. They must now be enshrined and protected for generations of Sudanese women to come.
https://www.thenational.ae/opinion/editorial/women-are-powering-sudan-s-drive-for-change-1.858010
--------
Uber and Takamol Partner to Empower Working Saudi Women
2019-05-05
RIYADH – Uber entered into a strategic partnership with Takamol Holding, which operates Wusool, a program developed by Human Resources Development Fund (HRDF), with the goal of enabling working women in Saudi Arabia overcome transportation challenges to and from
the workplace by providing affordable, subsidized transportation solutions and encouraging women's contribution towards the country's socio-economic progress, in line with the goals and objectives of the Kingdom's Vision 2030.
Pierre-Dimitri Gore-Coty, VP & Regional General Manager EMEA, Uber, said: "Uber is a conscientious company that strives to uplift the communities it operates in. We are expanding exponentially within the Middle East and North Africa region, with Saudi Arabia being one of our fastest-growing markets. At Uber, we will continue supporting the government's focus on Saudization and the Saudi Vision 2030, which aims to increase women's participation in the workforce."
"Through this partnership with Takamol Holding for "Wusool", which is Uber's largest subsidized transport
program globally, we are able to provide women with the opportunity to achieve their professional ambitions, as well as strive to be catalysts for economic growth in the Kingdom with their active contribution to the overall workforce," added Pierre-Dimitri Gore-Coty.
Dr. Ahmed Al Yamani, CEO, Takamol, said: "We are delighted to announce our partnership with Uber, a leader in the ride-hailing industry. This partnership will provide Saudi women with access to transportation solutions to and from their workplace, which falls under one of the strategic objectives of Saudi Vision 2030, that aims to enable members of the community to enter the workforce and bolster it under the National Transformation Program. Approximately 25,000 women currently benefit from the program and we aim for more to join them by the end of the year 2019."
Saud women between the ages of 18 and 65 can apply to the program through Taqat - the National Labor gateway managed by the HRDF, based on the eligibility criteria to receive partially subsidized "Wusool" rides on the Uber application in the Kingdom. Applicants must be working in the private sector and earning an income of up to a maximum of SR8,000 per month.
In line with the Kingdom's cultural and economical changes, and Saudi Arabia's Vision 2030, the strategic partnership aims at increasing women's participation in the workforce by supporting them in overcoming the challenges associated with accessing reliable and convenient transportation to/from their workplace, as well as providing flexible economic opportunities.
The partnership is aligned with Uber's Masaruky (your path"in Arabic) initiative, which is committed to
enhancing women's mobility in the Kingdom. As part of the "Masaruky" initiative, Uber pledged SR1 million to support select women through driving schools. Most recently, Uber has announced the launch of a feature which enables women drivers on Uber to select a preference for women riders, a feature only available in Saudi and a global first for Uber. — SG
http://saudigazette.com.sa/article/565669/BUSINESS/Uber-and-Takamol-partner-to-empower-working-Saudi-women
--------
URL: https://www.newageislam.com/islam-women-feminism/this-ramzan-mosques-across-kashmir/d/118527
New Age Islam, Islam Online, Islamic Website, African Muslim News, Arab World News, South Asia News, Indian Muslim News, World Muslim News, Women in Islam, Islamic Feminism, Arab Women, Women In Arab, Islamophobia in America, Muslim Women in West, Islam Women and Feminism