New Age Islam News Bureau
5 Aug 2017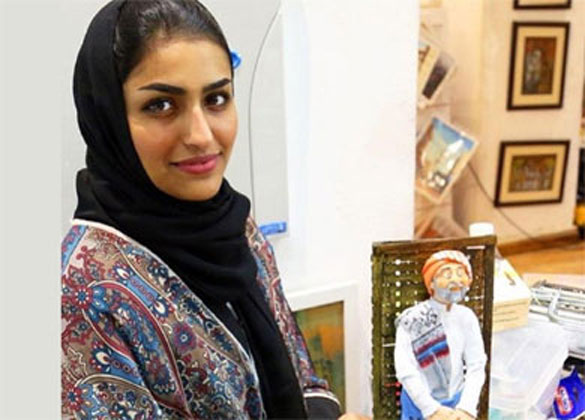 Saudi artist Noura Gowharji created the character Gedo Sarhan in the kids' series "Baba Farhan" in 2015. (Supplied)
-----
• Saudi Female Artist Dreams Of Becoming The Arab Madame Tussauds
• Women's Enrolment Rate in Technology Studies in Arab Countries Higher than in US
• Muslim Woman Fined $575 for 'Tainting' Swimming Pool with Burkini – Report
• SC To Study Facts before Summoning Kerala Woman Who Converted To Islam
• UP's Muslim Women Send Rakhis to Modi, Yogi for Their Efforts on Triple Talaq
Compiled by New Age Islam News Bureau
URL: https://www.newageislam.com/islam-women-feminism/this-kashmiri-girl-kicks-off/d/112103
--------
This Kashmiri girl kicks off football with stone pelters
Rohan Dua
Aug 5, 2017
SRINAGAR: Not far from the Friday rush at the Hazratbal shrine, Qudsiya Altaf, 23, adjusts her bright red cap on the lush green fields of Kashmir University. With six footballs at her pair of shuffling soccer cleats, she rattles off names as she essays the kicks.
"Haider, Ilyas, Faizan, yahan aajao beta. Thoda gap rakho. Warm up. Fir at least five times pass karo," Qudsia says, almost perfunctorily. That has been her routine between 3:30pm to 6:30pm everyday for the past few months.
Last year, when the valley was teeming with protesters over clashes+ between security forces and stone pelters following Burhani Wani's killing+ , Qudsia left her civil engineering dream to do her bit: apply salve on a distressed people.
She then enrolled at the National Institute of Sports (NIS) in Patiala to train herself as a football coach, a sport she has loved and played since 2007. With a regret that she could never represent India despite playing at district and state levels, Qudsia now wants to take her football team to an international soccer event.
"My dream is to see that these boys represent India at international events. I want to wean them away from guns, stone pelting, drugs and smoking. There's a bright chance for them to make their country proud," Qudsia tells TOI.
There were at least three dozen stone pelters who had flocked to her in the initial days.
"They are all good and reformed people who come to me now. They want to do well for India," she said.
She has decided to keep her academic pursuits with another bachelors degree in interior designing, and is thrilled with her new job as a coach at J&K State Sports Council.
As part of her new sports policy, chief minister Mehbooba Mufti has taken Qudsia as football coach for under-14 and under-17 for girls and boys. Since April this year, she is being paid 5,000 per month as a coach.
Qudsia is part of 198 such coaches for different sports such as athletics, hockey, volleyball, basketball, being recruited as part of agreement between the state government and the Centre under Prime Minister's special package of Khelo India programme.
Seeing Altaf's success, the sports council has identified 200 stone pelters and decided to teach them football on local playgrounds.
Being a girl, Qudsia knows the perils of breaking the glass ceiling. But she is ready to take on the challenges. She shrugs off comments from orthodox Muslims over hijab or her t-shirt and arm bands.
"I am a disciplined coach. I am glad that my father, who taught me mountaineering, has fully supported me. I will fulfil my responsibilities. I speak to these young footballers strictly in Urdu or English. They respect me and win rewards when they play good or win local championships," Qudsia said.
http://timesofindia.indiatimes.com/city/srinagar/this-kashmiri-girl-kicks-off-football-with-stone-pelters/articleshow/59922820.cms
--------
Saudi female artist dreams of becoming the Arab Madame Tussauds
4 August 2017
Noura Gowharji, the hospital management student, did not expect the piece of clay that she was molding with her hands would one day ignite the passion for sculpting within her.
This Saudi artist turned her hobby into a professional one when she created the character Gedo Sarhan in the kids' series "Baba Farhan" in 2015.
She cried of joy when she saw her first model completed and admired by those around her.
"I am a realist sculptor. I am trying to develop myself through practice and following up on international artists, and I am very passionate about this kind of art," Noura said in an interview with Al Arabiya.
Noura added: "I have a great ambition that you cannot imagine. I want to sculpt huge works of famous figures in the Arab world and have a museum like Madame Tussauds' wax museum in London."
Speaking about the tools used in her work, Noura said that she is currently using thermal clay as well as sculpture tools and Terracotta paste.
Pointing out that this type of material is costly, but the high cost did not prevent her from thinking about using new art material for the first time which gives her pieces a more realistic look in both form and texture.
Getting these materials locally is one of the difficulties she faces. Noura said that she received wide praises from her followers on the social networking sites, especially after creating the figure of the late King Faisal.
She said she does not accept personal requests, but she responds to the wishes of children who ask her for the famous anime character "Luffy."
She explained that she has already participated locally in Riyadh Cultural Festival, the Wamda exhibitions in Riyadh and recently in Jeddah Our Days of Bliss Gallery in Jeddah, and she wishes to participate in the international exhibitions and forums.
Noura added that currently she doesn't have sponsors to support her except the members of her family to whom she is really grateful.
https://english.alarabiya.net/en/features/2017/08/04/Saudi-female-artist-dreams-of-becoming-the-Arab-Madame-Tussauds.html
--------
Women's enrolment rate in technology studies in Arab countries higher than in US
August 4, 2017
Abu Dhabi: The number of women enrolling for subjects such as computer science and engineering in universities is close to 50 per cent in the Middle East, which is higher when compared to countries such as the US.
This is part of the findings made by a research project undertaken by a professor at New York University Abu Dhabi (NYUAD).
"Enrolment of Arab women in the fields of computer science, engineering and other technology-related subjects is very high, with the numbers ranging between 40 and 50 per cent," said Sana Odeh, clinical professor of computer science, NYUAD.
"In the Arab world, women are embracing these sectors, in some countries like Palestine, Egypt, Saudi Arabia and even the UAE, it is women who sometimes even make up the majority of students in computer science and engineering [courses]," she added.
Odeh said the numbers were positive when compared to countries like the US, which had a significantly lower rate of women enrolling for these subjects.
"In the US, women enrolment in computer science is around 10 to 20 per cent which is very low. As a result, millions of dollars are being invested to try and attract women into this field.
"One of the perceptions in the US is that computer science is a geeky field, or that it's a man's world and that women are not good enough in maths and science. A lot of girls get these perceptions when they are young, when they are in junior high school or even elementary school.
"This is not the case for Arab women: they embrace this sector, they love science and maths, and see the creative solutions offered in these subjects which they can go on to apply to help society. The negative perceptions around these sectors are not there in the Arab world, Arab women do not believe that it's a man's world when it comes to these fields," she added.
Odeh also said that the high number of young Arab women enrolled in technology subjects helped break down stereotypes about women in this region, and could also counteract perceived trends.
"When I came to the UAE 10 years ago and started discovering these numbers, I was pleasantly surprised, and that's why I started doing the research," she explained. "With this research, we can dismantle some of the stereotypes that surround women, and instead we show women in a powerful way, that wearing the hijab or not doesn't have anything to do with the issue.
"The high numbers also show that we have something to offer, that the low number of women enrolled in computer science and related fields is not the international trend, and that we have a good example in the Arab world for why this isn't the case," she added.
Odeh said that despite the positive numbers in enrolment, these are not being positively reflected in the workforce, with men still often being preferred to women.
"The problem is that these high numbers do not translate to employment after they leave universities. In the technology sector, what we often find is that employers feel that men are more reliable and will be able to be on the job 24 hours while women may get distracted by children and raising a family.
"So it's not because women are perceived to lack the skills or that men are better, in many cases the women are actually more skilled and have the higher grades, but the feeling is that they will eventually quit because of family," she added.
Odeh said steps taken by the UAE government to hire women and to make it a policy to have women involved and integrated into the workforce have brought in positive results.
"The government is very instrumental in employing women, and this is a great factor in the Gulf region. In this area, there is a policy coming from the top that wants women to excel; they have programmes that send women for scholarships, for example; so a lot of effort is being made because there is a top-down policy to employ women."
http://gulfnews.com/news/americas/usa/women-s-enrolment-rate-in-technology-studies-in-arab-countries-higher-than-in-us-1.2069037
--------
Muslim woman fined $575 for 'tainting' swimming pool with burkini – report
4 Aug, 2017
A Muslim woman who rented a private vacation residence in France was reportedly made to pay €490 (US$575) because she swam in the property's communal pool while wearing a burkini. The owner said the pool had to be emptied and cleaned after her swim.
The woman, referred to as 'Fadila' by United Against Islamophobia in France (Le Collectif Contre l'Islamophobie en France, CCIF), rented the house near Marseille with her husband and three children.
On the first day of her vacation, Fadila swam with her children while wearing a burkini and did not encounter any problems. However, on the second day, a staff member at the pool told everyone to get out of the water after spotting Fadila swimming in her burkini.
The owner of the residence later contacted Fadila saying he had received a complaint call from the building's administration. They claimed that a woman wearing a veil had gotten into the pool while wearing her clothes and that she had refused to exit the water when requested to do so.
However, Fadila says she was never asked to leave the pool at all.
"I was stunned," she told CCIF, "because no one had stopped me or said anything at all."
The owner then called Fadila's husband, asking that his wife refrain from swimming for the remainder of their stay. He also reportedly told the couple that they must pay for the pool to be emptied and cleaned, as well as for damages, as the pool was out of use for two days after Fadila swam in it.
The husband refused to pay, stating that the pool was never emptied and that it was functional the next day. That refusal prompted the owner to keep the couple's €490 deposit without producing any sort of invoice for pool treatment or other charges.
"I was disappointed, shocked, wounded by the fact that someone could be so hypocritical and wicked because of a burkini," said Fadila.
Despite the owner's claims, CCIF insists the woman did not pose a hygiene risk because she was swimming in a suit made for the water, rather than in her everyday clothes.
Burkinis have been a topic of heated debate in France over the past year. Cannes banned the swimwear in August 2016, prompting the majority of other French resort towns to follow suit.
In May, nine women attempting to stage a 'burkini party' were arrested in Cannes during the city's iconic annual film festival.
https://www.rt.com/news/398675-burkini-swimming-pool-france/
--------
SC to study facts before summoning Kerala woman who converted to Islam
August 5, 2017
A Supreme Court bench on Friday said that it would first examine the "facts of the case" surrounding a Kerala woman who converted to Islam to marry and then decide if she should be produced in court as there was "far more than meets the eye."
The bench of Chief Justice of India J S Khehar and Justice D Y Chandrachud issued notices to the National Investigation Agency, the government of Kerala and the girl's father K M Ashokan on a plea filed by Shefin Jahan, to whom the woman was married. In May, the Kerala High Court annulled the marriage on a plea filed by the woman's family.
The court turned down Jahan's request for a direction to produce the woman, Hadiya (Akhila before her conversion), immediately and said it would do so if needed after going into the facts. "If there is a need, we will. Now it's not necessary," CJI Khehar told senior counsel Kapil Sibal and Indira Jaisingh who appeared for the petitioner.
"There is far more than meets the eye…very serious facts. We will examine the facts," the bench said. Ashokan had alleged that Jahan (27) was trying to take his daughter, a medical student, away to Syria and filed a Habeas Corpus petition. Hadiya (24) was produced before the court, which sent her to a hostel while ordering a police probe.
The police ruled out her chances of moving to Syria. Hadiya had written to her father, expressing her anguish over the petition. She had rejected her father's allegation that she was made to convert to Islam for recruitment into the Islamic State. But the high court annulled the marriage. Jahan filed the petition challenging the judgment invalidating his December 2016 marriage. The court had given Hadiya's custody to her father against her wish, he contended.
Sibal on Friday said that the police had cordoned off her house and no one from outside was allowed to meet the woman. "The best option for the court is to interview her in chamber," said Jaisingh, pressing the court to direct that she be produced in police custody.
The bench then directed Ashokan's counsel Madhavi Divan to place on record all documents related to the matter. "The high court has interviewed her and they have said she was not able to give coherent answers," Justice Chandrachud said.
http://indianexpress.com/article/india/supreme-court-to-study-facts-kerala-woman-conversion-case-islam-shefin-jahan-hadiya-4783047/
--------
UP's Muslim women send rakhis to Modi, Yogi for their efforts on triple talaq
August 5, 2017
Lucknow, August 5: The Muslim women of Lucknow, Uttar Pradesh, are happy that Prime Minister Narendra Modi and Chief Minister Yogi Adityanath took a lot of effort to give them justice over the issue of triple talaq. In order to thank them, these women will send rakhis to both the PM and the CM.
"Women from Muslim community in Lucknow to send Rakhis for PM Narendra Modi and CM Yogi Adityanath. They hail their efforts over triple talaq issue," tweeted ANI.
Both Modi and Adityanath have advocated for the rights of Muslim women and had called for the abolition of the triple talaq and nikah halala.
A lot of Muslim women and organisations have challenged the practice of triple talaqin which the husband often pronounces talaq thrice in one go, sometimes over phone or text message. Currently, the case on triple talaq is pending in the Supreme Court. The SC on May 18 reserved its verdict on a batch of petitions challenging constitutional validity of the practice of triple talaq among Muslims. The festival of Raksha Bandhan is due in a few days from now. This year, the festival will be celebrated on August 7. Every year, during Raksha Bandhan women and girls tie rakhi (a special colourful thread) on the wrists of their brothers and the brothers in return vow to protect their sisters. The Hindu religious festival is celebrated by people belonging to all religions as it marks a special bond between brothers and sisters.
http://www.oneindia.com/india/up-s-muslim-women-send-rakhis-modi-yogi-their-efforts-on-tr-2515490.html
--------
URL: https://www.newageislam.com/islam-women-feminism/this-kashmiri-girl-kicks-off/d/112103
New Age Islam, Islam Online, Islamic Website, African Muslim News, Arab World News, South Asia News, Indian Muslim News, World Muslim News, Women in Islam, Islamic Feminism, Arab Women, Women In Arab, Islamophobia in America, Muslim Women in West, Islam Women and Feminism