New Age Islam News Bureau
30 Sept 2019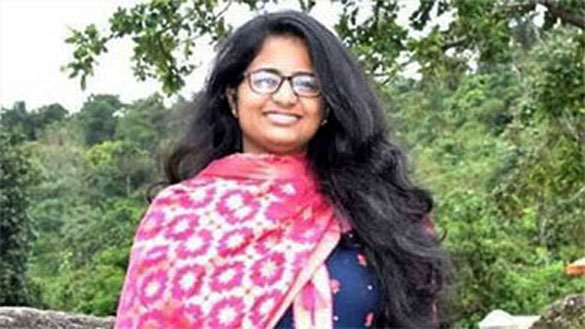 Ciyani Benny said she embraced Islam willingly and not under pressure from any person or group.- Supplied photo
------
• Indian Coaches Of Bangladesh Women's Team Won't Travel To Pakistan: BCB
• 50 Women, 28 Men Fall Victim To Honour Killing (Karo-Kari) Across Sindh In Six Months
• Ahmadiyya Supreme Head Addresses Over 5,800 Women from Across the UK
• The Islamic Centre Of Tri-Cities Hosts Monthly Forums On Islam
• Bangladeshi Housemaid To Make Dream Debut Dance Performance In UAE
Compiled by New Age Islam News Bureau
URL: https://www.newageislam.com/islam-women-feminism/this-love-jihad-i-liked/d/119873
--------
This Is Not Love Jihad, I Liked Islam and I Had Made the Islamic Proclamation of Faith While In Delhi, Says Indian Girl Who Fled To UAE
Ashwani Kumar /Abu Dhabi
September 30, 2019
Her parents and brother are in Abu Dhabi and in touch with the embassy officials.
A student who was reported missing from the Indian capital has reached Abu Dhabi. The student of Jesus and Mary College of the Delhi University has converted to Islam as she wishes to marry an Abu Dhabi-based Muslim man, who works at a mall. Both of them hail from the south Indian state of Kerala.
Ciyani Benny said she embraced Islam willingly and not under pressure from any person or group. "I came here on my own will. I have been in love with a man for the past nine months. As per his desire, I came here," she told Media One TV Malayalam news channel.
She has denied that her case is that of 'love jihad' - the alleged effort by Muslim men in targeting women belonging to non-Muslim communities for conversion to Islam by feigning love.
"This is not love jihad. I liked Islam and that's why I am here. I had made the Islamic proclamation of faith while in Delhi, but not in public. But when I landed here, I proclaimed it publicly at an Abu Dhabi court. People might claim this is a case of love jihad because I was a Christian and unexpectedly went missing from home."
Ciyani, who will turn 20 this November, said the Indian Embassy in Abu Dhabi and the police haven't found anything illegal in her actions to convert to Islam. "The embassy has told me that since I am above 18 years old, I can follow my own will. There are no issues. The police have also assured their full support. Now if I get a job here, I would like to stay. I will never return to Delhi."
Meanwhile, her parents and brother are in Abu Dhabi and in touch with the embassy officials. "We are closely following the case. She has converted to Islam. We have spoken to her and her lover," an embassy official said, noting that the matter will be sorted out soon.
Parents shocked
An Abu Dhabi-based Indian expat, who is close to Ciyani's parents, said they are devastated by this "unexpected turn of events".
"She is a final year student. She was a good student. She last attended class on September 18. She took the evening flight from New Delhi and landed in Abu Dhabi the same night. Her parents, unaware about the act, filed a missing report and an abduction case. There was a massive search operation held by the police, parents, friends, relatives ... but all in vain.
"It was only on September 22 that the parents came to know about her being in Abu Dhabi as the police traced her through CCTV cameras. The parents also recovered some prayer books, papers and Arabic scriptures from her room."
The parents have also taken up the case with authorities in New Delhi. The National Commission for Minorities vice-chairman George Kurian wrote to Indian Home Minister Amit Shah and National Investigation Agency to probe the case.
"The spate of organised religious conversions and using the victims for terror activities by trapping them through love jihad has shown the Christian community is a soft target for Islamic radicals," he had written.
https://www.khaleejtimes.com/uae/abu-dhabi/indian-girl-who-fled-to-uae-to-be-with-boyfriend-denies-love-jihad-claim-
--------
Indian Coaches Of Bangladesh Women's Team Won't Travel To Pakistan: BCB
Sep 29, 2019
DHAKA: Indian coaches from Bangladesh's women's cricket staff will not travel to Pakistan for the international series next month amid political tensions between the neighbouring nuclear rivals, the country's Cricket Board said Sunday.
Tensions are heightened between India and Pakistan after New Delhi revoked the autonomy of restive Kashmir in early August, which was the country's only Muslim-majority state.
The women's team are due to play Pakistan from October 26 to November 4 in three Twenty20 internationals and two one-day internationals at Gaddafi Stadium in Lahore.
The tour is still subject to security checks by Bangladesh's government before it can take place.
The governing body's chief executive Nizamuddin Chowdhury told AFP that if it goes ahead, head coach Anju Jain, assistant coach Devika Palshikar, and trainer Kavita Pandey will not accompany the side in Pakistan.
But they will travel with the Bangladesh team when they play the ACC Emerging Women's Asia Cup in Sri Lanka from October 20 to 28.
"We will have another team travelling to Sri Lanka almost at the same period. We've decided to send our Indian coaching staff to Sri Lanka instead of Pakistan to avoid any travel complications," Nizamuddin said.
"We have started the process. Before confirming the series we are also planning to send someone to see the security arrangement for the Sri Lanka team in their ongoing series."
Sri Lanka men's team are in Pakistan for three one-day internationals and three Twenty20 internationals.
Teams have been reluctant to visit Pakistan after 2009's deadly militant attack on a bus carrying the Sri Lankan team in Lahore.
The Bangladesh women's team last toured Pakistan in 2015.
https://timesofindia.indiatimes.com/sports/cricket/news/indian-coaches-of-bangladesh-womens-team-wont-travel-to-pakistan-bcb/articleshow/71360996.cms
--------
50 Women, 28 Men Fall Victim To Honour Killing (Karo-Kari) Across Sindh In Six Months
Imran Ayub
September 30, 2019
KARACHI: Amid so many challenges faced by the law enforcement agencies and the criminal justice system, killings in the name of so-called honour, or karo-kari killings, mainly in rural parts of Sindh, continue unabated as more than 70 people have lost their lives during the first six months of the current year, it emerged on Sunday.
However, investigations into majority of such cases remain inconclusive bringing no one to justice but have allowed acquittal of a few suspects.
Official figures suggested that some 78 people were killed from January to June 2019 in different parts of Sindh in the name of karo-kari leading to registration of 65 cases. However, more than 90 per cent cases were pending trial due to different reasons and in most cases the police probe had not reached to a conclusion.
"Among 78 victims, 50 were women and 28 men," said a source citing the data. "Total 65 FIRs have been registered in different parts of Sindh for honour killings and charge sheets in 60 cases filed. Some 57 cases are still pending with no conviction in any case. However, three people have been acquitted during the process. In most cases the suspects are close relatives of the victims."
The concern in the police hierarchy over the status of investigations into honour killing cases echoed in a recent meeting chaired by Inspector General of Police Dr Syed Kaleem Imam, who last month reviewed the progress made by police in their assignments related to karo-kari.
IGP seeks detailed report
The Sindh IG had asked investigators to prepare a detailed report on a case-to-case basis about the release and conviction in the honour killing cases across the province.
He also directed the officials concerned to ensure that there must not be any loophole left in the investigations and the same was also adequately pursued before courts.
In the same meeting, the DIG-Sukkur was asked to take on board all stakeholders and with their consultation a proposal be developed to help end the menace of karo-kari.
Despite being highly criticised by the authorities as well as human rights organisations, the heinous trend, usually termed a part of the rural system, continues unabated. Police, however, find it hard to investigate such killings effectively, as both aggrieved and accused parties usually belong to the same family or tribe.
"Honour killing is a social problem and has its roots in the tribal culture and a mindset where women are seen as subservient to men," said DIG-Headquarters Abdul Khaliq Shaikh.
DIG Shaikh has been heading the recently established human rights cell of the Sindh police that operates as a supervisory body responsible for focusing and emphasising safeguarding human rights while primarily dealing with cases pertaining to vulnerable communities that include women, children, minorities and transgenders.
"A long-term solution lies in changing this mindset and empowering women in society in general. As far as the criminal justice response is concerned the police department has taken several useful initiatives to deal with the menace of killings in the name of so-called honour which included execution of a project on prevention of honour killings in collaboration with UNDP and a training module for police officers have been developed to sensitise them," he added.
He said that a centralised human rights cell had been established in the Central Police Office (CPO) to monitor such incidents or cases and the IGP had got conducted a research study by senior police officers to assess the police response and identify ways and means to improve police handling of cases.
"However, there's a need for greater coordination between prosecution, police and judiciary as prosecutors and judges need to be trained to understand peculiarities of murder cases where motive is [so-called] honour," said DIG Shaikh.
Call for reforming criminal justice system
Both human rights organisations and legislators, however, believe that apart from the flaw in the probe and attitude of the families concerned, the police's approach towards the 'honour killing' cases and overall criminal justice system need reforms.
They call for greater reforms in the laws and bringing the culprits to justice instead of blaming the culture for the brutal trend.
"In the first place, you have to treat all crime equally — if its murder then its murder," said PPP leader Dr Nafisa Shah, who has a PhD degree in social and cultural anthropology from Oxford University.
Ms Shah's 2017 book Honour Unmasked offers rich detailed ethnography on honour killing, sowing how the state and justice system and informal processes of redress are mutually implicated in providing a space for honour-related violence.
"When it comes to law related to this subject, it's unfortunate these laws are quite vague. They are needed to be reformed. We witnessed some legal changes first during General Musharraf government and then during the last government of Nawaz Sharif. But it needs to address whole criminal justice and one can't blame culture or trend just for an excuse."
She said that the changes made in the laws during two different government to address the menace of honour killings should be counted effective if there was any decline in number of such cases but this could only be called as a step forward, not a solution.
"Since all cases fall in the domain of law, we need to look at the perspective of the law," said Dr Shah. "We need to see that how are these cases dealt with? Whatever changes were made in the law, I believe these all were partial changes. We need to look and reform the criminal justice system for better and effective results."
https://www.dawn.com/news/1508076/50-women-28-men-fall-victim-to-karo-kari-across-sindh-in-six-months
--------
Ahmadiyya Supreme Head Addresses Over 5,800 Women from Across the UK
September 29th, 2019
By A. Abdul Aziz.
Unquestionably, women play an indispensable role in society because the future generations lie in their laps and grow up in their tender care" – Ahmadiyya Supreme Head.
The World Head of the Ahmadiyya Muslim Community, the Fifth Khalifa (Caliph), His Holiness Hazrat Mirza Masroor Ahmad delivered a moving and faith inspiring address to conclude the 41st National Ijtema (Annual Gathering) of Lajna Imaillah UK, the ladies auxiliary organization of the Ahmadiyya Muslim Community, recently.
Held at Country Market in Kingsley, Hampshire, this was the first time the event took place over three days.
In his address, His Holiness reminded the members of Ladies auxiliary organization Lajna Imaillah of the immense value of remaining firm in their faith and staying true to the teachings of Islam.
Hazrat Mirza Masroor Ahmad said:
As we move towards success and prosperity, it is essential that we intensify our efforts to protect and preserve our true Islamic values and our core identity as Muslims. The only way to achieve this is for us to strive, more than ever before, to act upon the teachings of Islam."
His Holiness addressed a question regarding the effectiveness of Islam's peaceful teachings in today's society.
Hazrat Mira Masroor Ahmad said:
Some people will argue that Islam has already spread globally and query what has been the benefit to the world? After all, there are said to be around 1.8 billion Muslims in the world and, amongst them, are thousands of Islamic scholars who claim to be spreading its teachings. Yet, this has not led to true peace and prosperity within the Muslim Ummah (Muslim people) or in the wider world."
Hazrat Mirza Masroor Ahmad continued:
The simple and clear reason for this is that, save for those blessed people who have accepted the Promised Messiah (peace be upon him), Muslims across the world are riven within division, dissent and interpret the teachings of Islam in ways that are devoid of sense and often impossible to practice."
His Holiness also spoke about the importance of modern means of communication and the facilities they provide as vessels to convey the true and peaceful message of Islam.
In this regard Hazrat Mirza Masroor Ahmad said:
In today's world, television, radio, the internet, the print media and social media are just a few ways through which communications have advanced to the point where global communication has become instantaneous. These are all technologies that we as a community are utilising to spread the teachings of Islam."
Whilst modern tools of communication and new technologies can be utilised for good, His Holiness explained that regrettably, much of the content being broadcast or streamed in the world today serves only to weaken the moral and spiritual fabric of society and to take people away from what is good and decent."
His Holiness instructed that Ahmadi Muslims must take the task of reversing the moral decline in society upon themselves.
Hazrat Mirza Masroor Ahmad said:
It is the task of Ahmadi men, women and our youth, as members of the community of the Promised Messiah (peace be upon him), to use modern-day technologies to counter the influence of irreligious and immoral forces and to show that upholding religious values in the contemporary world is not just possible but is absolutely vital."
His Holiness went on to lay particular importance on the vastly integral role women play in the structure of society and the heightened responsibility that it brings.
Hazrat Mirza Masroor Ahmad said:
Unquestionably, women play an indispensable role in society because the future generations lie in their laps and grow up in their tender care. This fact alone greatly increases the responsibility placed upon Ahmadi Muslim women to ensure that they view those programmes or read those books that strengthen their moral fibre and which help them to fulfil the purpose of being part of the community established by the Promised Messiah (peace be upon him)."
His Holiness reminded the attendees to continually improve themselves and to not fall prey to time wasting or immoral pastimes.
Hazrat Mirza Masroor Ahmad said:
Save yourselves from those sunken paths that are vacant of spirituality and morality, as they will not only harm you but will also destroy the coming generations."
Explaining that staying away from time-wasting and immoral activities does not hinder Ahmadi Muslims from integrating into society, Hazrat Mirza Masroor Ahmad said:
This does not mean that you cannot integrate or contribute to the society in which you live. Many Ahmadis have grown up here or lived here for decades and are now fully attuned to the British customs and values and are themselves an integral part of this society. There is nothing wrong with this."
Hazrat Mirza Masroor Ahmad continued:
To the contrary, every person, whether born here or whether they are an immigrant, should strive to integrate and fulfil their duties as a member of society and be a loyal citizen of the nation. Our faith requires Muslims to utilise their skills and capabilities for the benefit of the nation in which they live and to work towards its progress and development."
His Holiness explained that certain practices such as the consumption of alcohol and other immoral activities are termed as 'freedoms' but in reality they take one away from God.
Hazrat Mirza Masroor Ahmad said:
There are many other harmful things that are prevalent in this society which secular people try to justify in the name of 'freedom of choice' or 'progress' but which have been declared as obscene by Allah the Almighty and His Messenger (peace and blessings of God be upon him) and which take mankind away from its Creator."
Hazrat Mirza Masroor Ahmad continued:
Though such things are championed as examples of a free and modern society, the reality is that such impropriety serves only to shatter the foundations upon which a truly thriving and compassionate society is built."
His Holiness further shone light on the issue of attaining a peaceful society at an individual and wider level in light of chapter 13, verse 29 of the Holy Quran which states:
'Aye! It is in the remembrance of Allah that hearts can find comfort.'
Hazrat Mirza Masroor Ahmad said:
Allah the Almighty has stated that true peace of mind cannot be attained through worldly freedom or by partaking in the meaningless attractions of the world, rather it can only be achieved through the nearness of Allah the Almighty and keeping Him in your heart and mind at all times."
Concluding, Hazrat Mirza Masroor Ahmad said:
In every respect, we must follow the teachings of the Holy Quran and consider it our guiding light. We must observe the standards of worship stipulated in the Holy Quran. We must act upon the methods of remembrance of Allah that have been given in the Holy Quran. We must adopt every Quranic instruction to the best of our abilities. Then we will attain the rewards and nearness of Allah the Almighty and we will fulfil the rights of our Bai'at (Oath of allegiance) of the Promised Messiah (peace be upon him)." http://www.lankaweb.com/news/items/2019/09/29/khalifa-of-islam-addresses-over-5800-women-from-across-the-uk/
--------
The Islamic Centre Of Tri-Cities Hosts Monthly Forums On Islam
Sep 30, 2019
WEST RICHLAND, WA- The Islamic Center of Tri-Cities is holding monthly forums to educate and the help the public understand more about the faith of Islam.
Each forum takes place the last Sunday of every month. People outside the faith of Islam are encouraged to attend. Each forum's discussion contains a different subject in regards to Islam. September's forum was about women in Islam and for speaker Nafartiti Amane this was her opportunity to educate those in her community.
"This is very much to shed some light and educate people to better understand women in Islam," said Amane.
The forum is also for people who are not Muslim. Carl Baker has attended both forums and he has been attending these so that he can relate to his friends and neighbors who practice the Islamic faith.
https://www.nbcrightnow.com/news/the-islamic-center-of-tri-cities-hosts-monthly-forums-on/article_31ceaddc-e34c-11e9-a9b4-13bb69b6bcde.html
--------
Bangladeshi Housemaid To Make Dream Debut Dance Performance In UAE
September 29, 2019
She came to UAE to clear a huge debt caused by the medical treatment of her daughter.
A Bangladeshi housemaid in Abu Dhabi is excited about her debut dance performance in front of an expected audience of around three thousand people this week.
"I doubt whether it is a reality or a dream," exclaims the 26-year-old Priya Akter who reached Abu Dhabi a few months ago.
She came here with a sole purpose of clearing a huge debt caused by a year-long medical treatment of her little daughter who had sustained serious burns in a fire at home.
"I never imagined that this country would unfold such an unimaginable surprise for me. Dance was my passion since childhood and I used to perform in the school," she tells Wam.
"Since I dropped out of grade 11, it was my dream to perform on stage; but there was no such hope left in my life."
Her childhood dream was revived when she danced in front of her compatriot friend, who is also a housemaid. The friend shot a video of her dance on her smart phone and shared it with the housewife she works for who, in turn, sent it to her friend, Jonia Mathew.
Mathew is the founder of Style Diva, a Facebook group for women in the capital with around 12,000 members. She has been organising in Abu Dhabi in the past five years Dandiya event, an Indian dance festival.
She invites and encourages talented female dancers and singers to perform at the annual event.
"Housewives and working women, they come to the event every year, but this year I had this surprise," Mathew says.
"When I saw her [Akter's] video, I was amazed at her natural talent. I was astonished to know she was a housemaid," she adds. "Her performance reminded me of Nora Fatehi [a famous dancer in Bollywood]."
She discussed the possibility of Akter performing at the event with her co-organiser, Swathi Bhargava, who liked the idea. Their friend, Shweta Sinha, a dancer and choreographer, came forward to mentor Akter.
"I found a rare talent and passion in her," says Sinha.
Akter and the event organisers say her employer, a conservative family in the capital, granted permission for her performance but they did not want to speak to the media for privacy reasons.
The Dandiya event will be held at Khalifa Park on 3rd October from 8 pm to 12 am; Akter will perform with female dancers from two Indian community organisations, Maharashtra Mandal and Odiya Samaj.
Akter says her life has changed since she started practising dance on Fridays. Otherwise, her thoughts were only into saving money to clear her debt and fund the planned surgery of her 4-year-old daughter who is living with her grandparents in Bangladesh. "This land gives me more hopes. Now I feel more optimistic that everything will go well [clearing debts and funding her daughter's surgery]," she says. "It is a new life, although I am not in a position to fully comprehend the new reality."
https://www.khaleejtimes.com/uae/abu-dhabi/bangladeshi-housemaid-to-make-dream-debut-dance-performance-in-uae
--------
URL: https://www.newageislam.com/islam-women-feminism/this-love-jihad-i-liked/d/119873
New Age Islam, Islam Online, Islamic Website, African Muslim News, Arab World News, South Asia News, Indian Muslim News, World Muslim News, Women in Islam, Islamic Feminism, Arab Women, Women In Arab, Islamophobia in America, Muslim Women in West, Islam Women and Feminism