New Age Islam News Bureau
20 March 2016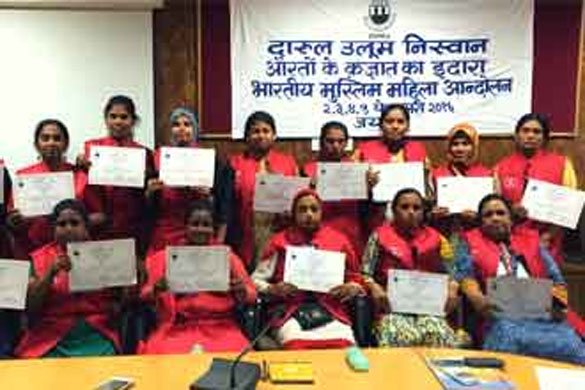 Photo: The training programme for women qazis includes basic grounding in Quranic injunctions pertaining to marriage and family, Constitution of India, and basics of Indian and global jurisprudence pertaining to gender justice and equality. Credit: Abha Sharma\WFS
----------
• Syrian Women Secretly Film Life inside Islamic State Capital
• Uganda's Female Lawyers Decry Low Interest in AfCHPR
• Baby Syrian Girl Drowns Off Turkish Coast
• Women Rights — a Mission Half Accomplished
Compiled by New Age Islam News Bureau
URL: https://newageislam.com/islam,-women-and-feminism/new-age-islam-news-bureau/these-women-are-training-to-become-qazis-so-they-can-ensure-gender-equality-and-justice-in-india/d/106710
--------
These Women Are Training to Become Qazis so They Can Ensure Gender Equality and Justice in India
March 19, 2016
The first batch of trained women Qazis wish to do much more than just solemnise marriages. Their presence within the Islamic system of India ensures that women are treated fairly and their rights are not overlooked.
Being a Qazi (Muslim priest) means much more to Safia Akhtar than just having the power to solemnise a nikah (marriage). "As a Qazi I want to be a true counsellor to the women of my community. I want to help them resolve issues concerning their rights and ensure that they get justice. In doing so I may encounter opposition, and I know there will be hurdles to overcome. But whatever I do is going to be as per the holy Quran, so I am not worried," she points out. Akhtar, who hails from Bhopal, the state capital of Madhya Pradesh, is all charged up to give a new meaning to the role a Qazi plays in the life of Muslim women.
Safia is one of 30 Muslim women who have embarked on the journey to become Qazis.
They are being trained by Darun Uloom Niswaan (DUN), a centre for Islamic learning and theology, formed by the Bharatiya Muslim Mahila Andolan (BMMA). This first batch of women Qazis come from different states, including Maharashtra, Gujarat, Rajasthan, Madhya Pradesh, Tamil Nadu, Karnataka, Bihar, West Bengal and Odisha. They have been given basic grounding in Quranic injunctions pertaining to marriage and family, personal laws in Muslim countries, Constitution of India, and basics of Indian and global jurisprudence pertaining to gender justice and equality. Of course, while these women are breaking stereotypes and are all set to make a real difference they are also ready to face the challenges that are bound to come their way.
So far, male Qazis have been the norm, barring a few exceptions like Shabana Ara Begum of West Bengal. She was the first female Qazi in the country, having inherited the position from her father. Nonetheless, the BMMA has already made the move to change this reality by providing comprehensive training to select women. Incidentally, a recently-concluded training programme in Jaipur, Rajasthan, was the first in the series of sessions to be held all year long. The training encompassed, among other things, learnings on theology as well as the history and values of Islam.
Naturally, this effort has drawn a variety of strong reactions across different quarters and sparked heated debates within the community.
"We are definitely being opposed," says Akhtar, adding, "But then that was anticipated. The first woman Qazi Shabana, too, had had to encounter a lot of resistance initially. But then she has made a place for herself. She has solemnised nearly 100 nikahs. However, we wish to do much more for our women."
With much dissent to the decision coming from within the community, the obvious question that comes to mind is: why is there a need for women Qazis in the first place?
The trained women qazis
The training programme for women qazis includes basic grounding in Quranic injunctions pertaining to marriage and family, Constitution of India, and basics of Indian and global jurisprudence pertaining to gender justice and equality. Credit: Abha Sharma\WFS
Responding to this Zakia Soman, co-founder of BMMA and a trustee of the DUN, says, "A Qazi plays an important role in our society. S/he solemnises marriages and also validates divorce. In our last 10 years of work across different states, the BMMA has observed that owing to a general ignorance of the Quranic injunctions, there is widespread practice of the regressive triple talaq and halala. This, despite the fact that there is no Quranic sanction to them. It is a serious issue as it has a direct impact on a woman's life. Hence, we felt that there is an urgent need for a brigade of sensitive and properly informed female Qazis who can stand up for women."
Marriage in Islam is a social contract and the nikahnama is a very significant document. But traditionally it doesn't consist of anything beyond names, signature and basic details.
"So, in the absence of any terms of agreement mentioned in the nikahnama, the rights and entitlements of women are often ignored or violated. Generally, after the triple talaq is pronounced a woman is ousted from her home, often with the children without any compensation whatsoever for their upkeep or education. Many a time, if a man conceals a previous marriage then the wife cannot do anything since there are no comprehensive details mentioned in the nikahnaama. Even meher (a mandatory payment made by the groom or his father to the bride at the time of marriage that legally becomes her property), the essential right of a Muslim woman, is often diluted," adds Soman.
Khatun Sheikh, Convenor, BMMA, elaborates, "People seek the services of a Qazi for marriage as well as divorce. There are cases where both husband and wife want to reunite after a dispute but then halala (the practice under which a woman has to be with another man before she can reunite with her former husband) comes in the way. We believe that if there are women Qazis then there is a greater chance of women getting justice. Therefore, whether the society accepts it or not, our endeavour is to take the initiative forward."
For Zebunissa Riyaz Babu, being a qazi is more than a mere employment opportunity; she wants to help women resolve their problems and make sure that they get a fair chance. Credit: Abha Sharma\WFS
She remarks, "My whole idea behind seeking this training is to be able to help women resolve their problems; to make sure that they get a fair chance. It is so much more than a mere employment opportunity."
Terming these discriminatory and humiliating practices as "unIslamic" the BMMA and DUN believe that training more and more women to be Qazis is, in fact, the need of the hour. Besides, there is no bar on women Qazis as per the Quran.
"A lot of legal problems faced by Muslim women will be prevented if the Qazi plays his/her role with responsibility. Our attempt is to understand religion with a feminist perspective and create awareness among women so that they speak the language of justice and development," shares Noorjehan Safia Niaz, co-founder of BMMA and a trustee at the DUN.
Women Qazis trained by the DUN hope to ensure many things: underage marriages do not happen; a man is not able to undertake a second marriage while his first wife is still around; the proof of residence of a man and his source of income are ascertained before he enters into a marriage contract; a bride's meher amount is given to her at the time of nikaah; and both the parties are entering into the marriage alliance out of their free will and not by force or fraud. These progressive measures, which even a male Qazi can take, are mostly overlooked leading to serious problems in case of a marital discord.
Of course, the more traditional members of the community are not quite pleased with the changes being brought in by the BMMA and the DUN. Anwar Shah, former secretary of Jama Masjid in Jaipur and Director of the Al-Jamia-tul-Aaliyah, feels,
"A mere week or 10 days' training is highly inadequate to make someone a Qazi or acquire in-depth knowledge of the holy Quran or Hadis or Islam. Moreover, if someone really wishes to become a true legal expert, one must acquire a proper degree of Darul-kaza from the Amarate Sharia in Bihar. In any case, earlier the Qazi used to be the seat of justice. This new role as a justice provider is really not applicable in a democratic country like India where we have a proper judicial system."
Wahid Khatri, State General Secretary, Jamiyat Ulema Hind, opines, "Whether women should become Qazi or not is a non-issue, unnecessarily hyped by media. There are several other real issues confronting the Muslim society that need to be addressed first, including women's education and poverty."
Needless to say, there are many critics and naysayers that the women Qazi-in-training are going to face in the days to come. Still, they are ready to meet the challenges because they want to become a true friend, philosopher and guide for the women of their community.
thebetterindia.com/49535/women-train-qazi-womens-rights/
-------
Syrian women secretly film life inside Islamic State capital
Mar 19, 2016
Two Syrian women have used hidden cameras to make a short film on everyday life in Raqqa, the capital of the Islamic State's "caliphate", documenting the horrors of the brutal regime led by Abu Bakr al-Baghdadi.
The video, commissioned by the Swedish tabloid Expressen, features Oum Mohammed and Oum Omran – the pseudonyms used by the women – as they shop for hair colour, take taxis and walk around the city.
At all times, their bodies are fully covered by burqas and their faces veiled. The women's voices were electronically altered so that no one can identify them, and Expressen said both knew they would be "stoned to death if they are exposed".
The footage, shot over the course of several weeks in late winter, shows the streets of Raqqa being patrolled by armed men and women of the Islamic State. One sequence features what looks like a normal couple walking with a child in a stroller till the camera focuses on the barrel of an assault rifle sticking out of the woman's burqa.
"We want the world to know," the women say, talking about a brutal beheading and an execution of a gay man that they have witnessed.
Watch | Secret film made by two Syrian women capturing life in the IS stronghold of Raqqa
"They execute with bullets, desecrate the body, decapitate it, stick the head on a spike and put it on display at the roundabout," one woman say. "Or they will put the body on the road and force cars to run it over until nothing is left."
In one sequence, the women are stopped by the Hisbah or the female religious police force and one of them is asked to fix her veil.
Even shopping for hair colour becomes an excursion into the bizarre, as the faces of models on the packages have been scribbled over with black markers – because of the strict rule that the uncovered faces of women can't be seen in public.
A taxi driver tells the women about IS members wanting to flog his daughter after she was caught without a 'niqab'.
Militant Islamist fighters ride horses during a military parade along the streets of Raqqa province in 2014, to celebrate their declaration of an Islamic "caliphate". (Reuters file photo)
The film also shows the women walking past the rubble of the Uwais al-Qarni shrine, which was blown up by the IS, the Armenian Catholic Church of the Martyrs, which has been turned into the Islamic police's headquarters, and a section of the city that was once home to the wealthy but has now been taken over by foreign fighters from countries such as Saudi Arabia, Tunisia, France and Afghanistan.
The civil war in Syria, which began five years ago, has claimed more than 250,000 lives and displaced more than 10 million, according to the UN. The IS captured Raqqa in 2013.
The film ends with Oum Mohammad, shot from the back, removing her veil and exposing her hair. "All women like to show their faces. We've lost that option. We've lost our femininity," she says.
"I long to take off the niqab and the darkness that cloaks us," she adds. "Nothing matters more than freedom."
hindustantimes.com/world/syrian-women-secretly-film-life-inside-raqqa-the-islamic-state-capital/story-R5xO3PF4rz5GMcZpPY3nDL.html
-------
Uganda's Female Lawyers Decry Low Interest In AfCHPR
March 20, 2016
Female members of the legal fraternity in Uganda have expressed concern over their lack of interest in matters of the African Court on Human and Peoples' Rights.
The concern is raised as the Court receives names of nominees to replace the four judges whose term of office expires in July 2016.
According to the African Union Commission, the current gender representation at the AfCHPR is very low with just one female judge against six.
Speaking to KFM, the Uganda Law society president Ruth Ssebantidira has blamed this on the lack of confidence among women lawyers.
"Its sad to see that none of our female members has expressed interest, but when you talk about women's challenges they are not peculiar to the rural woman. These issues cut across all spheres of life including professional women and women in business" Ms Ssebatindira told KFM in an exclusive interview in Kampala.
The legal profession is no exception where there are not many women leaders even in law firms, so those are challenges we are still grappling with", Ms Ssebatindira added.
In order to ensure adequate gender representation, AU member states are asked to nominate atleast one female candidate with experience in more than one of the principal legal traditions of Africa (Civil Law, Common Law, Islamic Law as well as Custom and African Customary Law).
kfm.co.ug/news/ugandas-female-lawyers-decry-low-interest-in-afchpr.html
-------
Baby Syrian girl drowns off Turkish coast
March/19/2016
A four-month-old baby girl drowned off the southwestern coast of Turkey when a vessel carrying refugees sank early on March 19.
According to the Turkish Coast Guard, 21 refugees were rescued, but the infant was found dead.
The refugee boat reportedly was en route to the Greek island of Chios when it sank off the coast of the Çeşme district.
Çeşme is just 7 kilometers from the island of Chios, providing a tempting target for refugees – mostly Syrians fleeing their country's civil war.
Of the more than 1 million refugees who arrived in the EU last year, more than 850,000 arrived by sea in Greece from Turkey, according to the International Organization for Migration (IOM). Over the course of the year, 805 died in the Aegean.
In the first two weeks of 2016, more than 23,000 arrived by sea in Greece and 50 have died, the IOM said.
hurriyetdailynews.com/baby-syrian-girl-drowns-off-turkish-coast.aspx?pageID=238&nID=96664&NewsCatID=341
-------
Women rights — a mission half accomplished
March 20, 2016
Since the creation of Pakistan, women have been battling exploitative treatment at the hands of their male counterparts – the social, economic and political environment making it difficult for them to progress and fight for their rights. There has always been some backlash against women who wish to empower themselves, be it by gaining knowledge, working or even choosing a spouse for themselves. NGOs and other women-centric institutions that work to help oppressed women are accused of misleading and brainwashing them.
Most of these oppressed women internalize their suffering due to fear or lack of resources, whereas the affluent, educated upper class simply turns a blind eye to maintain their status quo.
Pakistan's constitution guarantees women's equal rights and empowers the government to take action to protect and promote those rights. However, over the years parallel legal systems have undermined those rights like the Federal Shariat Court. Pakistan's controversial Hudood Ordinances are also discriminatory. By blurring the line between rape and adultery, the Zina Ordinance creates the possibility that a woman can be convicted of adultery if she fails to prove rape. Until Pakistan creates a more gender-neutral legal environment, closes its gender gaps in health and education and reduces barriers to female labor force participation, its economic growth and development will lag. Such discrepancies which undermine the social position of women should be dealt with on a practical basis to take women out of their plight.
Feminism is a movement for the accomplishment of rights of women on an equality basis with men. Unfortunately what most people fail to realize is that feminism in Pakistan is not entirely a novel concept, nor is it anti-Islamic. It is a misconception that feminism strives to get dominant position for women as compared to men. Gender equality is not un-Islamic as Islam was the first religion to formally grant women a status they had not enjoyed before and taught moral, spiritual and economic equality. There are countless quotes from prominent Islamic scholars, ahadith and the Holy Quran itself, promulgating women rights regarding different aspects of life.
Regarding the political awareness and participation of women, our Quaid had observed, "Women are supposed to create a sense of general political consciousness. They should stand shoulder to shoulder with men in practical politics." The reservation of 10 percent quota for females, 33 percent seats for women in all local bodies, 17 percent seats reserved for women in Constituent Assembly, Senate, National and Provincial Assemblies are the right steps towards political empowerment of women. They are very bold and positive initiatives that herald the beginning of a whole new chapter in the political participation of women in Pakistan. It is now incumbent upon women parliamentarians to take meaningful steps for gaining a deeper understanding of political, social and economic empowerment of women. The women members of assemblies should rise above party affiliations and work unitedly to ensure that no law detrimental to their rights and interests is passed. They should work for the larger good of women. Until and unless women themselves don't realize their social, economic and political rights, no law will be able to protect them. In this regard the government should also initiate campaigns to educate rural and uneducated women to create awareness among them towards their rights.
The appalling condition of women in Pakistan presented a need to enforce certain laws for their protection and safety. Women face a lot of discriminatory attitude in every sphere of life and are usually the victims of domestic violence, rape and honor killings. The recent historic endeavor towards the protection of women is the Protection of Women against Violence Bill which reflects the commendable effort of the federal and Punjab governments towards women's empowerment. For the first time in the history of the country, this provides a comprehensive protection to women against a range of crimes. The list of crimes includes abatement of an offence, domestic, emotional, psychological and economic abuse, stalking and cyber-crime. The stated aim is to ensure justice to women victims and to empower them, placing them on an equal footing with the male population. The bill stands out, as compared to previously passed bills, on domestic violence as it also provides civil remedies — protection, residence or monetary order — for all the offences it covers. This is in addition to, and not contradictory to or abrogating, the existing laws on violence against women crimes. However, all the political quarters should understand its utility and work towards its practical implementation instead of creating hurdles in its way.
Despite enhanced political participation of women and the passage of a number of helpful laws since the democratic transition began, much remains to be done. The federal and provincial governments must ensure that women have access to a gender-responsive police and an accessible, impartial judiciary in order to mitigate the impact of violence. The government should hear the voices of women's rights activists and incorporate them into policy-making, including counter-insurgency, which can only succeed when those most affected during the army operations are at the heart of peacebuilding.
Equal rights for women are impossible without stringent political support. Women's rights maybe misunderstood, under-represented and disregarded in Pakistan but they are by no means absent. Our people need to be informed that women rights do not by any way mean to be anti-male or anti-Islamic. The women empowerment does not signify that women should in any way be superior, nor does it call for immoral and anti-religious practices. Women empowerment simply strives to make the lives of women a lot easier than they are now.
dailytimes.com.pk/national/20-Mar-2016/women-rights-a-mission-half-accomplished
URL: https://newageislam.com/islam,-women-and-feminism/new-age-islam-news-bureau/these-women-are-training-to-become-qazis-so-they-can-ensure-gender-equality-and-justice-in-india/d/106710
New Age Islam, Islam Online, Islamic Website, African Muslim News, Arab World News, South Asia News, Indian Muslim News, World Muslim News, Womens in Islam, Islamic Feminism, Arab Women, Womens In Arab, Islamphobia in America, Muslim Women in West, Islam Women and Feminism