New Age Islam News Bureau
27 May 2018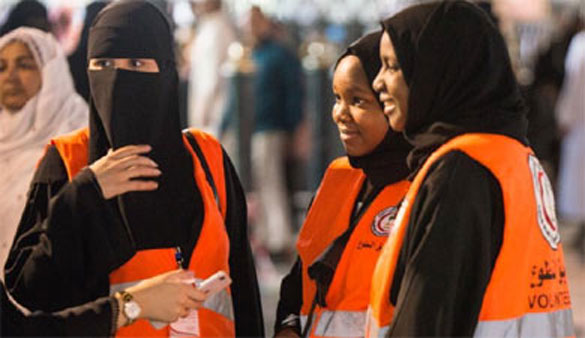 Jowhara Al-Dhilaan of Saudi Crescent says she has been supervising the volunteer team in the Prophet's Mosque for the past 12 years.
----
• Women Paramedics Volunteer To Help Visitors of Prophet's Mosque
• Kiran Bala, Who Married Pakistani Man, Begins Her Spiritual Journey with Ramazan
• New South Wales Parliament Supports Role of Women in Iran Uprising
• Amid Syria's Horror, A New Force Emerges: The Women of Idlib
• 'Call-Gate', Sexual Harassment, and the Swift Backlash of the Malaysian Spring
• Saudi Arabia Urges Citizens: Refer To Verified Sources for News on Women Driving
• Detained Iranian-British Woman to Face 'Security Charges'
Compiled by New Age Islam News Bureau
URL: https://www.newageislam.com/islam-women-feminism/the-young-welsh-muslim-women/d/115366
--------
The Young Welsh Muslim Women Gaining Confidence
MAY 27, 2018
Hate crimes and Islamophobia are on the rise across England and Wales.
Here two Muslim women from Cardiff describe the discrimination they have faced and how iLead - a leadership training programme run by the Muslim Council of Wales - has helped them to rebuild their confidence.
Sadia Begum, 20, is a second year university student. She said:
As a younger woman, I had confidence but I also had fear. Every time I was out walking I was worried. Was someone going to rip off my headscarf? Was someone going to attack me? My parents started fearing when I left the house.
One of my cousins, only 16, was walking to school with a friend and a bunch of boys started following them in a car shouting: "Take that towel off your head."
I've been asked many times - what's that on your head? Do you have hair underneath it?
When I was working in retail, people used to ask if I was allowed to work. Of course I can work.
As a woman, it does knock your confidence, but people are fed the wrong information and don't get educated.
They don't have the knowledge and there is a stereotype coming from the media and social media.
That's why I like it when non-Muslims ask me questions, like during Ramadan. I explain to people why we don't eat and drink, and that fasting teaches you self-discipline.
I recently did the leadership programme, iLead, to gain more confidence in public speaking and learn how to incorporate Islam into my everyday lifestyle.
It taught me I don't need to hide who I am. Everyone seems so focussed on fitting in and being accepted, they can forget their identity.
But sometimes it's better to be different and show the way.
I now have confidence and know the way to act.
Muslim women are not oppressed. We have so many rights and so much empowerment.
We just need to build on what we truly are.
Haifa Shamsan, 29, is a clothing designer, blogger and mum of two. She said:
Personally, I had a lot of confidence when I was young because my parents instilled it.
But I was very quiet in school, so people just assumed they could get away with things.
Once a boy said: "Take that towel off your head". So I chased him around the playground, grabbed hold of him and told him to apologise. This is not a towel, it's a hijab.
People have asked me if I sleep in it, shower in it, and if my parents see my hair.
I have never minded being asked questions but in school I found a lot of bullying.
I would tell my dad and he told me to stand up for myself. He said that if someone hit me, I should hit them back, but not to hit them first.
People need to update their view of Muslim women.
There are a lot of great leaders out there - bloggers, social media influencers and athletes.
They show that it's okay to weight lift and do boxing.
We're not oppressed and if a Muslim woman doesn't talk, it's not because of her religion, it's because she is shy or quiet or scared of being called a terrorist.
I just want to educate people because often all they see is something negative.
So many people say to me: "You're alright actually. You're cool, you're funny."
And I say: "What did you think we were?"
http://www.bbc.com/news/uk-wales-south-east-wales-44195275
--------
Women Paramedics Volunteer To Help Visitors of Prophet's Mosque
MAY 27, 2018
MADINAH — Women volunteers of the Saudi Red Crescent Authority have been taking care of visitors of the Prophet's Mosque in Madinah since the start of the holy month of Ramadan.
Madinah Red Crescent Women Volunteers Supervisor Jowhara Al-Dhilaan said she has been supervising the volunteer team in the mosque for the past 12 years.
"We welcome volunteers from all age groups and nationalities. We receive around 1,150 volunteers a year. We train them and organize them to ensure they are always present inside the mosque complex helping women visitors with whatever assistance they require," said Al-Dhilaan.
The volunteers are divided into four shifts to cover 24 hour service daily, she added.
Al-Dhilaan said the volunteering team includes emergency and first aid paramedics, a supply manager who provides the team with medical equipment, a statistics manager who reports the patients the team deals with to officials at the higher management and a media manager who follows the workflow of the team to ensure that all obstacles ahead of them are dealt with.
"This year is remarkable for the team because the Red Crescent began documenting the work of the volunteers electronically and will hand out certificates of appreciation to them. We would also like to have walkie talkies and other advanced communication equipment and facilities to be able to do our job better," said Al-Dhilaan.
She said they have rescued many patients including a woman who had a heart attack while praying and a woman who broke her hip after slipping in the restroom. Some patients are treated on the spot and while others are transferred to the nearest health facility, she said.
http://saudigazette.com.sa/article/535648/SAUDI-ARABIA/Women-paramedics-volunteer-to-help-visitors-of-Prophets-Mosque
--------
Kiran Bala, Who Married Pakistani Man, Begins Her Spiritual Journey with Ramazan
By Asif Mehmood
May 26, 2018
LAHORE: Kiran Bala, the Hindu woman who embraced Islam and married a Lahore man, has now started fasting in the ongoing month of Ramazan.
According to Kiran's husband Muhammad Azam, Aamna, the name she chose after converting to Islam, is also learning to read the Quran. The former Sikh adherent said it is for the first time that she's fasting and it's giving her a spiritual relief.
Talking to Express News over the phone, Azam said his wife has been fasting in Ramazan. He added that Amna prepares sehri and iftari for herself and his family members passionately.
Watch: Brave Sikh police officer protects Muslim boy from Hindu mob
Azam further said that he is currently in Saudi Arabia but is constantly in contact with his wife through the social media.
On April 23, Home Ministry extended Amna's visa until October. "I am hopeful of getting the Pakistani nationality too," a cheerful Amna said after an extension in her visa. According to the current Pak-India laws, both the countries grant nationality after seven years.
Kiran Bala arrived in Lahore from Delhi in April on a valid visa to attend religious rituals at Gurdwara Punja Sahib. Here, she tied the knot with Muhammad Azam who she had befriended on Facebook.
https://tribune.com.pk/story/1719754/1-kiran-bala-married-pakistani-man-begins-spiritual-journey-ramazan/
--------
New South Wales Parliament Supports Role of Women in Iran Uprising
26 May 2018
Upon the initiative of Ms. Sonia Hornery, a meeting was held at the New South Wales Parliament in Sydney in support of the Iranian Resistance and women's role in the movement against the ruling regime in Iran.
A number of Australian supporters of the Iranian Resistance including Ms. Meredith Burgmann and Mr. Peter Murphy as well as a number of Iranian women supporting the Resistance, participated in the meeting at Parks Hall on May 23, 2018.
Ms. Hornery, member of the Parliament of New South Wales, welcomed the participants and expressed her own and her colleagues' utmost support for the struggle of Iranian people, especially Iranian women, and praised their courage in fighting the clerical dictatorship.
Then the participants exchanged views on the situation of women in Iran and the Iranian women's struggle. The Iranian women attending the event explained about the problems and adversities women face under the rule of the clerical regime and the role of women in the Resistance and the ongoing uprising.
Ms. Elham Zanjani, from the NCRI's Women's Committee, addressed the meeting via a video link.
In her speech she referred to the prominent role of Iranian women in confronting four decades of suppression and misogynous laws in Iran, and said, "Fortunately these days, we are witnessing the downfall of the clerical regime. The Iranian women, fighting stronger than ever, are paying the highest price in this struggle and lead the resistance."
In the end, she elaborated on the role of the Iranian Resistance's President-elect Maryam Rajavi in educating and training a new generation of women to lead the Resistance movement. She pointed out that Mrs. Rajavi's Ten-point Plan is an inspiration to the women of Iran in their struggle for a bright future and a free Iran.
https://women.ncr-iran.org/activities/5202-new-south-wales-parliament-supports-role-of-women-in-iran-uprising
--------
Amid Syria's Horror, A New Force Emerges: The Women of Idlib
26 May 2018
The plight of approximately three million civilians encircled by hostile forces in Syria's north-western Idlib province is growing worse by the day, according to UN officials, aid agencies and advocacy groups who fear a looming humanitarian catastrophe.
For many Syrian families, Idlib is the refuge of last resort, after their forced displacement from homes in other parts of the country. But it also risks becoming a sanctuary without exits – what activists have termed a "kill-box" from which there is no escape. The Syrian army, backed by Russian and Iranian forces, is entrenched to the south and east.
The route north is blocked by Turkish forces occupying Syria's Afrin region. Along with Free Syrian Army (FSA) rebels, they have seized a crescent-shaped area around Idlib. The Turks last week set up "observation posts" ringing the province. For this reason, many refugees from the Damascus area have instead fled south to the rebel enclave in Dara'a. But a fresh government offensive is also feared there.
As the last remaining province not controlled by Bashar al-Assad's forces, Idlib is the gathering point for both opponents of the Syrian president's regime and those who simply have nowhere else to go. But their situation is dire, with approximately 1.7 million people in need of humanitarian assistance.
Residents of eastern Ghouta, outside Damascus, were bussed there after the besieged enclave fell to regime forces earlier this year. A similar operation took place last week, involving people from the Yarmouk refugee camp and Hajar al-Aswad, close to the capital.
Idlib has also become a focal point for armed opposition groups, including an estimated 10,000 jihadists, many with links to al-Qaida, who control much of the province. Concern is growing that if Assad launches a final offensive, they may attempt a "last stand", intensifying risk to civilians.
Pressure on Assad to act is coming from Iran: an unsubjugated Idlib is a barrier to its plan for a land corridor to the Mediterranean via Iraq and Syria. After Ghouta fell, Ali Akbar Velayati, senior adviser to Iran's supreme leader, said Idlib was next for "liberation".
Russia is also pushing for an end to the seven-year conflict: this message was delivered in person to Assad by Vladimir Putin this month. Meanwhile, plans by Donald Trump to withdraw US troops from Syria, plus the ending of all US aid for Idlib, may be interpreted by Assad as a green light.
Assad's position was boosted last week when he finally achieved control of all areas around Damascus. The almost daily aerial bombardment of Idlib by Syrian and Russian forces is expected to be stepped up.
The regime has repeatedly used chemical weapons in Idlib. Despite this attrition, a new report, Idlib Lives – The Untold Story of Heroes, by the independent advocacy group the Syria Campaign and the international anti-war organisation Peace Direct, paints an extraordinary picture of creative resilience and innovation in the teeth of appalling adversity – and at a time when the UN says international assistance and aid has fallen to critically low levels.
Many of these informal civil initiatives are led by women, who have been unexpectedly thrust into leadership roles by the war. This is due in part to the absence of fathers, husbands and sons, who are fighting, missing or dead, and to the breakdown of traditional societal conventions and taboos governing what women may or may not do.
Overall, the Syrian conflict has disproportionately affected women and girls. In particular, extended control by conservative extremist groups has exacerbated the exclusion of women from leadership roles. But women in Idlib are pushing back. "Facing attacks from all sides, civil society in Idlib continues to operate with remarkable effectiveness and determination," the report says. "In areas best-known internationally for massacres, there are untold stories of hundreds of groups providing the services civilians need to survive."
As much as any future peace settlement imposed from outside, these self-help initiatives point the way forward for postwar Syria, the report says. "Idlib's civil society represents the best chance for free and democratic institutions … Idlib stands at a critical point, but if international politicians, donors, international NGOs and policymakers invest in civil society, we will see ideas and solutions flourish."
All we've been through has made us stronger
Mariam Shirout is manager and teacher at an after-school support institute for children. She is also a co-founder of the Syrian Organisation for Women and director of the women's bureau at civil activist group Zoom In.
"We do lots of activities with the students. Once we cooked together and distributed the food to low-income families. When I see the children coming to the centre under the bombardment, because they want to spend time with their friends and me, I can never think about stopping, ever." She also finds time to help women find work and start their own businesses.
"Many women have sewing skills: we have been trying to launch a sewing workshop, where women can share creative ideas. A woman displaced from Damascus has been doing excellent work with clothes recycling. In the beginning, the community found it a bit abnormal to see a woman doing multiple jobs and going wherever she wanted. Now they are looking at me as a role model for other girls.
"What we have been through has made us stronger. If people stayed at home to grieve, life could have stopped a long time ago. Life won't stop: we need to keep going and working. I believe in working until the last possible moment."
Nora Halabi (not her real name) is project coordinator for the White Helmets (also known as the Syria Civil Defence) women's centres.
"The centres provide first aid and midwifery and specialise in women's injuries. Their volunteers run awareness campaigns to prepare people for airstrikes and chemical attacks and give basic first aid and nursing training. Some of the centres are in caves; some of them are fortified. We provide follow-ups with people injured in airstrikes and women who need C-sections in their homes.
"When female volunteers started joining the White Helmets, the community was not accepting of the idea. But because we are able to offer crucial services that male volunteers can't in our conservative society, such as caring for injured women and going into homes and schools, people started to realise the positive impact of our work. People now even want their daughters to join.
"Safety is the major challenge we're facing. Not all the centres are fortified, and some don't even have basements, so are very vulnerable to airstrikes. Our centres are targets."
Raed Fares is founder and chairman of media campaign group the Union of Revolutionary Bureaus (URB). Most of URB's employees are women. They run six centres for teenage girls, 12 centres for children and the most popular radio station in Idlib.
"We've been training 28 women in radio, including editors and presenters, for two years. Last year music and the voice of women were banned by HTS [Salafist militant faction Hay'at Tahrir al-Sham]. We came up with the idea to digitally change their voices to make them sound like male voices. "What makes me most proud is our work with teenage girls. I got the idea when I saw that many students outside Syria have part-time jobs that afford them some independence.
"When we opened the first women's centre, it wasn't accepted by the community. Now there are dozens of centres and it has become normal for women to work. People want their daughters to work at our centres. We face 100 problems every day. We're working under circumstances only the mad can work under. But I'm happy this way. The more challenges that come my way, the more determined I become."
Anon runs an all-girls primary school for 100 local and displaced children. After being forced out of Darayya, a suburb of Damascus, and her school there, she opened one in Atmeh, on the Turkish border.
"We had no other options for the kids who were displaced from Darayya with us. None of the schools here accepted them. We were promised a school would open in the camp, but it did not.
"We provide books and notebooks. My students love to draw. I prepare arts and crafts projects for them on topics they cover in other classes. When they learned about the food pyramid in science, we drew it in art class.
"There are no bookstores here to get stories from, so we get what's available on the internet.
"It's difficult to find skilled teachers, so we've been running education workshops for teachers through trustworthy trainers. We hear feedback from the parents that their kids love school and don't want to miss a single day, even when they're sick. Some of the kids call me and other teachers Mama or Auntie."
Muznah is managing director for the Women Now Maarat al-Nu'man centre. She studied biomedical engineering at Aleppo University before starting a free education centre for women in 2014.
"We have two centres in Idlib – an empowerment centre and an internet cafe for women. We have a daycare room and trained babysitters.
"We started with a leadership programme, which includes a package of skills that prepares women to be in decision-making positions. Those skills have helped many women get work with local councils and civil organisations. Once a woman attends courses, she gains knowledge and makes friends. That alone is supporting and empowering her. My mother keeps telling me: 'I see my dreams coming true in you.'
"The woman who lost her husband needs to be the breadwinner for her children. For them, life still exists. We have the desire for achieving and being independent. When the community here can feel the positive impact of women working, they won't push against them.
"I know several women from the leadership programme who are working now and their husbands are staying at home with the children. Whether there is shelling or not, life will go on. We have the desire for living, achieving and being independent."
https://www.theguardian.com/world/2018/may/26/syria-idlib-women-children-society
--------
'Call-Gate', Sexual Harassment, and the Swift Backlash of the Malaysian Spring
27 May 2018
KUALA LUMPUR, May 27 — There is a hadith of the Prophet Muhammad (saw) as narrated by Abdullah ibn Abbas (radi Allahu anhu), where the Prophet and a companion Al-Fadl were approached by a beautiful woman from the tribe of Khatham seeking advice.
While the Prophet looked away, Al-Fadl was enamoured by her beauty and could not prevent himself from staring. The Prophet noticed this, and turned Al-Fadl's face away from the woman to prevent him from gazing at her. (Hadith Riwayat Bukhari Volume 8, Hadith 247)
One does well to remember the behaviour of the Prophet Muhammad (saw) and how he dealt with matters both personal and affecting Muslims as a whole.
A man of his calibre never allowed personal insults to disturb him and consistently showed honour and nobility in the face of enmity and aggression.
Attacks against his character hardly had an effect, with the Prophet spending time and effort to reprimand behaviour against those who failed to respect women, and the marginalised by the ordinary people and what more, the privileged in society.
Certainly, our beloved Prophet utilised wisdom when chastising anyone — for the benefit of inculcating better behaviour, to uplift their culture and improve their environment for a society well known for its bigotry, prejudice, and deep-seated chauvinism. We can see in his example that men — no less Muslim men — can and must act as allies to uphold the dignity of women, and to show through words and actions that they are to always be respected.
In what has now been known as "Call-gate", I believe the harassment and deeply invasive intrusion to my being by the caller was important for its ability to remind us all that such unwarranted harassment takes place almost on a daily basis — even against men.
And when even an MP such as myself is not spared, what more can other women in Malaysia, unheard and unseen, expect on a regular basis?
For the sake of Malaysian women who have faced similar harassment and to prevent further incidents in the future, this issue cannot go unaddressed. Therefore, I would like to clearly and unequivocally state: In no way was that caller's behaviour acceptable on any level.
Women everywhere, whether scarf-clad or not, deserve to live with dignity and respect and I call upon all Malaysians to defend women whenever an injustice has occurred.
I implore members of the society to be more sensitive in projecting comments directly linked to women's issues.
Any suggestions about personal appearance could have been conveyed in personally and discreetly to protect the dignity of any person. I am not saying that feedback is never welcomed as appearance, communication, and manners are consistently relevant topics to be debated, yet certainly not in a condescending manner nor invasive in nature — in line with the respectful teachings of Prophet Muhammad PBUH and the moral values integrated into our daily lives.
Where harassment against women is concerned, Malaysia is sorely lagging behind when it comes to dealing with this endemic problem. A culture of patriarchy, sexism, and toxic masculinity is all-pervasive in Malaysian society, from cat-calling in the streets to the abject lack of strong sexual harassment laws.
The failure to address this issue meaningfully and with wisdom reinforces our current societal norms, at the expense of women's safety.
Special attention should be given towards women's protection, based on a recent finding that 51 per cent of working women prioritise prevention of sexual harassment at work.
This notion is further solidified by Ipsos' worrying statistic concerning a mere 25 per cent report rate among sexual harassment victims — thus Malaysian communities must rise and uphold the rights of women in this country.
There must also be amplified response towards sensitivity training programs in the society, to prevent sensitive women-centric issues from being discussed in inappropriate public spaces.
The "Rukun Tetangga" initiative should also be re-strengthened to help protect the women in a community. Members of the society must survey, observe and report any untoward incidents involving women to the highest level —allowing justified punishments to be meted out.
We should also recognise how education, or the lack thereof, has only succeeded in reinforcing existing gender dynamics. It is our duty to raise awareness on harassment with tact and poise as we take steps to address the issue competently.
This is not an issue restricted to women, it requires the active participation of all Malaysians. Men have an important role to play in rejecting existing norms and changing the way men and women regard each other.
Men have to endeavour to unlearn a culture that objectifies women, to be self-aware of their privileges by virtue of their gender and seek to achieve some balance. It is our responsibility as Malaysians to address toxic masculinity and machismo as detrimental to both men and women. Men do not need to behave a certain way in order to impress their peers or other women. As much as it may be incumbent on women to dress modestly, it is equally incumbent on men to lower their gaze should they start to feel uncomfortable.
Boys will not be boys, boys will treat women with respect and dignity.
It is imperative that we educate our sons, both inside the classroom and out. A new generation of Malaysian men must be equipped with decency and dignity, befitting of our society, instead of reverting to the tired patriarchy that has been so common in our public spaces.
In the Netherlands, workshops teach boys to recognise and respect the sexual boundaries of others as well as how to set their own boundaries. In Kenya, assault prevention training for the purposes of empowering boys to prevent this crime is mandatory for every secondary student.
It is time Malaysian civil society breaks from our past and finds its own appropriate methods for dealing with this serious issue.
These efforts should also be effectively supplemented by suitable legislation. For instance, section 509 of the Penal Code which deals with insults to one's person or the invasion of privacy, should be revised significantly to include more specific protection against sexual harassment.
Additionally, the Code of Practice on the Prevention and Eradication of Sexual Harassment could be codified into law to protect women in the workplace. As of August 2010, according to Malaysian Employer's Federation, only 400 of 450,000 registered and active companies have adopted and implemented the code, a statistic which is simply not good enough.
I reiterate my support towards the idea mooted by the Honourable Deputy Prime Minister and Minister of Women and Family Development, Datuk Seri Dr Wan Azizah Wan Ismail, about the possibility of introducing tighter laws to uplift women's status.
Implementation of strict yet relevant laws, for example the Sexual Harassment Act and Privacy Intrusion Act will surely play a significant role in preventing misdeeds against women, steps that should give us confidence in the Honourable Deputy Prime Minister's upcoming actions and decisions to safeguard the interests of our women, in line with the aspirations of Pakatan Harapan.
With all the change our country is presently experiencing, it would be a waste if this positive energy was not harnessed to improve the lives of women.
It is my hope that our new Malaysia can begin to address this issue one small step at a time, as the road ahead is a long an arduous one but one achievable together, women and men, as Malaysians.
The new Malaysia put in place today will only continue existing for as long as the willingness to embrace change remains — starting off with greater efforts to inculcate better appreciation and treatment of women.
The fact that such severe backlash resulted from this individual's brutish comments is a testament to how far we have come as a society which exalts and empowers women.
I cannot express enough my deep gratitude to all media personnel, professionals, colleagues, friends, women and men from all walks of life who have come out swiftly not just in defending me, but also the women of Malaysia. And in turn, defend what's right.
https://www.malaymail.com/s/1635339/call-gate-sexual-harassment-and-the-swift-backlash-of-the-malaysian-spring
--------
Saudi Arabia Urges Citizens: Refer To Verified Sources for News on Women Driving
26 May 2018
Saudi Arabia's traffic department chief, Major General Mohammed al-Bassami, has urged citizens that any reporting on news related to women driving, should be done by checking the source and referring to official spokespersons at the traffic authority.
This statement came after an online news outlet reported last Thursday on the subject, quoting traffic department officials.
Al-Bassami clarified that that women who have an international license could convert them into a Saudi license once preparations in this regard are complete.
He added that women who do not have a driving license have started training at designated driving institutes in the kingdom.
The official urged people to refer to his department for any information related to the implementation of the Supreme Court's order to apply the traffic system and regulations on both males and females.
In earlier reports, well-informed sources said women who visit Saudi Arabia and have international and foreign driving licenses will be allowed to drive for a year from the date of their entry into the country.
The sources told the Saudi daily Okaz that the traffic department will begin replacing recognized international driving licenses of women with Saudi driving licenses, noting that there are designated offices in all areas to do so.
According to sources at the traffic department, there are three steps, which are registration, submission of the required documents and booking an appointment. Afterwards, the applicant must go to the traffic department to certify the documents and undergo a field test. The applicant then receives the license after her driving is evaluated.
The traffic departments have begun receiving applications from women who have driving licenses and it's expected that the first licenses will be issued in Jeddah.
According to sources at the traffic department, there are three steps, which are registration, submission of the required documents and booking an appointment. Afterwards, the applicant must go to the traffic department to certify the documents and undergo a field test. The applicant then receives the license after her driving is evaluated.
The traffic departments have begun receiving applications from women who have driving licenses and it's expected that the first licenses will be issued in Jeddah.
https://english.alarabiya.net/en/features/2018/05/24/Women-with-international-licenses-to-be-allowed-to-drive-in-Saudi-for-a-year.html
--------
Detained Iranian-British Woman to Face 'Security Charges'
May 26, 2018
TEHRAN, Iran: Iran's semi-official Tasnim news agency is reporting that an Iranian-British woman detained in Tehran is to face trial on "security charges."
Tasnim quotes the head of Tehran Revolutionary Court, Mousa Ghazanfarabadi, making the announcement, without elaborating.
Nazanin Zaghari-Ratcliffe appeared last Sunday at branch 15 of the Revolutionary court and requested a lawyer. The presiding judge said hearings would resume once an attorney is appointed.
On Wednesday, the chief justice of Tehran province, Gholam-Hossein Esmaili, said Zaghari-Ratcliffe's next hearing would be held in the coming weeks.
http://www.arabnews.com/node/1310236/middle-east
--------
URL: https://www.newageislam.com/islam-women-feminism/the-young-welsh-muslim-women/d/115366
New Age Islam, Islam Online, Islamic Website, African Muslim News, Arab World News, South Asia News, Indian Muslim News, World Muslim News, Women in Islam, Islamic Feminism, Arab Women, Women In Arab, Islamophobia in America, Muslim Women in West, Islam Women and Feminism