New Age Islam News Bureau
20 Apr 2020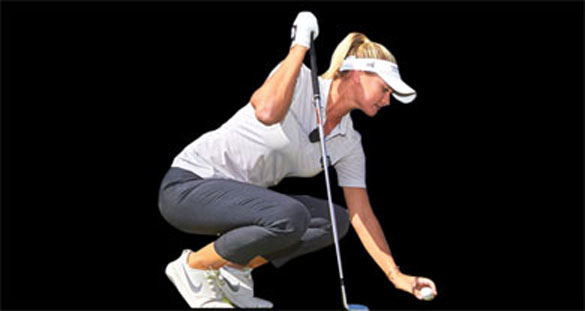 Wales star and one of the Golf Saudi ambassadors Amy Boulden.
-----
• The Women Trying to Change the Image of The Niqab In Indonesia
• inaugural Aramco Saudi Ladies' Golf Tournament Rescheduled for Oct. 8-11
• Muslim Women – Who Are Often Received in The West with Open Hostility for Covering Their Faces – Look A Lot More Like Everyone Else
• How Arab News Helped Support One Saudi Woman's Dreams
• Kenya Govt Takes Action After 39 Muslim Women are Arrested at a Wedding
• Refugee Women Most at Risk of Violence During Virus Crisis
• Egypt's National Council for Women Launches Coronavirus Awareness Campaign
• BJP MP Tejasvi Surya Faces Backlash For 2015 Tweet on Arab Women, Deletes It
Compiled ByNew Age Islam News Bureau
URL; https://www.newageislam.com/islam-women-feminism/the-women-trying-change-image/d/121622
-------
The women trying to change the image of the niqab in Indonesia
April 19, 2020
Only the rider's eyes are visible from behind her black face veil. With a bow in her left hand and an arrow in her right, she canters her horse towards a target, aims quickly and lets fly. The arrow strikes home with a resounding pop.
The rider, Idhanur, who like many Indonesians uses one name, is a 31-year-old teacher at an Islamic school in East Java who says that firing arrows from horseback while wearing her conservative veil, or niqab, improves her chances of going to heaven.
Idhanur is part of a growing, peaceful movement of Muslim women who believe they can receive rewards from God through Islamic activities like wearing a niqab and practising sports that the prophet Muhammad is thought to have enjoyed.
Many also say it offers protection from prying eyes and harassment by men in a country where unwanted sexual advances are common.
Idhanur, who teaches at Al-Fatah Islamic Boarding School of Temboro, part of the revivalist Tablighi Jamaat movement, has an answer for Indonesians who fear that conservative Islamic dress is a troubling step towards extremism and the marginalisation of women.
"Even though we are wearing a niqab like this, it doesn't mean that we become weak Muslim women," Idhanur says after dismounting. "We can become strong Muslim women by participating in archery and horseback riding."
Indonesia, a democracy that has the world's largest Muslim population, is officially secular and has long been known for tolerance. But in the 22 years since the dictator Suharto was ousted, the country has turned increasingly towards a more conservative Islam.
Conservative clerics, such as Indonesia's vice president, Ma'ruf Amin, have gained a more prominent role in public life. And local governments have enacted more than 600 measures imposing elements of shariah, or Islamic law, including requiring women to wear hijabs – a catch-all for headscarves – to hide their hair.
A small minority of Muslims have embraced extremist views and some have carried out deadly bombings, including the 2018 Surabaya church attack that killed a dozen bystanders. One suicide bomber was a woman, prompting many Indonesians to be wary of women who wear the niqab, a more conservative face veil where the only opening is a slit for the eyes.
Concern that the niqab is associated with terrorism prompted Indonesia's religious affairs minister, FachrulRazi, a former army general, to call for a ban on employees and visitors wearing niqabs in government buildings.
Because of their dress, they are often confused with extremists. But they are against violence. It's a great example of a movement where dress can be totally misleading
He fears that some government workers are being attracted to extremist thought and sees the niqab as a sign of radicalisation. His regulation has yet to be adopted. A 2018 ban on niqabs at a university in Central Java lasted only a week before opposition compelled the university to rescind it.
But Sidney Jones, a leading expert on terrorism in southeast Asia, said it was important to distinguish between radical Islamists who pose a threat and followers of conservative Islamic groups who promote a traditional Islamic lifestyle, such as the proselytising Tablighi Jamaat sect.
"Because of their dress, they are often confused with extremists," says Jones, director of the Jakarta-based Institute for Policy Analysis of Conflict. "But they are against violence. It's a great example of a movement where dress can be totally misleading."
Unlike at the male-dominated Al-Fatah school, where women and girls as young as five are required to wear the niqab, thousands of mainly urban, middle-class women have made that choice for themselves.
Leading the way is IndadariMindrayanti, a clothing designer, who founded the Niqab Squad four years ago to promote wearing the veil. It now has nearly 6,000 members with chapters across Indonesia and in Malaysia and Taiwan.
"We really want to go to heaven, and so we sacrifice," Indadari explains at a Niqab Squad equestrian and archery event near Jakarta. "Part of our sacrifice is not showing our beauty, and covering our body in an Islamic way."
Many are followers of a movement known as Hijrah, which embraces self-improvement through adopting a traditional Islamic lifestyle.
People will think you are a terrorist. They will think that you are joining a deviant sect. But as time goes by, they understand. I explain that all the wives of the prophet wore a niqab
The peaceful, born-again movement, named Hijrah after the Prophet Muhammad's seventh-century exodus to the city of Medina, is propelled today by social media, where popular actors, actresses and other celebrities post about joining Quran study groups and becoming more religious in their daily lives.
Indadari designs a line of fashionable niqabs and other Islamic clothing for women, often with distinctive white-polka-dot trim.
At first, my family was afraid," she recalls. "They said, 'People will think you are a terrorist. They will think that you are joining a deviant sect.' But as time goes by, they understand. I explain that all the wives of the prophet wore a niqab."
The reach of Indonesia's born-again Islamic movement is evident in the hot, dusty town of Temboro, about 330 miles east of Jakarta.
When classes let out, the streets are filled with thousands of young people in traditional Islamic garb – men and boys in high-cuffed trousers or loose-fitting robes and women and girls in shapeless gowns, headscarves and niqabs.
Temboro is often called Indonesia's Medina, after the city in Saudi Arabia where Muhammad is entombed. One school mosque is modelled on Medina's famous green-domed mosque. The town shuts down five times a day at prayer time.
She says that being exposed to men in public could lead to unwanted male attention and that having even her eyes visible made her uncomfortable
"Here we implement Islam in our daily lives," says AinulHadi, a doctor who moved to Temboro in 1996 and has seen Islam's influence grow. "People can feel the atmosphere of Medina here."
At Al-Fatah, the height of academic achievement is memorising the Quran. The most successful students become teachers and open schools themselves.
Some women wear glasses over their niqabs and trainers on their feet. Mobile phones abound and motorbikes are popular with both women and men.
But for AisyahTajudin, 25, wearing a niqab is not enough. She also wears black gloves and a black mesh over her eyes, so that every inch is covered.
She says that being exposed to men in public could lead to unwanted male attention and that having even her eyes visible makes her uncomfortable.
She is not alone. Many young women at Al-Fatah wear the mesh and it doesn't prevent them from hopping on their motorbikes and driving around.
One recent day, the school's 660 students, all wearing niqabs, form circles in the playground and join halfheartedly in singing "If You're Happy And You Know It" in Arabic as the song blasts over loudspeakers at earsplitting volume.
Idhanur, the rider and archer, first came to Al-Fatah when she was 13 and began wearing a niqab then. She hasn't stopped since.
"When I started here, it was really rare to see women and girls wearing a niqab," she says. "But now there are many of us."
https://www.independent.co.uk/life-style/women/muslim-women-niqab-indonesia-horseback-archer-a9438756.html
--------
inaugural Aramco Saudi Ladies' Golf Tournament Rescheduled for Oct. 8-11
April 14, 2020
JEDDAH — The inaugural Aramco Saudi Ladies International presented by Public Investment Fund, the first female professional golf tournament to be played in Saudi Arabia, has been rearranged for Oct. 8-11, 2020, following its postponement last month due to the ongoing coronavirus pandemic.
A new date for the $1 million event at Royal Greens Golf & Country Club was agreed by tournament promoters and owners, Golf Saudi, and the Ladies European Tour (LET), which will see some of the world's finest golfing talent arrive on Saudi shores for the historic occasion.
Yasir O. Al-Rumayyan, chairman of the Saudi Golf Federation and Golf Saudi, said: "It gives me great pleasure to confirm that we are working toward a new date of October 8-11 for the Aramco Saudi Ladies International presented by Public Investment Fund. We will, of course, continue to work closely with health authorities both domestically and across the region in the interim but are hopeful that we will be able to bring this momentous occasion to Saudi Arabia in six months' time.
"As we focus upon the necessary precautions, we would like to pay particular thanks to all of our sponsors, partners and players, who have shown unwavering commitment through these unprecedented times and it is due to their support that we are now able to announce a revised date for this landmark occasion."
The October tournament will be a watershed moment for the country and will mark the first time that professional female golfers have played there competitively, breaking new ground in Saudi Arabia's ongoing transformation as part of Vision 2030.
The LET reiterated its commitment to visiting Saudi Arabia following recent developments and echoed Golf Saudi's calls to ensure the inaugural tournament lives up to its billing.
Alexandra Armas, LET CEO, said: "Postponing the inaugural Aramco Saudi Ladies International was a difficult decision. However we have been extremely impressed by Golf Saudi's commitment to working through the challenges and making this historic event happen. We would like to thank all stakeholders for their incredible support, and I am sure that this fantastic new tournament will be one of the major highlights of 2020."
One of the richest tournaments on the LET schedule, the hosting of the Aramco Saudi Ladies International demonstrates Saudi Arabia's commitment to increase golf participation significantly in the years to come through the world's most ambitious development program. The Kingdom already has a strong track record when it comes to staging high-level sporting fixtures, including major football, boxing, motorsport and equestrian events.
http://saudigazette.com.sa/article/591856
--------
Muslim Women – Who Are Often Received in The West with Open Hostility for Covering Their Faces – Look A Lot More Like Everyone Else
April 20, 2020
Americans began donning face masks this week after federal and local officials changed their position on whether face coverings protect against coronavirus.
This is new terrain for many, who find themselves unable to recognize neighbours and are unsure how to engage socially without using facial expressions.
But not for Muslim women who wear the niqab, or Islamic face veil. Suddenly, these women – who are often received in the West with open hostility for covering their faces – look a lot more like everyone else.
I interviewed 38 British and American niqab wearers for my upcoming book on Muslim women who wear the niqab in the United States and United Kingdom.
Almost all of them were British and American citizens, but they came from all across the world and all walks of life. They were converts from Christianity, Judaism, former atheists, white, African American, African, Arab and South Asian women.
The niqab – a garment that is not required by Islam but is considered recommended in some interpretations – is usually worn with a loose, coat-like garment called an abaya and a hijab, or headscarf. Some women pair it with a long skirt and tunic to conceal the body shape.
All the women interviewed for the book felt the spiritual benefits of niqab-wearing, which makes them feel closer to God and deepens their practice of Islam. But wearing it in public often subjected them to Islamophobic, racist and sexist street harassment.
Research confirms that Muslim women who wear Islamic dress in non-Muslim majority countries are frequently subjected to abuse. In a 2017 American study of 40 Muslim women, 85% reported verbal violence and 25% had experienced physical violence.
Wearing the niqab, the most conspicuous form of Islamic dress, is most dangerous. 80% of British niqab wearers interviewed for a 2014 report by the human rights group Open Society Foundations had experienced verbal or physical violence.
The perpetrators tend to perceive niqab-wearing women as oppressed, backward, foreign, socially separated or a threat. Attackers often excuse their actions by citing security and immigration concerns.
Now, in an unexpected turn of events, people across the West are jogging in face masks and grocery shopping in bandannas tied across their mouths. That is making public life in the niqab much more pleasant, say Muslim women.
"There is a marked difference to the way I am being perceived. Nobody is giving me dirty looks because of my gloves and the covered face," said a woman I will call Afrah, from the UK, in a Facebook Messenger chat. "Everyone suddenly understands it!"
"I was wearing a handcrafted niqab today and it was amazing," Jameelah wrote to me from France, where the niqab is legally banned in most public spaces. "Because of the situation, I didn't receive malicious glares."
Fashion designers are even trying to make face coverings look stylish – an effort that has Muslim women long perceived a security threat rolling their eyes on social media.
Rumana, a Muslim from Croatia, told me that the growing acceptance of face covering has helped her overcome a reluctance to use the niqab.
"I am usually an anxious person who doesn't like to attract attention so that was always the biggest issue. Now that face coverings are seen everywhere," she says, "I have finally found the courage to wear it."
Anna Piela is a Visiting Scholar in Religious Studies and Gender at Northwestern University based in Evanston, Illinois. The above article and pictures have been published under Creative Commons Licence.
http://www.indiannewslink.co.nz/relevance-of-face-veil-dawns-to-wider-communities-now/
--------
How Arab News helped support one Saudi woman's dreams
LINA ALMAEENA
April 19, 2020
JEDDAH: "Wild Female Dreams" is the title of my article as a teen editor in chief of the Jeddah Girls Gazette in 1995. Writers and contributors were dynamic high-school friends and family members. My uncle Tariq was our mentor and publisher.
It took 25 years for all my teenage dreams to come true. My first dream turned into reality on June 24, 2018, when women were allowed to drive, not just their cars but also the country's development. It was one of the most liberating feelings I have ever experienced, simple as it may have seemed to women living outside the Kingdom.
I dreamt in my article about women in the police force, only to see in 2018-2019 women progress as far as joining security services, drug enforcement and military jobs, with possible ranks from private soldier to sergeant in the army's branches of ground, navy and air defense.
My third dream, as simple as it may have seemed, related to the sense of modesty for women. In the 1990s, there were no women in retail, and salesmen dominated female apparel outlets. The campaign in 2008, headed by Reem Assad and aimed at replacing salesmen with women in lingerie shops, made waves and eventually victory was achieved by a royal decree in 2011.
My fourth dream was to buy tickets to attend a local match in Saudi Arabia. That came true in January 2018 when I attended the first local match in King Abdullah Aljohara Stadium between Alahli Club and Al-Batin FC. It was an ecstatic feeling with beautiful and respectful cheering crowds, eroding certain segments' fears regarding a possible catastrophe with women attending games in stadiums.
My fifth dream was to switch on the TV and watch girls play basketball. That came true in 2017 when Jeddah United women's basketball team participated as the first local team under the Saudi Arabian Basketball Federation in the fourth Arab Club tournament in Sharjah, the UAE, and winning the tournament's sportsmanship award.
As I reflect 25 years later on the Jeddah Girls Gazette article, I realize I had listed six dreams, of which the last long-awaited one came true in August 2019: The lifting of a travel ban for women without a male guardian. Even though the travel permit was not a personal issue, I still felt the relief for many women of all ages with various circumstances. Widows who had to get permission from their sons was an ironic example.
Twenty-five years may seem like a long time, but in the context of women's evolution, and considering the young age of Saudi Arabia as a country united in 1932, it is considered a fast pace. I say that now since all restrictive walls have fallen.
That is not how it felt years ago, with continuous frustrations and limitations, especially as a teenager. But women have endured and struggled for decades all over the world; in Saudi Arabia, it took less than five years since the announcement of our Vision 2030 reform plan on April 25, 2016, for transformation to take place.
A famous Japanese proverb states that a vision without an action plan is a daydream, but an action plan without a vision is a nightmare. I am proud and humbled to say we have one of the most promising and empowering visions. Vision 2030 has enabled 50 percent of the population to play an active part in nation-building.
That is not to say women did not contribute prior to that. If I just look at my immediate family, my mother Samar Fatany was one of the first TV and radio presenters in the Ministry of Information in the 1970s.
During her 35 years at the ministry, she was the chief broadcaster of the English section at the Jeddah Broadcasting Station, a columnist for Arab News and the Saudi Gazette, and a participant in many local and international conferences. She also has four publications to her name, the last titled "Modernizing Saudi Arabia," published in 2013.
Times have changed, indeed. It was only in 2013 that women joined the Shoura Council. I am honored to have joined the 2016 second term for women on the council as I strive to recommend reformist legislation and participate in a friendship committee that communicates with parliamentarians around the world.
Reflecting on all my dreams, and on this occasion of the 45th anniversary of Arab News, the newspaper known as the "Green Truth" played a huge role in female empowerment. It was one of the first papers that hired women in a mixed environment. It was the only local paper that was happy to cover our first women's street basketball tournament in 2006-2007, when all other publications politely refused.
If I were to ask myself what my dreams are today, I would say I dream of more women actively participating in decision-making in Saudi Arabia and the globe. I dream of world peace, I dream of a green planet, but above all in these times, I dream of a healthy planet, conquering COVID-19 and having treatments available for all illnesses.
As we experience the curfew, I also get to do something I was never able to do in the past. I ride my bike safely around my neighborhood before the 3 p.m. curfew and visit the mini-market next to my house.
All I can think about is the last two questions in my article "Wild Female Dreams." Can these dreams be reality? Can the impossible be possible? The answer is a double YES. But we will need a newspaper to document this, and what better one than Arab News to do so. Happy 45th anniversary and many more anniversaries to come.
• Lina Almaeena is a member of theShoura Council, co-founder of the Jeddah United Sports Co., and on Forbes' list of Most Powerful Women in the Middle East. She is also a member of the Top 20 Young Leaders of the MENA (Middle East and North Africa) Region.
https://www.arabnews.com/node/1661686/media
--------
Kenya Govt Takes Action After 39 Muslim Women are Arrested at a Wedding
April 20, 2020
By Juanna Wairimu
KDRTV) – 39 Muslim women who were arrested while attending their friend's wedding in Kayole on Sunday evening will be quarantined at their own cost.
Police arrested the women at Nasra Estate behind Mama Lucy Hospital, most of them are from Eastleigh Estate where a Muslim cleric succumbed to the dreaded Coronavirus last week.
The women were flouting government directives which had banned social gatherings as one of the measures to curb the spread of COVID-19.
They were taken to the Nairobi Kenya Medical Training College (KMTC) where they will be quarantined for 14 days at their own expenses.
Health Cabinet Administrative Secretary Mercy Mwangangi had earlier on Sunday warned members of the public that anyone caught flouting curfew rules will be quarantined for 14 days and will have to bear the costs.
Several groups have been accused of holding night parties and sneaking in and out of the Nairobi Metropolitan regions which is under cessation.
On Friday, Health CS MutahiKagwe warned that at least 28,000 Kenyans may die from Coronavirus if Kenyans do not respect the measures which have been set to curb the virus.
https://www.kdrtv.co.ke/news/govt-takes-action-after-39-muslim-women-are-arrested-at-a-wedding/
----
Refugee women most at risk of violence during virus crisis
AFP -April 20, 2020
GENEVA: Displaced women and girls are facing a heightened risk of gender-based violence during the coronavirus crisis, the UN Refugee Agency said Monday.
Lockdowns imposed to control the spread of Covid-19 have restricted movement and led to the closure of services.
"We need to pay urgent attention to the protection of refugee, displaced and stateless women and girls at the time of this pandemic," said Gillian Triggs, the UNHCR assistant high commissioner for protection.
"They are among those most at-risk. Doors should not be left open for abusers and no help spared for women surviving abuse and violence."
She said displaced women could end up confined with their abusers, while others, having lost their precarious livelihoods, "may be forced into survival sex, or child marriages by their families", said Triggs.
The restrictions imposed in many countries in response to the coronavirus pandemic mean limited access to support services, said the UNHCR.
To counter the risk, the UNHCR is distributing emergency cash to survivors and women deemed to be at risk of gender-based violence.
Triggs said governments should ensure that the "rising risks of violence" for displaced women are taken into account in their Covid-19 action plans.
https://www.freemalaysiatoday.com/category/world/2020/04/20/refugee-women-most-at-risk-of-violence-during-virus-crisis/
--------
Egypt's National Council for Women launches coronavirus awareness campaign
Apr. 19, 2020
CAIRO – 19 April 2020: Under the auspices of the Egyptian media platforms of Extra News and Egypt Today, the National Council for Women launched an awareness campaign to help people avoid the coronavirus (COVID-19) infection.
This comes in cooperation with the Egyptian Ministry of Health and Population, the United Nations Population Fund (UNFPA) and the World Health Organization. It is sponsored by the Italian Agency for Development Cooperation.
The campaign is part of the state's efforts to educate citizens about prevention methods in a scientific and accurate way, said Maya Morsy, the head of the NCW. It will be introduced by specialized doctors, she added.
As the coronavirus crisis has gripped Egypt and almost the whole world, NCW said it has launched such campaign, as part of its social responsibility, to educate citizens about the right ways to avoid being infected with the virus, which has been so far contracted by more than 2.3 million people worldwide.
The campaign will contain a number of videos illustrated by many doctors with different specialties. They will provide medical information and necessary advice to avoid infection. The videos will be broadcast on Extra News channel as well as the social media platforms of the English-language Egypt Today, the NCW and other partners, starting Sunday April 19th.
Morsy said the campaign is an important part of the state's efforts to educate citizens about the novel virus, especially due to the rampant misinformation that may contribute to helping the spread of the disease.
It will also offer advice to women during pregnancy and lactation stages and to the people with serious underlying medical conditions who are at higher risk for severe illness.
The campaign will also focus on providing psychological and social assistance to families, in light of the precautionary measures that require people to stay at home for long periods.
Morsy thanked Egypt Today and Extra News for their fruitful cooperation and fast response to sponsor and broadcast the campaign. She also thanked the Egyptian media for the keenness to spread awareness among citizens during this critical period, as well as the partners and all those who participated to bring the campaign to light.
She affirmed that the campaign completes the efforts of the health and population committee of the NCW, headed by Ahlam Hanafy, a member of the council.
UNFPA Representative in Egypt Aleksandar Sasha Bodiroza has highlighted the need to work on curbing the spread of coronavirus and ensuring that the needs and rights of women and girls in all aspects of the humanitarian action against the deadly virus are included.
She affirmed the need to support and protect the medical staff who are in the front line in the battle against coronavirus, saying their sacrifices to save everyone should be recognized. Bodiroza added that the UNFPA is keen on ensuring the safety of all those working in the medical fields through personal protection methods.
According to Health Ministry Spokesman Khaled Megahed, the new cases raises Egypt's total number of COVID-19 cases to 3,032 and deaths to 224.
The number of coronavirus cases whose tests turned from positive to negative increased to 980, he noted, including 701 people who recovered from the virus.
Megahed added that 55 of those infected with coronavirus were discharged from hospitals after receiving the necessary medical care. The total number of recoveries so far reached 701.
https://www.egypttoday.com/Article/1/84874/Egypt%E2%80%99s-National-Council-for-Women-launches-coronavirus-awareness-campaign
--------
BJP MP Tejasvi Surya faces backlash for 2015 tweet on Arab women, deletes it
Apr 20, 2020
NEW DELHI: BJP MP Tejasvi Surya on Sunday landed in a controversy and was forced to delete his 2015 derogatory tweet on Arab women following a backlash on social media.
A 2015 tweet from Surya making a derogatory comment on Arab women resurfaced on social media on Sunday forcing the BJP MP to delete his tweet.
"95% of Arab women have never had an orgasm in the last few hundred years! Every mother has produced kids as an act of sex and not love. @Tarek Fatah," the now-deleted tweet read.
"That respect for women couldn't be instilled in you despite India having some great female leaders. Please note, if someday the govt bestows a foreign ministry to you, avoid travelling to Arab lands. You are not welcome here. This will be remembered," she added.
"The BJP gives tickets to Praggya Singh Thakur and Tejasvi Surya etc because it helps popularise their hardline bigoted political profile. But the chickens usually come home to roost. Today, India stands embarrassed, humiliated," the national spokesperson of Congress, Sanjay Jha tweet.
The BJP gives tickets to Praggya Singh Thakur and #TejasviSurya etc because it helps popularise their hardline bigoted political profile.
"Arab countries should demand sacking of Tejasvi Surya from BJP to prove Narendra Modi walks the talk. There is not even a slap on the wrist," tweeted a Tamil Nadu-based blogger.
Arab countries should demand sacking of @Tejasvi_Surya from BJP to prove @narendramodi walks the talk. There is not even a slap on the wrist. https://twitter.com/alghurair98/status/1251846220663963648 …
Pity Ur upbringing @Tejasvi_Surya that respect for women couldn't be instilled in U despite India having some great female leaders .Please note if someday the govt bestows a foreign ministry to you, avoid travelling to Arab lands. You are not welcome here. This will be remembered
"This man is a member of parliament in India! PS- He is also a coward because he deleted his tweet!" wrote another Twitter user.
"This Tejasvi Surya is not only a disgrace to his party BJP but he is also an Insult to INDIA Flag of India and 1.3 Billion Indians! He is too enshrined in the Factory of Hate and Bigotry to warrant any upbringing," the backlash against Surya continued.
Last year, the BJP MP was forced to delete another tweet, this one from 2014, where he had opposed women reservation in Parliament.
His 2014 tweet: "With the exception of Womens' Reservation in Parliament, Modi govt agenda is inspiring. Dread d day when women's reservation becomes reality," was widely shared.
https://timesofindia.indiatimes.com/india/bjp-mp-tejasvi-surya-faces-backlash-for-2015-tweet-on-arab-women-deletes-it/articleshow/75243903.cms
--------
URL: https://www.newageislam.com/islam-women-feminism/the-women-trying-change-image/d/121622
New Age Islam, Islam Online, Islamic Website, African Muslim News, Arab World News, South Asia News, Indian Muslim News, World Muslim News, Women in Islam, Islamic Feminism, Arab Women, Women In Arab, Islamophobia in America, Muslim Women in West, Islam Women and Feminism