New Age Islam News Bureau
2 Sept 2016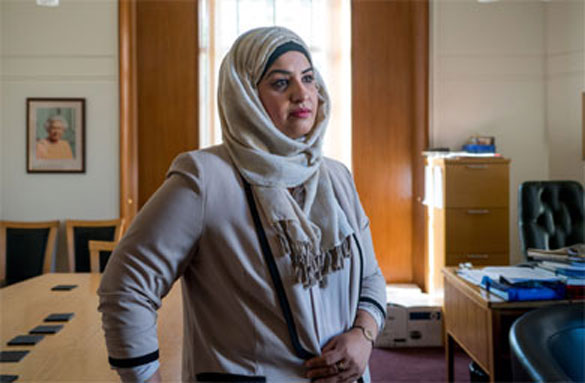 Saima Ashraf, 39, at the Barking Town Hall in London, where she is a leader in the local government. She said such an achievement would not have been possible for her as a veiled woman in her home country, France. Credit Andrew Testa for The New York Times
--------
• We Asked British Muslims How They Feel About a Burqa Ban
• UN Condemns French Laws for 'Fuelling Intolerance and Stigmatisation of Muslims'
• Qatar Charity Lecture Focuses on Women's Rights in Islam
• Johannesburg: Our Male Colleagues Know That Women Are Here to Stay - Female Officers
• Muslim Women Wear Veils to Help Integrate Into Society and Mix With Non-Muslims, Study Says
Compiled by New Age Islam News Bureau
URL: https://newageislam.com/islam-women-feminism/the-way-people-look-changed'/d/108447
----
The Way People Look at Us Has Changed': Muslim Women on Life in Europe
SEPT. 2, 2016
Saima Ashraf, 39, at the Barking Town Hall in London, where she is a leader in the local government. She said such an achievement would not have been possible for her as a veiled woman in her home country, France. Credit Andrew Testa for The New York Times
The storm over bans on burkinis in more than 30 French beach towns has all but drowned out the voices of Muslim women, for whom the full-body swimsuits were designed. The New York Times solicited their perspective, and the responses — more than 1,000 comments from France, Belgium and beyond — went much deeper than the question of swimwear.
What emerged was a portrait of life as a Muslim woman, veiled or not, in parts of Europe where terrorism has put people on edge. One French term was used dozens of times: "un combat," or "a struggle," to live day to day. Many who were born and raised in France described confusion at being told to go home.
Courts have struck down some of the bans on burkinis — the one in Nice, the site of a horrific terror attack on Bastille Day, was overturned on Thursday — but the debate is far from over.
"For years, we have had to put up with dirty looks and threatening remarks," wrote Taslima Amar, 30, a teacher in Pantin, a suburb of Paris. "I've been asked to go back home (even though I am home)." Now, Ms. Amar said, she and her husband were looking to leave France.
Laurie Abouzeir, 32, said she was considering starting a business caring for children in her home in Toulouse, southern France, because that would allow her to wear a head scarf, frowned upon and even banned in some workplaces.
Many women wrote that anti-Muslim bias had intensified after the attacks on Charlie Hebdo in Paris in January 2015, and in Brussels, Paris and Nice more recently. Halima Djalab Bouguerra, a 21-year-old student in Bourg-en-Bresse, France, dated the change further back, to the killings by Mohammed Merah in the southwest of the country in 2012.
"The way people look at us has changed," Ms. Bouguerra wrote. "Tongues have loosened. No one is afraid of telling a Muslim to 'go back home' anymore."
Here are some excerpts from the comments we received. They have been condensed and edited for clarity, and translated for those who wrote in French.
"When the Burkini came out, I was happy for my sister, who was on vacation and could finally play with her children on the beach instead of sitting in the shadow. At the beginning of all the drama, I thought, 'Never mind it, Dina, it's just a couple of small-minded people who don't have anything else to do than hate on everything.' But this? Really? This is everything I thought Europe was against. … How is it possible that in a 'modern' world, tanning naked is accepted but keeping your clothes on at the beach is not?"
— Dina Srouji, 23, Lebbeke, Belgium. Student and student reporter at the University of Gent. Instagram: @dindinsr
"This reminds me of my first days in high school after French law banned the hijab in schools. My teacher forced me to take off my head scarf in front of all the other pupils. I was humiliated. ... Today, I felt my heart broken again. I just looked at this woman taking off her clothes and asked myself, when will it end?"
— Hajer Zennou, 27, Lyon, France. Designer. She was referring to a woman who was surrounded by police officers on a beach in Nice.
"I am insulted, spat on (literally) every day in the subway, on the bus, at school. Yet I have never insulted or hit someone. No, I am just Muslim. I am seriously thinking of going to live elsewhere, where other people's looks won't make me cry every night in my bed.
"I am afraid of having to wear a yellow crescent on my clothes one day, like the Star of David for Jews not so long ago."
— Charlotte Monnier, 23, Toulouse, France. Architecture student.
"I was curious to see if, in the cities where they forbade women in burkinis, dogs could swim. The answer was yes for some of them. Personally, I am scandalized that dogs can have more rights than a scarfed woman."
I am a social worker and I do my best to strive for a fair and free society. To me, wearing the veil does not mean being enslaved by a man. On the contrary, it means reappropriating the body and femininity."
— Nawal Afkir, 25, Brussels
"Every time I visit Morocco, I feel and see more freedom than here in the West."
— Souad el Bouchihati, 26, Gouda, the Netherlands. Social worker.
"I don't mind removing my veil to work. What bothers me is hiding it from my colleagues. ... Of course, I did not hide for very long. I ran into my colleague as I was shopping with a friend, and I was wearing my veil. We said hello, and I whispered to her I would explain. I felt so bad about lying to her all this time. It was hell! So I sent her a text message to tell her the truth. She told me that she understood, and that she wouldn't repeat it."
— Hadjira Skoundri, 22, Toulouse, France. Administrative agent in the local government.
"Even if we make every effort and try to be 'integrated,' we are constantly reminded that to be properly and completely integrated, we must give up our principles and our religion. In our homes, at work, or among our friends, there is a kind of pressure. We don't dare accept invitations from friends because we're sick of having to say no to alcohol and to politely justify ourselves, walking on eggshells while making sure we don't say anything that could be taken the wrong way. At work, there have been little jokes along the lines of 'Did you help your cousins?' after the terrorist attacks. And our families who curse the terrorists at mealtime are then insulted by these new laws.
"So then what? We isolate ourselves. And once you start isolating yourself, you're no longer integrating."
— Mira Hassine, 27, Orléans, France. Administrator at a construction company and a practicing Muslim who does not wear a veil.
"To be a Muslim woman in France is to live in an apartheid system of which the beach bans are just the latest incarnation. ... I think that French Muslim women would be justified to request asylum in the United States, for instance, given how many persecutions we are subjected to."
— Karima Mondon, 37. French teacher who recently moved to Casablanca, Morocco, from Lyon, France.
"I am a Muslim French woman. I live in London. As a Frenchwoman, I would never have achieved what I have in London while wearing the veil. I am a politician in local government, deputy leader of my borough, and I wear the scarf. If I were in France, forget about it."
— Saima Ashraf, 39, London. Twitter: @saimaashraf25
"I am a nurse and I wear the veil. At work, it is impossible for me to wear my veil. I remove it upon arrival. Nothing on the head, no long sleeves, nothing that might cover me up to adhere to my way of living. … We are denied the possibility of going to the pool and now to the beach. What is the next step? Are we going to wear crescents to be recognized?"
— Linda Alem, 27, Paris. Nurse at a dialysis center.
"I feel unwell to the point of becoming paranoid! As a student, I had a classmate call me a Salafist and make a death threat against me. Why? Because he saw me wearing a veil in the street. When I went to see the school's assistant principal, the only solution she found was to expel both of us if we did not lessen the tensions that he had caused. A real nightmare, where all roads lead to injustice. ... I have tears in my eyes as I write these words, and while I don't want to present us as victims, their relentlessness is such that I am going to leave this country sooner or later. They will surely have obtained what they wanted, but I don't have the strength of Rosa Parks. One less engineer in France — that's their punishment."
— Nora Mahboub, 21, Paris. Engineering student.
"Even though I have a master's degree, I couldn't find a job related to my studies. … I see no hope for our future, and like many others, I intend to go abroad. My heart is 100 percent French, but it feels like I have to prove my 'Frenchness,' and with everything happening currently, I'm tired of justifying my identity."
— Siam Ferhat-Basset, 29, Drancy, France. Former receptionist.
"During my studies, I was someone who worked hard. I loved to learn. But as I continued my schooling, I lost all motivation. I knew that as a veiled Muslim woman, I had no future in the professional world. We are being asked to integrate, but unfortunately, they don't integrate us."
— Saadia Akessour, 31, Liège, Belgium. Stay-at-home mother who had to remove her veil during a midwifery internship and has since abandoned her studies.
"This summer, I went swimming near Hendaye, in southwestern France. I was a bit of a local curiosity, but I found that people were kind. It seems that the news media and politicians are not in sync with what the people think."
— Fadoua Hachimi, 41, Les Lilas, France. Purchasing assistant.
"I feel like an outlaw, a kind of criminal who is demanding something illegal, even though I am demanding nothing but the right to be free."
— Nadia Lamarti, 35, Zellik, Belgium. Mother of four daughters who has trained as a social worker.
"I find it crazy that the French appear to be discovering Islam and are still talking to us about integration, even though we are now in the third or even fourth generation of Muslims of North African descent living in France."
— Assia Boukhelifa, 22, Lille. Political science student.
"I am a woman who wears this full-coverage swimsuit. ("Burkini" is a term that is too loaded.) I used to settle for watching others enjoy the pleasures of swimming — at most I would go into the water in my street clothes, which is absolutely impractical. This piece of clothing has broken my chains."
— Ennaji Loubna, 30, Perpignan, France. Studying for a master's in sociology.
"Thank you ever so much for viewing us as human beings and for taking into account our opinions. In Belgium, as in France for that matter, we never get the chance to speak, even though we Muslims (veiled or not) are the main people concerned by these recurrent controversies on Islam and women. We are seen as brainless bigots who are submissive to our husbands or fathers. I myself am a Muslim, a teacher, tolerant, feminist AND veiled."
— Khadija Manouach, 29, Brussels. Teacher in an elementary school.
"As a Muslim young woman, I do not feel safe anymore. … I am preparing to go to the U.K., where I can work and live normally — which makes me sad, because I do love my country."
— Sarah Nahal, Grenoble, France. Student in economics and management.
"My father has lived in France since age 8, and he has been working since age 14, but despite everything, this isn't enough for France to view us as ordinary fellow citizens, since my veil bothers them. … What can we do? Take courage into our own hands and fight with the weapons that we have at our disposal: knowledge, diplomas and willpower!"
Continue reading the main story
— Nadia Benabdelkader, 25, Roubaix, France. Student.
http://www.nytimes.com/2016/09/03/world/europe/burkini-ban-muslim-women.html
--
We Asked British Muslims How They Feel About a Burqa Ban
September 2, 2016
This week, a YouGov survey found that 57 percent of Brits were in favour of banning the burqa in public places. And hot on its heels was the burkini – 46 percent would like it to be outlawed. It seems like the British people still aren't on board with the idea that Muslim women are fed up of being spoken for. With that in mind, I spoke to British Muslims to find out if they really do want your advice on what to wear. (They don't.)
Aliya*, 23
I don't choose to wear the veil but I stand up and support women who want to wear it. I believe any man or woman should be able to express themselves in any way they want. The veil might not banned in the UK but it doesn't as a surprise that Brits are in favour of a ban. I see the way people treat my family members compared to when they see me, an unveiled woman, when being served at an ice cream stall, for example.
I think a ban is a slippery slope. Muslims who already feel under attack will feel even more marginalised. I can already imagine the conversations that will be happening: 'First they came for the veil, next they'll come for the headscarf.'
I have an idea for anyone who feels uncomfortable with a veiled woman: next time you see a veiled woman, do the most un-British thing, and strike up a conversation with her. You'll be surprised by how underneath that veil is a very normal woman who's as British as they come.
Hussein, 24
I'm not surprised by the data – I mean, hostility toward the burqa (and it's not even a burqa) has been there since way before 7/7, and thanks to a cocktail of sleazy tabloids and stoked up patriotism, the burqa has basically become a symbol of everything that's anti-Western. Our current conversation pits women who wear burqas against women who wear bikinis as a way to characterise this supposed clash of civilisations.
http://www.vice.com/en_uk/read/british-muslims-burqa-ban
--
UN Condemns French Laws for 'Fuelling Intolerance and Stigmatisation Of Muslims'
September 2, 2016
The United Nations has condemned Burkini bans for "fuelling religious intolerance and the stigmatisation of Muslims in France" after the country's highest court ruled they were illegal.
Rupert Colville, a spokesperson for the UN High Commissioner for Human Rights, welcomed the State Council's finding that prohibiting beachwear worn by some women to cover the face and body was a grave and illegal breach of fundamental freedoms.
"We fully understand - and share - the grief and anger generated by the terrorist attacks carried out in France in recent months," he told a briefing in Geneva.
"However, these decrees do not improve the security situation but rather fuel religious intolerance and the stigmatisation of Muslims in France, especially women.
"By stimulating polarisation between communities, these clothing bans have only succeeded in increasing tensions and as a result may actually undermine the effort to fight and prevent violent extremism."
Mr Colville urged all French seaside resorts to have brought in burkini bans to heed last week's court ruling and not maintain "discriminatory" systems allowing fines and arrests until the end of the holiday season.
The case specifically related to rules brought in by the commune of Villeneuve-Loubet but set a nationwide precedent, incensing local mayors attempting to implement the controversial prohibitions.
International human rights law only allows limitations on manifestations of religious belief in strict circumstances, such as for public order or safety, and only then when they are demonstrably necessary and proportionate.
Despite arguments made by French officials over hygiene and a supposed risk to public order, Mr Colville said women choosing to wear a burkini "cannot be blamed for the violent or hostile reactions of others", adding: "Any public order concerns should be addressed by targeting those who incite hatred or react violently, and not by targeting women who simply want to walk on the beach or go for a swim wearing clothing they feel comfortable in.
"Nor can it be claimed that such a ban on beachwear is necessary on grounds of hygiene or public health."
He also dismissed arguments made by supporters of the ban claiming it supported gender equality by combating restrictive clothing, saying "humiliating and degrading" law enforcement cannot enhance freedom.
A French court overturned a ban on burkinis issued in Cannes on Tuesday, finding no proven risks to outweigh the restriction.
Legal debates on the issue have been closely watched after photos of armed police surrounding a Muslim woman as she removed her top on a beach in Nice sparked outrage.
Prime Minister Manual Valls, who supported the bans saying they represented the "enslavement of women", made a new reference to the controversy with a comment on Marianne, an allegorical figure of the French Republic.
During a socialist meeting in southern France he said: "Marianne, the symbol of the Republic, is bare breasted because she's feeding the people, she doesn't wear a veil because she's free."
Historians attacked Mr Valls for allegedly misinterpreting the allegorical figure, who is sometimes shown wearing clothes and with her had covered.
http://www.independent.co.uk/news/world/europe/burkini-ban-united-nations-condemns-french-laws-for-fuelling-intolerance-and-stigmatisation-of-a7218611.html
--
Qatar Charity Lecture Focuses on Women's Rights In Islam
September 01 2016
The Qatar Charity (QC) Centre for Social Development, Al Rayyan women's branch, has hosted an educational lecture titled "Aggression against Women" in co-operation with the Protection and Social Rehabilitation Centre.
The lecture was attended by 40 women, QC said in a press statement.
Ali Ibrahim al-Ghareeb, programmes and centres director at the Local Development Executive Management in QC, said: "The exclusive lecture comes as part of the implementation of plans on co-operation with local community institutions and aims to raise awareness among mothers and girls about the importance of women's rights in Islam. It also aims to shed light on the role Qatar in providing the required protection through specialised centres such as the Protection and Social Rehabilitation Centre."
Among the participants of the event were Dr Ahmed al-Farajabi, Shariah expert at the Ministry of Awqaf and Islamic Affairs, and Zeinab al-Mahmoud, in co-operation with the Protection and Social Rehabilitation Centre.
The lecture commenced with a speech by al-Mahmoud.
She introduced the role of the Protection and Social Rehabilitation Centre and the importance given by Qatar towards protecting the rights of women and children.
She also spoke on the Islamic perspective towards the issue.
Meanwhile, Dr al-Farajabi urged mothers to raise their children well and not to resort to aggression while raising them.
At the end of the lecture, the Shariah expert extended his gratitude and said: "I would like to thank all our virtuous sisters at the Qatar Charity Centre for Social Development – Al Rayyan women's branch and the management of the Protection and Social Rehabilitation Centre for this activity, which aimed to explain our Islamic religion's approach towards protecting women from all types and forms of aggression."
The lecture was characterised by the women's interactions and interest in attending the event right until the end to benefit from the information shared on the occasion.
Within the framework of its future activities, the Qatar Charity Centre for Social Development – Al Rayyan women's branch aims to provide a number of distinguished programmes and national campaigns in the final quarter of 2016.
http://www.gulf-times.com/story/510323/QC-lecture-focuses-on-women-s-rights-in-Islam
--
Johannesburg : Our Male Colleagues Know That Women Are Here to Stay - Female Officers
SEPT. 2, 2016
Women who have forged their way into law enforcement and have made their mark in the sector took to the streets of Johannesburg on Thursday to acknowledge the struggles women still face today.
Scores of women from the departments of correctional services, home affairs, metro police as well as the SA Police Service took to the streets of the Johannesburg CBD and marched to commemorate the end of Women's Month.
The women, dressed in their respective uniforms, marched in single file with a marching band leading them through the streets.
The march was also to highlight the difficulties women in the sector often faced while at work.
"As a woman you get resistance from other male colleagues. Some of them have a problem taking instructions from a female, moreover a young female," Chief Superintendent at the Johannesburg Metro Police Department (JMPD) Angie Mokasi said.
"I was fortunate that when I joined the department I was very young and there were so many opportunities. I headed a unit where I was the only female and it was a specialised unit and I had 60 males reporting under me.
Sweet talking offenders
"So imagine, as a female it was not easy, however, there were those who were very supportive on anything I was telling them to do."
There were still problems at the department, but they were not as bad as they had been in the past, she said.
"Currently most males have accepted that women are here and they are here to stay and whether they like it or not, we're going nowhere."
Being a female traffic officer had its obstacles, especially on the road, she said. Most men tended to assume they could get away with traffic fines by sweet talking the officers and asking for their contact details.
"Males will always be males; they will always try to find a way of not getting a ticket.
"It is very important for us women to know where your boundaries are. You will charm me, you will smile with me but at the end of the day, I will give you your ticket with a smile, and you will take it with a smile."
The Department of Home Affairs' acting head of immigration inspectorate in Gauteng, Heidi Malesa, said most of the men they dealt with did not acknowledge female officers' instructions.
"We do [experience gender discrimination] with [African foreigners]; and most of the Africans don't respect women, so even if you want to give them instructions as women, they don't take you seriously because some of the people that you are dealing with are from Muslim backgrounds so when you want to arrest them as women, they resist arrest because according to their culture, they cannot be addressed by women."
Safety issues
She said the number of females in her department as well as the level of protection needed to increase drastically.
"The challenge we are facing as women is that we are less capacitated in the field, we would like to be more capacitated.
"We [also] feel less protected as women but because we are called by duty, we work."
Dudu Ratlhogo, who is a member of the Johannesburg Emergency Management Services, said some work-related issues were not internal, but were rather caused by members of the public.
She said while attending to a fire with her colleagues, members of the public robbed them of their belongings and attacked them.
"To us it is like, this is not safe, we are trying to help the public and the very people we are trying to help are the ones who are robbing us. We are not feeling safe any more.
"Our job is to save property and save lives, and we love to do it. We love it and it is a passion," Ratlhogo said.
http://allafrica.com/stories/201609020418.html
--
Muslim women wear veils to help integrate into society and mix with non-Muslims, study says
SEPT. 2, 2016
The veil may help young, educated Muslim women to mix with non-Muslim friends, work outside the home and speak to strangers.
This is because it provides a 'strategic response' to the temptations and threats of modern western life into which they are integrating, according to research by Oxford University professors.
Sociologists Ozan Aksoy and Diego Gambetta wanted to find out why modernisation does not always cause a decrease in Islamic religious behaviour.
Their study found that education, occupation, higher income, urban living, and contacts with non-Muslims has decreased veiling among averagely religious women.
But among highly religious women, those same modernising forces have increased the use of the veil.
The authors speculate that this is because women use the veil to as a 'strategic response' to threats to their modesty.
They conclude: 'We find that among highly religious women the modernizing forces - education, occupation and higher income, urban living, and contacts with non-Muslims - increase veiling.
'We conjecture that for highly religious women modernizing factors raise the risk and temptation in women's environments that imperil their reputation for modesty: veiling would then be a strategic response, a form either of to prevent the breach of religious norms or women's piety to their communities.'
One of the co-authors of the report, Professor Gambetta of Oxford University, said: 'Highly religious women who have more native friends and live in areas dominated by natives use the veil to keep their pious reputation while being integrated,' reports The Guardian.
'Banning or shunning veiling would deprive them of a means that allow them more opportunity for integration rather than marking their differences.'
The conclusion is that banning the veil will not help Muslim women integrate but will prevent them from doing so.
The study by Ozan Aksoy and Diego Gambetta called Behind the Veil: The Strategic Use of Religious Garb was published in the European Sociological Review.
http://www.dailymail.co.uk/news/article-3770724/Muslim-women-wear-veils-help-integrate-society-mix-non-Muslims-study-says.html
--
URL: https://newageislam.com/islam-women-feminism/the-way-people-look-changed'/d/108447
New Age Islam, Islam Online, Islamic Website, African Muslim News, Arab World News, South Asia News, Indian Muslim News, World Muslim News, Women in Islam, Islamic Feminism, Arab Women, Women In Arab, Islamophobia in America, Muslim Women in West, Islam Women and Feminism