New Age Islam News Bureau
27 March 2020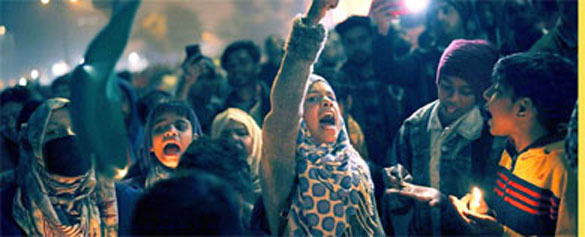 Women protesters at Shaheen Bagh (Photo Courtesy: AP/Altered by The Quint)
-----
• The Shaheen Bagh Protest Through the Eyes of a 12-Year-Old, Aanya Gupta
• Hajrah Begum: The Communist Leader We All Should Know
• Women, Girls, Health Workers Must Not Be Overlooked in Global COVID-19 Response
• Women Change The World: NASA Astronaut Christina Koch On What It's Like Being A Woman In Space
• Asma Elbadawi: The Sudanese Who Lobbied The Basketball Association To Remove A Ban On Hijabs
Compiled By New Age Islam News Bureau
URL: https://www.newageislam.com/islam-women-feminism/the-shaheen-bagh-protest-eyes/d/121418
-------
The Shaheen Bagh Protest Through the Eyes of a 12-Year-Old, Aanya Gupta
AANYA GUPTA
27 March 2020
Namaste! My name is Aanya Gupta and I am a 12-year-old girl studying at The Shri Ram School, Moulsari in Gurugram. On 24 March, the Shaheen Bagh protest site was cleared after 101 days. This prompted me to write about my trip there on Sunday, 8 March. My aunt Ruchira Gupta took me for my first peaceful protest and I am reporting on the same.
Our car was loaded with crates full of books and toys that my aunt wanted to donate to the children and a local library that had been set up at the protest site. I had many questions through the way.
"What are they protesting for? Why were the students in the Jamia college attacked? Is the government listening to them? The women are Muslim, so this is the first time they are stepping out of their houses?"
My aunt said that the women of Shaheen Bagh were protesting against the CAA and the NRC which isn't fair to the Muslims. I was appalled to hear this, as we have always been told that we should look at everyone with equal respect.
The second answer. Students of Jamia were attacked while they were studying in a library. Guns, lathis were used on the students – I couldn't even process this.
I received my third answer too. The government may or may not be listening. Yet, the women are brave and resilient so soon they will have to hear them out.
On hearing that their students were attacked in such a manner, the grandmothers started sitting on the roads of Shaheen Bagh and protested strongly. So did the women, the mothers.
There were about 500 people there. I wish more reporters would come and see them. Each one of them present there were determined to keep the protest alive.
Because the CAA is unfair for Muslims like me. I, no we, will fight for our rights. Our Constitution should be upheld. The right of religion and equality of all should not be neglected.
"Me too", I said. At this point, I felt that we are the same. Her being Muslim, and me being Hindu did not define the both of us. The two of us, 12-year-old girls, is what defined us.
Since we were standing outside a library, my aunt donated her book to Areeba. She was so happy, and if this reaches her, I want to thank her big time! Many other protests are also happening in solidarity with the Shaheen Bagh one.
After this, when my aunt went on stage, I taped her rousing speech on the release of her book. It was inspiring, and I was filled with pride for everyone in Shaheen Bagh.
https://www.thequint.com/my-report/shaheen-bagh-protest-through-the-eyes-of-12-year-old
--------
Hajrah Begum: The Communist Leader We All Should Know
March 27, 2020
By Guest Writer
Ania Loomba in her recent work Revolutionary Desires raised a significant point regarding the absence/silence on the role of women within the communist movement. The work on the CPI in the nationalist movement itself is meagre. It, therefore, comes as no surprise that the life and work of Hajrah Begum, a prominent independent Muslim woman who worked both during the nationalist movement and later in spear-heading the cause of communism, have met very meagre or no scholarly interest across the worlds of academia. This may be because, as Mahua Sarkar stated in her work Visible Histories Disappearing Women: Producing Muslim Womanhood in Late Colonial Bengal, work on women is absent when they do not fit in the established 'recognizable' categories i.e. 'liberal, modern or feminist'.
Hajrah Begum was born in a progressive Sunni Muslim Pathan Family, and became one of the most active members, after her brother, to take interest in politics. She was drawn to Communism and was inspired by the work of Sajjad Zaheer in Britain. She was associated with All India Progressive Writers Association (AIPWA), and All India Women's conference (AIWC). She fought for the cause of railway workers and was the founder Secretary of Allahabad Railway Coolies Union. She went underground to avoid detentions twice and travelled across the continents to attend World Peace Council, Vienna (1952) and Women's International Democratic Federation, Copenhagen (1953), World Congress of Mothers, Afro-Asian Women's conference, Cairo 1961. This account is based on her oral history interview undertaken by Nehru Memorial Museum and Library (NMML).
Many of us remember her more popular sister Zohra Sehgal, whose work on theater and silver screen is much lauded for its remarkable content. She was raised in a Pathan Family, with their great ancestor Rohilla Chief Hafiz Khan having a history of both cordial and disruptive relations with the British. In her formative years, she underwent education in a Purdah School along with her sisters and later went on to attend Queen Mary's School at Lahore. The atmosphere of nationalism with the non-cooperation movement and the call to restore the Caliphate affected her deeply. She refrains from letting herself be categorised within the binary of Communist vs. Nationalist by the interviewer, rather she says it was all in one at the same time– a mixture of sorts. It reflects the birth of multiple ideologies at the same time. The Islamic call to restore the Caliph, the communist teachings, and the nationalist zeal to fight the British all had an impact on her young formative mind. The streamlining of ideologies into communist v/s nationalist and vice-versa happened at a much later stage and in a different context as can be seen in her later speech "Why women should vote the Communist".
Hajrah Begum's first marriage ended early, which was a topic of interest for the interviewer in her oral history account. She had to explain her 'progressive' ways and 'independent thinking' by explaining as a matter of fact that there was no connection between her husband and her. It had been hard for her husband too. She would ponder, "Why should I bother to leave him? Why should I want to leave him? What was it? But it was both political and personal. The fact is that I was not happy with him. If I had been happy with him, politics or no politics, I would have stayed on." (OHP,NMML)
After her marriage broke off, she continued her studies in London, England where she came in contact with the Marxist circles of Sajjad Zaheer. Being a woman, her entry was looked down upon. There was mutual distrust about believing in women's capability in carrying out secret operations. But she was able to confront this with the support of Sajjad Zaheer who like the communist leaders of the time was now thinking along lines of utilising women's labour for illegal secret work back home.
She deliberated on the COIMNTERN meetings that happened in the inter-war period to decide on the route to be taken by the communist party in order to fight against the fascist powers. She even attended a meeting at Soviet Union with her group's international friends. She said it helped her a lot in honing her skills and knowledge about Marxism which bore fruits when she talked about it at home. It was a turning point in her life, driving her close to her career as a politician. Her visit to Soviet Union was an eye opener. She learned that in reality it wasn't a paradise as Soviet claimed it to be. Even though people were filled with the promise of greater and more egalitarian future, they lacked basic necessities like shoes and houses.
After joining AIWC, Hajrah Begum realised its pit-falls as an elitist organisation being run by the rich and upper-caste women. She worked for a separate mass organisation for women. She believed that there were certain issues that united women of all classes and economic background.
"…there are certain things which are common to all women, against which they will revolt, against which they will fight. For e.g. the very fact they do not have right to property.", asserted Hajrah Begum in her interview with Nehru Memorial Museum and Library.
Further, she introspected on the lack of success of women's movement in India. She believed that the segregated lives that women have been living for centuries deeply impacted their own confidence. Even in their political lives, they lived segregated lives within the party. They had certain tasks designated as women's work which they were expected to perform and were distinct from that of men's domain. Women were expected to rely on men for all their financial issues and listen to their meetings even within the party organisation and then communicate to their own sex. She felt that this segregation has been a catalyst in making men never feel responsible for women's movement and their empowerment. This had affected in turning even the few positions women are given inside party organisation.
She believed that women's subjugated roles in their families and limited roles in the public sphere acted as a barrier in understanding the true meaning of the slogan 'equal rights for women'. It is remarkable that Hajrah Begum emphasised on the perpetual inequality of women's everyday existence. This was also transmitted in the politics around women. There were no woman leaders among the women workers or the kisaan women and as a result the leadership roles were confined to middle class women who were petty bourgiosie. She disliked this segregation of men and women and of different sections within women as a category.
Hajrah Begum had worked among the Julahas in Azamgarh, Kisaan workers around Allahabad, Rae Bareli, then in mid 1940s she worked amongst the teachers in cities. The women in the villages who helped in hiding her comrades were even ready to take the bullets. In Kanpur, she worked amongst the tannery workers and textile workers. She was frustrated with the inability of the party ideology to seep through the remotest areas and also with women being unable to come out of their own groups and work for the larger cause of other affected sections of women.
She later married to Z. A. Ahmed by her choice and their marriage was performed by M. Ashraf in the Party way. During the period from 1948-51, she went underground to escape detention. For a woman to live life hidden in mohallas and villages as most of them were housewives was easier because they were aware of how to conduct themselves within the house. However it was also difficult as women were always expected to be 'accompanied' by a 'guardian' so as to facilitate their movement during the hiding period. She learnt a lot from her fellow comrades who were housewives
https://feminisminindia.com/2020/03/27/hajrah-begum-the-communist-leader/
------
Women, girls, health workers must not be overlooked in global COVID-19 response
26 Mar 2020
With each passing day, the scale of the COVID-19 crisis and its consequences are becoming ever more apparent and alarming.
UNFPA, the United Nations sexual and reproductive health agency, stands in solidarity with all those responding to the novel coronavirus: from the medical staff and volunteers bravely tending to the sick, to the bus drivers and care-workers who have been catapulted onto the front line of the response. And we grieve with the growing number of those who have lost loved ones in the greatest global health crisis in a century.
COVID-19 is testing the international community. Yet UNFPA's work with governments, partners, UN agencies and donors is continuing, and ramping up. Business continuity plans are in place at all levels, and our commitment to serving the most vulnerable and hard to reach is stronger than ever.
As with most crises, this pandemic has severely disrupted access to life-saving sexual and reproductive health services and hampered authorities' ability to respond to gender-based violence, at a time when women and girls need these services most. UNFPA is working with governments and partners to prioritize the particular needs of women and girls, in line with our goals to end unmet need for family planning, end preventable maternal deaths, and end gender-based violence and harmful practices by 2030.
We have appealed to donors to fund our COVID-19 response targeting countries with weak public health and social support systems, including countries in fragile and humanitarian situations, and are provisionally projecting a cost of US$187.5 million. UNFPA's efforts will focus on strengthening health systems, procuring and delivering essential supplies to protect health workers, ensuring access to sexual and reproductive health and gender-based violence services, and promoting risk communication and community engagement.
Now is a time for solidarity, resolve and selflessness. We must not forget that there are people we may not immediately see, who are at great risk as a result of the consequences of the crisis:
The pregnant women, who need antenatal care, but are unsure whether it is safe to go to the clinic. The women in abusive relationships trapped at home for the foreseeable future and fearing for their safety. The tens of millions of people in refugee camps, who are counting down the days until the coronavirus arrives, and for whom social distancing is simply not an option. The older people, many of whom are trapped in isolation, starved of social interaction and who are particularly vulnerable to becoming seriously ill from the virus.
UNFPA is providing material support to affected health systems and protecting health workers and midwives. In China, Iran and the Philippines, for instance, we distributed essential hygiene and other items to the most vulnerable and personal protective equipment to health workers. And in Moldova we have launched an online dashboard for the health system that shows its current caseload, disaggregated by location, sex, age and pregnancy status.
But we need to do much more to ensure that the most intimate, yet essential, needs of the world's women and girls are met while we battle COVID-19 during the challenging months ahead. UNFPA has outlined what we need to do in a number of guidance documents recently published on UNFPA.org on these topics.
This global scourge requires a global response. We urge the international community to come to the help of all those affected by the crisis: both those with COVID-19 and those who are trapped in isolation, denied the services they desperately need. Please join us in standing up for the dignity and health of women and girls when they need us most.
https://reliefweb.int/report/world/women-girls-health-workers-must-not-be-overlooked-global-covid-19-response
----
Women change the world: NASA astronaut Christina Koch on what it's like being a woman in space
EMILY CHAN
27 MAR 2020
NASA astronaut Christina Koch is undoubtedly a force to be reckoned with. In February 2020, she set the record for the longest space flight ever completed by a woman after 328 days on the International Space Station — and 5,248 orbits around Earth. Not content with that, she and fellow astronaut Jessica Meir also took part in the first ever all-female spacewalk in October 2019, enshrining their names in the history books. "I don't actually remember a time when I didn't want to be an astronaut," Koch, 41, tells Vogue, a month after returning to Earth. "[I'm in a] very privileged position of achieving this dream that I've had my whole life."
It's certainly been a long journey for Koch to get to this point. After graduating from North Carolina State University, she worked at NASA as an electrical engineer, before spending time as a researcher in the chilly climes of Antarctica and Greenland. "I wanted to follow my passions and gather a really wide breadth of experience," she explains. "I decided that if I could look back on the skills that I had acquired through my career and say, 'Yes, I could actually give something back to the [NASA astronaut] programme,' only then would I actually apply to be an astronaut."
Koch, who specialised in microgravity while in outer space, follows in the footsteps of a long line of pioneering female astronauts, from Russian cosmonaut Valentina Tereshkova, who became the first woman in space in 1963, to Sally Ride, the first American woman in space in 1983. Here, she speaks to Vogue about discovering new frontiers as a woman in space, the challenges that she's encountered and why space exploration is valuable to us all.
"First and foremost, it feels like an honour to follow in the footsteps of my heroes, the people who paved the way for me to be here. I feel a great sense of responsibility to pay that forward, to continue to mentor the explorers of the future. The biggest hope I have for the record is that it's exceeded as soon as possible; that means we're continuing to push the barriers. I look forward to seeing it broken, hopefully one day soon, by someone whom I've had the honour to mentor and watch achieve their dreams."
"Jessica and I tried to downplay [the fact that it would be] the first all-female spacewalk [beforehand] because we had such a huge technical responsibility to get through; we were extremely focused on the mission at hand. But there was definitely a moment I'll never forget after we [left] the airlock and were both outside in open space; we caught each other's eye, smiled and both knew what it meant.
"The true accomplishment isn't just that two people went out the airlock; it's that we, as a larger mission, as an agency, have decided to go for all. The mission is to explore for all of humanity."
You were originally meant to take part in the first all-female spacewalk with astronaut Anne McClain in March 2019, but it was cancelled due to sizing issues with the spacesuits. Was that frustrating?
"Anne McClain made the call that she would prefer not to do that spacewalk in a suit that wasn't the right size for her very early on in my mission. I was happy that she felt empowered to make that decision and that no one at NASA second-guessed her or asked her to change her mind because of the previous announcement about it [being the first all-female spacewalk]. I thought that spoke volumes about where we [are] at."
"The spacewalk is really the example that everyone might point to as an area where we still see barriers that tend to affect women more than men, simply because of our differently sized bodies. When spacesuits were being designed 30 to 40 years ago, the [NASA] Astronaut Corps looked very different than it does now; it designed a suit to fit the median [male astronaut] and figured it would downsize from there. [It is] a tangible example that a lot of different industries can learn from; there are these legacy issues that may still disproportionately affect women.
"My astronaut class was the first class that had equal numbers of men and women. When we came through the door, [the women] were expected to excel just as much as anyone else. We were given the support and the resources to make sure that happened."
"That is actually still an active area of research. There have been more than 560 humans who have spent time in space. Only about 65 of them have been women, so drawing overarching scientific conclusions is still tough. In general, one conclusion is clear and that is that so far, there is no evidence of any difference between men and women in the resiliency and robustness to both adapting to space and recovery on the ground after return.
"I consider myself lucky to have been able to contribute to further study of the human body's adaptation to long-duration flight so that we can design the best possible future missions deeper into space."
NASA mathematician Katherine Johnson sadly passed away in February 2020, aged 101. Many didn't know her story until the film Hidden Figures came out in 2016. Do you think the history of women, and also women of colour, working in space is now becoming better known?
"Yes, and I was actually one of the people who was not aware of those contributions. I have now read a couple of different books about the women [human] computers who worked at the JPL [Jet Propulsion Laboratory], and they've been extremely inspiring for me. It is wonderful that [these contributions are] being highlighted. It's a privilege to be a part of this programme at a time when women have a role at the table, but the truth is we've always had a role; the difference is that now, it's more in the forefront.
"It's important to know the history because of what you can draw from it going forward. Hidden Figures, the movie and the book, highlighted how much people were able to overcome. One thing I draw from it is that in this age where maybe the biases are more implicit—but are very much there—we still have to look for evidence of them and root them out."
"The big one is how adaptable the human body is to space flight. It is such a foreign environment; when you first get there, you feel like you've been born again. You have to learn how to do the simplest of normal everyday tasks in space and on a space station. Then, a couple of weeks into it, you don't even notice that you're floating anymore. The body adapts, your mind learns to map things in 3D, you learn how to get around using your hands with handrails and hooking your feet under foot rails."
"Then, of course, there's reintegrating into society; learning how to do normal things such as grocery shopping. We joke and say the laundry detergent section is very intimidating when you show up on Earth because you're not used to having more than one choice for anything. I hadn't even picked out my own clothes in over a year — everything had just been provided for me."
People often ask why we're spending so much money on space exploration when we're facing so many issues on Earth, including the climate crisis. What is your response to that?
"My answer is two-fold: one, there are the technical benefits that we see. There are spin-offs, the opportunity to research things such as climate change, pharmaceuticals. But even bigger than that is the aspect of inspiration, particularly in STEM [Science, Technology, Engineering and Mathematics] fields. Right now, innovative ideas and people who are inspired to explore both the frontiers of knowledge, as well as the frontiers of our universe, are what we're all looking for. Unless we're moving forward, we're moving backward."
"Absolutely. I'd love to contribute in any way that I can; there's a lot I can do here on the ground. I'm looking forward to applying a lot of the things I learned in space down here and then having the opportunity to get back up there."
https://www.vogue.com.au/culture/features/women-change-the-world-nasa-astronaut-christina-koch-on-what-its-like-being-a-woman-in-space/news-story/d4d89776bfba92c2caa329f9b7550872
------
Asma Elbadawi: The Sudanese who lobbied the basketball association to remove a ban on hijabs
27-03-2020
Asma Elbadawi is a celebrated basketball player and coach who was born in Sudan and raised in England. She and her friends succeeded in getting over 130,000 people to sign an online petition, and that resulted in FIBA reversing its decision and overturning a ban on hijabs in professional basketball.
In 2017, she petitioned and succeeded in convincing the International Basketball Association to remove a ban on hijabs and religious headwear in the professional sport.
Through her career, she has battled stereotypes. "I felt like the meaning of strong for me was to be masculine and get the job done without feeling anything," Elbadawi said.
She recalled her love for sports was questioned as anti-hijab comments came her way. "Why can't you just take off your hijab and play sports? If you love sports that much, just take it off," Elbadawi told CNN.
Elbadawi lives in Bradford in northern England and plays with the hijab. Now she stays true to herself, her religion and her passion for the sport. She's played for the University of Sunderland, Bradford Dragons and Bradford Cobras.
Apart from being an athlete, Elbadawi is an activist and also a successful spoken word poet whose dual cultural heritage deeply influences her creativity, coupled with a passion for international development and female empowerment.
In 2016, she won BBC Radio 1xtra's Words First competition in Leeds. Some of her performances include: The bradford literature festivals, liverpool acoustic festival, Word of mouth, London as well as performances in both Sudan and Malaysia.
Elbadawi holds a BA Hons in Photography, Video and Digital Imaging as well as a Masters in Visual Arts. She has had poetry pieces published in a Muslim women's Anthology titled "The things I would tell you".
She said a primary motivation which fuels her obsession with achieving her very best in whatever she turns her hand to is the feeling that she had no relatable role models in popular culture whilst growing up in Yorkshire. Elbadawi is bent on changing this, she wants to "be the change she wished to see in the world".
She worked with secondary schools to discuss gender issues and life skills with pupils during a charitable placement in Tanzania. She ran a series of discussion groups which were inspired by her love for basketball.
She began a basketball session for boys and girls based around the idea of gender equality and teamwork. "As a woman coaching the boys, I was the talk of the town. But they were totally fine with it," she said. "They listened to me. No-one ever disrespected me. No-one ever shouted over me. Plus, they'd seen me play!"
Still leading a successful basketball career, Elbadawi wants to encourage more women, especially Muslim women to participate in sports. "Sport was a part of my life. It always had its own time and space," she said.
"Everything that I learned in sports, I then apply in my real life and I think that's why I was really passionate about Muslim women being able to take part in sports and to play in high levels"
Elbadawi has proven that basketball is an inclusive sport, accepting of all regardless of faith or gender. Last year, she was named Rising Athlete of the Year at the British Muslim Awards.
https://face2faceafrica.com/article/asma-elbadawi-the-sudanese-who-lobbied-the-basketball-association-to-remove-a-ban-on-hijabs
-----
URL: https://www.newageislam.com/islam-women-feminism/the-shaheen-bagh-protest-eyes/d/121418
New Age Islam, Islam Online, Islamic Website, African Muslim News, Arab World News, South Asia News, Indian Muslim News, World Muslim News, Women in Islam, Islamic Feminism, Arab Women, Women In Arab, Islamophobia in America, Muslim Women in West, Islam Women and Feminism