New Age Islam News Bureau
4 Feb 2020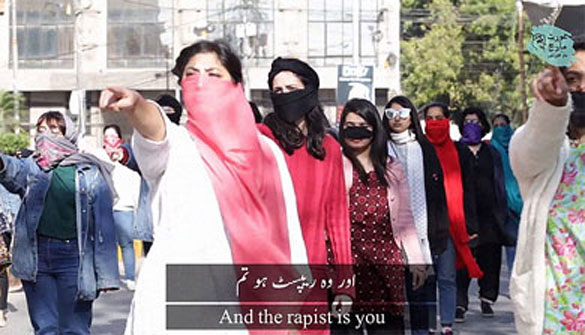 YouTube/Aur Woh Rapist Ho Tum/Aurat March/Screenshot via Geo.tv
------
• Pune Based Muslim Woman Seeks Right to Offer Namaz in Mosques 5 Times A Day
• Arab Women Sports Gets Under Way with Fanfare in Sharjah
• Top Stars to Compete In Dubai Women's Cycle Tour
• Women with Disabilities Urge for Equal Rights in All Sectors
• Afghan Rights Group Investigating Video of Woman Being Stoned To Death
• Egypt Arrests 32 Women From Prominent North Sinai Tribe
• Girls School Set On Fire in Afghanistan by Taliban
• UAE's Hawra, Fatima Strike Gold In Arab Women Sports Tournament
• Saudi Arabia: 46% Women among 17,000 People Applied To Register As Conciliators
Compiled By New Age Islam News Bureau
URL: https://www.newageislam.com/islam-women-feminism/the-rapist-you-aurat-marchers/d/120975
--------
'The Rapist Is You': Aurat Marchers Release Urdu Version of the Chilean Anti-Rape Anthem
Feb 4, 2020
The organisers of annually-held Aurat March have released the Urdu version of the Chilean protest song A Rapist in Your Path that talks about rape culture and victim-shaming.
A Rapist in Your Path is based on the work of Argentinian theorist Rita Segato, who debates that sexual violence is a political problem, not a moral one. The anthem has been performed in Latin America, the United States and Europe.
According to a statement by the Aurat March, the song condemns the judicial system's failure to protect women and their rights and raises awareness about the culture of violence in society. It says this culture is growing, with acts of violence being normalized and women being shamed and often blamed after reporting such acts.
The lyrics accuse the institutions – police, judiciary and political power structures – of upholding "systematic violations" of women's rights.
"The rapist is you. It's the cops. The judges. The state. The president. The law. The feudal. The clerics".
The organisers have also made some additions to the original lyrics to include feudal and clerics in the song. Another part of the song describes the ways how women are blamed for falling victim to sexual violence.
"And it's not my fault, nor where I was, nor what I wore," it says, adding: "The rapist is you".
https://www.pakistantoday.com.pk/2020/02/03/the-rapist-is-you-aurat-marchers-release-urdu-version-of-anti-rape-anthem/
--------
Pune Based Muslim Woman Seeks Right to Offer Namaz in Mosques 5 Times A Day
Feb 4, 2020
NEW DELHI: Discounting the All India Muslim Personal Law Board's ambivalent stand which appeared to support entry of women into mosques, a Pune-based Muslim couple asked the Supreme Court on Monday to direct mosque managements to allow women to offer Namaz five times a day in Masjids after making provision for separate enclosures.
The AIMPLB had told the SC last week, "A Muslim woman is free to enter Masjid for prayers. It is her option to exercise her right to avail such facilities as available for prayers in masjid. AIMPLB does not want to comment on any contrary religious opinion on this issue."
Refusing to join issue with others in the community who believe Muslim women should not enter mosques, the AIMPLB had said, "Islam has not made it obligatory on Muslim women to join congregational prayers nor is it obligatory for women to offer Friday namaz in congregation though it is so for Muslim men." But the petitioners — Yasmeen Zuber Ahmad Peerzade and her husband Zuber Ahmad Nazeer Ahmad Peerzade from Pune — said in an affidavit that they had written to the president and trustees of Mohammadiya Jama Masjid, Jamatul Muslimeen, Bopodi, Pune, seeking permission to enter the mosque and offer namaz five times daily as well as other namaz like 'Juma namaz', 'taravih namaz' and 'Eid namaz'.
They also said the mosque management should provide "facilities for offering of namaz while being allowed to maintain their purdah, that is in a segregated place screened from men".
https://timesofindia.indiatimes.com/india/muslim-woman-seeks-right-to-offer-namaz-in-mosques-5-times-a-day/articleshow/73923920.cms
--------
Arab Women Sports Gets Under Way with Fanfare in Sharjah
February 03, 2020
Sharjah: Shaikha Jawaher Bint Mohammad Al Qasimi, Wife of His Highness Dr Shaikh Sultan Bin Mohammad Al Qasimi, Supreme Council Member and Ruler of Sharjah, witnessed the opening ceremony of the fifth edition of Arab Women Sports Tournament (AWST) on Sunday.
Organised by Sharjah Women's Sports and running till February 12 across various sporting venues in Sharjah, a record number of 78 clubs from 18 Arab nations are participating in AWST 2020.
Welcoming all participating Arab nations, Shaikha Jawaher, who is Chairperson of the Sharjah Women's Sports (SWS), highlighted the regional importance of the tournament, and the key role it plays in supporting sportswomen's dreams and ambitions.
"Through your determination and intensive efforts, you and your peers in the Arab world have achieved many feats that make us proud. Arab sportswomen are successfully changing the realities of the region by following their dreams with resolve; rewriting traditional narratives of duty and achievement attributed to Arab women. This tournament furthers Sharjah's commitment to making sports more inclusive and accessible to women, a pillar of the region's development journey and a bridge between cultures," she observed.
She thanked Shaikh Dr Sultan for continuously supporting women through directives to provide all that is necessary to empower them in all fields.
The UAE tops the participants' list with 15 clubs who will be competing across AWST's nine sporting categories, namely shooting, basketball, volleyball, table tennis, athletics, show jumping, fencing, archery and karate.
The next biggest participation is from Saudi Arabia with 12 clubs who are participating in all sports, except shooting. Eight clubs from Bahrain, six from Kuwait and three clubs from Oman are also competing.
The ceremony was also attended by Dr Ashraf Sobhi, Minister of Youth and Sports in Egypt; Shaikh Khalid Bin Ahmad Al Qasimi, Head of SOC; Prince Talal Bin Badr Bin Saud Bin Abdulaziz Al Saud, President of the Arabian Sports Council (ASC) and Chairman of the Union of Arab National Olympic Committees (UANOC); Shaikha Hayat Bint Abdulaziz Al Khalifa, Chairperson of AWST's Preparatory Committee; Shaikh Saqr Bin Mohammad Al Qasimi, Chairman of the Sharjah Sports Council; Shaikh Salem Bin Sultan Al Qasimi, President of the Arab and UAE Fencing Federation; Nada Askar Al Naqbi, Deputy Head of the SOC of AWST, Head of the Executive Committee and Director General of SWS; and a host of high-profile officials and media representatives.
The basketball, volleyball, karate, archery and showjumping competitions got under way from Monday. The table tennis matches will get underway on Tuesday while track and field competitions will be held on Saturday (February 8), followed by fencing the following day.
A session titled 'Future of Women Sports in Arab Media' will be held on the sidelines of the competition, on Tuesday. This session will target Arab sports media professionals and influencers and will be aimed at highlighting opportunities and challenges in women's sports, and present suggestions to the media industry and decision-makers to augment their role in advancing women's sports.
https://gulfnews.com/sport/uae-sport/arab-women-sports-gets-under-way-with-fanfare-in-sharjah-1.69461394
--------
Top Stars to Compete In Dubai Women's Cycle Tour
February 3, 2020
The opening Nshama stage will take riders on a 99-km route from the start at Dubai Festival City, through some intriguing desert landscapes to finish at Town Square Dubai, the mega project on Al Qudra Road.
Some of the top names in professional cycling - Mark Cavendish, Marcel Kittel, and Elia Viviani have become regular visitors, and winners, in Dubai in recent years.
But history will be made as riders from 16 international women's teams hailing from 13 different countries line up at the start of the inaugural Dubai Women's Cycle Tour in just two weeks.
Among them will be the team sure to get the most support during the four-day event, the UAE Women's team. They have a tough task ahead, taking on some of the best riders in the world, with the likes of top European outfits Doltcini-Van Eyck Sport, Andy Schleck Cycles-Immo Losch and UCI Women's Continental team Ciclotel also confirmed among the field.
UCI Women's Continental team Doltcini-Van Eyck Sport is home to the current Belgian national champion while Canada's Macogep Tornatech Girondins boasts an under-23 national road race and time trial champion in their line-up. Mexican outfit Agolico BMC, meanwhile, is home to last year's Pan American Road Cycling Championship winner. And Italy's Aromitalia-Basso Bikes-Vaiano even features a 2019 stage winner of the prestigious Giro Rosa - the women's equivalent of the Giro d'Italia.
In addition there are several teams whose formation alone has provided a breakthrough in the promotion of women's cycling across regions such as Asia, Eastern Europe and the Middle East.
Noura Al Jasmi, Dubai Women's Tour Director and UAE Cycling Board Member said: "The calibre of athlete, and the teams that have registered to compete are of the highest level in the sport and we expect some fierce, quality racing over the four-day event. Our Federation, under the leadership of president Osama Al Shafar, is extremely committed to making this become one of the must-participate and must-watch races on the UCI and Dubai-sporting calendars, and we anticipate this tour will inspire the next generation of young Emirati girls to follow in the footsteps of our current women's national team and the possibility of representing their country on the world stage."
Expressing her excitement, UAE cyclist, Safia Al Sayegh said: "It's very exciting to me for an event like this to be coming and be hosted in the UAE, especially in my home city Dubai, for the very first time. All my teammates are looking forward with passion for the tour, and we can't wait for it to kick-off. We hope we can race hard and safely to inspire more girls, especially Emiratis to join this sport."
Under the patronage of Sheikha Hind Maktoum bin Juma Al Maktoum, managed by The UAE Cycling Federation and supported by the Dubai Sports Council, The Dubai Women's Tour will be contested over four stages from Feb. 17-20.
The opening Nshama stage will take riders on a 99-km route from the start at Dubai Festival City, through some intriguing desert landscapes to finish at Town Square Dubai, the mega project on Al Qudra Road.
The Dubai Duty Free second stage will once again start at Dubai Festival City and pass the famous Nad Al Sheba racecourse in its 106-km course to the Springs Souk. The General Authority for Sports third stage will be one for the climbers as riders head into the picturesque Hatta Mountains. The teams will start from Wadi Hatta Park and finish 90-km later at the spectacular Hatta Dam.
The fourth and final Dubai Health Authority stage will once again take the teams back to the city, with the start and finish at Dubai Festival City.
Riders will take a looping course around the Dubai Creek and through the traditional downtown area of the city before the first ever Dubai Women's Cycle Tour champion will be crowned 112-km later at the finish.
The jerseys that will be worn by the leading riders during the Tour have been revealed with the overall Nshama General Classification leader donning a striking red. The General Authority for Sports Sprint leader will be in green, the Dubai Health Authority leading climber in pink and the Dubai Duty Free best Young - Under 23 - rider clad in white.
Fred Durie, CEO Nshama said: "We're excited and proud to embark on this partnership for the inaugural Dubai Women's Tour, which will have its first stage, dubbed 'Nshama', end at Town Square Dubai - our flagship community. Town Square Dubai has been designed with emphasis on promoting active lifestyles for residents with key amenities including a cycling track that's actively used by women and children alike." "This partnership solidifies our commitment to building communities that encourage outdoor cycling and active sports. We look forward to welcoming the participants and visitors who will turn up to support the various teams."
Colm McLoughlin, Executive Vice Chairman & CEO Dubai Duty Free said: "We are proud to be associated with the UAE Cycling Federation, and the Dubai Sports Council, on staging the inaugural Dubai Women's Tour taking place this month. I am sure that this event will be successful and will become a part of Dubai's sporting calendar. We are equally excited to promote this event alongside our own tournament, the Dubai Duty Free Tennis Championships - Women's week, running concurrently with the Tour, which is celebrating its 20th anniversary this year."
Al Jasmi has also confirmed that the Tour will be broadcast through the support of Dubai Sports TV and Dubai Studio City.
Majed Al Suwaidi, Managing Director of Dubai Media City, Dubai Studio City and Dubai Production City, said: "Dubai Studio City is proud to sponsor the Dubai Women's Tour. Our backing of the event represents a natural synergy, as it aligns with our keenness to support local initiatives and our efforts to empower women across the board. Furthermore, the route for the 17 and 18 February races will pass through our community, and we look forward to welcoming the inspiring sportswomen from across the globe."
"We extend our sincere gratitude to Sheikha Hind Maktoum Bin Juma Al Maktoum, the Dubai Sports Council and to our esteemed sponsors and partners for their commitment and support of the inaugural race." added Al Jasmi.
https://www.khaleejtimes.com/sport/local/top-stars-to-compete-in-dubai-womens-cycle-tour
--------
Women with Disabilities Urge for Equal Rights in All Sectors
February 4, 2020
Islamabad:Women with Disabilities Monday urged the authorities concerned to play an active role in providing equal rights in health care, education, vocational training, employment and income generation opportunities.
Women with Disabilities (WWD) are one of the most marginalised groups in society. Sidra Batool disable women told "Women with disabilities face significantly more difficulties in both public and private sphere."
She said that they face challenges in attaining education, health, housing , vocational training and employment". They also experience inequality in hiring, promotion rates and pay for equal work, she further said.
She suggested the WPC to make a working group to address issues faced by women with disabilities. Secretary Women's Parliamentary Caucus Munaza Hassan assured complete support of Women Parliamentary Caucus (WPC) for women with disabilities and said that women with disabilities will be part of all WPC initiatives in future.
She said that 10 to 15 per cent people in Pakistan were disabled and half of them were women. She said that 80 per cent of the women with disabilities live in rural areas. They were living in the most vulnerable conditions, which makes everyday living a challenge in itself.
They were excluded from the mainstream of education, health and development and were perceived as a loss of productive potential and a drain on family resources. She said that Pakistani women with disabilities have played a lead role in bringing the agenda of WDDs in Sustainable Development Goals.
https://www.thenews.com.pk/print/608782-women-with-disabilities-urge-for-equal-rights-in-all-sectors
--------
Afghan Rights Group Investigating Video of Woman Being Stoned To Death
February 03, 2020
By Frud Bezhan
Afghanistan's Independent Human Rights Commission (AIHRC) says it is investigating video footage that shows an Afghan woman being stoned to death.
The two-minute clip shows a group of men throwing rocks at a covered woman who is lying in a hole that has been dug in the ground. A crowd of onlookers can be heard shouting "Hit her!" and "Allahu Akbar!"
The woman's cries and screams can be heard.
The AIHRC told RFE/RL that it is trying to discover exactly when and where the video was shot, and why the woman was killed.
The Taliban claims the footage is from the same October 2015 stoning that RFE/RL previously obtained footage of -- a case in which a 19-year-old woman in the central province of Ghor was killed for alleged adultery.
The Taliban also said the stoning had been carried out by a pro-government militia commander.
But local officials blamed Taliban militants for the 2015 execution. The victim, identified as Rokhshana, had been accused of having premarital sex with her fiance. The incident took place in the village of Ghalmin on the outskirts of Firoz Koh, the provincial capital.
But Afghan journalists and activists say the new footage, which was first uploaded on social media on January 30, documents a more recent stoning in the Taywara district of Ghor Province.
Ghor, a mountainous and remote province in Afghanistan's central highlands, is one of the most impoverished and unstable areas of the country. The provincial government's power extends little beyond Firoz Koh.
The Taliban and dozens of illegal, armed groups run by former warlords and militia leaders are active in Ghor -- a key transit route for shipments through Afghanistan of weapons and opium.
'Atrocious Acts'
The new footage prompted outrage from Afghan social-media users. Many have blamed the Taliban.
The Taliban is locked in peace negotiations with the United States and has held talks with Afghan politicians about a political solution to end Afghanistan's 18-year-old war.
The peace talks have provoked controversy among some Afghans who view the Taliban as terrorists who should not be negotiated with.
"I am utterly shocked and saddened after I watched a video on Twitter in which a group of Taliban is stoning an innocent woman," Sediq Sediqqi, the spokesman for President Ashraf Ghani, wrote on Twitter on February 1. "Taliban's cruelty and atrocity under the name of Islam is a crime against humanity."
In response, the Taliban said on Twitter that the punishment of stoning for adultery is an "Islamic ruling that cannot be rejected by any Muslim."
But the Taliban said it was not involved. It claimed the recently uploaded video showed a stoning carried out in 2015 by Sa'eedi Yar, the commander of a pro-government militia.
The Taliban's claim failed to quell a flood of condemnation directed at the militant group.
"The Taliban stoned this woman a few days ago in Ghor Province," Laila Haidari, an Afghan activist, posted on Twitter on February 1. "But where in the world does a group claiming to build a state commit such atrocious acts?"
"A testament that the Taliban, their fragile masculinity, barbarism & inhumane ideology, has not changed," Afghan rights activist Farangies Shah tweeted on February 1. "Yet the US continues to flirt with the idea of negotiating power with them -- under the guise of peace."
"Cultural poverty and extremism are worse than the catastrophe of explosions and suicide attacks," Afghan women's rights activist Fatima Khan tweeted on January 31.
Capital Punishment
While it is unclear why the woman in the video was punished, unmarried girls in Afghanistan are often restricted to their homes and banned from having contact with men outside of their immediate families.
Brutal punishments often await Afghan women and girls who break social norms.
Death by stoning for convicted adulterers is banned under Afghan law, although offenders face long prison terms for adultery. The penal code, originating in 1976, makes no provision for the use of stoning.
Afghanistan's constitution prescribes that "no law can be contrary to the beliefs and provisions of the sacred religion of Islam" and sometimes appears at odds with more liberal and democratic elements within it.
Capital punishment was widely practiced by the Taliban regime that ruled much of the country from 1996-2001, when convicted adulterers were routinely shot or stoned in executions conducted in front of large crowds.
In rural areas, where Taliban militants exert considerable influence, some Afghans still turn to Taliban tribunals to settle disputes because many view government bodies as corrupt or unreliable.
The Taliban employs strict interpretations of Shari'a law, which prescribes punishments such as stoning and executions.
In many Taliban-controlled areas, men or women found guilty of having a relationship outside of marriage or an extramarital affair are either sentenced to death or publicly flogged.
Afghan officials often blame the Taliban for such punishments.
https://www.rferl.org/a/afghan-rights-group-investigates-video-of-woman-being-stoned-to-death/30414665.html
--------
Egypt Arrests 32 Women From Prominent North Sinai Tribe
February 3, 2020
Thirty-two women from the Fawakhira tribe in North Sinai have been arrested, according to Al Jazeera Arabic.
Following the announcement of US President Donald Trump's peace plan last week, the threat level in Sinai has been raised to the highest point. Security forces say they are pre-empting developments in the Gaza Strip.
Under the war on terror, authorities have been carrying out systematic human rights abuses against the local population in Sinai, including extrajudicial killings, land displacement and the demolition of homes.
Several observers have said Egypt is preparing the peninsula for Trump's so-called deal of the century, under which the North African state will receive $9 billion of investment.
In anticipation of resistance, Egypt has cracked down on anyone opposing the peace plan, including the son of the former acting Prime Minister Nabil Shaath and his colleague Mohamed El-Massry.
Egypt's intelligence agency has tried to control the narrative and warned newspaper editors not to refer to the US peace proposal as the "deal of the century" but as the "peace plan".
It also instructed editors not to focus on the religious or national elements of the plan and to emphasise the pivotal role of Egypt on the Israeli-Palestinian conflict.
https://www.middleeastmonitor.com/20200203-egypt-arrests-32-women-from-prominent-north-sinai-tribe/
--------
Girls School Set On Fire in Afghanistan by Taliban
03 Feb 2020
Taliban militants set a girl school on fire in the northern Takhar province, an official said.
Nasrat Rahimi a spokesperson to the Ministry of Interior has confirmed that the Taliban insurgents have set a girl school on fire in the Bodala village of Taluqan city, the capital of Takhar province.
According to the reports, the incident has taken place at 11:00 o'clock in the morning.
The MOI spokesperson, Nasrat Rahimi accuses the Taliban of setting the school on fire.
The Taliban have not yet commented on this.
https://www.khaama.com/taliban-set-a-girl-school-on-fire-in-the-northern-takhar-790879086/
--------
UAE's Hawra, Fatima Strike Gold In Arab Women Sports Tournament
February 3, 2020
The first gold medal was claimed by Hawra Al Ajami from SWS in the Kumite under 50-kg category, while Fatima Khaseef clinched the second gold medal in the 68 kg and above category.
Sharjah Women's Sports athletes claimed two gold medals, one silver and two bronze in karate competitions on the first day of the fifth edition of the Arab Women Sports Tournament (AWST), organised by Sharjah Women's Sports (SWS).
The first gold medal was claimed by Hawra Al Ajami from SWS in the Kumite under 50-kg category, while Fatima Khaseef clinched the second gold medal in the 68 kg and above category. The bronze was attained by Al Yazia Ismail in the under 55-kg category. The first bronze medal was won by Sara Al Amiri in the under 61-kg category, and Salamah Jasim received the silver in the kata (forms) individual's category.
The kata (forms) individual's category gold medal was claimed by Radwa Ahmad from Egypt's Al Ahli Bank Club, while Yasmeen Al Muataweh from Kuwait's Al Fatat Sports Club received silver. The bronze went to Manal Al Zeid from KSA's Dojo Vitality Zone Fitness Club.
The top spots in the under 50kg category were dominated by GCC athletes. silver went to Rahma Al Abbasi from Bahrain Club. The bronze went to Dalal Al Saeed from Kuwaiti Al Fatat Sports Club, and Nariman Al Akroot from Algeria's Bi'r Al Touteh Club.
Egypt's Al Ahli Bank Club sportswomen Ahlam Hamdi snatched the gold medal in the under 55-kg category. Bronze went to Algeria's Bi'r Al Touteh Club athlete Rayan Deen and Asrar Al Jasim from Al Fatat Sports Club in Kuwait.
In the under 61-kg category, Raeda Megdas from Algeria's Bi'r Al Touteh Club claimed the gold medal, Nariman Mustafa from Egypt's Al Ahli Bank Club received silver. The bronze was received by Asrar Ali from Bahrain Club.
Safeya Deen from to Algeria's Bi'r Al Touteh Club claimed the gold medal in the under 68-kg category, the silver went to Farah Mousa from Egypt's Al Ahli Bank Club, while the bronze went to Nora Ahmad from Bahrain Club and Yasmeen Al Muataweh from Kuwait's Al Fatat Sports Club.
The silver medal in the 68 kg category went to Nada Eid from Egypt's Al Ahli Bank Club. Sara Al Sabah from Bahrain Club and Algerian athlete Eman Afif from Bi'r Al Touteh Club.
The first day of the tournament was marked by fierce competitions and a display of sporting talent and skills as various teams and individual sportswomen competed in basketball, volleyball, karate, archery, and show jumping.
The volleyball competitions kicked off on Monday with Algeria's Le Groupement Sportif des Pétroliers taking on Bahraini Al Ahli Club where both teams showed off their technical skills in this hotly contested match. At the end of 1 hour 2 minutes, however, the Algerian club clinched their first win of the tournament with an impressive 75 - 35 score, in a 3-set match.
All eyes were on the volleyball court where UAE's Al Wasl Club were pitted against De La Salle Club from Jordan. The early championship-level game ended with a valuable win for Al Wasl in 3 sets as the score tally touched 75 - 51 in the 1-hour and 11-minute game.
AWST's volleyball competitions on day 1 ended on a high note with a big win for UAE's Sharjah Women's Sports Club who outplayed KSA's Princess Noura University Sports Club. The UAE team won all 3 sets with a convincing score of 75-44.
Basketball
At Sharjah Women's Sports, the inaugural basketball game saw Algeria's Le Groupement Sportif des Pétroliers dominate the 4-quarters against Elite Athletes Club from KSA in a largely one-sided competition as they took home a 79-point lead in the final tally of 115-36.
https://www.khaleejtimes.com/uaes-hawra-fatima-strike-gold-in-arab-women-sports-tournament
--------
Saudi Arabia: 46% Women among 17,000 People Applied To Register As Conciliators
February 3rd, 2020
The Ministry of Justice on Sunday announced that as many as 17,000 people have applied to register as conciliators at the Reconciliation Center under the ministry. Around 7,800 of those registered within the last 20 days are women, accounting for 46 percent of the total applicants.
This comes after the Ministry of Justice, represented by the Conciliation Center, has allowed men and women to register as conciliators. It allowed individuals of both genders or from the profit and nonprofit sectors to register as conciliators. They can practice conciliation out of courts or within the courtrooms.
The conciliation minutes they issue will become executive documents once electronic approval was accorded by the Conciliation Center at the ministry. The ministry stated that the list of applicants included 278 university professors, 29 doctors, 344 accountants, 1,155 lawyers, 2,380 teachers, 211 engineers, and more than 14,600 applicants with a bachelor's degree, while 1,785 applicants hold a master's degree, and 417 applicants hold a doctorate.
The ministry confirmed that the applicants have pledged their commitment to more than 220,000 voluntary reconciliation sessions, as applicants are required to submit a minimum of 10 sessions within a year.
The ministry indicated that the application phase will be followed by the completion of registration through a capacity test and passing courses and personal interviews. "The registered conciliator can involve in conciliation in several existing disputes between the two parties to one conflict, even if the conciliator's area of specialization differs, and the resolution procedures will be fully digitized.
They begin with submitting an application for beginning a conciliation process, then to submit a report whether it has been a success or failure, so that the minutes for the reconciliation sessions can be adopted in the court's minutes via a remote digital system."
The Ministry of Justice has given the registered conciliator the option to work as independent conciliator or in an office or both. He has the choice to charge a fee for providing his mediation services or provide his services for free. He can specify the number of free conciliation sessions per year, in return for registration at the center.
The specialization fields include family, financial, criminal, traffic, real estate, commercial and intellectual property rights. Minister of Justice and Chairman of the Supreme Judicial Council Sheikh Walid Al-Samaani approved the new work rules that govern the procedures at the reconciliation offices as part of the initiative to activate the reconciliation system.
https://www.albawaba.com/business/saudi-arabia-46-women-among-17000-people-applied-register-conciliators-1336755
--------
URL: https://www.newageislam.com/islam-women-feminism/the-rapist-you-aurat-marchers/d/120975
New Age Islam, Islam Online, Islamic Website, African Muslim News, Arab World News, South Asia News, Indian Muslim News, World Muslim News, Women in Islam, Islamic Feminism, Arab Women, Women In Arab, Islamophobia in America, Muslim Women in West, Islam Women and Feminism