New Age Islam News Bureau
25 Sept 2013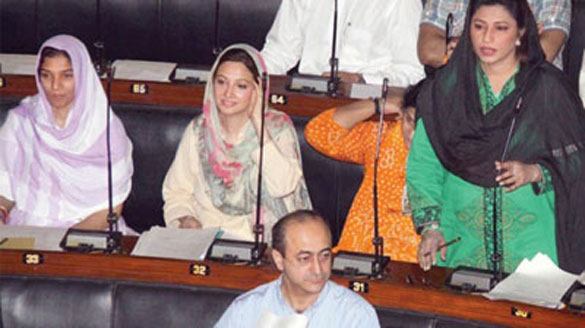 Nusrat Abbasi (extreme right) raised the topic of Shisha intake among the youth PHOTO: RASHID AJMERI/EXPRESS
---------
• Pakistan University Fines Girls for Wearing Jeans, Tights
• Child Marriages: Pak House Agrees On Age Limit, Debates on 'Better' Bill
• In South Sudan State, Women Turn to Alcohol
• Women in 15 Nations Need Spouse's Okay To Work: Report
• Saudi Women Renew Fight to Lift Driving Ban
• Khuran Sunnath Society Rejects Move To Lower Age of Marriage
• Pension Regulations 'Unfair' Toward Female Retirees of Saudi Arabia
• Many Saudi Women Using Social Media to Market Products
• Female education linked to under-5 mortality rate: UNESCO
• Women's Legal Rights 'Worst in Saudi Arabia'
• Syrian Girl Gang-Raped In Refugee Camp
• Businesswoman of Riyadh Funds SR21m Girls' Orphanage
• Afghan 'two-headed' baby in successful operation
Compiled by New Age Islam News Bureau
URL: https://www.newageislam.com/islam,-women-and-feminism/new-age-islam-news-bureau/the-quran-quoting-dress-code-issued-to-teachers-at-al-madinah-school,-uk/d/13681
------------
The Quran-Quoting Dress Code Issued To Teachers at Al-Madinah School, UK
September 25, 2013
A Christian teacher claims she was forced out of a controversial Islamic school after being put under pressure to follow an extreme Muslim dress code.
Women employees at the Al-Madinah free school were ordered not just to wear the hijab – scarf – to cover their head, but to cover the entire body and not wear symbols of other faiths.
The 50-year-old teacher has revealed the full list of rules she was made to adhere to, condemning the school for being 'more concerned about dress codes and not putting the children's education first'.
The Derby school drew criticism last week for its policy of sitting girls at the back of classrooms. Former teachers say reading fairy tales, playing musical instruments and singing are all banned.
The Christian teacher, who does not wish to be named, started work there when it opened as a multi-faith free school a year ago but left three months later after she felt the rules had become too 'strict'.
She said she was told nothing about a dress code in her interview or contract, but a month after she started the dress code handbook was distributed.
She started by wearing a head scarf or small hat, but took it off after classes, for which she was reprimanded. Shortly after that she began being 'hassled' about the rest of her clothing and, on one occasion, was sent a text from the school saying it 'insisted' on a 'modest dress code'.
She said she asked how her outfit – a business suit – was not modest and wrote to the head teacher saying she has always dressed in a professional manner.
'The skirt was well below the knee and I wore thick black tights that covered my legs,' she said.
The teacher has revealed how she was forced to resign after refusing to comply with a strict school dress code insisting all female staff wear Hijabs regardless of their religion.
She said: 'It wasn't until an induction session, just before the school opened, that female non-Muslim staff were told they must wear a head covering, which was not made clear at any time during my interview for the job or was part of any contract.
'I reluctantly complied and either wore a head scarf or small hat, but took it off when I wasn't in the classroom, but for which I was reprimanded.
'Wearing the head covering was difficult for me because I am a Christian and had I known it was compulsory for non-Muslim staff I would never have accepted the position.'
The teacher, who does not want to be named, said she was even sent a text from the school saying it 'insisted on' a 'modest dress code. Full length dress or skirt acceptable'.
She said she asked how her outfit - a business suit - was not modest. 'The skirt was well below the knee and I wore thick black tights that covered my legs', she said.
The teacher told how she was offended at the suggestion her clothes were 'immodest' and was left particularly angry after being was told to take instructions from two male teachers about what was considered 'modest'.
She said: 'I wrote back to the head pointed out that "in nearly 20 years in teaching, I have always dressed in a professional manner".'
She claims the dress code was issued in a handbook to staff in October 2012 - just one month after the school opened.
The book indicated that female staff should only have their faces and hands uncovered when in the school.
She said: 'In the interim, I had expressed my concerns to the school about being forced to wear Muslim dress but as there did not seem to be any leeway, I went on sick leave as advised by my union.
'The school then put me on "gardening leave" and I eventually left in December.
'I am extremely disappointed by my experience. The school seems to me more concerned about dress codes and not putting the children's education first.
'I also objected to the school's policy of sitting girls at the back of classrooms, to no avail. The reason given was that girls are allowed to look at boys but the boys are not allowed to look at the girls, but how can that be good for the children's education?
'I am disappointed that the school does not appear to be the multi-faith school I was excited about joining. I felt oppressed, faced with prejudice and marginalised. I also missed opportunities to take other jobs because I accepted this one.
'I have written and spoken to the Department for Education to complain about what has been happening at the school, and specifically about my experience, and am awaiting a response.'
The Daily Mail revealed on Monday that, following a series of complaints, Ofsted inspectors are to be sent to Al-Madinah 'within days' to scrutinise the quality of teaching and leadership.
This follows reports last week that former head teacher Andrew Cutts-McKay resigned from his role after alleging he was 'bullied and sidelined' by members of the school's trust, which is predominately Muslim.
Two months earlier the deputy head, Suzanne Sutherland also stepped down, allegedly citing similar reasons. The school strongly denies their claims.
Another former teacher who spoke anonymously to the Mail said the school 'was like being in Pakistan' adding: 'Boys go and eat lunch first at lunchtime and then the girls are allowed to go.'
And one woman interviewed for a position claimed she was told she was not allowed to shake hands with male teachers.
The school declined to comment.
In a letter to parents published on the school's website, the interim Principle Dr G S Wilson said: 'There has been a suggestion that female members of staff are unhappy to wear a headscarf or hijab when they are on the school site.
'In all our adverts, and whenever we interview candidates, we draw their attention to our dress code, which we have based on our interpretation of modesty within our unique Free School environment. To date, the school has not received a single concern from colleagues about this issue.
'It has also been suggested that girls are treated in a way that implies they are not equal to boys. This is totally wrong. In Primary, boys and girls have never been segregated either inside or outside the classroom.
'In Secondary, girls are seated as a group, either at one side of the classroom, or alternately at the front or the back of the room, swapping over from time to time. Our intention is to respect both genders equally. These seating arrangements have been determined purely by practicalities such as the size of the classroom.'
It is already being investigated by the Education Funding Agency, from which it receives public money, over alleged irregularities over its grants. It has already been given £1.4 million and can expect to receive more to spend on a new building.
Now it is expected that officials from the Office for Standards in Education will inspect the school within days following the furore over the dress code claims and concerns by unions over the standards of education at the school.
A Department for Education spokesman said: 'These allegations are very worrying. We have already been investigating this school for other reasons.
'Ofsted was due to inspect it this term and after discussions will bring forward its inspection.
'The DfE will not hesitate to take whatever action is necessary to prevent religious intolerance or any breaking of the rules for free schools.'
Al-Madinah is an Islamic Free school. Within the school we value and esteem our teachers and consider them to be strong role models for all of the students and representatives of the school with all external individuals and organisations.
We wish to create an Islamic environment within the school for the sake of the students and to cater for the sensitivities of the community.
Although some of the following points are not Islamically-binding upon all individuals except those who wish to adhere to the faith by choice, Al-Madinah School has adopted them as a code of dress for all teachers.
The code of dress for teachers has been adopted by the school and all teachers must adhere to it.
By signing the contract of employment with Al-Madinah school all employees agree to adhere to this policy.
1. Clothing must cover the entire body, only the hands face and feet may remain visible.
2. The material must not be so thin that one can see through it.
3. The clothing must hang loose so that the shape of the body is not apparent.
4. The design of the clothing must not display any symbols of other faiths.
5. All clothing must be full sleeved and all lower body garments must be loose and covering to the ankles.
6. Skirts must be ankle length and must be loose and flowing.
7. Teachers should not wear overt jewellery or clothing accessories.
8. Wearing of the Niqab or Burqa during work hours is not permitted.
Allah has stated in the Quran that women must guard their modesty. 'Say to the believing women that they should lower their gaze and guard their modesty; that they should not display their beauty and ornaments except what must ordinarily appear thereof.' (Quran: 24.31)
'Say to the believing man that they should lower their gaze and guard their modesty that will make for greater purity for them, and God is well acquainted with all they do.' (Quran: 24.30)
http://www.dailymail.co.uk/news/article-2430475/Islamic-school-Derbys-dress-code-forces-female-teachers-wear-hijab-regardless-religion.html#ixzz2ftsNbSfo
------------
Pakistan University fines girls for wearing jeans, tights
IKRAM JUNAIDI
2013-09-25
ISLAMABAD: The management of National University of Sciences and Technology (Nust) has made it mandatory for female students to wear 'dupatta' and put a ban on wearing 'jeans' in the premises of the university, according to sources.
The Nust's management, however, has denied the report, saying that students have been instructed to wear 'decent' dresses.
According to a notice pasted on the notice board of the university, 11 students have been fined because of different reasons, including smoking and eating in labs. As many as seven students have been fined for not wearing dupatta or wearing jeans and tights.
A document signed by Nust's Deputy Director (Administration) Abdul Nasir shows that some female students have been fined Rs500 to Rs1,000 for wearing jeans and tights and for not wearing dupatta.
According to the document, RA, a student of BBA, was fined Rs1,000 for wearing jeans and SM, another BBA student, was fined Rs500 for wearing tights.
Another five students — ZB, HA, AT, AB and SM — were asked to pay fines ranging between Rs500 and Rs1,000 for not wearing dupatta.
All the students were checked on Sept 17 and were found without dupatta.
According to a faculty member, Nust does not allow formation of academic staff association. Talking on condition of anonymity, he said no one from faculty members would comment on the issue. The environment in the university was very strict because all important administrative posts were held by retired army officers, he added.
"Male and female students are not allowed to sit together and they are fined for violation. Teachers and students know that they will be fired and rusticated if they do anything against the will of the administration," he said.
Another faculty member who works in the Rawalpindi campus of the university said that top management of the university was liberal, but junior officers were very strict and they were running the university like a 'military academy'.
TALKING POINT: The Nust issue has become much talked about among the youth of twin cities of Rawalpindi and Islamabad. They are sending messages on cellular phones to each other and posting their comments on social media networks.
A student posted on Twitter: "There is a separate cafe which boys can go to after 5 and separate cafe for girls….. Hide conversation."
Another student Tweeted: "Wow.. never had an idea Nust was the taliban markaz.. thank God I didnt submit fee there."
One student wrote: "Its the new Pro-Rector who is coming up with such awesome rules. It was bearable before."
Nust's spokesman Irshad Rao was contacted through Public Relation Officer Syed Raza Ali, but he refused to respond on the issue.
Mr Raza Ali told Dawn that he had seen the notice but he could not say anything about it because the management did not share such things with the media wing.
"As far as I know the management has instructed students to wear formal dresses and in case of violation they are fined. The Media wing will look into it on Wednesday," he added.
Personal Staff Officer of Rector Col Mohsin said that students were allowed to wear any kind of dress.
However, he added, students were not allowed to wear indecent dresses. "Shorts are not allowed in university's premises. As far as Hijab is concerned, it is up to the will of parents," he said.
When he was asked about the notice of fines, Mr Mohsin said that he was not aware of it.
http://www.dawn.com/news/1045274/nust-fines-girls-for-wearing-jeans-tights
---------
Child marriages: Pak House agrees on age limit, debates on 'better' bill
September 25, 2013
KARACHI: Members of the Sindh Assembly unanimously adopted a resolution on Tuesday recommending the provincial government to declare 18 years as the minimum age for marriage.
"No one determines the age of a girl at the time of her marriage," said Muttahida Qaumi Movement MPA Rana Ansar who moved the resolution. "We demand that a mechanism should be devised which entails a harsh punishment and heavy fine against those involved in child marriages."
Along with the resolution, a bill on child marriages, The Child Marriage Protection Bill 2013, was presented by Pakistan Peoples Party's MPA Sharmila Faruqui. "After 84 years, an amendment is being made to this law," she said, adding that child marriages create many health complications for young girls.
"The chances of a pregnancy resulting in death are much higher among minor girls than those in their 20s. The child marriage contracted or solemnised after the law is passed shall be declared null, void."
MPA Mir Nadir Magsi, who leads the Magsi tribe, pointed out that all aspects must be taken into consideration. "We are dealing with an issue where minor girls are forced to marry elderly men, and especially to rivals as compensation."
The lawmakers, however, were temporarily sidetracked from the topic of child marriages by the debate on whose bill was 'better'. Women Development Minister Rubina Saadat Qaimkhani was quick to dismiss Faruqui's bill by calling it "ineffective".
"Some people dream overnight and bring the bill next day – this is not the way for effective legislation. I have been working on this issue for the last ten years and we have consulted with different stakeholders and prepared a comprehensive bill which will be presented in the session soon," she said, suggesting that Faruqui consult with her so that one joint bill could be passed on this issue.
Of dowries and wedding presents
Making most of the private member day when MPAs are given the opportunity to present their legislations, Faruqui moved two more bills. The first one, Sindh Marriage Functions (Prohibition of ostentatious display and wasteful expenses), asked the government to take necessary steps to prohibit ostentatious displays at weddings and implement the "one-dish" law.
The second bill, Prohibition of Dowry Bill, was introduced to eliminate the practice of dowry. "The pressure of meeting the in-laws's demands of dowry has forced many girls to commit suicide," she said, adding that any person giving or taking dowry shall be punishable with imprisonment for at least seven years. "The law will also ban giving and receiving wedding gifts exceeding the amount of Rs50,000."
Moving on from weddings…
MQM's Naheed Begum brought the crucial topic of increasing petroleum price to the forefront, asking the government to reduce the price hikes as it adversely affects the life of the public. "The federal government is going to raise [petroleum] rates from Rs2 to Rs4 in October. We ask the Sindh government to approach the federal government to refrain from this practice for the sake of its people," she said. The resolution was passed unanimously .
Another resolution, moved by MQM MPA Muhammad Dilawal Qureshi, was passed to restrict the movement of heavy vehicles in the city, especially the residential areas, from 5am to midnight. Qureshi said that the oil tankers, trucks and other heavy machinery are a nuisance in the city and cause accidents and pollution. "Government should pay heed to this matter."
The topic of establishing fire brigade stations equipped with sufficient fire tenders and other facilities was also raised. "There are 104 fire tenders in Karachi but only 40 vehicles are working while the rest are out of order," said MQM MPA, Waseemud Din Qureshi while introducing the resolution which was passed unanimously.
http://tribune.com.pk/story/608682/child-marriages-house-agrees-on-age-limit-debates-on-better-bill/
---------
In South Sudan State, Women Turn to Alcohol
BY BONIFACIO TABAN, 24 SEPTEMBER 2013
In South Sudan's Unity state, more and more jobless women are turning to alcohol -- not out of desperation but to make money to support their families, pay for health care and send their kids to school.
They make a decent living brewing a local beer called kongchar.
Nyager Gatkuoth, who lives in Chilaak village in Rubkotna county, has been brewing kongchar for the last 14 years. She says she used the money she earned from selling the home brew to send her three children to school.
Tapitha Nyataba Mayang, a resident of Bentiu town, says many women are forced to brew and sell alcohol because there are simply no other jobs.
"Most of these women in this area make alcohol because of difficulties they face," she said. "A majority of them lack jobs, and a lack of good service delivery is another problem that has forced women to brew alcohol. They need money to take their children to hospital when they fall sick."
Nyakume Chuol lived for a dozen years in Khartoum before returning to Unity state after South Sudan became independent in 2011. She started brewing kongchar long before that, though -- in 1996 when her husband died. She had to turn to brewing to be able to care for her five children.
"I make this alcohol because these children have no father. The alcohol is my second husband after the death of my husband in the decades' long war," she said, referring to Sudan's civil war that raged for more than 20 years and ended in 2005 with the signing of a comprehensive peace agreement between the north and south.
As for residents of the state, they say they like kongchar because it is cheaper than other types of beer.
In Bentiu, a cup of kongchar costs 2 South Sudanese Pounds compared to a bottle of beer which costs at least 10 South Sudanese pounds.
http://allafrica.com/stories/201309250503.html?aa_source=mf-hdlns
---------
Women in 15 nations need spouse's okay to work: report
September 25, 2013
AFP - At least 15 countries give husbands the power to prevent their wives from working, the World Bank said Tuesday in a report on gender equality in business.
"Many societies have made progress, gradually moving to dismantle ingrained forms of discrimination against women. Yet a great deal remains to be done," said World Bank President Jim Yong Kim in the preface to the report.
Among 143 countries covered in the report "Women, Business and the Law 2014", 15 -- including Iran, Syria, Bolivia and Gabon -- give men the right to object to and prevent their wives from taking jobs.
In 79 countries, laws restrict the kind of work women can do, the report said.
"The most extensive restrictions on women's employment are in Eastern Europe and Central Asia," the report said.
In the Republic of Guinea, it said, a wife can fight her husband's decision in court, but she must prove that it is unjustified to have his decision overturned.
Such rules remain in part due to history.
"Vestiges of history remain codified in certain economies simply because legislation such as the Code Napoleon was adopted wholesale and not regularly reviewed or updated.
"The notion of head of household, for example, was removed from France's Civil Code in 1970 but persists in many civil codes throughout West Africa."
In Russia, women are banned from 456 professions, including drivers of farm trucks, conducting freight trains and woodworking.
Many of those rules were inherited from the former communist regime of the Soviet Union and were left unchanged.
One result, the report said, was that the Russian Federation had a high earnings difference between genders during the transition to a market economy.
But at least 29 countries, including Saudi Arabia, Honduras and Senegal, have laws that systematically establish men has family heads giving them powers over crucial decisions such as where to live, obtaining important documents like passports, or opening bank accounts.
But the report notes that developed Western countries have also been slow to change their rules. Permission for women to launch their own court cases without their husbands' permission came in Spain only in 1981 and, in Switzerland, in 1984.
Progress continues, according to the report. In two years, 48 legal changes increased gender parity in 44 countries, including Ivory Coast's 2013 decision to allow women to work without their husband's permission.
On the other hand, Egypt recently moved the other way: in the wake of the country's revolution, and the political rise of Islamic forces, the country removed constitutional guarantees against gender discrimination.
http://www.france24.com/en/20130925-women-15-nations-need-spouses-okay-work-report
------------
Saudi Women Renew Fight To Lift Driving Ban
By: Ahmed al-Omran
September 25, 2013
Speaking before a plain orange background, a young woman started talking in a soft voice. "Hello," she said. "This is a new campaign to gain our right to drive cars."
That was Lujain al-Hathloul, a Saudi student in Canada who has become an online celebrity after posting a series of videos criticizing restrictions on women in the conservative kingdom. Wearing a short haircut and dressed in a black blazer over a purple top, Hathloul called on her fellow countrywomen to take to the streets on Oct. 26 to challenge the ban on driving. Her call quickly went viral, receiving more than 600,000 views in less than four days after it was posted on the video-sharing site Keek on Sept. 20.
"If you did not get a chance to participate in 1991 or 2011, there is a new chance in Oct. 26, 2013," she said. "I hope that a huge number of girls take part this time to end this crisis."
After two failed attempts separated by 20 years between them, Saudi women are gearing up again to challenge the ban with a new campaign.
"The campaign has no anti-Islamic or political agenda for neither Islam nor the official laws of Saudi [Arabia] prohibit women from driving," said the website of the new Oct. 26 movement, where more than 8,000 people signed a petition to express their support. While it is true that there are no laws banning women in Saudi Arabia from driving, the police stop women they catch behind the wheel.
The young Hathloul was probably not born yet when 47 women challenged the ban on driving in the early 1990s. After driving in one of Riyadh's main streets for half an hour, they were stopped by police. The female drivers paid heavily for their attempt to lift the ban. They were prohibited from traveling outside the country for a year, fired from their government jobs and denounced by hard-line clerics from mosque pulpits.
The second attempt came in mid-2011. As neighboring countries experienced uprisings to protest political and social stagnation, some Saudi women activists decided it was time to revisit the ban on driving. After using social media for weeks to organize and spread the message, more than 50 women around the country drove their cars on June 17, 2011. Except for two women who were stopped but shortly let go after signing a pledge, the day went by without major incidents. The police appeared to ignore the female drivers who posted videos and photos of themselves behind the wheel online.
The new campaign comes at an interesting time for Saudi Arabia. The country has largely managed to escape the wave of Arab uprisings without a major street-protest movement challenging the government, but the tech-savvy young population has become increasingly critical of official policies, using social-media sites like Twitter and YouTube to express their displeasure.
The Oct. 26 movement was launched only a few days after the Commission for the Promotion of Virtue and the Prevention of Vice, aka the religious police, instructed its members not to chase female drivers. The daily Al-Hayat quoted an unnamed senior member at the commission who said, "There are no laws in place authorizing Haia members to pull over and arrest a woman who is caught driving a car on the streets."
The chief of the religious police, Sheikh Abdulatif al-Alsheikh, came out to deny these statements, but he added, "Islamic Sharia does not have a text forbidding women driving." According to Reuters, Alsheikh stressed that he has no authority to change Saudi policy on women driving.
His statements may give hope to some women, but in reality they fall in line with other statements made by Saudi officials in recent months, absolving themselves of responsibility for the ban but falling short of fully endorsing a decision to lift it.
Justice Minister Muhammad al-Isa said last April that there is no constitutional or regulatory barrier to prevent women from driving in Saudi Arabia. A few months earlier, Foreign Minister Prince Saud al-Faisal said that the issue of women driving is a social matter that has nothing to do with politics. In both cases, the officials did not explain why police are still arresting women who dare to drive despite the absence of legal grounds to do so.
Like many other decisions in the country, it appears that the one to allow women to drive must come down to a royal decree by the head of state. King Abdullah bin Abdulaziz has come to be seen as a reformer who believes in female empowerment. In addition to allowing women to vote and run in upcoming municipal elections, he appointed 30 women to the advisory Shura Council at the beginning of this year.
It is hard to say if the renewed activity surrounding the issue of women driving is any indication that a change in policy is going to happen anytime soon, but Saudi columnist Tariq al-Maeena says it appears that the tide has turned.
"In recent years there has been a dramatic shift towards a more tolerant position of acceptance of all things obviously not detrimental or conflicting with the teachings of Islam," he wrote in Gulf News. "Such a shift also signals a separation of the often veiled cultural traditions that were deeply intertwined with Islam, making it difficult to separate one from the other."
Saudi women remain optimistic and hopeful, even if their hopes in the past never materialized to lift the ban.
Madeha al-Ajroush, a psychologist who drove in the 1990 protest, said she is ready to repeat the act, tweeting, "Yes, I will drive again on Oct. 26."
http://www.al-monitor.com/pulse/originals/2013/09/saudi-arabia-women-driving-ban.html#ixzz2fttkGX1l
------------
Khuran Sunnath Society Rejects Move To Lower Age of Marriage
September 25, 2013
The Khuran Sunnath Society, which has questioned the validity of many religious practices observed by Muslims, has said that it will take legal action to defeat the move to lower the marriage age for Muslim girls. It was a retrograde step that would take the community back into the sixth century, society office-bearers said at a press meet on Tuesday.
The leaders said the interest shown by the religious heads to lift the ban on child marriage was meant to deny Muslim girls their legitimate right to higher education. Condemning marriage between immature adolescents — which the religious leaders wanted to facilitate — as anti-Koran and anti-national, the leaders said they had decided to launch a State-wide campaign against the move to get exemption for Muslims from the provisions of the Child Marriage (Prevention) Act that banned marriage of girls below the age of 18 years.
"The move is to win over Arabs and make money… It is surprising that even the Muslim Educational Society, led by Fazal Gafoor, is backing this move. The fact is that no organisation can claim to be the lone and only representative voice of Muslim community. Giving girls in marriage without their consent amounts to harassment and persecution of women. This move is also aimed at the Muslim vote bank. The Khuran Sunnath Society would lead the resistance against this move," said the spokesmen for the society that was once led by Islamic scholar Chekannur Maulavi who disappeared under mysterious circumstances years ago.
Hassan's stance
Special Correspondent writes from Thiruvananthapuram:
Kerala Pradesh Congress Committee vice-president M.M. Hassan on Tuesday said the Congress did not agree with the opinions of Muslim religious scholars on reducing the marriage age of girls belonging to the community. Addressing a press conference here, Mr. Hassan that fixing the marriage age as 18 was not against the Muslim Personal Law.
Reducing the marriage age will only retard the social and educational progress of the community.
http://www.thehindu.com/news/national/kerala/kerala-muslim-forum-rejects-move-to-lower-age-of-marriage/article5165225.ece
------------
Pension Regulations 'Unfair' Toward Female Retirees of Saudi Arabia
September 25, 2013
RIYADH — A member of the National Society for Retirees has criticized regulations of the Pensions Authority and General Organization for Social Insurance (GOSI) which, she alleges, are discriminatory toward female retirees.
In a statement, Dr. Fawziya Akhdar said the pensions regulation does not differentiate between a man and a woman on the job, but after retirement there is widespread discrimination. The regulation, she said, is outdated as it was first implemented in 1945 when women did not play a role in service and development. It was prepared according to men's needs, she said.
Akhdar said when a female pensioner who is married to an expatriate dies, the inheritors cannot avail of her pension whereas when a Saudi man married to an expatriate woman dies, his inheritors continue to receive his pension.
She added that when retired parents on pension pass away, their children get only one pension benefit. This is despite the fact that they both had contributed to the Pensions Authority during their period of employment and buffered with the same percentage from the state. She stressed that the Pensions Authority has no right to deny the heirs the rights of their parents.
Akhdar said women are suffering due to some authorities not recognizing their retiree status. These authorities demand a stamped letter from the Pensions Authority and GOSI, which refuse to issue the documents. They say Saudi banks including Arab National Bank and National Commercial Bank, which benefit from the deposited government retirees' pensions, do not carry out their social responsibility. They evade social responsibility toward people with limited income including pensioners and do not provide easy loans.
She demanded that the concerned authorities create an annual allowance to face inflation as well as housing allowance, as many pensioners do not own homes and are suffering due to the high rents. She appealed to the authorities to provide all the necessary services to pensioners and the elderly in coordination with the related ministries, similar to people with disabilities.
http://www.saudigazette.com.sa/index.cfm?method=home.regcon&contentid=20130925181512
------------
Many Saudi women using social media to market products
September 25, 2013
JUBAIL — Social networking sites have become handy for many secondary school and university women graduates to market their products and services, Al-Eqtisadiah newspaper reported.
Although this type of online business is booming, some of these entrepreneurs said they worry customers will not pay them, especially as they are not covered by any sort of guarantee.
A number of women in Jubail have used these sites, which they said could provide the basis for expansion in the near future.
These women represent a model of Saudi women capable of conducting business and do not have to wait to be employed in the government or private sector.
The owner of an electronic store called Feminine Gallery is a university graduate who imports bags, shoes, accessories and watches of high quality at reasonable prices.
She said that she used to participate in open bazaars and developed her business through social networking sites.
However, she said her income is not enough and that she is looking for a job.
The owner of another electronic store called Queen said she provides mobile maintenance services only to women to safeguard their personal data.
She said social networking sites have opened up a new market for her and believed this market could have a promising future if guarantees were enacted to preserve the rights of the buyer and seller.
This particular market can reach a wider section of society and is an alternative to normal shopping malls.
She said the financial returns were not enough and that she is looking for a job.
Bashayer Al-Mas'ari, owner of an electronic store called Al-Jubail, said she uses Twitter and WhatsApp to market her products.
She sells watches, bags, and clothes, but her business does not make enough money to be considered a viable alternative to a full-time job.
Fatimah Al-Hemaid has a degree in computer programming and is the owner of the Al-Jubail Soul electronic store.
She is in graphics design as well as in the gift-wrapping business.
Al-Hemaid said she utilizes social networking sites to increase her monthly income and to search for any new developments.
She said her income is good and believed that if she dedicates her full time to her business, she will not need a job.
Social networking sites provide a good starting point for new businesses, she said.
http://www.saudigazette.com.sa/index.cfm?method=home.regcon&contentid=20130925181516
------------
Female education linked to under-5 mortality rate: UNESCO
AARTI DHAR
Sep 25 2013
If all women in India had completed secondary education, the under-five mortality rate would be 61 per cent lower, UNESCO has said.
India and Nigeria account for more than a third of child deaths worldwide. If all women in both countries had completed secondary education, the under-five mortality rate would have been 61 per cent lower in India and 43 per cent lesser in Nigeria, saving 1.35 million children's lives.
Simple solutions such as mosquito nets and clean water can prevent some of the worst child diseases, but only if mothers are taught to use them. Almost a quarter of child deaths in India are due to pneumonia and over one-tenth are due to diarrhoea, according to the WHO-UNICEF Report. The Education for All Global Monitoring Report's new analysis shows that pneumonia could be reduced by 14 per cent if women had just one extra year of education. Diarrhoea would be reduced by eight per cent if all mothers completed primary education, and by 30 per cent if they had secondary education.
If all women had attended secondary school, they would know the nutrients that children need, the hygiene rules that they should follow and they also would have a stronger voice in the home to ensure proper care.
The analysis has been released in time for the UN General Assembly discussions on the post-2015 development agenda.
UNESCO's new analysis proves that in South and West Asia, and sub-Saharan Africa, nearly three million girls are married by the age 15 years — below the legal age of marriage. If all young women completed primary education, the number of child brides would be reduced by almost half a million. Completing secondary education would reduce that number by two million. In these regions, 3.4 million young women give birth by the age of 17 years. If all young women completed primary schooling, this would result in 340,000 fewer early births, and if they all completed secondary education, the total would fall by two million.
Findings also show that a secondary, rather than a primary education, increases tolerance towards people of a different religion or those speaking a different language. In India, those with secondary education were 19 per cent less likely to express intolerance towards people speaking a different language compared with those with less than primary education.
If all women were equipped with just a primary education, maternal deaths would be cut by two-thirds, saving 189,000 women's lives each year.
"The findings confirm more clearly than ever that education can transform lives and societies for the better," said Irina Bokova, Director-General of UNESCO. "The world's education goals are very much an unfinished agenda, however, this new evidence should give us all renewed energy to complete what we set out to do," she added.
http://www.thehindu.com/news/national/female-education-linked-to-under5-mortality-rate/article5164829.ece
Doordarshan official faces sex offence charge
Zia Haq and Aurangzeb Naqshbandi , Hindustan Times New Delhi, September 24, 2013
An internal probe at Prasar Bharati, India's public broadcaster, has found that a top official sexually harassed a junior employee, prompting the information and ministry to issue an order to book him under relevant laws. This has now snowballed into a turf war.
The ministry wants the matter to be handed to the police at once under "The Sexual Harassment of Women at Workplace (Prevention, Prohibition and Redressal) Act, 2013".
"Prasar Bharati may initiate the necessary action at the earliest. The ministry may be informed of the action taken," a letter from Abha Shukla, joint secretary in the ministry to Prasar Bharati CEO Jawahar Sircar, states.
Asked, Sircar told HT that although he was "acting in accordance with the law" in the case, the ministry was "using various issues" to interfere into Prasar Bharati's affairs. http://www.hindustantimes.com/Images/Popup/2013/9/24_09_pg11a.jpg
On August 12, an employee had lodged a written complaint before state-run channel Doordarshan's women's cell, alleging molestation and harassment by additional director-general Raj Shekhar Vyas, who has now been shifted to the All India Radio. No police complaint has been lodged yet.
"A chargesheet has been served on the official and we are awaiting his reply. I am following the law. But the ministry is trying to shorten the arm's length distance that it is required to maintain with Prasar Bharati under the law on occasion after occassion," Sircar said.
After hearing both sides and witnesses, an internal probe concluded "a prima facie case of sexual harassment is made out" against Vyas. According to section 13 of India's anti-sexual harassment law, a police complaint must be lodged if "prima facie evidence" is found. Although the ministry spends close to `1,800 crore annually on Prasar Bharti, it is required by law to maintain an "arm's length" distance from it because it is a news provider.
http://www.hindustantimes.com/India-news/newdelhi/Doordarshan-official-faces-sex-offence-charge/Article1-1126297.aspx
---------
Women's legal rights 'worst in Saudi Arabia'
September 25, 2013
Washington: Saudi Arabia tops the list of countries for laws that limit women's economic potential, while South Asia, the Middle East and North Africa have made the least progress over the last 50 years in improving women's economic opportunities, a report issued on Tuesday says.
In the last half century, women's rights worldwide have improved significantly and yet in almost 90 per cent of the 143 countries surveyed in the World Bank study, at least one law remains on the books to bar women from certain jobs, opening a bank account, accessing capital or making independent decisions.
Twenty-eight countries make 10 or more legal distinctions between the rights of men and women, and half of these countries are in the Middle East and North Africa, followed by 11 in sub-Saharan Africa, it said.
The World Bank report shows that when there is a gender gap in legal rights, fewer women own their businesses and income inequality is greatest, a finding that offers fresh insight on the impact that reducing barriers to women's economic opportunities could have on reducing world poverty.
"When women and men participate in economic life on an equal footing, they can contribute their energies to building a more cohesive society and more resilient economy," said World Bank President Jim Yong Kim in releasing the report, Women Business and the Law.
Kim has set as a World Bank priority ending extreme poverty by 2030. Empowering women is viewed by development experts as crucial to achieving that goal, since women have the primary responsibility for the family. Women's economic inclusion helps lift household incomes, leading to healthier children who are more likely to attend school and who in turn raise themselves from poverty.
Countries everywhere have started to remove legal obstacles to women's economic participation, but the progress has been uneven. In Latin America and the Caribbean, sub-Saharan Africa and East Asia, legal restrictions have been cut in half since 1960, said Augusto Lopez-Claros, director of global indicators at the World Bank.
But the Middle East region shows the least progress and some countries have gone backwards. Yemen and Egypt have removed from their constitutions bans on gender discrimination. Iran has allowed husbands to prevent their wives from working, placed restrictions on women's mobility and limited their work in the judicial sector, the report said.
Sarah Iqbal, programme officer at the World Bank and lead author of the report, said the persistence of legal restrictions remains one of the most discouraging aspects of the report. "We have come a long way but still have a great way to go," she said in a news briefing.
About 25 per cent of countries surveyed have no laws addressing domestic violence and again the Middle East and North Africa region has the least protections, the report found.
Additionally, Algeria and Morocco are the only countries in the region that have laws addressing sexual harassment in the workplace, the report found.
Yet advancements worldwide have been made in the past two years. Forty-four countries improved economic opportunities for women between April 2011 and April 2013, the time period the report covers, and no new restrictions were imposed.
Cote d'Ivoire (Ivory Coast) and Mali, for instance, no longer allow husbands to unilaterally forbid their wives from working; the Philippines has removed restrictions on night work for women, and Slovakia increased the wages paid women during maternity leave.
The 2014 report covers 143 countries and was based on data from April 2011 to April 2013, on an examination of laws, and interviews with country experts in family and labor law. In addition, it looked at how conditions have changed over the past 50 years on two indicators — women's access to institutions and use of property in 100 countries.
http://gulfnews.com/news/gulf/saudi-arabia/women-s-legal-rights-worst-in-saudi-arabia-1.1235196
------------
Syrian girl gang-raped in refugee camp
September 25, 2013
Amman: Three Syrian men have gang-raped a 14-year-old girl in Jordan's Zaatari refugee camp, a government official said on Tuesday.
"Police have arrested a Syrian man and are searching for two other Syrian men who gang-raped a 14-year-old Syrian girl in Zaatari on Monday," Brigadier Waddah Hmud, head of the Syrian refugee department said.
"Further investigations are under way. The girl is currently at the Family Protection Department to examine her condition, physically and psychologically."
Police confirmed the incident but refused to give details.
"This brings the total number of sexual assaults at the camp to 10 since the beginning of this year," Hmud said.
Jordan is home to more than 500,000 refugees, including around 120,000 in Zaatari, which is located in the north of the country near the Syrian border.
The UN refugee agency UNHCR said in August that Syrians who flee their war-torn country face recruitment as child soldiers, sexual violence and exploitation for labour.
http://gulfnews.com/news/region/syria/syrian-girl-gang-raped-in-refugee-camp-1.1235061
------------
Businesswoman Of Riyadh Funds SR21m Girls' Orphanage
September 25, 2013
AL-KHOBAR — A businesswoman has financed the construction of a massive orphanage for girls here, Al-Riyadh newspaper reported.
The orphan girls, who were previously housed in a deteriorating social home, have moved into the modern, well-equipped building with an educational and cultural center built at a cost of SR21 million.
Businesswoman Ayshah Al-Rashed provided the funds.
Al-Rashed's exceptional initiative has sparked a debate on the role businesspeople can play in charity work.
Madhawi Al-Hassoon, a member of the Council of Saudi Chambers, said charities in the past depended on rabats or shelter homes built by philanthropists to house the poor.
"Anyone can donate to a rabat in cash or kind. For the most part, businesspeople are absent from charitable work despite the fact that we live in an Islamic society," Al-Hassoon said, adding that the Ministry of Social Affairs should develop new charitable initiatives.
"It should not only be confined to providing a living for poor families. Charitable initiatives should also include education and health. For example, the Ministry of Social Affairs should study poor families' cases and nominate one individual from each family for a scholarship, which philanthropists can sponsor," she added.
Al-Hassoon said many businessmen and women are often reluctant to participate in charitable initiatives due to many obstacles and lengthy procedures.
"They end up resorting to the most convenient method, which is donating money to charitable organizations. In order to finance more projects that serve the needy, there needs to be better coordination between the Ministry of Social Affairs and philanthropists," she said.
http://www.saudigazette.com.sa/index.cfm?method=home.regcon&contentid=20130925181513
------------
Afghan 'two-headed' baby in successful operation
By Jafar Haand
Doctors in eastern Afghanistan have conducted a rare operation to remove a second skull growing on the head of a two-month-old baby girl.
Baby Asree Gul was discharged on Wednesday, after a successful operation in a Nangarhar hospital last week.
Doctors say the surgery was complicated as vital nerves and blood vessels were linked to the second skull.
They say it is the first successful surgery of its kind in eastern Afghanistan.
Asree Gul was born to a family of farmers in Chaparhar district.
She has a healthy twin sister, and doctors believe her unusual condition was caused when a third baby failed to develop in the womb.
The family approached doctors after Asree Gul's second skull made it difficult for her to sleep, and led to her being stigmatised within their village.
Ahmad Obaid Mojadid, the doctor who carried out the operation, described it as "the first of its kind in Afghanistan's east".
"We don't have very developed equipment," he said, "but we are very happy to have conducted the operation successfully".
He said he worked on his tiny patient free of charge, as the $4,000-$6,000 (£6,500-£9,500) cost of the operation was beyond Asree Gul's family's means.
As one of the world's poorest countries, Afghanistan's hospitals often lack the drugs and equipment to carry out complicated medical procedures, and the health authorities in the country are particularly pleased with the success of baby Asree Gul's surgery
http://www.bbc.co.uk/news/world-asia-24238685
------------
URL: https://www.newageislam.com/islam,-women-and-feminism/new-age-islam-news-bureau/the-quran-quoting-dress-code-issued-to-teachers-at-al-madinah-school,-uk/d/13681