New Age Islam News Bureau
23 May 2016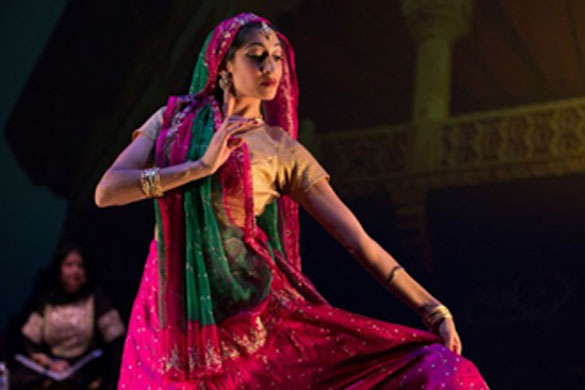 Photo: Farah Yasmeen Shaikh in performance. Credit: Farah Yasmeen Shaikh
---------
• A Wales-based filmmaker helped give Muslim girls in Africa the chance to play football
• Pakistan's award-winning 'Burka Avenger' animation opens on London screen
• Iraq's Yazidi women: 'Islamic State murdered our husbands. Now we're alone'
• Freed From the Islamic State, But Far From Free
• Police in Las Vegas forge close ties to the city's Muslim community
• To avoid the morality police, some Iranian women are dressing like men
• Unlike Mumbai's Haji Ali, women have free access to the Ajmer Sharif Dargah in Rajasthan
• Bangladesh's first female journalist, Nurjahan Begum, dies at 91
• Great Western debate: What's cooking under the Muslim headscarf?
Compiled by New Age Islam News Bureau
URL: https://newageislam.com/islam-women-feminism/the-pakistani-dancer-makes-kathak/d/107393
-----
The Pakistani Dancer Who Makes Kathak International
22/05/2016
Slow at first, the tempo rapidly rises as the dancer matches every beat and every pause of the tabla's rhythm. The conversation between the ghungroo and the ensemble of the tabla, harmonium and sitar explores a gamut of emotions which has the audience erupt into a chorus of "wah."
Farah Yasmeen Shaikh has her Karachi audiences transfixed as she illuminates the stage with a rendition of Mughal Emperor Jahangir and Empress Noor Jehan's tale of love. Shaikh is the lone dancer on stage, yet she morphs from one character into the next — playing a range of 21 characters with swift changes in body language, movement and expression.
This is an original choreography based on Indu Sundaresan's novel, The Twentieth Wife. Shaikh trained under the tutelage of Kathak icon the late Pandit Chitresh Das, while studying at the San Francisco State University. She then went on to become a lead dancer at the Chitresh Das Dance Company.
Based in San Francisco in the United States, Shaikh is now an internationally touring soloist and teacher of the Kathak dance form.
Is classical dance still perceived as an interconnection between culture and religion?
Yes, but it is subjective. There can be an interconnection for some, while others might want to separate it from religion altogether. I think this interconnection is more possible in Kathak than any other dance form due to its historical significance. Thousands of years back, people shared their stories of ethics through the oral tradition. Kathak was used as a form of entertainment in the northern regions. It went beyond storytelling. It did not have to be about the story of Ram and Sita, it could be about love or any other element. So you can still have those connections.
Kathak derives most of its traditions from Hindu stories, but people perform a contemporary form of the dance nowadays. Moreover, social and political elements such as domestic violence or women's issues are also incorporated in the storytelling. It is not as simple as just telling the story of one person.
So, for example, a dominant woman such as Noor Jehan has many other facets to her life. Other than showing her power, we also show her loss. I play the scene of her miscarriage and a lot of people commented on how gutsy it is to show a Muslim woman that way. People can relate to the pain of a profound loss to which they are helpless. I even performed the death scene of Akbar where Salim is by Noor Jehan's side. All of that is very spiritual; it connects you to your own stories, some of which are literal and some abstract.
What led to the rift between you and your guruji? What were the last few years of your relationship with your ustad like?
When somebody passes away, you have to bury the hatchet. It is an honour to bring his name to Pakistan. He was a traditionalist and also an innovator. He was an artist who encompassed all the elements.
I am so touched by how many people of the older generation are responsive to my performances, because it is a style check for them. We usually do not see art being done in the same way. At the same time, this is not a criticism as everyone has their own style. The audience tends to appreciate Kathak when performed in a relatively pure but exciting way.
How did you stumble across your first dance class? And how did it work out for you being an 18-year-old girl?
I started at the age of five. I was born and raised in California, where we did not have a large Pakistani and Indian community. For us, it was more of a feeling of assimilation. My sister and I are very close in age, and our parents enrolled us in dance classes. I was a baton twirler. It was an amazing organisation and we are still very close to the director, who was also a yoga practitioner.
When I went away to college, I gained 35 pounds because I did not exercise and was eating horribly. I just felt awful. I picked up the schedule in my second semester and saw that Indian dance was being offered. I called it "kah-thaak" in my American accent, and probably even butchered my guruji's name. My parents encouraged me to take it up so I enrolled in the class.
The classes were very challenging, especially the concept of tal and rhythm. Learning movement was never hard for me. My coordination was fine and I had a presence in my body — but it was much more than that. You needed to have an awareness of rhythmic structure and expression. Western dance requires one expression, which is showmanship. Kathak, however, requires layers of emotions and body language to create a mood. I also learnt so much about Indian history.
A very profound moment occurred a few months into my taking classes. I went to my first performance of guruji and saw him perform Draupadi Vastraharan, where a man gambles his wife. He is a bit naïve and is being duped. He puts everything on stake and the last thing he puts on stake is his wife, Draupadi, thinking there is no way he can have such bad luck. Draupadi is taken in front of everybody and they are humiliating her by pulling her sari off. I had no context to the story. Even the introduction was not enough for me. I was literally watching this feeling unfold around me. I felt like there were four or five people on stage when there was only one man. This woman is being disrobed, but her faith is in Lord Krishna. She is thinking, "the divine will protect me." It is about having that higher faith. It was seeing [guruji] surrender at this point when he was maybe 60-years-old and being completely vulnerable — and yet finding that inner strength. It moved me and I can put that in the top five most powerful moments of my life. I remember calling up my parents and telling them that I was hooked. And I am still hooked. It is moments like these that continue to inspire me.
When was your first performance?
I started performing with guruji's company called Chitresh Das Dance Company. My first performance was in November 1997. It was after about a year and a half into studying… I did my major in women's studies and was able to give [dancing] enough time. I was around guruji seven days a week — not always dancing, but around him nonetheless. So it created that bond.
The goal of the dance is to be a soloist. However, to achieve the ability of being one, you must be well versed in all four elements: tayyari, layakari, khubsurti and nazakat. Ultimately, it is the guru's discretion to see when you are ready. For me, it happened in October 2007. In the first performance, the guruji is on the platform with the musicians, which is both a support and a challenge.
After this, I started performing solo regularly. I was still working with this company when I had a baby in 2011. But I took a couple of years off, partly because my relationship with guruji was a little strained. Otherwise, I would have loved to go back to dancing the next day.
When I returned to dancing in 2013, I just went full force. Having a child gave me a lot of clarity. Some people think that after a child, your life shifts to being about them. For me, however, having a child was really about being the best of me — for my child. I tend to get emotional about this, because my daughter has empowered me on so many levels. She is there with me while I tour.
Something I believe in strongly is that this dance form has brought me a physical and mental balance, along with a sense of history, culture and music. I cannot stress enough the benefits; why would I not want that for my daughter?
Comparing the two experiences, where you first performed on stage in 1997 and then walked alone on stage in 2007 — how was the excitement? Was there any difference?
I remember being really nervous the first time I stepped on stage. It is funny how the nerves have dissipated significantly. In 1997, there was newness in my spirit. In 2007, it was like the veil had been lifted; I was vulnerable. There was no hiding what I was going to do there; it was me all alone.
We get so inundated with pop culture, and therefore to see something that takes a great deal of commitment and discipline to achieve is an inspiration. The other day, a group of mothers and daughters came up to us and said, "this is the kind of multitasking we would love our kids to do" instead of being on their phones [all day]. Activities such as playing the harmonium, singing or dancing — you know, all of that! So that was a wonderful sentiment.
Is it difficult to practice and pursue a dance form in the United States, where it is viewed as something exotic?
Yes and no. Guruji laid the foundation for diversity, yet there was a struggle. San Francisco is known for being a cultural melting pot. When I was with the dance company, the audience was very diverse. It was not exclusively South Asian, we would see a 50-50 [mix]. There's more diversity now.
If you were to focus on the press attention, contemporary dance and ballet still dominate in terms of funding and grant opportunities. Pakistanis are known to be philanthropic in the US, but they tend to give to religious or social causes — the arts are rarely mentioned.
I have been lucky in terms of the support I got when I did The Twentieth Wife project, which is an irony because I feel it is [more] difficult to stand out in India. Their attitude is lackadaisical with relation to arts and dance because a lot of people are doing it now. Without being judgmental, I would say a lot of work is not appreciated. You have a dense population and you are competing with Bollywood. In the US, you can easily get out of it because the artist looks at it for art's sake. They group all 'ethnic' dances together. So it is actually not that challenging.
There is no shortage of work. When I left guruji's institution, I lost all my students. However, I have been able to build up a student base since his passing. I teach privately. I converted one of my rooms into a small dance studio. I also partner with organisations for group classes and the response is overwhelming. I was guruji's only Pakistani Muslim student that took it on at this level, the rest were Indian Hindus. Now, a good number of senior instructors are white Americans and Canadians. We call it a rainbow coalition.
Did you come to Pakistan with the intention of performing? How often do you visit Pakistan?
As a child, I used to visit Pakistan every two to three years. I remember going to India once as a child. As an adult, most of my dancing visits were to India. I visited Pakistan in December 2006. I had planned to perform at the National Academy of Performing Arts, but the plan got bogged down because of a conflict. My guruji was very protective of the idea of me dancing in Pakistan. He was not sure of the kind of response I would get here; it was both love and a little bit of control. So once I separated from him, I explored that avenue.
When I did The Twentieth Wife, I started to see the response I was getting from the South Asian community. My hope is to tour the United Arab Emirates, Pakistan and India. It is very challenging to manage logistics and everything else when you are touring. Knowing the magnitude of the project, I just wanted to meet people in person rather than pitch [the idea] in an email or phone call.
When I was working on the repertoire before coming here, I knew I had to be very open since I was going to be working with musicians I had not previously met. I had to be aware of the content, what is acceptable and what is not. So I made a decision, for the most part, to not bring many of the Hindu elements in it. Kathak usually opens with an invocation to a deity, but I took that out. You do not feel the tension in the air.
One gentleman, in particular, was very moved. He said, "women like these" will make peace through art. I totally agree with that. Some people were basically parading me — not me, but the idea of a dancer.
And then, of course, there is a bit of fear that I am putting myself out there in a way that could be making myself a target. I would be lying if I say that every time I walked out of The Second Floor, I was not holding my daughter's hand. At every show, the first people to come up to me are usually the ones that belong to the older generation. Even at the Pakistan American Cultural Center, there was a bearded man who [would exclaim] "wah, wah" during the expressive pieces and songs, some of which were suggestive or sensual.
Would you consider performing at a relatively unsafe space?
I am open to that. I hope we transcend people's perceptions. I do not fear where I put myself. I want to be aware of things, unless it is a tense situation. Not everybody is going to be an arts lover, but that is the hope.
thewire.in/2016/05/22/the-pakistani-dancer-who-makes-kathak-international-37846/
--
A Wales-based filmmaker helped give Muslim girls in Africa the chance to play football
23 MAY 2016
Female footballers in Zanzibar were called "hooligans" because they dared to play the game.
Now, thanks to a film by a South Wales academic, they are seen as ambassadors for the country and its government has changed official policy to encourage schoolgirls to play the sport.
The change came about after Florence Ayisi, professor of international documentary film at the University of South Wales, produced Zanzibar Soccer Queens in 2007.
The film focused on the country's first female football team – Women Fighters FC.
Nearly a decade on, Prof Ayisi's work has helped showcase the side to a wider audience, both at home and abroad, and the team was invited to Germany as part of a cultural exchange programme.
Cannes award winner
Spurred on by the success of her film Prof Ayisi, who lives in Tongwynlais, Cardiff, has now made a follow-up.
Zanzibar Soccer Dreams will have its world premiere at the prestigious final night of the Canadian Sports Film Festival in Toronto this week.
The film will also get its African premiere at the Zanzibar International Film Festival in July.
Prof Ayisi – whose documentary Sisters In Law, about women's roles in a Cameroon court, won a Cannes award in 2005 – hopes to show another side to Africa.
When she moved to Britain from Cameroon in the mid-1980s she said all she saw was negativity about her continent.
"It was the era of Live Aid and Bob Geldof. I wanted to show the other Africa beyond the headlines," she said.
"Making Zanzibar Soccer Dreams allowed me to continue this effort, highlighting the challenges that women and girls faced in the country and how they were up against insults – they were called 'hooligans' for playing the game.
Girls 'cherish the right to play the game'
"This new film shows changes in both the individuals featured and the society they live in as women's soccer moved from the streets to the playing fields of government schools where young Muslim girls can now equally participate in soccer as part of sports education.
"The schoolgirls cherish this right to play the game despite continued challenges and limited resources."
Prof Ayisi said women and girls in Zanzibar, a semi-autonomous group of islands off East Africa, were very aware of their new status as players with one telling her: "Something great has happened to girls."
Prof Ayisi added: "Islam, soccer, and womanhood now seem to converge and coexist in harmony as women experience a significant transformation of their identities – from being 'hooligans' and 'street kids' to being regarded as cultural ambassadors."
'When a woman plays football her parents are happy'
When Zanzibar Soccer Queens was screened in Zanzibar in 2007 to an audience of more than 1,000, including the country's vice sports minister and secretary general of the Zanzibar Football Association, the team benefited immediately.
Coach Nassra Juma said a direct result of the Wales-based filmmaker's work was that it became more socially acceptable for women and girls to play football.
One player said: "Before when we told our parents that we go for training they wouldn't permit it. Your brother would follow you to the pitch and beat you with a stick if he saw you there wearing shorts or wearing a jersey.
"He would say that this game is for hooligans, girls do not play it, they are supposed to stay at home. But when they came to see that film being shown everywhere our brothers now remind us 'Go for training, go on for training'."
Another player said: "Now when a woman plays football her parents are happy. They want girls to play football. We have come far and we are now moving on to another era."
walesonline.co.uk/news/wales-news/wales-based-filmmaker-helped-give-11355912
--
Pakistan's award-winning 'Burka Avenger' animation opens on London screen
22 May, 2016
A Muslim warrior girl from a Pakistani animated TV series, "Burka Avenger," has premiered on the big screen in the British capital. Now part of London's Southbank Centre arts festival, the cartoon has previously sparked a debate among western audiences.
Screened at the Royal Festival Hall until the end of May, the multi-award-winning TV series generated controversy in the West when it premiered in 2013.
While its lead character, a school teacher named Jiya who becomes a black burqa-clad avenger, has been listed among the most influential fictional characters of 2013, other critics have been less enthusiastic about the animated female's alter identity.
With some having argued that the cartoon glorified the traditional Muslim attire for women, the show's creator, Pakistani social activist Aaron Haroon Rashid said: "[I]t's not about how [the character] looks or what she's wearing, it's about what she is doing."
Unlike "sexualized" Western characters, "like Catwoman and Wonder Woman," the Burka Avenger is fighting evil and promotes education for all "with books and pens as her weapons," the creators have claimed.
Being Pakistan's first ever animated TV series, its burqa wearing female role model for children has taken by storm not only its country of origin, but also neighboring Afghanistan. More than 85 percent of children living in urban areas watch the show there, according to the Telegraph.
rt.com/uk/344025-burka-avenger-animation-london/
--
Iraq's Yazidi women: 'Islamic State murdered our husbands. Now we're alone'
22 May, 2016
It's spring in Iraq and the early afternoon sun beats down on Khanke, a small town in the country's Kurdish region. A single straight road divides the residents' concrete homes from a barren cluster of tents, where almost 3,000 displaced Yazidis live.
Among them are the widows and children of the men who, in the summer of 2014, were murdered by members of Islamic State (Isil) when the group pillaged and plundered entire villages in the north of Iraq.
The Yazidis – an ethno-religious minority based primarily in north Iraq – were branded "infidels" by Isil and targeted because of their distinct cultural and religious background.
Over 5,000 men were killed and 7,000 women abducted over the month of August in a targeted attack that has been recognised as genocide by the US.
While the majority of the women, children and elderly fled Isil's brutal violence – finding refuge on neighbouring Mt Sinjar – a large number of men stayed behind to protect their homes and villages.
Thirty-eight-year-old Layla Yousef's husband was among these men – he was later murdered by Isil fighters.
"My husband sent us away [to Mt Sinjar] with other people and he stayed behind," she tells me. "He called us and said he was on his way to us – but after five minutes they caught him. We never heard from him again."
Although accurate figures are not available, Iraq's former Minister of Women's Affairs Bayan Nouri told Telegraph Women that there are now over one million widows in Iraq.
"Iraqi women in general have a difficult life, especially after 2014. The two main challenges are economic and psychological," said Mrs. Nouri.
Like countless other Iraqi widows, Layla has been surviving and raising her family alone for nearly two years. In Iraq's patriarchal society being a widow comes with its challenges - including restriction of movement and financial hardship, among others.
Adamant that a lone woman should not be seen wandering the streets without a male relative, Layla spends much of the time inside her tent looking after her three youngest children, while her two eldest daughters work to provide for them.
"It's unfair because there are so many women who don't have men to accompany them but they have to stand on their own two feet and provide for their families," says Layla, sitting on a thin mattress.
"Just like a tent protects us from the harsh weather, so does a husband."
Her cousin, 21-year-old Fatuma Aziz, was also widowed two summers ago when her husband stayed behind to protect the family home during Isil's attack on their hometown.
"I don't allow the men to talk badly about me," Fatuma says defiantly.
The young mother-of-two had been married for only four years when her husband was killed, and over the past couple of years she has had to find alternative ways of making ends meet.
"I need financial support [so] I sell the food the government gives us and use the cash for other needs like milk and clothes for my daughters," she adds.
While displaced people living in official UN-run camps are supported by aid agencies on a day-to-day basis, Layla and Fatuma live in an unofficial camp; as a result they are likely to receive less aid.
This setting also foresees a lack of security measures – including guards and gates – making women more vulnerable.
"[Women in camps] are at higher risk of sexual exploitation and harassment because the community structure has fallen apart," explains Rezhna Mohammad, director of psychological services for local charity SEED.
It's the simple things, says Mayan Khalaf – "like when I need something from the market now there is no one to do it and I can't go by myself."
Mayan and her husband were captured and separated from their children when Isil stormed their hometown. She was able to escape the militants, but not before they killed a group of men - including her husband.
"I heard the gunshots and saw his dead body," recalls the 45-year-old mother-of-nine. "Many things have changed [since then] … he supported me and protected us, he raised the children. When he was at home, many people would come and visit but now that he's not here I am alone," says Mayan, echoing the collective feeling among the widows of the camp.
Thirty-five-year-old Pakiza Ali also speaks of the loneliness that ensued after her husband was killed while fighting Isil. "I'm not a free woman like when my husband was with me. People don't visit me as much anymore," agrees the mother-of-nine.
"[But] my children help me go on. I stand by them and they stand by me."
Many of the widows admitted to finding solace and strength in motherhood. In a world where they have lost their homes and their husbands, their children are often the only source of love that remains.
"I am strong but my heart is broken," explains Mayan. "My strength comes from my children, if I want to support them I have to be strong.
"I miss him but I do it alone, I tell my children: this is life."
telegraph.co.uk/women/life/iraqs-yazidi-women-islamic-state-murdered-our-husbands-now-were/
--
Freed From the Islamic State, But Far From Free
22 May, 2016
Mahlo, a 37-year-old Yazidi woman from Baa'j, lived each day not knowing what the next would bring. Her imprisonment in crowded, underground prisons had turned her skin a pale white. She'd been separated from her children and made to subsist on two meager meals a day. Other than occasional visits from younger Yazidi girls who shared horror stories of their lives as sex slaves for Islamic State fighters, she had little contact with the outside world.
In late March, her guards suddenly took her and 50 other Yazidi women to the Syrian border, pointed them eastward, and told them to walk. From a point northwest of the Sinjar mountains, the group walked four hours through rocky plains before reaching a military outpost in Iraq, where they were received by Kurdish militias in what was later believed to be a clandestine prisoner exchange.
In August 2014, thousands of Yazidis — an ethnically Kurdish minority community whose religious practices are rooted in ancient Mesopotamian tradition — fled their ancestral homes in northwest Iraq's Sinjar Mountains when caravans of Islamic State fighters overtook the area. Claiming the Yazidis were "devil-worshippers," the Islamic State engaged in an ethnic cleansing campaign determined to wipe them out from caliphate-held territories. Until that point, the Yazidis had lived a relatively peaceful existence amid a war-ravaged Iraq. Within the first days of the Islamic State invasion, 5,000 people were executed and buried in mass graves, and more than 3,000 young women were kidnapped and forced into sexual slavery.
For those who manage to escape, the path to freedom is often daunting, if not inconceivable without professional help. Nearly 200,000 Yazidis have been displaced in northern Iraq, where many now live in refugee camps that provide basic food and shelter. But doctors at these camps say there is a severe lack of mental health services for victims of torture, and the overwhelming need is exhausting already limited resources.
A month after her release, Mahlo sat in a refugee camp near Dohuk. Two of her six children remained in captivity, and her husband's whereabouts was unknown. "I'm not going to feel free until they free my family," Mahlo said, speaking inside her canvas tent on a hot day in April. "I never thought I would get out. Now that I am, everything is the same as before. I'm always thinking about my family. I don't know if they are dead or alive."
Of the 15 or so camps for internally displaced people located near Dohuk, none provide regular psychotherapy sessions for victims of rape or torture, said Azzat Ibrahim Khadeeda, a medical clinic supervisor for the Swiss charity Medair. Sitting in his office in Sharya camp, home to about 17,000 refugees, many of whom are Yazidi, Khadeeda explained that providing basic medical services was enough of a challenge, and that neither funding nor staff was available to handle mental health problems. While the U.N. and a patchwork of humanitarian aid groups, including Yazda and Medecins du Monde, provide the occasional psychologist, few stay long enough to deal with more complex issues such as sexual abuse, Khadeeda said. "It's our biggest weakness in the services we provide," he said.
During their captivity, some Yazidi women were held in bedrooms, where their Islamic State captors would routinely rape them and threaten them with death if they disobeyed. The bodies of prisoners who rebelled were left to rot in nearby fields to discourage those contemplating escape. Khadeeda said many of his Yazidi patients report having frequent nightmares and difficulty sleeping. Children are startled by cars that pass their tents at night, and many women suffer constant flashbacks and anxiety attacks, he said.
"We know these are symptoms of trauma, and we simply don't have the staff to deal with them," Khadeeda said. "Therapy or no therapy, the root of these problems is that Yazidis just don't feel safe in Iraq. They can't trust anyone anymore, and they have a very black picture of their future in the Middle East." Most of them, he added, just want to leave the region.
Following the Islamic State takeover, captives deemed of lesser value were set aside and held as prisoners. Yazidi elders, children under the age of 10, and mothers like Nofa Mahlo were often kept in abandoned buildings and moved repeatedly from one location to another, spending prolonged periods in Islamic State strongholds like Mosul. Mahlo described being held in a windowless school basement near Raqqa with 50 other women and about 200 children over her last four months in captivity. Split among three dark rooms, Mahlo said that prisoner contact with Islamic State fighters was limited to mealtimes, when a door would open and food would be distributed to prisoners. Meals were usually heavy on rice and bulgur wheat. "They gave us enough not to die," she said.
Though Mahlo was spared from the worst suffering under Islamic State captivity, she was separated from one or more members of her family each time she was moved to a new location and eventually ended up alone. Through her days in captivity, her mind drifted to the uncertain fates of her sons. "The hardest part was when they took my sons," Mahlo said. "I tried to hold on to them, but [the soldiers] beat me until I couldn't hold them any longer."
But while Mahlo evaded the rape and torture suffered by many captives, the psychological abuse has left her unable to face daily life. She is wary of eating meat from unknown sources, recalling stories of mothers in Islamic State prisons supposedly being fed their own children. The mothers said "the meat tasted strange, and when they finished, the IS fighters told them it was their own children," Mahlo said, adding others were rumored to have found human fingers mixed into their rice dishes.
Stories of institutionalized rape were common, as teenage daughters forced to marry Islamic State fighters were allowed routine visits to family members in the school basement, where they told of repeated assaults and forced contraception.
According to the caliphate's strict interpretation of Islam, female slaves can change partners only when it can be proven that they have not been impregnated by their previous captor. Traditionally, this was confirmed with a three-month waiting period between partners. But Islamic State members have taken a shortcut around such measures by forcing women to ingest large amounts of birth control medication, allowing slaves to be traded without delays, as documented by the New York Times. "They were always looking for young virgins and left mothers like us in their prisons," Mahlo said.
Though fewer in number, Yazidi men also suffered. They were forced to dig military tunnels beneath occupied cities, as in Sinjar, and exploited for other hard labor projects. Some were also used as front-line decoys to draw enemy fire away from Islamic State fighters.
One such decoy was Khero Maijo, a 27-year-old construction worker from a village near Baa'j. Soft-spoken and too shy to make eye contact, Maijo was given a choice: stand guard on the front line, or have his head chopped off. "Some prisoners were given suicide jackets and sent to blow themselves up near [Kurdish] Peshmerga forces," Maijo said, taking quick drags on his cigarette. "We were prisoners for a long time," he continued. "I was alive, but I thought it would've been better to die. I never thought I would get out."
Eventually, Maijo did escape, finding his way to Iraq through a network of Yazidi smugglers. Now, sitting in Sharya camp, he struggles with simple tasks. "I try to watch shows, but I can't concentrate enough to follow what is happening," he said. "I can't follow stories." Maijo said he hears the words people say to him, but oftentimes has trouble gathering meaning from them. "I got sick from thinking too much," he said.
Maijo's condition clearly suggests post-traumatic stress disorder (PTSD), said Heather Barahmand, a case manager for psychosocial services with Yazda, a non-governmental organization based in Dohuk. She coordinates one of the few mental health programs for Yazidis in northern Iraq, where she sets up reception services for new escapees and weekly support groups.
The groups are open to anyone in the camps, and participants are invited to speak about their experiences, providing a venue to release whatever emotions they may be holding back. "When they escape, many believe no one can understand what they've been through, because no one has seen the things they have," Barahmand said. "This is exactly why support groups are so effective. It lets victims realize they are not alone and gives them a place to talk or just cry if they need to."
One of Barahmand's first tasks is orienting recent arrivals to their new realities. "In captivity, people tend to construct realities that are not going to line up with the actual reality after they get released," she said. "They think they are going home, but instead they are going to IDP [internally displaced person] camps. They think they will be reunited with their families, but they may end up alone. Our patients are basically going from one trauma to another trauma."
For particularly difficult cases, Yazidi community leaders take some women to Lalish, the holy site for Yazidis in northern Iraq, where they are encouraged to relax inside simple mountainside accommodations as a sort of religious pilgrimage toward recovery. There, the women can also seek the advice of Baba Sheikh, the resident "pope" of Yazidis, who issued an unprecedented decree after the Islamic attacks on Sinjar that all victims of rape must be welcomed back into Yazidi communities, which, according to tradition, usually cast out individuals who have sexual relations with members of other faiths. Baba Sheikh also asked community members to forgive Islamic State captives who converted to Islam in order to save their lives, showing flexibility in his interpretation of strict religious guidelines in the face of an ongoing crisis.
Resources to support such initiatives are meager, but recent developments are promising. Barahmand said one of her patients tried to commit suicide twice before being sent to Lalish and returning with a vastly improved state of mind.
There are also new avenues opening for victims of extreme trauma. The charity Air Bridge Iraq has provided asylum assistance to Germany for more than 1,000 women and children who suffered at the hands of the Islamic State. It is the only program of its kind, with most Yazidis still resorting to irregular migration routes to Europe, but the organization's founder, Mirza Dinnayi, hopes to expand his campaign to offer safe havens for Yazidis in need.
At the moment, he said his main obstacle is finding new reception sites and funding as European nations continue to struggle with the refugees already residing within their borders. "It's difficult to recover from psychological trauma if a person cannot feel safe," said Dinnayi, a physician who is also an Iraqi Yazidi. "We have to act fast if we want the Yazidi community to recover anytime soon."
Yet for survivors like Nofa Mahlo, who wakes up every day thinking of her missing children and husband, the main challenge is finding solace in the understanding that her most pressing questions may never be answered.
"I don't care about having food or a house. I don't want to go to Europe," Mahlo said. "I just want to know what happened to them."
foreignpolicy.com/2016/05/22/isis-yazidi-iraq-syria-refugee/
--
Police in Las Vegas forge close ties to the city's Muslim community
May 22 ,2016
LAS VEGAS — The two officers were on foot, chasing down a skinny street player who was peddling crack and pot from a grimy West Las Vegas alleyway.
The dealer was fleet-footed, and the last they saw, he had ducked into a nearby mosque. Breathless, the officers stopped at the gate and considered their options. It was 2008.
"We stood there, hemming and hawing," said Lt. Sasha Larkin of the Las Vegas Metropolitan Police Department. "We didn't know anything about the place other than it was green. We were like, 'Can we even go in there?' In the end, we just walked away, saying, 'Maybe another day.' "
The luckless pursuit, however, was not a total bust.
The department soon decided it needed plainclothed foot patrols in the high-crime neighborhood to better know the people who lived there, including the adherents of the Masjid As-Sabur mosque.
Now, Larkin and a cadre of officers are regular guests at a half-dozen mosques across this gambling mecca as part of a concerted outreach effort to the Muslim community. They grasp the tensions between Shiite and Sunni factions and have learned to observe key Islamic customs — officers remove their shoes, and female officers don hijabs during Friday prayer sessions. In an effort to build trust, they have emerged as empathetic problem solvers, helping religious leaders cut through city red tape, responding to reports of vandalism and cleaning up trash and abandoned vehicles.
And at a time when many police departments are trying to build better ties to the country's estimated 6 million Muslims worshiping at 2,000 mosques across the country, Las Vegas's program could prove a model for others.
"Very quietly, Las Vegas police have created a national model on how to connect two disparate cultures," said Aslam Abdullah, director of Masjid Ibrahim, a Las Vegas-based nonprofit organization dealing with Muslim American issues. "I travel to Chicago, San Francisco and Los Angeles, and many Muslims there don't believe me when I tell them that this kind of relationship is possible."
After terrorist attacks in Paris and Brussels, Abdullah said, police here reached out to area mosques to offer increased patrols as a precaution against any backlash against Muslims. And when community members pointed out that a police terrorism training video included an actor wearing a religious skullcap — something leaders see as more representative of faith than violence — the segment was removed and the department sent a letter of apology.
The police department's goal, Larkin said, is to help better operate within a tightknit and often mistrustful community of 30,000 Muslims, and to help Muslim leaders police their own community as well. She leads a team of six: five police officers and a fire captain.
Larkin's team networks with a dozen religious groups that also include Sikh, Bahai, Chaldean and Coptic Christians. They help school new immigrants on how to handle encounters with U.S. law enforcement. (Never, they advise, offer bribes.) But the work that stands out is with Muslims, whose religion is perhaps the country's most misunderstood and surely its most politically attacked.
Las Vegas is not alone in its Muslim outreach. Police departments across the country have tried to tackle tensions.
Paul Di Lella, the director of law enforcement affairs for the California-based nonprofit organization Not In Our Town, which tries to combat hate in U.S. communities, said that 30 law enforcement agencies tuned in to the March webinar, which featured talks with such titles as "Facing Controversy and Ensuring Safety When a New Mosque is Built in Your City: How to Break Down Stereotypes and Build Trust."
Di Lella said that Muslims are among many U.S. subcultures — including the lesbian, gay, bisexual and transgender community — that rarely seek out contact with police and present distinct challenges.
Recently, Larkin and Sgt. Ivan Chatman arrived for a regular visit to the Masjid As-Sabur mosque, where they ran into a local imam, Mustafa Yunus. They inquired about his limp.
"I'd like to say it's an old football injury or shrapnel from Vietnam," the gray-haired Yunus laughed. "But it's just old age."
Another mosque member pulled up in a new Nissan Armada SUV. "I like this ride," Larkin said, leaning into the passenger window. "I just got a new one, too. It's a 2008, which is new to me."
During the visit, Larkin and her team sat in a conference room and drank bottled water with several leaders as children poked their heads in the door, asking for faux police badges.
Imam Fateen Seifullah said many worshipers at first saw police as unwanted spies. When introduced to an officer, one man raised his hands in protest, saying, "I'm not down with the police."
Seifullah said, "We had a talk with him about that."
The apprehension went both ways. When police started their full-time outreach in 2010, Sgt. Braden Schrag patrolled the area around the mosque for months, too timid to make contact, waving at members through the wrought-iron fence.
Finally, one night, he got the courage to step out of his patrol car and ask the mosque's community affairs director Ahmad Ade what he could do to help.
Ade pointed to a nearby lot littered with a hulking old boat and cars that had become a backdrop to drugs and prostitution — the unsavory scene greeting mosque worshipers as they emerged from prayer.
Within days, the vehicles were gone.
The pair became fast friends, and Ade calls on Schrag when he goes too long without contact. Within the mosque, many tease Ade for his work with officers, calling him "po-po" and asking to see his badge.
But the relationship has produced results. Seifullah recently persuaded a worshiper who was wanted by police to turn himself in. And officers were called in on a domestic-violence case involving an Afghan family, something unthinkable just years ago.
Abdullah, from Masjid Ibrahim, keeps an office at an area mosque. "Yesterday, the FBI came and wanted to talk," he said. "We were open to the discussion" — a scenario unlikely in other cities, where lawyers would probably be called in.
They are less suspicious of law enforcement in general "because of the trust fostered by police," he says. "We are not living in perpetual hostility here."
There have been awkward moments. In 2012, after a massacre at a Sikh temple in Wisconsin, Larkin's bosses asked about outreach to the local Sikh community. There wasn't any; Larkin's team had been so focused on Muslims that other groups vanished from her radar screen.
An officer soon rushed over to a local temple, apologizing that he had visited only after a traumatic event. Now, officers find themselves attending Sikh concerts and birthday parties.
Larkin, a former ballet dancer who once performed in a casino show here, says her learning curve on religious cultures was steep: "There was no blueprint."
She was particularly curious to learn about the culture of Muslim women, why they covered their bodies even in the summer heat.
Once, Larkin was taken aside by a Muslim woman she had approached with ideas on volunteering. The woman told of her former life in an Afghan village, where U.S. troops had built a well to save residents a trip to a nearby river. Or so the troops thought.
Those river trips were the only time women had to get away from the men — a respite that was suddenly gone.
"It was a huge lesson for me," Larkin said. "I learned to ask what was needed and not just push my American views."
washingtonpost.com/national/police-in-las-vegas-forge-close-ties-to-the-citys-muslim-community/2016/05/22/4f2a6e3c-1647-11e6-924d-838753295f9a_story.html
--
To avoid the morality police, some Iranian women are dressing like men
MAY 22, 2016
Although wearing a head scarf is mandatory in Iran, some women are finding ways to duck the country's ever-watchful morality police.
To avoid being detained for what they say is a discriminatory law, some Iranian women have chosen to cut their hair short and dress like men.
"I am an Iranian girl," a woman posted Tuesday on the Facebook page for My Stealthy Freedom, which has close to one million likes. "In order to avoid the morality police, I decided to cut my hair short and wear men's clothes so that I can freely walk in the streets in Iran."
Masih Alinejad, an Iranian journalist who started the My Stealthy Freedom Facebook page, which posts photos of Iranian women without headscarves to protest the law as mandatory, tells the UK Independent:
"It shows that although the Government arrests women who post their photos without headscarves, women are not afraid and they are following their own lifestyle. The Government wants to create fear but women have found their own way to freely walk in the streets of Iran or drive without covering their heads. It is a serious cultural war between two lifestyles. For women, their hair is their identity and making it short to just avoid the morality police is really heartbreaking, but in a way, it is brave."
Hijabs have been mandatory in Iran since the 1979 revolution, but change has been building at the local and national levels. Iran's President Hassan Rouhani was elected in 2013 by young voters who believed he would relax the country's strict social laws, but the president has largely walked a middle line on the issues since assuming office.
For example, he criticized the thousands of undercover police in Tehran who have taken it upon themselves to report women not fully wearing a hijab. But when confronted with a photo of a woman without a headscarf posing for the My Stealthy Freedom Facebook page in November, President Rouhani condemned the action because "when someone lives in Iran, they should abide by the laws of the country."
Iranian officials arrested eight women last week for showing their hair online, in what the cybercrime court calls "un-Islamic" Instagram modeling. But as the Instagram arrests made clear, Iran's conservatives see the controversy over the hijab requirement as symbolic of a larger struggle between Iran's historical culture and the West's increasing influence.
"Sterilising popular cyberspaces is on our agenda," Mostafa Alizadeh, spokesman for the Iranian Centre for Surveying and Combating Organized Cyber Crimes, told the BBC. Iranian officials have targeted 170 Instagram accounts featuring women without hijabs. And of the 29 that received legal notice, only eight were arrested and the rest "reformed their behavior."
"The head scarf issue often features prominently in the constant tug of war between powerful hard-liners and Iran's increasingly urbanized and worldly society, Thomas Erdbrink explained in The New York Times last week. "Iran's laws require that all women, even visiting foreigners, cover their hair out of a traditional respect for culture and morality. Many hard-liners view the obligatory veil as a last-ditch defense against what they say is an onslaught of Western cultural decadence."
And the government's traditional hard-liners still have the edge.
Minoo Khaleghi was elected to the Iranian Parliament in February from the city of Isfahan, but she was disqualified from her position only a month later. The Iranian government defended Ms. Khaleghi's disqualification, with "evidence" of the politician "betraying her nation." The evidence, photos of Khaleghi not wearing a headscarf, was leaked onto social media earlier this month. Khaleghi claims the photos are fake.
csmonitor.com/World/Global-News/2016/0522/To-avoid-the-morality-police-some-Iranian-women-are-dressing-like-men
--
Unlike Mumbai's Haji Ali, women have free access to the Ajmer Sharif Dargah in Rajasthan
MAY 23, 2016
The "Haji Ali Sab Ke Liye" group has been fighting to allow women to gain entry into the sanctum sanctorum of the Haji Ali dargah in Mumbai. In July 2016, the Bombay High Court begins hearings on a petition filed by the Bharatiya Muslim Mahila Andholan, Mumbai, to allow women to access the dargah.
What about other dargahs in the country?
The video above was made during a visit by members of the group on the invitation of Professor Syed Liyaqat Hussain Moini, who is one of the custodians of the Ajmer Sharif dargah in Rajasthan. It shows how women at the shrine commemorating one of the most revered Sufi saints are granted free access to the sanctum sanctorum. "Ajmer Sharif is the biggest dargah in India. Hindus, Shias, Sikhs, all are allowed here," says Moini.
In the video, the filmmaker says, "Not only are women allowed inside the sanctum sanctorum, but mostly it is the women who offer chadars to the saint, seeking his benediction for their families." The women members of the delegation themselves go to the sanctum sanctorum to donate chadars. The only thing people seem to be resistant to is the presence of the camera.
Of the experience, Varsha Vilas said in an interview to The Times of India, "Men and women devotees visited the sanctum together. Nobody was pushed and there was no threat of any harassment to women."
In response, Haji Ali dargah trustee Shailesh Khandwani said to DNA, "You cannot compare the functioning of one trust with another under the pretext of enforcement of fundamental rights. The very fact that they have no knowledge of the difference between Sufism and Wahabism shows that the agenda of this group is nothing but to fan the communal flames under the pretext of fighting for women's rights, and unfortunately, the media is giving them a platform to do it. It's the constitutional right of the trust, being a religious domination, to address concerns of security and safety of devotees in a manner it considers appropriate. No outsider can be allowed to interfere in the trust's affairs, be it the administration or anyone else."
Says activist Firoze Mithiborewala says, "Our essential demand is that women be allowed into the Haji Ali dargah, as they were allowed in 2011, as they are allowed in Mecca." On being asked whether this is infringing on Constitutional rights he adds, "The Constitution of India gives rights to religious minorities to practise their religion, that is true. But that doesn't mean that they can discriminate against any section of their community. And that is why the Muslim women are going to the Supreme Court to ban triple talaaq and that is also part of that discrimination."
Counters the Western Maharastra President of the Awami Vikas Party, "We are against what is happening as a publicity stunt. We are trying to protect Sharia law. We shouldn't be speaking about religion when there is a drought in Maharashtra and many other more important women's issues need to be dealt with."
video.scroll.in/808579/watch-unlike-haji-ali-women-have-free-access-to-the-ajmer-sharif-dargah-in-rajasthan
--
Bangladesh's first female journalist, Nurjahan Begum, dies at 91
MAY 23, 2016
Nurjahan Begum was the editor of Begum magazine, the first magazine for women in the subcontinent, for the last 65 years.
Ms Begum was dedicated to the magazine - editing it up until her death at 91.
Begum was Bangladesh's first weekly magazine with pictures, and created opportunities for many female Muslim writers.
The magazine was founded in 1947 by Ms Begum's father, Nasir Uddin, who was also a journalist. It was first published from what was then Calcutta (now Kolkata) a month before India gained freedom from British rule, and shifted to Dhaka in 1950.
The magazine was hugely popular with Muslim women readers but also attracted the attention of men. It was even distributed to rural areas through the post.
Serajul Islam Chowdhury, a former professor of English literature in Dhaka University, has been a passionate reader of Begum magazine for the last 60 years.
He said that it was a brave step to publish a magazine for women readers at that time.
There were few voices for women in 1947, and "at that time women in our society didn't dare to take their own photos. Begum brought major changes towards that attitude," he said.
Ms Begum died on Monday, as a result of health complications related to her age, doctors said.
However, she will be remembered for relentlessly pursuing women's rights and focusing on their successes in every publication of Begum.
bbc.com/news/world-asia-36359874
--
Great Western debate: What's cooking under the Muslim headscarf?
MAY 23, 2016
'Lord forgive them for they do not know what they're doing' … I wonder if this famous quote could apply to our modern-day great freak out over Muslim women and the headscarf. The audacity really! Why cover up when you could be free?
Free, however, is actually the point. If we are in fact living in the free and liberal societies that Western officials have been boasting about, then why hold a bit of clothing in such utter contempt?
Technically, a scarf actually qualifies as an accessory, so whether one prefers to wrap it around one's head, neck, shoulders or ankle, I don't quite see how one is making a political statement - never mind affirming the objectification of women.
Before liberals and secular-crazy Frenchmen come at me with their forks and their pikes, screaming republican apostasy, let me clear a few misconceptions (Yes, Prime Minister Manuel Valls, my sarcasm is directed at you, and your grand-standing bias). Why do women wear the headscarf? I'm referring here to the actual headscarf (also known as a hijab), not the face veil.
Allow me to let you in on a little secret: Muslim women wear the headscarf because they want to! I know what a shocker! Can you imagine? Muslim women being actually capable of making decisions for themselves… this is down-right revolutionary.
In all seriousness though, the overwhelming majority of Muslim women who do happen to cover their hair have chosen to do so because they feel it stands as a manifestation to both their faith, Islam, and the covenant they made with God – to abide by His rules on modesty. There is no hidden agenda, only a woman's desire to live her faith the way she best sees fit, in accordance with the religious traditions which she identifies.
Before anyone remarks on the relevance of this religious rule, let me kindly remind you that whether or not you agree with what Islam commands is not the point. The point is that communities should be free to exercise their religious rights.
Now, although Muslim women are encouraged to cover their hair, and dress modestly, the headscarf is NOT, I repeat is NOT compulsory – not in the sense that it should ever be imposed. See, there is this crazy concept in Islam that in religion there could never be compulsion – in other words, men and women are inherently free to choose for themselves how they want to live their faith … or not for that matter.
If you look closely you will note that within the same Muslim family, some women will adorn the headscarf, while others will prefer to play it "liberal". And who cares; I can tell you that the last thing Muslim women think about, or talk about, are their headscarves – or lack of. A scarf is just a scarf … so unless you are Mellissa Rivers hosting Fashion Police, let it be already!
Can we please gather our wits and once and for all leave the French to their psychosis? Scarves are not weapons, and they certainly are not signs of dangerous indoctrination. How exactly would that work anyway? Are Western officials suggesting that headscarves prevent blood flow to the brain, and thus could prompt psychotic episodes? Would a radical stop being a radical depending on his or her fashion of clothing?
What was it that the French Prime Minister said this April? "France should protect Muslims from extremism", and that "a headscarf oppresses women and is not an object of fashion or consumption like any other." Valls' reference to fashion was made to echo, and anchor Minister Laurence Rossignol's statement on how headscarves are a mark of slavery which should be abolished and banned at once.
Certain French officials and many bigots around the world have systematically exploited the same argument - that the headscarf represents not only the enslavement of women, but asserts their inferiority and affirms their objectification. I'd like to know how! Are we actually linking a woman's freedom, sense of worth, and status to the amount of clothing she chooses to wear? Is Prime Minister Valls suggesting then that a bikini-clad woman stands the epitome of emancipation? I hope not because that would be chauvinistic. Chauvinism is exactly what Muslim women face today – chauvinism and neo-colonial bias.
Now, I will grant you that Muslim women across the world have suffered, and continue to suffer great many injustices, but none of which are remotely linked to the headscarf. Forget Saudi Arabia, the Taliban or ISIL militants' insane demands that women be made to disappear altogether under a black shroud, so they could deny their humanity. There is an entire universe in between a headscarf and a burka.
While a headscarf represents a Muslim woman's declaration of faith to the world – just like a cross would for a Christian, a burka screams abuse and oppression. If you want to get angry at something, get angry at that. Millions of women today cower under the yoke of brutal men … and still we argue fashion correctness.
While Western officials will hold grand debates on the veil, arguing constitutional changes and bans, they have no qualms sitting across a table with those powers, which seek the factual enslavement of women.
In early January, Saudi Arabia aired a program on national television entitled: 'How to properly beat your wife.' I am not being funny here … a certified psychologist looked straight at the camera as he went about schooling men on how to "discipline" their wives.
So if you want to discuss radicalization, indoctrination and overall lunacy, look not at Muslim women and their preferred fashion, but those who still wield religion (Wahhabism) as a tool to enslave body and mind in order to raise tyrants over men.
rt.com/op-edge/343985-western-debate-muslim-headscarf/
URL: https://newageislam.com/islam-women-feminism/the-pakistani-dancer-makes-kathak/d/107393
New Age Islam, Islam Online, Islamic Website, African Muslim News, Arab World News, South Asia News, Indian Muslim News, World Muslim News, Womens in Islam, Islamic Feminism, Arab Women, Womens In Arab, Islamphobia in America, Muslim Women in West, Islam Women and Feminism