New Age Islam News Bureau
22 Sept 2015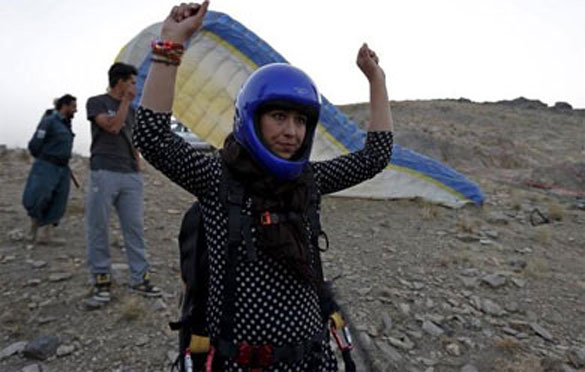 Afghan para-glider Leeda Ozori, 21, prepares to practice in Kabul, Afghanistan September 17, 2015. REUTERS/Mohammad Ismail
------------
• The Islamic State West Africa Continues To Utilize Women as Suicide Bombers
• 10 Muslim Villages in India Ban Girls from Using Mobiles, Jeans, T-Shirts as It 'Increases Crime Rate'
• First Emirati Woman Posted At UN's New York HQ
• Women's Afghan Paragliding Team Soar through Kabul's Skies
• Afghan Woman Escapes Stoning Death in Sar-i-Pul
• Hundreds of Turkish Women Cycle To Support Green Transportation
• At UN Human Rights Council, Saudi Arabia Chairs Panel Vetting Applicants for 'Violence against Women' Post
• This Single Mom Is Fighting to Protect Pakistani Women from Cyber-bullying
• Sisters in Islam: Racism against the Principles of Islam
• Myanmar Army Chief Says He Would Welcome Woman President
• Meet the Female Motocross Rider Who Wants To Represent Iran
• Algeria, Arab World's Leader in Women's Representation in Elected Assemblies
• Nigeria: Groups Campaign to Stop Violence against Women
• Cameroon, UN Women Strengthen Ties
• Kenya: Women's Rights and the Constitution
• Geeta Gandbhir on Documentary: 'Muslim Women Can Do Work That Is Equal to Men'
Compiled by New Age Islam News Bureau
URL: https://newageislam.com/islam-women-feminism/the-islamic-state-west-africa/d/104676
--------
The Islamic State West Africa continues to utilize women as suicide bombers
September 21, 2015
Boko Haram, which now calls itself the Islamic State's West Africa Province (ISWA), continues to utilize women as suicide bombers in northeastern Nigeria and in neighboring Cameroon. The jihadist group killed three people today in a suicide attack in the town of Mora in northern Cameroon.
According to Reuters, a police officer and two civilians were killed after two female suicide bombers detonated themselves in a car close to the town's stadium. Early reports have indicated that the police officer stopped the car for a routine check before being killed in the blast. The death toll is expected to rise as authorities begin searching the scene and gather more information. The attack also occurred just hours after coordinated improvised explosive device attacks in the Nigerian city of Maiduguri killed over 50.
The attack in Cameroon is just the latest to have been perpetrated by ISWA this year. In July, a 12-year old girl killed 20 people when she detonated in a crowded bar in Maroua, the capital of Cameroon's Far North Region. A week before that attack, two teenage girls blew themselves up in a market in Maroua, killing at least 20. A few days before, two other teenage girls detonated in the border town of Fotokol, killing 10 civilians and a Chadian soldier. In response to these attacks, the regional government banned women from wearing burkas, which the ISWA often uses to mask its suicide bombers.
The tactic of using women as suicide bombers has been a common occurrence in Nigeria over the past two years. In one of the deadliest attacks, on Nov. 27, 2014, two women killed 78 people and wounded scores more at a market in Maiduguri. The group's first known instance of using a female suicide bomber was on June 8, 2014, when a middle-aged woman on a motorcycle detonated near a Nigerian military barracks in Gombe, killing one policeman.
The consistent tactic indicates that the jihadist group is running camps to indoctrinate and train its recruits. The ISWA is known to have kidnapped hundreds of young girls and women in order to convert them to Islam, marry them off to fighters, and train them to conduct attacks.
The ISWA has deployed at least 42 female suicide bombers in Nigeria and Cameroon since June 2014, according to data compiled by The Long War Journal. The use of women can make it easier for jihadist groups to conduct suicide attacks, as explosives may be easier to hide, and men are less likely to search women due to cultural sensitivities. The ages of the women range from just 12 years old to middle-aged.
The group is not the first terrorist organization to use women to carry out suicide attacks. Jihadists in Russia's North Caucasus are famous for deploying "Black Widows," who are the wives of fighters killed while battling Russian troops. Al Qaeda in Iraq (the predecessor to the Islamic State), the Afghan Taliban, and the Movement of the Taliban in Pakistan have all deployed female jihadists to attack their enemies.
Despite a coordinated military offensive by Nigeria, Chad, and Cameroon that has targeted ISWA strongholds in the Lake Chad region, the jihadist group has maintained its attack tempo. ISWA has launched two suicide attacks in N'Djamena, the capital of Chad, over the past months, and has conducted multiple military assaults in Niger, Cameroon, and Nigeria. In one particularly gruesome attack, ISWA gunmen assaulted two mosques in the town of Kukawa in Borno as worshippers were praying. At least 97 people, many of them children, are reported to have been killed. Around 800 people are suspected to have been killed since Nigerian President Muhammad Buhari came into power in May.
List of Islamic State West Africa/Boko Haram suicide attacks utilizing women since the beginning of June 2014:
Sept 20, 2015 – A police officer and two civilians were killed when two female suicide bombers detonated themselves in Mora, Cameroon.
Aug 25, 2015 – A 14 year old girl suicide bomber killed 5 in an attack on a bus station in Damaturu.
July 25, 2015 – A 40 year old woman, described as "mentally unstable," detonated herself in a crowded market in Damaturu, Nigeria, killing 14.
July 25, 2015 – A 12 year old girl killed 20 people in a suicide bombing on a popular bar in Cameroon.
July 22, 2015 – Two girls killed at least 20 people in separate suicide bombings in Maroua, the capital of Cameroon's Far Northern Region.
July 17, 2015 – A 10 year old girl and an elderly woman killed 50 people in separate suicide attacks in Damaturu, Nigeria.
July 16, 2015 – A young woman suicide bomber killed at least nine people as they gathered to mark the Muslim holiday Eid al-Fitr in Damaturu.
July 12, 2015 – Two women suicide bombers killed 10 civilians and a Chadian soldier in an attack in the Cameroon border town of Fotokol.
July 7, 2015 – A woman killed at least 20 people after detonating her vest in a crowd of Nigerian government workers in Zaria.
July 7, 2015 – A female suicide bomber detonated her explosives after she was stopped at a roadblock in Zaria.
July 3, 2015 – A teenage woman suicide bomber killed 12 worshippers when she blew herself up in a mosque in Malari in northeastern Nigeria.
July 3, 2015 – A woman suicide bomber killed five people at a Christian church in Potiskum, Nigeria.
July 1, 2015 – The Nigerian military said that six women suicide bombers killed scores of civilians and one soldiers in separate attacks in the village of Zabamari Muna near Maiduguri.
June 24, 2015 – A girl, who is thought to have been 12-years-old, killed 10 people after detonating her explosive vest at a market in Yobe state, Nigeria.
May 16, 2015 – A woman killed 10 people in a suicide attack in Damaturu, Nigeria.
March 12, 2015 – A woman killed at least 34 people after detonating an explosive device at a market in Maiduguri.
Feb 22, 2015 – A young girl killed five people and wounded dozens more in a bombing at a security checkpoint outside a market in Potiskum.
Feb 15, 2015 – A woman killed at least seven people in a bombing at a crowded bus station in Damaturu.
Feb 12, 2015 – A woman killed seven people in a suicide attack at a crowded market in Nigeria's Borno state.
Jan 10, 2015 – A female suicide bomber killed 19 in an attack in Borno.
Dec 10, 2014 – Two female suicide bombers kill four in Kano.
Dec 1, 2014 – Two women suicide bombers kill five in Maiduguri.
Nov 26, 2014 – Two women suicide bombers killed 45 people at a crowded market in Maiduguri.
Nov 16, 2014 – A woman suicide bomber killed at least 12 in an attack at a cellphone market in Azare, Nigeria.
Nov 12, 2014 – A woman suicide bomber detonated her vest at a teacher training college in Kontagora in Nigeria's central Niger State.
July 31, 2014 – A woman killed three people after detonating her explosives at a college in Kano, Nigeria.
July 30, 2014 – A teenage girl killed six people after blowing herself up among a crowd of students at a college campus in Kano.
July 28, 2014 – A young woman killed three people after detonating her bomb at a kerosene queue in Kano.
July 28, 2014 – A teenage girl injured six people after detonating a bomb at a shopping centre in Kano.
July 27, 2014 – A teenager with an explosive device concealed under her veil detonated her bomb up at a university campus in Kano, injuring five police officers.
June 25, 2014 – A woman detonated her bomb after parking her car next to a gasoline tanker at a fuel depot in Lagos, Nigeria.
June 8, 2014 – A middle-aged woman killed a policeman in a suicide attack at a military barracks in Gombe, Nigeria.
Caleb Weiss is an intern at the Foundation for Defense of Democracies and a contributor to The Long War Journal.
http://www.longwarjournal.org/archives/2015/09/the-islamic-state-west-africa-continues-to-utilize-women-as-suicide-bombers.php
----------
10 Muslim Villages in India Ban Girls from Using Mobiles, Jeans, T-Shirts as It 'Increases Crime Rate'
September 21, 2015
As many as 10 villages in western Uttar Pradesh have banned women from using mobile phones and wearing jeans and T-shirts after a local village council issued a diktat on the grounds that it leads to an increase in crime rate.
Issuing the ban order, the 17-member Muslim council members noted that the new rule will help prevent crimes against women. Another leader told ANI that the women in villages must live as per the rules of the land.
"The kind of clothes that unmarried girls in our community wear, for example netted or if they are semi-clothed, this is not decent according to the rules of Islam," Mohammad Irfan, the president of the council told ANI.
"Such attires are allowed in cities, but in villages we will not allow them, and so we have banned it," Irfan added.
The ban has been implemented in at least 10 villages of Muzaffarnagar and Saharanpur districts.
Justifying the village council decision, a local resident said that crime increases when unmarried girls use mobile phones.
"We don't think it is good for unmarried girls to use mobile phones. God forbid, if they talk to someone (men), it results in increase of crimes and mischief, so we have banned it. In fact, I think only the married men, the responsible men should carry mobile phones," said Mohammad Akbar, a resident told ANI.
http://www.ibtimes.co.in/uttar-pradesh-10-muslim-villages-ban-girls-using-mobiles-wearing-jeans-t-shirts-it-increases-647466
----------
First Emirati woman posted at UN's New York HQ
September 21, 2015
New York: Hind Abdulaziz Alowais has become the first Emirati woman to be posted at the United Nations Headquarters in New York as a senior advisor since the UAE became a member of the United Nations in 1971.
Alowais was selected for the post of Senior Advisor in the Office of the Deputy Executive Director, Lakshmi Puri, Assistant Secretary-General for Intergovernmental Support and Strategic Partnerships, at the United Nations Entity for Gender Equality and the Empowerment of Women (UN Women).
This appointment on September 7 came shortly after the UAE declared August 28 as Emirati Women's Day and coincides with the 40th anniversary of the establishment of the UAE General Women Union (GWU). It also represents an opportunity for recognising and celebrating the achievements of the UAE Women since the establishment of the GWU.
In this position, Alowais will work to ensure the integration of a gender perspective in the implementation of the sustainable development goals. She will assist the Deputy Executive Director in building advocacy and substantive support on intergovernmental, non-governmental, and strategic partnerships.
Ambassador Lana Nusseibeh, the Permanent Representative of the UAE to the UN, said: "Having an Emirati woman in this position is a reflection of the international recognition that the UAE has achieved, not only on gender equality, but also as an active and serious player in this international organisation."
Alowais served as a career diplomat since 2000. During her work with the Ministry of Foreign Affairs, she served as Special Assistant to the Foreign Minister. Most recently, Ms. Alowais served as a Counselor and acting Deputy Permanent Representative of the UAE Mission to the United Nations in New York. In this role, she led and managed a number of initiatives, the most recent of which was a series of panel discussions on Women, Peace and Security, as part of the UAE Mission's leading activities at the UN aimed at promoting the Women, Peace and Security agenda.
Alowais holds a Master of Arts in Public Policy from the Tisch School of the Arts in New York and a Master's degree in International Affairs from the Lebanese American University. She is currently pursuing a Doctorate degree at NYU's Steinhart School of Culture Education.
http://gulfnews.com/news/uae/government/first-emirati-woman-posted-at-un-s-new-york-hq-1.1587985
----------
Women's Afghan paragliding team soar through Kabul's skies
21/09/2015
Zakia Mohammadi, a woman in Afghanistan's first national paragliding team, waited on a hilltop on the Women's Afghan paragliding team soar through Kabul's skiesoutskirts of Kabul for a wind to lift her craft into the sky, as dozens of watching teenagers clapped and cheered.
She is one of a group of young Afghans taking to the skies of a capital where military helicopters and surveillance balloons are a far more familiar sight.
"When I went up to the sky, I thought I was a bird which had just been freed from a cage," said Mohammadi, one of two women in the newly established team of 15 that includes two trainers. "I really enjoyed it."
Women in Afghanistan's conservative Muslim society are increasingly entering areas such as education, sports and the workplace, but most still wear the head-to-toe garment, the burqa.
"When women see me they don't believe that an Afghan woman can do this," said Leeda Ozori, the other woman in the team. "The situation is not good, there is no security, but I am brave and I can do it."
During the rule of the militant Islamist Taliban in the 1990s, Afghan women were kept out of schools, universities and public life. They could not leave their homes unless accompanied by a male family member.
"When we first came here, children were pelting us with stones," paragliding trainer Mehran Rahbari told Reuters at the top of the hill in Kabul.
"But later, when they found out that we were coming here for sports, they stopped throwing stones at us. Now they love us."
Paragliding is an expensive pastime, however, in a city where the average wage is about $200 a month.
Even a middle-class Afghan will find it tough to afford the $500 cost of two weeks of training, while paragliding equipment costs $5,000.
Getting to the tops of hills takes hours of climbing in a four-wheel drive vehicle, in the absence of proper roads. An army vehicle carries the team's equipment, with a police escort to fend off possible attacks.
But the team's biggest concern is their vulnerability when aloft. "We fly for around 20 minutes in the sky and sometimes we fly over people's houses," said Naweed Popal, who pooled his cash to set up the group just over three years ago.
"We are concerned if something happens and we find ourselves with no means of defence."
Each craft has a steering mechanism to avoid collisions, and every team member is given a radio to maintain contact.
Although the team hopes to expand operations to other Afghan provinces, security worries now restrict it to Kabul.
"We cannot go anywhere outside Kabul," said Iranian trainer Rahbari. "We are afraid if we go out and get attacked, one bullet can end all our efforts."
But the women on the team are undeterred.
"Our idea is to show to the world that Afghan women, although living in war and insecurity, have the ability to improve and become developed," said Mohammadi.
http://spanishnewstoday.com/womens-afghan-paragliding-team-soar-through-kabuls-skies_26859-a.html
----------
Afghan Woman Escapes Stoning Death in Sar-i-Pul
By KHAAMA PRESS - Tue Sep 22 2015
Mohammad Noor Rahmani, head of the provincial council said that Taliban stoned the women in Laghman village, located in the vicinity of the provincial capital, but the woman dies she escaped.
According to Rahmani, the woman was captured by Taliban on adultery charges last week and faced the punishment in front of a huge crowd of people yesterday.
Rahmani further said that Laghman village is located about 20 kilometers away from the provincial capital and Taliban are controlling it.
Head of the provincial council said that the victim was later taken to the district clinic for treatment.
This is second incident of its kind in Sar-i-Pul province in less than two weeks.
A man and woman were stoned to death by Taliban militants in Kata Qala area of Suzma Qala District of this province 12 days before. They were accused of having immoral contacts.
http://www.khaama.com/woman-escapes-stoning-death-in-sar-i-pul-3939
------
Hundreds of Turkish Women Cycle To Support Green Transportation
September/21/2015
Hundreds of women have taken to the streets on bicycles in multiple events in western and southern Turkey to raise awareness of sustainable transportation methods, as Sept. 20 marked "The World Cities without Cars Day."
Around 500 women cycled the streets of the Aegean province of İzmir after they gathered at İzmir's Konak Square at 5 p.m. on Sept. 20 as part of an event called the "Chic Women Cycling Tour" to spread awareness of the positives of bicycle use and highlight the vitality of airy cities without exhaust fumes.
The women decorated their bicycles with multi-coloured ornaments and flowers for the event.
"We decorated our bicycles with colourful ornaments, because we want to be conspicuously noticed," Sema Gür, a woman speaking on behalf of the group, said.
Gür said bicycles were not only for exercising, but also for daily life and that they had gathered to raise awareness of sustainable transportation.
Filiz Morovaineler, a woman taking part in the event with her bicycle, said she was truly passionate about cycling.
"We, as women, want to make our voices heard. We want all cities to have necessary infrastructure for cycling. We yearn for sustainable transportation," Morovaineler said.
"I live in İzmir. Our goal is to reach far destinations with bicycles, but without exhaust gases," said Dilek Biçer, another participant of the event, adding they came with their bicycles without contaminating the environment.
Click to see pictures from the "Chic Women Cycling Tour"
İzmir Mayor Aziz Kocaoğlu from the Republican People's Party (CHP) also attended the event, saying some roads in İzmir were rugged and that the İzmir Metropolitan Municipality were constructing cycling tracks.
In a separate event as part of the series of cycling events to stress the importance of bicycle use in daily life to reduce vehicle pollution, 50 women cycled the streets of Bodrum on Sept. 20 after they gathered at İskele Square in the popular resort town in the Aegean province of Muğla.
The women cycled Bodrum's streets on bicycles decorated with colorful balloons and soft toys, and completed a full tour, cycling to the point that they initially started from.
Burcu Gelegen, a woman who cycled with the group, said bicycles could possibly be used if a convenient cycling arrangement was made, noting that bicycles were a transportation means as well as used for exercise and sporting purposes.
In a separate event in the Mediterranean province of Antalya, a group of women cycled Antalya's streets after they gathered on Konyaaltı Street on Sept. 20.
The cycling event has been held since 1999 in European counties, and since 2002 in Turkey, said Deniz Laylak, a woman who took part in the event, speaking on behalf of the group.
"We want to point out environmental contamination, as we have cycled over the past two years in Antalya," Laylak said.
"If we see bicycles as transportation means, that would be for the good of environment."
http://www.hurriyetdailynews.com/hundreds-of-women-cycle-to-support-green-transportation.aspx?pageID=238&nID=88793&NewsCatID=340
----------
At UNHRC, Saudi Arabia Chairs Panel Vetting Applicants for 'Violence against Women' Post
September 21, 2015
The U.N.'s Human Rights Council over the summer quietly appointed Saudi Arabia as head of a panel responsible for interviewing and short listing experts focusing on a range of human rights-related themes.
Among the candidates for posts considered at meetings chaired by the Saudi ambassador to the HRC, Faisal bin Hassan Trad, since May was one dealing with "violence against women, its causes and consequences" and another focused on "the independence of judges and lawyers."
The kingdom is frequently cited by human rights advocacy groups and Western governments for the fairness of its judiciary and its treatment of women. (Last year Saudi Arabia was in 13th last place out of 142 countries, evaluated by the World Economic Forum for gaps between women and men in the areas of political empowerment, economic participation and opportunity, educational attainment, and health and survival.)
The HRC's "Consultative Group" is a panel of five members, one from each of the five regional groups recognized by the United Nations. Saudi Arabia was put forward by the Asia group. The other four current members are the ambassadors from Algeria, Chile, Lithuania and Greece.
The Consultative Group's tasks include interviewing and recommending candidates for dozens of posts of "special rapporteurs" or "independent experts," each of whom have a specific mandate. The individuals' work is viewed as pivotal to the U.N.'s human rights efforts.
Trad's selection as chairman of the panel was first reported Sunday by U.N. Watch, a Geneva-based non-governmental organization that monitors the HRC. It said the action had occurred several months ago, "yet Geneva diplomats chose to keep silent and that initial election went unreported until now."
U.N. Watch executive director Hillel Neuer called on U.S. ambassador to the U.N. Samantha Power and European Union foreign policy chief Federica Mogherini to reverse the Saudi ambassador's appointment.
"It's scandalous that the U.N. chose a country that has beheaded more people this year than ISIS to be head of a key human rights panel," he said, referring to the Islamic State of Iraq and Syria terrorist group.
"Saudi Arabia has arguably the worst record in the world when it comes to religious freedom and women's rights, and continues to imprison the innocent blogger Raif Badawi," Neuer said, adding that the move "underscores the credibility deficit of a human rights council that already counts Russia, Cuba, China, Qatar and Venezuela among its elected members."
(Raif Badawi has been sentenced to 10 years' imprisonment and 1,000 lashes for insulting Islam. Last January he received the first 50 lashes in a public flogging in front of a mosque in Jeddah – one day after the State Department urged the Saudis to cancel what it called "this brutal punishment." Subsequent rounds of flogging have been postponed.)
Last May a Swiss newspaper, Tribune de Geneve, reported that Saudi Arabia was seeking the support of its regional group to be nominated for the rotating presidency of the HRC itself for 2016.
The news drew strong protests, and several weeks later the same French-language publication reported that the Saudis had withdrawn its bid to head the council.
Now, U.N. Watch suspects that Saudi Arabia may have been given the chair of the Consultative Group "in a backroom deal," as a consolation for losing out on the HRC presidency.
"I urge Ambassador Power and High Commissioner Mogherini to confirm that this is not the case," said Neuer.
A search of HRC documentation shows that since May, Saudi Arabia's Trad has chaired at least a dozen meetings of the Consultative Group, at which scores of applicants were considered and interviewed for the posts of: "special rapporteur on violence against women, its causes and consequences," "special rapporteur on the independence of judges and lawyers," "special rapporteur on the right to privacy," "special rapporteur in the field of cultural rights" and "independent expert on the enjoyment of human rights by persons with albinism."
Meetings chaired by Trad also considered and interviewed candidates for working groups on arbitrary detention, enforced or involuntary disappearances, and people of African descent.
http://cnsnews.com/news/article/patrick-goodenough/un-human-rights-council-saudi-arabia-chairs-panel-vetting-applicants
----------
This single mom is fighting to protect Pakistani women from cyberbullying
Sep 21, 2015
For Nighat Dad, founder of non-profit organization Digital Rights Foundation, it was her personal struggle to gain legal custody of her son that alerted her to the abysmal state of women's rights in Pakistan. Following a tumultuous marriage which lasted only 18 months, Nighat became embroiled in a legal wrangle with her influential ex-husband over sole custody of their child.
Although trained as a lawyer, Nighat saw the legal system conspiring against her, with her husband using his position as a government bureaucrat to pull strings and wrest control of the child. Despite advice to the contrary, she refused to give up and contested the battle single-handedly. While she eventually came out on top, others in her position weren't so fortunate.
"Whenever I went for court proceedings I saw women who were miserable, harassed, and fighting lone battles for their kids. Many approached me for help and I wanted to ease their pressures," Nighat tells Tech in Asia.
Despite winning the battle, Nighat, who hails from a family with modest means, faced an uncertain future. She needed to earn money to look after her infant child, but the only lucrative recourse was to pursue a career in corporate law. If she chose this route, it would have sidetracked her from doing what she was supremely passionate about: educating women on their legal rights and helping them claim what was rightfully theirs.
Again she decided to ignore the advice of her friends and family and dove into the world of advocacy and promoting women's rights. Her initial work revolved around studying the Pakistani constitution in detail and examining existing parameters which guaranteed women's rights. This was in 2007.
Protecting digital footprints
Around the same time Pakistan was witnessing an internet revolution of sorts. The web started permeating Pakistan's urban populace andNighat Daad there was an explosion in the number of social media users. Nighat says she was approached by several women asking for advice and help on how to deal with unruly online behavior. "While most [women] understood there were laws to deal with potentially harmful offline behavior, the online space was completely new to everyone. They wanted to know what the legal remedies were for online harassment," she adds.
Internet users in Pakistan were not alone in voicing these concerns. A 2014 Pew Research Center survey revealed 73 percent of online adults had witnessed harassment online, with 40 percent personally affected by it. Young adults, in the 18 to 29 age bracket, were cited to be the most harassed demographic, with 65 percent experiencing some form of online abuse.
Nighat explains that this evolving space convinced her of the need to focus wholly on safeguarding women's digital rights. Existing legislation dealing with cybercrime had lapsed as it wasn't incorporated by parliament into a fully-fledged act. There was a legal loophole which could be exploited.
I thought to myself that this wasn't right. If people are using technology then there should be safeguards. From there on I started working on policy implementations and improving legal structure.
One of the biggest obstacles Nighat faced in her quest was the complete lack of understanding of the space. Harassment, stalking, and blackmailing was considered to be a regular part of the online experience. People thought that if one decided to use the internet, they should be prepared to experience such behavior. Women, especially those from the more conservative areas of the country, were afraid to voice their concerns to government authorities and as a result would receive thousands of unsolicited messages, videos, and "friend requests."
Hectic efforts
In 2010, Nighat joined a human rights organization and think tank focusing on information and communication technology. She quickly expanded her work to educate women from all parts of Pakistan on understanding their digital footprints and taking measures to safeguard their privacy. "As social media was a new thing, people were very excited and eager to join. But what they didn't understand was that because of its very public nature, anyone could potentially view their profiles and read shared content. This led to unwanted behavior and online harassment," she explains.
A couple of years later, Nighat branched out on her own and started the Digital Rights Foundation. She was involved in the Take Back the Tech campaign – a global initiative promoting online privacy, internet governance, and related policies, but soon understood that a more local, contextualized effort was required to help women in Pakistan.
3
While she remained involved with Take Back the Tech, her next project was 'Hamara Internet' (Our Internet), which centered around helping women reclaim the online space. Nighat, who by now described her passion as "working with women in technology," aimed to help women realize that the internet isn't just for men to use. Women should also be able to share their opinions without fear of bullying or reprisal.
For over a year, the Digital Rights Foundation operated on a shoestring budget as it wasn't funded by any external grants. Nighat worked a day job at the UN, and dedicated her evenings to promoting digital rights. She had one more person on the team, but even that was on a voluntary basis as she didn't have the money to pay for salaries.
However, stories about her work with far flung communities started to filter through and slowly the organization started to receive contracts for consulting. Part of the reason for that was Nighat's insistence on investigative research, as she believed advocacy efforts were pointless without proper baseline studies.
Nighat's organization worked closely with local NGOs and in cities such as Hyderabad, Multan, Muzzafargarh, and Nowshera. Women in these cities were still relatively unexposed to technology, but were eager to learn more. As a result, her training would sometimes boil down to simple tasks such as having secure passwords, training on combating online harassment, and when to involve local government authorities. In some cases the Digital Rights Foundation would develop websites for local administrative bodies and teach government employees on procedures to register and follow up on complaints.
Such training may seem outdated, but can be very crucial. For example, in conservative parts of Pakistan, many families frown upon women using the internet or social media. Hence, while women are eager to use technology to expand their worldview, they often hide this behavior from their parents for fear of reprisal. If they face harassment online they cannot turn to their family for help, as they would be admonished for being online in the first place.
5
Nighat cites a recent example where some hackers, based in the conservative frontier city of Peshawar, cracked several profiles of women and shared their contact details on the internet. This included phone numbers, residential addresses, and education background. Threats were made warning them not to inform the police. The women approached Nighat for help, and she contacted the Facebook product team. After detailed discussions with Facebook, Nighat convinced them to delete the offending accounts and pages. Some of the women went on to lodge complaints and the two hackers were then arrested.
Earlier this year, Nighat was recognized by Time Magazine as a "Next Generation Leader", primarily due to her work in capacity building, research, and training. She says it was her desire to get out of her comfort zone and work with far-flung communities and towns that helped get the award.
Nevertheless, the activist is steadfast in her belief that there's a long road ahead before women across Pakistan enjoy the same rights as men. "Technology is advancing very rapidly and online misogyny is increasing. If women share their opinions online they are quickly brandished as 'traitors'. However, they're refusing to back down. As a result of our training they feel more confident."
https://www.techinasia.com/single-mom-fighting-protect-pakistani-women-cyberbullying/
----------
Sisters in Islam: Racism against the principles of Islam
September 21, 2015
PETALING JAYA: Sisters In Islam (SIS) has criticised Tan Sri Annuar Musa for suggesting that racism based on Islam was acceptable.
The Muslim women's NGO said that using religion to incite racism was not only against the principles of Islam, but could also divide the community.
"The Prophet Muhammad (pbuh) was sent to the pagans in Mecca because they practiced extreme forms of racism, which led to fighting among tribes, the oppression of the weak, and discrimination against women and children.
"Islam arrived to abolish all forms of oppression based on racism," SIS said in a statement on Monday.
Annuar, who is an Umno supreme council member, allegedly told the crowd at last Wednesday's 'red-shirt' rally that racism was allowed as long as it was based on Islam.
The rally, which took place in the heart of Kuala Lumpur on Malaysia Day, was organised as a response to the Bersih 4 rally and was wrought with racial overtones as participants chanted derogatory remarks against other races.
Quoting a hadith of the Prophet, SIS said that those who practiced or promoted racism would die in a state of 'jahiliyah" (ignorance).
The NGO also criticised Annuar's speech at the rally as "unbecoming of a former minister" and claimed that it contradicted the Federal Constitution.
"Article 8 of the Federal Constitution clearly states that everyone is equal under the law and is entitled to equal protection.
"This provision is special because it upholds the principles of equality not just to Malaysians, but anyone living in Malaysia regardless of race and religion," it said, adding that fiery speeches intended to disrupt racial harmony should be curbed at all costs.
http://www.thestar.com.my/News/Nation/2015/09/21/Sisters-in-Islam-comment-Annuar-Musa/
----------
Myanmar army chief says he would welcome woman president
21 September 2015
Myanmar's powerful army chief said on Monday he would welcome the prospect of a female president, words that will be little comfort to opposition leader Aung San Suu Kyi who is barred from the post.
Myanmar holds parliamentary polls in November, and even though Suu Kyi's National League for Democracy is expected to make significant gains she will not become president.
Under a military-drafted constitution the country cannot be led by anyone with foreign-born offspring. Suu Kyi's children were born in the UK to a British father.
But in a rare interview with local and international media, General Min Aung Hlaing said he had no issue with the formerly junta-run nation being led one day by a woman.
"I welcome them. Whether man or woman to serve duty, I welcome them," the army chief said at the meeting in a military compound in the capital Naypyidaw.
"We arrived here this stage because our mothers nurtured us," he said, adding that he had also appointed women to senior posts within the Tatmadaw (military).
"There are many women officers in our Tatmadaw as well now. We see they are also very capable."
Some 30 million voters are expected to head to the polls on November 8 for what observers hope will be the freest election in decades.
Myanmar languished for years under a brutal isolationist junta which crushed opposition and ruined the economy while enriching a coterie of senior military officers.
In 2011 army rule gave way to a quasi-reformist civilian government – dominated by former generals – which led to the lifting of most Western sanctions and a promise of elections.
The November polls will be the first general election in a quarter of a century to be contested by the NLD.
But the army will continue to wield significant political influence even if the opposition sweeps the polls because 25% of seats in parliament will still be reserved for the military.
Army still powerful
Observers say the army is deeply wedded to its perceived role as protector of the Myanmar constitution, which was drawn up under a former military regime that suppressed all dissent and kept Suu Kyi under lock and key for some 15 years.
The NLD has vowed to change the charter to reduce the army's role and overturn the provision which bans Suu Kyi from becoming president.
The country's next leader will be chosen three months after the election. Three candidates will be put forward and voted on by the two houses of parliament and the military.
Current president Thein Sein, himself a former general and member of the military-backed USDP party, is seen as a likely candidate.
In an interview in July, General Min Aung Hlaing said he had not ruled out becoming president if asked. The NLD has not said who its preferred candidate will be.
The army chief also addressed the issue of people fleeing Myanmar's shores.
Over the years tens of thousands of the persecuted Rohingya Muslim minority have fled in rickety boats, usually towards Malaysia, at the hands of vicious smuggling gangs.
Many have perished along the way.
A crackdown by Thailand in May left hundreds stranded on land and at sea, prompting a belated regional response.
The crisis abated with the arrival of the monsoon rains but the general said he expected departures to pick up again.
"We cannot prevent boat people," he said.
"If we do so, people who have same religion could make trouble on it."
"There are many routes to go... we will try our best if the situation worsens."
Most Rohingya are not recognised as Myanmar citizens despite many living in the country for generations.
Critics accuse the government of turning a blind eye to their persecution to persuade more to leave. – AFP, September 21, 2015.
http://www.themalaysianinsider.com/world/article/myanmar-army-chief-says-he-would-welcome-woman-president
----------
Meet the female motocross rider who wants to represent Iran
Fred Pleitgen-Profile-Image
By Frederik Pleitgen,
September 21, 2015
Tehran, Iran (CNN)On a dirt track in the mountains above Tehran, the rider on the yellow 250cc Suzuki dirt bike speeds through the sand and dust, launching off of small hills and racing on.
This daring rider can hang with the best on this course. But there is often an awkward moment of silence when the helmet comes off and bystanders realize they've been watching a woman.
Behnaz Shafiei is one of the few women in Iran riding motocross at a high level. The lively 26-year-old says she has loved motorcycles since she was a child but only took up her passion as a teenager.
"When I was 15 I saw a lady going around doing whatever she wanted on a motorcycle, and that is when I realized I wanted to ride one as well," she told us, right after finishing several practice laps on the course.
Getting involved in motorcycle racing was an uphill battle from the start in Iran, a country where women can't even get a license to ride motorcycles on the streets. Behnaz remembers how stunned some men were when she showed up at the dirt bike track looking to compete.
"There are some groups of men, when they see us they say, 'You should stay at home and cook -- this sport is not for you.' It makes so mad, so I want to prove them wrong," she says, although she is quick to add that the men she trains with on the track outside Tehran have been nothing but supportive.
Her brother often helps her out, and her coach is Iranian motocross champion and freestyle motorcycle rider Rasoul Najafi. They often take to the track together, Najafi leading the way as he shows Behnaz how to perfect her mastery of the bike.
In the beginning, Najafi says it was a little strange for him to see a woman trying to take up the sport in Iran. Now he believes she can go far.
"She is very talented and can reach very high. But she needs better facilities and more sponsorship to advance further," Najafi says.
Najafi has touched on another problem Behnaz faces: She can't compete in races in Iran, and despite being invited to events in Europe and the U.S., she often lacks the funds to make the trips because she doesn't have enough sponsors.
The role of women in sports is currently a big issue in Iran. The country was recently embroiled in a major debate over whether women should even be allowed to attend sports events like football games or the ever-popular volleyball matches.
Conservatives have attempted to uphold a ban on women in stadiums, but many moderates are fighting to get the rules changed.
The case of Niloufar Ardalan, the captain of the Iranian women's soccer team, has also prompted an international outcry in recent days. Ardalan will not be leading her team into the Asian Women's Futsal Championships in Malaysia this week because her husband would not allow her to renew her passport. By law, women must obtain their husband's permission to leave the country.
"I believe 100% you should not make a difference between women and men," Shafiei says as she leans on her motorbike. "In many sports, women have proven that they are just as good."
Shafiei is fighting hard to achieve her dream of going pro, but she says she also just wants to have fun.
Until then she'll be riding fast, flying high, and hoping one day she can represent Iran in the sport she loves so much.
http://edition.cnn.com/2015/09/21/sport/iran-female-motocross-rider/index.html
----------
Algeria, Arab World's Leader in Women's Representation in Elected Assemblies
20 SEPTEMBER 2015
Algeria is Arab world's leader and world's 27th in terms of women's representation in elected assemblies, the representative of the United Nations Development Programme (UNDP), Randa Aboul Hosn, said on Monday.
The UN official, in an address at the opening of a training session for elected women to the assemblies of Bordj Bou Arreridj (240km southeast of Algiers), said the session was part of the implementation of a joint programme between the Algerian ministry of Interior and Local Authorities and the United Nations Development Programme.
Aboul-Hosn said with thirty percent of women in the elected assemblies, Algeria is leader in the Arab world and North Africa.
http://allafrica.com/stories/201509211462.html
----------
Nigeria: Groups Campaign to Stop Violence Against Women
19 SEPTEMBER 2015
By Itodo Daniel Sule
Lokoja — The National Democratic Institute (NDI) in collaboration with International Federation of Women Lawyers (FIDA) launched a campaign to stop violence against women in elections yesterday in Lokoja.
Speaking at the launch, NDI Country Director, Jasper Veen said the campaign was aimed at raising awareness to mitigate all forms of violence against women in Kogi, especially during the November 21 governorship election.
"The initiative aims to address the link between violence and the low level participation in electoral processes. The project will contribute to this initiative by addressing acts of election violence such as threats, hate speech, assault and blackmail directed at someone because of their gender to undermine, delay or influence the electoral process," he said.
Veen said NDI has provided a dedicated hotline, 08002000200, through which women can call to register cases of electoral violence against them during the forthcoming election.
Wife of Kogi State governor, Hajiya Halima Wada, said the collaboration between NDI and FIDA was commendable, particularly as the later has been involved in a major role of not only advancing the welfare of women but the political emancipation of the nation.
http://allafrica.com/stories/201509212923.html
----------
Cameroon, UN Women Strengthen Ties
21 SEPTEMBER 2015
By Elizabeth Mosima
The Minister of Women's Empowerment and the Family, Marie Thérèse Abena Ondoa granted audience to the visiting Regional Director of UN Women for West and Central Africa, Mrs. Diana Ofwona yesterday September 15, 2015.
Speaking at the audience, Minister Marie Thérèse Abena Ondoa used the occasion to present to the Regional Director the steps taken by the government towards women's empowerment. On her part, Mrs. Diana Ofwona congratulated the government of Cameroon for its engagement in the promotion of gender equality and the empowerment of women.
She said for the first time ever the UN General Assembly is looking at the issue of gender at the highest level and that she is pleased to understand that Cameroon will participate in the special session of Heads of states on gender equality to be held in New York on September 27, 2015. The main objective of her visit is to enhance the strategic positioning of UN Women Cameroon on gender equality and the empowerment of women in Cameroon.
http://allafrica.com/stories/201509211331.html
----------
Kenya: Women's Rights and the Constitution
19 SEPTEMBER 2015
By Jill Cottrell Ghai
In discussing women and the Constitution, most attention has been paid to representation of women in Parliament and the county assemblies, and above all the general "principle that not more than two-thirds of the members of elective or appointive bodies shall be of the same gender" (Article 27(8)) and Article 81.
The National Assembly now has 19% women and the Senate 27% - far higher than ever before, and putting us just above the United States in terms of percentage of women in the legislature. And county assemblies are guaranteed to have one-third women. But a downside is that most women hold some "special seat". In the National Assembly only sixteen women represent geographical constituencies. Five women party list members, with seven men (sometimes inaccurately called "nominated") represent persons with disability, youth and minorities. Forty-seven women represent county constituencies. In the Senate all the 18 women are from some sort of party list. And in the counties, the overwhelming majority of women - 680 of them - are from party lists under the scheme to guarantee the constitutional gender balance.
Although many of these women are remarkably well qualified and experienced, other people find it hard to understand their role, and the women sometimes find themselves side-lined or even insulted - called "bonga points" for example. Efforts to implement the two-thirds rule in such a way that women hold the same sorts of seats as men have failed. Current plans mainly focus on extending to the national level the county system of extra, party list, seats. A downside to this is that inevitably there will have to be more (expensive) MPs; if in a future National Assembly there were also 16 women constituency MPs, five "special interest" list members, and the 47 county women representatives, we would need 73 more women members - producing a "bloated house" of 422 - to get no more than two-third male members.
More women in politics, by any route, will make a difference, but this way of doing it will mean that general acceptance that women are as capable as men of holding politically responsible positions, will be longer coming. And the impact of women members will be muted if they are not given fair chances to speak, and to hold positions of influence and responsibility like committee chairs, and the atmosphere of the chamber is not respectful of all members, and rules, like those about sitting hours, work to exclude them from full participation.
One of the keys to achieving change is political parties. The new Political Parties Act says that a party cannot be fully registered unless there is gender balance among its members, and its governing body, and not more than two-thirds of that governing body are of the same gender. What exactly is "gender balance"? There is also a requirement that not more than two-thirds of registered office bearers must be of the same gender if a party is to receive money from the political parties fund. It's not easy to work out if parties satisfy these requirements. Certainly only one of five officials on the President's Party's website is a woman.
The State is supposed to take active steps towards the same two-thirds maximum in appointed state bodies; this includes commissions and even the national and county executives. Commissions satisfy this rule (in fact for a while the Kenya National Commission on Human Rights was unconstitutionally short of men). Some county executives exceed one-third women (a county with only ten executive members will necessarily have 40% if it has one-third (3 would be too few and so the minimum must be 4). Laikipia is an example. At the national level Kenya has more women Cabinet Secretaries (the new nomenclature) than it ever had Ministers.
A court refused to hold that the Supreme Court was not properly formed if it had only 2 women out of 7 (less than 29%). The judiciary as a whole had one-third women, but the Court of Appeal then had none, and the judiciary was top-heavy with men. This is often a problem if you have overall quotas for a large organisation - most women will come near the "bottom". But the situation is much improved and now about one-third of the High Court Judges are women. This is remarkable - in England as of the middle of last year, only 19% of High Court judges were women. We can say that the Judicial Service Commission is taking notice of the Constitution: "the Commission shall be guided by ... the promotion of gender equality".
It is interesting to see that even business is taking up the challenge of equality, recognising that there are not enough women in senior management positions. Universities and the professions, too, should be examining themselves: do they have "glass ceilings" (through which women cannot pass) or practices and attitudes that effectively hinder women's advancement? After all, the Constitution says women have "the right to equal opportunities in political, economic, cultural and social spheres".
The Constitution recognises the right to the highest attainable standard of health - including reproductive health and health care. Abortion is an emotional issue. Generally abortion is not permitted (Article 26), unless it is carried out to save the life or the health of the mother, or if there is a need for emergency treatment, and a medical professional has agreed. Parliament could pass a law to make abortions possible in other situations (for example if the pregnancy is the result of rape). The Constitution does not give anyone a right to demand an abortion.
There is an addition to the African Charter on Human and People's Rights (the Maputo Protocol) that says counties must "protect the reproductive rights of women by authorising medical abortion in cases of sexual assault, rape, incest, and where the continued pregnancy endangers the mental and physical health of the mother or the life of the mother or the foetus." Kenya signed this treaty, but said it was not accepting this provision. Recently the Ministry of Health said that it was reintroducing guidelines on abortions that had been withdrawn two years ago, designed to clarify when it is appropriate to allow abortion, within the Constitution. Whatever your views on abortion, you must recognise that it is a national tragedy that perhaps 8,000 Kenyan women a year die from abortions and 21,000 are admitted to hospital because of botched, illegal abortions.
It is good to see that the government has accepted that the right to reproductive health does mean access to family planning methods. And the current Health Bill says that there is a right to "including to safe, effective, affordable and acceptable family planning services, except elective abortions" (elective means when the choice is that of the patient, not needed as a result of medical conditions). A distressingly high proportion of Kenyan pregnancies are "unwanted". If people (and not just women should be involved in this choice) had more choice in the matter of pregnancy, we would expect to see less demand for abortions.
Kenyan women are making progress, though the struggle must continue. And the struggle is as much with ourselves and society as with the power elites. In the last few weeks I have heard how in some communities even women will say "how can she speak when there are men around?". I have heard a woman say "As a woman, I must take off my shoes" - but a man need not? And I have heard a woman say how delighted she was to be able to sit around a table with men and talk on equal terms (about politics).
http://allafrica.com/stories/201509210751.html
----------
Geeta Gandbhir On Documentary: 'Muslim Women Can Do Work That Is Equal To Men'
Craig Courtice
September 21, 2015
Between June 2013 and July last year, Bangladeshi peacekeeper Rehana Pervin witnessed a heated protest in the Haitian capital, Port-au-Prince.
She also watched as government officials evicted victims of the 2010 earthquake from their shabby tents. She saw the bodies of a mother and her 10-year-old son, who had been doused in petrol and burnt alive.
Yet, paradoxically, in many ways the months she spent in Haiti were like a holiday. Instead of cooking and cleaning for her family in Dhaka, she learnt to shoot a gun and deal with violent protests. She didn't have to listen to her son's lectures on how anti-Islamic she was for taking a job. And she could laugh and sing with other members of her police unit.
Before they were deployed, the women discussed how their husbands would cope – "Fly all you want, fly high, but lay the egg in the right place," Pervin jokes in the documentary A Journey of a Thousand Miles: Peacekeepers, which had its world premiere last week at the Toronto Film Festival.
"You could see how sad she was to go back," says the film's Bangladeshi producer Nandita Ahmed. "She had a hard time reintegrating, because she found ways to reach her full potential while in Haiti. She's so playful and loves to sing and dance. I think this mission was an escape from her life."
Not all those featured in the film were happy to be away from home. Mousami Sultan cried when she read letters from her children ("When my mom gets on a plane, I'll get on another plane and fly beside her," her son says as she leaves).
But Sultan enrolled in the police to counter the effects of the abusive family she grew up in, and deals with her troubles in Haiti out of a sense of obligation to this idea. "It's hard being away," she says. "But I think women in uniform can help other women fuel their courage."
A New York Times article about Indian woman peacekeepers in Liberia inspired Geeta Gandbhir, co-director of A Journey of a Thousand Miles: Peacekeepers with Sharmeen Obaid-Chinoy, to look at other missions. When she heard of the Bangladeshis training for Haiti, she knew she had found her subjects.
"The key things we wanted to show were that Muslim women can do work that is equal to men, and their work is valuable both outside their country and inside," Gandbhir says.
"We wanted to make a great story about women in our area. We are [often] portrayed as victims."
artslife@thenational.ae
http://www.thenational.ae/arts-lifestyle/film/director-geeta-gandbhir-on-documentary-muslim-women-can-do-work-that-is-equal-to-men
-------
URL: https://newageislam.com/islam-women-feminism/the-islamic-state-west-africa/d/104676