New Age Islam News Bureau
23 March 2020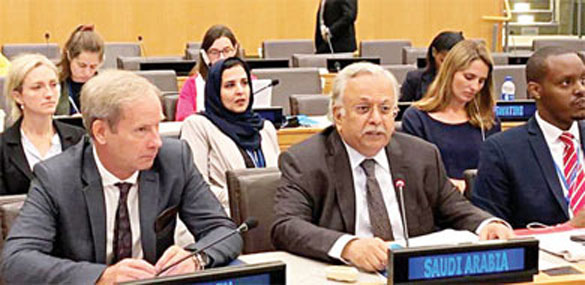 Saudi Arabia's permanent representative to the UN Abdallah Al-Mouallimi speaks at UN headquarters in New York. (SPA)
-----
• Dialogue Sessions of Women 20 Empower Saudi Women
• Retired Cop, Another Arrested For `Assaulting' Protester Woman at Anti-CAA Protest In Nagpada, Mumbai
• Women Call off Anti-CAA Protest at Clock Tower in Lucknow Temporarily In view Of the Corona Virus Scare
• Pakistani Islamists Accused Of Defacing Pro-Woman Mural
Compiled By New Age Islam News Bureau
URL: https://www.newageislam.com/islam-women-feminism/the-indonesian-women-speaking-west/d/121383
--------
The Indonesian Women Speaking Out About West Papua — Whatever the Cost
23 March 2020
In the wake of the Lindt café attack in Sydney, a hashtag made its way around the world: #illridewithyou.
The gunman had forced hostages to hold up a flag of the Shahada, the Islamic affirmation of faith, and many Muslims feared a backlash.
In Jakarta, Zely Ariane scanned the messages of solidarity, frustrated that Indonesians were paying more attention to #illridewithyou than the deaths of teenagers in their own country.
It was the genesis of a movement to raise awareness about the struggle facing West Papuans.
But those who first spoke out have had to reckon with the life-changing consequences of discussing one of the most sensitive political issues in Indonesia.
'We need solidarity'
A week before the Lindt café attack in 2014, Indonesian security forces had fired into a crowd of demonstrators in Paniai, killing four teenagers.
Indonesia's military was recently found to have committed gross human rights violations over the incident, known as Bloody Paniai. Security forces claimed they were defending themselves from violence.
The crowd had been protesting over the alleged torture of a 14-year-old boy, who has since died, by members of the military.
After Bloody Paniai, Zely had an idea to seize on the momentum of #illridewithyou.
"It was all over social media. So we made a poster," she said.
Lawyer Veronica Koman also decided she needed to speak out.
"I was already disturbed by West Papua issues, but because the victims were children, it really outraged me," she told me back in 2016.
"We agreed we need solidarity in Jakarta."
The birth of Papua Itu Kita
Zely, Veronica and other Indonesian and West Papuan activists formed a movement called Papua Itu Kita (Papua Is Us).
Their first logo was Zely's #illridewithyou poster.
Papua Itu Kita started holding events that allowed ordinary Indonesians to "build a bridge" with Papuans, to overcome long-held prejudices and to better understand Papuan culture and aspirations.
"Sometimes it's not because Indonesians are racist, it's because they just don't understand," Zely told me when I first met her in 2015.
But her online and offline activities did not go unnoticed.
"I always get calls in the middle of the night. There's just silence on the other end," Zely said, about a year after Papua Itu Kita began.
She hadn't yet had any serious threats.
"It's not like I'm posting hardcore posts about Papuan independence on Facebook," she said.
But despite Papua Itu Kita's softly-softly approach to discussing human rights, Zely and Veronica were aware that engaging with this topic could be viewed as political by the authorities.
Papua Itu Kita met regularly, often at the Jakarta Legal Aid Institute, where Veronica worked at the time. When I spoke to her there, she told me to look out for the men sitting in the food stalls surrounding the building.
"Half of them are intels," she said, referring to intelligence officers.
"West Papua issues are just an intel magnet."
History lessons
Indonesian government sensitivities about West Papua are woven deep into the fabric of its national story.
After Indonesia gained its independence from the Dutch in 1945, it fought for Papua to be included in its territory.
The then-president Sukarno urged his people to liberate Papua, then known as Irian Jaya, from Dutch colonialism.
Veronica learned this history at school.
She was a "crazy nationalist" by the time she was 19, despite growing up in a Chinese-Indonesian family, a minority background in Indonesia that has also experienced racism and violence.
She showed me the tattoo inked across her forearm.
"It's the philosophy that Indonesia is running through my veins," she said.
Back then she dismissed international criticisms of Indonesia's actions in West Papua as more Western colonialism against her country, and a "US conspiracy".
But when she searched online about West Papua in English, she was shocked to discover the extensive body of reports documenting human rights abuses in the territory.
The Papuan version of history was also online: Papua was also a Dutch colony, and many scholars argued it only became a part of Indonesia because of a UN-backed election in 1969, which has been called corrupt.
"I was being brainwashed. Indonesians are being brainwashed and systematic censorship," Veronica said.
After forming Papua Itu Kita, Zely also had a desire to learn more. A year after the Paniai killings, she visited Papua for an extended trip.
When she returned to Jakarta, she longed to return and live there, to better understand the region and its subtleties.
"The more it is understood by people in Jakarta in detail, things can only get better," she told me at the time.
"I need longer to understand."
'We've come so far'
In August last year, nearly five years since the deaths of the Papuan teenagers, a rare thing happened: West Papua made global headlines.
It started in the week of Indonesia's independence day, when Veronica was acting as the lawyer for Papuan students threatened by nationalistic groups at their student dormitory in Java.
The students were accused of damaging an Indonesian flagpole.
By then, Veronica had moved to Australia to do her masters. She was on the phone to them when police stormed their boarding house. She tweeted about it.
Veronica Koman
@VeronicaKoman
16/8/19 Surabaya, Java
Ini yel-yel massa sepanjang malam: "usir, usir Papua! Usir Papua sekarang juga!"
Mob rounding up West Papuan students' dorm were singing this all night "kick out, kick out Papua! Kick out Papua right now!"
They are still trapped inside.
Embedded video
750
12:12 PM - Aug 17, 2019
Twitter Ads info and privacy
1,424 people are talking about this
Videos of what happened went viral on social media, with accounts of the students being subjected to racist taunts.
It felt like the heat had been turned up on something that had been simmering for years.
What came next were the largest protests about Papua that had been seen in decades, around Indonesia.
Veronica spent her days online, documenting the demonstrations on Twitter as the Indonesian government shut down the internet in West Papua — a move it said would restore order.
Veronica Koman
@VeronicaKoman
26/8/19 Deiyai, West Papua
This is the most powerful video of the West Papua uprising so far.
Highlanders in full traditional indigenous regalia chanting and calling during a protest of unprecedented size in Deiyai regency.
Shouts of "Free Papua" can be heard.
Embedded video
1,546
12:04 PM - Aug 26, 2019
Twitter Ads info and privacy
1,165 people are talking about this
She managed to gain access to footage of demonstrations that continued after the network was blocked.
"I sort of destroyed Jakarta's narrative, because Jakarta said that the situation in West Papua has gone back to normal but I kept posting these videos which made their claim not true," Veronica said.
An exile in Australia
Then Veronica found herself a regular fixture in the Indonesian news headlines.
She was named a suspect by Indonesian police, accused of spreading "hoaxes" and acting as a "provocatuer".
She now describes herself as being in exile in Australia.
Indonesian police have threatened to cancel her passport, close her bank accounts and put her on an Interpol red list to have her brought back to Indonesia.
Fifty-six West Papuans have also been charged with treason following the protests, according to Amnesty International.
An Indonesian man, Surya Anta, is currently the first Indonesian being tried for treason in connection to West Papua, after protesting in support of self-determination.
All face life imprisonment, according to Amnesty.
Veronica says what appears to have changed following the recent demonstrations is that Indonesians are more aware of West Papuan grievances, regardless of where their support lies.
"Ignorant Indonesians like to say: 'Ah it's only a handful of Papuans who want independence from Indonesia, surely'," she said.
"But now, because of the footage of thousands of Papuans demanding West Papua independence, I haven't heard such ignorant comments being said again."
She also points to a small group of Indonesians showing public support for West Papuan goals, despite the personal risks involved.
"You saw Indonesians leading the marches," she said.
When I met her in Sydney recently, I asked her if she could have imagined this support from Indonesians when we spoke not too long after she began her activism in late 2014.
"Oh my God, I now feel a little bit teary. That's right, I didn't imagine that at all," she said.
"We've come so far."
A bittersweet ruling
Yet the tragedy that prompted Veronica's involvement has not been resolved.
The Indonesian government has sent mixed signals about last month's finding by the National Commission on Human Rights (Komnas HAM) after its five-year investigation into the Paniai incident.
While the government initially committed to following up on the report, the Attorney-General's Office, which is responsible for instigating prosecution, recently said the commission's findings were incomplete, and that it would return the dossier.
Zely fulfilled her dream of returning to Papua and later married a man from Paniai.
She now works as a journalist, reporting on the region.
She still recalls the speech that President Joko Widodo gave to Indigenous Papuans a few weeks after the Paniai killings.
He told them he wanted the case to be "resolved as quickly as possible, so that it does not reoccur in future".
Zely says people have grown weary of seeking justice for what happened.
"They just focus on their wounds. They know that the legal process won't deliver a win," she said.
"They feel numb. And the situation [in Papua] since Paniai has only become worse.
"There have been too many new tragedies, new arrests, and far more deaths than the four people who died in Paniai."
https://www.abc.net.au/news/2020-03-23/illridewithyou-indonesians-cost-of-talking-about-west-papua/12049936
--------
Dialogue Sessions of Women 20 Empower Saudi Women
March 2, 2020
RIYADH — AlNahda Society signed a strategic partnership with KPMG, leading provider of audit, tax, and advisory services in Saudi Arabia, to support and sponsor the dialogue sessions of Women 20 (W20) that is presided by the Society.
Over the course of the coming nine months, there will be a range of meetings in preparation for the W20 Summit, including the articulation of a closing statement that will be submitted to the G20 leaders during their meeting in Riyadh in November 2020.
The G20 allocated eight communication groups that seek to present the different points of view regarding the economic, social and financial challenges on the table of the G20. The W20 is one of these groups and had its inception meeting in February at Princess Nourah bint Abdulrahman University.
Effat University in Jeddah hosted the second meeting of the group, with the participation of Princess Lolowah AlFaisal, vice-chair of Effat University Board of Founders & Board of Trustees, and general supervisor of the University and Dr. Thoraya Obaid, chair of W20.
Commenting on the strategic partnership with AlNahda Society, Kholoud Mousa, partner at KPMG in Saudi Arabia and head of inclusion & diversity at KPMG, said: "This strategic partnership comes in the context of KPMG's continuous endeavor to enable national cadres, Saudi women in particular, to contribute to enhancing the developmental role and benefit from the national expertise and capabilities. These dialogue sessions of W20 aim to address different fields that may contribute to integrating and enabling Saudi women in different fields."
She asserted that the dialogue sessions of W20 have a special role since they empower Saudi women. "Our participation in and support of these sessions reflect our consolidated commitment to supporting the events that enhance the efforts in contributing practically to the promotion of the status of women with regard to the economy and investment are at the heart of the agenda of G20 this year."
Rasha Al-Turki, executive director of AlNahda Society, confirmed the importance of the outputs of the dialogue sessions of W20, as these sessions will present recommendations and policies related to the economic empowerment of women, and to submit such recommendations and policies to the G20 leaders during the Summit in November in Riyadh.
Al-Turki commended the role of KPMG in Saudi Arabia in supporting and sponsoring the series of national dialogues for Saudi women that will highlight their priorities, empowerment and active role in different fields under different themes, the most important of which are the work sector, economy, technology, and entrepreneurship.
The dialogue sessions held in Jeddah have highlighted the priorities of Saudi women and financial, labor market and technological inclusion, as well as women's participation in entrepreneurship.
W20 aims to continue the achievements of Japan and complete the series of meetings that will present recommendations and policies that have a positive and fruitful impact in all fields related to empowering women economically.
The group to achieve several objectives that include reducing the labor force participation gap between men and women by 25% by 2025 and promote women's economic empowerment was incepted in 2015. — SG
http://saudigazette.com.sa/article/590133
--------
Retired Cop, Another Arrested For `Assaulting' Protester Woman at Anti-CAA Protest In Nagpada, Mumbai
21 March 2020
, Mar 21 (PTI) A retired Assistant Commissioner of Police and another person were arrested on Friday night for allegedly abusing and manhandling a woman protester at the `Mumbai Baagh' anti-CAA protest in Nagpada area here.
Muslim women have been staging a sit-in against the Citizenship (Amendment) Act at Nagpada, on the lines of the protest at Shaheen Bagh in Delhi.
Retired ACP Samsher Khan Pathan, his associate Fayaz Ahmed and others visited the Mumbai Bagh protest site and allegedly absued and shoved a woman protester, said a police official.
On her complaint, a case under IPC section 354 (outraging woman's modesty) and other relevant offences was registered against Pathan and Ahmed and they were arrested, the official said.
https://in.news.yahoo.com/retired-cop-another-arrested-assaulting-180747700.html
--------
Women Call off Anti-CAA Protest at Clock Tower in Lucknow Temporarily In view Of the Corona Virus Scare
23 Mar 2020
With a resolve to return once situation improves, the Muslim women staging protest against the controversial citizenship act and NPR at Clock Tower Hussainabad in Lucknow called off their protest in view of the corona virus scare.
"We are calling off protest today, but will return once the situation improves. For a bigger cause to protect lives, we are sacrificing our cause," Iram, one of the protesters told this reporter on telephone.
Muslim clerics and members of different organisations had appealed to the protesters to call off their protest in view of the spread of coronavirus. The appeal came on Sunday when the entire country observed a day long Janata Curfew.
"We are suspending our protest. This will continue once the situation noramalises," Iram said.
The protesters have left behind their dupattas and quilts as a mark of protest.
Early on Monday morning the women protesters gave a letter to the Lucknow commissioner of Police (CP). The letter says that due to the larger cause to protect lives of people from Coronavirus threat, they are suspending the protest for the time being.
"We will return once the restrictions imposed by the government in view of coronavirus are lifted," the letter says.
The Yogi government has announced lockdown in 16 districts of Uttar Pradesh including Lucknow and Allahabad where people are staging protest against CAA, NPR and NCR.
In the letter, they also asked the police to safeguard their things at the place.
Last week police had made an abortive attempt to get the area vacated in view of the Coronavirus threat. Many women were injured in the scuffle.
The protest has been going on since January 17.
https://www.nationalheraldindia.com/india/women-call-of-anti-caa-protest-at-clock-tower-in-lucknow-temporarily
--------
Pakistani Islamists accused of defacing pro-woman mural
MARCH 5, 2020
ISLAMABAD — Dozens of seminary students linked to a radical pro-Taliban cleric defaced a mural depicting two women painted by rights activists to commemorate International Women's Day in the capital Islamabad, police and activists said.
The women's rights-themed mural painted on the wall of a house near the sprawling Jamia Hafsa seminary was spray painted black Wednesday. The defacing of the mural came after a court earlier ruled that rights activists could organize a women's rights march.
Police said they have opened an investigation into the incident and so far no one has been arrested.
Pakistani women plan to hold rallies across the country to celebrate International Women's Day to bring attention to their efforts to seek better jobs, protections in the work place and end domestic violence.
Women's rights rallies are held every year and they sparked controversy last year when activists introduced a new slogan: "My body, my choice."
Pakistani women have largely been deprived of their rights since the country gained independence in 1947. About 1,000 women are killed every year by relatives in so-called honor killings.
International Women's Day is Sunday and rights activists in Pakistan plan to hold rallies to commemorate the day. Meanwhile, some conservative Pakistani women have vowed to to hold a "Modesty March" to counter rallies of liberal activists.
http://www.startribune.com/pakistani-islamists-accused-of-defacing-pro-woman-mural/568528742/
--------
URL: https://www.newageislam.com/islam-women-feminism/the-indonesian-women-speaking-west/d/121383
New Age Islam, Islam Online, Islamic Website, African Muslim News, Arab World News, South Asia News, Indian Muslim News, World Muslim News, Women in Islam, Islamic Feminism, Arab Women, Women In Arab, Islamophobia in America, Muslim Women in West, Islam Women and Feminism