New Age Islam News Bureau
17 Nov 2018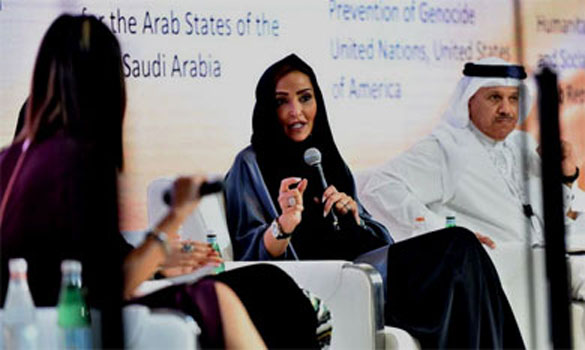 Princess Lamia bint Majid speaks at the summit. (Supplied)
-----
• Princess Reema: Let's Give Young Saudis a Sporting Chance
• Archaeologists Discover Pregnant Woman with Foetus in Ancient Egyptian Burial Site
• Dubai Women's Run Celebrates Spirit of Women
• Honour Killing: Brother Kills Muslim Teenage Girl in Pakistan for Having an Affair with Cousin
• Saudi Women Mount 'Inside-Out' Abaya Protest
• This Cross-Cultural Wedding in Sialkot Is Breaking the Internet Right Now
Compiled by New Age Islam News Bureau
URL: https://www.newageislam.com/islam-women-feminism/the-idea-west-that-saudi/d/116909
--------
The Idea in the West That Saudi Women Are Persecuted Could Not Be Further From Reality Princess Lamia Bint Majid
November 17, 2018
DUBAI: World peace leaders highlighted the importance of gender equality and promoting the role of women in society as key cornerstones of achieving prosperity in a country, as the first World Tolerance Summit (WTS) took centre-stage in Dubai.
Princess Lamia bint Majid was among those who led the discussions and highlighted initiatives in the Kingdom to further women in leadership roles.
"Our aim is to ensure gender equity and this is a message of tolerance when you highlight the strength of women – when you are a Saudi woman or any woman internationally," said Princess Lamia, secretary general of Riyadh-based Alwaleed Philanthropies, a charitable foundation working to help and empower women, as she opened the 'Tolerance Leaders Debate' at the summit on Thursday. "We work on women and youth empowerment.
"We – especially Saudi females – have an issue because there is an idea in the West that we are persecuted."
This, elaborated Princess Lamia, could not be further from reality, and she urged the West not to judge or make assumptions about women in the Arab world.
Saudi Arabia does not "differentiate or discriminate between race, ethnicity, religion, gender or geography."
Princess Lamia said Alwaleed Philanthropies to date has donated $4 billion (SAR15billion) to humanitarian causes in more than 60 countries.
"We are in dire need for the dissemination of the spirit of tolerance. Allah was very perceptive: He gave people one mouth and two ears to listen more and to be more receptive.
"Do not judge. Tolerance is all about accepting others and refraining from judging others. We are not just focusing on tolerance for the sake of tolerance. There are certain acts you can do. It is not just about lectures or conferences… it is maybe a hug, a word, a smile – these acts can be worth a thousand lectures."
Princess Lamia spoke of the need to bridge gaps between Islam and the West and also highlighted a lack of research into the "gaps or shortcomings" that prevent more tolerance in society.
The two-day WTS, held on Thursday and Friday in conjunction with the International Day for Tolerance on Friday, gathered government leaders, key figures from the public and private sectors, peacekeeping ambassadors and change-makers from around the world to discuss the importance of tolerance, peace and equality.
Adama Dieng, special advisor of the UN secretary general on the prevention of genocide, also addressed the issue of gender equality. "Women have the talent, the heart, the heart to spread tolerance. The more we have women leaders, the better the world will be."
Saudi Arabia's Dr Abdullatif bin Rashid Al-Zayani, secretary general of the Gulf Cooperation Council, said tolerance is a motto everyone should live by.
"It is very important to be tolerant and forgiving, and government leaders need to aim for equality, justice and learning to accept others and co-exist."
Al-Zayani praised GCC initiatives such as the UAE's Anti-Discrimination Law, which criminalizes all forms of discrimination on the grounds of religion, caste, creed, doctrine, race, colour or ethnic origin .He said other countries across the Gulf should follow suit. Further programs and education centers which stamp out discrimination are also needed, said Al-Zayani, especially in the region "which has many risks and threats that are not static."
The conference heard how the GCC is a "success story" in promoting tolerance and should be used by other world governments as a model to promote equality and peace.
The UAE, for example, has adopted a National Tolerance Program, anti-discrimination and anti-hate laws and centers to counter extremism have been established. The country has its own Minister of Tolerance and is home to the International Tolerance Institute.
Saudi Arabia also extolls tolerance as a virtue. Al-Zayani highlighted how, in 2005, Saudi Arabia hosted the historic Counter-Terrorism International Conference in Riyadh, which called for challenging extremism with moderation and tolerance.
Al-Zayani said countries in the GCC also have religious tolerance, with hundreds of different nationalities and churches of different Christian denominations, Sikh temples and Hindu temples. Last June, the Sheikh Mohammad bin Zayed Mosque in Al-Mushrif was renamed Mariam, Umm Eisa (Mary, the Mother of Jesus), while the mission of the King Abdullah bin Abdulaziz International Center for Interreligious and Intercultural Dialogue is to promote peace, tolerance and understanding among people of different faiths and cultures.
Sheikh Nahyan bin Mubarak Al-Nahyan, the UAE's Minister of Tolerance, delivered the keynote speech at the opening ceremony and announced the launch of two new initiatives. The first is the establishment of the National Research Project on Tolerance, which will "promote the creativity and innovation of researchers, inside the UAE and throughout the world, in examining factors, conditions and work plans that help strengthen tolerance among individuals, families, local communities and the entire world and include proposals and plans for speeding tolerance, co-existence and happiness in human societies."
The second initiative is the establishment of the Global Tolerance Alliance, which will focus on "promoting tolerance throughout the world by involving individuals, organizations, research centers, private enterprises and other interested institutions…to help spread peace and tolerance in the world."
"Tolerance thrives on education and knowledge, all forms of communication and the creation of local and global partnerships," said Sheikh Nahyan.
Dr Amal Abdullah Al-Qubaisi, president of the UAE's Federal National Council, said "respect is the important basis of tolerance." She said countries across the region need to embrace this to fight extremism and ideologues who threaten the security of the Arab world.
Ohood bint Khalfan Al-Roumi, UAE Minister of State for Happiness and Wellbeing and director-general of the Prime Minister's Office, addressed the role of laws in promoting social cohesion and harmony, and government policies to prevent extremism to promote citizenship for diversity, economic benefits to governments and their peoples. "Tolerance is an international human right and a human value that ensures the prosperity of people and improves the quality of life," she said.
Saudi Arabia's Faisal bin Abdulrahman bin Muaammar, secretary general of the King Abdullah bin Abdulaziz International Center for Interreligious and Intercultural Dialogue, praised both King Salman and Crown Prince Mohammed bin Salman for their work in setting up KAICIID as a form of dialogue to combat violence in the name of religion, while Hoda Al-Helaissi, a member of Saudi Arabia's government advisory Shoura Council and former vice-chairperson of King Saud University in the Kingdom, spoke to Arab News about the importance of society accepting everyone, regardless of their background, race or religion.
"Acceptance of others is something that is fundamental to a more peaceful world. I think it is something to do with awareness, laws are already put in place – whether we are talking the Universal Declaration of Human Rights or the ones in Saudi Arabia – but worldwide, unfortunately, many human beings do not take into consideration others. There is a wonderful quote in the Quran that says, basically, we have created you from one man, from one woman...which basically says we are all different but from the same family."
Al-Helaissi praised initiatives introduced by the late King Abdullah to send students to international scholarship programs around the world; allowing Saudi nationals to learn from different cultures and traditions and bring those broadened world perspectives back to the Kingdom.
"We have been very lucky to have this program; at any one time we have 250,000 students abroad, and it is about opening the horizons of our youth and they are coming back with fresh ideas, they are coming back with knowledge of other cultures, which is very enriching for our society. I think that young people are wanting more from Saudi Arabia than previous generations, and I think we are going to see even more tolerance in our country.
"It is a question of time, but we are getting there."
http://www.arabnews.com/node/1406111/middle-east
--------
Princess Reema: Let's Give Young Saudis a Sporting Chance
November 16, 2018
A new initiative between the General Sports Authority (GSA) and the Misk Foundation is setting up a program to promote sporting activities across the Kingdom and further the careers of future Saudi champions. Princess Reema bint Bandar, deputy of planning and development for the GSA, sat down with Arab News on the sidelines of the Misk Global Forum this week to speak about the new collaboration.
"We are honored to work with Misk for the future of our children," said Princess Reema, president of the GSA's Mass Participation Federation (MPF), after signing the deal with the Misk Foundation on Wednesday. While the details have yet to be worked out, she said it will involve athletic internships and scholarships to develop Saudi Arabia's future champions.
The initiative is in keeping with Vision 2030's Quality of Life program, which pledges to get Saudis moving by promoting active lifestyles and to achieve excellence in sports both regionally and globally.
"Part of our mandate is to grow the amateur to elite pathway," the princess explained. "What that means is how can we have more young people active in the community sports groups and the grassroots activations to allow them to cultivate their skills. Hopefully they then will be scouted into the more professional sports pathway."
The collaboration with Misk will enable that to happen. "With Misk, we are so proud to say that we've collaborated with their actual internship program and scholarship program to expand it to the avenue of sports," Princess Reema said. "The exciting part about it is that many sports are vocational: They're on-the-ground training. It is not something that you learn at school. It is the passion that you have, and then the correct team and the environment help you to cultivate it."
The agreement will also cover scholarships for athletes. As Princess Reema explained: "What's really critical for people to understand is that an athlete's career does have an age limitation and sometimes a physical limitation, depending on injury. One of the mandates of the sports authority is to make sure that each of these young individuals has a second career.
"Education is critical. We obviously have partnerships with the Ministry of Education, but adding Misk to our portfolio truly is a gem. As an NGO they are able to execute faster and deliver faster than government bodies."
The deal with Misk will enable a sports track for Saudi students studying abroad. "Misk has relationships with some of the best universities across the globe, and they have got seats in each of these universities for Saudi students, both male and female. Where we wanted to collaborate with them, and we are honored that they accepted, is to allow for a sports track."
Princess Reema moderated a panel called the Future of Sport at the Misk Global Forum in Riyadh on Wednesday, a day that saw two other high-profile guests, Brazilian footballer Ronaldinho and British-Pakistani boxer Amir Khan, express interest in opening training academies in Saudi Arabia.
"This is the beauty of this world," said Princess Reema. "Amir Khan is a boxer. He has specific skills set, but he's willing to teach the next generation. So, our partnership with Misk, which we were discussing this last night, is how we can send young people in the Kingdom to where Amir Khan is and learn from him: not just the skills of boxing, but everything that goes around the ecosystem of boxing. And also for him to help us to find the correct coaches and trainers who will come and train young people here. That is the kind of example of what this relationship with Misk can do and what it can offer this nation."
There is a lot to be learned from high-caliber athletes, she said. "International athletes dedicate 100 percent of their time to their chosen sport. Today, while we don't have the full ecosystem that can support them, we are developing it."
Princess Reema also spoke of developments in the school system, particularly the introduction of physical education in girls' schools this year, under a law passed in 2017. With an increased need for PE teachers, the GSA collaborated with the Ministry of Education on their training.
"The Ministry of Education has been proactive in the training of male and female PE teachers with new curriculums that they developed, and we were very honored to be a collaborative partner with them."
The nature of that collaboration involves Olympic school days organized by the GSA, with 30 girls' schools participating and a larger number expected in the future.
"As the sports authority and the Olympic committee we go in and do the training for the PE teachers, create the programming, and they come and compete inter-scholastically."
Under Vision 2030, schools will see improvements in their facilities as well, Princess Reema said. "We have to remember that many of the schools are not equipped to have the kind of programs that the Minister of Education would like to implement. The plan is to invest in new facilities and new infrastructure. That's going to change profoundly not only the quality of education, but also the PE that's offered."
As for the next Saudi female champion, Princess Reema said it's a question everyone asks, and it deserves some patience. "A champion is not made overnight. A champion isn't made in a year. A champion perseveres in their sport. A champion perseveres in the career of their sport."
Her advice for young female athletes? "Whatever we can't offer you, don't stop and wait for someone to give it to you. The runner can run anywhere. The swimmer can swim. Focus on your sport and find your way. Call us for. help, because that is what we are here for. Even though the full structure may not be there yet, we are working in parallel with the athlete working on themselves.
"Your success is going to be a collaborative spirit, but you lead your success. We're an enabler, but you have to lead it."
The princess had a final word of advice for the parents of those budding athletes. "Pursue athletic activities with your children. You are the gateway to their success and you are the gateway to their exposure. Expose them to sports, expose them to physical activity, but also provide the holistic healthy lifestyle around them. The way they eat and sleep, and the way they engage with their community: You are in control of that. So allow them to have the correct foundation so when their dream truly becomes to be an athlete in sports, you have given them a foundation."
http://www.arabnews.com/node/1405876/saudi-arabia
--------
Archaeologists Discover Pregnant Woman with Foetus in Ancient Egyptian Burial Site
November 17, 2018
CAIRO: An Italian-American mission has discovered an ancient tomb containing a pregnant woman and her foetus during an archaeological dig in southern Egypt
The woman was found in a grave-pit, inside a small cemetery, with the skeletal remains of the unborn baby head facing down still in her stomach, the Egyptian Ministry of Antiquities said.
The grave in Kom Ombo, in Aswan province, is more than 3,500 years old, Dr. Mostafa Waziri, the General Secretary of the Supreme Council of Antiquities, said on Wednesday.
The study found the woman was around 25 years old when she died, and her death could have been due to a problem with her pregnancy.
That the baby was positioned head-down, meant the team believed the mother and child could have died during childbirth.
"There's something very poignant and quite sweet about it, but also very sad," Nigel Hetherington, an Egypt-based archaeologist and heritage consultant said about the find.
The find was made by the Aswan-Kom Ombo Archaeological Project (AKAP), led by Yale University and University of Bologna. The project has investigated selected areas in the Aswan-Kom Ombo region since 2005.
Preliminary analysis of the mother's corpse also revealed that the woman's pelvis was misaligned, which could have been a fracture that hadn't healed properly.
Waziri said the injury could have been the cause of the labour problems.
The skeleton in the grave pit was found wrapped in a leather burial shroud.
There were also two pottery vessels in the grave – one a small jar, the other a fine bowl that appeared to have once been polished in red on the outside, and black on the inside, a Nubian style; this kind of vessel was popular in nomadic communities.
The vessels were presumed to be offerings carried into the woman's afterlife. This was why ancient Egyptians tended to pray to female deities like Hathor, Taweret, and Bes.
The archaeological mission also found numerous unfinished ostrich eggshell beads and black fragments, which Dr. Waziri also speculated was an offering.
Scholars think that beads were being offered to the woman because she could have been a bead maker for a living.
"The beads were common, but they were for the burial for the poor, since they weren't gold beads, it makes sense," Ahmed Salah, an Egyptology graduate from the American University of Cairo, told Arab News.
Kom Ombo is about 48 kilometres north of Aswan, east of the Nile River.
Recently, three tombs of cats were also found at a pyramid complex in Saqqara, Egypt, as well as four other sarcophagi at Khufu-Imhat's site.
Egypt Ministry of Antiquities has been revealing many ancient Egyptian discoveries recently.
Egypt is trying to boost tourism, which is on the rise after significantly dropping since the 2011 Arab Spring.
http://www.arabnews.com/node/1406026/middle-east
--------
Dubai Women's Run Celebrates Spirit of Women
November 16, 2018
Dubai: Women and girls from the age of 14 participated in the eighth edition of the Dubai Women's Run at Festival Bay, Dubai Festival City Mall, on Friday.
The event was held under the aegis of Dubai Sports Council and the UAE Athletics Federation and is part of the Dubai Fitness Challenge calendar.
The organisers, Plan b Group who have taken over the implementation of the run since 2017, have this year continued the Women of Substance mentoring platform for girls and women. And looking at the gap and the opportunity for promoting fitness in younger children, the company aims to have a dedicated 3K school's category in 2019.
The event was also supported by the Dubai Foundation for Women and Children (DFWAC).
The event featured cultural performances, kids' activities, food and beverage kiosks, as well as a DJ.
https://gulfnews.com/uae/dubai-womens-run-celebrates-spirit-of-women-1.60411274
--------
Honour Killing: Brother Kills Muslim Teenage Girl in Pakistan for Having an Affair with Cousin
Nov 16, 2018
Two brothers murdered their teenaged sister and a male cousin in an 'honour killing' in Pakistan's Khyber-Pakhtunkhwa province on Friday. Police said that the brothers suspected that their 15-year-old sister was in love with the 27-year-old cousin who was already married and had four children.
They first shot dead the cousin while he was working in a field and later went home to gun down their sister. After the double murder they fled the area.
The incident occurred in the Laray area in the remote northern district of Shangla where police lodged an FIR and launched a manhunt to arrest the killers.
The killers were upset after they reported the matter to local elders who a few days ago decided that the two should be married.
Shangla is one the most impoverished and remote mountain districts where a strict code of so-called honour is followed in matters regarding women.
They are seldom allowed to marry of their free will and even an innocent act of photography or video can put them in danger.
A few years ago a group of girls were killed after a video of them dancing during a marriage was leaked.
https://www.hindustantimes.com/world-news/honour-killing-brother-kills-muslim-teenage-girl-in-pakistan-for-having-an-affair-with-cousin/story-YQKjWSfwS4OiVsiIu6o4bL.html
--------
Saudi Women Mount 'Inside-Out' Abaya Protest
17 Nov 2018
Saudi women have mounted a rare protest against the abaya, posting pictures on social media wearing the obligatory body-shrouding robe inside out.
The conservative petro-state has some of the world's toughest restrictions on women, who are required to wear the typically all-black garment in public.
Powerful Crown Prince Mohammed bin Salman in March said wearing the robe was not mandatory in Islam, but in practice nothing changed and no formal edict to that effect was issued.
Using the hashtag "inside-out abaya", dozens of women have posted pictures of flipped robes in a rare protest against the strict dress code.
"Because Saudi feminists are endlessly creative, they've come up with new form of protest," activist Nora Abdulkarim tweeted this week.
"They are posting pictures of [themselves] wearing their abayas inside-out in public as a silent objection to being pressured to wear it."
Another woman on Twitter said the online campaign, which appears to be gaining traction after it surfaced this week, was an act of "civil protest".
In an interview with CBS television in March, the crown prince said: "The laws are very clear and stipulated in the laws of Sharia: that women wear decent, respectful clothing, like men."
But, he added, this "does not particularly specify a black abaya. [It] is entirely left for women to decide what type of decent and respectful attire to wear."
After his comment, prominent Muslim cleric Sheikh Ahmed bin Qassim al-Ghamdi added a new wrinkle to the debate when he dismissed the long-held view that black was the only colour for abayas permissible in Islam.
Prince Mohammed, currently facing global criticism over the murder of critic Jamal Khashoggi, has spearheaded a liberalisation drive in the conservative kingdom.
In June, women celebrated taking the wheel for the first time in decades as the kingdom overturned the world's only ban on female motorists.
The kingdom has also allowed women to enter sports stadiums, previously a male-only arena, and is pushing for greater participation of women in the workforce as it seeks to diversify its oil-dependent economy.
But in tandem with the reforms, the kingdom has seen a wave of arrests of women activists in recent months in a crack down on dissent.
The country also faces criticism over its male guardianship system, which allows men to exercise arbitrary authority to make decisions on behalf of their female relatives.
https://www.theguardian.com/world/2018/nov/17/saudi-women-mount-inside-out-abaya-protest
--------
This Cross-Cultural Wedding In Sialkot Is Breaking The Internet Right Now
IMRAN SADIQ
Nov 17, 2018
While the DeepVeer wedding storm continues to brew from Italy to India, a slightly different kind of nuptials has piqued the interest of Pakistani social media.
Instagram buds-turned-lovebirds Kashif Ali and Maria Helena Abrams tied the knot in a Sialkot hotel yesterday and people are amazed at the match.
Why?
While Kashif is a 21-year-old B.Com student from the Raipur village, Maria is a 41-year-old reiki master, driver and dog trainer from California! How did their paths even cross?!
Speaking to the press, Kashif explained that the two became friends over Instagram and the rest, as they say, is history.
Their wedding was a private affair (except that lots of press was present!) as Kashif's family elders decided to exclude extended family and friends from the wedding event and only invited close relatives. Hafiz Shakeel Ahmed officiated the wedding.
Speaking to media after the wedding, Maria Helena said she felt "very loved, and a little sleepy".
When asked how she feels about Kashif, she answered, "Kashif is wonderful. I love him. He makes me happy."
"I don't know whether we'll live in Pakistan or America and it doesn't matter as long as we're together."
She confirmed hearsay that she's embraced Islam and said that she will now go by Maria.
https://images.dawn.com/news/1181267/this-cross-cultural-wedding-in-sialkot-is-breaking-the-internet-right-now
--------
URL: https://www.newageislam.com/islam-women-feminism/the-idea-west-that-saudi/d/116909
New Age Islam, Islam Online, Islamic Website, African Muslim News, Arab World News, South Asia News, Indian Muslim News, World Muslim News, Women in Islam, Islamic Feminism, Arab Women, Women In Arab, Islamophobia in America, Muslim Women in West, Islam Women and Feminism