New Age Islam News Bureau
6 Feb 2019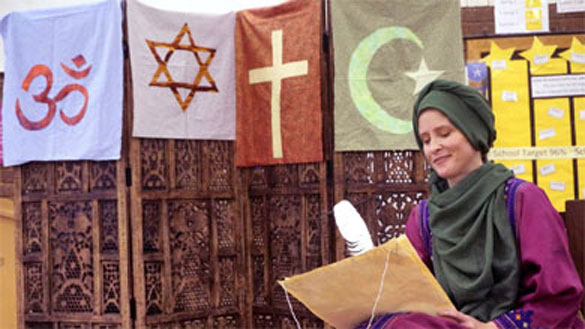 The Said Foundation's Amal programme supports cultural initiatives to increase understanding of Muslim communities in the UK. Its projects include storyteller Eleanor Martin's Theatre Without Walls. Courtesy Amal - Saïd Foundation
------
• The Rise of the Female Imam in France?
• Taliban Say Women's Rights to Be Protected Under Islam, But Must Not Threaten Afghan Values
• Pope Francis Acknowledges Priests and Bishops Have Sexually Abused Nuns
• Niqab-Wearer Bakes Halal Mooncakes for CNY, Sales Rocket and Good Fortune Follows
• We Are Not a 'Political Tool': Afghan Women on Taliban Talks
• What These Muslim Activists Found at the Women's March
• After Surviving Daesh Militia, Yazidi Women Ask To Go Home
Compiled by New Age Islam News Bureau
URL: https://www.newageislam.com/islam-women-feminism/the-hijabi-monologues-young-muslims/d/117667
--------
The Hijabi Monologues: The Young Muslims in Britain Using the Arts to Reclaim Their Culture
Olivia Cuthbert
February 5, 2019
"Do you know what it's like to represent a billion human beings every day?" asks Zainab Hasan. "It's exhausting," she tells the audience, brows raised, incredulous that she's expected to answer for an entire world religion. Shifting her abaya to show patterned pyjamas underneath, she rails against the pressure to pick outfits "for public relations purposes" and to prove that she isn't an "oppressed" Muslim woman.
This performance of I'm Tired, written by Sahar Ullah, is part of Hijabi Monologues London, a series of stories drawn from the experiences of Muslim women. The tales are sometimes funny, and sometimes angry or sad, as they recount the feeling of being watched on the Tube, confronted by strangers – or even instances when they've assumed the identity of an imaginary superhero to face the dangers of being a hijab-wearing woman in London.
Together, they peel away the stereotypes and remind the audience of the different cultures encompassed by a vast global faith. In Britain, where Muslims represent the fastest growing minority group – accounting for a third of the country's black, Asian and minority ethnic population – young creatives are finding ways to reclaim their representation in the country's theatres, art galleries, concert halls and community centres.
Using the arts to promote a nuanced portrayal of Muslim communities
Home Office figures show recorded hate crime has more than doubled in England and Wales over the past five years, with more than 50 per cent of religiously motivated attacks directed at Muslims. The Hijabi Monologues is part of a growing body of work that is harnessing the arts to promote a more nuanced portrayal of Muslim communities in an increasingly polarised political climate.
In 2017, it was among 39 projects to receive a grant from the Said Foundation's Amal programme, which supports arts and cultural initiatives to increase understanding of Muslim communities in the United Kingdom. Grants were distributed across genres including music, drama, poetry and dance to projects that foster a stronger sense of belonging among British ­Muslims and improve their access to the arts.
A report by the Said Foundation on Amal's first year shows the impact of the arts in creating common ground. At the Stratford Circus Arts Centre in the London borough of Newham, a small grant from Amal was enough to forge links with the local mosque for a shared storytelling project, connecting neighbours who had never met, over cups of tea.
The report also contributes to a mounting body of evidence that underscores the ability of the arts to "strengthen social cohesion by promoting empathy for others". It cites the Arts and Humanities Research Council, which described the scope of cultural engagement as being able to "break down perceived barriers between generations, between neighbourhoods, social classes and different world views".
"One of the biggest problems for Muslims in the West is lack of cultural capital," says Luqman Ali, co-founder of ­London's Khayaal Theatre Company, which runs dramatic productions inspired by ­Muslim world culture and heritage. It's only when this imbalance is redressed and Muslim artists become more visible that these misconceptions will be dispelled, he says.
Stories as a powerful ­medium for cross-cultural exchange
Last October, the ­British ­Museum unveiled the ­Albukhary Foundation Gallery, showcasing a range of remarkable riches from across the Islamic world. Part of the permanent collection, the eclectic display of art, archaeology, books, textiles, games, scientific instruments and other artefacts conveys the interaction between different cultures that characterised the evolution of Islam across the ages.
Amal helps to facilitate connections between grassroots enterprises and established institutions such as this, to enhance Britain's cultural landscape with an arts scene that better reflects its diverse social fabric. Success stories include a production of Othello by ­English Touring Theatre, a company that made its international debut at Dubai Opera last week.
The play invites viewers of all backgrounds to engage with one of the great classics of western literature. "We've taken something that is central to mainstream British culture and subverted it to show that this is a multicultural play," its director, Richard Twyman, says.
In this version, Othello conceals his Islamic identity from a western society that fears his faith. Keeping his prayer beads hidden, he encapsulates the outsiders' struggle to integrate while staying true to his beliefs.
Islamic storyteller and actress Eleanor Martin was with Amal in 2017 at Greenbelt, an annual Christian festival that has been running for 45 years. Muslim arts are not a regular feature on its programme, but the Amal tent was "heaving", says Martin, who captivated the audience with the true tale of a persecuted Muslim community given refuge by a Christian king in the early days of Islam.
Stories are a powerful ­medium for cross-cultural exchange because they "remind us of our shared humanity," says Martin, who is also an associate director at Khayaal Theatre, which received a grant from Amal in 2017 to deliver its Theatre Without Walls project – a series of multifaith drama workshops – across the country. This enabled them to engage a large Muslim audience, many of whom were experiencing theatre for the first time. Dozens of families also contacted co-founder Ali afterwards to enrol their children in drama and storytelling lessons.
Inspiring a bright future for Muslims in the arts
When Luqman Ali launched the theatre back in 1997, there were very few Muslims on the scene. "It was barren terrain," he recalls. Since then he has seen a notable rise in Muslim engagement with the arts, but representation remains disproportionate and role models scarce for a generation of upcoming artists seeking inspiring acts to follow. Prejudice and discrimination are compounded by recent budget cuts across the creative industries, which have had a particular impact on minority groups, he says.
Amal's partnerships with the Southbank Centre, ­Cheltenham Festivals, Bradford Literature Festival and others, aim to remove some of the barriers for young Muslims participating in the arts. The Said Foundation's report states that around two-thirds of British Muslims are aged 30 or under, and that this "overwhelmingly young demographic represents a great prize in terms of their potential contribution to the future of the country".
Drama and poetry are particularly effective in engaging a younger crowd. As part of Makrooh, a Muslim creative collective that runs open mic nights in North London, performers find expression through music, verse and other mediums. Spoken-word artist Fahima Hersi, a regular headliner at the collective's events, described art and creativity as "the best place to bridge the gap between people of different groups" in an interview with The National last year.
Their events also offer a safe space to explore sensitive subjects, giving young people a voice they might otherwise lack. Without it, there's a danger that people can start to feel excluded and become more marginalised, says Abid Hussein, director of diversity at the Arts Council England and an advisor on the Amal board.
Historically, there has been a low uptake in the arts among British Muslim communities, but that's beginning to change among generations born and brought up in the UK. "More and more British Muslims feel that Britain is their home and want to contribute to the wider cultural landscape of the country," he says.
"That's starting to happen now and it gives me a lot of optimism for the future."
https://www.thenational.ae/arts-culture/the-hijabi-monologues-the-young-muslims-in-britain-using-the-arts-to-reclaim-their-culture-1.822314
--------
The Rise of the Female Imam in France?
05/02/2019
Bahloul submitted a proposal in November 2018 to construct a house of worship known as the Fatima Mosque, where weekly prayers would alternate between a male and female imam. Congregants of both sexes would be invited to attend the service, although they would be separated on different sides of the main prayer hall.
The proposal, which is in the initial stages of securing financing and a possible site for the mosque, was co-sponsored by Faker Korchane, a freelance journalist and philosophy professor.
Bahloul, 39, has a doctorate in Islamic studies from France's prestigious École Pratique des Hautes Études. She said she was driven to become an imam because she feels out of step with how Islam is taught in traditional and hardline Salafist mosques.
"The major problem with Islam today is that it is viewed through the lens of a man whose understanding of society is patriarchal, if not misogynist," Bahloul told FRANCE 24 in an interview in January. "We should be able to approach religious texts differently in the 21st century."
"It's important that Muslim women make themselves heard, that they take their place in houses of worship," she added.
Bahloul has fought for years against what she described as "misogynist Salafist rhetoric and other conservative factions in Islam". But it wasn't until the November 13, 2015 terror attacks in Paris that she felt compelled to become an imam.
"It was so shocking I told myself that I had to do something as a French Muslim, and as a woman," Bahloul recalled.
Yet many mosques do not allow women to enter the main prayer hall, let alone lead a religious service.
"A lot of people aren't ready for a woman to take leadership, especially when it comes to religion," Bahloul said.
Rabbi Delphine Horvilleur, a model of progress
Bahloul would be far from the first woman in the world to become an imam. In China, the Hui Muslims have a tradition of female imams and mosques, while women have also been known to lead prayers in the United States, Canada, South Africa, the United Kingdom and in other European countries.
Perhaps most recently, Sherin Khankan made international headlines in 2016 when she became Denmark's first female imam, with some hailing her as the future of Islam.
Most of these women come from a more progressive, reformist version of Islam that embraces female imams. For them, there is no theological argument against a woman leading prayer.
Yet the issue is not so simple for everyone. Sylvie Taussig – a researcher with the French National Centre for Scientific Research who recently co-authored an article on female imams for The Conversation website – said that there is still room for theological debate over how the role of imam can and should be defined.
"Denmark's female imam conducts marriages (the equivalent of a civil ceremony in Islam), but does not perform funeral prayers (which requires the presence of an imam)," she wrote.
Taussig went on to point out that because of all the attention Khankan had received in the press and on social media, she has come to be known more as a symbol of change rather than an agent of it within the Muslim community. Taussig argued that the Rabbi Delphine Horvilleur, leader of the Liberal Jewish movement of France, is a far better role model for progress.
Rachid Benzine, a prominent scholar of Islam, also praised the strides Horvilleur has made in a profile of the rabbi that recently appeared in French newspaper Le Parisien.
"Delphine Horvilleur has done a lot of good for French society. She's not encapsulated by her community. I know a lot of young Muslim women who read and admire her work. She speaks first and foremost as a woman. She just happens to be Jewish. We need female imams like her to shake things up," Benzine said.
It now appears this may be just a question of time. In addition to the Fatima Mosque, the founders of the Voice of Enlightened Islam organisation, Eva Janadin and Anne-Sophie Monsinay, have also submitted a proposal for another inclusive mosque. The two women hope their Simorgh mosque will embody a more progressive, non-traditional form of Islam by housing "an entirely mixed congregation", where men and women can sit side-by-side at prayer.
https://www.france24.com/en/20190205-france-female-imam-islam-mosque-bahloul-fatima-muslim-paris
--------
Taliban Say Women's Rights to Be Protected Under Islam, But Must Not Threaten Afghan Values
5 FEBRUARY 2019
Taliban peace negotiators have said they are committed to guaranteeing women their rights under Islam - but failed to dispel fears that any deal will lead to a roll-back of the fragile freedoms gained by women in the past 17 years.
Insurgent envoys said their movement wanted to protect the rights of women "in a way that neither their legitimate rights are violated nor their human dignity and Afghan values are threatened".
The lead negotiator, Sher Mohammed Abas Stanekzai, went on to criticise women's rights activists for undermining Afghan traditions, prompting concern from campaigners.
The insurgents' representatives used talks with Afghan opposition figures in Moscow to outline their stance on some of the thorniest issues facing any political settlement.
As well as demanding an end to the American "occupation", the 10-man Taliban delegation demanded a new constitution. The current one had been imposed by the West and must be replaced with a new governance based on "Islam, national interests, historical achievements and social justice," Mr Stanekzai said.
He also laid out where the movement stood on women, who were denied education, employment, or the ability to leave the house alone during the Taliban's 1990s regime.
Mr Stanekzai said the Taliban movement "considers woman as the builders of a Muslim society and is committed to all rights of women that have been given to them by the sacred religion of Islam."
He said Islam gave women rights in areas including "business and ownership, inheritance, education, work, choosing one's husband, security, health, and the right to a good life".
But he denounced "so-called women's rights activists" who were encouraging women to break Afghan customs.
"Due to corruption, the expenses brought and spent under the title of women rights have gone to the pockets of those who raise slogans of women rights," he said.
"Under the name of women rights, there has been work for immorality, indecency and circulation of non-Islamic culture. Dissemination of western and non-Afghan and non-Islamic drama serials, paving the way for immoral crimes, and encouraging women for violating Afghan customs are other instances that have been imposed on Afghan society under the name of women rights."
Many women fear a peace deal will see rights enshrined under the Afghan constitution bartered away as part of a settlement. The constitution currently guarantees full equality with men, though in practice they still face severe discrimination. In Taliban-controlled areas girls are now often allowed to attend primary school, at the insistence of local leaders, but must frequently stop at puberty.
Women's rights campaigners said it was unclear from Mr Stanekzai's remarks that women would be any better off than they were in the 1990s.
Wazhma Frogh, a women's rights activist, said: "While [the Taliban] are not ready to talk to women, they keep making laws for them."
A Taliban spokesman said earlier this week that the movement would allow women to take part in "medicine, education, and other aspects of social life" outside the home.
https://www.telegraph.co.uk/news/2019/02/05/taliban-say-womens-rights-protected-islam-must-not-threaten/
--------
Pope Francis Acknowledges Priests and Bishops Have Sexually Abused Nuns
February 6, 2019
by Jason Horowitz
Pope Francis said Tuesday that the Roman Catholic Church had a persistent problem of sexual abuse of nuns by priests and even bishops, the first time he had publicly acknowledged the issue.
Catholic nuns have accused clerics of sexual abuse in recent years in India, Africa and in Italy, and a Vatican magazine last week wrote about nuns having abortions or giving birth to the children of priests. But Francis had never mentioned it until he was asked to comment during a news conference aboard the papal plane returning to Rome from his trip to the United Arab Emirates on Tuesday.
"It's true," Francis said. "There are priests and bishops who have done that."
He said that it was a continuing problem and that the Vatican was working on the issue and had suspended some priests. "Should more be done? Yes," Francis said. "Do we have the will? Yes. But it is a path that we have already begun."
In answering the question, Francis recalled that his predecessor, Benedict XVI, had been "a strong man" who he said had sought to remove priests who committed sexual abuse and even "sexual slavery."
Francis said that he, too, wanted to move forward on the issue of the clerical abuse of nuns. "We're working on it," Francis said. He also expressed willingness to mediate in the Venezuela political crisis, if both sides wanted it, and talked about his historic trip to the United Arab Emirates. But the pope generally avoided specifics about his conversations with officials in the United Arab Emirates about their involvement in the war in Yemen or his efforts to tackle abuse in his church.
Asked about Yemen, where his hosts are allied with Saudi Arabia in a brutal war that has brought devastation to civilians and has starved tens of thousands of children, the pope said that he had the chance in his roughly 40-hour visit to broach the issue with only a few people. But, he said, he found "goodwill" on the part of the Emirates to "start a peace process."
He also said he was not bemused by his hosts' welcoming ceremony, which included jet fighters screaming overhead. "I interpret all the gestures of welcome as gestures of goodwill," he said. "Everyone does it according to their culture."
The majority of the pope's visit was focused on interreligious dialogue with the Muslim world, and it culminated with his signing a sort of manifesto for brotherhood between the faiths between himself and Ahmed al-Tayeb, grand imam of Egypt's influential Al-Azhar mosque.
Asked about the conservative criticism that he had been Pollyannaish in his approach to the Middle East and been taken advantage of by the Muslim sheikhs, Francis joked, "Not only the Muslims," and noted that his critics felt he had been manipulated by just about everyone. But he said the document he signed was on strong theological footing.
"I want to say this clearly, from a Catholic point of view, the document has not moved a millimeter" from church teaching codified in the Second Vatican Council. He said he took the extra step of having the document vetted by a tough Dominican theologian in the papal household, who approved it. "It's not a step backward," he said. "It is a step forward."
He also made it clear that he had continued to voice his concerns about the persecution of Christians in the region — which he said his flock knew all too well — but that either "me or another Peter," meaning a successor pope, would surely visit more Muslim countries.
Earlier Tuesday, the pope celebrated Mass at the Zayed Sports City Stadium in Abu Dhabi before roughly 135,000 Catholics, many of them migrants from India, the Philippines and South America, who had come to the Emirates to work.
The Mass, also attended by 4,000 Muslims, was the largest public celebration of a Christian rite in the history of the Muslim country, where the worship of other faiths is tolerated but is not typically done so publicly.
The next major event on the pope's schedule is a meeting with presidents of the world's bishops' conferences at the end of February in Rome to focus on a response to the global sex abuse crisis that is threatening the pope's legacy and the moral capital that is the currency of his pontificate.
The pope is less than eager to receive questions about the issue. But he mentioned, in his positive appraisal of the United Arab Emirates, that it had held a conference last year on the protection of children from online predators. "Pedo-pornography today is a big-money industry," the pope said.
https://indianexpress.com/article/world/pope-francis-acknowledges-priests-and-bishops-have-sexually-abused-nuns-5571236/
--------
Niqab-Wearer Bakes Halal Mooncakes for CNY, Sales Rocket and Good Fortune Follows
Nurul Azwa Aris
February 6, 2019
PETALING JAYA: Mooncakes are not difficult to find in Malaysia but the ones Farizah Jaafar bakes are special.
Mooncakes, many containing yolks from salted duck eggs to represent the moon, are traditionally eaten while moon-gazing during the Chinese mid-Autumn festival.
However as they are also given to elders as a mark of respect, they often appear at family gatherings for Chinese New Year.
These mooncakes and all of the other Chinese cakes and cookies Farizah bakes are different – they're halal.
Farizah, 37, has always enjoyed cooking and could bake various type of cookies, cakes and biscuits from the age of 11. Her friends always loved eating her baked products.
A few years ago, she started getting requests from Malay friends who wanted halal mooncakes but couldn't find any.
Never one to turn down a challenge, she taught herself how to bake them with the aid of YouTube tutorials.
Soon Farizah, originally from Melaka, was turning out batches of halal mooncakes in her tiny kitchen in Petaling Jaya.
Her Muslim friends bought all she could bake and kept ordering more.
Word got around about how good her cakes were and soon Indian and Chinese customers joined the queue.
The business began to take off. Her husband, Abu Huzaifah Ismail, worked as a rubber tapper at that time. Sometimes after work, he helped her deliver mooncakes and cookies to her local customers.
She posted about her cakes online and was soon receiving orders. She and her husband boxed up the cakes and sent them through Pos Laju.
She took orders and baked even while pregnant. But it was difficult to keep up with demand.
"Baking in quantity was hard in KL, as we only had a small place. The rent for a bakery shop was too pricey for us."
In 2015, they moved to Jempol in Negeri Sembilan with their six children. "A large house is much cheaper here. The kitchen in our new house is enormous. Plenty of room for baking."
She realised her new neighbourhood had no bakery shop. So she decided to start one herself.
"It was tough in the beginning as we had only limited money to kit out the kitchen. We used our savings to buy everything we needed," she recalled.
Then, with a large, well-equipped kitchen she was ready to move her business up a gear.
Her husband quit his job and together they turned baking into a full-time business.
"The children help too, when they've finished their schoolwork. It seems impossible but it works because we have each other."
"I bake various types of cookies and cakes. At Chinese New Year, I receive so many orders for mooncakes.
"People can get them in different flavours including pandan, salted egg, red bean, Oreo and even durian."
She also bakes tau sar piah – Hokkien bean paste in flaky pastry – and the bite-sized biskut tambun, a Penang favourite. Also on the menu are Chinese almond cookies and special Hello Kitty cookies.
"I started a baking class for women who live nearby, and there's also a distance learning course through Pendidikan Jarak Jauh Malaysia."
Now she is a successful businesswoman, with a substantial Facebook and Instagram presence, but she is still a hands-on baker and insists on doing everything herself from buying the ingredients, to preparing and baking.
Many of her Chinese customers like to order halal rather than regular mooncakes when the festival season comes around.
She thinks it's probably because they want to be hospitable to their Muslim friends who visit and celebrate with them.
Having worn a hijab from the age of 29, Farizah, now also known by her celebrity name Kak Fie, changed to a niqab a year ago. She said she always wanted to wear one but it took her a while to build the confidence to do it.
At first, it was difficult moving around in her niqab but she's comfortable wearing it now and only takes it off at home.
Her cooking students are all women but she still wears her niqab in class just in case one of their husbands drives their wives to the class.
Her hard work has finally paid off and she has appeared on morning television to demonstrate baking her now famous mooncakes. Although, it would be wrong to call her a recognisable celebrity on the show, as she wore her niqab throughout her spot, with only her eyes visible.
She opened the popular Si Manis Café and Bakery in Jempol, though her other increasing number of commitments mean she can't devote much time to it.
As her fame spreads, she is getting a lot of invitations to demonstrate and teach baking.
"I am very busy teaching classes up and down the country and even abroad. I have just received an invitation to teach in Jakarta, Indonesia, which I'm looking forward to."
"I'm having to put my bakery shop and café on hold for a while so I can focus on my teaching first."
As she dons her niqab and sets out to teach another class, she reflects on her decision to cover up. "Although I wear a niqab, I'm quite comfortable in it now, and it has not negatively affected my business."
In fact it might even be a selling point, as although niqabs are meant to shield the wearer from attention, wearing one could be making her and her halal bakery products stand out from the crowd. And that's got to be a good thing.
https://www.freemalaysiatoday.com/category/nation/2019/02/06/niqab-wearer-bakes-halal-mooncakes-for-cny-sales-rocket-and-good-fortune-follows/
--------
We Are Not a 'Political Tool': Afghan Women on Taliban Talks
6 February 2019
Women who lived under the harsh rule of the Taliban urged senior Afghan politicians to ensure their hard-won freedoms are not bargained away when they talk peace with the insurgents on Tuesday.
The Afghan Women's Network said their rights should not be used as a "political tool" in dealings with the Taliban, who barred women from schools and jobs and drastically curtailed their personal liberties when they ruled Afghanistan from 1996 to 2001.
Their appeal comes as the Taliban meets with a high-ranking Afghan delegation in Moscow, and a week after the insurgents held unprecedented talks with United States negotiators.
The Taliban said the Moscow meeting -- their most significant with Afghan politicians in recent memory -- would discuss the withdrawal of foreign troops, peace terms and its vision for governance.
The two-day gathering is separate from the US-Taliban negotiations in Doha in January, that ended with both sides touting "progress" and a draft framework which could pave the way for peace talks.
No representative from President Ashraf Ghani's government -- which the Taliban considers a US puppet -- was invited to either occasion, angering officials in Kabul.
Hard-won rights
Afghan women, also largely excluded from the table, fear seeing their hard-won rights eroded if negotiators seek a hasty truce with the Taliban.
"Women should not be used as a political tool by these politicians. If they (Taliban) return and impose restrictions on women, we will not accept that," Mashal Roshan, a coordinator from the Kabul-based women's network, told AFP.
"In the past 17 years Afghan women have gained some hard-won achievements. We don't want to lose that. It's our right to go to school and to work, and everyone should respect that."
In a statement ahead of the Moscow meet, the network said they would not accept peace at the cost of their freedoms and urged delegates to defend the rights of half of Afghanistan's 35 million people.
"There is no need to reinterpret Afghan women's lives," the statement said.
Under their brutal interpretation of Sharia law, the Taliban confined women to their homes, only allowing them outside with a male escort and hidden beneath a burqa.
Girls were banned from schools and colleges and women prohibited from the workplace save in a few areas such as medicine.
The militants have indicated they would provide a safe environment for women's work and education under an "Islamic system" they have proposed for Afghanistan's future.
But involvement of the Taliban in any government frightens many women, who recall the stifling restrictions under the insurgents.
Ghani and de facto prime minister Abdullah Abdullah have urged the Taliban to negotiate with Kabul, saying all Afghans should agree on the need for peace and a troop withdrawal.
The Taliban are expected to meet with US negotiators again later in the month.
https://english.alarabiya.net/en/features/2019/02/06/We-are-not-a-political-tool-Afghan-women-on-Taliban-talks-.html
--------
What These Muslim Activists Found at the Women's March
By Monique Parsons
February 5, 2019
A few times every block along the route of the third annual Women's March in Washington, Khadija Husain heard a voice call out from the crowd: "May I take your picture?" Each time, she paused and held her poster high, smiling as the photographer offered a "thank you" or thumbs-up before moving on.
Although she wore a fashionably fuzzy cream-colored coat and crimson, striped Harry Potter scarf (Gryffindor), most likely it was her hijab that drew much of the attention. Her head scarf, a sign of her Muslim faith, along with her purple poster from the Muslim Women's Alliance helped her stand out from the crowd.
Her poster read: "No Muslim Ban Ever. Black Lives Matter. Believe Women, Believe Survivors. Human Rights are Women's Rights." A quote often attributed to the Rev. Martin Luther King—"No one is free until we are all free"—was emblazoned across the top.
Husain was one of scores of Muslim women who participated in the Women's March in the nation's capital in January, drawn there by a passion for a range of issues. The Chicago-based Muslim Women's Alliance was an official partner of the event. The non-profit was founded in 2007 by a group of women frustrated with the lack of leadership opportunities for women in mosques, and the alliance has since broadened its scope beyond the mosque to become a voice for Muslim women's empowerment. With 13,000 people on its mailing list, the MWA raises money for scholarships, runs a mentorship program for Muslim girls, hosts events, and works with the boards of mosques to build greater gender equity inside religious institutions.
Suroor Raheemullah of Chicago is part of the MWA leadership team. Her sister was a founder of the group. She says the MWA began with a fairly straightforward idea: "We're going to have our own board, and we're going to have women on it, to give women the opportunity to lead."
The Women's March's sponsorship was an example of the alliance stepping onto a national stage. Raheemullah and Husain, the MWA communications director, led a group of about a dozen Muslim women from Chicago to D.C. for the event, chartering a bus for the overnight drive across 700 miles of dark, snow-swept highways. A contingent of more than 50 Muslim women from the D.C. area met them there. Many of the women marched in matching bright blue hijabs.
"Our faith calls for speaking out for justice, not just for our own community, but for others," Husain said, speaking into a microphone at the front of the bus as it made its way east through Indiana. "So today I march for Indigenous women, I march for any woman who's ever said 'me too.' There are so many reasons that we can all come up with why we march, but for me I will continue to raise my voice every single time when any issue comes up, whether it's the wall, whether it's Latino rights, I will continue to march, and I will continue to demand justice for all communities."
In the weeks leading up to the march, media attention focused on reports that the Women's March national leadership was fracturing, holding tearful meetings and navigating allegations of anti-Semitism after a former board member, Vanessa Wruble, said she left the organization after hearing anti-Semitic comments from march leaders. Women's March board member Tamika Mallory came under fire for attending a Nation of Islam rally and praising Nation leader Louis Farrakhan on social media. The Southern Poverty Law Center, while acknowledging the Nation of Islam's programming and theology is aimed at uplifting African Americans, designates the Nation of Islam as a hate group for its leader's racist, anti-Semitic, and anti-LGBT rhetoric.
The controversy had an impact: Women's marches took place in cities around the country, and some, concerned that the tensions in the D.C. group had tarnished the brand, took pains to separate themselves from the march in Washington.
For many of the Muslim women at the D.C. march, the issues were complex. No one in the MWA contingent was a member of the Nation of Islam; just two percent of African American Muslims ally with Farrakhan, whose racist theologies are anathema to the racially inclusive theology of mainstream Islam. Many of the women, however, had watched the controversy play out in the media, and several commended the Women's March leaders for listening to criticism and responding by expanding their leadership team.
"We know we condemn anti-Semitism fully. It's a no-brainer for us," said Wardah Khalid, who participated in the march and is the founder of an organization aimed at boosting Muslim participation in politics and civic life. "Inclusion is an important issue for us."
Others said the focus on the controversy was drawing attention away from more critical issues. "It is a distraction. It's to divide us," said Tiffany Blanton, 34, of Milwaukee, who rode the MWA bus from Chicago to the march. An African American who converted to Islam as a college student, she said it's common for people to make assumptions about her faith. "If I tell people I'm Muslim, they automatically think I'm in the Nation. 'Oh, you hate everybody,'" Blanton said with a sigh. "Uh, no." She said she does not believe the march leaders are anti-Semitic, and that the larger women's movement, not Tamika Mallory, should be the focus. "That's her views. That's what she does. That doesn't take away the fact of what she started," Blanton said, adding that she doesn't expect a broad coalition of women to agree with each other on every priority. "By having this march and all coming together, maybe we can work these issues out. We have to at least speak to each other."
As the march meandered from Freedom Plaza down Pennsylvania Avenue, pausing for a few minutes outside the Trump International Hotel, Blanton held up a homemade sign with pictures of some of her icons that she had cut out of magazines, including writer and actress Issa Rae; Trayvon Martin's mother, activist Sybrina Fulton; and U.S. Rep. Maxine Waters. She'd written this message across the poster in purple marker: "Time 4 U white women & non-black women to put in work! Signed, Black Women."
Next to her marched Marina Hayes, 27, a special education teacher at a Chicago public school. Raised in a Greek Orthodox family, Hayes converted to Islam a few years ago. She said she marched because she was frustrated by the Trump Administration's policies banning travel from several Muslim-majority countries. Diana Cruz, 45 and a Muslim convert, said she marched for families separated at the U.S.-Mexican border. She'd added a bright pink beret to the top of her pink hijab for the march. "I'm trying to change the narrative."
Muslim women's political activism is growing nationwide. The recent elections of the nation's first Muslim congresswomen—U.S. Rep. Ilhan Omar of Minnesota and U.S. Rep. Rashida Tlaib of Michigan—are parts of a much larger movement, says Najeeba Syeed, associate professor of interreligious education at Claremont Theological Seminary in Southern California. Syeed, who teaches a class on Islam, Women, and Social Movements, notes that groups such as MWA are led by women who are adept at building coalitions. "What's been really fascinating to me is some of the cutting-edge, anti-racism work within the Muslim community has been largely led by Muslim women," she said.
The U.S. Muslim population is extremely diverse, a fact underscored by a 2017 study by the Pew Research Center, and this diversity was evident in the MWA group, which included women who were white, black, Latina, and of South Asian and Arab descent, and included converts as well as lifelong Muslims. Of the approximately 3.45 million American Muslims, about 20 percent identify as black or African American and 28 percent identify as Asian. Although the majority are American citizens, those with immigrant roots trace their ancestry to more than 75 nations.
"Because we're not from one background, we all come with our issues that are most important, and it's our faith that pushes us out here," said Husain, who was born in Saudi Arabia and has lived in the U.S. for 30 years. Syeed uses the term "embodied pluralism" to describe how American Muslim women learn to navigate complex racial, ethnic, and religious identities, even as they navigate gender in secular and religious spaces. These experiences have helped shape leaders who are particularly skilled at leading diverse coalitions such as the ones seen at the Women's March, she said. "Some Muslim women talk about being the 'unicorn at the table,' but that's their normal, everyday," Syeed said. "And they're not exceptions. There are whole communities like this."
This diversity was evident at a recent MWA event in Chicago, a workshop on gender equity in mosques titled "Muslim Women Reclaim the Masjid." (Masjid is the Arabic term for mosque.) The workshop attracted about 100 women to share their frustrations around the lack of women's leadership, cramped prayer spaces, and sexist attitudes from men inside mosques. A 2011 study on the status of women inside American mosques found that while nearly six in 10 of the nation's approximately 2,000 mosques have had at least one woman board member, many fell behind in recruiting women leaders and making worship spaces "women friendly." Raheemullah, who helped lead the workshop, urged the audience to go back to their mosques and include men in the conversation. "This is not a women's problem. This is a community problem. We need to help each other to make the change."
A month later, Raheemullah was on the long overnight bus ride to the D.C. march, her 10-year-old daughter curled up on the seat beside her. Raheemullah also attended the first Women's March in January 2017, the day after President Donald Trump took the oath of office. "I marched in 2017 because there was a heightened sense of anti-Muslim rhetoric out there, and I was scared. I did not want to bring my daughter in 2017 because it was a really terrible environment." As the bus ride got underway, she said, "At that time for people of color, people of my faith, nobody knew what direction things were going to be going in. But two years later, I march again because the last two years and the last march taught me that fear, if we let it, will cripple us, but love will [uplift] us."
The fear hasn't gone away. Nearly every woman on the bus reported experiences of harassment. A 2018 poll by the Michigan-based Institute for Social Policy and Understanding found that six in 10 American Muslims reported experiencing religious discrimination in the past year. Nearly 70 percent of those targeted were women.
Raheemullah wasn't the only Muslim marcher who returned to the streets of Washington D.C., hoping to tap into the atmosphere of compassion and solidarity many experienced during the first march. Saira Toor, part of the MWA group, said the 2017 march was the first time since the Sept. 11 attacks that she felt she was back in the welcoming, inclusive country she'd grown up in as a child. "I was amazed by the outpouring of support and love. People saying, 'Thanks for being here,' like we were VIPS," Toor recalled. Husain agreed. "Everywhere we'd go, people were giving us hugs. It was very loving."
As this year's march wound down, Raheemullah said she noticed the "electric" feeling of the first march wasn't as palpable this time. "People seem tired," she said. At one point, she had reached protectively for her daughter after a shouting match erupted nearby between protesters on either side of the abortion debate. Abortion rights were not mentioned on the MWA signs at the march, a sign of the complexity of the issue for many Muslim women, Husain explained.
The mood seemed to lift an hour or so later, as the Chicago group gathered around Brooklyn political activist Linda Sarsour, who is Muslim and a co-chair of the Women's March. Sarsour greeted many of the women by name and offered words of encouragement for the work ahead. "Where I am, my sisters are," Sarsour said. "I'm ecstatic, I'm inspired, I'm refueled."
She lingered for several minutes, offering hugs and posing for selfies before heading back toward the rally stage.
https://religionandpolitics.org/2019/02/05/what-these-muslim-activists-found-at-the-womens-march/
--------
After Surviving Daesh Militia, Yazidi Women Ask To Go Home
2019-02-04
By Rouba El-Husseini
OMAR OIL FIELD — Among thousands fleeing the crumbling dream of Daesh (the so-called IS) group "caliphate" in eastern Syria are alleged militants but also survivors of some of their worst atrocities.
"I'll never forget," 40-year-old Bissa says softly, as she recounts being "bought and sold" by six different militants.
"We did everything they wanted to do with us. We couldn't say no," says the Iraqi woman from the Yazidi religious minority, after fleeing her Daesh captors.
Bissa was one of at least seven Yazidi women and girls to finally escape captivity last week, after years as "sex slaves" at the hands of the extremist group.
Speaking to AFP in territory held by US-backed forces, the women — and at least one teenager abducted when she was 13 — say they just want to go home.
"They would sleep with us against our will," Bissa tells AFP, wearing a dark red headscarf and appearing years beyond her age, her face and hands etched with lines.
More than 36,000 people have fled a crumbling Daesh holdout near the Iraqi border in recent weeks, among them 3,200 alleged militants.
But now in territory held by the US-backed Syrian Democratic Forces (SDF), none perhaps have tales so harrowing as the Yazidi women.
In 2014, Daesh militants rampaged across swathes of Syria and neighboring Iraq — including the northern Iraqi region of Sinjar, home to a large Yazidi community.
The Kurdish-speaking Yazidis follow an ancient religion rooted in Zoroastrianism, but Daesh considers them to be "apostates".
In Sinjar, Daesh fighters killed the men, forcefully enlisted boys as soldiers and kidnapped more than 6,000 women.
'When I see my Mom'
After Bissa was captured, she was "bought and sold" by six different militants — including three Arabs and a fighter who said he was Swedish. She was repeatedly brutalized, but was too scared to escape.
"They said whoever tried... would be punished by a different man sleeping with her every day," she says inside an SDF center near the Omar Oil Field.
But 17-year-old Nadine, who militants kidnapped from Sinjar when she was just 13, says she twice tried to escape.
Both times the militant group's police caught her.
"They flogged me with a hose. It left marks on my back, and I couldn't sleep on it," she says.
"The second time, they said I couldn't eat for two days," she added.
After they abducted Nadine, Daesh militants took her across the border to the group's then de facto Syrian capital of Raqqa.
Over four years, she says, six different men bought her — Arabs and a Tunisian.
She had to adapt to their brutal interpretation of religion, and adhere to their strict dress code of covering from head to toe in public.
"I love color, and I used to wear trousers," Nadine tells AFP.
Inside the SDF center, she wears a black-and-white bead bracelet around her wrist, bearing the name of her little brother in English.
But she can't bring herself to remove her black face veil.
"I got used to it. I can't yet take it off," she says. "But I will do so when I see my Mom."
After escaping, Nadine says several cousins are still being held in an Daesh pocket in eastern Syria.
'Saved my children'
At the height of its rule, Daesh controlled territory the size of Britain, but today it has lost all but the eastern patch to various offensives — including by the SDF, backed by airstrikes of the United States-led coalition.
Between 2015 and 2018, at least 129 Yazidi women and girls were handed over to the Kurdish Women's Protection Units (YPJ), who are part of the SDF.
"We're definitely... fighting Daesh to free more captives — and not just Yazidis," YPJ spokeswoman Nasreen Abdallah told AFP.
At the YPJ center, Sabha, 30, waited with to take her 10-year-old daughter to hospital, after a kettle of boiling water fell on her legs.
Also a Yazidi woman, Sabha fled the last patch of Daesh territory with her six children, after the man she was forced to marry was killed in an airstrike.
Five of her children are from a first husband killed by Daesh after they overran Sinjar.
But her 18-month-old girl was fathered by a Kurdish militant from the Iraqi region of Kirkuk, who said he spent 15 years of his life in Britain.
Sabha says the militant beat her and threatened to kill her children if she disobeyed.
"All I could think of was how to get out," says Sabha, wearing a green headscarf.
"I'd wish him dead so I could escape."
Today, Sabha looks forward to going home to her family, she says.
"But what makes me most happy is that I saved my children." — AFP
http://saudigazette.com.sa/article/558449/World/Mena/After-surviving-Daesh-militia-Yazidi-women-ask-to-go-home
--------
URL: https://www.newageislam.com/islam-women-feminism/the-hijabi-monologues-young-muslims/d/117667
New Age Islam, Islam Online, Islamic Website, African Muslim News, Arab World News, South Asia News, Indian Muslim News, World Muslim News, Women in Islam, Islamic Feminism, Arab Women, Women In Arab, Islamophobia in America, Muslim Women in West, Islam Women and Feminism