New Age Islam News Bureau
6 Sept 2017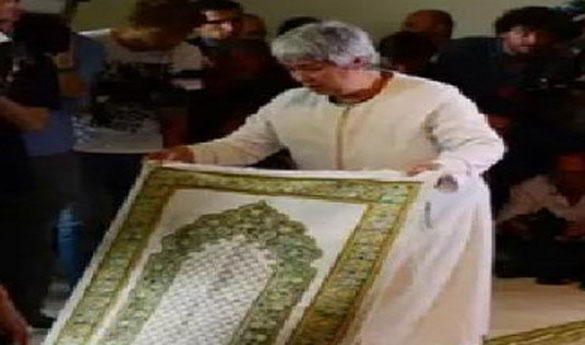 Photo: The Imam of Ibn Ruschd-Goethe mosque, "the first liberal mosque" in Germany
-------
• Female genital mutilation defended in article on 'Muslims in Calgary' website
• Raped woman had to 'bribe' police for filing case
Woman commits suicide
• Muslim model Resham Khan posts first pictures after acid attack
• Afghanistan's oldest female asylum seeker faces deportation from Sweden
• She's a Nobel winner heading to Oxford. But 'Malala hate' is still real in Pakistan.
• Losing faith in Rouhani, Iranian women ever defiant
• Zuraida takes Najib to task over women's rights
• Activist: 'Name-shaming' to promote women a good move
• Group calls for Indonesia gov't to investigate raid on women
• LGBT crackdown feared in Indonesia after 12 women evicted from home
• Woman on trial for forcing Malaysian friend to work in Perth brothel
• World Cup: Iranian women refused entry to match despite holding tickets
Compiled by New Age Islam News Bureau
URL: https://www.newageislam.com/islam-women-feminism/the-first-liberal-mosque-germany/d/112450
--------
The First Liberal Mosque in Germany Features A Female Imam without Headscarf
05 September 2017
A portrait of Muslim pluralism diversity in Germany takes place at the "first liberal mosque" in Germany, the Ibn Ruschd-Goethe mosque. The mosque named after Islamic scholar Ibn Rushd, also known as Averroes (1126-1198) and Germany's greatest writers, Johann Wolfgang von Goethe.
A female imam without veil or head covering seen in the mosque were men and women pray side by side on the same saf. The Sunni, Shia, LGTBQ community are all welcome in the mosque without prejudice.
As quoted Tuesday (9/5/2017) from Amp.dw, a Turkish-born lawyer, Seyran Ates inaugurated this "liberal mosque" in Berlin, Germany. She declared herself a female imam of the mosque. With legal background, she has been fighting for years against domestic violence, honour killings and forced marriage.
Seyran Ates's family moved from Turkey to Germany when she was 6 years old. She studied law and works as a lawyer in Berlin. With her own funds she managed to open a consulting office for Turkish women. The 54-year-old got her education to become an imam. In 2017 Seyran fulfilled his dream, opened a mosque in Berlin.
The mosque is located on the third floor of the Protestant Johanniskirche (St. John's Church) building in Moabit nearby Indian and Vietnam restaurants.
Although open to the public, the Islam practiced in the Ibn Ruschd Goethe mosque according to the founder is Islam with a "historically critical" approach. No women in this mosque seen wearing nikab or burka. According to the imam, nikab or burka has little to do with religion, but rather a political statement.
Once opened in June 2017, the mosque has immediately received criticism. Turkey's pro-government newspaper, Sabah calls it is "unreasonable" for worship to take place in a church. The Pakistan daily criticized the fact that women and men stand in one saf while praying.
According to Seyran, Islam must be able to renew itself. As more and more Muslims are now longing for a peaceful Islam, which maintains dialogue with other religions. But the mosque with such understanding is still too little in Europe.
en.netralnews.com/news/currentnews/read/10673/the.first.liberal.mosque.in.germany.features.a.female.imam.without.headscarf
--------
Female genital mutilation defended in article on 'Muslims in Calgary' website
SEPTEMBER 05, 2017
'Muslims in Calgary' has an article on its website defending the practice of female genital mutilation (FGM).
In the undated article entitled Female Circumcision in Islam, author Asiff Hussein claims both that FGM is "an Islamic practice" and that it "brings untold benefits to women."
Hussein discusses the 2009 ruling by Malaysia's National Council for Islamic Religious Affairs that FGM was mandatory for Muslim women, noting that he "could not find anything objectionable in it."
He states that more "barbaric forms of FGM practised in sub-Saharan Africa" are counter to Shariah Law, but advocates for what he calls a "relatively minor" procedure that cuts the skin covering the clitoris.
The article cites several hadiths — writings that supplement the Qur'an in providing religious guidance for Muslims — that advocate for FGM to demonstrate the historic and Islamic basis for the practice.
Hussein makes a case for the supposed health benefits, while also admitting the practice reduces what he calls "the excessive sexual arousal in women."
The World Health Organization (WHO) condemns all forms of FGM, which is practiced today in more than 30 countries and has been carried out on 200 million girls and women worldwide.
According to WHO guidelines, "there are no known health benefits" to FGM. The WHO unequivocally states that "female genital mutilation is a violation of human rights (and it) must never be performed."
Hussein's article is also full of racist and anti-Semitic statements.
He blames "the Jews" for leading the criticism against FGM, and claims the "Jewish controlled media" is responsible for the negative attitude towards this practice.
The website features an opinion disclaimer, stating the views in the article are that of the individual author, "solely meant for education, discussion and debate, not for any illegal purpose." The disclaimer also states that the author is not affiliated with the 'Muslims in Calgary' website.
Asiff Hussein is a Sri Lankan writer, and it is unclear why his controversial article is posted on the 'Muslims in Calgary' website.
According to Lisa Daftari, founder of the Foreign Desk news site, Hussein posted the same article on Facebook in May 2016. Facebook removed the post, however, stating "it violated our Community Standards."
The website 'Muslims in Calgary' (MuslimsinCalgary.ca) is privately registered and while it does not have a big following on social media, it states its objective is to "provide leadership and guidance to Muslims in Calgary."
The professionally designed site is full of controversial articles presenting a strict and fundamentalist interpretation of Islam.
The site provides contact information for several Islamic centres and organizations, as well as for "community sheikhs." One of these listed sheikhs, Hacene bin Mohamed, told the Sun that his name was added without consultation, and he assumes the same applies to others listed.
"It is good that they are referring people to official imams for help," he said in an email, "but at the same time we are worried about the accuracy of the information."
"I do believe the owners live in Calgary," he continued, "however, it seems that they do not want to disclose their identity."
There is reason to be concerned about increased incidents of female genital mutilation in Canada. A recent internal CBSA report reveals that border officers have been put on alert to watch for FGM practitioners entering Canada.
Prime Minister Justin Trudeau recently removed the strict warning against FGM in Discover Canada — the citizenship guide given to all newcomers to Canada.
torontosun.com/2017/09/05/female-genital-mutilation-defended-in-article-on-muslims-in-calgary-website
--------
Raped woman had to 'bribe' police for filing case
September 06, 2017
RAHIM YAR KHAN: A married woman who was allegedly raped and blackmailed because of a video clip of the rape made by her tormentors, had to bribe lower police staff to get a case registered against the suspects after a senior officer declined to help her in getting justice.
Narrating her ordeal at the local press club where she had come with her husband on Tuesday, 'N', a resident of Mauza Bhuta Kot of Sheikh Wahan area, said she worked as a match-maker and was lured to Rahim Yar Khan by a relative on the pretext of visiting a family in Multan for the purpose in May this year.
Instead of taking her to Multan, she said the prime suspect 'H' and his friend 'J' took her to a house here in Gulshan-i-Iqbal, that was owned by one of their acquaintances.She said at the house, both 'H' and 'J' raped her in the presence of their friend and the suspects made a video clip of the crime.
The suspects threatened her that they would post the clip on social media if she informed anybody about the rape, she said. She said later the suspects started blackmailing her and threatened her they would sell the video clip if she did not pay them money.
She claimed that she had been giving the suspects money on different occasions by selling her cattle and even jewellery and so far they had extracted around Rs300,000 from her. Meanwhile, she said the suspects sold the video clip to many persons against Rs1,000 each despite taking money from her.
Being unable to arrange more money, she said she approached the Saddar deputy superintendent of police (DSP) with a complaint but he did not listen to her.
Later, she lodged an FIR (No 250/17) on Aug 31, 2017, against the suspects under Section 376 of the Pakistan Penal Code after paying Rs15,000 bribe to a sub-inspector Ehsan and the moharrar of Saddar police station.
After that the police arrested 'H' while 'J' and the house owner got interim bails. She said now the suspects were forcing her for a "reconciliation" and threatening her with dire consequences if she pursued the case.
She said she did not get a case registered under cyber crime law because she was illiterate and did not know about it.
The district police public relations officer denied all the allegations levelled by 'N' against police officials, saying the police would act according to the law in the light of the medical report of 'N' that was still awaited.
dawn.com/news/1355882/raped-woman-had-to-bribe-police-for-filing-case
--------
Woman commits suicide
September 06, 2017
LAHORE: A mother of three ended her life by swallowing poisonous pills at her house in Samanabad area on Tuesday, police said. Shabnum Bibi committed suicide after argument with his spouse over some domestic dispute. Her family told the police that the 25-year-old lady was rushed to a hospital where she died later. The police handed over the body to the family after fulfilling legal formalities. –Staff Reporter
Burnt man loses battle for life
LAHORE: A 50-yerar-old man who was admitted to the Mayo hospital with multiple burns the other day died there late Monday. Police are yet to ascertain identity of the deceased. The body was moved to the morgue for an autopsy. Batapur police said the man was hospitalised by unidentified persons. The police were investigating the death. –Staff Reporter
Suspected gangsters arrested
LAHORE: Police Tuesday claimed to have smashed a gang of auto-lifters by arresting its three members during a raid in Manawan. The suspects were identified as Shahid alias Billa, Waleed, and Ahmed. The police also seized a white-Corolla car and three pistols. The suspects were shifted to a police lock-up for further interrogation. The Manawan station house officer told reporters that at least five cases of vehicle-theft had been traced against the arrested persons. He said they were wanted to the police in several such cases. –Staff Reporter
Three peddlers caught
LAHORE: CIA Sadar police division on Tuesday arrested three drug dealers during a successful operation. The police also seized 41-kg drugs. A police spokesman said the raids were part of the anti-narcotics campaign underway in the city. The suspects were named by police as Jamshaid alias Mani, Shafique Shaukat, and Asif alias Nadi. Police also claimed that the arrested drug dealers were actively selling narcotics to wholesalers in different parts of the metropolis. Further investigation was underway. –Staff Reporter
NPT to mark Defence Day
LAHORE: The Nazaria-i-Pakistan Trust will hold a special sitting on Pakistan Defence Day at Pakistan Movement Workers Trust on Wednesday. NPT Chairman Muhammad Rafiq Tarrar will chair it while people from all walks of life will attend the ceremony. –Staff Reporter
nation.com.pk/lahore/06-Sep-2017/woman-commits-suicide
--------
Muslim model Resham Khan posts first pictures after acid attack
Sep 05 2017
Months after having suffered a horrible acid attack in London, aspiring Muslim model Resham Khan has posted her latest pictures on social media showing her sans injuries and confident-looking.
Resham Khan and her cousin Jameel Mukhtar faced acid attack two months ago, on the model's 21st birthday, disfiguring both of them, and leaving Jameel Mukhtar paralysed for life. Acid was thrown at them through a car window in London.
Well wishers praised her for her bravery and perseverance in dealing with the hard times.
The model had also started a blog, and has written updates on her recovery; however, this is the first time after the attack she has posted her pictures. She has talked about her trauma and how was mentally "up and down" after the attack wearing specially-made clothes to "prevent scars".
Resham has also started campaigning for awareness about the issue and has been asking the UK government to discuss acid attacks in parliament, the BBC reported.
geo.tv/latest/156621-muslim-model-resham-khan-posts-first-pictures-after-acid-attack
--------
Afghanistan's oldest female asylum seeker faces deportation from Sweden
Sep 05 2017
The oldest asylum seeker from Afghanistan, a 106-year-old woman, faces deportation from Sweden after her application for asylum was rejected by the authorities, it has been reported.
The woman, Bibi Hal Uzbeki, arrived to Sweden sometimes in 2015, amid an unprecedented influx in migrants travel to Europe.
However, the authorities have said her application has been rejected, apparently lacking a well found fear of persecution in her home country.
The Swedish Migration Agency officials have confirmed with the Associated Press regarding the decision to reject Uzbeki's application who is accompanied by her other family members.
The authorities confirmed in a statement to the AP they had "taken a decision regarding an expulsion in the case," adding "generally speaking, high age does not in itself provide grounds for asylum."
The latest decision by the Swedish authorities comes amid deteriorating security situation in Afghanistan has forced the other European countries to withhold the deportation of the Afghan asylum seekers, mainly due to the deadly attacks that rocked Kabul city and other parts of the country since late in May this year.
In the meantime, the close relatives of Uzbeki have told the Associated Press that an appeal has been filed with the authorities, given the ongoing crisis in the country with the toll of human lives loss on the rise, mainly due to the Taliban-led and ISIS insurgency in the country.
khaama.com/afghanistans-oldest-female-asylum-seeker-faces-deportation-from-sweden-03370
--------
She's a Nobel winner heading to Oxford. But 'Malala hate' is still real in Pakistan.
By Pamela Constable September 6
ISLAMABAD — It's safe to say that most people in Pakistan were glad that Malala Yousafzai, then a 15-year-old student, did not die from the bullet wounds a squad of Taliban militants left in her face and neck when they ambushed her school bus in Pakistan's scenic Swat Valley in 2012.
It's probably also safe to say that two years later, most Pakistanis were proud — even if that pride was mingled with other, more complicated emotions — when Yousafzai, an activist for girls' education, became at 17 the youngest person ever to win a Nobel Prize and her country's second Nobelist since the Muslim-majority country was founded in 1947.
Beyond that, the young woman's story has become so distorted by a bewildering list of honors and accomplishments, and a parallel litany of accusations and suspicions, that it is almost impossible to generalize about how she is viewed by her fellow citizens — except that they seem exhausted of hearing about her.
Two weeks ago, Yousafzai, who now lives in England, announced that she had been accepted to study at Oxford University (her tweet was politely couched in praise for her fellow winning candidates). The British press loved the story, but there were few mentions in Pakistan's media. Reaction from Pakistanis on social media ranged from sincere and congratulatory to snide and envious.
"Well done, Malala," one man posted on Facebook, praising her humanitarian efforts and success abroad but noting wistfully that many Pakistanis are unable to get ahead except by bribery and connections. "Time to shoot myself in the head for my next degree," sneered another on Twitter, using an expletive to suggest she had done little to deserve it. Some called her a hypocrite and a fake. Some said her father, a rural school principal, was an agent for Israel and the CIA.
On Tuesday, police officials in Karachi reported that they had killed several suspected Taliban and Islamic State militants in a raid and shootout, including one who they said had been involved in the attack on Yousafzai. The news made headlines but drew little public interest. News reports seemed skeptical of the police claims. They included scant detail of the long-ago incident and no photos of Yousafzai. The coverage had a perfunctory, "old news" tone.
In a way, it is understandable that this young woman — who appears to have remained a gracious and modest individual despite her global celebrity — has nevertheless become a permanent lightning rod for the muddled grievances, conspiracy theories and thwarted ambitions of a struggling society where many people look to "foreign hands" to blame for their problems and may resent the limelight that comes to some, but only a few, of those who have suffered.
By some estimates, more than 30,000 Pakistanis have been killed in a decade of terrorism and conflict. Yousafzai survived and then went on to become a best-selling author, a winner of numerous international prizes and a U.N. Messenger of Peace. Time magazine named her three years running as one of the most influential people in the world, and in July she was listed as one of its most "influential teens" alongside Kylie and Kendall Jenner. She even had an asteroid named after her. Now she is going to Oxford to study philosophy and politics.
In an Aug. 18 essay in Pakistan Today, titled, "Why are Pakistanis upset at Malala getting into Oxford?" Syed M. Murtaza described an "umbrella" of "Malala hate," an emotional phenomenon in which the outspoken young crusader has become a stand-in for everything many Pakistanis fear and resent — from drone strikes to Western freedoms. "It is commonplace in Pakistan to attribute everything Malala has accomplished … to a grand scheme by international powers that only seek to defame the country," he wrote.
Actually, public opinion polls have shown that many Pakistanis admire and respect her, according to a 2014 report by Maham Javaid, a Pakistani-American journalist, published by Al Jazeera America. When Yousafzai was nominated for the Nobel Peace Prize, one poll showed 44 percent of people were pleased, 44 percent ambivalent, and 11 percent unhappy. But later, when her autobiography was published in 2013, some Pakistanis, especially religious clerics and conservative TV anchors, charged that she had defamed Pakistan and Islam. The book was banned in thousands of private schools.
The main problem, Javaid wrote, is that while many Pakistanis "stand behind her" and cheer her crusade, others "appear unable to distinguish between Malala's brave resolve to fight for what she believes in and the Western accolades she has received for displaying this courage." If Pakistan shuns Yousafzai, she added, "we Pakistanis will be the ones who lose yet another hero … Malala is a true champion, and Pakistan should hold on to her."
washingtonpost.com/news/worldviews/wp/2017/09/05/shes-a-nobel-winner-heading-to-oxford-but-malala-hate-is-still-real-in-pakistan/?utm_term=.de64b5b12c86
--------
Losing faith in Rouhani, Iranian women ever defiant
Narges Bajoghli
September 5, 2017
"Women get absolutely zero for supporting [Hassan] Rouhani! If we hadn't voted in this election, does Rouhani think he would have gotten re-elected with the numbers he did?" Leila, a 34-year-old women's rights activist, shot off in an angry text on Telegram after it was revealed that Iran's president had not nominated any women to join his second-term Cabinet. "Even [Mahmoud] Ahmadinejad had a woman as a minister!" Ava responded in the private group for young women's rights activists, referring to the conservative former president's 2009 appointment of Marzieh Vahid Dastjerdi as the Islamic Republic's first female minister. She served as health minister.
"This is a joke. How disrespectful to all the women who supported him," added Fatemeh, a 25-year-old political science student. Most of these young women do not know each other — they are activists scattered across the country — but they share each other's anger at the president as he begins his second term.
During both the February 2016 parliamentary elections as well as the city and village council elections of May 2017, women won an unprecedented number of seats. For the first time in the history of the Islamic Republic, Iranians chose women in high numbers, demonstrating that when women have the opportunity to run for office, voters do not have an issue with casting their ballots for them. Thus, understanding that the predominantly young electorate demands more social and cultural rights, including an increased presence of women in leadership positions throughout the country, 157 members of parliament wrote a letter to Rouhani on July 19 urging him to nominate women for his second-term Cabinet.
When Rouhani failed to do so, women across social media and in opinion pieces aired their dismay and anger at the president. "I don't know if he's trying to allay fears with the conservatives who lost badly in the elections, and that's why he didn't nominate any women, or if he actually doesn't believe in women holding higher leadership positions in political life," Farzaneh Hosseini, a women's rights activist, told Al-Monitor. In a similar line of criticism, on Aug. 21, former conservative journalist and filmmaker Mohammad Nourizad blasted the clerical class for its "backward" views on women and blamed it — and by extension Rouhani, a cleric — for the lack of female nominees for ministerial positions. He asked, "Could it be that the hopes for anything different were just misplaced?"
In a move that further angered activists and indicated to them that Rouhani was more closed than they had wished, Laya Joneidi, his pick for vice president for legal affairs, told the Reformist Shargh Daily on Aug. 21 that the reason for her sudden change in attire was not entirely hers. She said, "The respected president, who was elected with 24 million votes, asked me to work with the government. He said my service was needed [and] he also said that the Cabinet's protocol is such [that a woman wears a chador]." The full-length black chador is commonly favored by conservative women. Prior to assuming her new position, Joneidi — a law professor at the University of Tehran — wore colorful headscarves and overcoats.
Voters and activists took to social media to blast the president for his request of Joneidi. Indeed, it has not been lost to the public that none of the 19 male Cabinet ministers are likely to have personally received fashion advice by Rouhani. But some also turned their ire toward the new vice president for quietly accepting such a demand and failing to stand up for her right to appear in public as she deems fit, within the confines of Iranian law.
To be sure, Rouhani has likely faced extreme pressure behind the scenes to make certain concessions to conservatives in the regime. Having women involved in high levels of government is a thorny issue for the political and clerical elites. For instance, it took decades before women were assigned certain posts by the Foreign Ministry. Marzieh Afkham became the Foreign Ministry's first female spokesperson in 2013, and two years later, she was appointed as the first female ambassador of the Islamic Republic. Yet these opportunities continue to be highly limited. Apart from having to confront the ongoing restrictions, women in the Foreign Ministry, as in other sectors of government, constantly have to struggle to prove that they are capable enough.
Thus, some women's rights activists were hopeful that Rouhani would fulfill his campaign promises and offer more formal leadership positions for women. Nonetheless, his unwillingness to even nominate women as ministers is a stab in the back of women, who voted for him in large numbers. Many think women would likely not have been confirmed, even by the incumbent reform-leaning parliament.
"These clerics show us every time that we shouldn't take their word for granted," Fattaneh, a women's rights activist from the city of Isfahan, told Al-Monitor. "I always feel disappointed; duped, almost. But I really thought that we had a chance to get women at least nominated for ministerial positions this time."
"I'm not surprised in the least," Mahnaz, a veteran women's rights activist in Tehran, told Al-Monitor. "Those of us who have fought against this system for decades know not to trust a cleric when he promises women something. Everything we've gained in the past nearly 40 years has been because we have taken it with a long struggle. We haven't been given anything. This fight is no different."
Indeed, activists such as Mahnaz, although disappointed in the president, are not hugely surprised. Empty promises for increased women's rights by pro-reform politicians have become commonplace for activists — and such setbacks are nothing more than bumps in the road. As for looking ahead, Mahnaz told Al-Monitor, "What we have now that's different than in years past is an increased presence of women in city and village councils. We want to empower those voices and try to get more and more women elected in such positions in the future." In a telling retort to the Rouhani administration and its slogan of "Prudence and Hope," she added, "We don't hold out hope on these old clerics changing their minds. Our hope lies in the young women who are stepping up to lead and the younger generation that is willing to support them."
al-monitor.com/pulse/originals/2017/09/iran-women-ministers-rouhani-promises-hope-future.html
--------
Zuraida takes Najib to task over women's rights
September 6, 2017
PETALING JAYA: PKR Wanita chief Zuraida Kamaruddin today slammed Prime Minister Najib Razak for failing to ensure the rights of women.
In a statement, she said the measures taken by Najib so far undermined all women in the country, starting with his failure to include a clause against the unilateral conversion of children in the Law Reform (Marriage and Divorce) Act 1976 (Act 164).
She said Najib was "holding women at ransom" by putting the blame on them for his failure to include Section 88A in the act.
Section 88A(1) specifically states that if a parent converts to Islam, the religion of the children remains the same as when the couple were married, unless both parents agree to the conversion of their children.
At a recent TN50 dialogue for women, Najib had said that a ban on unilateral child conversion would require a two-thirds majority vote in the Dewan Rakyat to change the Federal Constitution.
Zuraida, who is the Ampang MP, said if Najib had wanted support from opposition MPs regarding the issue, he would have garnered the two-thirds majority needed to amend the bill.
"However, the prime minister did not do that as he was not committed to solving issues pertaining to women's rights."
Zuraida also referred to Najib's recent announcement that he would "name and shame" public-listed companies with no women directors.
She said such a move would only generate hatred and animosity towards women instead of healthy competition and mutual respect.
She also hit out at the inaction of Najib and other women ministers to intervene in Kedah's proposal to legalise second marriages without the consent of the first wife.
"Sadly, Shahrizat Abdul Jalil and Rohani Abdul Karim are all too inattentive to women's issues to give good and relevant advise to the prime minister," she said.
Shahrizat is Wanita Umno chief while Rohani is women, family, and community development minister.
Zuraida said Najib should field more women candidates to propose, second and defend women-friendly policies.
"Instead, we have a prime minister who recently named himself chairman of the MyWIN Academy Advisory Council, an organisation meant to empower women. So where is the commitment to entrust capable women with leadership roles?
"Short of wearing skirts, he has usurped and taken over positions of decision-making meant for women."
freemalaysiatoday.com/category/nation/2017/09/06/zuraida-takes-najib-to-task-over-womens-rights/
--------
Activist: 'Name-shaming' to promote women a good move
September 6, 2017
PETALING JAYA: A women's rights activist has lauded the government's move to "name and shame" companies which fail to achieve the 30% target of women in boardrooms.
Activist Suri Kempe was confident this move was much needed as the number of women in decision-making positions has been low for the past 17 years.
"The government has been using the carrot approach instead of brandishing the stick to get the corporate sector to raise the number of women in decision-making positions."
She said figures from 2001 to 2010 showed that the number of women within the "senior officers and managers" bracket grew by a mere 3%.
She said it was only after the government's 2011 announcement of its intention to have at least 30% women in decision-making roles, that the government set up a "Women Directors Programme" to groom women leaders for the role of board director in public-listed companies.
But only 40 women from the 1,093 registered were successfully placed, she added.
Suri was commenting on Prime Minister Najib Razak's recent remarks that the government would "name and shame" public-listed companies that have no female board members from next year.
"I can also threaten not to award them government contracts if they are really, really recalcitrant," he said in his opening remarks at the Transformation 2050 (TN50) dialogue for women, held in conjunction with National Women's Day.
He expressed confidence that such a move would lead to a dramatic increase in the number of women in such positions over the next few years.
Najib said as of last year, public-listed companies had only recorded 16.8% of women in director positions.
This was still 13.2% short of the government's target of 30%.
Suri said the government should now focus on having equal gender representation in the civil sector.
"They've already reached the 30% target for civil service as it was introduced even before the policy for the corporate sector.
"So, it is time to aim for 50% women in the government sector to have equal gender representation."
Suri said statistics from the women, family, and community development ministry showed that 35.6% of top management positions in the government service was held by women last year.
Activist Marina Mahathir said Western countries like Norway gave businesses a grace period of two years to achieve a 40% quota for female board members.
Failing to adhere to the Scandinavian government's policy would see the companies being delisted, she added.
However, the activist said it was more important to have 30% women in the political arena, such as in the cabinet, Parliament and state assemblies.
"Quotas in political decision-making is another thing the government has to fulfil."
DAP's Bukit Mertajam MP Steven Sim agreed with Marina, saying the government should involve more women in policy making.
"For the past 60 years, we have only had around three women, or 10%, holding full minister positions.
"Before the PM can 'threaten' the private sector by 'name-shaming' them, he should lead by example by having at least 30% women in his cabinet."
He said the government must lead by example before coming out with "half-baked threats" to the private sector.
Sim said by having full women ministers, the government could create an environment of respect which would lead to gender equality.
Fellow DAP member and Penang city councillor Syerleena Abdul Rashid said although "name-shaming" companies was a positive move, more political will was necessary.
"Gender equality and women's rights shouldn't just be about fulfilling quotas.
"If the PM is sincere, he should also reform childcare policies, sexual discrimination and harassment regulations," she said.
freemalaysiatoday.com/category/nation/2017/09/06/activist-name-shaming-to-promote-women-a-good-move/
--------
Group calls for Indonesia gov't to investigate raid on women
September 6, 2017
JAKARTA, Indonesia (AP) — A rights group is calling on the Indonesian government to immediately investigate a raid by police and village leaders that forced 12 women described as lesbians out of their community.
Human Rights Watch says Wednesday that the Sept. 2 raid and eviction in West Java province's Tugu Jaya village violated rights to privacy, non-discrimination and basic due process.
Homosexuality is not illegal in Muslim-majority Indonesia, but anti-gay discrimination has increased since early 2016 when officials began calling for society to reject LGBT individuals.
The rights group says the raid of the women's home in Tugu Jaya came after local Islamic youth groups and religious leaders complained that their cohabitation was against the teachings of Islam.
Copyright © 2017 The Associated Press. All rights reserved. This material may not be published, broadcast, written or redistributed.
wtop.com/asia/2017/09/group-calls-for-indonesia-govt-to-investigate-raid-on-women/
--------
LGBT crackdown feared in Indonesia after 12 women evicted from home
6 September 2017
Twelve women have been evicted from their home in the conservative Indonesian province of West Java amid renewed fears of crackdown on sexual diversity.
The group had been renting a shared house in the village of Tugu Jaya, where their cohabitation and "unfeminine" appearance had unsettled conservatives.
Responding to a complaint from religious leaders and an Islamic youth group that the women's living arrangements was "against the teaching of Islam", police raided the women's home last Saturday, giving them three days notice to leave.
According to interviews conducted by Human Rights Watch, authorities provided no legal justification for the raid and forcible eviction.
"What's most offensive about this incident is that police and government officials steamrollered privacy rights and rule of law to appease the bigotry of a few neighbours," Andreas Harsono, an Indonesia researcher at Human Rights Watch said in a statement.
"Evicting these women based on prejudiced assumptions of their sexual identity," he continued, "threatens the privacy of all Indonesians and has no place in a country whose motto is 'unity in diversity."
Noting the physical appearance of the women, one village official that preferred to remain anonymous told Human Rights Watch: "It's not acceptable to have female couples living together. Some have short hair, acting as the males. Some have long hair, acting as the females. It's against sharia [Islamic law]. It's obscene."
With the exception of the sharia-ruled province of Aceh, homosexuality is not illegal in Indonesia, but prejudice toward people who identify as LGBT is widespread.
Last year a string of discriminatory comments by politicians and religious leaders revealed the extent of homophobic sentiment within the government. The defence minister, forexample, described LGBT people as a greater threat than nuclear war.
In May, West Java police chief Anton Charliyan announced the establishment of an anti-LGBT taskforce, telling reporters that LGBT people suffered a "disease of body and soul", and would "face the law and heavy social sanctions. They will not be accepted in society".
There have been four such raids on LGBT people this year alone, including at a hotel in Surabaya this April, and a gay cub in north Jakarta this May.
Rights groups and activists have expressed concern about the increased possibility of more raids on LGBT people to follow.
"Personally, I am worried," said Yulita Rustinawati, from the LGBT advocacy group Arus Pelangi, "It's like we are criminals. Everything that we do now becomes risky, even living with our partners."
theguardian.com/world/2017/sep/06/lgbt-crackdown-feared-in-indonesia-after-12-women-evicted-from-home
--------
Woman on trial for forcing Malaysian friend to work in Perth brothel
September 6, 2017
PETALING JAYA: A woman is on trial in Australia for allegedly tricking her Malaysian friend into working at a brothel in Perth.
Australian daily Perth Now said Khoo Lay Foon, a former prostitute herself, had arranged for a flight ticket to Western Australia for her friend in December 2015.
Upon her arrival, however, the woman was taken to a brothel and allegedly told that she would have to work to repay Khoo for the A$1,900 spent on travel arrangements.
According to the report, the woman spent a week at the brothel before going to the police. Police said her passport was also confiscated, and that she was told she would not get it back until she had paid her debt to Khoo.
Prosecutor Lisa Boston was quoted as saying that Khoo had trapped her friend into working as a prostitute in order to make money from her.
Boston also cited a text message Khoo had allegedly sent to the brothel owner, telling the "lady boss" about her "young and very pretty" friend.
However, Khoo disputed her friend's account, telling police that the woman had asked to be taken to the brothel.
She allegedly said her friend had run away from Malaysia because she owed money to loan sharks.
She also denied that she had confiscated the woman's passport and deceived her about her stay.
The report said Khoo is believed to have worked as a prostitute for three months after moving to Western Australia in 2015. She quit after getting a boyfriend but is said to have helped women move to Australia to work at brothels there.
freemalaysiatoday.com/category/nation/2017/09/06/woman-on-trial-for-forcing-malaysian-friend-to-work-in-perth-brothel/
--------
World Cup: Iranian women refused entry to match despite holding tickets
5 September 2017
Iranian women were refused entry to their national football team's World Cup qualifier against Syria, despite having pre-ordered tickets.
The women gathered outside Tehran's Azadi Stadium in protest after they were asked to leave, while Syrian women went through the gates without any issues after showing their passports.
Women are banned from attending men's football matches in Iran.
However, several women had been able to buy tickets online a week earlier.
It seemed the ban been lifted on Saturday, when an option for women's tickets appeared on the ticketing website.
But Iran's football federation later said the tickets were sold by mistake and promised to refund the women who had bought them.
Some of those with tickets still decided to go to the stadium of Tuesday, curious to see whether they could somehow get in.
"They did not let us in the stadium, took pictures and videos of us and threatened to arrest us. They then collected our tickets and took them away," tweeted a fan.
Another fan said police officers were "sad" that women could not watch the match, and had told her to "carry a Syrian flag" to go through.
Minutes before the kick-off, Iranian state TV's commentator said: "It's a pity that Iranian women are absent when we see women from Syria and other countries inside."
Parvaneh Salahshuri, a female MP, told the Iranian Students' News Agency (ISNA) earlier today that the ministry of sports had given her and some other women MPs permission to attend the match.
But she said she had turned down the offer due to the "selective approach" taken by the authorities.
"As long as girls in this country are forced to wear men's clothes and face thousands of problems to enter stadiums and watch matches, I - as a representative of the people - do not like to go to a stadium with a special permit," she said.
However, Iranian sources published a photo of a fellow woman MP, Tayebeh Siavoshi, watching the match from the stands.
Responding to criticism from social media users, she tweeted: "Nobody invited me to attend the match. I made a request to go. Taking a passive approach and refusing to attend will not work."
After the victory of Iran's Islamic revolution in 1979, women were gradually prevented from attending sports events.
Despite years of campaigning, Iran's ultra-religious establishment has so far refused to modify the rules.
In 2006, former President Mahmoud Ahmadinejad tried to get the consent of influential clerics to force a re-think on the ban. But he faced criticism from conservative politicians and subsequently dropped his demand.
bbc.com/news/world-middle-east-41166706
--------
URL: https://www.newageislam.com/islam-women-feminism/the-first-liberal-mosque-germany/d/112450
New Age Islam, Islam Online, Islamic Website, African Muslim News, Arab World News, South Asia News, Indian Muslim News, World Muslim News, Women in Islam, Islamic Feminism, Arab Women, Women In Arab, Islamophobia in America, Muslim Women in West, Islam Women and Feminism