New Age Islam News Bureau
02 August 2022
• Iran Bans Women from Appearing In Ads after Fury over 'Sexy' Rules
• Girls Islamic Organization of India Elects Its First President, General Secretary, Sumaiya Roshan, Samar Ali Respectively
• 3 Scholars Gather for a Female-Led Interfaith Conference in the North Carolina Mountains
• A Glorious Summer of Women's Football Gives Arab Nations Something to Dream About
• Saudi Arabia among Four Countries Interested in Hosting Women's Asian Cup
• Pakistan Elderly Woman Gets Married To Her Servant; He Faints After Getting Proposal, They Call Each Other 'Salman Khan and Katrina Kaif'
Compiled by New Age Islam News Bureau
URL: https://newageislam.com/islam-women-feminism/bride-mosque-wedding-kerala-witness/d/127630
--------
The Bride's Presence inside Mosque Lights up Wedding, Sets Trend in Kerala; The Brides Also Have The Right To Witness Their Wedding
For representational purposes. (File Photo)
----
02nd August 2022
By Pooja Nair
KOZHIKODE: The presence of a Muslim bride along with the groom, her father and other men from both the families at her wedding, has set a new trend in the community. Usually in Muslim weddings, brides do not attend the marriage function since it is a contract between the father of the bride and the groom.
However, KS Ummer from Parakadavu, whose daughter got married on the day, chose to think differently. "Both our families wanted my daughter Bahaja to witness her wedding along with us at the mosque," said Ummer. "It is high time that we discarded such practices that have no place in Islam. The brides, including my daughter, have the right to witness their wedding," Ummer said. "Once we had this thought, we approached the mahal committee and after discussing it, they accepted our appeal and congratulated us on thinking differently," he added.
At another wedding in Parakadavu last week, the bride was allowed to witness her wedding, but the function was held on the mosque premises and not within. "Hence, Bahaja's wedding became the first ceremony in our locality, where the bride was able to witness the ceremony inside the mosque," Ummer said.
"There was no difference of opinion among the mahal committee members when the family made such a request," said mahal secretary E J Niyas, adding," In the future also, we will be happy to make space for the bride inside the mosque to attend the marriage ceremony, if the family wants". But, reformist Muslim scholar C H Musthafa Moulavi, who initiated such marriages in Malabar over a year ago, had a hard time on account of this. "There was a hue and cry when I conducted a marriage in the presence of the bride and other women in the family," Moulavi said.
"One preacher termed the marriage fornication and others took to social media to voice their opposition. The preacher later apologised for the remarks after the family threatened him with legal action," he said.
Musthafa Moulavi said the changes that have come over were due to girls in the community coming out against such practices. "But, I don't think there is any change in the mindset of the majority," he said.
Source: New Indian Express
https://www.newindianexpress.com/good-news/2022/aug/02/brides-presence-inside-mosque-lights-up-wedding-sets-trend-in-kerala-2483101.html
--------
Iran Bans Women from Appearing In Ads after Fury over 'Sexy' Rules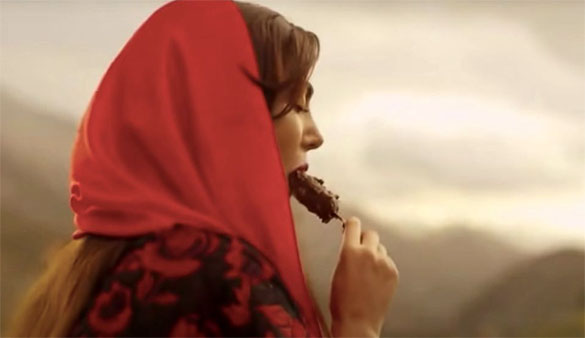 A commercial featured a woman in a loose-fitting hijab suggestively biting into a Magnum ice cream (Image: Newsflash)
-----
Aug 02 2022
IRAN: Iran's conservative Under the state's rigorous chastity laws, female actors in advertisements are forbidden by Islamic officials. The announcement followed a commercial that showed a woman in a loose-fitting hijab eating a Magnum ice cream suggestively.
According to reports, Iranian clergy were incensed by the advertisement and pushed authorities to prosecute local ice cream producer Domino. The advertisement, according to authorities, was "against public decency" and "insulting to women's morals."
Now, as per reports, Iran's Ministry of Culture and Islamic Guidance has informed the nation's art and film institutions that women are no longer permitted to appear in advertisements due to "hijab and chastity laws."The restriction complies with decrees made by the Cultural Revolution's Supreme Council.
It is also based on Iran's long-standing laws and regulations that forbid the "instrumental use" of men, children, and women in commercial advertisements.
However, depending on how rigid the ruling administration is at a particular moment, "instrumental usage" is defined in different ways.
Source: News Track Live
https://english.newstracklive.com/news/iran-bans-women-from-appearing-in-ads-after-fury-over-sexy-rules-sc57-nu318-ta318-1242807-1.html
--------
Girls Islamic Organization of India Elects Its First President, General Secretary, Sumaiya Roshan, Samar Ali Respectively
August 1, 2022
New Delhi, August 01 (KMS): The Girls Islamic Organization (GIO), a leading women organization of India, elected its first National President and General Secretary.
The Girls Islamic Organization is a non-profit organization wing of Jamaat-e-Islami Hind and has been actively engaged on various issues regarding women in general and Muslim women in particular in India since 1984.
Advocate Sumaiya Roshan, Karnataka, became the first President of the National Federation of GIO, and Samar Ali, Kerala, became the General Secretary.
Source: KMS News
https://www.kmsnews.org/kms/2022/08/01/girls-islamic-organization-of-india-elects-its-first-president-general-secretary.html
--------
3 Scholars Gather For A Female-Led Interfaith Conference In The North Carolina Mountains
August 1, 2022
By Yonat Shimron
(RNS) — Summers have long been a time for camp meetings and religious revivals, a week of preaching, singing and soul-saving in the great outdoors.
That tradition has faded some over the years, but a form of it still exists on a western North Carolina mountain off the Blue Ridge Parkway. Wildacres, a scenic retreat at an elevation of 3,300 feet, has always combined a bit of rustic Appalachia with a progressive religious streak.
This year it is breaking ground again as its Interfaith Institute, a 40-year-old summer tradition, convenes a three-day meeting beginning Monday (Aug. 1), led entirely by female scholars — a Christian, a Jew and a Muslim.
The Interfaith Institute, which has long been hosted by the Greater Carolinas Association of Rabbis, was initially intended as a summer retreat where rabbis, ministers and priests could learn more about other traditions in a relaxed setting.
Increasingly, it is attracting lay people and this year is scrapping the traditional lecture format for a more relaxed conversational workshop in which scholars interact with participants.
The theme this year is breath, and the three scholars will explore it beginning with the Genesis creation story where "God formed a man from the dust of the ground and breathed into his nostrils the breath of life." (The Quran includes two related passages.)
"When we gathered on Zoom to plan it, one participant said, 'I just want time to catch my breath,'" said Amy Laura Hall, associate professor of Christian ethics at Duke Divinity School and this year's program director for the Interfaith Institute. "We kept gravitating back toward that as a theme."
The Interfaith Institute has not met in person for two years because of the COVID pandemic. Recognizing that many people are easing back into older ways of connecting, the theme of breath seemed appropriate.
"The idea was to hit reset after the stressors of the pandemic and to think about that in a bodily way," said Anathea Portier-Young, professor of Old Testament at Duke Divinity School and one of the three featured speakers. "What does it mean to reconnect with self, with community, with God? The breath is a kind of metaphoric, metonymic focal point."
Women, in particular, may be have felt like they were holding their breath this summer after the Supreme Court overturned Roe v. Wade and states began rolling back abortion without exemptions for rape, incest and the health of the woman, Hall said.
And then there are those who have also feverishly worked on racial justice in the wake of the "I can't breathe" killing of George Floyd in 2020, she said.
"One key definition of life is respiration," said Laura Suzanne Lieber, a professor of religious studies at Duke. "But it's never just physical; it has a connotation of soul. Breath is a connective tissue."
Wildacres, with its panoramic views of the Appalachian Mountains, is literally breathtaking. The 76-year-old resort, with its rustic stone lodges (sans TV and phone), is also testament to the changing social and religious landscape of the South.
Its 1,200 acres were originally bought by Thomas Dixon Jr. (1864-1946), a white supremacist Baptist minister, lawyer, writer and filmmaker. His book, "The Clansman: A Historical Romance of the Ku Klux Klan," was adapted by film director D. W. Griffith into a movie, "Birth of a Nation," considered one of the most racist Hollywood movies for its depiction of Blacks. In the 1920s Dixon bought Wildacres, but after the stock market crash of 1929, he went bankrupt.
A Texas bank ultimately sold Wildacres to I.D. Blumenthal, a successful Charlotte, North Carolina, businessman who was also Jewish. Blumenthal began inviting groups of artists, musicians and writers to spend a week each at Wildacres throughout the summer. In 1972, the resort became an independent nonprofit dedicated to "the betterment of human relations."
While several Christian groups also met there each summer, Jewish groups from across the Southeast have adopted Wildacres as their favored getaway. B'nai Brith, the Jewish service organization, holds an annual retreat there, as do several synagogues in the region.
The Interfaith Institute retreat was originally intended for rabbis who planned to attend their own retreat a few days later. When there were openings, lay people were allowed to register, too. These days, it's open to all.
The first Muslim speaker was invited to speak about 10 years ago.
"Some of the older Jewish rabbis were very concerned about it," said Rabbi Edward Friedman, chairman of the Interfaith Institute. "A few of them said, 'If you're going to have Muslims there, I'm not going to be there.' But that was the minority. Most people were open to learning about Islam."
This year's Muslim speaker, its first woman, is Mona Hassan, associate professor of Islamic studies and history at Duke University.
The Interfaith Institute would like to draw more Muslims as participants, too. This year's 40-plus in attendance (a COVID low) doesn't include other Muslims.
"We are not seeking religious Esperanto," said Hall, the program director, referring to the international language of communication. "We don't shy away from real differences in the three world religions. There are definitely politically pointed conversations. But overtly political conversations happen alongside conversations that are textually based."
In keeping with the changing religious landscape, the institute also draws a good number of Unitarian Universalists as well as people of no faith who are curious to learn about different traditions.
"It's an opportunity to catch your breath," said Hall, "and leave some of the burdens behind."
Source: Religion News
https://religionnews.com/2022/08/01/in-the-carolina-mountains-a-breath-taking-interfaith-conference/
--------
A glorious summer of women's football gives Arab nations something to dream about
August 01, 2022
DUBAI: For sports fans across the Arab world, the announcement on Monday of Saudi Arabia's intention to bid for the 2026 Asian Football Confederation Women's Asian Cup was a fitting finale to one of the most exciting weeks in the history of women's football.
Just hours earlier, the confetti drifted across the Wembley sky as the curtain came down on a triumphant UEFA Women's Euro 2022 for hosts England. A 2-1 win on Sunday after extra time had seen the Lionesses claim their first ever title and a first trophy for England since the men's 1966 World Cup win, infamously against West Germany at Wembley as well.
It has been a glorious summer, indeed year, for women's football around the globe.
A day before England's triumph, the Brazil women's team had won the Copa America Femenina title after beating Colombia 1-0. And only two weeks ago, South Africa had defeated hosts Morocco to win the Women's Africa Cup of Nations.
In January, China had been crowned AFC Women's Asian Cup champions after beating South Korea 3-2 in Mumbai. Women's football continues to smash barriers.
Eyes are already turning to the 2023 FIFA Women's World Cup taking place in Australia and New Zealand from July 20 to Aug. 20 next year. Not everyone has joined in the fun and games, however. Not yet, at least.
As positivity sweeps the women's game, these tournaments — even their qualification stages — have shown the challenges that Arab female footballers must overcome before they can join the party.
Only Morocco, courtesy of reaching the last four in the Women's Africa Cup of Nations, have qualified for next year's World Cup.
The reasons for lack of Arab involvement at the highest level are many, be they political, sporting or cultural. The time to compare the women's game in this part of the world to Europe and the Americas is not here yet.
But there is room for cautious optimism, as football federations, according to their means, are increasingly embracing women's football.
In terms of participation and performances, African Arab nations remain clear of their Asian sisters. Hosts Morocco were joined by Tunisia in 2022 Africa Cup of Nations, while no Arab nation took part in the AFC Women's Asian Cup in India last January.
FIFA's latest world rankings back up the trend. Africa's top Arab nations are Tunisia at 72, Morocco (77), Algeria (79) and Egypt (94).
Meanwhile, in Asia, the top three women's teams are Jordan at a very creditable 65, Bahrain at 84 and the UAE at 106.
So far, results — and subsequently, rankings — have generally correlated to longevity and history. But even there, official participation by Arab African nations preceded their Asian counterparts by a matter of years.
Morocco, Algeria and Egypt all played their first women's international matches in 1998, while Tunisia followed as recently as 2006. In Asia, Jordan's women made their bow in 2005, as did Bahrain's, while a UAE team made up mostly of expats played their first ever international in 2010.
Considering the fact that those matches were all held fairly recently, great credit must go to these pioneering women for blazing a trail for those who followed.
Going forward, however, things are likely to change, with footballing history becoming less of a factor. Increased funding, establishment of programs and accessible training facilities are the future.
This is where Saudi Arabia, not yet a FIFA member, is looking to accelerate the women's game. The Women's Football Department at the Saudi Arabian Football Federation (SAFF) was only established in 2019, but has since overseen an impressively brisk agenda.
In 2020, as the world emerged from lockdowns caused by the COVID-19 pandemic, the Saudi Sports For All Federation launched the Women's Football League, involving several long-established ladies teams that nonetheless had not previously taken part in any regular organized competition.
But it was in November 2021 that SAFF officially established the Regional Football League, a 16-team competition that would see the country's best eight clubs — mostly from Riyadh, Jeddah and Dammam — advance to a knock-out National Championships in early January.
The league was split into three regions: A six-team Central region, a six-team Western region and a four-team Eastern region, with matches played in a round-robin, home-and-away format.
The top three teams in the Central and Western regions, as well as the top two from the Eastern region, would progress to the National Championships, with a prize of $133,000 awaiting the eventual winners.
Al-Yamamah, Jeddah Eagles and Eastern Flames were crowned champions of the Central, Western and Eastern divisions, respectively, and were joined in the quarter-finals by Miraas, The Storm, Sama, Al-Mamlaka and Challenge.
At almost 11 p.m. on January 8, Al-Mamlaka became Saudi Arabia's first ever National Football Championship winners after a 7-0 victory over Challenge at King Abdullah Sports City in Jeddah.
It was a landmark day for the fledgling women's football scene in the Kingdom. The competition was not without its challenges, but was an undoubted overall success.
Another important step taken by the SAFF was to hire 12 top Asian female referees to officiate at women's football league matches, and also to train local women who wish to go down that path. Now there are qualification courses established for new female referees, with 63 officials approved under the SAFF so far.
But perhaps the most significant appointment came when German coach Monika Staab was tasked with leading the newly established (2021) Saudi women's international team, and to oversee the development of the game at all levels across the Kingdom.
Staab has had a successful career, which saw her play in France and England before returning to Germany and to the women's Bundesliga. As a coach, she led 1. FFC Frankfurt (now Eintracht Frankfurt) to four German league titles, four German Cups and, famously in 2002, the UEFA Women's Cup (now the UEFA Women's Champions League).
After a coaching journey that had seen her visit over 80 countries in the past four decades — including Bahrain, Iran and Qatar — Staab was the perfect candidate for SAFF. So far, it has proven a wise choice.
Staab oversaw the Saudi Arabian national women's team first-ever international match, a 2-0 win over the Seychelles in a friendly at held at the National Stadium in the Maldives on Feb. 20.
The historic occasion drew acknowledgment from leading football figures around the world, including Brazilian legend Pele, who tweeted a message of congratulations for the female Falcons.
Encouragingly, nationwide training programs, set up by Staab and her team, are looking to unearth Saudi female talent to take part in the Regional Football League and eventually the national team.
Additionally, 40 D-License coaching courses have been delivered at schools across the Kingdom, awarding 857 teachers their coaching certificates, while 15 refereeing courses will enable 544 teachers to officiate at the Girls Schools League set to launch in September 2022.
Several players are already making names for themselves. Al-Bandari Mubarak sc ored Saudi Arabia's first ever goal in that win against the Seychelles and is seen as an integral part of the national team, as is goalkeeper and captain Sara Khaled, who plays for Al-Mamlaka.
Farah Jafri, of Jeddah Eagles, is another talent marked out for stardom. Meanwhile Leen Mohammed has emerged as the star of the Saudi Women's Futsal National Team (established in 2019), which hosted and finished as runners-up in the 2022 West Asian Football Federation (WAFF) Women's Futsal Championship.
There are others. Staab's first target is to get the Saudi national team into the FIFA world rankings, and then to take part in official competitions, regionally and internationally.
And it looks like this could come sooner than expected with the SAFF announcement on Monday of its intention to bid, making Saudi Arabia one of four nations, including Jordan, looking to host the 2026 AFC Women's Asian Cup.
A host is expected to be confirmed by the AFC next year.
"Saudi Arabia has embraced women's football. When I speak to girls across the Kingdom, I see their excitement for the game," said Staab.
"The 2026 AFC Women's Asian Cup is an unprecedented opportunity to inspire a generation of girls to achieve their football dreams."
No doubt that there is plenty of hard work to be done in the coming years. But should Saudi Arabia be successful in its bid to host the tournament, we might just see the joyous scenes at Wembley repeated closer to home in three years' time.
Source: Arab News
https://www.arabnews.com/node/2134001/sport
--------
Saudi Arabia among four countries interested in hosting Women's Asian Cup
August 2, 2022
KUALA LUMPUR: Saudi Arabia, Australia, Jordan and Uzbekistan have submitted Expressions of Interest to host the 2026 Women's Asian Cup, the Asian Football Confederation (AFC) said on Monday.
If selected, Saudi Arabia, whose women's football team only played its first match in February this year, will host its first official international women's tournament.
Although recent reforms have given women in Saudi Arabia more freedoms, many of their rights remain restricted. Saudi women were banned from attending fixtures in stadiums until 2017.
Australia last hosted the Women's Asian Cup in 2006, while the 2018 edition was played in Jordan. Uzbekistan have not previously hosted the tournament.
"The AFC will now work with all Bidding Member Associations on the delivery of the necessary bidding documentation in accordance with the bidding process with a decision to be finalised and communicated in 2023," the AFC said.
The winning bid will be announced next year and the AFC hailed the growing popularity of the tournament.
China claimed a record-extending ninth Women's Asian Cup title after beating South Korea in the final of the 2022 tournament, which was hosted by India and expanded from eight to 12 teams.
The 2026 edition "is expected to build on the solid foundations of the tournament's celebrated legacy", the AFC said.
Source: Dawn
https://www.dawn.com/news/1702797/saudi-arabia-among-four-countries-interested-in-hosting-womens-asian-cup
--------
Pakistan Elderly Woman Gets Married To Her Servant; He Faints After Getting Proposal, They Call Each Other 'Salman Khan and Katrina Kaif'
Aug 02, 2022
Everything is fair in love and war. And love is all u need to live, if you find the love of your live, for it sees no age, gender or social status.
In one such care, an elderly woman in Pakistan fell for her servant and got married to him, reports Times Network.
Nazia, a resident of Islamabad, used to live all alone until she found the love of her life in Sufiyan. To begin with, a friend had introduced her to Sufiyan for daily household work. She hired him for a salary of Rs 18,000, a month.
Soon, Nazia fell for Sufiyan's simplicity and good nature, says Pakistani content creator and YouTuber Syed Basit.
He said that his simplicity had won her heart and she started liking all his habits. After which she proposed to her servant.
"Sufiyan had fainted after hearing the proposal," Nazia said. Sufiyan ended up saying, "I love you, too". According to Nazia, Sufiyan takes care of her when she falls sick. He even cooks for her and also gets her medicines. Nazia has compared him to Salman Khan while to Sufiyan, is his Katrina Kaif.
Even when the public spoke of their relationship outside marriage, it hardly mattered for the lovers who stood by each other.
Source: Tribune India
The landowner says she might even transfer ownership of her house to her man.
https://www.tribuneindia.com/news/trending/pakistan-elderly-woman-gets-married-to-her-servant-he-faints-after-getting-proposal-they-call-each-other-salman-khan-and-katrina-kaif-418084
--------
URL: https://newageislam.com/islam-women-feminism/bride-mosque-wedding-kerala-witness/d/127630
New Age Islam, Islam Online, Islamic Website, African Muslim News, Arab World News, South Asia News, Indian Muslim News, World Muslim News, Women in Islam, Islamic Feminism, Arab Women, Women In Arab, Islamophobia in America, Muslim Women in West, Islam Women and Feminism