New Age Islam News Bureau
29 March 2020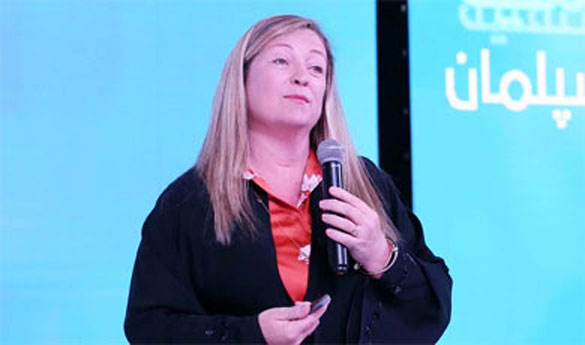 Niamh Spelman, Microsoft's head of services in MEA.
-----
• Thai King 'Isolates' Himself with Harem Of 20 Women Amid COVID-19 Pandemic
• Microsoft Arabia's 'DigiGirlz 2020' To Train Women in Information and Communications Technology
• Muslim Women Find Application for the 'Mehfil', Religious Meet, to Mark the Birth Anniversary of Imam Husain, During the Lockdown
• Saudis Star in Women-Powered Rap Video for Benefit Cosmetics Middle East
• Elderly woman becomes New Zealand's first coronavirus death
• Coronavirus: Canada PM Trudeau's wife recovers from COVID-19
• Nora Illi - Late Rights, Freedom Activist In Europe
Compiled By New Age Islam News Bureau
URL: https://www.newageislam.com/islam-women-feminism/thai-king-isolates-himself-with/d/121431
-------
Thai king 'isolates' himself with harem of 20 women amid COVID-19 pandemic
March 29, 2020
King Maha Vajiralongkorn has "isolated" himself with his entourage in an Alpine luxury hotel amid the coronavirus outbreak, inviting the wrath of his citizens who have taken to online and social media platforms to criticise their king.
The king, also known as Rama X, has reportedly booked the entire Grand Hotel Sonnenbichl with his party, which is also said to include a "harem" of 20 women. The four-star hotel in Garmisch-Partenkirchen, Germany has received "special permission" from the district council to accommodate them because "the guests are a single, homogenous group of people with no fluctuation", reports said. It also added that 119 members of the entourage were sent back to Thailand on suspicion that they may have COVID-19.
Rama X's actions, however, has not gone down well with the citizens of his country. Thousands of Thais have criticised him online, breaking Thailand's lèse-majesté laws, under which those who insults or criticises the monarchy could face jail for up to 15 years.
A hashtag translating to 'Why do we need a king' was trending on Twitter after news broke out that the 67-year-old king was holidaying in Germany.
Vajiralongkorn took over the throne in 2016 after the death of his father Bhumibol Adulyadej, who ruled for over 70 years and was much loved by the people. The present king, according to reports, has not made a public appearance in his country since February.
https://www.theweek.in/news/world/2020/03/29/thai-king-isolates-himself-with-harem-of-20-women-amid-covid-19-pandemic.html
-----
Microsoft Arabia's 'DigiGirlz 2020' To Train Women in Information and Communications Technology
March 29, 2020
Microsoft Arabia participated in the 2nd Women's Enablement in Technology Sector Summit, held on March 8. Niamh Spelman, Microsoft's head of services in the Middle East and Africa, delivered the keynote address.
The summit focused on encouraging and training more women to enter the world of information and communications technology (ICT) — an aim that is aligned with the Kingdom's Vision 2030 and Microsoft's own mission of empowering people and organizations to achieve more.
The summit, which was hosted by the Saudi Ministry of Communications and Information Technology (MCIT), was held at the King Abdullah Petroleum Studies and Research Center (KAPSARC) in Riyadh.
In her talk titled "Unleashing the Power of Women," Spelman said: "The world of technology will benefit significantly from greater diversity when it comes to gender."
She said hiring women will bring numerous tangible benefits to families, local communities, and national and global economies. "Increasing women's employment in MENA could increase household incomes by 25 percent and Microsoft Arabia is ideally positioned to help make this happen," added Spelman.
DigiGirlz is in partnership with MCIT and Think Tech and will invest in STEM (science, technology, engineering and math) education for women. The initiative will be launched in three places — Riyadh, Jeddah and the Eastern Province. The first stage of this initiative, Train The Trainer, has already been accomplished with the training of 90 Saudi women, who will then train and support students who participate in DigiGirlz events. The second phase will use Minecraft Education to train some 600 female students from intermediate schools, thus opening new career pathways in the ICT sector.
In the Middle East, women make up less than 10 percent of the region's technical workforce. However, as part of its Vision 2030, the Saudi government is determined to change this and has launched a range of initiatives to ensure it happens.
The summit was also a part of these initiatives, bringing together stakeholders and experts in the field from around the globe for a day of discussions, workshops, and presentations.
https://www.arabnews.com/node/1649131/corporate-news
----
Muslim Women Find Application for the 'Mehfil', Religious Meet, to Mark the Birth Anniversary of Imam Husain, During the Lockdown
Mar 29, 2020
LUCKNOW: Confined to her Kazmain road residence ever since the lockdown was announced on March 23 in view of coronavirus outbreak, Luna Nasir on Saturday donned her favourite attire and sat in front of her mobile phone screen to connect with 30 other women.
Luna did not take to technology to hold a regular video chat but to host all-women 'Teen Shabaan Mehfil' to mark the birth anniversary of Imam Husain, grandson of Prophet Muhammad.
Luna, a consultant at a private company, used a mobile application Zoom, for the 'mehfil' though she had to guide her guests on basic downloading information.
"I knew there would be teething troubles, therefore, I prepared an instruction guide for first-timers informing them how to download the app and use it. The users included even my mother and aunts, whom are not very tech savvy," said Luna, who is the wife of Prof Haider Abbas, head of emergency medicine department at KGMU. "I sent out an e-invitation for 'social media mehfil' and soon we were all in sync. Everyone was delighted to have been able to see one another and participate in the 'mehfil'," she said.
Women who joined Luna recited hymns in praise of Imam Husain, his father Imam Ali and Prophet Muhammad.
https://timesofindia.indiatimes.com/city/lucknow/uttar-pradesh-muslim-women-find-app-t-way-to-hold-religious-meet/articleshowprint/74869188.cms
----
Saudis star in women-powered rap video for Benefit Cosmetics Middle East
March 28, 2020
DUBAI: Saudi Arabia's Amy Roko is the star of Benefit Cosmetics Middle East's first ever music video. Entitled "GirlGang!" the hip hop clip also features Saudi R&B singer Roya, Jeddah-based TikToker Shahad and a 17-year-old Emirati make-up artist who goes by the name Sara.
Written, produced and directed by Dubai-based producer and filmmaker Angy Jamma, and shot entirely within the Gulf, the music video draws inspiration from traditional Saudi homes and is set against an all pink Al-Balad-inspired backdrop replete with traditional houses, a pink logaimat kiosk and a traditional café.
"Thanks @benefitmiddleeast, working with you guys was a pleasure! You guys did an amazing job. I can't believe I looked this good omg," wrote the Saudi rapper on Instagram alongside a snippet of the pink-infused video.
"At Benefit, we stand for more than just makeup," said Alireza Danai, Benefit Cosmetics Middle East General Manager.
"Saudi Arabia is one of the biggest markets for rap music in the Arab world, but rap still remains a male dominated musical genre. This project is about giving the mic to women, and it was important for us to work exclusively with young talents from this region to convey our message, using their voice."
https://www.arabnews.com/node/1648826/lifestyle
-----
Elderly woman becomes New Zealand's first coronavirus death
Mar 29, 2020
New Zealand has suffered its first coronavirus-related death, a woman aged in her 70s on the West Coast of South Island.
"It is a very sad day. It also brings home exactly why we are taking such strong measures to stop the spread of this virus.
"Everyone can play their part through the simplest of tasks by not having contact with people outside of your bubble. Stay at home. Break the chain and save lives."
Director-General of Health Ashley Bloomfield said New Zealanders could no longer be in any doubt as to the seriousness of the pandemic, "particularly for older people, and those with underlying pre existing health conditions".
As hospital staff were not equipped with the specific personal protective equipment to deal with a COVID-19 case, 21 hospital workers have been placed into self-isolation.
Of the 514 New Zealand cases of the disease, nine are receiving hospital care and just one other is in intensive care requiring the use of a ventilator. Some 56 Kiwis have recovered.
"We've had discussion over what it is our case numbers might be telling us at present. None of us are willing to draw any conclusions at this early stage," she said.
"If New Zealand pulls together as a community and stays at home, you will save more lives than I will in my entire career".
https://thenewdaily.com.au/news/coronavirus/2020/03/29/elderly-woman-becomes-new-zealands-first-coronavirus-death/
-----
Coronavirus: Canada PM Trudeau's wife recovers from COVID-19
29 March 2020
Canadian Prime Minister Justin Trudeau's wife said Saturday that she has recovered from being ill from COVID-19 disease caused by the new coronavirus.
"I am feeling so much better," Sophie Gregoire Trudeau said in a statement on social media. She said she received the clearance from her doctor and Ottawa Public Health.
Trudeau's office announced on March 12 that she had tested positive for the coronavirus after she fell ill upon returning from a trip to London.
The prime minister and his family have been in self isolation at home since then. He and their three children didn't show symptoms.
Justin Trudeau has been giving daily news conferences outside his residence. He said earlier Saturday that his wife was in fine form.
"From the bottom of my heart, I want to say thank you to everyone who reached out to me with their well wishes. And to everyone who is suffering right now, I send you all my love," she said.
The prime minister suggested Saturday that he would continue to work from home to set an example for Canadians who are being asked to stay at home.
https://english.alarabiya.net/en/News/world/2020/03/29/Coronavirus-Canada-PM-Trudeau-s-wife-recovers-from-COVID-19.html
-----
Nora Illi - Late rights, freedom activist in Europe
29.03.2020
Gozde Bayar
Nora Illi, a Muslim convert rights and freedom activist who dedicated her life to advocating Islam in Europe, lost her battle with cancer earlier this week.
One of the most widely known Swiss converts to Islam, Illi was born in Uster, a canton in Zurich, on April 3, 1984. She was baptized a Catholic.
Her father was a psychotherapist and her mother was a social worker. As her family had a left-wing political tendency, she was raised with anti-establishment views.
When her parents divorced, she spent most of her teenage years with her friends. She became a fervent member of punk culture and was interested in Buddhism.
Illi, who first stepped into the Islamic world when she was 18, began to admire the sincerity and hospitality of Muslim people. She was especially fascinated by the sounds of adhan (call to prayer). She described her intense feelings as "inner enlightenment" and decided to become a Muslim.
Her then-boyfriend Patric Jerome also played an important role in her path to choosing Islam. Jerome became a Muslim two weeks before Illi. Jerome and Illi had met in a demonstration supporting Palestine. The couple got married and had six children.
After converting to Islam, Illi continued her education and got a theology degree from the University of Zurich. She also obtained her doctorate. In that period, she had already started to wear hijab and veil. Although changes in her appearance first shocked her close friends, they later got used to it.
Illi became an Islamic preacher and one of the strongest advocates of Islam in Europe. She inspired hundreds of women in Switzerland, Germany and Austria to convert to Islam.
In 2006, on the day when the southern Swiss canton of Ticino enacted a law banning the wearing of the full-face veil, Illi traveled to Locarno wearing a niqab.
In 2009, her husband Jerome and one of his close friend Nicolas Blancho founded the Islamic Central Council of Switzerland (ICCS) in response to a constitutional amendment banning the construction of new minarets on mosques. Illi became the chief of the Department of Women Affairs at the ICCS.
Illi drew attention as she participated in various TV programs. She shared a variety of intellectual and political views for both the German and Swiss media. She became known in Europe after she took part in a talk show of Anne Will in November 2016.
"I used to have prejudices against Muslims; I also used to think that Muslim women are all oppressed. However, I discovered that Islam treats women as pearls," she said in a TV interview.
Underlining that there are some wrong beliefs attributed to Islam, she stressed that she was never treated as a commodity.
Illi and her husband have been accused of "terrorism," as the European media continued to debate whether such "radicals" be given air time.
Several lawsuits were filed against them. However, the Hamburg Public Prosecutor office suspended all preliminary investigations involving her in 2017.
In 2012, Illi was first diagnosed with breast cancer. Although there have been some signs of recovery, her disease continuously recurred. She had been treated in a hospital for some months due to her deteriorating health condition.
On March 23, Illi died at the age of 36 in Bern. She was buried in Bern with a simple funeral ceremony amid the global coronavirus outbreak.
https://www.aa.com.tr/en/europe/nora-illi-late-rights-freedom-activist-in-europe/1783657
-----
URL:https://www.newageislam.com/islam-women-feminism/thai-king-isolates-himself-with/d/121431
New Age Islam, Islam Online, Islamic Website, African Muslim News, Arab World News, South Asia News, Indian Muslim News, World Muslim News, Women in Islam, Islamic Feminism, Arab Women, Women In Arab, Islamophobia in America, Muslim Women in West, Islam Women and Feminism