New Age Islam News Bureau
21 November 2021
• Terrifying Hate Crime Attack in Sheffield: Two Muslim Schoolgirls Attacked By 4 Women Trying To Rip Off Hijabs
• With League Launch, Saudi Women Dream Of Professional Footballing Careers
• Iran's Women Soccer Goalie To Sue Jordan For Suggesting She's A Man
• Iran to Compete at World Taekwondo Women's Open Championships
• Karnataka: Journalist Booked For Morphing Video To Show Muslim Women Shouting Pro-Pakistan Slogan
• Marchers Across France Decry Violence Against Women
Compiled by New Age Islam News Bureau
URL: https://www.newageislam.com/islam-women-feminism/sheffield-islamophobia-hate-muslims/d/125809
--------
Terrifying Hate Crime Attack in Sheffield: Two Muslim Schoolgirls Attacked By 4 Women Trying To Rip Off Hijabs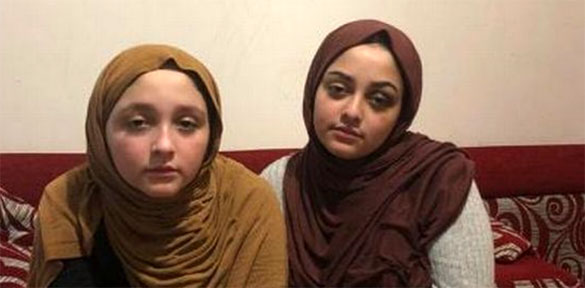 Rabat – A 40-year-old woman has attacked a Muslim teenager in Sheffield UK for wearing a hijab. (Representative Image)
-----
By Chiara Fiorillo
20 Nov 2021
A group of four women tried to rip the hijabs off two Muslim teenagers in a terrifying hate crime attack, police have said.
The shocking incident took place at around 7.40pm on October 14, when the girls, aged 14 and 13, were leaving a place of worship in Sheffield.
Police say they were approached by four unknown women, who assaulted them both by grabbing them and trying to remove their traditional Muslim dress and hijab .
Since the incident, which is being treated as a hate crime, police officers say they have carried out extensive lines of enquiry and are appealing for anyone with information to come forward.
"It is reported that at around 7:40pm on 14 October, the girls, aged 14 and 13, were leaving a place of worship in Staniforth Road when they were approached by four unknown women.
A hate incident is defined as any in which the victim, or anyone else, thinks is based on someone's prejudice towards them because of their race, religion, sexual orientation, disability or because they are transgender.
It falls into three categories: physical assault, verbal abuse and incitement to hatred.
Source: Mirror
https://www.mirror.co.uk/news/uk-news/muslim-schoolgirls-attacked-after-mosque-25505785
-----
With League Launch, Saudi Women Dream Of Professional Footballing Careers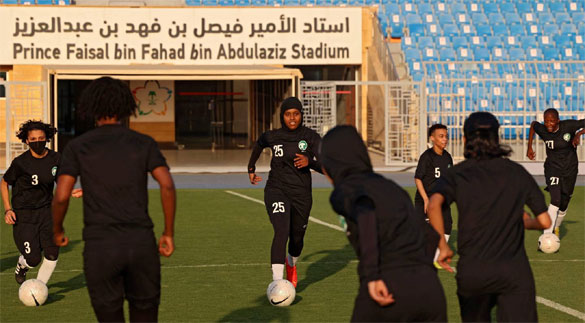 Photo: AFP
----
AFP
NOV 21 2021
Saudi Arabia's launch of its first women's football league on Monday is expected to pave the way for girls who dream of turning professional -- and maybe even playing in a World Cup.
Long condemned for harsh restrictions on women, Saudi Arabia lifted a decades-old ban on female footballers only a few years ago, and it is now aiming to develop a national team strong enough to contest major tournaments.
The ultra-conservative Muslim nation has faced criticism for using sports events to gloss over its poor human rights record and the imprisonment of women activists.
Its latest step in the reform drive came this month when the Saudi football federation announced the formation of a women's soccer league in which 16 teams will take part, with games set to be held in Riyadh, Jeddah and Dammam.
Among those excited by the move was Farah Jafri, who said she hoped to turn professional and play in England's top division as well as represent her country on the biggest stage at the World Cup.
"At the beginning of my football journey, I faced some difficulties in that not all people accepted it," she told AFP.
"But my family and friends used to encourage me a lot," said the ponytailed 18-year-old, who was donning in a jersey.
Like many other girls who were passionate about football but unable to participate in competitions, Jafri played on the street with her relatives or at school with friends. Her only other outlet was watching games on television, she said.
The kingdom adheres to a rigid interpretation of Islam, and the involvement of women in sport is still frowned upon in some quarters.
But since the rise to power of Crown Prince Mohammed bin Salman in 2017, some restrictions on women have been lifted as the country opens up to the world through sweeping reforms. The shift has enabled women to get behind the wheel and take part in m...
Jafri is one of around 30 players selected from 400 candidates to be a part of the Saudi national women's squad, according to officials.
"I dream of the day I can represent my country in the women's World Cup," she said, adding that she also hopes to play for English side Manchester City at the club level.
There are no women's teams affiliated with sports clubs in Saudi Arabia, whose men's team has qualified for the World Cup five times.
During a training session in Riyadh, the women in the national team camp excitedly took to the field at Prince Faisal bin Fahd Stadium, some of them without veils but wearing long tracksuits under their shorts.
Officials have yet to announce any sports clothing restrictions for Saudi women, who, in the past, faced close scrutiny from the religious police enforcing a strict dress code.
The team's goalkeeper, Lama al-Oneizi, said she was elated to be a part of the team. "I fulfilled my dream and even my parents' dream because they are the ones who encouraged me a lot on this journey," the 25-year-old told AFP.
Saudi Arabia has so far set up three training centres for girls between the ages of 13 and 17 across the country, with plans to establish up to nine by 2025.
It announced this week that Monika Staab of Germany was appointed as head coach of the women's national team, which has been dubbed the 'Green Eagles'.
"Everything is new, just like a baby starts to walk, to stand," said Staab, who won the inaugural UEFA Women's Cup in 2002 as the manager of Eintracht Frankfurt.
The Saudi national women's squad is currently preparing for its first friendly match in February.
Staab, who has previously coached the national women's teams for Bahrain and Qatar, said she was optimistic. "In five to eight years, they would be number one in the Gulf and this would be a big achievement," she said.
Source: Deccan Herald
https://www.deccanherald.com/international/world-news-politics/with-league-launch-saudi-women-dream-of-professional-footballing-careers-1053001.html
------
Iran's women soccer goalie to sue Jordan for suggesting she's a man
By TOI STAFF
21-11-2021
The goalkeeper on the Iranian women's soccer team announced she will sue the Jordan Football [soccer] Association over its calls to investigate her sex after her team beat out the Hashemite kingdom to qualify for the 2022 Women's Asian Cup, according to a Friday report.
Zohreh Koudaei denied the accusations and said she would sue for harassment, saying Jordan was "questioning her femininity," the London-based Arabi 21 news site reported.
The president of the Jordan Football Association, Prince Ali Bin Al-Hussein, tweeted last week a letter "requesting a gender verification check" on Koudaei, suggesting that the goalkeeper was a man posing as a woman.
Koudaei said Jordan's request and the subsequent spread of the allegations in the media was "crude and inappropriate, reaching the point of bullying."
Iran beat Jordan 4-2 on penalties after a goalless draw on September 25 to qualify for the 2022 Women's Asian Cup for the first time in its history.
"The medical staff have carefully examined each player on the national team in terms of hormones to avoid any problems in this regard, and so I tell all fans not to worry," Irandoost told sports news site Varzesh3 on last week.
Screen capture from video of Iran's goalkeeper Zohreh Koudaei during the AFC Women's Asian Cup India 2022 Qualifiers against Jordan, September 25, 2021. (Twitter)
It also alleged that the Iranian women's team "has a history with gender and doping issues," and called for "due process" to be followed.
"The Jordanian team considered themselves the big favorite to qualify… and when they lost… it was natural to seek relief under false pretenses, and to escape responsibility for this failure."
Iranian men playing as women has plagued the female leagues in the past. In 2014, the Telegraph reported that mandatory gender-testing was to be implemented after several players — including four in the women's national team — were discovered to be men who had not yet undergone sexual reassignment surgery.
Source: Times Of Israel
https://www.timesofisrael.com/irans-women-soccer-goalie-to-sue-jordan-for-questioning-her-femininity/
-------
Iran to Compete at World Taekwondo Women's Open Championships
November, 20, 2021
TEHRAN (Tasnim) – Iran will send an eight-member team to the first World Taekwondo Women's Open Championships in Riyadh next week.
The three-day G-4 event, due to start on November 25, will be the first major women's taekwondo event held in Saudi Arabia and has attracted entries from 170 athletes representing 36 countries.
Athletes will compete in eight weight categories in matches comprising three two-minute rounds at the Green Halls in the Saudi Arabian capital.
The competition will implement a single-elimination system with the first two days of competition dedicated to preliminaries and semi-finals before the finals on November 27.
Winning athletes will secure 40.0 ranking points with second and third place taking 24 and 14.4 ranking points respectively.
Source: Tasnim News
https://www.tasnimnews.com/en/news/2021/11/20/2611333/iran-to-compete-at-world-taekwondo-women-s-open-c-ships
------
Karnataka: Journalist booked for morphing video to show Muslim women shouting pro-Pakistan slogan
Scroll Staff
21-11-2021
A journalist and a two others were booked on Saturday by the Karnataka Police in Kodagu district for allegedly morphing a video to show that Muslim women were shouting "Pakistan zindabad [Long live Pakistan]" slogan, reported The News Minute.
The journalist, who is the prime accused, has been identified as Harish. One of the other two accused persons is a local gram panchayat member named Raghu.
Source: Scroll
https://scroll.in/latest/1011063/karnataka-journalist-booked-for-morphing-video-to-show-muslim-women-shouting-pro-pakistan-slogan
-----
Marchers Across France Decry Violence Against Women
By Associated Press
Nov. 20, 2021
PARIS (AP) — Tens of thousands of protesters marched Saturday through Paris and other French cities to demand more government action to prevent violence against women. The demonstrations come amid growing outrage in France over women killed by their partners and as French women are increasingly speaking out about sexual harassment and abuse.
"We are always putting the blame on the women," Parisian demonstrator Ghislaine Gireire-Revalier said, expressing sympathy for women who are trapped in violent domestic situations. "What we forget is the phenomenon of being in one's grip ... little by little it's like a spider that surrounds you in its web."
Groups fighting violence against women said at least 101 women have been killed by their partner or ex-partner in France so far this year — about one woman every three days. More than 220,000 women are suffering physical or sexual abuse by their partner each year, according to a 2017 nationwide study.
Activists are urging President Emmanuel Macron's government to dedicate 1 billion euros ($1.1 billion) each year to fight violence against women, instead of 360 million ($406 million) spent now, in part to create more shelters.
Demonstrator Meryll Le Goff said "there are measures that have been put into effect like the telephone for those in serious danger," a special phone with a button to push to alert police. Over 2,500 such phones were being deployed in the country in September, the Justice Ministry said.
"But there aren't enough for everyone," Le Goff said. "Measures half done, men who are detained temporarily or even imprisoned but are eventually released without any measures that follow ... that's the problem."
The protests are part of a week of global actions marking the International Day for the Elimination of Violence against Women.
Source:
https://www.usnews.com/news/world/articles/2021-11-20/marchers-across-france-decry-violence-against-women
------
URL: https://www.newageislam.com/islam-women-feminism/sheffield-islamophobia-hate-muslims/d/125809
New AgeIslam, Islam Online, Islamic Website, African Muslim News, Arab World News, South Asia News, Indian Muslim News, World Muslim News, Women in Islam, Islamic Feminism, Arab Women, Women In Arab, Islamophobia in America, Muslim Women in West, Islam Women and Feminism