New Age Islam News Bureau
19 Aug 2013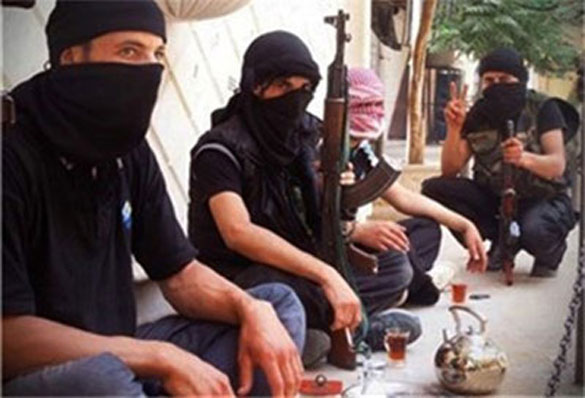 Photo: Tens of Chechnyan Women Lured into Syria to Become Militants' Concubines
--------------
• Patna's Husna Ara lone Muslim woman to crack BPSC this year
• Wife of Briton Abducted In Dubai Reveals Anguish over False Reports
• AR Rahman teams up with sisters for women empowerment
• Saudi Women Use Twitter to Raise Issues
• Inspired by Malala: Local Muslim Women Discuss Activism, Community, and Islamophobia
• Saudi Women Can Allow Expat Husbands to Operate Taxis
• Ennahda Breaks the Back of Oldest Women's Organisation in Tunisia
• Disabilities Not Hurdle For Calligraphy, Says Selma Es-Subhi
• Qatif Father Fined SR900 for Allowing Girl to Drive
• Savarkar's daughter-in-law flays 'Muslim appeasement'
• Irish family is told three Halawa sisters are in Cairo jail
• 83 Saudis Marry Moroccans
• The 19th Amendment to the US Constitution That Gave Women the Right to Vote, 90 Years On
Compiled by New Age Islam News Bureau
URL: https://www.newageislam.com/islam,-women-and-feminism/new-age-islam-news-bureau/tens-of-chechnyan-women-lured-into-syria-to-become-militants--concubines/d/13099
-------------
Tens of Chechnyan Women Lured into Syria to Become Militants' Concubines
19 August 2013
TEHRAN (FNA)- A sum of 90 Chechnyan women have been lured into temporary marriage with rebels in Syria by a Jihad al-Nikah (the Jihad of interim marriage) Fatwa, sources in Turkey disclosed on Sunday, adding that the females have been flown from Britain and other European cities to Istanbul and then crossed the border with Syria.
"Following a Fatwa (religious decree) by the Wahhabi muftis on Jihad al-Nikah, 90 Chechnyan women went to Hatai border city from Istanbul and entered Syria via the land borders and joined the Salafi groups," the sources told FNA on Sunday.
The sources said that the Chechnyan women, who bore British and other European nationalities, flew to Turkey and went to Syria to join the terrorist groups.
"These women plan to become the concubines of the rebels and terrorist groups' members," the sources added.
Recently, some radical clerics in Saudi Arabia and Qatar have been intensifying their rhetoric against the Syrian government and called for Jihad against the Syrian people.
A senior cleric of Egypt's powerful al-Azhar University denounced the recent divisive remarks by the Saudi muftis.
Sheikh Mansour Mandour said in June that Saudi cleric Muhammad Al Arefi had expressed his personal views when he urged support for insurgency in Syria.
The Saudi sheikh stirred controversy by calling for "Jihad" in Syria.
Sheikh Mandour, however, said the Saudi's cleric's comments should be judged by the criteria set in the Holy Quran and Prophet's teachings.
The al-Azhar cleric said Muslims need to be sensitive about attacks on their fellow Muslims, whether Shiite or Sunni.
He called for a ban on the preaching of radical figures who sow discord among Muslims and pit Islamic nations against each other.
Syria has been experiencing unrest since March 2011 with organized attacks by well-armed gangs against Syrian police forces and border guards being reported across the country.
Hundreds of people, including members of the security forces, have been killed, when some protest rallies turned into armed clashes.
The government blames outlaws, saboteurs, and armed terrorist groups for the deaths, stressing that the unrest is being orchestrated from abroad.
In October 2011, calm was almost restored in the Arab state after President Assad started a reform initiative in the country, but Israel, the US and its Arab allies sought hard to bring the country into chaos through any possible means. Tel Aviv, Washington and some Arab capitals have been staging various plots to topple President Bashar al-Assad, who is well known in the world for his anti-Israeli stances.
http://english.farsnews.com/newstext.aspx?nn=13920527000372
-------------
Patna's Husna Ara lone Muslim woman to crack BPSC this year
Pranava Kumar Chaudhary, TNN | Aug 18, 2013
PATNA: City's courageous and a fighter HusnaAra (30) presently doing MPhil in Russian Studies (School of International Studies), JNU New Delhi, is the lone Muslim lady who has cracked Bihar combined competitive examinations conducted by Bihar Public Service Commission (BPSC),results of which were published Saturday.
Her only fault was that she married her Patna college batch mate Rajan Jha a Brahmin boy in 2008. Out of the constant fear from her parents and relatives, she had to leave Patna within two months of her marriage to Delhi.
"My parents were totally against my marriage. After my marriage they never bothered to contact us till date. I had no option but to pursue my academic career seriously. I started attending coaching classes in Mukherjee Nagar locality in Delhi", she told TOI over phone.
"Now I will be going to Bihar as a government officer not as a student" she said. She is currently residing in Mahanadi married hostel at JNU.
She has, in fact, become an instant role model for the educated youth, particularly girls. She opted Hindi literature as one of her optional papers in the BPSC examination. She has been selected for the post of rural development officer. Her overall rank is 407. She got 51 strank in women category.
" I owe this success to my in laws. They were always helpful to me ", she told TOI. Husna's father Iftakhar Ahmad owns a book shop in front of Patna college for the last three decades. Rajan Jha's native place is Tardiha village in Madhepur block in Madhubani district.
"I have faced a lot of difficulty in our life because of marrying with a Hindu. We met in Patna College in our graduation days. we married in September 2008 under special marriage Act 1954. We both had to leave Patna because of the hostile situation created by our relatives", she told TOI..
"I believe that my success will send message to the society that inter- religion marriage should not be taken as a taboo. Every individual has the right to choose their life partner", Husna said.
http://timesofindia.indiatimes.com/city/patna/Patnas-Husna-Ara-lone-Muslim-woman-to-crack-BPSC-this-year/articleshow/21901131.cms
--------
Wife of Briton abducted in Dubai reveals anguish over false reports
Atena Yazdi says she and her children 'struggle to get through each day' over rumours husband Abbas has been killed
Peter Walker
19 August 2013
The wife of a British citizen who disappeared in Dubai in June and is feared to have been abducted and taken to Iran told the Guardian of her anguish at his disappearance, compounded by what appear to have been false reports that he had been killed.
In a statement Atena Yazdi said she knew very little other than that her husband, Abbas Yazdi, had vanished. She and her children, aged 12 and 10, were "struggling to get through each day" with no knowledge of what had happened, she said.
Abbas Yazdi, 44, a naturalised British national, was last seen on the afternoon of 25 June leaving his office in Bur Dubai, the commercial heart of Dubai. His family believe Yazdi, who is close to the son of Iran's former president, Ayatollah Hashemi Rafsanjani, was kidnapped by Iranian intelligence agents and could be in detained in the country.
Earlier this month Atena Yazdi, 37, was told by British officials that her husband had been found dead elsewhere in the United Arab Emirates, seemingly after being killed during the kidnap attempt. However, the UAE government denied a body had been found, and the family now presumed the report was false and he is most likely inside Iran.
In her statement, Atena Yazdi said that while authorities in the UK and Dubai were looking into the case there had been very little information made public, leading to much speculation. She said: "We have very few facts other than that Abbas went missing on 25 June. However, despite this a number of cruel and misleading rumours have been published and broadcast, often where I or my friends or family are wrongly named as the source of such rumours."
Another rumour was that she had been in contact with Iranian opposition groups, Yazdi said, saying this was also untrue. She added: "I am not interested in politics. My only wish is to have my husband home again. It has been one and a half months since I last saw my husband and my children last saw their father, we are struggling to get through each day."
Scotland Yard counter-terrorism officers have been among those investigating the disappearance, while the foreign secretary, William Hague, has raised the case with his Iranian counterpart, Ali Akbar Salehi. British officials have been quoted anonymously as saying the idea that "elements in Iran" might have kidnapped Yazdi was plausible. Iran has denied any involvement.
Yazdi, who is believed to hold dual British and Iranian nationality, had just finished giving evidence by video link to an international arbitration tribunal in The Hague involving United Arab Emirates-based Crescent Petroleum and the National Iranian Oil Company. There is no suggestion that this involvement in the arbitration is connected to his disappearance. He had been due to return to complete his testimony the following day but vanished.
The UK's Serious Fraud Office has been co-operating with Iran's State General Inspection Organisation (SGIO) which was seeking information about Yazdi, even though the UK does not have diplomatic relations with Iran. Formal ties between the two countries were suspended in November 2011. Among details handed over by the SFO to Tehran were the contents of Yazdi's online contacts book, according to documents seen by the Guardian.
http://www.theguardian.com/world/2013/aug/18/wife-briton-abducted-dubai-anguish-reports
-------------
AR Rahman teams up with sisters for women empowerment
Prashant Singh
August 19, 2013
After a recent Bollywood awards function took a stand for women's empowerment, the music industry is now following suit. Oscar-winning music composer AR Rahman is lending his support by producing an album on the same theme under his record label, KM Musiq. What's most interesting is that
Rahman's collaborators are his own sisters, AR Rayhanah and Issrath. They will team up for multiple songs in the Tamil album, which is titled Rasaayana Rojaakkal (Chemical Roses). In fact, Rahman and his elder sister, Rayhanah, have sung a duet, 'Naan yen pirandein' (Why was I born?), written by the famous Tamil poet, Vaali.
Another song, 'Ennile maha oliyo' (I discovered the divine light within me), has been sung by the sisters together. "The album is very close to Rahman sir. He has been working hard on it for some time now. Also, it's even more special because he's collaborating with his sisters on the project," says an industry insider. Both the songs aired on a popular music show on Saturday.
"The album should be out in a few months' time. Rahman sir and his sisters are equally excited about it," adds the insider. While Rahman couldn't be reached for a comment, his official Facebook page reads thus (besides other information on the two songs): "Coming soon, is a production from K. M. Musiq, Rasaayana Rojaakkal (Chemical Roses) whose theme is women's empowerment (sic)."
http://www.hindustantimes.com/Entertainment/Music/AR-Rahman-teams-up-with-sisters-for-women-empowerment/Article1-1109692.aspx
--------
Saudi Women Use Twitter to Raise Issues
19 August 2013
Thousands of Saudi women have been using social media, especially Twitter, to air their views and campaign for their rights, a senior Saudi journalist said, adding that their tweets were instrumental in mobilizing public and official support for their causes.
"Saudi women, especially university graduates, are using Twitter and other social media outlets to mobilize support for their rights. Many of them have been waiting for years to get employed. They have formed a group now on Twitter to make their voice heard by officials," Khaled Aburas told Arab News.
He said that for Saudi women social media is an ideal platform to join forces and take up their issues. "They face the problem of immobility. It is not possible for women in different regions in a vast country like Saudi Arabia to come together in one place to raise their voices for their rights."
The case of part-time teachers was a big issue as many of them were campaigning to get full-time jobs. The government recently issued an order instructing authorities to give permanent jobs to nearly 10,000 teachers across the country.
"Saudis have been using social media to communicate with ministers and government departments," Aburas said. "Social media has brought thousands of women together and helped them to get the support of mainstream media people."
They also received the support of Islamic scholars, Shoura members and other influential people including columnists who wrote about women's issues. Part-time teachers are now asking authorities to remove the difficult conditions that stand in the way of their employment.
Aburas said members in the Shoura Council have agreed to raise the issue of unemployed Saudi women graduates and are keen on taking up the matter with the Court of Grievances. According to one report, university graduates account for about 78 percent of unemployed Saudi women. There are more than 500,000 jobless young Saudi men and women.
"Among the graduates tweeting for their rights, there are widows, divorcees and women facing financial difficulties. Some of them majored in subjects such as mathematics," Aburas said, adding that some officials were blocking their employment and placing difficult conditions.
"We have lost our youth and age searching for jobs," said one Saudi woman graduate in her Twitter message. Many of these jobless graduates complain that they were sidelined because they did not have a "wasta," or know someone who can take up their case with the powers that be.
Another woman, specialized in Shariah education, lamented that she has been seeking a job for 23 years. "We are disappointed with the failed system," said another woman, urging authorities to find jobs for all women who graduated several years ago and have solid educational backgrounds.
She also called for compensations for the years they had to sit at home unemployed for reasons they were not responsible for. "Some of us graduated during the era of King Fahd and are still seeking jobs," she added.
Another woman expressed her hope that the Saudi leadership would look into this matter seriously and resolve the issue quickly.
http://www.arabnews.com/news/461751
-------------
Inspired by Malala: Local Muslim Women Discuss Activism, Community, and Islamophobia
Source: International Museum of Women (IMOW), San Francisco, California
19 August 2013
Inspired by the courage of Malala Yousufzai to speak up for equal rights of women and girls, this panel brings together local Bay Area Muslim women leaders to discuss Muslim women's agency and activism. All too often, media distorts the lives and views of Muslim women. We hear about "sensational" and "shocking" violence against Muslim women as well as their passivity and powerlessness. But what are the differences between media stereotypes of Muslim women and the reality? Three local Muslim women leaders will speak intimately to the top concerns facing American Muslim women: Islamophobia, misguided prejudices about Islam and Muslim women, and the shortage of role models and leaders.
This event celebrates IMOW's global exhibition, Muslima: Muslim Women's Arts & Voices. Meet Muslima curator Samina Ali in conversation with Zahra Billoo, Executive Director for the Council of American Islamic Relations San Francisco Bay Area; Ameena Jandali, co-founder of Islamic Networks Group; Ayesha Mattu, writer and co-editor of the anthology, Love, Inshallah: The Secret Love Lives of American Muslim Women; and Nuri Nusrat of the National Council on Crime & Delinquency's Restorative Justice Project. Event Details: World Affairs Council Auditorium, 312 Sutter Street, Second Floor, San Francisco. Registration and refreshments at 5:15 p.m.; program from 6 to 7:30 p.m. Ticket prices are $15 general admission, $5 for IMOW members and partner members. Reserve tickets by September 10.
Special thanks to sponsoring partners Diverse Muslim Voices, Women and Girls Lead, and ITVS, and to outreach partners CAIR (Council of American Islamic Relations), Global Fund for Women, IIE (Institute for International Education), and the Islamic Network Group.
Thank you to Wells Fargo for generously sponsoring this event.
Muslima: Muslima: Muslim Women's Art & Voices is a global online exhibition from the International Museum of Women. Major funding for the project has been provided by the MetLife Foundation and by Museums Connect, made possible by the U.S. Department of State's Bureau of Educational and Cultural Affairs and administered by the American Alliance of Museums. Museums Connect partners include the International Museum of Women, the Women's Museum in Denmark, the Ayala Museum in the Philippines, and the Sharjah Museum of Islamic Civilization in Sharjah, U.A.E.
http://www.payvand.com/news/13/aug/1122.html
-------------
Saudi women can allow expat husbands to operate taxis
19 August 2013
RIYADH — The Ministry of Transport has stated that Saudi women can convert their private cars into taxis and allow their foreign husbands to operate them, Al-Watan newspaper reported.
"There are no obstacles in allowing foreign husbands of these women to work in the taxi business," said Abdulaziz Al-Sumait, the ministry's spokesman.
"But there is one condition; the car has to be registered in the Saudi woman's name."
A recommendation for allowing foreign husbands of Saudi women to turn their cars into taxis was submitted to the ministry previously and it was approved based on certain requirements and conditions.
Those who wish to transform their cars into taxis have to obtain the driving license to operate a taxi. They can then negotiate with a taxi company to work under their umbrella for a nominal fee, which varies from one company to another.
He said Saudi males are not required to follow the same procedures. They need only to apply at the Saudi Savings and Credit Bank for financial support to buy taxis.
He pointed out that the Ministry of Interior has supported the Ministry of Transport's recommendations.
http://www.saudigazette.com.sa/index.cfm?method=home.regcon&contentid=20130818177280
-------------
Ennahda breaks the back of oldest women's organisation in Tunisia
19 August 2013
TUNIS - Radhia Jerbi, President of the National Union of Tunisian Women (UNFT), officially announced on Friday the bankruptcy of the oldest women's organisation in Tunisia due to a worsening financial crisis and crippling debts.
Established in January 1956, UNFT is the first women's non-governmental organisation to be created in independent Tunisia. Since its inauguration, it has worked to improve women's status; in society and under the law.
President of the National Union of Tunisian Women blamed the Ennahda-led government for the bankruptcy of the organization.
Jerbi noted that that Islamist-led government had refused to release the grants required to pay employees' wages and finance the union's activities.
Jerbi denounced the government's policy of favouritism, which resulted in the payment of grants to certain organisations but not others.
She said that she would not remain indifferent to what had been happening to the Union which had fought for the rights and dignity of women for more than 57 years.
A number of human rights and women organisations have denounced the rising violations of women's rights by Islamists since the rise of Ennahda Islamist party to power in Tunisia.
Since independence from France in 1956, Tunisia has boasted some of the most advanced women's rights in the Arab world.
First post-independence leader Habib Bourguiba gave Tunisian women the right to vote, abolished polygamy, forbade marriage under the age of 17 and allowed woman equal rights to divorce.
Women represent around quarter of Tunisia's working population and just over half of higher education students, according to Tunisia's national institute of statistics.
When the Tunisian revolution began in late 2010, triggering the Arab Spring and making Tunisia the first country to overthrow its dictator, women stood alongside men at the protests.
However since the Islamic party Ennahda came to power in the elections of October 2011, and with the rise of radical Islamist groups in the country such as the Salafists, many women are concerned about the growing Islamisation of the country.
As a result of these fears women activists have been closely monitoring the drafting of the new Tunisian constitution.
In August 2012, they fiercely opposed one draft which suggested that women were 'complementary' to men. The wording was later changed to 'equal'.
The future for women in Tunisia remains uncertain.
What remains clear is that whatever their political or religious views, Tunisian women have a strong voice, and are willing to fight for their rights.
http://www.middle-east-online.com/english/?id=60775
-------------
Disabilities not hurdle for calligraphy, says Selma es-Subhi
19 August 2013
Tunisian Selma es-Subhi, who dedicated her life to the art of calligraphy, is working unwaveringly to revive this traditional art and carry it into the future.
Calligraphy, defined as the art of composing letters, surely is not as popular as it was in traditional times. Yet still, there are many people around the world who dedicate their lives to the art of calligraphy. One of them is Selma es-Subhi, a Tunisian calligraphist who started to learn calligraphy when she was 17. She is now one of the few calligraphists in the country working unwaveringly to revive this traditional art and carry it into the future.
What distinguishes Subhi from other colleagues is her congenital health problem in both hands. However, this did not prevent her from becoming one of the most successful calligraphists, not only in Tunisia but also in the entire Maghreb region. In 2010, she ranked first in a regional calligraphy contest. Her talents enabled her to gain ratifications from five calligraphy masters, qualifying her to run calligraphy courses.
Mentioning that calligraphy has always been a part of her life, Subhi said she began her calligraphy education in a prestigious school where well-known calligraphists taught. Noting her disadvantages attracted her teacher's attention, this turned out to be an advantage as the teachers increasingly assisted her in improving her calligraphy skills. Mukhtar Ali,a famous Tunisian calligraphist, was also among her teachers. "I have learned many styles of calligraphy in my first school and the following ones. My teachers always support me," she said.
Although calligraphy is not very popular these days, the art of giving form to signs in a harmonious and skillful manner captivates many people in the world. "Each Islamic country has its own calligraphy style. I am determined to be the best to perform Tunisian calligraphy. I am also looking forward to having courses from Turkish calligraphists," Subhi added.
Gradually building on her international reputation and experience, Selma es-Subhi also worked with Iraqi calligraphists and learned the Iraqi style.
Along with calligraphy, Subhi is also interested in gilding –otherwise known as tezhip- an Ottoman non-figurative decorative art. Due to economic restrictions she was not able to continue her education after graduating from secondary school. However, having become a calligraphy teacher herself, her artistic capabilities have aided her financially.
http://www.worldbulletin.net/?aType=haber&ArticleID=115083
-------------
Qatif father fined SR900 for allowing girl to drive
19 August 2013
QATIF — A Saudi father has been fined SR900 and his car impounded after traffic police in Qatif caught his daughter driving his car while he was sitting in front with her, Alsharq daily reported.
The daughter had to sign an undertaking at the police station that she would not drive her father's car or any other vehicle again. Two months ago a girl was pulled over after traffic officers spotted her driving while her brother was sitting in the passenger's seat. Both incidents happened on Taroot island in Qatif governorate. — SG
http://www.saudigazette.com.sa/index.cfm?method=home.regcon&contentid=20130819177338
-------------
Savarkar's daughter-in-law flays 'Muslim appeasement'
Monday, Aug 19, 2013
Senior functionary from Hindu Mahasabha and daughter in- law of Hindu nationalist freedom fighter Veer Sawarkar, Himani Sawarkar on Sunday lashed at the Centre for appeasing Muslims , turning blind eye to Bangladeshi infiltration and remaining silent on Pakistan's aggression on the Line of Control.
Referring to recent violence in Kishtwar town in Jammu, the aged saffron activist alleged that section 370 should be scrapped in J&K and Common Civil Code should be introduced.
J&K is an indivisible part of the country, she claimed, while interacting with media persons.
She further alleged that Prime Minister Dr Man Mohan Singh did not utter a single word in his Independence Day speech expressing sympathy with women subjected to worst atrocities in recent violence in Jammu.
The Hindu Mahasabha functionary also lashed at the Prime Minister, Defence minister and minister of external affairs for their response to the Pakistan's act of mercilessly killing Indian army jawans on the LoC before I-Day.
"Bangladesh nationals are infiltrating into the country but the Centre has turned a blind eye towards it. As a result, these intruders have obtained voter ID cards and other documents," alleged Sawarkar.
She also lashed at the UP and Bihar governments for following Muslim and Bangladeshi appeasement policies.
Claiming that movies are spoiling the youth in the country, she alleged that the fugitive underworld don Dawood Ibrahim is funding entire Bollywood indirectly. She exhorted Hindus for being united while setting aside all the difference of caste and creed, so that pride of the country could be kept intact.
http://www.dnaindia.com/india/1876552/report-savarkar-s-daughter-in-law-flays-muslim-appeasement
---------
Irish family is told three Halawa sisters are in Cairo jail
Aug 19, 2013
A sister of four Irish citizens who were caught up in a siege at an Egyptian mosque has said they have been told three of them are still in jail.
Four members of the Halawa family were in Cairo's al-Fath mosque when it was cleared by Egyptian forces on Saturday.
Their sister, Nosayba Halawa, said released prisoners contacted her family on Sunday to say three of the Halawa sisters are still in a Cairo prison.
However, they have heard nothing of the whereabouts of their teenage brother.
The four siblings - Omaima Halawa, 20, her two sisters Fatima, 22, Somaia, 27, and their 17-year-old brother Ibrihim - all live in Dublin but had gone to Egypt on holiday with their mother, Amina Mostafa.
The three young women and teenage boy are children of Hussein Halawa, the imam at Ireland's largest mosque, who moved to Dublin with his family 18 years ago.
Tear gas
The siblings were among hundreds of people who sheltered in the al-Fath mosque on Friday night, during a stand-off between security forces and supporters of the Muslim Brotherhood.
The Brotherhood is calling for the reinstatement of President Mohammed Morsi, who was ousted by the army last month.
Morsi supporters have staged several protests, including barricading themselves into al-Fath mosque.
The mosque was being used as a makeshift morgue and treatment clinic for injured protesters. It was the scene of a lengthy siege on Saturday, as security forces fired tear gas into the building, and exchanged fire with at least one gunman.
Many people who were in the mosque were arrested, including members of the Halawa family.
On Sunday evening, Nosayba Halawa told BBC Radio Ulster that she understood her three younger sisters are being held at Tura prison in Cairo.
Distressed
She said that two other women who were released from the prison over the weekend phoned her mother on Sunday morning to say the Halawa sisters were all in the jail.
The sisters had passed on Amina Mostafa's phone number to the released women and asked them to let their family know where they were.
Nosayba Halawa said they still have not heard anything from their younger brother.
"I hope that he's safe, I'm trying my best not to think about anything bad," she said.
The last direct contact the family had with the four siblings was a distressed phone call from Omaima and Fatima Halawa on Saturday.
They said the had been arrested and their phones had been taken from them, but had managed to borrow a phone to contact family members in Dublin.
Curfew
At that stage, the arrested pair did not know the whereabouts of Somaia or Ibrihim.
Nosayba Halawa said that when her sisters were detained they told the Egyptian authorities that they were Irish citizens, but this was ignored.
"They took their mobiles, and she told them 'you can't take me until someone from the (Irish) embassy would be with me', but as well, they ignored that totally. After that we didn't hear anything from them," she added.
She told BBC Radio Ulster that Irish embassy staff are having difficulty getting information on the case from the Egyptian government.
The Dublin-based family members have been in contact with a solicitor in Egypt but said a 19:00 curfew was causing problems for legal representatives who were trying to make contact with prisoners in Cairo.
http://www.bbc.co.uk/news/world-europe-23752404
---------
83 Saudis marry Moroccans
19 August 2013
DAMMAM — Courts in the Kingdom have registered 77 marriage contracts in 2013 for Saudis marrying Moroccan women, while they registered six marriage contracts for Saudi women marrying Moroccan men, a Ministry of Justice source told Alsharq daily. Saudi women wanting to marry non-Saudi men need to meet the conditions set out by the Ministry of Interior that stipulate that a Saudi woman should be over 25. Saudi men who want to marry non-Saudi women should be at least 30.
http://www.saudigazette.com.sa/index.cfm?method=home.regcon&contentid=20130819177342
-------------
The 19th Amendment to the US Constitution That Gave Women the Right to Vote, 90 Years On
19 August 2013
Today marks the 90th anniversary of the ratification of the 19th amendment to the US constitution, a landmark event in the history of US civil rights that extended the vote to all American women for the first time.
The 19th amendment reads, simply:
The right of citizens of the United States to vote shall not be denied or abridged by the United States or by any State on account of sex.
The passage of the 19th amendment was the culmination of a decades-long political struggle but, on this day 90 years ago, it was carried thanks to Harry Burn's mother.
Amending the US constitution is a tortuous process, and requires a proposed amendment to be ratified by three-fourths of the individual states. Carrie Chapman Catt, a leader in the US suffragette movement, once estimated that the struggle had required more than 50 referendums, as well as "480 campaigns to get legislatures to submit suffrage amendments to voters, 47 campaigns to get constitutional conventions to write woman suffrage into state constitutions; 277 campaigns to get state party conventions to include woman suffrage planks, 30 campaigns to get presidential party campaigns to include woman suffrage planks in party platforms and 19 campaigns with 19 successive congresses."
On 18 August, 1920, the Tennessee state legislature met to consider the amendment, with local politicians subject to heavy lobbying to vote against it from various factions – including those who feared that women's votes would make it impossible to repeal the 18th amendment that prohibited the sale of liquor.
Previously, politicians in eight other states, mainly in the more conservative south, had voted against ratification. Tennessee's house of representatives became the focus of national attention, and the anti-suffragist forces thought they had enough votes to scotch ratification. But then Burn, a young lawyer who had previously backed the anti-suffragist bloc, carefully weighed a letter from his mother, Febb Ensminger Burn, which read:
Dear Son, ... Hurray and vote for Suffrage and don't keep them in doubt.... I've been waiting to see how you stood but have not seen anything yet.... Don't forget to be a good boy and help Mrs Catt with her "Rats." Is she the one that put rat in ratification, Ha! No more from mama this time. With lots of love, Mama.
So Burn switched sides and voted for ratification – and the motion passed, 49-47. Although procedural tricks by the antis tried to sabotage the vote – some legislators fled the state to avoid a quorum while their associates held massive anti-suffrage rallies – formal ratification followed on 24 August. Burn continued to be the brunt of attacks by the anti-suffragists, who alleged that bribery had caused him to switch sides. He responded in a statement:
I want to state that I changed my vote in favor of ratification first because I believe in full suffrage as a right; second, I believe we had a moral and legal right to ratify; third, I knew that a mother's advice is always safest for a boy to follow and my mother wanted me to vote for ratification; fourth, I appreciated the fact that an opportunity such as seldom comes to a mortal man to free seventeen million women from political slavery was mine; fifth, I desired that my party in both State and nation might say that it was a republican from the East mountains of Tennessee, the purest Anglo-Saxon section in the world, who made national woman suffrage possible at this date, not for personal glory but for the glory of his party.
The 19th amendment would probably have been ratified a few weeks later, when Connecticut also voted in favour. But other states remained bitterly opposed: Mississippi did not ratify the 19th amendment until 1984.
Burn's statement, referring to Tennessee as "the purest Anglo-Saxon section in the world", hints at the civil rights struggle for African Americans that would follow in the South, an equally long fight that did not finish even with the passage of the Civil Rights Act of 1964.
http://www.theguardian.com/world/richard-adams-blog/2010/aug/18/19th-amendment-women-right-to-vote-90-years
-------------
URL: https://www.newageislam.com/islam,-women-and-feminism/new-age-islam-news-bureau/tens-of-chechnyan-women-lured-into-syria-to-become-militants--concubines/d/13099