New Age Islam News Bureau
16 October 2020
• Wife of Dubai Ruler, Hind bint Maktoum wins the Arab Woman Award for Humanitarian Work
• Innovative New Golf Format Swings In For Saudi Ladies Team International
• Two Baha'i Women in Iran Report to Prison to Begin Sentences for Practicing Their Faith
• Sabah women's loss is PAS' gain
• Ex Neo-Nazi Calls for Solidarity with Jewish, Muslim Women
Compiled by New Age Islam News Bureau
URL: https://www.newageislam.com/islam-women-feminism/television-host-hijab-entrepreneur-neelofa/d/123163
--------
Television Host and Hijab Entrepreneur Neelofa Now Wears a Purdah In Place Of a Tudung
15 Oct 2020
BY MELANIE CHALIL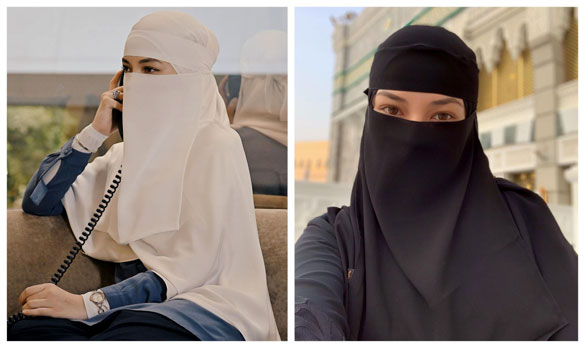 Television Host and Hijab Entrepreneur Neelofa Now Wears a Purdah In Place Of a Tudung
-----
PETALING JAYA, Oct 15 — Television host and hijab entrepreneur Neelofa has ditched the tudung in favour of a purdah.
The purdah is a long veil which covers a woman's entire face except the eyes, is worn by Muslim women in the Middle East.
The 31-year-old whose real name is Noor Neelofa Mohd Noor confirmed the rumours to Malay-language publication Harian Metro today.
The actress asked all parties to pray for her new journey, that she will always be in God's grace.
"Pray for me, a person who is full of faults to always be steadfast in improving myself and power through the days ahead.
"Please also pray that my new journey will always be in God's grace and peace," the former MeleTOP host said in a statement.
Previously, Neelofa's appearance became a topic of discussion when pictures of the popular influencer in a purdah, also known as a niqab, became a topic of discussion among fans and followers who started speculating about her latest appearance.
Neelofa's mother Datin Noor Kartini took to Instagram to say she was thankful for the divine guidance her daughter received and accompanied the post with a short clip of the mother and daughter duo embracing.
Born in Pasir Mas, Kelantan, Neelofa shot to fame in the entertainment world after winning the teen beauty contest Dewi Remaja in 2009.
She found success as a hijab entrepreneur under the label Naelofar Hijab which she launched in 2014.
In 2017, Neelofa, who has 7.8 million followers on Instagram, made it to the Forbes 30 Under 30 Asia list.
https://www.malaymail.com/news/showbiz/2020/10/15/malaysian-celebrity-entrepreneur-neelofa-now-wears-a-purdah-in-place-of-a-t/1913007
--------
Wife of Dubai Ruler, Hind bint Maktoum wins the Arab Woman Award for Humanitarian Work
15 Oct 2020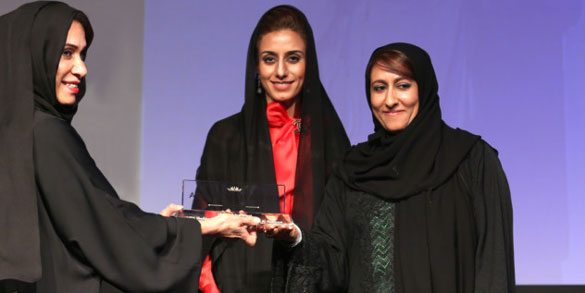 Fatima Ahmad Al Mousa, a board member of the Dubai Women's Society, receives the award on behalf of Shaikha Hind at a reception held in Abu Dhabi.
Image Credit: WAM
-----
The wife of His Highness Sheikh Mohammed bin Rashid Al Maktoum, Vice President, Prime Minister and Ruler of Dubai, "may God protect him", Her Highness Sheikha Hind bint Maktoum bin Juma Al Maktoum, Chair of the Board of Trustees of the Emirates Food Bank Foundation, received the Arab Women in Humanitarian Work Award for the year 2020 For the "10 million meals" campaign, the largest national community campaign of its kind to provide meals or equivalent food and supply parcels to support needy individuals and needy families in various parts of the Emirates, and to promote the values of solidarity and compassion. Her Highness launched the largest campaign of its kind in the region. Under the umbrella of the Mohammed bin Rashid Al Maktoum Global Initiatives Foundation, cooperation with the "Community Solidarity Fund against Covid-19", last April, in conjunction with the advent of the blessed month of Ramadan, in order to contribute to alleviating the suffering of groups and segments of society that suffer the most in situations The exceptional consequences resulting from the outbreak of the new Corona virus, the Covid-19 pandemic, in various parts of the world, and the economic, humanitarian and social repercussions it entailed, and the campaign succeeded in distributing more than 15 million meals within one month.
It is noteworthy that honoring the Arab Women Awards 2020 is under the patronage of His Excellency Sheikh Nahyan bin Mubarak Al Nahyan, Minister of Tolerance and Coexistence, and in cooperation with UN Women, the United Nations organization concerned with gender equality and the empowerment of women.
The honor of Her Highness Sheikha Hind bint Maktoum bin Juma Al Maktoum by awarding her the Humanitarian Personality of the Year Award, as part of the Arab Women Awards, crowns her decades-long career of philanthropic, humanitarian and social work, and the empowerment of women at various levels. Especially in the field of developing skills, innovation and entrepreneurship, promoting a healthy lifestyle and developing women's sport in its holistic concept that enhances physical and mental health and quality of life. The Arab Woman Award in Humanitarian Action also celebrates the inspiring role of Her Highness Sheikha Hind bint Maktoum bin Juma Al Maktoum in supporting and launching initiatives to sponsor orphans, and support people of determination.
The award also represents an appreciation for the pioneering role of Her Highness Sheikha Hind bint Maktoum over the past three years at the helm of the Emirates Food Bank, the first integrated humanitarian and social system of its kind for feeding food in the UAE, as it strengthened the momentum of its initiatives and expanded its framework, and under the leadership of Her Highness succeeded in concluding dozens of agreements With governmental, private, charitable and humanitarian institutions in the country to provide in-kind contributions and logistical support for the distribution of meals. During the year 2019 alone, the bank collected more than 13,448 tons of foodstuffs, which were distributed to the beneficiaries.
Her Highness Sheikha Hind bint Maktoum bin Juma Al Maktoum expressed her pride in this honor, stressing that "His Highness Sheikh Mohammed bin Rashid Al Maktoum is the supporter and supporter of the various humanitarian initiatives that enhance the position of the UAE to be a beacon for charitable and humanitarian work and a forerunner for the advancement of mankind and humanity all over the world ".
Her Highness affirmed that "Emirati women have imbibed the values of sympathy and benevolence from the Emirati leadership, which always returns us to the initiative to extend a helping hand to the needy and underprivileged and contribute qualitatively to improving people's lives as part of building safe and stable societies."
Her Highness Sheikha Hind bint Maktoum pointed out that Emirati women today are recording their qualitative presence in the academic and research fields, economics, entrepreneurship, innovation, sports, media and public affairs, and enhance their role in the field of community work, noting her highness of the strategy of empowering women adopted by the UAE and implementing it efficiently and with the support and guidance of his His Highness Sheikh Khalifa bin Zayed Al Nahyan, President of the State "may God protect him", and His Highness Sheikh Mohammed bin Rashid Al Maktoum, in order to achieve sustainable development that includes society in all its groups and sectors.
Her Highness Sheikha Hind bint Maktoum bin Juma Al Maktoum stated that "the 10 million meals campaign, which was launched under the directives of His Highness Sheikh Mohammed bin Rashid Al Maktoum, is a shining station recorded by history for charitable and humanitarian work in the UAE, as it created the noblest images of community solidarity in the time of the Covid-19 pandemic and presented it. A global example of how all segments of society joined forces in dealing with crises and contributed to the classification of the UAE in the first place regionally and in the list of the top 10 countries in the world in the efficiency of responding to the Covid-19 pandemic.
On his part, Sheikh Nahyan bin Mubarak Al Nahyan, Minister of Tolerance and Coexistence, said, "The Arab Women's Award for Humanitarian Work is a deserved appreciation of Her Highness Sheikha Hind Bint Maktoum for her pioneering role in supporting, developing and institutionalizing charitable and humanitarian work. Sheikha Hind, as His Highness Sheikh Mohammed bin Rashid Al said Maktoum is the closest to people, and its approach to giving has been rooted for decades, through its generous support and sponsorship of many humanitarian and community projects, initiatives, and campaigns.
He added, "Choosing Sheikha Hind to be the humanitarian of the year about the 10 million meals campaign shows the great impact of this humanitarian campaign, the largest of its kind in the country, which touched people's lives during the height of the outbreak of the new Corona virus epidemic, amid the almost total closure, saving A psychological and social safety net for thousands of needy individuals and needy families, in an initiative that reflected the value system of their highness that devoted their lives to humanitarian work that stems from the importance of consolidating community solidarity, promoting a spirit of integration, cooperation and compassion across various societal groups and spreading a culture of participation.
He pointed out that His Highness Sheikh Hind bin Maktoum is an inspiring model for the Emirati Arab woman who believes that any woman, from her position, has an active role in empowering society through the gateway of grants and giving.
In addition, Moez Duraid, Regional Director at the United Nations Entity for Gender Equality and the Empowerment of Women, said .. "Women leadership is essential to ensure the effectiveness of humanitarian initiatives and projects and not to overlook those most in need of support and assistance in the global response to the challenges of Covid-19."
He added. "The 10 million meals campaign led by Her Highness Sheikha Hind bint Maktoum translates the impact of women's leadership in the UAE," noting that "the UAE plays an important role in supporting the implementation of the fifth goal of the 2030 sustainable development agenda, related to achieving gender equality and empowering all women and girls." .
The Arab Women Awards 2020, which celebrates the exceptional achievements of Arab women in various fields, focused on highlighting the inspiring Arab feminist models in addressing the repercussions of the emerging Corona virus (Covid 19), whose effects this year reflected on all countries of the world and called for exceptional measures and rapid initiatives to contain them.
The Arab Women's Awards jury was unanimous to award the Humanitarian Personality of the Year Award to His Highness Sheikha Hind bint Maktoum bin Jumah Al Maktoum, in recognition of the humanitarian initiatives and programs that have celebrated her career for decades, and for her leadership role in the "10 million meals" campaign organized by the Mohammed Bin Initiatives Foundation Rashid Al Maktoum International "last Ramadan, in cooperation with the" Community Solidarity Fund against Covid-19 ", with the aim of providing food support to individuals and families in need and the groups most affected by the exceptional repercussions imposed by the new Corona epidemic / Covid-19 / on the world.
The "10 million meals" campaign, launched by Her Highness and supervising its operations throughout the holy month of Ramadan, made record contributions that made it a model at the regional and international levels in responding to crises and building comprehensive community solidarity with the groups most vulnerable to its repercussions. Within only three weeks of its launch, it exceeded The main target campaign that I set is to provide 10 million meals, with contributions amounting to more than 15.3 million meals, provided by more than 180,000 contributors, between individuals and institutions, representing 116 nationalities. The campaign attracted more than 1500 volunteers from different regions of the country, within age groups ranging from 18 to 53 years.
The campaign recorded comprehensive community solidarity, providing a global example of how all segments of society joined forces in addressing crises, and contributed to the UAE being ranked first regionally and in the list of the top 10 countries in the world in the efficiency of responding to the Covid-19 pandemic.
The campaign of 10 million meals under the direct supervision of Her Highness Sheikha Hind bint Maktoum succeeded in producing community interaction with its goals, as charitable and humanitarian organizations and private sector companies in the UAE responded to the campaign's call to provide their support and contributions as well as individuals and businessmen institutions. Charitable and social work institutions contributed 6.8 million meals, and companies and businessmen contributed 5.7 million meals.
In addition, the campaign's website received contributions for the purchase and provision of 1.4 million meals, and 771,000 meals came via SMS text messages, and the campaign's call center recorded in-kind contributions of more than 726,000 meals.
The campaign witnessed a million interaction from the Emirati community of various nationalities, where the followers of the campaign and its participants on social media platforms praised the support of Her Highness Sheikha Hind bint Maktoum and her administrations for the campaign, which achieved consensus and solidarity that made it the largest national campaign of its kind, amid a remarkable humanitarian interaction in the cyberspace that contributed to Conveying the campaign message to the largest number of people and entities, with an emphasis on the importance of donating to ensure that no hungry or needy sleeps in the UAE.
In support of the "10 million meals" campaign, the "World's Longest Donation Fund" initiative, which collected in just one week the value of the 1.2 million meals provided to the campaign, after donor contributions lit 1.2 million lights on Burj Khalifa as the tallest global beacon of solidarity with those affected by the Covid pandemic. -19 from the façade of the tallest building in the world.
Local and international companies participated in the campaign, and it attracted global media coverage in various live languages on the media and digital platforms, especially with the moment of lighting the entire façade of the Burj Khalifa, the tallest urban edifice in the world, with a height of 163 floors and 828 meters in a luminous community support message that embodies the values of solidarity and human solidarity.
The Arab Women Awards are cooperating this year with UN Women and the United Nations Entity for Gender Equality and the Empowerment of Women, with the aim of shedding light on the repercussions of the Covid-19 pandemic on societies and raising awareness of its effects, especially on women in the Arab world, to In addition to celebrating the achievements of women related to dealing with the challenges resulting from the global outbreak of the emerging corona virus.
This year the award covered 17 categories: Humanitarian Work, Education, Arts and Literature, Entrepreneurship, Medicine, Media, New Media, Fashion, Young Designer, Sports, Business, Finance, Corporate Social Responsibility, Young Talents, Lifetime Achievement, Inspirational Women, A special mention.
The award aims to raise public awareness of the important achievements of Arab women, and to provide inspiring role models that can be a positive role model. This year's awards ceremony focuses on solutions invented by women in the Arab world to address "Covid 19".
Follow our latest local and sports news, and the latest political and economic developments via Google news
Share
Print
Facebook
Twitter
LinkedIn
Pin Interest
Whats App
These were the details of the news Hind bint Maktoum wins the Arab Woman Award for Humanitarian Work... for this day. We hope that we have succeeded by giving you the full details and information. To follow all our news, you can subscribe to the alerts system or to one of our different systems to provide you with all that is new.
It is also worth noting that the original news has been published and is available at saudi24news and the editorial team at AlKhaleej Today has confirmed it and it has been modified, and it may have been completely transferred or quoted from it and you can read and follow this news from its main source.
https://alkhaleejtoday.co/international/5091536/Hind-bint-Maktoum-wins-the-Arab-Woman-Award-for-Humanitarian-Work.html
--------
Innovative New Golf Format Swings In For Saudi Ladies Team International
October 16, 2020
JEDDAH: Golf Saudi on Thursday unveiled the format for next month's debut Saudi Ladies Team International, a first-of-its-kind tournament that will see 36 team captains recruit their players using a live NFL-style draft system, before competing for a share of $500,000 prize money.
To be held Nov. 17 and 19, the team contest will be the first ever points-earning Ladies European Tour (LET) event where professionals play alongside amateur golfers with team and individual scoring running concurrently.
The event will take place two days after the Kingdom's maiden women's golf tournament, the $1 million Aramco Saudi Ladies International presented by the Public Investment Fund (PIF).
Each captain will recruit one fellow LET pro to their team using a draft system similar to that in NFL, NBA, and other franchise leagues, and can base their pick on anything – whether that be current form, ranking, or purely friendship. Their remaining LET professional teammate will be selected at random, with the team being completed by one amateur player.
The team of four will then play three rounds at the Royal Greens Golf and Country Club in the Saudi coastal resort of King Abdullah Economic City (KAEC), where each team's best two individual scores will be combined at the end of each round — with amateurs on three quarters of their official playing handicap.
The team with the lowest total score after all three days will be declared the champion and will see its three professionals take home a winning share of the $300,000 prize fund.
The lowest-scoring professional across the three days — who may well come from a losing team — will themselves be rewarded with a share of the $200,000 individual prize fund.
Golf Saudi CEO Majed Al-Sorour, said: "The Saudi Ladies Team International is a completely new and innovative tournament format not seen before on any Tour.
"Alongside the LET, it is a chance to grow the women's game in new and exciting ways — and follows the first-ever professional women's golf event to be played in Saudi Arabia earlier in the week.
"The players love team golf and will enjoy this unique opportunity to try a new format through our groundbreaking and exciting
draft system.
"We understand the impact the pandemic has had on Tour golf this year, particularly in the women's game, so we wanted to do everything we could around the debut Aramco Saudi Ladies International presented by PIF to benefit the players across our double-header golf week in making it competitive, fun, and rewarding," Al-Sorour added.
The Saudi Ladies Team International will hold world-ranking Rolex points for Tour professionals, with Solheim Cup qualification points and Race to Costa del Sol points also up for grabs.
Each day will have a two-tee start, and amateurs — who will be tournament guests — will receive three quarters of their full handicap allowance.
The tournament will be the second event of what has been dubbed Saudi "women's week of golf," with the Aramco Saudi Ladies International presented by PIF taking place from Nov. 12 to 15 — only the second-ever international, professional women-only sports event held in the Kingdom.
Players already confirmed include Major-winning Georgia Hall, Solheim Cup hero and former LET Order of Merit winner Charley Hull, Wales' Amy Boulden, and Camilla Lennarth of Sweden. Many more will be announced in the upcoming weeks.
For more information about both the Aramco Saudi Ladies International presented by PIF and the Saudi Ladies Team International, visit www.golfsaudi.com/en-us/ladies-international.
https://www.arabnews.com/node/1749566/sport
--------
Two Baha'i Women in Iran Report to Prison to Begin Sentences for Practicing Their Faith
By Michael Lipin, Ramin Haghjoo
October 16, 2020
WASHINGTON - Two Iranian Baha'i women have reported to a prison in eastern Iran to begin serving sentences for peacefully practicing their faith after authorities apparently ignored appeals to spare them from potential coronavirus exposure in jail, according to a knowledgeable source.
Speaking to VOA Persian in a Tuesday interview from Iran, the source said Arezoo Mohammadi and Banafsheh Mokhtari voluntarily presented themselves at the prison in Birjand a day earlier.
The two women had been among a group of eight Baha'is from the region who received a Sept. 28 summons to report to the prison by Oct. 10.
Earlier this month, a source told VOA that an appellate court had issued a Sept. 8 ruling sentencing the six women and two men to prison terms of 15 months to two years for allegedly disrupting national security and spreading anti-government propaganda in relation to the practice of their faith.
Iran's ruling Shiite clerics consider the nation's estimated 300,000 Baha'is to be heretics with no religion, and routinely arrest them for engaging in faith-related activities, accusing them of national security offenses without disclosing evidence. Most are charged with "propagation" of the Baha'i faith, which authorities consider to be a form of anti-government propaganda.
The source who spoke to VOA this week said Mokhtari suffers from cervical and lumbar disc diseases, characterized by neck pain and lower back pain respectively, and had sent a request to the Iranian judiciary's enforcement branch to have her sentence postponed for medical reasons. However, the source said judicial authorities in Birjand rejected her request.
Mokhtari and Mohammadi decided to accept the prison summons as they believed they would be compelled to do so eventually and preferred to resolve their status sooner rather than later, the source said. Iranians who resist an initial prison summons can receive several follow-up notices over a period of weeks but also risk being arrested and sent to jail at any time.
Iranian rights groups have said Mohammadi was sentenced to 18 months in prison and Mokhtari to 15 months.
VOA's source said five of the remaining six Baha'is who received the Sept. 28 prison summons also have sent letters to the Iranian judiciary asking for their sentences to be postponed due to the risk of contracting the coronavirus in prison. The source identified the five as Nasrin Ghadiri, Ataollah Malaki, Ataollah Malaki's daughter, Roya Malaki, Saeed Malaki and Atieh Salehi, and said they were awaiting responses to their letters.
It was not clear whether the remaining member of the group, Farzaneh Dimi, has made a similar request to Iranian authorities for a delay in her sentence.
There has been no word from Iranian authorities in state media about the cases of the eight Baha'is over the past month.
Iran's coronavirus outbreak, the worst in the Middle East, has prompted months of international concern about the plight of Iranian prisoners of conscience who have been imprisoned or threatened with imprisonment in coronavirus-infested jails.
In an Oct. 6 statement, U.N. High Commissioner for Human Rights Michelle Bachelet said the Iranian prison system's chronic overcrowding and poor sanitary conditions have worsened during the pandemic.
"I call for [Iran's] unconditional release of human rights defenders, lawyers, political prisoners, peaceful protesters and all other individuals deprived of their liberty for expressing their views or otherwise exercising their rights," Bachelet said. "It is particularly important to rectify such injustices at a time when COVID-19 is coursing through Iran's prisons."
In an Oct. 14 tweet, the Baha'i International Community's Geneva-based representative to the U.N., Diane Alai, said Iran had jailed four more Baha'is in the week since Bachelet's appeal.
"More injustice during an abysmal COVID-19 pandemic," Alai wrote.
The eight Baha'i defendants sentenced by the Iranian appellate court last month were part of a wider group of 18 Baha'is whose homes in Birjand were raided and whose belongings were confiscated by Iranian security agents in October 2017. The raids coincided with a religious holiday observed by Baha'is around the world.
In a May briefing with reporters, U.S. Ambassador for International Religious Freedom Sam Brownback said he was "particularly" concerned by Iran's treatment of its Baha'i prisoners.
This article originated in VOA's Persian Service. Click here for the original Persian version of the story.
https://www.voanews.com/middle-east/voa-news-iran/source-2-bahai-women-iran-report-prison-begin-sentences-practicing-their
--------
Sabah women's loss is PAS' gain
Joe Samad
October 15, 2020
The Sabah Women's Action Resource Group (Sawo), in an online demonstration via Zoom last Sunday, highlighted the plight of women in Sabah.
However, the new state government under the leadership of Chief Minister Hajiji Mohd Noor has not only left women out of his Cabinet but also appointed an assemblyman from an extremist Muslim party into Sabah's august house, the state legislative assembly.
This backdoor appointment of Sabah PAS secretary Aliakbar Gulasan created a lot of angst and pushback. Aliakbar's subsequent appointment of a Christian as his special assistant did nothing to cool the anger but made him look even more hypocritical.
Muslims well represented
No one can comprehend why a peninsula-based Muslim party member was given a chance to be a lawmaker thus depriving women, natives and neglected communities the opportunity to participate in the process of enacting laws and setting policies in the state.
Muslims in Sabah are already well represented through various organisations like MUIS and USIA, which have been around for decades. Native courts and native customs, which are unique to Sabah, are already in existence, complementing constitutional laws and shariah laws.
PAS is well known for its divisive rhetoric. Party president Abdul Hadi Awang reacted with glee thanking Hajiji and Prime Minister Muhyiddin Yassin over the appointment of one of its members.
And why not? Everyone appreciates a free meal without having to work for it. PAS cannot form the government on its own but has to ride the coattails of bigger parties like Umno or PPBM to occupy high positions in the Perikatan Nasional federal government. In Sabah, it's the same situation.
Women suffer the most under Covid-19
Sawo and another advocacy group "Rakyat is Bos" stated the need to have more women in the legislative assembly to empower women in the decision-making process in government.
In the midst of the current Covid-19 crisis, women play a greater role in keeping family life functional and keeping a semblance of normalcy in their home.
Many are suffering as pressure mounts when the husband loses his job and the children can't be schooled. The economic recovery will be a long process and women will carry a greater burden to support their family. Their voices must be heard.
Courting controversy by appointments
The issue of the six nominated assemblymen is useful for a party with a slim majority to prop up their numbers. It was not an issue during BN's rule in Sabah as it had the strength of the majority.
When Warisan came into power the six-seat quota was filled up quickly to strengthen the party's position in the legislative assembly. Some of the appointments were controversial.
One of the appointments from the DAP quota, Loh Ee Eng, was not born in Sabah although he holds permanent residency. One other nominated assemblyman betrayed Warisan and was one of the 33 people who tried to oust the Warisan government.
PBS president Maximus Ongkili is now receiving brickbats over the appointment of the PAS assemblyman, but he had his turn in criticising the appointments made by Warisan previously.
In June 2019, Ongkili said the state government had shown no respect to the Malaysia Agreement 1963 with regards to the appointment of Loh. He said it amounted to "setting a dangerous precedent" and he feared that it would open the floodgates for non-Sabahans and party leaders from Peninsular Malaysia to occupy political positions in the Sabah administration.
Sounds familiar? It's the same as when you give a Malaya-based party a chance to gain a foothold in Sabah and spread their divisive ideologies.
Ongkili now has to eat his own words. As the minister in charge of Sabah and Sarawak affairs, he has failed in his duty to safeguard Sabah's interest.
The role of a nominated assemblymen
In a newspaper report recently, Ongkili explained that the provision for the appointment of nominated assemblymen in the state constitution was meant to be an avenue for minority groups to provide input into political decision-making in the state.
"An ethnic Indian was made a nominated assemblyman in 1967 during the time of the Alliance government headed by Usno. Usno information chief Musli Oli said that historically, the posts were included in the state constitution with the intention of giving a voice to minority groups in Sabah.
"Some of these minority groups do not have representatives in the state legislative assembly. This was the noble reason why it was decided by the Sabah leaders and the then British colonialists that the six nominated assemblymen posts be included in the Sabah constitution," he said.
However, PAS does not represent any minority group or community. They are well represented at the parliamentary level.
Dangerous to let PAS take root
PAS is a political party and should be treated as such. Its only objective is to create an Islamic state in Malaysia and implement hudud law just like it is doing in Kelantan.
Saudi Arabia and its three Gulf allies in November 2017 extended their so-called "terror list", naming an international organisation of Muslim scholars whose leaders include Hadi.
The Saudi-led quartet comprising also of Egypt, the UAE and Bahrain said the International Union of Muslim Scholars (IUMS) was on its list of organisations and individuals accused of supporting terrorism. In a statement carried by the Saudi Press Agency, they said IUMS was "working to promote terrorism through the exploitation of Islamic discourse".
Although Hadi has denied the accusations, the Arab quartet has not withdrawn its claims.
It is time for our politicians to be less male chauvinistic and give women their rightful role in politics. As state assemblywomen, wife, homemaker, sister and mother – they can make a big difference.
https://www.freemalaysiatoday.com/category/highlight/2020/10/15/sabah-womens-loss-is-pas-gain/
--------
Ex Neo-Nazi Calls for Solidarity with Jewish, Muslim Women
By SARAH CHEMLA
OCTOBER 15, 2020
A former Blood & Honour white supremacist Neo-Nazi female has called for greater solidarity with Jewish and Muslim women in the UK, as hate crimes hit a record high, as well as white supremacist activity and conspiracy theories.
Lauren Manning, 30, was for over five years a member of the Canadian division of Blood & Honour, a notorious Neo-Nazi and white supremacist group founded in 1987 in the UK.
While beginning her first UK engagement with Nisa-Nashim, the UK's Jewish-Muslim women's network, Manning said that "the best thing [Jewish and Muslim women] can do during these times is to try and stand together as much as possible, and help each other where possible."
"As Muslim and Jewish women, we commend Lauren for her incredible bravery and work in educating and raising awareness around the dangers of far-right extremism," interfaith consultant and Nisa-Nashim co-founder Laura Marks OBE said. The group's name means "women" in Arabic and Hebrew.
According to her, both the COVID-19 pandemic and the Trump administration are the origin of hate crimes reaching a record high.
"The Trump Administration is making things easy for the far-right, because he hasn't directly condemned any of these groups – and therefore they see it as a free pass to do whatever the hell they want."
"I know if I was still in Blood & Honour, that's how I would view it, too – even if he hasn't directly supported it, he hasn't condemned it either."
"The issues around COVID-19 have already encouraged more division and hatred from the Right. People have legitimate anxieties because of this pandemic, however the far-right are connecting their anxieties to a far-right ideology, and that is when it becomes an issue.
"In every conspiracy theory there is no self-responsibility that comes with it. It is always someone else's fault."
Manning, interviewed by Nisa-Nashim chairwoman of trustees Hifsa Haroon-Iqbal MBE for the discussion, spoke to over 100 Jewish and Muslim women for the event.
"Lauren spoke very powerfully and honestly about her vulnerabilities, but given the right help and support she was able to leave this life behind. If you are worried for yourself, a friend or a relative then there will always be a way out and people to help. Lauren is a shining example of how anyone can leave hate behind," Nisa-Nashim declared.
During the event, Manning told her story and described how she grew up in a middle-class Canadian neighborhood, but turned to a life of drugs, alcohol, crime and ultimately white supremacy at the age of 17 after suffering abuse, losing her father at a young age and leaving home.
She explained that "instead of choosing self-acceptance, I chose self-hatred, and woke up each morning wanting to be someone else."
Manning continued, explaining how the extremist group Blood and Honour had a problem with "everybody" and that one of the first conspiracy theories she engaged with was that "Jewish people had control over the media and society as a whole" – and that because she had never met a Jewish person before, "it became a fear of the unknown itself."
Manning said that she chose to leave the group after five years after a fellow member was murdered. An earlier initial attempt to escape failed when she was beaten and hospitalized.
"The groups see women as subservient, meaning we were to bear the children and take care of domestic stuff. There was endless pressure on me to have children to continue the white race."
"If we are to challenge extremism, understanding how it takes hold is a really powerful tool," concluded Marks. "Meeting this incredible woman who embraced violence and then found a way out touches us in a totally different way."
Manning is one of the very few known reformed female neo-Nazis.
https://www.jpost.com/diaspora/antisemitism/ex-neo-nazi-calls-for-solidarity-with-jewish-muslim-women-645799
From silent to threatening: Why the portrayal of Muslims on television
IIn 2017, Emmy winner and activist Riz Ahmed gave a speech in Parliament about diversity on screen. "Representation is not an additional thrill [because] What people are looking for is a message that they belong, "he said. Soon after, the Riz test was introduced – the equivalent of the Bechdel test for representing Muslims in the media. The criteria ask whether the characters in a television show or film are identifiable Muslim and whether they are then terrorists. irrationally angry; anti-modern; a threat to western values; or a misogynist (or in the case of a female figure, oppressed by male figures). If either answer is yes, the test failed.
In his speech, Ahmed further asked: "Where is the counter-narration? Where do we tell these children that they can be heroes in our stories, that they are valued? "While there are more Muslims on our television screens than ever before, the portrayal does not seem to be the simple utopia that many have imagined. There is a lack of nuances and the existing representation tends towards a male-oriented presence. When diversity boxes are checked and hijabs scattered here and there, the nuance of Muslim identities is further strangled.
Dr. Nour Halabi, a professor of race, migration and social movements at Leeds University, says the media and entertainment representation of Muslims "underscores their position as" a permanent and impossible enemy "with a particular focus on terrorism. The impossibility of defeating this alleged enemy is then often attributed to his cunning and manipulative behavior – for example to bodyguard, where the plot of the show depends on the Muslim character lying about their sympathies until the end. "
In fact, one of the most notable roles for a Muslim woman on the BBC in recent years has been the hit thriller Jed Mercurio, released in 2018. The series first establishes Nadia as a victim to be rescued from her husband, a terrorist, but a twist reveals that she is indeed the terrorist mastermind. The show won a Bafta and was nominated for two Emmys, with the recognition of these two institutions further legitimizing the regressive stereotypes they used. In a country where hate crimes are on the rise [Tell MAMA's annual report for 2017 recorded a rise in Anti-Muslim or Islamophobic attacks with 1,201 verified incidents, a rise of 26% on the year before, while in 2018 there were 1,072 verified attacks] Shows like Bodyguard risk stirring up such Islamophobia by not building on the identity of Muslim women beyond dangerous stereotypes and "other things".
Netflix's Bard of Blood, produced by Shahrukh Khan, a Bollywood royalty, also features Muslims in the standard role of terrorists. Even the fantastic superhero show The Boys from Amazon, in which vigilantes fight against those who abuse their power, portrays Muslims as a threat to Western values. In the latest ITV production Honor – based on the real story of the 17-year-old British Iraqi Kurdish Banaz Mahod, who was honor killing by her family in 2006 – the narrative does not focus on Mahmod but on the white policeman investigating her case.
A stubborn trump card is empowerment, which comes solely from distancing yourself from religion. A hijab removal scene is now a shortened form in film and television to show a Muslim woman's rejection of belief and acceptance of western freedoms. Netflix's Spanish teen drama Elite took advantage of this trope. In a key scene, we see one of the show's lead actresses, Nadia, who goes to a club after removing her headscarf before drinking alcohol and having sex with a white classmate. Instead of a nuanced approach to her identity, the once downtrodden teen has to make a statement.
Representation depends on who is in control of the narrative, and it often doesn't seem to involve Muslim creators. Apple TV's Hala had similar issues last year, despite being written by Minhal Baig, who based the film on her own experiences as a Pakistani Muslim teenager. The film attempts a more complex portrayal of the life of a Pakistani Muslim hijabi by navigating their beliefs and culture. While it's a good effort, the film lies somewhere between trying to overcome these tropes and playing into them. At the end of the film, Hala decides to take off her hijab – although there hasn't been an accumulation of that choice or the feeling that she has difficulty wearing it.
Ultimately, much of this misrepresentation stems from the power structures behind the television that we see. Amna Saleem, screenwriter and broadcaster behind Beta Female, a BBC Radio 4 sitcom about a Scottish-Pakistani woman trying to find her way around a family, a career and a white boyfriend, says, "Sometimes we have to start with the stereotypes to do this Address the audience and then undo them ". Regarding her experience in the industry, she says that "homogeneous" representations still prevail, showing her the need for diversity behind the scenes: "Maybe we need to write these clichés down so a new class of writers can come in and make theirs Mark.
"Much of the representation of Muslim women, including Muslim men, must be reversed. To be in this industry there are steps, there are things that you have to do before you can have full creative autonomy. It just works like that. On the outside, many believe that writers have more power than they do, and this can often lead to a reactionary approach by the communities towards new writers rather than giving them space to work and develop. "
There are, of course, some shows that go against the grain, including Hulu's comedy Ramy about a first-generation Arab-American Muslim man who, after 9/11, struggles to reconcile his beliefs with his American identity. Despite all of its thoughtful stories, the show has been criticized for not providing its female characters with the same level of character development as their males. Ramy's sister Dena (May Calamawy) is constantly frustrated by the overprotective nature of her parents, while her brother is given room to grow and explore. As viewers, we don't see that frustration behind us, while smaller male characters leave room for growth and complexity. Cultural writer Shamira Ibrahim reflected in The Atlantic in 2019: "Muslim women are indeed diverse and complex, but when they are portrayed as largely absent or somehow completely separate from the temptations or crises that Ramy himself copes with, they are turned away from the modern millennial Existence excluded in a way that sounds wrong ". While the depictions here are obviously worlds away from bodyguard, there is still room for Muslim women to do more than sit on the periphery of male life.
Perhaps we'll look back on these shows in the years to come and see how things have improved in that Muslim identities are more complex and more than two-dimensional, but right now we can't – especially as long as the television industry stays as it is loud Ofcom, only 1% of professionals in the television industry identify themselves as Muslim, compared with 16% who identify as Christians.
A real representation will be here when Muslim characters and stories can be more than just openly good or bad. It will be complex and chaotic and unpredictable, and for that we need more Muslim writers and creatives, and certainly more women, who have greater creative autonomy. But right now, as Ahmed said in 2017, People look for "the message that they belong, that they are part of something, that they are seen and heard, and that they are valued despite or perhaps because of their experience. You want to feel represented. We failed in this task. "
These were the details of the news From silent to threatening: Why the portrayal of Muslims on television... for this day. We hope that we have succeeded by giving you the full details and information. To follow all our news, you can subscribe to the alerts system or to one of our different systems to provide you with all that is new.
It is also worth noting that the original news has been published and is available at de24.news and the editorial team at AlKhaleej Today has confirmed it and it has been modified, and it may have been completely transferred or quoted from it and you can read and follow this news from its main source.
https://alkhaleejtoday.co/entertainment/5099236/From-silent-to-threatening-Why-the-portrayal-of-Muslims-on-television.html
--------
URL: https://www.newageislam.com/islam-women-feminism/television-host-hijab-entrepreneur-neelofa/d/123163
New Age Islam, Islam Online, Islamic Website, African Muslim News, Arab World News, South Asia News, Indian Muslim News, World Muslim News, Women in Islam, Islamic Feminism, Arab Women, Women In Arab, Islamophobia in America, Muslim Women in West, Islam Women and Feminism