New Age Islam News Bureau
6 Jul 2014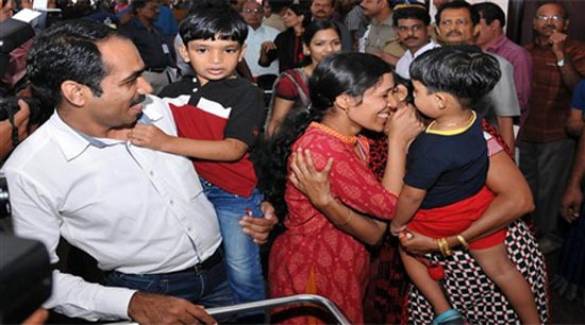 An Indian nurse, centre greets a family member upon arrival at the airport in Kochi. (Source: AP)
------
• Iranian Women 'Stealthily' Shed Their Hijabs as Americans Celebrate Independence Day
• Hate Crimes against Muslim Women on a Rise in the UK
• Indian Nurse Relives Iraq Horror, Says 'Death Was So Close To Us'
• Parents Urged To Talk To Their Children about Sexual Abuse: WHO
• Saudi Arabia: 300 Female Supervisors to Work at Grand Mosque
• Is It Wrong To Send Saudi Women To Study Abroad?
• Negotiate With Boko Haram, Bring Back Our Girls Group Tell FG
Compiled by New Age Islam News Bureau
URL: https://www.newageislam.com/islam,-women-and-feminism/new-age-islam-news-bureau/teenage-twin-sisters-from-manchester-flew-to-join-isis-in-syria/d/97928
-------------
Teenage Twin Sisters from Manchester Flew To Join ISIS in Syria
Teenage twin sisters from Manchester crept out of their bedrooms in the middle of the night and flew to join ISIS in Syria
6 July 2014
Twin sisters have fled their home in Manchester to join ISIS fighters in Syria, it is feared.
The 16-year-old girls crept out of their bedrooms in the middle of the night, grabbed their passports and flew to Istanbul in Turkey.
By the time their parents found their beds empty at 8am last Thursday and called police, they were found to be on their way to Syria.
Counter-terrorism forces were then alerted when the girls contacted their family from Syria, where their elder brother is believed to be a Jihadi fighter.
After 10 days of investigations, detectives are still struggling to track them down.
Greater Manchester Police said: 'The girls flew from Manchester International Airport to Istanbul.
'Since their departure the girls have been in contact with their family.
'We are attempting to confirm their current location and secure the well-being of both girls.'
The family, of Somalian origin, is believed to have moved to Britain 10 years ago.
According to The Sun on Sunday, the strictly religious schoolgirls have told their family they are not coming home.
'The family have been trying to persuade their daughters to come home but so far they have said they are happy to stay,' a source told the paper.
The sixth formers' disappearance comes as the Home Office battles to counter calls from ISIS to British teenagers to join them.
Extremists have used Twitter and YouTube to reach out to young Muslims across the world.
And on Friday, ISIS leader Abu Bakr al-Baghdadi emerged from relative recluse to issue a plea for all Muslims to 'obey' him in his quest for world domination.
A video of Baghdadi's sermon at the Great Mosque in Mosul, Iraq's second largest city, was released on the internet yesterday and went viral instantly on jihadist forums and websites.
Speaking from the pulpit of the mosque, Baghdadi, 42, urged the world's Muslims to flock to the new Islamic caliphate. He praised the victory of his 14,000 fighters spread across Iraq and Syria.
This month, a video emerged of three British fighters gushing about their life in Iraq.
Among them was aspiring Jihadi Aseel Muthana, who told the BBC he was fighting in Syria and had no intention of returning to the UK.
His brother Nasser appeared with two other British men - 20-year-old Reyaad Khan, from Cardiff, and Abdul Raqib Amin, who grew up in Aberdeen.
In April, the Metropolitan Police issued a plea for people to come forward with information about their family members if they were concerned about them joining terrorist training camps in Syria.
And a British Jihadi who claims he is fighting alongside militants in Syria has said he will return to the UK when he sees 'the black flag of Islam' hanging over Buckingham Palace.
The man, who called himself Abu Osama, said he had been taking part in military training, making bombs and fighting with the extremist Al-Nusra Front, which is linked to al Qaida, for the past year.
Osuma, whose accent suggested he comes from the north of England, claimed to have been fighting for the establishment of a caliphate - which he referred to by the Arabic term Khilafah - across the Islamic world.
He told BBC 5 Live's Nicky Campbell: 'There is nothing in Britain - it is just pure evil.
'If and when I come back to Britain it will be when this Khilafah - this Islamic state - comes to conquer Britain and I come to raise the black flag of Islam over Downing Street, over Buckingham Palace, over Tower Bridge and over Big Ben.'
http://www.dailymail.co.uk/news/article-2682120/Teenage-twin-sisters-Manchester-crept-bedrooms-middle-night-flew-join-Isis-Syria.html#ixzz36gD0ZluU
-------------
Iranian Women 'Stealthily' Shed Their Hijabs as Americans Celebrate Independence Day
6 July 2014
As American women celebrated Independence Day and freedom with parades, picnics, fireworks displays, and demands for free birth control, a handful of Iranian women bravely shed their hijabs and posted their pictures on Facebook along with messages about what freedom means to them. The Facebook page, My Stealthy Freedom, created in May by Iranian journalist Masih Alinejad, currently has over 550,000 likes and offers women the opportunity to anonymously share photos of themselves with their heads uncovered — an act of cultural and religious disobedience that could have serious repercussions in the repressive Iranian society governed by Islamic law.
One young woman, wearing a full black hijab, is shown standing next to the street at night with her head uncovered. She says, "Although people gave me blaming looks, the sweetness of that moment has remained unforgettable."
Messages of support in Persian and English poured in from around the world: the United States, Denmark, Pakistan, Yemen, Canada, Ireland, Norway, Sweden, Belgium and Israel. One Iranian man simply said, "I'm sorry."
Another young woman posed in a field with her headscarf billowing in the breeze.
Her message is inspiring:
Shiraz, my stealthy freedoms, and I
I'll let the wind blow my burnt moments away. I don't mind whatever comes next
Freedom is a right I am entitled to have in my life; and I will take it back!
God created freedom! human beings were the ones who created servitude
Hey freedom! All we've ever known about you has been just your name ! We have been robbed of you as long as the history
I am a girl from Shiraz. I'll raise my hand and practice freedom. Freedom! I want you to know that this exhausted bird will go on searching for you and trying to attain you forever.
One man responded to her post:
"The rights [to religious freedom] are of the natural rights of mankind, and … if any act shall be … passed to repeal [an act granting those rights] or to narrow its operation, such act will be an infringement of natural right," by Thomas Jefferson.
Support from Sweden, for your (Iranian women´s and men´s) right to freedom and all other true democratic rights!
Another woman flaunted her uncovered head on the side of a busy highway in front of what appears to be a billboard with the faces of Iranian mullahs.
I'll say this simply, I want freedom. It is my right as a human being to be free. I want to shout out my freedom! Exactly in front of the billboard behind me!! I was pulled over one time while driving, because of "inappropriate dressing." They towed away my car and called me to court. We are suffocating here under the ruling of this tyranny.
10527754_908903149123780_1630304612416328929_n
The young woman below normally hides beneath a head scarf. But on this day, her shocking pink tresses hung out the car window and she experienced the freedom of the breeze blowing through her hair, something most American women take for granted. She commented: "We have to respect each other instead of misjudging each other." She added, "My hair, the blowing wind, and I… in city of Daar-Al-Ebadeh, Yazd." Her smile of exhilaration speaks volumes about the simple joys of life that are not available to most Iranian women.
http://pjmedia.com/tatler/2014/07/05/iranian-women-stealthily-shed-their-hijabs-as-americans-celebrate-independence-day/
-------------
Hate Crimes against Muslim Women on a Rise in the UK
6 July 2014
LONDON – Muslim women are increasing the target of anti-Muslim hate crimes, a new study from the Centre for fascist, anti-fascist and post-fascist studies at Teesside University revealed.
The Centre at Teesside University independently analysed data for 2013-2014 through the Tell Mama project (Measuring Anti-Muslim Attacks).
The findings indicated that more than half, 54 percent, of anti-Muslim incidents are committed against women who often wear traditional Islamic dress. Nearly a quarter of the victims described wearing 'Islamic' clothing at the time of the attacks which were reported in a 10-month period.
According to the report, almost a fifth of all cases recorded were in the week following the murder of Drummer Lee Rigby on 22 May 2013.
Tell Mama is an anti-Muslim monitoring group and runs a hotline that allows people to report hate-crime. The organisation was set up in 2012 with government backing and recieved £214,000 of government funding in the same year.
Of the 734 incidents that were reported to the hotline, 599 were from online abusers and 135 were offline. "Various indicators suggest that anti-Muslim hate crimes notably rose in Britain between 1 May 2013 and February 2014," the report said. The data showed that the perpetrators of hate-crimes were overwhelmingly male. 78 percent of offline incidents and 74 percent of online incidents were committed by men.
Three months after Lee Rigby's murder, 34 mosque attacks were recorded by Tell Mama. Offences ranged from graffiti and smashed windows at British mosques to nine cases of arson and seven instances of break-ins and violence against worshippers. The institute of race relations said that these attacks were attributed to the far-right.
"For the time being, such attacks are in the news. Normally, they are something the mainstream media ignores," wrote Jon Burnett from the Institute of Race Relations.
The report also said that there was a "strong element of far-right involvement in attacks," and continued to say that there was a "persistent problem" with under reporting of hate-crimes.
It stated that, "Supporting victims and encouraging them to come forward to report a hate crime remains the highest priority. Alongside addressing under-reporting, authorities should be encouraged to disaggregate hate crimes by strand, and to take seriously the increased incidence of anti-Muslim hate crimes."
Hate-crimes are separated into different categories, ranging from non-violent, assaults, damage and desecration of property and instances of extreme violence. Online incidents are categorised into abuse, and the dissemination and/or targeting of anti-Muslim literature and threats.
U.K. Muslims makes up 4.8 percent of the population and number around 2.7 million.
"Muslims remain amongst the most likely minority group in Britain to be targeted for a hate crime," the report concludes.
http://www.dailysabah.com/europe/2014/07/06/hate-crimes-against-muslim-women-on-a-rise-in-the-uk
-------------
Indian Nurse Relives Iraq Horror, Says 'Death Was So Close To Us'
TNN | Jul 6, 2014
TUTICORIN/KOCHI: P Lesima Jerose Monisha (25), a Tuticorin-based nurse, is back home from Iraq, relieved and happy. "I will never go back," she said on Saturday, though she has to now find ways to repay the loan of 3 lakh she took for studying nursing.
"Every day, we would hear at least 50 to 60 bomb explosions in the proximity of hospital where we were held. Barely 30 minutes after we were evacuated from the hospital in Tikrit, the building was bombed," she said on Saturday.
Monisha was one among the 46 Indian nurses released by ISIS insurgents in Iraq. She reached Kochi along with other nurses on Saturday morning in a special flight and arrived at Tuticorin later in the day.
"We did not know what was happening around us. It was our family members who kept updating us about the developments in Iraq," Monisha told TOI over phone on her way to Tuticorin. Certain that their lives were at risk, the nurses kept awake most of the days.
Though the insurgents assured them they would not be harmed, there was always a fear that a bomb would land on the hospital, she said.
She said the scariest moment was when the militants gave them just two hours to get ready and leave the hospital on July 2. "Indian embassy officials told us over phone to follow the gunmen's instructions for our own safety." Monisha said they were taken in a bus to Mosul where they were detained in a jail-like building. Finally on Friday they were once
again told to pack up their belongings and board a bus. "Only then we realized we are being released. The insurgents released us on the outskirts of Mosul from where Indian embassy officials took care of us," she said.
Three days after ISIS insurgents reached Tikrit, they took control of the hospital and held 46 Indian nurses captive. Since then, the nurses were not allowed to leave the hospital, but were permitted to speak to relatives and Indian embassy officials over phone. T "They did not harm us. We were provided food and water," she said. The armed militants had insisted that the nurses treat the injured insurgents. But the nurses refused.
"One moment there would be hope and the next moment despair. Death was so close to us," she said. "All the buildings around the hospital were bombed by insurgents, The mortuary in the hospital was lso demolished in an explosion," she said. "All we could see out of the hospital window was smoke and fire".
Her mother P Edvija Ammal, 65, was overjoyed to see her daughter. "Our prayers have been answered," she said. Monisha, youngest in the family, completed her nursing in Bangalore two years ago. After working in New Delhi for eight months, she left for Iraq on February 17.
"Apart from the 5,000 financial assistance given by the Kerala government to all nurses, chief minister Oomen Chandy has directed that Monisha's family be given an additional 7,000 towards tax fare from Kochi to Tuticorin," said Hari P Nair, a NORKA (Non-Resident Keralites Affairs) official.
http://timesofindia.indiatimes.com/india/Nurse-relives-Iraq-horror-says-death-was-so-close-to-us/articleshow/37868625.cms
---------------
Parents Urged To Talk To Their Children about Sexual Abuse: WHO
6 July 2014
Children who are victims of sexual abuse are often afraid to tell their parents because they feel ashamed and may even think it is their fault.
Sexual abuse can have long-term and damaging effects on a victim's mental and emotional health and prevent them from trusting others, which is why experts urge parents to talk to their children about sexual abuse.
There were virtually no studies conducted on child abuse until 1920, when such cases began increasing. By 1968, at least 44 countries enacted legislation that obliges doctors to notify authorities of sexual abuse involving children, according to report in Al-Riyadh newspaper.
In 2000, the World Health Organization (WHO) published a report that stressed the importance of combating sexual abuse and exploitation of children.
Studies have shown that between 15 and 25 percent of women and 5 and 15 percent of men have been subjected to sexual abuse as children.
Nearly 30 percent of offenders are close relatives, 60 percent a close family friend and only 10 percent are strangers. Victims of sexual abuse can suffer from both short term and long term psychological, emotional and bodily damage that can lead to mental fatigue, low self-esteem, learning difficulties, behavioural problems and alcohol or drug abuse.
In the event a child reveals he or she was sexually abused, parents should be understanding and comforting and should not hold their child responsible.
In such cases, children are in need of emotional support and should be taken to a physician or a psychiatrist. Parents should also notify the concerned authorities so the offender does not target other children.
Children should not be left alone with domestic workers or drivers and should be told to scream when they feel uncomfortable with anyone approaching them.
http://www.saudigazette.com.sa/index.cfm?method=home.regcon&contentid=20140705210530
-------------
Saudi Arabia: 300 female supervisors to work at Grand Mosque
Jul 6, 2014
The women's section of Saudi Arabia's Commission for the Promotion of Virtue and Prevention of Vice, known as the relighious police, has prepared 300 women to supervise female gatherings in the Grand Mosque.
The supervisors are working in shifts and they enforce rules, educate women visitors and guide them to reduce crowding in the mataf area. The supervisors also give visitors religious books that contain prayers and supplications.
http://english.alarabiya.net/en/News/middle-east/2014/07/06/300-female-supervisors-in-the-Grand-Mosque.html
------------
Is it wrong to send Saudi women to study abroad?
6 July 2014
Can you imagine what would have happened if the government had decided against girls' education 50 years ago? Where would we be today if the government had supported the extremists who were totally against education for girls?
A Saudi scholar, who is also an academician, wrote on his Twitter account: "The Minister of Higher Education and the vice-chancellors of the universities should be God-fearing and should stop sending our Muslim women on scholarships to study abroad. If our Muslim women study abroad, they will be subjected to sedition in their religion and chastity."
The man also wrote: "It is astonishing that this vice is being imposed on our Muslim women. The Custodian of the Two Holy Mosques King Abdullah, who initiated the scholarship program, will never agree to forcing women to go abroad to study under his scholarship program if they do not want to go." The scholar asked female students to be faithful to their religion and to refuse to travel abroad for study even if they are threatened with being sacked by their universities. "If you are dismissed by the university just because you have refused to travel abroad for study, you will be rewarded for your sacrifice. Your dismissal will be a medal on your chest. History will record the brave Islamic stand which you have taken," he said.
This statement is similar to those of half a century ago when many extremists went to late King Faisal strongly denouncing the opening of girls' schools. Just imagine what would have happened if the government had listened to them.
I think this kind of talk today is shear madness. Isn't the attitude of those scholars who oppose sending Saudi women abroad for study the same as the attitude of the Taliban regarding girls' education when they ruled Afghanistan?
The Taliban were supported in their stand by some scholars and academicians in the Gulf region. The fatwas (religious edicts) issued by the Taliban against girls' education were a real nightmare for the Afghan people who were aspiring for progress and development. The Taliban used to spray acid on the faces of female students to deform them and destroy their appearance. In 2007, the Taliban destroyed 117 girls' schools and closed down 200 others. The Taliban promised a reward of $1,000 to anyone who killed a female schoolteacher.
The Taliban turned Afghanistan into a real hell. They made everyone miserable and desperate, especially women who were deprived of their God-given right to education.
However, let's us go back to the Saudi scholar who said that it is a crime to send Muslim women to study abroad. In my opinion the man, who is an academician, is ignorant of the rules and regulations of higher education.
Universities do not force any woman to accept the position of lecturer or teaching assistant if she does not want to. The job has its requirements. These include going on to obtain master's or Ph.D degrees in their field of specialization. If a woman cannot obtain those degrees in the Kingdom, she is obliged to go abroad to study. A woman who is not willing to do so should not apply for or accept an academic position in a university.
This scholar is the same man who said that anyone supporting gender mixing in education and work should be executed. He said that anyone who would support such things should be considered kafir (an infidel) and therefore killed. He also recently objected to the introduction of sports in girls' schools. The man used a Twitter account to broadcast his questionable ideas. Does he not realize that Twitter is itself a Western invention and, therefore, should not be used by Muslims? Has he forgotten that the microphone he uses to spread his weird ideas is kafir as it is also a Western product?
What about his car which was manufactured by the kafirs? What about his shamagh (the headscarf commonly worn by Arab men)? Was it not made in Britain?
In his tweets, the false sheikh spoke highly about democracy and freedom. But is it democratic to criticize the scholarship program under which more than 150,000 Saudi men and women are currently doing their higher studies abroad? Is it not democratic and fair to speak about Saudi women who have been decorated and honored abroad for their academic excellence? In the opinion of many, this man is from another age.
http://www.saudigazette.com.sa/index.cfm?method=home.regcon&contentid=20140705210508
-------------
Negotiate With Boko Haram, Bring Back Our Girls Group Tell FG
6 July 2014
The 'Bring Back Our Girls' campaigners have advised the Nigerian Government to negotiate with the Islamic sect, Boko Haram, to put an end to insecurity in the country.
The group, stated this at its sit out session at the Unity Fountain Area in Abuja, believes that negotiation with the Sect was not an act of cowardice but a move which would restore peace and development in the country.
One of the campaigners, Peter Iliya, said, "There is room for negotiation, if they (Government) say they will negotiate with this people, we are not going to crucify them, I think we are going to commend them. The important thing is that after the negotiation, what do you do?
"It is an act of bravery, it's an act of strategic thinking, it's an act of responsible leadership to agree to negotiate because you are not looking at yourself…but you are looking at the outcome of that negotiation – 200 plus girls' lives are at stake."
http://www.dailytimes.com.ng/article/negotiate-boko-haram-bring-back-our-girls-group-tell-fg
-------------
URL: https://www.newageislam.com/islam,-women-and-feminism/new-age-islam-news-bureau/teenage-twin-sisters-from-manchester-flew-to-join-isis-in-syria/d/97928